Stats & Info:

Rich Aurilia
October, 23, 2011
10/23/11
11:45
AM ET
By
Mark Simon & Katie Sharp
| ESPN.com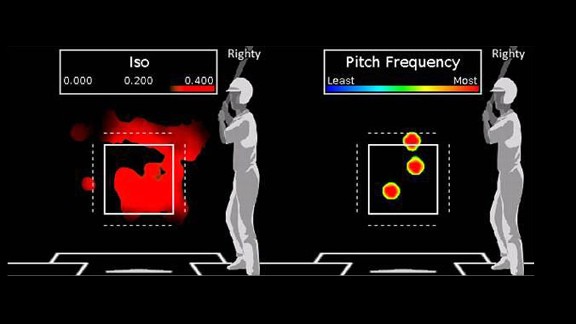 Left: Albert Pujols' power hot zones in 2011
Right: The 3 pitches Pujols hit for HR in Game 3 of the World Series (all were in his hot zones).
Click here to create your own Pujols heat maps and images.

The emphasis in the 2011 World Series shifted from pitching to hitting in Game 3 and the ramifications were such that both teams will have some fatigued relievers in Sunday night's Game 4.
In the fourth through sixth innings, the
St. Louis Cardinals
and
Texas Rangers
combined for 17 runs, more than twice as many as were scored in the first two games. They had just five fewer hits over those three frames than in the 18 innings of Games 1 and 2.
This could play a major role not just in this game, but for the rest of the series.
With that in mind, here are a few things to watch for in Game 4
Mound Matchup
The last time
Edwin Jackson
was on the mound, the Cardinals celebrated a trip to the World Series following their 12-6 win in Game 6 of the NLCS. Jackson, who got just six outs in the game, became a historical footnote as the second starter in major-league history to allow three homers in two innings or fewer in a postseason game.
Two of the three longballs he allowed in that game came on inside pitches to right-handed batters, a spot that has given Jackson trouble all season. Righties are slugging .642 in at-bats ending with a pitch on the inner third of the zone or closer this season, a rate that is nearly 200 points higher than the league average.
The tailing fastball of Rangers starter
Derek Holland
against right-handed hitters could be worth watching on Sunday night. That pitch was among Holland's most effective during the regular season. According to the data from Pitch F/X (the pitch-tracking system in major-league ballparks), his fastball averaged 11 inches of "tailing break," the most among starting pitchers in baseball.
The Tigers were ready for it in Game 4 of the ALCS. Their right-handed hitters got four hits against it, including home runs from
Miguel Cabrera
and
Jhonny Peralta
in the first two innings. That's as many hits as he allowed on fastballs away to right-handed hitters in his last seven regular-season appearances (spanning 119 pitches).
Pujols and Freese the perfect combo
Albert Pujols
and
David Freese
each have 16 RBI this postseason, marking only the second time in postseason history that two teammates have had at least 16 RBI in a postseason. Three members of the 2002
San Francisco Giants
did it-
Rich Aurilia
(17)
Barry Bonds
(16), and
Benito Santiago
(16).
Neither has faced Derek Holland in a major league game. But Pujols is 8-for-17 against left-handed pitching this postseason, including his home runs against
Mike Gonzalez
and
Darren Oliver
. Freese has been all-or-nothing against lefties. He's 6-for-15, but with seven strikeouts.
Cruz Control
Nelson Cruz
is 2-for-10 in the World Series with a home run, but the Cardinals have done their best to limit his damage. He's whiffed four times in the three games, twice on pitches at the very top of the strike zone, twice on pitches down around his toes.
The Cardinals approach has been virtually the opposite of how the Tigers pitched to Cruz in the ALCS. In that six-game series, Tigers right-handed pitchers threw Cruz 40 pitches (out of 90 total) on the inner-third of the plate, or that missed inside.
In the three World Series games, Cruz has seen 38 pitches from right-handers. Only four have been inner-third or missed inside.
April, 7, 2010
4/07/10
11:16
AM ET
By
John Perrotto, Baseball Prospectus
| ESPN.com
What the Marlins' middle infielders -- second baseman
Dan Uggla
and shortstop
Hanley Ramirez
-- have been able to accomplish since being paired in 2006 would have been unheard-of less than two decades ago. The duo has combined to hit 224 home runs, an average of 56 a year.
Until the 1990s, middle infielders, with very few exceptions, were in the lineup for their defense. The second basemen and shortstops of yore were supposed to be seen and not heard when they stepped into the batter's box -- they were asked to do little more than hit a few opposite-field singles, make contact on the hit-and-run and drop down an occasional bunt. The Marlins' middle infield pair is one a few that has been posting historic home run rates in the last two decades.
No middle-infield combination combined for 50 homers in a season until 1958, but that was mainly due to shortstop Ernie Banks hitting 47 for the Cubs while second baseman Tony Taylor added six. The 55-homer plateau wasn't reached until 1969 by the Red Sox as shortstop Rico Petrocelli had a 40-homer season and second baseman Mike Andrews went deep 15 times. It took until 1999 before a middle-infield tandem reached the 60-homer mark as shortstop
Alex Rodriguez
(42) and second baseman
David Bell
(21) combined for 63 for the Mariners.
And it's been a different story since then. All 11 of the top combined home run totals by middle infielders have occurred since 1999, including six in the past five seasons. Rodriguez is on the list four times and Uggla and Ramirez are on it three times, combining for at least 55 in each of the past three seasons.
Going beyond home runs, a handy metric for measuring a player's overall offensive contribution is Value Over Replacement Player (VORP). The concentration of top-10 seasons by double-play combination according to VORP is not as restricted to recent seasons as those on the home runs list. However, all 10 come from the divisional play era, which began in 1969. The general rule of thumb is that 10 points of VORP is worth the equivalent of one victory.
John Perrotto is editor-in-chief of Baseball Prospectus. BP's Eric Seidman provided research for this story.