Stats & Info:

Richard Sherman
November, 28, 2014
11/28/14
12:56
AM ET
By
ESPN Stats & Information
| ESPN.com
The
Seattle Seahawks
are back to their old ways -- winning with defense.
For the second straight game, the Seahawks did not surrender a touchdown. They're the first team to do that this season and it's the first time the Seahawks haven't allowed a touchdown in consecutive games since 2005.
It's no surprise that the Seahawks' defense was led by
Richard Sherman
, who had multiple interceptions for the fourth time in his career. Sherman now has 23 career interceptions, eight more than any other player since entering the league in 2011.
The Seahawks are now 3-0 against the 49ers when Sherman has an interception and 0-4 against them when he doesn't have an interception.
The Seahawks' defense held
Colin Kaepernick
to a season-low 121 passing yards. For just the second time in his career -- both against the Seahawks -- Kaepernick had multiple interceptions with no passing touchdowns.
Kaepernick snapped a streak of 18 straight games with a passing touchdown, which was tied with Steve Young for the longest streak in 49ers history.
The 49ers' loss snaps a five-game home win streak against the Seahawks, but Kaepernick and the 49ers have struggled against the Seahawks.
The three points for the 49ers are their fewest in a game since Week 2 of last season, when they lost 29-3 in Seattle.
The 49ers have scored fewer than 20 points in all five of their games against the Seahawks (including playoffs) with Kaepernick as their starting quarterback. They have just four total touchdowns in those five games. Kaepernick has three passing touchdowns and nine interceptions in those games.
Kaepernick was 4-of-15 passing deeper than five yards downfield in Thursday's game for 37 yards and two interceptions. His eight off-target throws at that distance are tied for the most in a game in his career.
February, 7, 2014
2/07/14
9:49
AM ET
By
John McTigue
| ESPN.com
The
Indiana Pacers
have the league's best record this season (38-10). The Pacers boast the NBA's top defense and one of the brightest young stars in
Paul George
.
The way the Pacers were built, coupled with their performance this season, is similar to the Super Bowl XLVIII champion
Seattle Seahawks
.
Years in the making
Neither the Seahawks nor Pacers were built overnight. The bases of each team were built through the draft, and supplemented through trades and free agency.
Paul George was taken 10th overall in 2010.
Lance Stephenson
was taken in that same draft with the 40th pick.
Roy Hibbert
and
Danny Granger
were both taken with the 17th pick (Hibbert in 2008, Granger in 2005).
Add those players to trade acquisitions
George Hill
and
Luis Scola
, plus free-agent
David West
, and you have a formidable, deep team.
The Seahawks were built in a similar fasion.
Russell Wilson
,
Richard Sherman
and
Kam Chancellor
were all taken in the third round or later.
Marshawn Lynch
and
Percy Harvin
were acquired in trades.
Key pass rushers
Michael Bennett
and
Cliff Avril
were signed this past offseason, luxuries the Seahawks could easily afford because of the money they saved by using their late-round draft picks well.
Cheap star power
Hitting on a lower draft pick can lead to cheap production, freeing up money for other players. The Seahawks hit big with Wilson. The Pacers hit big with George.
Wilson cost only $681,085 against the Seahawks' salary cap in 2013. There were 53 quarterbacks with a higher cap value in 2013, including Wilson's backup,
Tarvaris Jackson
.
George's cap hit for the Pacers this season is just more than $3.2 million. There are 189 players that count for a bigger hit against their team's cap, including Granger ($14.0 million), who has averaged 8.2 points per game this season.
Win with defense
The Seahawks allowed the fewest points in the NFL this season, allowing 14.4 per game. The Seahawks' defensive efficiency was also best in the NFL (+7.2 expected points added per game).
The Pacers have allowed the fewest points per game in the NBA this season (90.2) and the fewest points per 100 possessions (93.9).
Looking ahead
The Pacers host the
Portland Trail Blazers
tonight (ESPN, 7 Eastern). The Blazers average 107.7 points per game this season, the most in the NBA.
This isn't the first time this week that the top scoring offense in a league has met the top scoring defense. In Super Bowl XLVIII, the
Denver Broncos
had the top scoring offense in the NFL.
That game worked out well for the defense, as the Seahawks beat the Broncos 43-8.
Doug Clawson contributed to this post.
February, 1, 2014
2/01/14
11:47
AM ET
By
ESPN Stats & Information
| ESPN.com
Getty ImagesPeyton Manning and Richard Sherman are among the favorites to win Player of the Year awards.
The NFL will hand out its annual awards tonight for MVP, Offensive Player of Year, Defensive Player of Year, Coach of Year, Offensive Rookie of Year, and Defensive Rookie of Year. Here's what you need to know in advance of the announcement.
MVP/Offensive Player of Year
Peyton Manning
is among the favorites to win his fifth AP MVP award, which would be two more than any other player.
He'd be the first player to win the AP MVP award for more than one team.
Manning set the NFL single-season records for passing touchdowns and passing yards this season. He was at his best in the red zone, where he ranked first in completion percentage, touchdown-to-interception ratio and Total QBR.
Jamaal Charles
could give Manning a run for the AP MVP or the Offensive Player of the Year awards. Charles led the
Kansas City Chiefs
in rushing yards, receiving yards and total touchdowns this season, the first player to lead his team in all three categories since
Marshall Faulk
for the 1998
Indianapolis Colts
.
Defensive Player of Year
Robert Mathis
is among the frontrunners for Defensive Player of the Year after leading the NFL with 19.5 sacks and eight forced fumbles. He's the first player since the NFL officially began tracking sacks in 1982 to have at least 19 sacks and eight forced fumbles in a season.
He also broke the Colts single-season sack record set by
Dwight Freeney
in 2004 and was the first NFL player to record at least 19 sacks in his age 32 season or older.
Richard Sherman
, who had a league-best eight interceptions this season, is another favorite for the Defensive Player of the Year award.
Sherman led a dominant Seahawks defense that ranked first in the NFL in points allowed, Total QBR, passing yardage and interceptions.
Coach of Year
Andy Reid is one of the main contenders for Coach of the Year after leading the Chiefs to an 11-5 record in his first season as their coach.
Last season, the Chiefs finished 2-14. The nine-win increase is tied for the third-largest in NFL history from one season to the next.
The Chiefs also became just the third team in NFL history to win at least 11 games following a season with two or fewer wins, joining the 2012 Colts and 2008
Miami Dolphins
.
Offensive Rookie of Year
Eddie Lacy
is among the favorites for Offensive Rookie of the Year after setting a
Green Bay Packers
rookie record with 1,178 rush yards. After coming back from a concussion in Week 5, he ranked second in the NFL in rushing the rest of the way, trailing only
LeSean McCoy
.
Defensive Rookie of Year
Kiko Alonso
, one of three defensive players to play every one of his team's snaps this season, headlines a group of strong candidates for Defensive Rookie of the Year. Alonso's 159 tackles ranked third in the NFL this season and were the third-most by a rookie in the last 10 seasons.
January, 20, 2014
1/20/14
2:40
AM ET
By
ESPN Stats & Info
| ESPN.com
Joe Nicholson/USA Today Sports Richard Sherman (25) and the Seahawks flexed their strength in the second half
In earning their spots in Super Bowl XLVIII, the
Seattle Seahawks
(the NFL's top scoring defense) and the
Denver Broncos
(the league's top scoring offense) rode their strengths to victory in Sunday's Conference Championship games.
The Seahawks, trailing 10-3 at halftime, made 49ers quarterback
Colin Kaepernick
pay for his second-half lapses. The Broncos inflicted the worst postseason thrashing on a Patriots defense in at least the past eight seasons.
Seahawks' defense rises, Kaepernick's QBR falls
Entering Sunday's NFC Championship game, Colin Kaepernick had an 85.4 Total QBR in the playoffs, the highest total since 2006 among quarterbacks with at least five postseason starts. Behind strong running (eight rushes for 98 yards), Kaepernick posted a 96.8 first-half Total QBR, his strongest first half in a playoff game in his career. His best first half had been 88.2 against the Falcons in the NFC Championship last year.
Here's how his QBR fell apart:

6:38/3rd: Kaepernick hits Anquan Boldin for a touchdown for a 17-10 lead. QBR: 96.2

10:17/4th: Kaepernick takes a delay of game penalty and loses a fumble on a sack on the next play. QBR: 83.3

7:44/4th: On his next pass, he throws an interception to Kam Chancellor that leads to a Seahawks field goal. QBR: 69.7

0:30/4th: His final interception in the end zone seals the game. QBR: 65.1.
Kaepernick's erratic second-half play was forced by a revived
Seahawks defense
. In the first two quarters, the Seahawks defense contributed -3.5 points to the team's scoring margin, its third-worst first-half mark this season. In the second half, the defense contributed 4.6 points to the scoring margin. The 8.1-point difference is tied for the Seahawks' second-largest positive swing from a first to a second half (27.4 in Week 4 against Houston and 8.1 in Week 14 against San Francisco).
Kaepernick's second-half QBR of 27.0 is his worst performance in a half of any playoff game in his career. His previous low was 39.4 in the first half of the Super Bowl last season.
Manning sets QBR Standard in Rematch
Sunday's AFC Championship game differed considerably from
the season's first meeting
between the Broncos and Patriots. Perhaps the most significant difference was the performance of
Peyton Manning
.
He had a 28.1 QBR in Week 12, a 34-31 overtime loss by the Broncos. On Sunday, with more at stake, Manning posted an 88.8 QBR – not only enough to eliminate the Patriots, but also enough to set a standard against a coach regarded for his defensive acumen. That 60.7 change in QBR was the greatest QBR increase in a rematch game against a Bill Belichick-led defense in the QBR era.
Since 2006, a quarterback has started against the same defense twice in a season 664 times (not including the rare third matchup in a season – such as in Sunday's NFC Championship game). Looking at all QB-opponent matchups, QBR drops 3.2 points on average from the first to the second meeting.
Quarterbacks have fared worse against the Patriots. Against a Belichick-coached defense, opponent QBR in a rematch has dropped 8.8 points on average, more than 2½ times greater than the league average.
Before Sunday, Peyton Manning had faced the same opponent twice in the same season 27 times (since 2006). In the rematch game, Manning's QBR rose 5.0 points on average, the fifth-highest average change among QBs who have had at least 10 rematches in that span.
Two of the dynamics entering the game were defenses historically improving against a quarterback the second time around and Manning typically improving against a defense in a rematch. But the magnitude of Manning's improvement and the Patriots' deterioration would have been hard to predict.
Sunday's game was the Patriots' worst defensive effort in the playoffs in terms of points contributed since 2006. The defense contributed -14.5 points to the Patriots' scoring margin against the Broncos.
In all three games in which the Patriots faced a starting quarterback for the second time this season, he improved his Total QBR from the first matchup, the first time that happened in a Patriots season in ESPN's data set (since '06). New England lost all three games.
With his improvement in his second game against the Patriots, Manning surpassed
Ryan Tannehill
of the
Miami Dolphins
, who had a 29.8 QBR followed by an 82.2 this season for a 52.4 point improvement.
December, 18, 2013
12/18/13
10:24
AM ET
By
Doug Clawson
| ESPN.com
J.J. Watt
, the 2012 NFL Defensive Player of the Year, is having another strong season. He has 9.5 sacks, he ranks second in the NFL with 22 tackles for loss and fourth with five batted-down passes. However, Watt will be challenged by a strong group of competitors for this year's award, including a couple of Seahawks:
Richard Sherman, Seahawks CB
Sherman is tied for the league lead with six interceptions this season.
He leads a defense that has a league-high 22 interceptions, and holds opponents to a 32.4 Total QBR, lowest in the NFL. The Seahawks also allow a league-low 174.2 passing yards per game.
Sherman has played 729 of 817 snaps (89 percent), lined up as the cornerback on the defense's left side. Largely because of Sherman's presence, opposing quarterbacks have been shut down throwing to the right (defense's left) in Sherman's area. The Seahawks defense has allowed a 52 percent completion percentage to the right (second best in league), and allowed a league-low 5.6 yards per attempt.
Robert Mathis, Colts DE
Mathis leads the NFL with 16.5 sacks this season, five more than his previous career high.
Last week against the Texans he set the Colts single-season record for sacks (16.5) and career record for sacks (108.0). He has forced fumbles on six of his sacks, tied for the most strip-sacks in the NFL.
Nine of his sacks this season have come when the opposing team has at least six offensive lineman in to block, 2.5 more than the next closest defender in the league. And it's not as though the Colts are sending a lot of blitzes; Mathis leads the NFL with 11.5 sacks as part of a four-man pass rush.
Luke Kuechly, Panthers LB
Kuechly has 122 tackles this season, tied for fifth in the NFL (he led the NFL in his rookie season with 164 tackles).
Kuechly has been a tackling machine in the Panthers' biggest games, recording three of his four double-digit tackle games against the 49ers, Patriots and Saints this season.
He has been a driving force behind the league's most improved defense, and perhaps best front seven. The Panthers allowed 22.7 points per game last season, 18th in the NFL.
They allow 14.9 points per game this season, second fewest in the NFL. And they are the only team in the NFL that ranks in the top five in rushing defense (84.9 yards per game) and passing defense (211.4 yards per game).
Robert Quinn, Rams DE
Quinn leads the NFC with 15.0 sacks this season.
He is two shy of Kevin Carter's single-season team record (1999). He also leads the league with 24 tackles for loss and seven forced fumbles this season (six strip-sacks).
He is the best pass-rusher on a team with 52 sacks this season, tied with the Broncos for the most in the league.
His sacks also have been timely. Nine of them have been on third down, 2.5 more than anyone else in the NFL.
Earl Thomas, Seahawks FS
Thomas patrols the deep part of the field for the best secondary in the NFL. He has five interceptions this season, tied for fourth most in the NFL.
Thomas has intercepted a league-high three red zone passes this season. Opposing quarterbacks are completing only 35 percent of passes in the red zone against Seattle, the lowest rate in the league.
Thomas also flies all over the field. His 70 solo tackles are tied for fourth most in the NFL among safeties.
December, 2, 2013
12/02/13
10:59
AM ET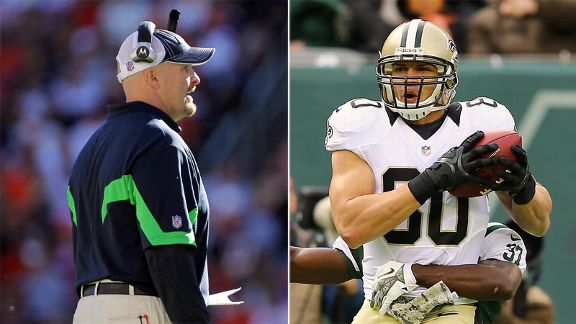 Getty ImagesSeahawks assistant Dan Quinn (left) might have the right personnel to contend with Jimmy Graham.
A
Seattle Seahawks
win on Monday night stamps Seattle's ticket to the playoffs, but the implications of Monday night's showdown are much bigger.
A Seattle win Monday puts the Seahawks two games ahead of everyone else in the race for home-field advantage in the NFC, while the
New Orleans Saints
could make the last four weeks interesting by handing Wilson his first home loss.
Both teams excel at home --
Russell Wilson
is 13-0 at Seattle's CenturyLink Field, while the Saints are 14-0 in the Superdome in the last two seasons with Sean Payton as head coach (not including 2012, when Payton was suspended).
What do the Saints look like on the road? Let's take a look, along with three other statistical matchups to watch on Monday night.
The Saints vs CenturyLink Field
The Saints' point differential at home (+104) is 99 points higher than their road differential (+5), the third-biggest disparity in the league.
New Orleans has held opposing quarterbacks to a Total QBR under 20 in four of the six games played at the Superdome. The Saints' Total QBR allowed jumps from 29 at home to 51 in road games.
There's also a noticeable dip in
Drew Brees'
performance on the road. Any quarterback would rather play at home, but Brees' completion percentage at home leads the league. His completion percentage in road games ranks 12th.
CenturyLink Field is no ordinary road venue, either. Since it opened in 2002, Seahawks opponents have been flagged for 208 delay of game or false start penalties in Seattle, the most of any venue.
The Seahawks' point margin is 937 points higher at home (+635) than on the road (-302), the second-biggest disparity in the league.
Jimmy Graham vs Dan Quinn
Seahawks defensive coordinator Dan Quinn is tasked with coming up with a plan to stop
Jimmy Graham
, who leads tight ends in targets, catches, yards and touchdowns.
Graham hasn't been a particularly versatile tight end, running a pass route on almost two-thirds of his snaps (65 percent). Graham has run 254 routes lined up as a receiver (either slot or outside) compared to 63 lined up as a traditional tight end.
Graham's worst game of the season came in Week 6 against the Patriots, who used cornerback
Aqib Talib
on Graham instead of a linebacker. Brees completed more passes to Talib than Graham, finishing 0-for-6 with an interception targeting the tight end.
Richard Sherman
(6'3, 195 pounds) could play a similar style as the 6'1, 205-pound Talib did on Graham. If Quinn uses Sherman on Graham, Sherman's length and physicality could give Graham fits and limit Brees' most effective weapon.
Russell Wilson vs Saints' pass rush
No one has a better completion percentage, yards per attempt average or Total QBR on throws at least 15 yards downfield than Wilson. Those routes typically take time to develop, and so far in his career Wilson has had the necessary time.
In his rookie year, Wilson averaged 4.08 seconds before throwing a pass, the highest average among quarterbacks by 0.29 seconds.
In his second season, Wilson has been quicker to release the ball. Wilson's 3.86 seconds before pass is "only" seventh slowest in the league. Thirty one percent of Wilson's passes have taken longer than four seconds to release, a higher percentage than 23 quarterbacks and a problem given this week's opponent.
The Saints defense has 24 sacks in four seconds or less this season, tied with the Ravens for most in the league. New Orleans' defense has sacked opposing quarterbacks on nine percent of dropbacks in its first year with Rob Ryan as defensive coordinator, the highest rate in the league.
Seahawks LBs vs Saints' screen game
Brees has thrown 45 screen passes this season, third most in the league.
Pierre Thomas
and
Darren Sproles
rank first and second in receiving yards on screen passes since Sproles signed with the Saints in 2011. During that same span, no one has defended screens better than the Seahawks.
Seattle has allowed 4.5 yards per screen attempt, best in the league and over a yard and a half fewer per attempt than the league average. Seattle is one of two teams that hasn't allowed a screen-pass touchdown in the last three seasons along with the
Green Bay Packers
.
Bobby Wagner
and
K.J. Wright
are the two most likely candidates tasked with slowing Thomas and Sproles, who missed last Thursday's game against the Falcons with an ankle injury.
July, 25, 2013
7/25/13
1:13
PM ET
By
John Parolin, ESPN Stats & Info
| ESPN.com
Eight NFL teams welcome new head coaches to the sideline this season. We take a closer look at some of the challenges those coaches will face. Here's a look at the NFC (the
AFC
can be found here.

Arizona Cardinals: Bruce Arians
2012 record: 5-11
Big addition:
Carson Palmer
has to be an improvement on the 21.4 Total QBR posted by Cardinals quarterbacks last season, worst in the league.
One headache:
Has the offensive line improved enough? Adding
Jonathan Cooper
and
Earl Watford
in the draft should help, but Arizona's line allowed a sack every 11.7 dropbacks last season, worst in the NFL.
Key stat:
The defense is ready to win now, finishing with the fourth-best Total QBR allowed last year (40.0). However, the offense cost the Cardinals 217.4 expected points last year, more than 100 points worse than the second-worst offense (
Kansas City Chiefs
, -107.94).

Chicago Bears: Marc Trestman
2012 record: 10-6
Big additions:
Free-agent offensive linemen
Jermon Bushrod
,
Matt Slauson
,
Eben Britton
and first-round pick
Kyle Long
will help keep
Jay Cutler
upright. Cutler's been sacked every 13.2 dropbacks in his Bears career (2009-12), most among 28 quarterbacks with 1,000 dropbacks in that span.
One headache:
Can anyone take pressure off
Brandon Marshall
? There was a 140-target difference between Marshall (188 targets) and
Earl Bennett
and Alshon Jeffrey last season (48 each), the second-biggest margin between a first and second target in the league.
Key stat:
In the last five seasons, the Bears' defense allowed 16 more touchdowns than interceptions with
Brian Urlacher
off the field and had 12 more interceptions than touchdowns with him on the field.

Philadelphia Eagles: Chip Kelly
2012 record: 4-12
Big addition:
Cary Williams
is the biggest addition in the secondary, after disrupting 24 dropbacks last year (interception, pass defensed or sack). Only
Richard Sherman
(26) had more among defensive backs.
One headache:
Lane Johnson
may not be enough to upgrade an Eagles offensive line that ranked last in sacks or tackles for loss allowed.
Key stat:
Chip Kelly's Oregon offense averaged a play every 20.9 seconds, which would have been easily the NFL's most up-tempo offense (
New England Patriots
, 24.9 seconds per play). Oregon averaged 82.8 plays per game, well beyond New England's NFL-most 74.4 per game.
July, 16, 2013
7/16/13
11:17
AM ET
By
Douglas Clawson
| ESPN.com
AP Photo, Getty Images
Darrelle Revis
and
Richard Sherman
rate among the best via video review
How can you measure the best lockdown cornerbacks in the league? The ones so good they build a reputation for being avoided while earning nicknames such as 'Revis Island'?
From our statistical perspective, we looked at four things:
On/Off the Field analysis:
How a team fares with their lockdown cornerback off the field.
Throws outside the numbers:
Looking at statistics pinning the best cornerbacks, matched up against the best wide receivers outside the painted numbers.
Throws by distance:
Which cornerbacks take away the big play?
Team performance:
The best cornerbacks make their team's pass defense better.
Here's a look at some of the NFL's most successful cornerbacks from the last several seasons.
Richard Sherman & Brandon Browner
Richard Sherman leads the NFL with 12 interceptions and 34 passes defended or intercepted since he joined the league in 2011.
Sherman played 95 percent of the defensive snaps last season, and his numbers speak for themselves. However, his absence was felt during his rookie season, when he played 70 percent of possible snaps.
The
Seattle Seahawks
intercepted one pass every 19.4 attempts with him on the field, and one pass every 78 attempts with him off the field in his rookie season.
Sherman's teammate Brandon Browner has nine interceptions in the last two seasons, tied for fourth in the NFL among cornerbacks, despite missing the last four games of last season due to suspension.
The tandem has shut down outside passing lanes for opponents. Against passes 10-plus yards downfield and outside the numbers, the Seahawks pass defense ranked among the top five in Total QBR, interceptions and completion percentage last season.
Perhaps their biggest impact is near the goal line, where their physical presence (Browner is 6'4" and Sherman stands 6'3") shines. The duo has combined for four interceptions in goal-to-go situations over the last two seasons. No
team
has more than four interceptions in goal-to-go situations over that span.
Darrelle Revis
Darrelle Revis missed the final 13 games of the 2012 season after tearing his ACL in Week 3. Over the last two seasons, the Jets have allowed 15 touchdown passes with 23 interceptions with Revis on the field, holding opponents to a 41.4 Total QBR. With Revis off the field, the Jets allowed 20 touchdown passes with seven interceptions and a 50.5 Total QBR.
His value is also seen in his team's overall defensive prowess. Since 2009, the Jets lead the NFL in fewest passing yards allowed, completion percentage allowed and are second in Total QBR allowed.
Revis' 2013 impact will be for a new team - the
Tampa Bay Buccaneers
.
Patrick Peterson
Patrick Peterson intercepted seven passes in 2012, including an NFC-high four passes on throws more than 20 yards downfield. That is as many or more interceptions on such throws than 24 NFL teams.
The Cardinals defense had the fourth-best Total QBR and allowed the fifth-fewest passing yards per game last season, their highest ranks in the past five seasons.
Peterson has been a big part of the turnaround, playing a team-high 2,209 snaps (96 percent of defensive snaps) since he joined the league.
Peterson has impacted the game in many ways as he forced seven fumbles last season and led the NFL with five fumbles recovered.
He tied an NFL-record by returning four punts for touchdowns in his rookie season (2011), and his 699 punt return yards were the second-most in a single season in NFL history.
Nuccio DiNuzzo/Chicago Tribune/MCT
Tim Jennings led the NFL with 9 INTs last season.
Tim Jennings
Tim Jennings made his first Pro Bowl and led the NFL with nine interceptions in 2012 for the
Chicago Bears
, after never intercepting more than two passes in a single season in his career.
Eight of Jennings' nine interceptions came outside the numbers, a total that no other player topped during the last two seasons combined.
Charles Tillman
Jennings' teammate Charles Tillman forced 10 fumbles in 2012, and returned all three of his interceptions for touchdowns, tied for most in the NFL. Tillman has six interceptions over the last two seasons, returning a league-high five for touchdowns.
Johnathan Joseph
Houston Texans
cornerback Johnathan Joseph has made two straight Pro Bowls, but was part of a Texans' secondary that fell apart down the stretch last season.
The Texans allowed 26 pass plays of 30 or more yards, second in the NFL behind the
New York Giants
.
Including the postseason, the Texans allowed 31 pass plays of 30-plus yards, including 20 from Week 11 on.
They allowed 17 touchdowns and had three interceptions outside the numbers last season. Only the Vikings had a worse touchdown-to-interception differential on such passes.