Stats & Info:

Ryan Sweeney
May, 15, 2012
5/15/12
3:02
PM ET
By
ESPN Stats & Information
| ESPN.com
AP Photo/Chris Carlson Matt Kemp was just the third player to bat .400 with 10+ HR and 25+ RBI in April, joining Larry Walker in 1997 and Tony Perez in 1970.
The
Los Angeles Dodgers
placed
Matt Kemp
on the 15-day disabled list with a strained left hamstring after Monday night's game against the
Arizona Diamondbacks
, and Kemp's absence will certainly be felt offensively.
Kemp saw his MLB-leading active streak of 399 games played come to an end Monday, and while his production decreased this month, his early-season performance was impressive. His 12 home runs by April 30th were the fifth-most in MLB history, and according to Elias, was just the third player since 1920 (when RBI became official) to hit .400 with 10+ HR and 25+ RBI in April (excluding any March games).
Without Kemp, the Dodgers also lose one of the best high-ball hitters in baseball. Kemp is 11-for-21 (.524) against high pitches in 2012, tied with
Ryan Sweeney
for the best batting average on such pitches in baseball entering Tuesday.
For all of these reasons and more, Kemp has been one of the most valuable position players in baseball over the last two seasons. Using the Baseball Reference metric "Wins Above Replacement," Kemp is second in the National League and fourth in Major League Baseball in WAR since the start of the 2011 season. Only
Dustin Pedroia
,
Ben Zobrist
and
Ryan Braun
have a higher WAR than Kemp in that span.
Kemp, however, did see his production trail off drastically in May. During this month, Kemp was batting just .212 in 11 games and had not gone deep. The difference has primarily come against the fastball. During April, Kemp batted .465 against the heater with nine home runs. In May, that average dipped to .250. His strikeout percentage against the fastball also jumped significantly, increasing from 11.3 percent in April to 28.6 percent in May.
December, 28, 2011
12/28/11
8:57
PM ET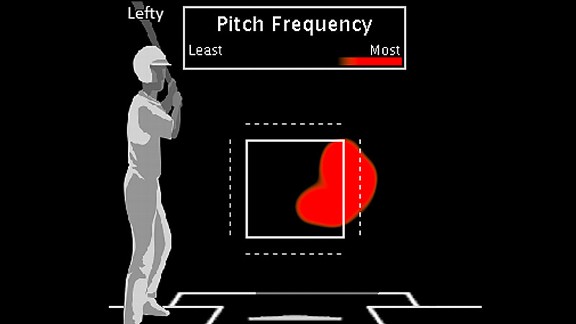 Left: Where Andrew Bailey pitched left-handed hitters last season.
Click here to create your own Bailey heat maps
The
Boston Red Sox
completed their bullpen makeover with the acquisition of a pitcher who, in certain respects, ranks among the best closers in the game, in ex-
Oakland Athletics
reliever
Andrew Bailey
.
Bailey is someone who was very comfortable pitching in his home ballpark, The Coliseum. He was 12-for-12 in save chances there last season, the fourth-most saves for any pitcher who didn't blow a save at home last season. Bailey has converted 19 straight save chances at home dating back to May of 2010.
Bailey had great peripheral numbers at home last season-- a 27-to-3 strikeout-to-walk ratio and did not allow a home run in 24 2/3 innings. Pitching in smaller ballparks on the road, Bailey's numbers weren't as good- he yielded three homers in 17 1/3 innings.
One thing that may have appealed to Boston is that in a limited sample, Bailey has pitched well against AL East opponents. In 38 career appearances against the Blue Jays, Orioles, Rays and Yankees, Bailey is 21-for-21 in save opportunities.
Bailey had three saves in three appearances in Yankee Stadium in 2011, though he was a little shaky, giving up four hits and three walks in three innings.
Bailey's forte is that he is a right-handed pitcher who can get both right-handed and left-handed hitters out. He's one of six pitchers to hold both righties and lefties to a sub-.200 batting average (minimum 300 batters faced on each side).
Over the last three seasons, lefties have only a .254 on-base percentage against him. That's the third-best mark among right-handed pitchers, behind
Neftali Feliz
and
Mike Adams
, both now of the
Texas Rangers
.
Bailey's method of getting left-handers out is to pitch them away. Bailey threw nearly two-thirds (63 percent) of his pitches to lefties on the outer third of the plate or further away, a rate that ranks among the top 15 percent among major league pitchers. The heat map atop this story shows his primary pitch location to lefties.
Pitch-wise, Bailey predominantly will throw them his fastball and cutter, with those two pitch types accouting for 85 percent of his pitches to lefty hitters last season, the third-highest combined rate for those two pitches in the majors.
The Red Sox gave up
Josh Reddick
, who was impressive at times for the Red Sox last season on both the offensive and defensive ends. He rated above average in advanced defensive metrics last season, with eight Defensive Runs Saved in just over 600 innings (80 games).
Sweeney has performed similarly, with his best defensive season coming in 2009, when he ranked fifth among all outfielders with 20 Defensive Runs Saved (he cost his team one run with his defense last season).
Sweeney's strength in 2009 was turning batted balls into outs at an above-average rate, regardless of depth, which will be tested when he deals with the funky outfield gaps at Fenway Park.
June, 16, 2010
6/16/10
2:09
PM ET
By
Jeremy Lundblad, ESPN Stats & Info
| ESPN.com
Quick Hits
: With
Todd Helton
and
Joe Mauer
in opposing dugouts this week, it has highlighted the fact that neither slugger has hit a home run at home this season. Some other intriguing home/road notes:
Denard Span is hitting .378 at home and .172 on the road. That .206 discrepancy is the largest in baseball.
On the other hand, Ryan Braun is hitting .370 on the road, but just .216 at home, the largest discrepancy in the other direction.
Chris Young has hit 10 of his 12 home runs at home. Paul Konerko is next, having hit seven more homers at home.
Nine of Justin Morneau's 11 home runs have come on the road, while David Wright has hit eight more homers on the road than at home. Meanwhile, all seven of Ian Stewart's homers are away from Coors.
Of Ryan Sweeney's 28 RBI, 23 have come at home.
At .391, Martin Prado is on track for the highest home batting average since teammate Chipper Jones hit .399 at home in 2008.
Over the last 55 years, only two Yankees have posted a higher home batting average than Brett Gardner's .385: Paul O'Neill (.409 in 1994) and Mickey Mantle (.387 in 1957).
Casey Kotchman's .175 batting average at home would be the fifth worst among qualifying players over the last 50 years.
Jason Heyward has 17 more walks on the road than at home, the biggest difference in the majors.
Today's Trivia
: If
Alex Rodriguez
returns to the lineup against
Jamie Moyer
on Wednesday, it will mark the second time that a player with 500 career home runs has faced a pitcher who has allowed 500 long balls. The only other instance occurred in 1966. Who were the players involved?
Today's Leaderboard
: The best hitters at home this season? A pair of players that could find themselves playing elsewhere in a couple months. Who knows if Paul Konerko will still be calling U.S. Cellular Field home after the trade deadline, but for now Konerko is crushing the ball at home. His 1.201 OPS at home is the best in baseball, and is on track to be the best since
Barry Bonds
in 2004. Second on the list is Kelly Johnson's 1.133 OPS.
Key Matchups
:
David Ortiz
faced
Rodrigo Lopez
each year from 2003 to 2006 as AL East foes. In 50 plate appearances, he's hitting .326 with a .932 OPS. That includes a memorable two triple game in 2004, the only in Ortiz's career. However, one thing has eluded Ortiz against Lopez: A home run. Ortiz is homerless in 50 plate appearances, the most he's faced any pitcher without going deep. Even stranger? Despite that .932 OPS, Ortiz only has one RBI against Lopez.
Alex Rodriguez is expected back in the Yankees' lineup on Wednesday, and he'll face Jamie Moyer in a matchup that dates back to 1996. They've faced each other 59 times in total, and A-Rod is a .389 hitter against Moyer with a 1.218 OPS. This will be the first meeting since 2005, but in his last nine at-bats against Moyer, Rodriguez is 7-9 with four home runs.
Trivia Answer
: When Willie Mays stepped in against Robin Roberts on August 6, 1966, he had 529 home runs to his credit. In his previous start, Roberts became the first pitcher to allow 500 career home runs when Hank Aaron took him deep. It was Aaron's 429th career home run.
May, 19, 2010
5/19/10
2:25
PM ET
By
Ryan McCrystal, ESPN Stats
and
Info
| ESPN.com
Quick Hits: Yesterday in Quick Hits we took a look at batters who are crushing fastballs this season. Today we'll focus on guys who have excelled against off-speed pitches.

* Joey Votto is batting .529 (9-17) against changeups.

* Ryan Sweeney has yet to swing and miss on a curveball this season. He's made contact on all 20 he has offered at, and is batting .357 against curves.

* Andrew McCutcheon is batting .647 (11-17) against curves thrown in the strike zone.

* Ryan Zimmerman is batting .520 against sliders (13-25) with four home runs. He has also missed a league-low 11.4 percent of curveballs he's swung at.

* Derek Jeter is batting.219 against sliders this season, but it could just be bad luck. He leads the league with a .375 well-hit average against sliders.

* Alfonso Soriano is batting .395 (15-38) against sliders with 10 extra-base hits (eight doubles, two home runs).

Today's Trivia: Vernon Wells tied Joe Carter for the 2nd most home runs in Blue Jays history yesterday. He now trails only Carlos Delgado. Since Wells debuted in 1999, he and Delgado have each hit over 200 home runs with the Blue Jays, over 100 more than the next player on the list. Who has the third most home runs for the Jays during that time span?

Today's Leaderboard: On yesterday's leaderboard, Franklin Gutierrez ranked among the leaders in slugging percentage against fastballs 93 mph or faster. Today, he shows up on essentially the opposite list. He's batting .500 against pitches less than 80 miles per hour, which trails only Andrew McCutcheon.

Key Matchups: In two career starts at U.S. Cellular Field, Angels starter Joe Saunders is 2-0 with a stellar 1.66 ERA and a 0.83 WHIP. In 2009, Saunders was 1-1 against the White Sox with a 2.63 ERA. To get a jump on Saunders, the White Sox may want to think about starting pinch hitter Jayson Nix, who was 3-5 versus Saunders last season with three home runs

Wednesday will mark the fourth time the Los Angeles Dodgers have seen Padres starter Jon Garland since 2009, and Garland likely wouldn't mind seeing them a bit more. The Dodgers have only hit .231 against Garland in those three previous starts, and his fastball in particular has been rough on Los Angeles hitters. The Dodgers are hitting .226 against Garland's fastball, well below the team's .297 average vs fastballs since the start of the '09 season, and 58 points below the major league average in that same time span (.284).

Trivia Answer: Jose Cruz Jr. hit 97 home runs for the Blue Jays from 1999 to 2002. Trailing him on the list are Alex Rios (81), Tony Batista (80) and Eric Hinske (78).
March, 25, 2010
3/25/10
12:00
PM ET
By
Doug Kern, ESPN Stats & Info
| ESPN.com
All week on
Baseball Tonight
, we've been taking a look at some "next-generation" statistics-- things like Value Over Replacement Player and Runs Saved-- but let us not forget the old real-estate adage: "Location, location, location." For a batter, having an idea of which pitch is coming, and where it's likely to be, is key to being able to hit it (or at least not looking too foolish when you miss). Likewise for a pitcher, knowing whether to work a hitter inside, outside, with certain pitches, etc., is the trick to getting him out. This research of each other's strengths and weaknesses goes on every day between managers, players, advance scouts, and even us here at ESPN.

Our friends at Inside Edge Scouting Services charted every one of the 187,079 plate appearances in the major leagues during the 2009 regular season. That's almost three-quarters of a million pitches. Below are some things we can learn from that data.


1. Mauer Power is not a myth. The Twins' Joe Mauer was the best hitter in the majors last season if you isolate only those plate apparances that end on a fastball. (As we'll see later, don't throw him one down and in, either.) Since most pitchers' fastballs don't have a lot of movement, the key for hitters is simply catching up to it. As you'd expect, most of these leaders are your traditional "power hitters". Albert Pujols ranks eighth on the chart below.

2. Hitting an off-speed pitch is not the same as hitting a fastball. To catch up to a fastball, you need bat speed. On the other hand, the best off-speed hitters aren't power guys. They're batters with good eyes who can follow the movement on the pitch. And last season's leaders include some names who wouldn't roll off the tip of your tongue.

3. Know the hot zones. We've all seen those 3x3 charts that look like a tic-tac-toe board or a telephone keypad. Every ESPN GameCast has them when a batter comes to the plate. Sometimes it's a batter's stance that influences whether they can hit high heat or low "nasty" stuff. You've often seen pitchers with good control who can "lead" a batter, gradually throwing pitches farther and farther outside/inside/up/down until the hitter can't reach them anymore. Different batters have different zones. And waiting for a pitch that's in one of them-- or not throwing him a pitch there-- is a huge part of the strategy.


The best moral, though, is that if you can't hit it, don't try. You'll end up on a highlight reel-- and not in a good way.

4. Strike early. A long at-bat becomes a battle of wits between hitter and pitcher. Some players prefer to just get it over with. Although the conventional wisdom frowns upon swinging at the first pitch, a select few have done very well at it.
5. Strike early. It's true for pitchers also. You've heard that "the best pitch in baseball is strike one." Getting ahead in the count puts the batter on the defensive and allows the pitcher more flexibility. But for some hitters, it's a challenge they can rise to.
6. Being "clutch" is, well, clutch. It's fun to watch Albert Pujols rip one out of the park. But only 35% of the runs scored last season actually came on homers. A hitter who can drive runners in, especially with two outs, can often be the unsung hero on his team. These are the quiet guys who don't make a lot of home-run noise, but the team would flounder without them.

7. It all starts with contact. Some of the toughest outs are hitters who refuse to swing at bad pitches. It requires a good eye and a lot of self-restraint. But when a pitcher is forced to stay in the zone, the batter ends up with more pitches to hit. "Chase percentage" measures the number of pitches outside the strike zone that a batter swings at. "Swing-and-miss percentage" measures a batter's ability to make contact, whether inside the strike zone or out. A hitter can be equally selective by not swinging at pitches he knows he can't hit.
We'll keep analyzing pitch types and locations throughout the 2010 season on Baseball Tonight and here in The Max Info. Studying what a pitcher throws, and where, often provides clues to why he had a great outing. Studying a batter's hot and cold zones, along with favorite pitch types, adds insight to a great day at the plate (or a terrible one), a hitting streak or slump, or just that amazing walk-off homer.
March, 25, 2010
3/25/10
9:00
AM ET
By
Nick Loucks
and
Mark Simon, ESPN Stats & Info
| ESPN.com
The
Oakland Athletics
, and their GM Billy Beane, could be considered one of the biggest reasons that there are hundreds of blogs like this one on the internet right now. They're all about the hunt to find big production where there is perceived low value. While other clubs may have caught up to Oakland's "moneyball-ness" in recent seasons, it doesn't mean that Oakland can't unearth more gems as they try to get back to the postseason for the first time since 2006. This year, One2Watch4 could be
Ryan Sweeney
.
Sweeney is a hulking 6-foot-4 player who has been a regular starting outfielder for Oakland each of the last two seasons. Well, more hulking in stature than production. Of the 71 outfielders with 900+ PA over the last two seasons, Sweeney ranks 64th in slug pct and 66th in isolated power behind such non-sluggers like
Denard Span
and
Jacoby Ellsbury
. According to
Baseball-Reference.com
, Sweeney's OPS+ the last two seasons have been 99 and 100. That's as average as you can get.
So why keep even keep this guy around? If he's so average, why not just give one of you minor leaguers a shot in the bigs? Turns out, Sweeney is really good at some other things besides pure power.
Despite not having the natural ability to power balls out of stadiums, Sweeney consistently finds a way to get on base.
Fangraphs.com
shows that Sweeney is above average at making contact and his line-drive percentage has been on the rise as a major leaguer. His OBP has consistently hovered around .350 over the last two seasons in an A's uniform, and those are key characteristics of a money "Moneyball player".
After returning from the DL from a sprained knee on June 18 last season, Sweeney's splits were .324/.371/.464. Impressively, he got even better as the season went on without the benefit of
Matt Holliday
in the lineup after July 23. In 57 Holliday-less game, he had an .866 OPS and was entrusted with the 3-spot in the batting order down the stretch as Oakland went 35-33 in that span.
And because of his defensive prowess, Sweeney will get plenty of chances to stay in the lineup. According to data compiled by Baseball Info Solutions, Sweeney rated not far behind Ichiro Suzuki defensively among right fielders. That sampling is based on only 600 innings worth of data (Sweeney also rated among the outfield Web Gem leaders in 2009), and thus bears watching to see if he's legitimately of that caliber.
Sweeney won't be the sexiest name you see when perusing box scores this season, but he'll be one to keep an eye on as Oakland tries to get back to winning a majority of its baseball games.