Stats & Info:

Ryan Theriot
October, 16, 2012
10/16/12
1:54
AM ET
By
ESPN Stats & Information
| ESPN.com


After scoring six runs in their first three home games this postseason, the
San Francisco Giants
found their offense at AT&T Park.
Second basemen
Marco Scutaro
and
Ryan Theriot
, who had five hits and one RBI combined in this postseason entering Monday, combined for three hits and four RBI in the Giants' 7-1 win over the
St. Louis Cardinals
.
The Giants got the game off to a good start as
Angel Pagan
hit his second lead-off home run in the last six days.
He's the second player with two lead-off home runs in a single postseason joining
Jimmy Rollins
who did it in 2008. Rollins and
Derek Jeter
each have the most postseason home runs leading off the first inning with three.
Not only did the Giants' bats come to life, but they also had a starting pitcher get through the sixth inning for the first time this postseason.
Ryan Vogelsong
allowed one run in seven innings to pick up his first career postseason win.
Vogelsong matched a season high by recording nine outs with his offspeed pitches. He did not allow a hit against an offspeed pitch.
This postseason the Giants have been working hard Monday through Friday and then taking weekends off.
They improve to 4-0 on games played on weekdays, scoring nearly four more runs per game than they have on the weekends.
Chris Carpenter
was responsible for six of the eight runs in the game as he allowed five and drove in the Cardinals only run.
According to the Elias Sports Bureau, Carpenter is just the seventh pitcher in MLB history to drive in his team's only run in a postseason game.
The last to do so was Darryl Kile of the Astros against the Braves in 1997.
It's Carpenter's first postseason loss since 2009.
He was 5-0 in his previous seven starts.
The series now shifts to St. Louis for the next three games beginning Wednesday.
Matt Cain
will face
Kyle Lohse
in Game 3.
Cain won his last start and is 1-1 in the postseason while Lohse is 1-0 with a 2.13 ERA in two starts.
October, 2, 2011
10/02/11
6:44
PM ET


In Game 2 of the NLDS, the
Philadelphia Phillies
will send former Cy Young winner
Cliff Lee
to the mound to try to take a 2-0 lead before the series moves west. The
St. Louis Cardinals
, who have lost four straight postseason games, will counter with their former Cy Young winner,
Chris Carpenter
.
Carpenter won only 11 games this season, his fewest in a full season since 2001. He's been one of the best pitchers in the majors lately though after a rough start.
Despite never starting on three days' rest in his big-league career -- which he'll do Sunday night -- Carpenter may be the right man for the job. He's 7-2 with a 4.14 ERA in his career against the Phillies and he's 5-2 with a 2.93 ERA in nine career postseason starts.
Carpenter will try to neutralize the Phillies' lefties, something
Kyle Lohse
couldn't do in Game 1
.
Raul Ibanez
is just 1-for-11 and
Ryan Howard
is 2-for-9 with a home run against Carpenter, but
Chase Utley
is 7-for-15 and has only struck out once against him.
Lee has been one of, if not the best pitcher in the majors the past two months. In 10 starts since the beginning of August he's allowed eight earned runs, and his 0.93 ERA in the lowest among all major-league starters.
He's may be an even better choice than Carpenter; he's 3-1 with a 1.48 ERA in his career against the Cardinals. In 10 career postseason starts he's 7-2 with a 2.13 ERA, although he has allowed nine earned runs in his past two postseason starts.
Lance Berkman
(5-for-13) and
Ryan Theriot
(5-for-16) have had success against Lee in their careers but
Albert Pujols
is just 1-for-8 against the Phillies lefty.
July, 31, 2011
7/31/11
1:21
PM ET


One of the sport's fiercest rivalries takes center stage as the
Chicago Cubs
take on the
St. Louis Cardinals
in this week's Sunday Night Baseball tilt (ESPN, 8 ET).
The Cubs probably would prefer the game take place on a different day of the week -- Chicago is 3-13 (.188) on Sundays and 39-52 (.429) during the rest of the week.
No matter the day, the Cubs' starting pitchers have been awful. They rank last in the majors with a 5.13 ERA. Over the last 60 years, the highest ERA for Cubs starters was 5.33 in 1999.
Things weren't helped by Rodrigo Lopez's outing on Saturday (4⅓ IP, 6 ER) as the Cardinals turned a 5-0 deficit into a 13-5 win. Ryan Theriot's sixth career four-hit game and Albert Pujols' 24th home run paced the attack.
The Cardinals' offensive explosion was fairly typical since they lead the National League in batting average, OBP, slugging percentage, OPS and Runs per game.

Pujols
Pujols, who recorded his 2,000th hit on Friday, is hitting .327 with 7 HR and 14 RBI against
Ryan Dempster
, Chicago's starter Sunday. In addition, in 61 plate appearances against Dempster, Pujols has struck out only once.
Pujols' seven homers against Dempster are tied for the most he has against any pitcher.
Another player who has had a lot of success against Dempster is
Skip Schumaker
. He's a .419 career hitter against Dempster (18-for-43), including 18-for-36 when putting the ball in play. This season, however, Schumaker is 0-3 with two strikeouts against Dempster.
Schumaker's .419 mark is third-best among players with at least 20 at-bats against Dempster, behind
Placido Polanco
(.450 BA) and
Jeff Keppinger
(.448).
One bit of good news for the Cubs is that they're facing
Jake Westbrook
. On May 11, Westbrook lost to the Cubs 11-4, allowing five runs in 2⅓ innings. Westbrook allowed five straight baserunners, all of whom scored.
Westbrook is unbeaten in his last seven starts (3-0, 4.32 ERA); however, the Cardinals are just 4-3 in those games.
December, 5, 2010
12/05/10
10:00
AM ET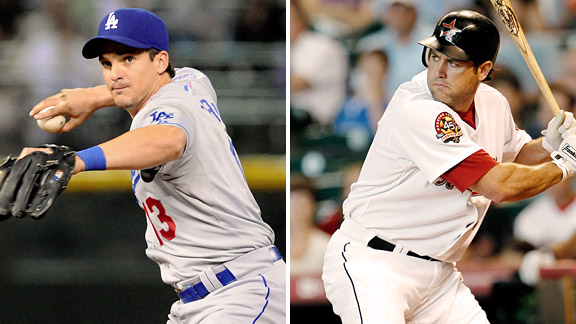 Icon SMI
Ryan Theriot and Lance Berkman lacked in performance in 2010, but the Cardinals will give them a chance to bounce back.
There were lots of huge moves in the majors last week, but our weekly review focuses on a couple of new Cardinals, and a thankful Rockies pitcher, along with a quick farewell to
Adrian Gonzalez
.
Cardinals sacrificing defense, hoping for more punch
With their acquisitions of shortstop
Ryan Theriot
and outfielder
Lance Berkman
this week, the Cardinals made a strategic choice to prioritize offense over defense at two lineup spots for 2011.
Theriot is the likely replacement for shortstop
Brendan Ryan
, who posted the lowest OPS in baseball last season (.573), though Theriot's .633 was only a couple of spots better. But there is a significant defensive downgrade to consider.
Ryan ranked as the best fielding shortstop in the majors, leading all players with 27 defensive runs saved. In limited action at shortstop in 2010, Theriot cost his team five runs, though he did rate slightly above average from 2007 to 2009.
Ryan specialized on balls hit to the shortstop-third base hole, rating plus-20 on them in 2009 and plus-30 in 2010 according to Baseball Info Solutions' plus-minus metric.
That meant he turned 50 more balls into outs than an average shortstop would have in the same time period. In the 1,500+ innings that Theriot played shortstop over the last two seasons, he rated a minus-4 on balls hit into that hole.
That could be trouble given the ground-ball tendency of Cardinals pitchers. Last season, they had the second-highest groundball percentage in the majors.
Translation: If the Cardinals want to play Theriot regularly, they'd do well to have a third baseman who can get to balls to his left -- something they didn't previously have to worry about too much.
Berkman's defense in the outfield may not have as big of a negative impact as it seems, given those ground-ball tendencies. The last season he played in right field was 2007 and in 230 innings, he had a plus-minus rating of minus-4. He'll be joining a Cardinals outfield that rated in the upper-half of National League teams in both runs saved and plus-minus.
Much like we noted earlier this winter regarding Braves fans getting used to cheering for
Dan Uggla
(who owned them), Cardinals fans will have to get used to cheering for Berkman.
Berkman leads active players in home runs (39) and RBI (118) against the Cardinals. His .415 OBP ranks fourth-best and his .601 slugging percentage ranks fifth-best against them among active players (minimum 150 PA). His 169 home runs and 540 RBI against NL Central opponents are the 3rd-most since divisional realignment in 1994.
–- Katie Sharp and Mark Simon
Rockie-Solid?
Most starting pitchers who net a multi-year free agent contract for $10 million or more have lengthy histories of durability and success. But not seven-year veteran
Jorge De La Rosa
.
De La Rosa still has the equivalent of a baseball bucket list as he heads into the first of two guaranteed seasons with the Rockies at a guaranteed $21.5 million. He's never finished a season with an ERA under 4.00, never posted an ERA+ of 120 or better (meaning his ERA, adjusted for ballpark, was never 20 percent better than the rest of the majors), and only once pitched 150 innings in a season.
De La Rosa, much like
Troy Tulowitzki
might consider himself thankful for the Rockies generosity.
–- Mark Simon
Going, Going, Gonzo
A few last numbers by which to remember Adrian Gonzalez, the Padre:
0.17–-
Gonzalez's Win Probability Added in September/October, 2010, 39th-best in the NL, fourth-best among Padres (San Diego hit .229 in September, hurting the number of chances Gonzalez had to make an impact)
16–-
"Just enough" home runs hit by Gonzalez in 2010, most in the majors according to Hit Tracker Online (homers that cleared by less than 10 feet)
47–-
Home runs at home since 2007, tied for 43rd-most in the majors
161–-
Home runs as a Padre, two shy of Nate Colbert's team record
–- Derek Czenczelewski, Katie Sharp, Mark Simon
June, 14, 2010
6/14/10
1:59
PM ET
By
Jeremy Lundblad, ESPN Stats & Info
| ESPN.com
Quick Hits
: With the exception of the Phillies, every team now has 100 or fewer games remaining in the season. As the season draws on, several players are on pace to make rather obscure history. Here are some to keep an eye on:
Today's Trivia
: Ichiro Suzuki and
Albert Pujols
will be in opposing dugouts for just the 7th time (not including All-Star Games) on ESPN's Monday Night Baseball. Both won their league's Rookie of the Year in 2001 and have been destroying the record books since. Pujols holds the record for home runs in a player's first 10 seasons, while Ichiro holds that distinction for hits. Who holds the record for most RBI in his first 10 seasons?
Today's Leaderboard
:
Jon Garland
takes the mound against the Blue Jays while sporting the league's best ERA at home. Garland has a 1.15 ERA at home compared to 4.39 away from Petco. Meanwhile,
Adam Wainwright
brings his 1.62 home ERA up against the Mariners.
Key Matchups
: A nine-year veteran of the AL, Jon Garland is 11-2 all-time against the Blue Jays. His team has won 13 of his last 15 starts against Toronto. Garland saw a lot of
John Buck
as AL Central rivals. Buck picked up only one hit in his first 12 at-bats against Garland, but since then, he is hitting .363 with four doubles in 24 at-bats.
Adam Wainwright is looking to extend his record streak of 20 straight quality starts at home. He'll face the Mariners for the first time in his career. However, opponents have posted six straight quality starts against the Mariners, who have only exceeded 4 runs once in their last 14 games.
Trivia Answer
: Joe DiMaggio had 1,277 RBI in his first 10 seasons, two more than Al Simmons. Pujols is currently 102 RBI behind Ted Williams for third on the list.
April, 25, 2010
4/25/10
10:33
PM ET
By
ESPN Stats & Info
| ESPN.com
Any team that wanted
Matt Capps
or
Kelly Johnson
last winter could have had them cheaply, after each was non-tendered this offseason.
Both have found early success in new scenery and that continued Sunday. Johnson hit his seventh home run, one fewer than he had in 303 at-bats in 2009, as the
Arizona Diamondbacks
topped the
Philadelphia Phillies
. Johnson is taking what's given to him, just as he did this offseason, to produce power.
Of Johnson's seven home runs, four came on pitches that our Inside Edge video review deemed to be on the outside part of the plate. He didn't have a home run on an outside pitch in all of 2009.
Capps set a
Washington Nationals
team record with his eighth April save, lowering his ERA to 0.79. The key for Capps? Opponents are hitless in 16 at-bats against him with runners in scoring position (he got three of those outs Sunday). They hit .350 against him in such spots last season. That provides an easy explanation for a drop in ERA of nearly five runs.
What else was noteworthy Sunday?
* It was a rough day for Pirates starter
Charlie Morton
and Yankees starter
Javier Vazquez
. Morton actually reduced his ERA to 16.20 after allowing five runs in three innings against the Astros. If Morton doesn't pitch again, his April ERA will rank second-worst among those who made four starts. Vazquez's ERA jumped to 9.00, matching the worst-ever April ERA by a Yankee who pitched at least 20 innings.
*
Cla Meredith
saved the game for the Orioles Sunday in his 272nd career appearance. He previously had the most relief appearances by an active pitcher who didn't have a save. Pirates reliever
Jack Taschner
, with 211, is now on the clock.
Hitters of the Day
Paul Konerko and Ryan Theriot
Konerko was clutch and Theriot was consistent. Konerko's sharp eye has been a key this year. He took six swings on Sunday, missing none, and making his last count for a game-winning home run.
Theriot got five hits, with the last four all coming early in counts. In the at-bats that netted his last four hits, Theriot saw just nine pitches. Since 2009, Theriot is hitting .362 within the first two pitches of an at-bat, 30 points better than the major league average.
Why David Price won:
- Retired 14 of 15 hitters when gaining a two-strike count, getting hitters to swing at half of the pitches he threw out of the strike zone in those spots.
Why Scott Olsen won
:
- His slider worked. Seven of his eight strikeouts came with the slider, with the hitter chasing a pitch out of the strike zone on five of those seven. This was a sharp contrast from his first two starts, in which he got three strikeouts with the slider.
Why John Danks won:
- Efficiency: Threw three or fewer pitches to 60 percent (18 of 30) of the batters he faced. The major league average is about 47 percent.
Why Randy Wells won:
- Besides his team scoring a lot of runs, Wells may have been a little lucky. Brewers hitters were 0-for-7 in situations in which they had a favorable count.
Why Gio Gonzalez and Brad Penny won
- They shared the common thread of shutting down the leadoff man. Gonzalez didn't let a leadoff man reach in his seven innings. Penny only let the leadoff hitter reach once (7.2 IP).
April, 14, 2010
4/14/10
6:29
PM ET
By
ESPN Stats & Info
| ESPN.com
Leadoff hitters may have gotten the memo from our initial post today, referencing their struggles so far throughout 2010. In five of this afternoon's games, the No. 1 hitter in the lineup had a major impact.
In the Cubs-Brewers game
Rickie Weeks
was 2-for-5 with 2 RBI
Ryan Theriot
was 4-for-5 with 2 RBI
In the Royals-Tigers game
David DeJesus was 2-for-4 with 2 RBI
In the Red Sox-Twins game
Marco Scutaro
was 2-for-5 with an RBI
Denard Span
was 0-for-1, but drew 4 walks
In the Angels-Yankees game
Erick Aybar
was 2-for-4 with an RBI
Derek Jeter
was 2-for-4
In the Pirates-Giants game
Aaron Rowand
was 2-for-4 with a HR and 2 RBI
Elsewhere around the majors ...
*
Joel Pineiro
was true to his 2009 form on Wednesday in beating the
New York Yankees
. He induced 12 ground outs and four air outs, with seven strikeouts. Last season, Pineiro's ground out-air out rate was 2.22, edging
Derek Lowe
by a hair for best in the majors.
Against Pineiro and company,
Alex Rodriguez
extended his homerless drought to 35 at-bats. That's his longest to start a season since a 38 at-bat drought to start 2001.
*
Javier Vazquez
has failed to pitch through the sixth inning in each of his first two starts for the Yankees this season.
Last year, Vazquez failed pitched at least six innings in only four of his 32 starts. His first start of less than six innings didn't come until May 20 last season (ninth start of season). His 28 starts of 6+ IP were tied for sixth-most in the National League last year.
* The
Baltimore Orioles
allowed three three-run home runs to the Rays in less than 24 hours, including a pair to
Carlos Pena
(one on Tuesday, one on Wednesday) in losing twice to the
Tampa Bay Rays
. The Orioles allowed 26 three-run home runs last season, one shy of the major league lead. The 2009 leader? None other than the Rays, with 27.
*
Dustin Pedroia
hit his fourth home run in his eighth game of the season. Last year, it took Pedroia 81 games to reach four home runs.
* The early contender for best pitching performance of the day is
Jonathan Sanchez
of the
San Francisco Giants
. Nine of his 11 strikeouts came via offspeed offerings. It wasn't quite the no-hit stuff he showed against the Padres last season, but was impressive nonetheless.