Stats & Info:

Sacramento Kings
January, 27, 2014
Jan 27
5:59
PM ET
By
ESPN Stats & Information
| ESPN.com
David Richard/USA TODAY SportsDamian Lillard's clutch shots could help him earn his first All-Star selection.
The NBA will announce its full All-Star Game rosters on Thursday, and a number of players have made a case to make their first appearance in the game. ESPN Stats & Information is taking a five-part look at these players.
1.
The Future, Part I (John Wall and Anthony Davis)
2.
The Future, Part II (DeMarcus Cousins, Lance Stephenson, Damian Lillard)
3.
Emerging Talent, Part I (DeMar DeRozan, Ty Lawson)
4.
Emerging Talent, Part II (Serge Ibaka, DeAndre Jordan)
5. The Veterans (Mike Conley, Arron Afflalo, Kyle Lowry)
Here is the second part, looking at a trio of players who could be going to their first All-Star Game:
DeMarcus Cousins
,
Lance Stephenson
and
Damian Lillard
. All statistics are entering Monday's games.
DeMarcus Cousins
Cousins is having the most productive season of his career, averaging 22.6 points and 11.6 rebounds per game through 40 games for the
Sacramento Kings
. Cousins is one of three players who ranks in the top 10 in both points and rebounds per game this season (10th and fifth, respectively), joining
Kevin Love
and
LaMarcus Aldridge
.
Cousins
Among the top-ten scorers in the NBA, Cousins has been the most efficient, averaging the fewest frontcourt touches per game (40.3). He makes the most of those touches however, as his 0.56 points per half-court touch are the second-most among those top-10 scorers, according to player-tracking data on NBA.com (
Kevin Durant
, 0.57).
The Kings also lean heavily on Cousins. He has a usage percentage of nearly 33 percent, tied with
Russell Westbrook
for the highest in the league this season. Usage percentage is an estimate of the percentage of team plays used by a player while he was on the floor.
He has also developed into one of the NBA's best post scorers. Of 57 players with at least 75 post-up plays, Cousins ranks sixth with 7.1 post-up points per game.
Lance Stephenson
Stephenson has put together a well-rounded season, joining Kevin Durant as the only players in the NBA averaging at least 14 points, seven rebounds and five assists per game this season.
Those seven rebounds per game are the most among guards this season, a full board ahead of second-place Russell Westbrook.
Stephenson has been at his best from the paint this season, ranking among the top-10 guards in points in the paint per game (8.0).
The
Indiana Pacers
have been better with Stephenson on the floor as well, averaging nearly eight more points per game with him on the floor than without him.
Damian Lillard
In just his second NBA season, Lillard has emerged as one of the top crunch-time players in the NBA, entering Monday's game tied for fifth in the NBA in clutch-time points (last five minutes of fourth quarter/overtime with score within five), and second in field goal percentage.
Lillard is averaging 20.7 points and 5.6 assists per game this season. He could become the fourth player in
Portland Trail Blazers
history to average 20-5 for a season, joining Brandon Roy,
Clyde Drexler
and Sidney Wicks.
Portland is averaging nearly 112 points and outscoring its opponents by six points per 100 possessions with Lillard on the floor this season. Last year in Lillard's rookie year, the team averaged 105 points and was outscored by 2.1 points per 100 possessions with him on the floor.
December, 27, 2013
12/27/13
12:27
PM ET
By
Evan Kaplan
| ESPN.com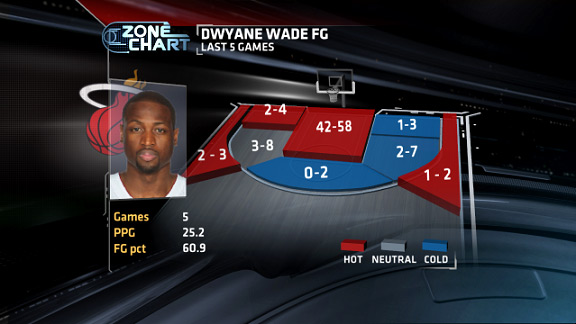 The
Miami Heat
put a six-game winning streak on the line tonight at the
Sacramento Kings
(10 ET).
One of the key contributors to the streak has been
Dwyane Wade
. Here are five numbers to know on his current five-game hot streak:
25.2:
That's how many points per game he's averaging, up from 18.4 in his first 16 games. It's the first time this season he's scored 20 points in five straight games.
60.9:
That's Wade's field goal percentage in his last five games. He's made at least 55 percent of his shots in each of those games. That's tied for the longest streak of his career, which he's done three previous times.
16.4:
That's how many paint points per game he's averaging in this hot stretch. Wade scored 20 points in the paint on Christmas, his second-most in a game this season. Wade leads all NBA guards with 10.9 points in the paint per game this season.
5.6:
That's how many points per game Wade has scored on post-ups in the last five games, more than double his average of 2.6 post-up points per game in his first 16 games. Wade is shooting 56 percent from the field on his post-up shots during this stretch.
56.7:
Looking ahead to tonight's game and Wade's chances of extending his hot streak, this number is Wade's career shooting percentage against the Kings. It's his best field-goal percentage against any opponent.
June, 28, 2012
6/28/12
11:22
AM ET
By
Ryan Feldman, ESPN Stats & Information
| ESPN.com

The
Sacramento Kings
have needs across the board. With the No. 5 pick, will they be able to find a player to fill those needs? Here's a look at areas in which they struggled during the 2011-12 season:
SHOOTING
The Kings attempted more 3-pointers than most teams this season, but they had the second-worst 3-point percentage. They had the third-fewest points per jump shot, the second-fewest points per catch-and-shoot jumper, and the third-fewest points per jump shot off the dribble.
DEFENSE
The Kings allowed the most points and the highest field-goal percentage in the NBA this season. They played at the fastest pace in the league, so that had something to do with it, but they still allowed the third-most points per 100 possessions.
POST-UP PLAY
The Kings averaged the fourth-fewest points per post-up play this season. Only the
Charlotte Bobcats
,
Milwaukee Bucks
and
Cleveland Cavaliers
were less efficient in the post, where the Kings shot just 39 percent. Their primary post player was
DeMarcus Cousins
, but of the 18 players with at least 300 post-up plays, nobody averaged fewer points per post-up play than Cousins.
TOP DRAFT TARGETS
Based on their statistical weaknesses, the Kings could use a a good shooter who can lock up defensively.
Michael Kidd-Gilchrist
, who's currently projected to go fourth to Cleveland in Chad Ford's
latest mock draft
, would certainly help defensively. At Kentucky, he held opponents to 30 percent shooting as an on-ball defender.
He excelled defending both the pick-and-roll and isolation plays. On those particular play types, he held opponents below 26 percent shooting. Of the 285 players who defended at least 50 pick-and-roll ball-handler plays, Kidd-Gilchrist allowed the fourth-fewest points per play.
But MKG isn't without some room for improvement himself. He shot just 25 percent on catch-and-shoot jumpers and 20 percent on jumpers off the dribble.
Statistical support for this story from NBA.com.
April, 27, 2012
4/27/12
5:14
AM ET
Stats & Info insights into this morning's top sports stories.

1. LUCK MAKES IT FOUR:
The first round of the 2012 NFL Draft was held on Thursday. The
Indianapolis Colts
selected
Andrew Luck
with the first overall pick. Luck is the fourth Stanford QB to be picked first overall in the history of the NFL Draft, joining
John Elway
(1983), Jim Plunkett (1971) and Bobby Garrett (1954). Stanford is the first school to have four QBs drafted first overall and the first school to have four No. 1 picks at any single position.
2. DEVILS MOVE ON:
The
New Jersey Devils
defeated the
Florida Panthers
in Game 7, 3-2, in double overtime. It marked the fifth time under the current playoff format (since 1993-94), that a Game 7 had multiple overtime periods. Adam Henrique scored the game-winning goal. According to Elias, he is the second rookie to score an overtime goal in a Game 7. The other was Montreal's Claude Lemieux in 1986 against the Hartford Whalers.
3. RANGERS MOVE ON:
The
New York Rangers
defeated the
Ottawa Senators
, 2-1, in Game 7. It's the Blueshirts' first Game 7 win since the 1994 Stanley Cup Final against the
Vancouver Canucks
. The Rangers now face the seven-seed
Washington Capitals
in the Eastern Conference Semifinals. In their two previous playoff appearances, the Rangers were eliminated each time by the Capitals.

Durant
4. DURANT WINS TITLE:
Thursday marked the final day of the NBA regular season.
Kobe Bryant
did not play in the
Los Angeles Lakers
finale against the
Sacramento Kings
. As a result,
Kevin Durant
won the 2011-12 NBA scoring title for the third straight season. At the age of 23, Durant is the youngest player to win three straight scoring titles.
5. HUMBER ROUGHED UP:
The
Boston Red Sox
defeated the
Chicago White Sox
, 10-3. The game marked the first start for White Sox pitcher
Philip Humber
since his perfect game last Saturday. Humber allowed a career-high nine earned runs in five innings. According to Elias, Humber became the first pitcher in major-league history to allow as many as nine runs in his first appearance after pitching a perfect game.
April, 26, 2012
4/26/12
6:07
AM ET
Stats & Info insights into this morning's top sports stories.
1. BRUINS BOUNCED:
The
Washington Capitals
beat the
Boston Bruins
2-1 in overtime in Game 7. The Bruins lost when facing elimination for the first time in six games. It is the fourth time in the expansion era (since 1967) that both Stanley Cup finalists from the previous season lost in the quarterfinals the following season.
FROM ELIAS:
It was the first series in Stanley Cup history in which all seven games were decided by a one-goal margin, and only the second series to go to overtime in Game 7 with the two teams having scored the same number of goals in the series. There are two more Game 7s Thursday (
Ottawa Senators
at
New York Rangers
,
New Jersey Devils
at
Florida Panthers
).

Bryant

Durant
2. KOBE OR KD:
Kevin Durant
scored 32 points in his final regular-season game. Durant averaged 28.03 PPG this season, 0.17 ahead of
Kobe Bryant
. Bryant needs 38 points against the
Sacramento Kings
on Thursday to win the scoring title. Bryant has scored 38 points 152 times in regular-season games in his career, including nine against the Kings. Durant or Bryant will become the eighth player in NBA history to win at least three scoring titles.
3. CHAMPIONS LEAGUE FINAL SET:
Bayern Munich advanced to the UEFA Champions League final (tied 3-3 on aggregate; advanced 3-1 on penalty kicks) over Real Madrid. It was the first time that a UEFA Champions League semifinal went to penalty kicks since 2007. Bayern Munich will face Chelsea on May 19 in Munich. They will be the first club since Roma in 1984 to play the European Cup Final in its home stadium.
4. NBA FUTILITY:
The
Charlotte Bobcats
lost for the 22nd straight time on Wednesday. They end the regular season at home against the
New York Knicks
on Thursday. If the Bobcats lose, they will set the record for the worst winning percentage in a single-season in NBA history (would finish at .106 win pct), passing the 1972-73 76ers (finished at .110). Charlotte is still looking for its first win since March 17.
5. NFL DRAFT:
The first round of the NFL Draft begins Thursday at 8 ET on ESPN. QB
Andrew Luck
and QB
Robert Griffin
III are expected to be the first two players taken. It would be the fifth time in the Common Draft Era (since 1967), and first since 1999, that quarterbacks were selected first and second overall.
February, 15, 2012
2/15/12
2:40
PM ET
By
ESPN Stats & Information
| ESPN.com
Nathaniel S. Butler/NBAE/Getty ImagesJeremy Lin is rewriting the record book in his first two weeks as a starter, but not all the records are positive.
According to the Elias Sports Bureau,
Jeremy Lin
's 136 points in his five NBA starts is the highest point total for any player in his first five starts since John Drew tallied 139 points for the
Atlanta Hawks
in 1974-75. Among players who began their career since 1970, when Elias became the official statistician of the NBA, the high mark for the first six starts is 162 by Bob Lanier and Charlie Scott.
Standing Alone
Also from Elias, Lin is the only player to go undefeated and score 20 or more points in each of his first five starts since the ABA-NBA merger in 1976-77.
Better Late Than Never
Lin excels as the game progresses. During the
New York Knicks
six-game win streak, Lin has scored exactly twice as many points in the fourth quarter as the first quarter. In fact, his point production has improved each quarter (27, 38, 42, 54).
Two of a Kind
In the NFL this season, "Tebow Time" was the final nine minutes of the fourth quarter, in which
Tim Tebow
's total QBR of 85.3 ranked third. In the final nine minutes of the fourth quarter in the NBA this season, Lin ranks fourth in Player Efficiency Rating (min. 85 minutes).
Tonight's Game
The
Sacramento Kings
are among the league's worst teams at defending the rolling man in pick-and-roll offenses, ranking in the bottom five in Points Per Play. Additionally, 15 percent of the points the Kings have allowed on those plays have come at the free-throw line, third-highest in the NBA. The Knicks offense ranks first in free-throw percentage in those situations.
Room for Improvement
Yes, there are aspects of Lin's game that haven't been spectacular. Lin has committed at least six turnovers in each of his last three games. According to Elias, he could tie the Knicks' record for consecutive games with at least six turnovers (a statistic that has been officially recorded for individuals since 1977). Ray Williams (1978-79), Bob McAdoo (twice during 1977-78) and
Patrick Ewing
(1993-94) all had streaks of four games in a row.
St. Knick?
Lin has scored at least 20 points and dished out at least seven assists in each of his last six games, tying Walt Frazier and Micheal Ray Richardson for the longest such streaks in Knicks history.