Stats & Info:

Salvador Perez
July, 10, 2014
Jul 10
1:02
AM ET
According to win probability data provided by the Elias Sports Bureau, three teams posted comebacks when faced with less than a 15 percent chance to win in their final at-bat on Wednesday.
Let's run through those games and the players whose end-game performance made the difference.
Red Sox: win probability in ninth inning bottomed out at 14.3 percent
Brock Holt
sure had to be happy that
Chris Sale
was out of the game come his last turn at-bat.
Holt had gone 0-for-4 against the overpowering
Chicago White Sox
lefty, having been called out on strikes twice and having grounded out twice. He fared much better against reliever
Javy Guerra
, lining the game-winning single to lift the
Boston Red Sox
to victory.
Though Holt strikes out a lot, he has gotten good results with two strikes this season. His game-winning hit against Guerra offset four prior two-strike outs. He's now hitting .260 in two-strike situations this season, tied for 12th-best in the majors.
Royals: win probability in the ninth inning bottomed out at 14.3 percent
The first 37 home runs of Salvador Perez's major league career all were calculated at 355 feet or longer.
His three-run home run in the ninth inning on Wednesday would be 17 feet shorter than any homer he'd hit previously, but it was nonetheless a big home run for the
Kansas City Royals
.
It was the first time in 14 years that the Royals got a go-ahead home run in the ninth inning or later when they were trailing by two runs or more. The last was hit by
Rey Sanchez
against the
Baltimore Orioles
in 2000.
Perez got the home run on a fastball in the upper half of the strike zone, a mistake from
Tampa Bay Rays
rookie
Kirby Yates
. Perez is 32-for-90 with four home runs against fastballs in the upper half of the zone or above (you can see them in the image below).
His .356 batting average on those pitches ranks in the top 10 percent among hitters this season.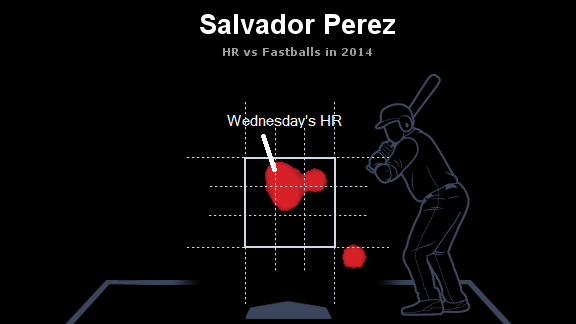 Diamondbacks: win probability in 10th inning bottomed out at 11.1 percent
The
Arizona Diamondbacks
lost in crushing fashion on Tuesday. They would win in a similar manner on Wednesday.
Paul Goldschmidt
, who made the final out of Tuesday's loss (on
Marcell Ozuna's
ninth-inning home run), got the game-winning hit, a two-run double to the left-center gap against
Miami Marlins
closer
Steve Cishek
.
It was Goldschmidt's fifth career walk-off hit, his second against the Marlins and the first to come when his team was trailing.
Goldschmidt has a major league-leading 35 doubles this season and is on pace to be the first player to hit 60 doubles in a season since Hall-of-Famers Joe Medwick hit 64 and Charlie Gehringer hit 60 in 1936.
June, 19, 2014
Jun 19
12:01
AM ET
By
ESPN Stats & Information
| ESPN.com
ESPN Stats & InformationCatcher Salvador Perez has crushed pitches on the outer third since June 1.
The
Kansas City Royals
are as hot as they've ever been in the last two decades. For the first time since 1994 and just the fifth time in franchise history, the Royals have won 10 straight games. With the exception of the strike-shortened 1994 season, Kansas City has reached the ALCS in each of the previous three seasons when it won at least 10 straight.
The streak
During the 10-game win streak, the Royals have an OPS of .878, which would easily lead MLB this season (Rockies currently top baseball with a .798 OPS).
Over the course of the streak, the Royals have four players batting better than .350:
Billy Butler
(.389),
Salvador Perez
(.385),
Jarrod Dyson
(.381) and
Alcides Escobar
(.378).
Perez has been an especially difficult out. Perez extended his hit streak to 12 games Wednesday, naturally on a pitch away.
He's hitting .435 on pitches on the outer third of the plate since the calendar turned to June. In the first two months of the season, Perez batted a respectable .258 on pitches on the outer third or further -- but just slightly above league average.
But over the past two-plus weeks, he's hit .435 on those same pitches.
How Guthrie won
Meanwhile, the Royals got yet another strong performance from a member of their rotation.
Jeremy Guthrie
logged nine strikeouts for the second consecutive start, marking the first time he's accomplished that in his career. Here's how Guthrie beat the Tigers on Wednesday:
• Guthrie got the Tigers to chase 32 percent of his pitches out of the strike zone, his second-highest rate this season.
• He did so by keeping hitters off balance, using both his fastball and changeup to finish off hitters. The Tigers were 1-13 with five strikeouts in at-bats ending in a fastball, and 1-6 with four strikeouts in at-bats ending in a changeup.
• Guthrie got ahead of hitters and put them away. The Tigers went 0-14 in at-bats that reached two strikes, his only start without allowing a hit in a two-strike count this season.
Great Royals SP during streak
Guthrie's performance reflects a larger trend among Royals starting pitching during this win streak.
No starter has allowed more than three earned runs in the last 10 games, and the only home run they have allowed was a solo homer that Guthrie gave up in the seventh inning on Wednesday. Royals starters have 58 strikeouts compared to just 16 walks during the streak.
It's pretty safe to call that a winning formula.
October, 29, 2013
10/29/13
9:03
PM ET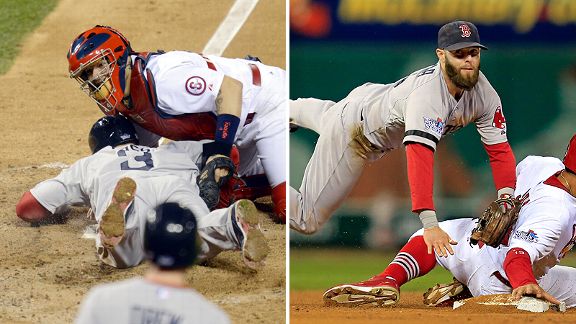 USA TODAY Sports/Getty ImagesYadier Molina and Dustin Pedroia have Gold Gloves to go along with a World Series appearance.
The Gold Glove Awards were announced on Tuesday, with this year's field featuring a nearly even mix of first-time honorees and repeat winners.
For the first time, a statistical component factored into the voting -- the SABR Defensive Index accounted for 25 percent of the vote. The remaining votes came from major league managers and coaches.
Royals, Orioles take home the most Gold
The Royals and Orioles each won three Gold Glove Awards. First-time winners
Salvador Perez
and
Eric Hosmer
joined Royals left fielder
Alex Gordon
, who won his third straight.
Manny Machado, who led the majors in Web Gems at third base, joined repeat winners J.J. Hardy at shortstop and Adam Jones at center field for the Orioles.
With a statistical component comprising part of this year's vote, Jones wasn't necessarily expected to win this year. He was the only Gold Glove winner with a negative defensive runs saved total for the season, but he passed the eye test, garnering enough votes to beat out
Lorenzo Cain
of the Royals and
Jacoby Ellsbury
of the Red Sox.
Another one for Molina
Yadier Molina
became the fourth catcher to win six straight Gold Gloves, joining
Ivan Rodriguez
(13), Johnny Bench (10), Bob Boone (7) and Jim Sundberg (6).
Molina's current streak is the best for an NL catcher since Bench won 10 in a row from 1968 to 1977.
Molina's teammate, pitcher
Adam Wainwright
, won his second Gold Glove. They are the second pitcher-catcher combo to win the Gold Glove together more than once. The other is
Kenny Rogers
and Rodriguez, who won as teammates in 2000 and 2006.
Victorino, Phillips win again
Red Sox right fielder Shane Victorino and Reds second baseman
Brandon Phillips
each won their fourth Gold Gloves.
Victorino, who had won three previous times with the Phillies as a center fielder, joined second baseman Dustin Pedroia as Red Sox winners. Victorino finished with a major league-best 23 defensive runs saved in right field, the highest total in any season in his career.
Phillips has won the award four times in six seasons. His four wins are one shy of Hall of Famer Joe Morgan for the most by a Reds second baseman.
New winners becoming a tradition
The corner infield spots in the National League were won by a pair of first-timers: Diamondbacks first baseman Paul Goldschmidt and Rockies third baseman Nolan Arenado.
Goldschmidt is the NL's fifth different winner in the last five years at first base. Arenado is the sixth different winner in six years at the hot corner.
It's been a long time
Some notable droughts were broken with Tuesday's awards. Among them:
Perez became the first Royals catcher to win a Gold Glove since Bob Boone in 1989.
Hosmer became the first Royals first baseman to win a Gold Glove. Hosmer beat out a field that in past years would have been led by
Mark Teixeira
,
Albert Pujols
and
Adrian Gonzalez
. With Teixeira and Pujols injured and Gonzalez now in the National League, the field was wide open at that position.
Machado became the first Orioles third baseman to win a Gold Glove since Brooks Robinson in 1975.
Andrelton Simmons became the first Braves shortstop to win a Gold Glove and the first Braves infielder to win one since Terry Pendleton in 1992.
Carlos Gomez became the first Brewer to win a Gold Glove since Robin Yount in 1982 and the first Brewers outfielder to win one since Sixto Lezcano in 1979. Gomez led the majors with five home run robberies. No other player had more than two.
March, 27, 2013
3/27/13
3:43
PM ET
By
Mark Simon, ESPN Stats & Info
| ESPN.com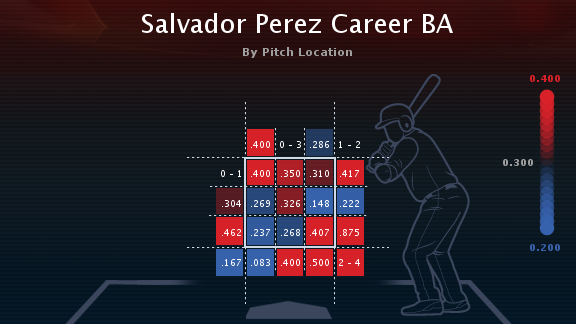 ESPN Stats & Information
Five stats to know about
Kansas City Royals
catcher
Salvador Perez
.
He can hit
Perez has played a little less than three-quarters of a season (115 total games) in the last two years, and his numbers rate very well.
His .310 batting average and .471 slugging percentage are a near-match for what
Yadier Molina
has done in the same span (albeit in more than twice as many at-bats).
He can hit anything
Perez is one of the game's best contact hitters. Last season, he put 55 percent of his swings in play, the fifth-highest rate among players with at least 250 plate appearances.
He was able to do this because he was very adept at hitting pitches outside the strike zone. Perez put half of his swings against those pitches into play, the highest rate in the majors.
All right vs lefties
Perez's contact numbers are even better against left-handed pitchers. In two seasons, he's hitting .393 with as many home runs as strikeouts (6) in 112 at-bats against lefties.
In the first 200 swings Perez has taken against left-handed pitching, he's missed only 10 times. That 5 percent miss rate is bettered over the last two seasons by only
Jeff Keppinger
.
A good glove
Perez has brought value on the defensive end. Last season, he finished with nine Defensive Runs Saved. Perez threw out 15 of 40 runners attempting to steal, the best rate among any American Leaguer who caught at least 50 games. His five pickoffs were the most of any catcher in baseball.
Lots of value
In his 115 games, Perez has been worth 4.2 Wins Above Replacement. The five other players who have caught games for the Royals in that two-year span have combined for 0.4 Wins Above Replacement.
Perez's 4.2 WAR is tied for 11th-best among catchers. It's the same total as
Milwaukee Brewers
catcher
Jonathan Lucroy
, but in half as many games.