August, 2, 2011
8/02/11
2:14
AM ET

Cabrera
The
Cleveland Indians
'
Asdrubal Cabrera
entered this season with 18 home runs in 387 career games.
Following his two-HR game on Monday against the
Boston Red Sox
, Cabrera now has 19 this season.
His second home run came in the eighth inning off
Daniel Bard
, who had not allowed a run in his last 25 appearances (26.1 innings). The last time Bard gave up a run was May 23 -- an RBI double by Cabrera that gave Cleveland a 3-2 lead and eventual win.
That second home run traveled a distance of just 320 feet, making it the shortest homer hit in 2011. The previous shortest home run was 323 by
Sam Fuld
of the
Tampa Bay Rays
back on April 11.
Cabrera also became the first Indians shortstop in 60 years to hit two home runs in one game at Fenway Park. According to the Elias Sports Bureau, that had last been done in July 1951 by Ray Boone, whose grandson, Aaron, was part of ESPN's broadcasting crew for Monday night's game.
And while Indians'
Josh Tomlin
didn't pitch great (10 hits, five earned runs), he did go six innings. Tomlin now has pitched at least five innings in each of his first 34 starts. According to the Elias Sports Bureau, the only pitchers who debuted in 1900 or later with longer such streaks than Tomlin are Oscar Jones (51 straight starts from 1903-04) and George Winter (37, 1901-02).
AROUND THE REST OF MLB
Adam Dunn
of the
Chicago White Sox
went 0-for-4 with three strikeouts against
CC Sabathia
, and now is hitting .039 this season against left-handed pitchers. Dunn has 18 games with at least three strikeouts this season twice as many more as
Austin Jackson
and
Ryan Raburn
of the
Detroit Tigers
have for second most.
Joey Votto's double in the third inning on Monday night gave him an extra-base hit in each of his last 11 games at Minute Maid Park. The Elias Sports Bureau tells that in modern major-league history (that is, since 1900), only two other visiting players produced an extra-base hit in at least 11 consecutive games at a particular park: Jimmie Foxx in 12 straight games at Sportsman's Park, over 1939 and 1940, and
Jeff Bagwell
at Candlestick (3Com) Park, from 1993 to 1995.
Derrek Lee
hit two home runs in his Pirates debut on Monday night, but that was the extent of Pittsburgh's scoring in a 5-3 loss to the Cubs. According to the Elias Sports Bureau, Lee is only the second player in Pirates' history to belt two home runs in his first game with the team. The other was
Shawon Dunston
in September 1997, after he was traded, coincidentally, by the Cubs.
July, 13, 2011
7/13/11
10:00
AM ET
By
Andrew Davis
| ESPN.com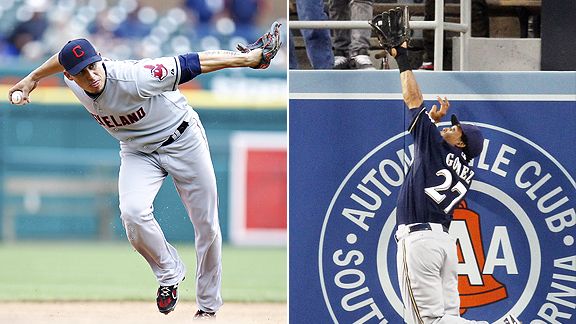 Getty Images/Gregory ShamusAsdrubal Cabrera and Carlos Gomez show off the skills that made them Defensive All-Stars.
With the All-Star break almost over, and as we await the resumption of baseball on Thursday, let's take a break from the typical chatter of second-half storylines, and shift our focus to the players on the field and the defensive All-Stars of the first half.
Baseball Info Solutions is a company specializing in determining the best (and worst) defensive players in more than 100 different metrics, from barehanded plays to home run robberies.
Using their data, here's our take on the players in the first half that have been good enough to be called a Defensive All-Star. (Note: ranks are for the player at his position, unless otherwise noted)
Pitcher: Anibal Sanchez, Marlins
Most Barehanded Plays For Outs (5)
Sanchez is averaging more than a strikeout per inning, but he gets on this list because of his defense while on the mound.
Catcher: Yadier Molina, Cardinals
Most Catcher Blocks (401)
Yadier is known for a strong arm, having thrown out over 40 percent of baserunners during his career. This season he also leads everyone in catcher blocks, defined as plays when runners are on base or if the pitch was the third strike.
First Base: Carlos Pena, Cubs
Most Difficult Throws Handled (32)
Pena can likely thank
Starlin Castro
for this award, as the shortstop already has 18 errors this season. Handling difficult throws applies to throws in the dirt or throws wide of the bag.
Second Base: Brandon Phillips, Reds
Most Double Plays Turned Despite An Aggressive Slide (6)
Brandon Phillips has wowed many fans with his defensive Web gems, he's also one of the best at turning double plays.
Third Base: Aramis Ramirez, Cubs
Most Barehanded Plays For Outs (10)
Ramirez has not only been one of the Cubs best offensive players, hitting .298 with 15 home runs and a team leading 51 RBI, but he's also been a star on the diamond, converting 10 barehanded plays into outs.
Shortstop: Asdrubal Cabrera, Indians
Most Web Gems (11) and Web Gems Points in MLB (41)
Asdrubal Cabrera has been a familiar face on Baseball Tonight, as a four-time Web Gem champ. Between two behind the back flips, a bare-hander on a short hop, and a diving stop and throw in a defensive shift, Cabrera has done it all defensively this season.
Left Field: Sam Fuld, Rays
Most Web Gems Either 1st or 2nd in MLB (9)
Despite being second in both Web Gems and Web Gem points, Fuld has more Web Gems rated as first- or second-best than any other player.
Center Field: Carlos Gomez, Brewers
Tied for Most Home Run Robberies in MLB (2)
Taking away a home run might be the most exciting play in baseball, and Gomez has done it twice, once with the bases empty and once with
Carlos Beltran
on first base, saving three potential runs.

Right Field: Nick Swisher, Yankees
Most Times Holding Players to a Single Among OF (6)
Swisher has recently begun to heat up at the plate, with seven homers and a .986 OPS since June 1, but his strong arm in the outfield has been an asset for the Yankees all season.
For more defensive stars, check out Baseball Tonight's Web Gems Mid-Year Special (11:30 ET, ESPN2).
May, 3, 2011
5/03/11
4:04
PM ET
ESPN's Home Run Tracker analyzes video of each home run hit this season. Each month, the tracker will detail the best and worst home runs, as well as some other interesting statistics pertaining to the long ball. Below are the notable home runs in the months of March and April.
Wall-Scraper: Shortest True Distance
March/April Winner: Sam Fuld, Tampa Bay Rays
Fuld's 323-foot
home run
off of
Daisuke Matsuzaka
on April 11 took just 3.32 seconds to leave the yard. Fortunately for Fuld, his blast came while playing at Fenway Park, the only park that particular batted ball would have been a home run in. Believe it or not, Shane Victorino's inside-the-park home run April 24 hit of Wade LeBlanc traveled 346 feet.
Moonshot: Highest Apex (Apex: maximum vertical height ball reaches)
March/April Winner: Luke Scott, Baltimore Orioles
Although they drop jaws for their height, "moonshot" home runs tend to produce true distances that are far from astonishing. Such is the case for Scott's fifth-inning
home run
off Cleveland's
Josh Tomlin
on April 16. It traveled just 339 feet, but was hit 148 feet in the air. Scott's home run took 6.39 seconds to clear the fence, nearly 1.5 seconds longer than the league average (4.85 seconds).
Line Drive: Lowest Apex
March/April Winner: Jose Bautista, Toronto Blue Jays
Bautista's
home run
off Tampa Bay's
David Price
on April 23 had an apex of just 46 feet. In 3.56 seconds, Bautista's shot traveled 383 feet.
Fast-ball: Fastest Speed Off Bat
March/April Winner: Justin Upton, Arizona Diamondbacks
There are many things that can't travel 116.7 mph, including a large number of automobiles. But that was the speed that ball traveled off Upton's second-inning homer on April 12 off the Cardinals'
Chris Carpenter
.
Player Power Surge: Most Combined Distance by One Player
March/April Winner: Ryan Braun, Milwaukee Brewers
Braun tallied 4,089 feet of total home run distance for the months of March and April, squeaking past
Alfonso Soriano
by 70 feet. Both Braun and Soriano hit 10 home runs in March and April. Five of Braun's 10 home runs traveled more than 420 feet, including a pair that went 444 and 445 feet.
Server of the Month: Most Combined Distance Allowed by One Pitcher
March/April Winner: Armando Galarraga, Arizona Diamondbacks
The "Imperfect Game" winner has been far from perfect this season. In 28 innings in the month of April, Galarraga allowed 11 home runs (currently on pace to allow 71) that have traveled 4,400 feet.
Wackiest: Most Improbable
March/April Winner: Miguel Olivo, Seattle Mariners
Give an assist to
Detroit Tigers
outfielder
Ryan Raburn
on this one. Olivo's second-inning shot off
Phil Coke
was about 10 feet short of being a home run, but Raburn's glove deflected the ball over the fence at spacious Comerica Park. With an apex of just 45 feet, Olivo's "
home run
" should win the award for Line Drive of the Month. But, because it required some assistance from Raburn, wackiest is more apropos.
April, 11, 2011
4/11/11
11:52
PM ET

The
Tampa Bay Rays
scored almost a season's worth of runs Monday night when they beat the
Boston Red Sox
16-5. That's the most runs they've ever scored against the Red Sox; the previous record came in a 15-9 win on July 24, 2003.
Other notes to come out of this wild affair Monday night:
• The Rays scored 16 runs after scoring 20 runs in their first nine games combined.
• In the second inning, the Rays scored six runs on six hits, three of which went for extra bases. That's more runs, hits and extra-base hits than they averaged PER GAME in their first nine games of the season.

Fuld
•
Sam Fuld
came to bat in the ninth inning needing a single for the cycle … and hit a double. He's the fifth player in Rays history with four extra-base hits in a game, the first since
Tomas Perez
in 2006.
He entered the game 5-for-42 lifetime in at-bats ending in an off-speed pitch; he was for 3-for-4 in such at-bats Monday.
• Every Rays starter raised his batting average in this game except
Dan Johnson
, who was 0-for-4 and is hitting .079 this season.
• The Rays are one of two American League teams to have two five-run innings this season. The other team is the
Texas Rangers
. For the season, Texas has scored 60 runs and the Rays have scored 36.
• This is the seventh time in franchise history the Red Sox are 2-8 through their first 10 games (they have never been worse).
However, it's just the second time it has happened since the end of WWII. They also started 2-8 in 1996 (and finished that season 85-77, third place in AL East).
• The Red Sox have allowed 69 runs through their first 10 games. That's tied with the 1980 team for the third-most runs allowed through 10 games. Only twice in their franchise history have they allowed more than 69 runs in the first 10 games: in 1901 and 1902.
• The Red Sox did get an offensive highlight when
David Ortiz
tripled in the fourth inning. Ortiz has a triple in every season since 2000.
Two other AL players have a triple in every season since at least 2000, entering this season:
Johnny Damon
has a triple in every season since 1995 (doesn't have one yet this season) and
Carlos Guillen
has a triple in every season since 2000 (doesn't have one yet this season, on DL).