Stats & Info:

San Diego Padres
August, 3, 2014
Aug 3
8:41
PM ET
In case you couldn't (or didn't) stay up, our weekly look at the interesting and unusual in MLB takes us on a roundup of some late-night and late-inning happenings.
• The
Chicago Cubs
and
Colorado Rockies
were tied 3-3 after four innings on Tuesday.
Eleven innings later, it was still 3-3
. After the Cubs loaded the bases in the 16th,
Starlin Castro
ended things with a sacrifice fly. By inning, it was the latest sac fly in Cubs history (flies were split from bunts in 1954), and the Cubs' longest victory since a 16-inning, 1-0 win over Houston on May 31, 2003.
Baker
Catcher
John Baker
pitched the top of the 16th and ended up with the win. Depending on your definition, he's on a very short list of Cubs position players to be a winning pitcher. Hal Jeffcoat won 13 games in the mid-1950s after being converted from an outfielder. In the early days, it becomes a gray area between pitchers and other positions. The Cubs' last winning "pitcher" who played more games in the field than he pitched was Jock Menefee, who in 1902 played 41 games at other positions, but pitched in 22 (winning 12). Their last not-regular pitcher to get a win while pitching in five or fewer games that season was second baseman Fred Pfeffer, who finished three games (and won one) in 1885.
At 6 hours, 27 minutes, Tuesday's was the longest game of the season, the longest in either team's history, and its 1:34 a.m. CT ending was the latest finish ever to a game at Wrigley Field (breaking the previous record from 2012 by 6 minutes).
While there have been four 16-inning games this season, we still haven't had a contest go 17. The last season without at least one was 2002.
• The
San Diego Padres
piled up 20 hits in Friday's win
over the
Atlanta Braves
, the most hits recorded by any team in a nine-inning game at Petco Park. It was the Padres' highest hit total in a nine-inning home game since 1995.
Tommy Medica
had five of those hits, including two homers, becoming just the second player in Padres history with that line (Ryan Klesko, 2001).
The Padres took a different tack on Saturday, going to extra innings before
Will Venable
won the game with
a bases-loaded single in the 12th
. Venable has both the team's walk-off hits in the 12th or later this season (
May 5
); the Padres' only other player with two in a season was Chris Gomez in 1997. Venable also had a 13th-inning single in 2012 and is the first player in franchise history with three walk-off hits in the 12th or later.
• The Royals
won a 1-0 game against Oakland on Friday
behind
Raul Ibañez
's fifth-inning homer. Eleven games this year have been 1-0 via solo homer, but the Royals had not won such a game since Sept. 18, 1993 (Felix José homer vs. Seattle).
It's only the third time in history that the current Kansas City team (the Royals) has beaten the previous Kansas City team (the Athletics) by a 1-0 score. It happened in 1982 on a U.L. Washington ninth-inning single, and in 1980 when Washington scored the only run on a Willie Aikens base hit.
•
Hanley Ramirez
ended Saturday night's game with
a three-run 12th-inning homer
for the
Los Angeles Dodgers
. It was the team's first walk-off homer of the year, leaving four teams (Royals, Padres, Rangers, Nationals) without one. The Dodgers had not hit a walk-off homer against the Cubs since Pedro Guerrero's solo shot in the ninth on May 18, 1982. By inning, it was their latest three- or four-run walk-off, against any team, since Darryl Strawberry beat the Astros with a 13th-inning shot on Aug. 16, 1991.
• On Thursday the
Los Angeles Angels
and Baltimore Orioles engaged in a friendly game of chicken as they
waited to see who wanted to score first
. Finally in the top of the 13th, the Angels combined a walk and two singles into the game's only run. It was the first time the Orioles had played 12 scoreless innings to start a game since Aug. 20, 1978, also against the Angels. Don Baylor's walk-off double in the 14th was the only scoring in that game. That was also the Angels' last 1-0 win in a game of 13 or longer; they've had just one other such win in franchise history (1963).
July, 22, 2014
Jul 22
8:03
PM ET
By
ESPN Stats & Information
| ESPN.com
Denis Poroy/Getty ImagesChase Headley looks to provide some help for the Yankees at third base.
The Yankees acquired
Chase Headley
from the
San Diego Padres
on Tuesday for
Yangervis Solarte
and minor league pitcher Rafael De Paula.
Headley, who missed 14 games with a calf injury earlier this season, is having a down year offensively. Among 163 qualified hitters, his .229 batting average ranks 147th and his .651 OPS ranks 145th. These are a far cry from his career year in 2012, when he hit .286 with an .875 OPS and an NL-leading 115 RBIs.
However, his power numbers could see some improvement as he transitions from a pitcher-friendly Petco Park to a hitter-friendly Yankee Stadium. At Petco, 9 percent of fly balls turn into home runs, whereas at Yankee Stadium that figure is 13.2 percent (major league average is 10.3 percent).
Yankees third basemen have been serviceable for the season, matching the major league average with a .260 batting average and a .723 OPS. However, this might be misleading, as the majority of the Yankees' contributions at the hot corner came at the beginning of the season, particularly from Solarte.
Solarte hit .303 with a .404 on-base percentage in April, and as late as May 14 led the AL in batting average at .336. However he hit .164 in June and is 2-for-17 (.118 batting average) so far in July. Since June 1, Solarte has just three extra-base hits, with no homers and five RBIs.
Overall since June 1, Yankees third basemen are last in MLB with seven extra-base hits and 12 RBIs and second-to-last with a .302 slugging percentage. Headley is hitting .259 over that span with three home runs and 14 RBIs, including .323 in July.
Headley can also help the Yankees improve on the defensive side of the ball. Headley's seven defensive runs saved are tied for third in the majors at his position. Yankees third basemen have combined for minus-1 defensive runs saved, which ranks in the bottom half of the league at the hot corner.
June, 25, 2014
Jun 25
8:45
PM ET
By
ESPN Stats & Information
| ESPN.com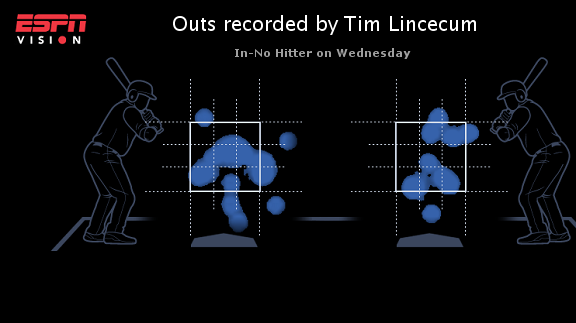 Tim Lincecum
made things a little easier for himself the second time around.
Lincecum threw his second career no-hitter in beating the
San Diego Padres
on Wednesday afternoon in San Francisco. Both no-hitters have come against the Padres, with the other coming last season. Lincecum and
Clayton Kershaw
, who were once featured on an ESPN The Magazine cover together, threw a no-hitter eight days apart.
The Elias Sports Bureau noted that Lincecum is the second pitcher to have two no-hitters against the same team. Hall of Famer Addie Joss had a pair against the
Chicago White Sox
in 1908 and 1910.
Lincecum is the fourth active pitcher with multiple no-hitters, joining
Homer Bailey
,
Mark Buehrle
and
Justin Verlander
.
He becomes the fourth pitcher to have multiple Cy Young Awards and multiple no-hitters, joining
Roy Halladay
(whose two include one in the postseason),
Randy Johnson
and Sandy Koufax. Lincecum and Koufax are the only two with multiple no-hitters, multiple Cy Young Awards and multiple World Series rings.
Lincecum entered the day with a 6.85 ERA in four starts this month. With runners on base, opponents were hitting .333 with three home runs.
Lincecum kept the Padres off the bases, walking one and facing only one batter over the minimum. He threw 113 pitches, 35 fewer than he had in his first no-hitter.
He is the second
Giants
pitcher to throw multiple no-hitters, joining Hall of Famer Christy Mathewson (1901, 1905)
He can hit, too
Lincecum was the first pitcher with multiple hits in a no-hitter since Rick Wise, who homered twice in his no-hitter in 1971, and (as noted by Elias) Lincecum became the first to reach base safely at least three times since Hall of Famer Jim Palmer for the 1969
Baltimore Orioles
.
How he won
Lincecum threw his fastball on only 36 percent of his pitches, his lowest percentage in any start in the past three seasons and his third-lowest percentage in 236 career starts.
He induced 14 outs with his changeup, eight of which came after he threw a fastball on the previous pitch, including two of three strikeouts.
Lincecum got 12 ground-ball outs, his most in the past three seasons. That played right into the hands of the Giants' defense. Opponents are hitting .209 on ground balls against the Giants this season, the second-lowest average in the majors.
Lincecum took 17 hitters to a two-strike count and retired seven via ground ball. In his previous no-hitter, he took 25 hitters to a two-strike count and retired three on ground balls, instead finishing with 13 strikeouts.
Lincecum was more efficient in his no-hitter Wednesday compared to last season's. He got four outs on the first pitch Wednesday compared to none in his previous no-hitter.
It's been rough going for the Padres
The Padres entered the day hitting .216 and ranking last in the majors in batting average, on-base percentage, slugging percentage and runs per game.
They were hitting .182 and slugging .280 in June, 47 and 51 points, respectively, lower than the next-worst teams.
March, 29, 2014
Mar 29
5:34
PM ET
By
ESPN Stats & Information
| ESPN.com
It's the 25th season of Sunday Night Baseball on ESPN, as the
Los Angeles Dodgers
match up with their division rival, the
San Diego Padres
.
Let's take a look at some of the statistical storylines the Sunday Night Baseball crew will be talking about.
Dodgers top payroll list
According to the Associated Press, the Dodgers Opening Day payroll will come in at just over $235 million, knocking the
Yankees
from the top spot. This will be the first time that the Yankees do not have the highest Opening Day payroll in the majors since 1998, when the
Orioles
were atop the list. The $235 million is also projected to be the highest single-season payroll in MLB history.
Not only will the Dodgers open up with 2014's highest payroll, but it's a continuation of a rapid increase in spending under the new ownership. The Dodgers Opening Day payroll was $105 million as recently as 2012, before $216 million last season.
Ryu gets right in second half
Hyun-Jin Ryu
will take the mound for the Dodgers after
Clayton Kershaw
was scratched due to back pain.
Ryu's most effective pitch last season was his changeup, and it was among the most effective for any starter in the league, tied for third in OPS allowed against the pitch.
Not only was it among the most effective overall, but it got better as the season went on.
One reason for the improvement was that the location of Ryu's changeup against right-handed batters became much more precise after the All-Star break, locating it on the corner rather than consistently off the plate.
Padres ponying up
The Padres have made significant increases to their payroll the last four seasons. Their Opening Day payroll has climbed from about $38 million in 2010 to more than $90 million this season.
But the Padres have a long list of injury issues to deal with, including one of their most notable acquisitions of the offseason,
Josh Johnson
, who will miss time with a strained flexor muscle.
Closing with a flourish
Padres starter
Andrew Cashner
had a great finish to 2013, with a 1.70 ERA in his last nine starts. His strikeout-to-walk rate went from 2.3-to-1 in his first 17 starts to 4.5-to-1 in his last nine.
Cashner allowed four earned runs in 44 2/3 innings over his last six starts, including one run in 14 innings in two starts against the Dodgers.
Cashner's success might be linked to the increased use of his slider, a pitch he was throwing only about eight percent of the time in June. He was throwing it nearly once every four pitches in September.
Though Cashner is not often grouped with the hardest throwers in the majors, he can touch 97 MPH on the radar gun, which will come in handy when he faces Dodgers slugger
Yasiel Puig
.
Of the last 57 pitches Puig saw that were 95 MPH or faster in 2013, he managed only one hit. He had 11 hits on the first 94 he saw.
August, 20, 2012
8/20/12
2:22
PM ET
By
John Fisher, ESPN Stats & Information
| ESPN.com
Justin Edmonds/Getty ImagesMadison Bumgarner's .222 opp BA vs his fastball is the lowest average among all lefty starters.


The
San Francisco Giants
and
Los Angeles Dodgers
meet Monday night (ESPN2, 10 ET) with the NL West lead on the line. The Dodgers lead the NL West by a half-game over the Giants despite scoring fewer runs than all but four teams in the National League. Those four teams -- the
Chicago Cubs
,
Miami Marlins
,
Houston Astros
and
San Diego Padres
-- are a combined 99 games under .500.
The Giants continue to attempt to fill the gap left by
Melky Cabrera
's suspension, and will certainly miss his play on the road this season. Cabrera leads the majors in road batting average at .367, and is second in slugging percentage (.595), behind only
Josh Hamilton
.
Aside from Cabrera, Giants outfielders have not produced at a high level this season, batting just .255 with a .389 slugging percentage.
The Giants still have a considerable weapon on offense in
Buster Posey
, however. He leads the majors in batting (.424) and OPS (1.246) since the All-Star break, and his 4.9 wins above replacement this season ranks fifth among NL position players.
What's been the key? He's crushing the fastball, batting .554 since the break, and is having no trouble with the changeup either (.533).
Madison Bumgarner
, who will get the nod for the Giants, will be looking to baffle the Dodgers with his heater, a pitch that has been lethal this year. Bumgarner is allowing the opposition to bat only .222 off his fastball this season, the lowest average among all left-handed starting pitchers.
Opposing Bumgarner will be
Clayton Kershaw
, who has excelled in two-out situations so far this season; his .166 opponent batting average with two outs is beaten only by
Felix Hernandez
among starters. What's more, Kershaw will be going to work in Dodger Stadium, a venue he has thrived in. For his career, he has just a 2.44 ERA at home, the lowest among all active starting pitchers, minimum 400 innings.
The Dodgers have struggled since jumping out to a 32-15 record through May 27th. Since that date, they've posted just a 35-40 record while averaging 3.7 runs per game (4.5 prior).
Matt Kemp
has been a significant reason why the Dodgers remain in a battle for the division title, however. He's batting .345 with runners in scoring position this season, and has a .324 average since the All-Star break.
Kershaw and the Dodgers have shut out the Giants in two straight games, and according to Elias, the Dodgers have never shut out the Giants in three consecutive games in their 123-year history. The last time the Dodgers shut out any team in three consecutive games was when they zipped the
Atlanta Braves
in three straight in 1971.
June, 4, 2012
6/04/12
12:10
PM ET
By
Jason McCallum
and
Mark Simon, ESPN Stats & Information
| ESPN.com
As we enter the third month of the season, here are some notes on the current major-league baseball standings that struck us as interesting
:
• There are 19 teams with a .500 or better record right now. That sounds more impressive than it actually is. According to the Elias Sports Bureau, the last time 19 teams were .500 or better at this point in a season was after games were finished on July 31, 2010.
• There are eight teams with 30 or 31 wins, but only two (
Texas Rangers
and
Los Angeles Dodgers
) with more than 31 wins.
• There are 14 teams either in the Wild Card lead or within 3½ games of a wild card spot (not including the six division leaders).
• There are three teams on pace to lose at least 100 games this season:
Minnesota Twins
,
Chicago Cubs
,
San Diego Padres
.
The only time in the last 25 seasons that three-or-more teams finished with at least 100 losses in a season was 2002, when a record four teams had 100-plus losses.
• All of the teams in the AL East and NL East are .500 or better. According to Elias, this is the latest into a season that every team is .500 or better in those divisions.
• It's not how you start, but how you do after you start. Want proof?
- The
Detroit Tigers
started 9-3. They have since gone 16-26.
- The
Kansas City Royals
started 3-14. They have since gone 20-15
- The
Boston Red Sox
started 12-19. They have since gone 16-7

• The
Miami Marlins
have more wins since May 1 than Cubs, Padres and Twins do all season. The Marlins also have as many wins since May 1 (23) as Royals,
Oakland Athletics
,
Houston Astros
and
Colorado Rockies
do all season.
• The
Pittsburgh Pirates
are over .500 at 27-26. Their last winning season was 1992. They were over .500 as late as August 1 last year (54-53).
• The
Cleveland Indians
,
New York Mets
, and Pirates are above .500 but are being outscored on the season. Last year, the only team to finish with a winning record and a negative run differential was the
San Francisco Giants
(86-76, -8).
• The
Baltimore Orioles
,
New York Yankees
and Rangers are the only AL teams over .500 at home and on road. Last year, six AL teams had winning records both at home and on the road.
For more debate on the best divisions in baseball, read our Divisional Rankings from last week
May, 12, 2012
5/12/12
10:31
PM ET
By
ESPN Stats & Information
| ESPN.com
AP Photo/Tony GutierrezJosh Hamilton tied an MLB record with his 18th homer in the Rangers' 34th game Saturday.
Josh Hamilton
homered for the ninth time in his past six games Saturday, sending
C.J. Wilson
's 80 mph curveball into the right-field seats in the sixth inning of the
Texas Rangers
' 4-2 loss to the
Los Angeles Angels
.
One key to Hamilton's power surge has been his ability hit breaking balls out of the yard. After Saturday, Hamilton now has seven home runs on breaking balls this season, already his most in any season since joining the Rangers in 2008.
Hamilton is hitting .420 against breaking balls in 2012, a dramatic increase over his .260 average against such pitches a year ago. And his slugging percentage against curveballs and sliders is .860, dwarfing his 2011 mark of .468.
Hamilton's sudden ability to smash breaking balls has helped him get off to one of the best starts to a season in major league history.
His 18 homers have tied Cy Williams of the 1923 Phillies for the most all-time through 34 team games. And with nine home runs in his past six games, Hamilton is just one shy of the MLB record for homers in a six-game span set by Frank Howard with 10 in 1968, according to the Elias Sports Bureau.
Hamilton's 18 home runs this season are five more than the entire
San Diego Padres
team and one fewer than the
Chicago Cubs
and
Minnesota Twins
.
Hamilton will look to continue his record run Sunday night against
Jered Weaver
and the Angels on ESPN. Hamilton has 34 career at-bats against Weaver, his second most against any pitcher, but just one home run.
Elsewhere in the majors Saturday:
• 2011 home run champ
Jose Bautista
hit his 10th career home run at Target Field in just his 10th game at the park. Only four players, all Twins, have more HR at Target Field since it opened in 2010. According to Elias, Bautista is the first player to hit 10 HR in his first 10 games in a ballpark since
Shawn Green
at Miller Park from 2001 to 2004.
•
Roy Halladay
took the loss after allowing seven hits and two runs in seven innings as the
Philadelphia Phillies
lost to the Padres. The Phillies have now lost each of Halladay's past five starts. That ties the longest losing streak for a team in Roy Halladay starts, matching the
Toronto Blue Jays
' five-game losing streak in Halladay starts in 1999.
• The
Boston Red Sox
beat the
Cleveland Indians
4-1 for their second straight home win following a six-game losing streak at Fenway Park. It's the first time the Red Sox have won back-to-back home games since April 13-15.
April, 18, 2012
4/18/12
5:44
AM ET
Stats & Info insights into this morning's top sports stories
1. WORKING OVERTIME:
The
Phoenix Coyotes
beat the
Chicago Blackhawks
3-2 in OT to take a 2-1 series lead.
FROM ELIAS:
All three games in the Chicago-Phoenix series have been decided in overtime. It's the fifth series in NHL history in which each of the first three games were decided in overtime. The other four were Boston-Toronto in 1933, the Montreal-Toronto Stanley Cup Final in 1951 in which all five games went to OT, Edmonton-Los Angeles in 1991 and Colorado-Minnesota in 2008.

Moyer
2. HISTORIC WIN:
Jamie Moyer
gave up two runs (both unearned) in seven innings to get the win as the
Colorado Rockies
beat the
San Diego Padres
5-3. Moyer is the oldest pitcher to win a MLB game at 49 years, 151 days old. Jack Quinn was the oldest pitcher to win a MLB game at 49 years, 70 days old on September 13, 1932.
3. PANTHERS COME BACK: FROM ELIAS:
The Panthers trailed 3–0 after only 6:16 had been played in Game 3 of their series against the
New Jersey Devils
but Florida made a goaltending change at that point and
Scott Clemmensen
blanked his former team the rest of the way while the Panthers rallied for a stunning 4–3 victory. It was only the second time in the last 25 playoff years that an NHL team won a playoff game in which it trailed by three goals in the first seven minutes. The Flames did that in Game 3 of their first-round series against the Sharks in 2008. San Jose scored three goals in the first 3:33 but Calgary came back to win 4-3.

Anthony
4. 'MELO GETS HELP:
Carmelo Anthony
recorded his second career triple-double as the
New York Knicks
beat the
Boston Celtics
.
Tyson Chandler
,
J.R. Smith
and
Steve Novak
each had 20-point games with Smith and Novak doing so off the bench.
FROM ELIAS:
The last time an NBA team had a player score 30 points in a triple-double while three of his teammates scored at least 20 points in a non-overtime game was on January 15, 1991 when the Trail Blazers did it in a 132-117 win at Minnesota.
Clyde Drexler
had the 30-point triple-double while
Mark Bryant
,
Jerome Kersey
and Terry Porter all scored at least 20 points.
5. RED SOX HAMMERED:
The
Texas Rangers
hit six home runs on their way to an 18-3 rout of the
Boston Red Sox
at Fenway Park.
FROM ELIAS:
It was the 10th time in Red Sox history that they lost a game by 15 or more runs in a game played at Fenway Park, with the last such embarrassment coming on June 19, 2000, when they lost 22-1 to the Yankees.
April, 14, 2012
4/14/12
5:50
AM ET
Stats & Info insights into this morning's top sports stories
1. TWO HAT TRICKS:
The
Philadelphia Flyers
defeated the
Pittsburgh Penguins
, 8-5, to take a 2-0 lead in the Eastern Conference Quarterfinals. Claude Giroux had three goals and three assists to set a team record for most points in a playoff game. Rookie Sean Couturier also had three goals. The Flyers became the fourth team in the expansion era to have multiple hat tricks in the same playoff game.
2. TWO SHORTHANDED GOALS:
The
Los Angeles Kings
defeated the top-seeded
Vancouver Canucks
, 4-2, to take a 2-0 lead in the Western Conference Quarterfinals.
FROM ELIAS:
Dustin Brown became the 13th player in NHL history to score a pair of shorthanded goals in a playoff game, but he is the first of those players to account for his team's first two goals in that manner.

Harang
3. HARANG MAKES HISTORY:
The
Los Angeles Dodgers
defeated the
San Diego Padres
, 9-8, on Andre Ethier's bases-loaded walk in the ninth inning.
FROM ELIAS:
After allowing a leadoff single, Dodgers starting pitcher
Aaron Harang
struck out nine straight batters, falling one shy of the MLB record of 10 set by Tom Seaver against the Padres in 1970. Three other pitchers had nine consecutive strikeouts in a game: Mickey Welch in 1884,
Jake Peavy
in 2007 and
Ricky Nolasco
in 2009.
4. 30 THEN 30: FROM ELIAS:
Andrew Bynum
scored a game-high 30 points and led the Kobe-less
Los Angeles Lakers
to a 103-97 victory over the
Denver Nuggets
. Bynum, who had 30 rebounds in the Lakers' last game, at San Antonio on Wednesday, became the first NBA player with 30 rebounds in one game and 30 points in the next since
Moses Malone
had 32 rebounds (and also 38 points) on Feb. 11, 1982, and then scored 32 points in his next game, two days later.

Rodriguez
5. A-ROD TIES THE KID:
The
New York Yankees
defeated the
Los Angeles Angels
of Anaheim, 5-0, in their home opener.
Alex Rodriguez
went 3-for-4, hitting his 630th career home run. He tied former teammate Ken Griffey Jr. for fifth on the all-time list.
FROM ELIAS:
A-Rod and Junior played 587 games as teammates with the Mariners from 1994 to 1999; when Rodriguez left Seattle following the 2000 season to sign as a free agent with the Rangers, he trailed Griffey by exactly 250 career homers, 398 to 148.
6. MISSING SUPERMAN:
Orlando Magic
center
Dwight Howard
has been diagnosed with a herniated disk in his lower back. There is no timetable for his return. This will certainly impact the Orlando defense moving forward. The Magic have allowed opponents to score 7.0 points per game more when Howard is not on the court this season.
March, 4, 2012
3/04/12
4:05
PM ET

Maybin
On Saturday, Cameron Maybin agreed to a five-year, $25 million contract with the San Diego Padres. The deal will keep the 24-year-old in San Diego through at least his first free agent year.
It's been a long journey for the former first-round pick, who was drafted ahead of the likes of fellow outfielders Andrew McCutchen, Jay Bruce and Jacoby Ellsbury and was involved in trades for both a star (Miguel Cabrera) as well as two middle relievers (Edward Mujica and Ryan Webb). But now on his third team and fresh off his fifth season of Major League action, Maybin has found a home.
Maybin had the best season of his young career in 2011, posting a .265/.323 /.393 triple slash line and swiping a team-leading 40 bases. He also led the Padres in runs scored (82), total bases (203), and triples (8). He tied for the team lead in hits (136) and was tied for second in home runs (9). His 4.7 Wins Above Replacement ranked sixth among all center fielders last season and tied for sixth among Padres outfielders in the Wild Card era.
Despite the success, Maybin's offensive numbers suffered from hitting in the cavernous Petco Park, which consistently ranks in the bottom-third of the Majors in home runs hit and runs scored according to ESPN's Park Factors. He batted .231 at home last year compared to .294 on the road, and there was an even bigger discrepancy in his slugging percentage (.324 to .457).
But while his home park punishes his surface-level offensive numbers, it is that same home park that represents one of the reasons Maybin is so valuable to the Padres - centerfield defense. Few parks are as spacious in the outfield as Petco, and Maybin's ability to track down batted balls represented a significant portion of his value in 2011.
Baseball Info Solutions has worked to upgrade its defensive analysis, a re-tooling that will be unveiled in The Fielding Bible III. Suffice it to say, the adjusted defensive metrics suggest Maybin was one of the premier defensive players at his position in 2011 - he ranked tied for third in Defensive Runs Saved.
While Maybin's defensive value is evident and his offense progressed, the latter still has significant room for growth. Most notably, Maybin's issues with changeups provide a clear area for potential improvement.
Maybin chased almost 39 percent of soft pitches (changeups, sliders, curveballs) low and away out of the strike zone and had only two hits on 239 such pitches in 2011. That .038 BA ranked 131st out of 145 qualified hitters. Specific to the changeup, Maybin ranked among the bottom of the league in batting average, OPS and strikeout rate against that pitch over the last three seasons combined.
He did, however, improve against the changeup from 2010 to 2011 - he raised his batting average (.091 to .197) and his OPS (.182 to .505), while reducing his strikeout rate (46 percent to 27 percent). Maybin - and the Padres - hope the trend continues in 2012.
July, 21, 2011
7/21/11
12:24
AM ET
Coming into Wedneday's game against the
Los Angeles Dodgers
and
Clayton Kershaw
,
San Francisco Giants
' ace
Tim Lincecum
was 0-3 this season against pitchers named Clayton.
Lincecum can now add a fourth loss to that list and his second to Kershaw, all because of a single pitch.
With the game scoreless in the seventh inning, Lincecum coughed up a solo home run to Dodgers C
Dioner Navarro
. That hit proved to be all the offense Kershaw needed, as he held on for the win, 1-0.
Kershaw threw eight shutout innings, allowing just three hits and a walk, while striking out 12 to improve to 11-4 this season.
It is the sixth time Kershaw has struck out 10 or more batters in a game this season - tied with
Cliff Lee
for most in MLB.
Lincecum, meanwhile lasted seven innings, tallying seven strikeouts and allowing five hits.
Kershaw went to his curveball more often than usual to put Giants hitters away. Ten of his 26 two-strike pitches (38.5 percent) were curveballs, above his 12.9 season average entering the start.
Five of Kershaw's strikeouts were with his curveball, matching his most in a start in the last three seasons.
Four more of Kershaw's strikeouts came with his slider, giving him nine strikeouts on the day with offspeed pitches. He leads the league in strikeouts, mostly because of his ability to punch hitters out with his breaking ball pitches.
ELSEWHERE AROUND THE DIAMOND:
•
Vance Worley
continued his stretch of strong starts as he allowed one earned run in eight innings for his sixth victory of the season as the
Philadelphia Phillies
beat the
Chicago Cubs
, 9-1.
Worley has now made six consecutive starts with five or more innings pitched, while allowing one earned run or fewer. The only other Phillies pitcher in the Live Ball Era (since 1920) with a streak that long is Steve Carlton, who did so in six straight in 1972.

Rollins
Jimmy Rollins
homered from both sides of the plate against the Cubs, the second time in his career that he has accomplished that feat (August 12, 2006 vs.
Cincinnati Reds
).
• In a 14-3 rout of the
Florida Marlins
, all nine
San Diego Padres
players scored a run en route to leading by at least 13 runs through two innings for the first time since May 31, 1994.
The last team overall prior to the Padres to be up by at least 13 runs through two innings was the Cubs, who on August 14, 2009 led 14-0 over the Pirates.

Harang
The Padres have won three of four overall, as
Aaron Harang
(5⅓ IP, 3 ER) has not lost since May 2.
For the Marlins,
Ricky Nolasco
(1⅓ IP, 9 ER) becomes the first pitcher this season to allow nine or more earned runs in fewer than two innings pitched; it happened four times last season.
Hanley Ramirez
hit his tenth home run; he's now hitting .366 over his last 25 games.
March, 31, 2011
3/31/11
8:43
PM ET
By
ESPN Stats & Info
| ESPN.com

Back-to-back home runs by
Rickie Weeks
and
Carlos Gomez
in the top of the first inning were only the start of the action at the Great American Ball Park on Opening Day. Even after Weeks and Gomez made the
Milwaukee Brewers
the first team to start a season with consecutive home runs since the 1969
Cincinnati Reds
, there was still plenty of history to be made Thursday.
Trailing 6-3 entering the bottom of the ninth, Ramon Hernandez's third career walk-off home run capped the Reds four-run rally and gave Cincinnati its third straight win over the Brewers. The Elias Sports Bureau says Hernandez is the first catcher with a walk-off homer in his team's first game of the season since Gary Carter's solo home run in the bottom of the 10th inning gave the
New York Mets
a 6-5 win over the
St. Louis Cardinals
on April 9, 1985.
Late rallies are nothing new to the Reds, who finished third in the majors with 45 come-from-behind wins in 2010. But even the biggest Reds fan couldn't have been confident entering the bottom of the ninth facing a three-run deficit. Historical data shows that teams trailing by three runs entering the bottom of the ninth inning win only 5.4% of the time. Don't tell that to the Reds, who are now 1-0 for the first time since 2007.
Elsewhere in the majors Thursday:
•
Albert Pujols
' 2011 season got off to the worst start possible as he went 0-5 and grounded into a career-high three double plays against the
San Diego Padres
. Pujols is the first player in MLB history to ground into three double plays on Opening Day, according to the Elias Sports Bureau. He's also the first player to go 0-5 with three or more GIDP in any game since
Miguel Tejada
on September 10, 2009.
• The
New York Yankees
won their 11th straight Opening Day game when playing at home, a streak that dates back to 1986. That ties an MLB record also held by the New York Mets, who won 11 straight Opening Day games at home from 1971-89.
•
Jason Heyward
became the second player ever to homer on Opening Day in each of his first two seasons as the
Atlanta Braves
blanked the
Washington Nationals
2-0. The Elias Sports Bureau tells us Heyward joined Kaz Matsui, who did it in 2004 and 2005.
March, 31, 2011
3/31/11
8:00
AM ET
By
ESPN Stats & Info
| ESPN.com
The first six of the 2,430 scheduled MLB games this season will be played on Thursday. Here's one thing you need to know about each:

Detroit Tigers at New York Yankees, 1 ET on ESPN
The Yankees have won the last 10 times they have played an Opening Day game at home. Their last loss was in 1982 vs the
Chicago White Sox
, when Ron LeFlore's single in the top of the 12th provided Chicago's margin of victory. The only team in MLB history to have a longer win streak in Opening Day games played at home is the
New York Mets
11-game streak from 1971-89.
Atlanta Braves at Washington Nationals, 1:05 ET
Hopefully the Nationals pitching staff has an easier time with the Braves lineup than the
Chicago Cubs
did on Opening Day last season. Atlanta blasted the Cubs 16-5 on Opening Day last year behind five RBI from
Yunel Escobar
and four from
Jason Heyward
. The Braves 16 runs tied the most scored by a team on Opening Day over the last 30 seasons.
Milwaukee Brewers at Cincinnati Reds, 2:10 ET
Which team will draw first blood in what could be the most competitive division in the majors in 2011? AccuScore ran 10,000 computer simulations of the 2011 season, with the Reds coming out on top of the NL Central 37.7% of the time. But Cincinnati just edged out the Cardinals (29.2%) and Brewers (26.1%) in the only division that had three different teams win the division in more than 25% of simulations.
Los Angeles Angels at Kansas City Royals, 4:10 ET
The Royals will look to get 2011 started on the right foot against the Angels, but history is not on Kansas City's side. Among current MLB franchises, the Royals have the worst winning percentage on Opening Day (35.7%) of any club. Kansas City is 15-27 all-time in its first game of the season.

Pujols
San Diego Padres at St. Louis Cardinals, 4 ET on ESPN
Will
Albert Pujols
again own Opening Day? Last year against the Reds, Pujols homered twice, recorded four hits and scored four runs in the Cardinals 11-6 win on Opening Day. He became the third player in MLB history with two HR, four hits and four runs in a team's opener, joining
Dmitri Young
(2005) and
Xavier Nady
(2008). Pujols is one of seven players in the live-ball era (since 1920) with two games with two home runs on Opening Day. The others are
Adam Dunn
,
Juan Gonzalez
, Eddie Mathews,
Raul Mondesi
, Xavier Nady and Joe Torre.
San Francisco Giants at Los Angeles Dodgers, 8 ET on ESPN
The Giants road to a repeat starts tonight in Los Angeles. The odds are against San Francisco. Only three NL teams have repeated as World Series champions, and just one in the last 85 years (1975-76 Reds). The Giants won the World Series in 7.6% of AccuScore's simulations of the 2011 season, trailing only the Phillies (15.7%), Red Sox (10.7%) and Rangers (8.0).