Stats & Info:

Santonio Holmes
November, 27, 2011
11/27/11
5:33
PM ET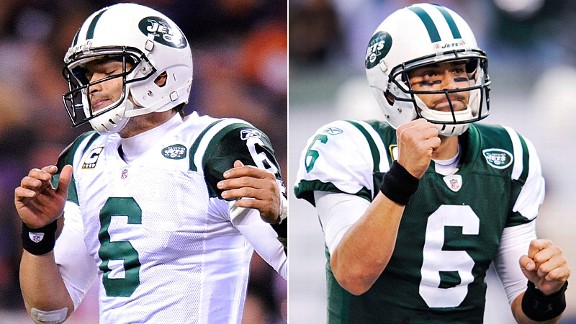 AP PhotoMark Sanchez rebounded from a rough loss to the Broncos with a clutch performance late against the Bills.
Last week,
New York Jets
quarterback
Mark Sanchez
watched his team get beat at the end by
Denver Broncos
quarterback
Tim Tebow
.
On Sunday, Sanchez responded with a performance that bore some similarities to that which beat his team last week. He dealt with a sluggish start, but came through with some clutch plays late to beat the
Buffalo Bills
.
Sanchez didn't let some of his struggles get in the way of his most important pass, a 16-yard go-ahead touchdown to
Santonio Holmes
with 1:09 left in the game.
Sanchez was 1-for-8 with an interception when targeting Holmes prior to that pass, his final pass of the day, and 1-for-11 dating back to halftime of the Jets last game against the Broncos.
It was also only the second completion in nine attempts in the game for Sanchez on throws that went at least 15 yards beyond the line of scrimmage. His first came on the play before, a completion to
Plaxico Burress
that set up the Holmes score.
Sanchez became the third quarterback since 1999 to throw at least four touchdown passes in a game in which he had a sub-50 percent completion rate (he finished 17-for-35). The others to do so in that span were
Trent Edwards
in 2007 and
Peyton Manning
in 2009.
Coincidentally, the last Jets quarterback with that statistical combination was Joe Namath, also against the Bills in 1968.
Sanchez overcame his issues by going 6-for-8 for 61 yards on the final drive. He was effective earlier in the game with short throws, with three touchdowns on passes that traveled 14 yards or fewer from the line of scrimmage.
The Jets have specialized in winning close games over the last two seasons. They are 9-4 in regular-season games decided by eight points or fewer in that span, including 3-1 this season.
From a Bills perspective, the loss of running back
Fred Jackson
to a season-ending injury was noticeable.
His replacement,
C.J. Spiller
struggled to gain any ground up the middle against the Jets' defense.
Jackson ranked third in the NFL in yards per carry between the tackles (6.2 per rushing attempt) and led the league with six 20-yard rushes on carries up the middle this season. Spiller was held to 17 yards between the tackles on his six carries Sunday.
In the NFL's other early-afternoon games:
Bengals tie comebacks record
The
Cincinnati Bengals
got their third win this season that required coming back from a double-digit halftime deficit, tying an NFL record. The mark is shared with four other teams, including this year's
Detroit Lions
.
Falcons, Ryan rolling
Atlanta Falcons
quarterback
Matt Ryan
completed 79.4 percent of his passes, the second-best rate he's had in a game, in a win over the
Minnesota Vikings
. It was the best rate by a Falcons quarterback with at least 30 pass attempts in a game. Wide receiver
Roddy White
tied Andre Rison's team record for most games with at least 10 receptions (7).
Colts keep losing
The
Indianapolis Colts
quest for imperfection continued with a loss to the
Carolina Panthers
. The Colts fell to 0-11 for the first time since 1986.
They are the 11th team since the 1970 merger to start 0-11 and the first since the Lions went 0-16 in 2008.
Panthers quarterback
Cam Newton
becomes the first rookie in NFL history with 10 rushing touchdowns and 10 passing touchdowns in a season.
January, 19, 2011
1/19/11
9:00
AM ET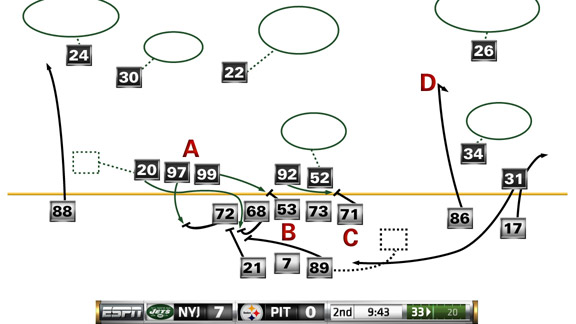 This week's edition of Chalkboard Stats examines a key third-down play from the Week 15 clash between the New York Jets and Pittsburgh Steelers.

Ben Roethlisberger connected with Hines Ward to convert a crucial 3rd-and-17, a similar down-and-distance as the 58-yard strike to Antonio Brown that set up the game-winning touchdown against the Baltimore Ravens in the AFC Divisional Round.

Using the diagram above, let's take a closer look at the play and the accompanying statistical analysis.
A) Jets' "Amoeba" defense helps to disguise pressure
New York showed heavy pressure from Roethlisberger's left, with only defensive lineman
Shaun Ellis
(No. 92) lined up in a three-point stance. Pittsburgh's offensive line anticipated pressure from
Kyle Wilson
(No. 20),
Calvin Pace
(No. 97) and
Jason Taylor
(No. 99), as all three lined up outside Steelers left tackle
Jonathan Scott
(No. 72). Mike linebacker
David Harris
(No. 52) also showed pressure to Ellis' left, drawing attention from right guard
Ramon Foster
(No. 73) and right tackle
Flozell Adams
(No. 71).

Roethlisberger
At the snap, Roethlisberger received the anticipated pressure from his left, with Scott, left guard
Chris Kemoeatu
(No. 68) and Pro Bowl center
Maurkice Pouncey
(No. 53) fending off Pace, Wilson and Taylor, respectively. Harris dropped back into zone coverage, while Ellis put an outside swim move on Foster to engage Adams. With both Foster and Adams occupied, cornerback
Antonio Cromartie
(No. 31) came in unblocked and had a clear path toward Roethlisberger.
For the second year in a row, the Jets sent defensive back pressure on more dropbacks than any NFL team, allowing a passer rating of 87.1, despite conceding 7.9 yards per pass attempt (28th in NFL). This is one of many disguises they use when sending secondary pass rushers.
B) Big Ben's pump fake deflects the blitz
Roethlisberger had the league's highest passer rating this season (105.0) in the face of a defensive back blitz among quarterbacks with at least 70 attempts. Only
Aaron Rodgers
(9.3) averaged more yards per attempt against secondary pass pressure than Roethlisberger (9.1).
This play was one example of how Roethlisberger can beat a blitzing defensive back by himself. When Cromartie rushed at the snap, Roethlisberger pump-faked, drawing a jump from Cromartie and extending the play. While Roethlisberger's pocket presence and sheer size are assets for the Steelers quarterback in fending off secondary pressure, the pump-fake has become his signature move. Roethlisberger used the pump fake five times on the Steelers' final drive of Super Bowl XLIII, completing three passes for 59 yards and the game-winning touchdown to
Santonio Holmes
.
C) Roethlisberger buys time inside the pocket
Once Cromartie bit on the fake, it bought Roethlisberger some more time through his mobility inside the pocket. "Big Ben" stepped to his right while keeping his vision directed downfield.
Roethlisberger had the second-highest yards per attempt (8.5) this season passing inside the pocket (min. 100 attempts), posting a 102.8 passer rating and throwing 19 touchdowns. On this play, Roethlisberger spotted Ward (No. 86) approaching the first down marker, and identified a throwing lane over Harris at the seam between the deep zones of defensive backs
Brodney Pool
(No. 22) and
Dwight Lowery
(No. 26). Roethlisberger controlled his momentum, set his feet and found Ward.
D) Ward finds the sticks and makes the play

Ward
Ward ran an 18-yard curl route and settled into a soft spot in the Jets' zone at the first-down marker. However, while Roethlisberger shifted right in the pocket, Ward took a couple extra steps toward the sideline and away from Pool. In doing this, Ward gave himself enough space to make the catch and get the first down before Pool could get there and disrupt the play.
Roethlisberger passed for nine first downs on third down and 11 or more yards-to-go this season, tied for the second-most in the NFL. While teammate
Emmanuel Sanders
was tied for third in the league with four first-down receptions on third-and-11 or more, it's the veteran Ward who was trusted to make the play here, and he delivered.
January, 12, 2011
1/12/11
5:40
PM ET
If John Harbaugh and the
Baltimore Ravens
are going to reach the AFC Championship game, then they must do something they've yet to accomplish: win a road game in Pittsburgh.

Harbaugh is the second coach in NFL history to win at least one playoff game in each of his first three seasons as a head coach. Barry Switzer is the other, doing it with the
Dallas Cowboys
from 1994-96.
The Ravens and
Pittsburgh Steelers
have met twice in the postseason, with the Steelers winning both times (2001, 2008). In both games, not only did the Ravens never have a lead, but they put themselves in big holes early on the road.

In the 2001 divisional playoffs, Pittsburgh jumped out to a 20-0 lead before winning 27-10. In the 2008 AFC Championship game, the Steelers scored the game's first 13 points en route to 23-14 victory.
So, what do the Ravens have to do in order to advance to the AFC Championship game?

Flacco
One area where Baltimore's offense might try and exploit the Steelers is over the middle. In his first five games against Pittsburgh, quarterback
Joe Flacco
struggled passing over the middle of the field -- six interceptions and no touchdowns between the numbers. This season, Flacco reversed that trend. The first quarterback in NFL history to start and win a playoff game in each of his first three seasons, Flacco completed 65.6 percent of his throws between the numbers against Pittsburgh this season with two touchdowns, no interceptions and had a passer rating of 113.5.
The Ravens passing game also opened up more this season against the Steelers than in Flacco's first two years. In 2008-09, Baltimore ran the ball almost half the time against the Steelers. In 2010, that percentage dropped to 37.7 in two games against Pittsburgh.
Flacco's counterpart,
Ben Roethlisberger
, has won each of his last six starts against the Ravens, including playoffs. And while it's widely considered that the Ravens have an aggressive defense, one trend suggests that they might not go after Roethlisberger like they would other quarterbacks. Over the last three seasons, Roethlisberger has posted a 121.0 passer rating against the Ravens when they bring five pass rushers or more. That's the third-highest rating against the Ravens in that time frame (minimum 10 attempts).

Wallace
In Super Bowl XLIII, Roethlisberger hit
Santonio Holmes
for the game-winning touchdown with 35 seconds to play. Holmes -- one of the team's best deep threats -- was traded last offseason, but the Steelers have not missed a beat thanks to second-year wide receiver
Mike Wallace
.
As a rookie in 2009, Wallace led the NFL in yards per catch (19.4). This season, he averaged 21.0 yards per reception, good for second in the NFL. On passes this season that were more than 20 yards downfield, Wallace was targeted 26 times with 14 receptions and seven touchdowns. The rest of the Steelers had just 10 receptions on such throws and no scores.
November, 25, 2010
11/25/10
4:52
PM ET


The
Cincinnati Bengals
visit the
New York Jets
in the nightcap of the NFL's Thanksgiving Day tripleheader. The Bengals are 0-3 against the Jets since the start of 2008, including two straight weeks last year to end Cincinnati's season.
In that Wild Card Playoff game last season,
Cedric Benson
shredded the Jets defense when he ran for 169 yards. According to the Elias Sports Bureau, the only other player to rush for 100 yards against the Jets in Rex Ryan's two seasons as head coach was
Maurice Jones-Drew
, who had 123 at Giants Stadium in Week 10 of last season.
Jets QB
Mark Sanchez
has thrown around two-thirds of his total pass attempts within 10 yards of the line of scrimmage in each of his first two seasons.
Sanchez is stretching the field with a higher percentage of deep balls (21 or more yards) this year and has used that extra space to excel on intermediate routes.
The Bengals will match up well here with the Jets, as their 70.6 passer rating allowed on throws 11-20 yards downfield is the eighth-best mark in all of football.
And Sanchez has been hooking up with
Santonio Holmes
down the stretch in each of the Jets' last four wins. Stats & Info's Alok Pattani points out that one way to quantify how much Holmes' contributions have meant to the Jets is to use win probability. The website
Advanced NFL Stats
has a
win probability calculator
that allows the calculation of any team's win probability in a given situation by using historical averages for similar situations over the last several seasons.

Holmes
Adding it all up, Holmes' key plays on the final drives of the last four Jets wins accounted for a total of 146% win probability added, or about one-and-a-half wins. While obviously Sanchez, the offensive line, and other players were involved and deserve part of the credit for each of those plays, it's quite amazing that Holmes has made such "clutch" contributions an almost weekly occurrence the past few games.
This explains why Holmes ranks near the top in
WPA among wide receivers
this season, despite missing the team's first four games. In fact, if you look at it on a per-game basis, Holmes' +0.31 WPA per game is by far the highest in the league for any receiver this year.
Brian Burke, who is the operator of
Advanced NFL Stats
, had a blog post on this very subject earlier this week that you can
read here
. This chart details each of Holmes' big plays in the fourth quarter or overtime in the last four Jets victories, and shows why Holmes could be called the most valuable wide receiver in the NFL this season.
November, 16, 2010
11/16/10
1:04
PM ET
By
Russell S. Baxter
| ESPN.com
Thanks to two more overtime games on Sunday, the NFL has already equaled its season total from 2009 (13). As for an odd note, five of those 13 games have ended 23-20.
Last season, the NFL set single-season records for 4,000-yard passers and 300-yard passing performances. Entering Week 10, there had been just 43 300-yard passing game in nine weeks. In Week 10, there were 13 300-yard passing games, the most in one week in NFL history according to the Elias Sports Bureau.

So far so good for the Florida teams. The
Tampa Bay Buccaneers
(6-3),
Jacksonville Jaguars
(5-4) and
Miami Dolphins
(5-4) all won at home on Sunday, all sport winning records and are a combined 16-11 this season. A year ago, Tampa Bay (3-13), Jacksonville (7-9) and Miami (7-9) won a total of 17 games, mostly because the Bucs were dismal.
Sunday was not the first time
New York Jets
WR
Santonio Holmes
sent an Ohio crowd home disappointed in overtime. As a rookie with the
Pittsburgh Steelers
in 2006, Holmes caught a game-winning TD pass in overtime at Cincinnati in what proved to be Bill Cowher's final game as Steelers head coach.
Minnesota Vikings
QB
Brett Favre
continues his amazing turnaround from a year ago. Favre was guilty of all four of Minnesota's turnovers in Sunday's loss at Chicago, meaning the veteran QB has now coughed up the ball 21 times (16 interceptions, five lost fumbles) in nine games this season, compared to nine turnovers in 16 regular-season games in 2009.

Unfortunately for the
Houston Texans
, they once again appear to be in a midseason swoon after a promising start and, once again, can't seem to handle their divisional rivals, especially defensively. Houston is 5-16 in its last 21 games vs AFC South teams dating to 2007 and has allowed at least 28 points in 15 of those games.
The
Detroit Lions
made dubious history with their NFL-record 25th straight road loss via a 14-12 setback at Buffalo to the then-winless Bills. Detroit is now 8-69 on road dating to 2001. That is astounding considering that the
New England Patriots
(obviously) won eight road games during their undefeated regular season in 2007.

Tom Coughlin's
New York Giants
were cooled off dramatically at home by the
Dallas Cowboys
in one of the weekend's more surprising results. Not surprising has been the sloppy play of Big Blue, who despite their 6-3 record, turned the ball over three times vs Dallas, the sixth time in nine games that the Giants have committed three or more turnovers.
Quick, the Eagles just scored again. Philadelphia's 59-28 Monday night win at Washington saw the Birds set a new record for points scored on Monday Night Football, and their 592 total yards were the second-highest total in Monday Night Football History. The teams' 87 combined points were tied for the second-most in Monday Night Football; the highest remains Green Bay's 48-47 win over (you guessed it) Washington in 1983 at Lambeau Field.
September, 14, 2010
9/14/10
3:42
PM ET
By
Russell Baxter
| ESPN.com
It was an interesting Week 1, one in which defenses appeared to be ahead of offenses and most games came down to a few key plays. All told, 21 of the 32 teams failed to score at least 20 points, seven won games scoring 17 points or fewer, while 11 of the 16 games were decided by seven or fewer points.

The
Baltimore Ravens
' defense, despite numerous issues in their secondary, was stout in the Monday night win over the
New York Jets
. The Jets played without one of their main offseason additions, wide receiver
Santonio Holmes
, who is suspended for the first four games. Including the playoffs, the former Super Bowl MVP has 27 receptions for 520 yards and eight TD in his last seven games against the Ravens dating back to 2007. He's also scored at least one TD in each of those games.
The
New Orleans Saints
' offense was a tale of two halves in its win over the Minnesota Vikings, and a reminder that it was a balanced New Orleans team that won Super Bowl XLIV. Sean Payton's club ran 37 plays in the second half (22 rushes and kneel-downs/15 pass plays) compared to 25 in the first half (3 rushes, 22 pass plays).
That balance was also seen by the Packers (33 run plays, 34 pass plays), Steelers (31 run plays, 29 pass plays), Seahawks (23 run plays, 24 pass plays), Dolphins (36 run plays, 37 pass plays) and Buccaneers (30 run plays, 31 pass plays). All five of those teams also happened to win.
It's amazing what can change after one week. Last season, the
Indianapolis Colts
' started 14-0 and went 6-0 within the AFC South. Meanwhile, the
Houston Texans
finished 9-7, including 1-5 within the division, and were 1-15 all-time against the Colts. So on Sunday, the Texans equaled last year's division win total, equaled their career win total against Indianapolis and ensured that the Colts would not start 14-0 and unbeaten within the division.
The bad news for the
Detroit Lions
' is that they lost their 21st straight road game Sunday at Chicago (Detroit owns the record at 24 straight). The good news in the 19-14 loss is that this was just the ninth time in their last 49 games that the Lions held a team below 20 points. Detroit has given up the most yards and most points in the league each of the previous three seasons.
The
Seattle Seahawks
' wide receivers made nearly every
San Francisco 49ers
' defensive backs look silly in the team's 31-6 win. Much of the blame will probably go to QB
Alex Smith
, but the 49ers inconsistent defense reared its ugly head again. Dating back to last season, San Francisco has allowed 56 points in eight wins and 256 points in nine losses.

Despite their win on Sunday night, the
Washington Redskins
' offense continued to struggle against the
Dallas Cowboys
' defense. Washington's offense has not scored a touchdown against the Cowboys in 15 straight quarters. Of course, defense has been the hallmark of this series as of late as the two teams have combined for 74 points in their last four meetings. Also worth noting is that the Redskins have already won one more game in the division than they did in 2009 (0-6).