Stats & Info:

Sean Marshall
December, 25, 2011
12/25/11
11:00
AM ET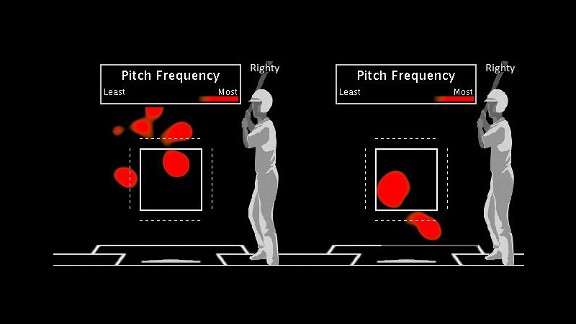 Left: Where Gio Gonzalez threw his 92 mph fastball in 0-2, 1-2 counts
Right: Where Gonzalez threw his 80 mph curveball in 0-2, 1-2 counts
Click here to create your own Gonzalez heat maps
Each Sunday, ESPN Stats & Information provides a statistical recap of notable transactions from the week.
Nationals trade for LHP Gio Gonzalez
Gonzalez became known in Oakland for his nasty curveball. Over the past two seasons, he's thrown his hook nearly 30 percent of the time, the third-most-often among left-handed pitchers. His 212 strikeouts with the pitch in that span are the most in the majors.
One thing that Gonzalez did last season was change his approach against right-handed hitters. In 2009, when he was ahead 0-2 or 1-2 on a righty, he threw his fastball only 25 percent of the time.
In 2010, he upped that rate to 35 percent, then upped it again to 47 percent last season.
By the end of 2011, he'd struck out more right-handers with his fastball (73) than his curveball (71), a dramatic swing from a year prior, when he whiffed 98 with his curve and 33 with his fastball. The heat maps above show where Gonzalez located his two primary pitches when in 0-2 and 1-2 counts.
The change worked, as noted by Gonzalez's effectiveness in the chart on the right.
-- Mark Simon/Lee Singer
Reds acquire LHP Sean Marshall in trade from Cubs.
Marshall had a statistically superb season in 2011, his second straight strong year.
Over the last two seasons, Marshall has averaged better than 10 strikeouts per nine innings, with a strikeout-to-walk rate of better than four-to-one. He's the only one of the 176 pitchers who threw at least 150 innings in that span to be able to hit both of those benchmarks.
Marshall's combination of strikeouts, walks and home runs allowed was so good that he led the majors in fielding independent pitching (2.07 FIP) over the last two years. He was valued at 5.0 wins above replacement combining 2010 and 2011, the best for any relief pitcher.
What makes Marshall so good?
Marshall succeeds because he gets hitters from both sides of the plate out at a high rate. He's one of three lefties to hold both left-handed and right-handed hitters to a sub-.600 OPS over the last two seasons (minimum 200 batters faced on each side) along with
Jonny Venters
and
Clayton Kershaw
.
Marshall does this primarily with his breaking pitches. He threw the lowest percentage of fastballs of any left-handed pitcher over the last two seasons (just under 40 percent), relying on a curveball and slider, the former of which has the biggest horizontal break of any from a lefty in the majors.
--Mark Simon
Twins sign Jason Marquis
The pitch-to-contact righty Marquis will fit perfectly into the Twins' rotation, which last season had the lowest swing-and-miss rate and highest in-play percentage in the majors.
Batters missed on one of every six swings against Marquis and put the ball in play nearly 50 percent of the time when taking a cut last year.
More than half of his opponents' at-bats resulted in a grounder (this was true for each of his three primary pitches -- fastball, slider, changeup), putting Marquis among the top 10 ground-ball specialists in the league.
Marquis has posted an ERA below 4.00 just once in his career as a full-time starter, and will be challenged to achieve that performance level this year with the Minnesota Twins.
In 2011, Minnesota's infield defense cost the team 45 runs, the worst mark by any major league team.
The Twins did slightly upgrade at the shortstop position this offseason.
The four shortstops that accounted for minus-27 defensive runs saved in nearly 1,500 innings in 2011 will be replaced by 37-year-old
Jamey Carroll
, who had minus-5 defensive runs saved in 504 innings at shortstop last year.
--Katie Sharp
May, 4, 2010
5/04/10
11:26
AM ET
By
Erik Manning, FanGraphs
| ESPN.com
Not long ago,
Denard Span
looked like nothing more than a grade C prospect who failed to make good on his tremendous athletic ability. Then, something changed, and quickly. Span developed a more patient approach at the plate, which led to him drawing more walks and getting better pitches to hit. Fast-forwarding to today, Span is an extremely valuable regular on a winning team. Breakouts can seemingly come from out of nowhere, but there are statistical indicators that tell us which are more real than others.
Naturally, at this time of the year we view players with a certain air of suspicion, and rightly so; Small sample sizes make trusting early season statistics difficult. However, there is a point in time when certain stats can become more trustworthy than others. A
study done by Russell Carlton showed
that after 50 plate appearances, a player's swing habits can be a reliable guide to what's going on. In the case of
Colby Rasmus
, his swing habits give us a substantial reason to believe he's a changed man. According to O-Swing percentage (which is a stat we use at FanGraphs that measures the percentage of swings a batter takes at pitches outside of the strike zone), undisciplined batters greatly decrease their odds of reaching base by mercilessly hacking at everything thrown their direction. (This shouldn't surprise anyone.) Rasmus did not really show great plate discipline last season, evidenced by a paltry .307 on-base percentage. He swung at 25.9 percent of pitches thrown out of the zone last year, but this season, he's decreased that number to just 17.8 percent. As a result, Rasmus has drawn more walks (17) than teammate
Albert Pujols
(15) and he's taking more advantage of pitches he's finding to his liking. The result? A line of .316/.436/.658. People have projected stardom for Rasmus since he was a first-round pick in 2005, and it appears the 23-year-old is figuring things out.
Like Rasmus, Oakland's
Daric Barton
is also demonstrating a tremendous amount of selectivity at the plate, with an O-Swing percentage of just 13 percent. Barton's been known for this for a while, but he is also making a lot more contact when he does swing. He's getting the bat on the ball 89.7 percent of the time when he swings, a 4.8 percent increase over his career rates. When you're not swinging at a lot of bad pitches, and making that much contact with the pitches you do swing at, good things are bound to happen, and they are so far for Barton. He's never going to hit for a ton of power, but he has a .407 OBP and should be an on-base machine for years to come.
Chicago Cubs
left-handed reliever
Sean Marshall
is another breakout to believe in. In the early goings of the season, we see that his curve has about 2 more inches of downward movement according to Pitch f/x data, and he's throwing his curve 41.5 percent of the time. Batters against Marshall have an O-Swing percentage of 33.0 this season, and his career rate is 23.0. Translation: He's getting a lot more guys to chase out of the zone, because he's throwing a curve with more movement. While he's not going to be confused with a flamethrower anytime soon, his average fastball velocity is up from 87 mph to 89.3 mph, a considerable increase. A better fastball helps set up the off-speed, and it helps when that off-speed pitch is a filthy, knee-buckling curveball like Marshall's. He's fanned 18 and walked just two batters in 14 innings, and his dominance could give the Cubs the flexibility to move
Carlos Zambrano
back into the rotation.
Erik Manning is a writer for FanGraphs.
April, 15, 2010
4/15/10
8:53
PM ET
By
ESPN Stats & Info
| ESPN.com
* The winner for the batter who had the best afternoon on Thursday has to be Ryan Braun. The Milwaukee Brewers OF went 4-for-5 with 3 RBI while hitting his third HR of the season.

All four of Braun's hits came on fastballs, three of them in the zone. Don't pitchers know better by now?

Braun's 6th-inning single came on the first pitch he saw from Sean Marshall. Apparently Marshall missed the scouting report that says "don't throw him a first-pitch fastball". Since the start of the '09 season, he's hitting .424 against those, and .583 when it's right in the middle of the plate, as Thursday's offering was. (As a point of context, during the 2009 season the MLB average for at bats ending with fastballs over the middle of the plate was .404.)

Marshall apparently didn't pass this knowledge on to Jeff Samardzija. He missed with the first pitch to Mr. Braun and then tried to even things up by throwing another fastball right down the middle. Braun took it out of the park. Over the past two-plus seasons, Braun hits a whopping .460 when he's AHEAD and gets a fastball. That's sixth in the majors over that span. When that fastball is right over the heart of the plate, Braun jumps up to .571, with an OPS of 1.643.

With three ribbies today, Braun has 11 RBI through 9 games. That puts him in some truly elite company in Brewers history...

Most RBI Through First 9 Team Games
Brewers Last 30 Seasons
1998 Jeromy Burnitz, 17 <<
1982 Ben Oglivie, 13
2010 Ryan Braun, 11
1987 Rob Deer, 11
>> franchise record

* From the Elias Sports Bureau: In the Nationals-Phillies game today, Shane Victorino, Chase Utley and Ryan Zimmerman each homered.

It was the first game in MLB history in which players with the last names starting in U, V and Z all homered.

* This afternoon's Texas/Cleveland tilt was the shortest game (by time) so far this season. The overwhelming crowd of 10,198 barely got their money's worth. Clocking in at two hours and three minutes, the Rangers/Indians game bested Wednesday's Pirates/Giants game which took only 2:08.