Stats & Info:

Sean Rodriguez
April, 21, 2011
4/21/11
2:01
PM ET
Today's Trivia:
Want to feel old?
Los Angeles Angels
starter
Tyler Chatwood
was born 16 days too soon to be the first pitcher born in the 1990s. Who was the first pitcher born in the 1980s to appear in an MLB game?
Quick Hits:
Let's take a look at some surprising league leaders so far this season.
•
Howie Kendrick
leads the majors with five HRs off of left-handed pitchers. That's three more than he had last season.

Rodriguez
• Your MLB leader in triples?
Sean Rodriguez
with three. Though he's hitting just .206, six of his seven hits this season have been for extra bases.
•
Jonny Gomes
leads the league with five home runs in day games, one more than he had last season.
•
Juan Pierre
has been caught stealing five times already. The last time an AL player was caught more in April? 1988, when both
Rickey Henderson
and
Mark McLemore
were caught six times.
•
Billy Butler
has already been intentionally walked five times, just three shy of his career high. Over the past 50 years, the most intentional walks for an AL player in April is seven (Ken Griffey Jr. in 1993 and
Travis Hafner
in 2007).
• Teammates
Ryan Raburn
(25) and
Austin Jackson
(24) have struck out more than any other hitters. Combined, those two have more strikeouts than 22 of the other 29 outfields in baseball.

Burnett
•
A.J. Burnett
already has six wild pitches. Over the past 50 years, only three AL pitchers have had more in April:
Ricky Romero
in 2010, Jaime Navarro in 1997 and
Bobby Witt
in 1986.
•
Clay Buchholz
has allowed six home runs, after allowing seven all last season. But that's not even the more surprising number in the AL.
Erik Bedard
's seven home runs allowed are the most in the majors. He's never allowed more than 19 in a season.
•
David Price
has already hit four batters, most in the majors and one shy of his career high.
•
Brad Thomas
has pitched just 6 2/3 innings, but has still allowed the most sac flies this season (5).
Trivia Answer:
In April 2001,
CC Sabathia
became the first pitcher born in the 1980s to appear in a game.
October, 4, 2010
10/04/10
3:06
PM ET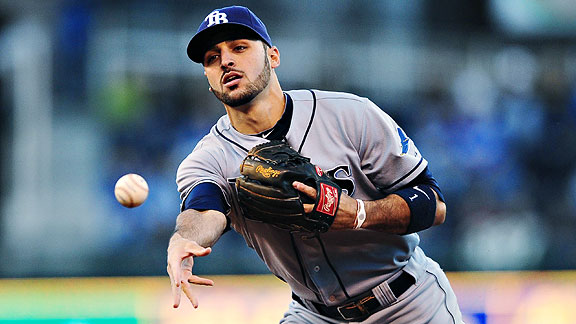 Mark J. Rebilas/US Presswire
Rays second baseman Sean Rodriguez had a knack for strong defensive play and clutch hitting, two factors that could be key in the postseason.
A capsule stat-based preview of the Texas Rangers-Tampa Bay Rays ALDS matchup.
Top things to know
The Rays led the American League in both walks and stolen bases, which partly accounts for how a team could finish near the bottom of the AL in batting average, yet near the top of baseball in runs scored (third-best in the majors).
The Rays also rank atop the majors by a huge margin in a Bill James-devised metric Baserunning Gain (ability to take an extra base on hits, outs and other plays). The Rangers rank second (+66 bases, 52 behind the Rays).
Josh Hamilton
had the greatest offensive season by a member of the Texas Rangers. He had the highest batting average (.359) of any player in Rangers team history (for a team that led the AL in the stat), as well as the best OPS+ (OPS compared to league average, adjusted for ballpark), a 174.
Deciding factor
The Rays had the second-best record in baseball when opponents started a left-handed pitcher, and they'll face left-handers in each of the first two games. They beat
Cliff Lee
three times during the regular season in 2010.
Evan Longoria
, currently battling an injury, led the way with a .956 OPS against lefties, followed by
B.J. Upton
's .919.
The Rangers bullpen won 32 games this season, most of any American League team. Their four most frequently used relievers who are available for the ALDS (
Neftali Feliz
,
Darren O'Day
,
Darren Oliver
and
Alexi Ogando
) combined for a 2.22 ERA, and had a strikeout-to-walk rate of 3.6 to 1.
Most interesting matchups
Vladimir Guerrero
has good numbers against almost every Rays reliever of note, albeit in a limited number of meetings. He's 5-for-9 against
Rafael Soriano
, 3-for-5 against
Dan Wheeler
, 3-for-6 against
Grant Balfour
, and 4-for-15 (with four walks and a .450 on-base percentage) against
Joaquin Benoit
. If Tampa Bay puts
James Shields
in the bullpen, Guerrero is good against him too (.394 BA, 1.030 OPS).
With the first two games taking place in the afternoon, it's worth noting that the Rays .587 win percentage in day games ranked sixth-best in baseball. The Rangers were 24th out of 30 (19-25, .432 win pct). The biggest impact seemed to be with Hamilton, who hit .384 with an 1.121 OPS at night, compared to .286/.819 during the day.
Statistical secrets
Rays second baseman
Sean Rodriguez
has all sorts of value to his team. His 18 defensive runs saved (a metric that measures ability to turn batted balls into outs, and turn double plays) rank best in baseball among second basemen.
Rodriguez also had an unusual knack for getting hits in big spots. He hit .400 (18-for-45) in "close and late" situations (defined by
Baseball-Reference.com
as plate appearances in the seventh inning or later with the batting team tied, ahead by one, or the tying run at least on deck).
The Rangers combination of
Elvis Andrus
and
Julio Borbon
bunt for hits better than almost anyone. Fangraphs.com charted Borbon as tied with
Erick Aybar
for the major league lead with 18 bunts hits. Andrus ranked third with 13. Combining bunt hits and infield hits, the Rangers rated tops in the majors, by Fangraphs calculations, with 187.
SIG's Picks
Albert Larcada of ESPN Stats & Info did statistical analysis of the last 10 postseasons, looking for the factors that most separate winning and losing teams. He found three -- power hitting, front-end starting pitching, and the ability to turn batted balls into outs. Using his findings, he was able to make a projection.
For the Rangers-Rays matchup, Larcada's system picks the Rays in four games. He gives the Rays a 56.6 percent chance to win the series.
June, 27, 2010
6/27/10
9:16
PM ET
By
Doug Kern ESPN Stats & Information
| ESPN.com
You often hear talk about "five-tool players" in baseball. We had plenty of hitting for average on Sunday (
Jose Guillen
and
Josh Hamilton
both extended their hit streaks to 21 games). We had some power-- more than 70 extra-base hits and two dozen home runs (including the longest one by distance this season). Fielding and throwing didn't give us too many issues.
Baserunning, on the other hand...
No matter which game you watched, there was bound to be at least one of those "head-scratcher" plays. The ones where you look at your TV and say, "what was he thinking?" At the risk of Monday-morning, er, Sunday-night quarterbacking, we present a sampling of the unnecessary, and sometimes obscure, outs that were run into on the basepaths Sunday.
Tampa:
Justin Upton
on third.
Chris Young
grounds back to the pitcher. Upton gets run back and tagged out. Young thinks the defense isn't paying attention and tries to take second, where he's also tagged out.
Tampa: Pinch runner
Carl Crawford
doubled off first when
Sean Rodriguez
lines one to third base.
Chicago:
Gordon Beckham
strikes out, but his backswing gets in the way of
Geovany Soto
as he tries to nail a stealing
Alexei Ramirez
. Ramirez gets called out for the interference of his teammate.
Cincinnati:
Corky Miller
thrown out trying to stretch a single into a double.
Anaheim:
Jason Giambi
thrown out at third trying to advance on a pitch in the dirt.
New York:
Jeff Francoeur
thrown out trying to tag and take third on a ball to shallow right.
Oakland:
Jose Tabata
's ground ball hits runner
Pedro Alvarez
between first and second. Oh, by the way, it's the final out of a one-run game.
(Bonus question: If you're keeping score, how do you write THAT down?)
Florida:
Jorge Cantu
is called for interference while trying to break up a double play at second base. The batter,
Dan Uggla
, is called out as a result.
Milwaukee:
Rickie Weeks
thrown out trying to stretch a single into a double.
Baltimore:
Miguel Tejada
thrown out trying to stretch a single into a double.
Baltimore: In the bottom of the eighth in a tie game,
Julio Lugo
legs out a double and then immediately gets himself picked off second.
(Bonus answer: Infield single for the batter. The putout is awarded to the closest fielder, in this case the first baseman.)
** The trunk with the Mets' bats in it finally arrived back at Citi Field. Six consecutive Mets batters went double, homer, homer, triple, single, single, during the fifth inning on Sunday. That's 15 total bases in a single inning. The Mets hadn't had 15 total bases in a GAME since last Tuesday.
** The aforementioned triple was off the bat of
Jason Bay
, marking his 1,000th career hit. The last time a player had a triple for his 1,000th career hit was almost exactly three years ago, when then-Oriole
Aubrey Huff
did it on June 29, 2007.
** The Pirates committed four errors and managed to lose Sunday's game to Oakland without allowing an earned run. Even for them, that's impressive. They haven't done that since June 29, 2002, when the Tigers scored on a missed catch at home plate and a passed ball to beat them 2-1.
** One afterthought on the Oakland/Pittsburgh series: On Saturday, the two teams donned "throwback" uniforms from the 1970s. (They say styles have a 30-year cycle, so watch for neon green to make a comeback soon.) But you have to forgive those two teams for wanting to "turn back the clock". During the '70s they combined for five world championships, including four straight from 1971-74. Since then, they have ONE (Oakland's in '89).
**
Jamie Moyer
didn't quite pitch IN the '70s, but at the rate he's going, he might well pitch INTO his 70s. Moyer became the all-time leader in home runs allowed on Sunday when
Vernon Wells
took him deep in the third inning.
Bonus question #2: Those 42 parks include ALL of the current 30 stadiums except two. We'll spot you Target Field because it just opened. What's the other current park where Moyer has yet to surrender a dinger? ** After being no-hit by
Edwin Jackson
on Friday, the Rays put together a two-hit attack against Arizona on Sunday. They did at least score a run this time. Ironically, the last team that was held to two or fewer hits twice in a series was these same Diamondbacks. That was in late May against the Giants.
** Combined with their amazing five-hit performance on Saturday, the Rays ended up with seven base hits over the entire three-game series. The Elias Sports Bureau tells us that the last team to finish with seven or fewer hits in a three-game series was the 1965
New York Mets
. They were one-hit by the Milwaukee Braves on both September 10 and 11 before "exploding" for five hits (and a 1-0 victory!) in the series finale on the 12th.
Bonus answer #2: Busch Stadium in St Louis. Moyer surrendered three long balls in the PRIOR Busch Stadium (which closed in 2005), but has made only two visits to the current building.