Stats & Info:

Seth Maness
October, 16, 2013
10/16/13
12:14
AM ET
By
ESPN Stats & Information
| ESPN.com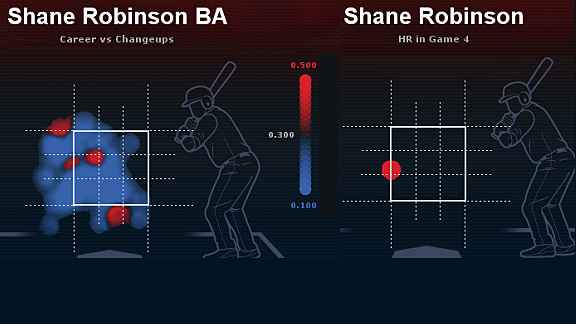 Getty Images, AP Photo
Shane Robinson did not have a good history against changeups ... but that didn't matter in Game 4.
The
St. Louis Cardinals
have hit below .200 in each of their four games against the
Los Angeles Dodgers
in the National League Championship Series.
And yet they lead the series 3-games-to-1.
Unusual things happen in baseball regularly. A 3-games-to-1 series lead under these circumstances would qualify, as would some of what happened in Game 4 of this series.
Here's to you, Mr. Robinson
Shane Robinson's
seventh-inning homer, which extended the Cardinals lead to 4-2, was his first in 85 career pinch-hit at-bats (combining regular season and postseason). He was 0-for-10 career in postseason play prior to the home run.
The homer came against a changeup from Dodgers reliever J.P Howell.
That's noteworthy given Robinson's history against changeups. He had previously made 38 outs against them, netting only four hits, two walks, and one time reached via error. He'd never hit a home run against one as a major leaguer.
But if you were to say this was the least likely postseason homer in Cardinals history, you'd have a long list with which it could compete.
Among the other candidates:
• Ozzie Smith, who had never hit a home run from the left side of the plate from the start of his career through the end of the 1985 regular season, hit a walk-off homer to beat the Dodgers in Game 5 of the 1985 NLCS.
• Current Cardinals third-base coach Jose Oquendo hit only one home run in 248 regular-season at-bats in 1987, but hit a three-run homer in the second inning of Game 7 of the NLCS to help his team to a 6-0 win over the Giants.
• Tom Lawless hit only two home runs in 531 career regular-season at-bats, but his three-run homer against Frank Viola helped the Cardinals win Game 4 of the 1987 World Series.
•
So Taguchi
hit only two home runs in 316 regular-season at-bats in 2006 but put the Cardinals ahead in Game 2 of the NLCS against the Mets with a ninth-inning homer against
Billy Wagner
.
• In the very next game, Taguchi's teammate, pitcher
Jeff Suppan
, who entered with one career home run, homered and held the Mets scoreless to put the Cardinals ahead in the series, 2-1.
And one other note on Robinson: The other three players with a last name of Robinson to homer in postseason play are all Hall-of-Famers: Jackie Robinson, Frank Robinson and Brooks Robinson.
Turning point: Maness gets another double play
One of the pivotal points in this game came with the Cardinals leading 3-2 in the sixth inning with a runner on first and one out.
Mike Matheny
put his double-play inducing machine,
Seth Maness
to work.
Maness came through, getting
Juan Uribe
to bounce into an inning-ender.
Maness induced a double play in 29.6 percent of his GIDP situations during the regular season, the highest percentage in baseball.
The Cardinals bullpen has allowed one run in 14 innings in this series. Their relievers, whose fastballs have averaged 96 mph, have totaled 13 strikeouts in those 14 innings.
But it's not over yet …
The Cardinals are up 3-games-to-1, which is familiar, but not pleasant territory for them in NLCS play.
In the previous two postseasons in which it led 3-games-to-1 (1996 and 2012), St. Louis failed to win another game and was outscored by a combined 52-to-2 margin by the Braves and Giants in Games 5 through 7.
August, 27, 2013
8/27/13
11:30
AM ET
Today on Sweet Spot,
Anna McDonald profiled five
of the
St. Louis Cardinals
top young arms who could be key to the team's hopes of a division title.
We looked at each of those pitchers from a statistical perspective (and threw in one other,
Kevin Siegrist
). Here's our take on what they've done and what to watch for moving forward.
Joe Kelly
Kelly
What's to like:
Kelly is 5-0 with a 1.79 ERA in his last seven starts, dating back to July 12. One of the keys to that has been a changeup, against which opponents have made 44 outs and allowed 12 baserunners. Opponents are 2-for-their-last 23 with two walks against that pitch.
Room for improvement:
Kelly is not a strike thrower. He's struck out 24 and walked 18 (one intentional) in 40 1/3 innings in this seven-start stretch. Within that timeframe, Kelly is getting misses on only 13 percent of the swings taken against him, the second-worst rate of any pitcher in that stretch.
Seth Maness
What's to like:
Maness is just about as good as it gets at inducing ground balls. His ground-ball rate of 72 percent is second-best in the majors, half-a-percentage point behind Diamondbacks submariner
Brad Ziegler
. Maness allowed a run in his last outing, snapping a streak of 14 2/3 innings of scoreless work.
Room for improvement:
Maness is very hittable. Nearly half of the swings against him have been put into play, a rate that ranks among the 10 highest in baseball. Both lefties and righties hit him equally well, combining for a .294 batting average against him.
Shelby Miller
What's to like:
The Stats & Info blog has
written about
Miller's strengths
a few times, most notably a fastball that gets hitters to miss on about one-fourth of their swings.
Room for improvement:
Miller has been up and down as the season has moved along. He had a 1.91 ERA in his first 12 starts this season, but a 4.06 ERA in his last 13. The primary culprit has been home runs.
He's yielded 12 in his last 64 1/3 innings, including four in his last three starts.
Trevor Rosenthal
Rosenthal
What's to like:
Rosenthal is among the game's hardest throwers. His fastball averages 97.3 mph, which ranks third-best among those with at least 50 innings pitched. Only
Aroldis Chapman
(98 mph) and
Nate Jones
(97.5) throw harder. Rosenthal is using that pitch to average 12.6 strikeouts per 9 innings, sixth-best in the majors.
Room for improvement:
If Rosenthal does eventually transition into the starting rotation, he'll likely need to throw his breaking ball more. Rosenthal has thrown 72 curves and sliders this season and they've combined to yield eight baserunners, while netting only nine outs.
Kevin Siegrist
What's to like:
Siegrist currently has a 12 1/3 inning scoreless streak during which he hasn't allowed any inherited runners to score either.
Opponents are 9-for-88 against him, with right-handed hitters being as meek (5-for-44) as lefties (4-for-44). Thus far, he's been able to get away with throwing his fastball over the heart of the plate. He's thrown exactly 100 heaters into the area covering the middle-third of the strike zone, width-wise and gotten 25 outs, yielding only one baserunner.
Room for improvement:
Siegrist is a little wild. He's walked 15 in 27 innings, mainly because when he throws the ball below the knees, hitters know to let it go. Of the 99 times he's thrown a pitch to that area, he's only gotten 10 "chases" (swings at pitches out of the strike zone), well-below the major-league average of 27 percent.
Michael Wacha
Wacha
What's to like:
Wacha had two good starts in three appearances after initially being recalled in late May. In his second stint with the team, he's held opponents scoreless in four of five relief appearances. Wacha has shown he can get hitters out from the left side. Lefties are 12-for-59 against him with 14 strikeouts and two walks.
Room for improvement:
Wacha has had three games this season in which he significantly struggled at getting right-handed hitters out. Overall, they're 15-for-52 against him with eight extra-base hits and four walks.