Stats & Info:

Shaun Marcum
April, 9, 2012
4/09/12
12:58
PM ET
AP Photo/Jeffrey Phelps
Shaun Marcum held opponents to a .196 BA and .264 Slug pct against his cutter last season.
The
Milwaukee Brewers
head to the Windy City to open a four-game series against the
Chicago Cubs
tonight (ESPN, 7 ET). The Brewers went 10-6 against the Cubs last season, their first winning season against Chicago since 2005. The Cubs were 45-34 against Milwaukee from 2006-10.
Starting Pitchers
Shaun Marcum
takes the mound for the Brewers in his first start of the season. Marcum is coming off a career year in 2011 – his first in the National League after starting his career with the
Toronto Blue Jays
- as he set career highs with 33 starts and 200⅔ IP, and tied his career high with 13 wins.
The cutter will be Marcum's weapon, a pitch he improved and increased his use of last season. In 2011, he threw his cutter 17.7 percent of the time and has a miss percentage of 26.0, compared to throwing it 15.9 percent of the time with a 22.2 miss percentage in 2010. In addition, Marcum allowed only two HR off his cutter last season, compared to seven home runs in 2010.
Chris Volstad is 1-1 with a sparkling 1.71 ERA in four career starts against the Brewers. He'll be excited to see Milwaukee without Prince Fielder in the lineup. Volstad's opponents' batting average against lefties was fifth-worst in the majors last season.
Volstad's performance against lefties has gotten worse each of his four seasons in the majors. In 2008, he allowed lefties to hit .243 against him, but saw left-handed hitters become more comfortable in each of the subsequent years – hitting .255 in 2009; .292 in 2010; and a career-high .305 against him last season. Only four other pitchers (min. 300 AB) had a higher opponent batting average against left-handed batters last season.
Stat of the Game
Milwaukee entered the season without Prince Fielder for the first time since 2005 (signed a free-agent contract with the
Detroit Tigers
). It's only three games, but they are feeling his loss as their first basemen (
Mat Gamel
and
Travis Ishikawa
) are a combined 2-for-12 with five strikeouts and no extra-base hits. Fielder is hitting .417 with two HR and two strikeouts in three games with the Tigers.
Key Matchup
Chicago second baseman
Darwin Barney
is 3-for-7 with three doubles against Marcum, but the rest of the Cubs are 5-for-53 (.094) with two extra-base hits combined.
David DeJesus
is 0-for-16 with four strikeouts against him.
John Fisher contributed to this post
April, 5, 2012
4/05/12
12:06
AM ET
By
ESPN Stats & Information
| ESPN.com
Doug Pensinger/Getty ImagesKyle Lohse carried a no-hitter into the seventh inning as the St. Louis Cardinals spoiled the opening of Marlins Park for the hosts.
On the night when Marlins Park opened and the new-look
Miami Marlins
were looking to take center stage,
Kyle Lohse
and the defending champion
St. Louis Cardinals
stole the show.
Lohse carried a no-hitter into the seventh inning before
Jose Reyes
led off the inning with a single. Lohse ended up tossing 7⅓ innings and allowing just two hits. He is the first Cardinals pitcher to throw that many innings and allow two or fewer hits on Opening Day since Ernie Broglio in 1963.
Before this game, Lohse's longest no-hit bid was 5⅓ innings for the
Minnesota Twins
against the
Detroit Tigers
on April 3, 2003. This is the third straight season that a pitcher has thrown at least 6 innings before allowing a hit in his team's opener.
Josh Johnson
went 6 innings before allowing a hit for the Marlins last year, and
Shaun Marcum
recorded one more out before surrendering a hit for the
Toronto Blue Jays
in 2010.
Lohse's success against the Marlins was a tribute to his command. Last season, he was second in the National League in called strike percentage, with 39.1 percent of his strikes being taken by the batter. He was nearly as sharp tonight, with 21 of his 56 strikes (37.5 percent) and two of his three strikeouts on called strikes.
He was also successful in keeping the ball down. Last season opponents hit .213 when Lohse kept the ball down and .295 when the ball was middle or up. Tonight, the Marlins were 0-for-8 with two strikeouts on pitches in the lower third or below the strike zone.
When
Mike Matheny
pulled Lohse from the game in the eighth inning, it was the first pitching change of his career as a manager. Former Cardinals skipper Tony La Russa holds the major-league record with 12,236 career pitching changes.
Marlins' starter Josh Johnson allowed 10 hits in a game for just the second time in his career. After allowing only one first-inning run in nine starts last season, he allowed two runs in the first inning against the Cardinals.
The Cardinals were the first defending World Series champion to win their opener since the
Boston Red Sox
in 2008. The last three champions had lost on Opening Day.
October, 17, 2011
10/17/11
1:22
AM ET
For the second time in the last six seasons, the
St. Louis Cardinals
are headed back to the World Series. Thanks to two four-run innings and three home runs, the Cardinals defeated the
Milwaukee Brewers
12-6 in Game 6 of the NLCS Sunday to clinch their 18th pennant. It's Tony La Russa's sixth trip to the World Series and his third with the Cardinals. That's most among current managers and tied for sixth most all-time.

Freese
David Freese
went 3-4 including a single, double and three-run home run and scored three runs. He finished the LCS with three home runs, a .545 batting average and nine RBI en route to winning MVP. The only other player to hit all three of those benchmarks in a postseason series is Lou Gehrig who hit .545 with four home runs and nine RBI against the Cardinals in the 1928 World Series. Freese is the fourth third baseman to win LCS MVP joining Graig Nettles, George Brett and Gary Gaetti.
The teams scored in each of the first five half-innings, just the second time that's happened in postseason history according to the Elias Sports Bureau. The other instance was Game 3 of the 1910 World Series between the Philadelphia Athletics and Cubs.
Elias also says this is the first postseason game in which one of the teams hit a leadoff home run in each of the first three innings. St. Louis was the first team to score first in all six games of a postseason series.
The Cardinals lost five of nine games at Miller Park during the regular season, but took two of three in Milwaukee this series. They are just the fourth Wild Card team to win the LCS by eliminating their division champion on that team's home field.
Brewers starter
Shaun Marcum
lasted just one inning allowing four earned runs. Marcum finished the postseason with a 14.90 ERA, the highest single postseason ERA among pitchers with a minimum nine innings. He's the sixth starter to go no more than one inning in an NLCS game in the Wild Card era.
The Brewers' defense didn't help either as they committed nine errors in the series including seven in their last two games. The nine errors are most in a NLCS and one shy of the LCS record set by the 1999 Red Sox.
Albert Pujols
homered for the second time in the series and moved past
Bernie Williams
and George Brett into second place for most home runs in the LCS. Only
Manny Ramirez
has more LCS home runs with 13.
October, 16, 2011
10/16/11
12:32
PM ET
By
Katie Sharp
| ESPN.com

The NLCS is back in Milwaukee for Game 6, where the
Milwaukee Brewers
will try to avoid elimination tonight. This will be just the second Game 6 the franchise has played in its 43-year history. The first one didn't go so well – a 13-1 loss to the
St. Louis Cardinals
in the 1982 World Series.
However, the Brewers are happy to be playing at the friendly confines of Miller Park. The Brew Crew is 10-5 all-time in home postseason games, which is tied with the
New York Mets
(26-13) for the all-time best home winning percentage in the postseason (min. 15 games).

The Cardinals are looking to clinch a World Series berth for the 18th time in franchise history, which would put them in a tie with the Giants and Dodgers for the second-most appearances all-time, behind only the Yankees (40).
On the Mound
The Brewers send
Shaun Marcum
to the mound with their season on the line. Marcum has struggled in his last six starts since the beginning of September, with a 8.18 ERA and 1-4 record over that span. Prior to this recent slide, he was 12-5 with a 3.11 ERA in 29 starts.
Marcum is an off-speed specialist, throwing his fastball less than 30 percent of the time this season, but it was his heater that the Cardinals pounded in Game 2 of the NLCS.
Of the six fastballs the Cardinals swung at, four went for hits, including two doubles and a homer. The three extra-base hits were the most against his fastball in any start this season.
Edwin Jackson
takes the mound in this potential pennant-clinching game for the Cardinals. In his last two starts in Milwaukee, including Game 2 of this series, he has a 2.38 ERA and walked just one of the 47 batters he faced.
He had a lot success when he was able to keep the ball down, as the Brewers went a combined 1-for-13 in at-bats ending on pitches in the bottom third of the zone and below, and missed on 12 of their 28 swings at those pitches.
Inside the Series
Including the playoffs, these teams have now played each other 23 times this season and the Cardinals have won 12 times, outscoring the Brewers by just four runs. So it would be no surprise if this series went the distance…
…And research by the Elias Sports Bureau confirms this. There have been 89 seven-game postseason series where a team trailed 3-2. Forty-nine of those 89 series, or 55 percent, went to a winner-take-all Game 7.
October, 4, 2011
10/04/11
1:37
PM ET


The
Milwaukee Brewers
won the first two games at home, but the National League Divisional Series moves to Phoenix Tuesday night. This is the first time in franchise history that the Brewers have taken a 2-0 series lead. In four previous postseason series, the Brewers are just 1-4 with the chance to win a series.
The
Arizona Diamondbacks
send
Josh Collmenter
to the mound in an effort to extend the series. The righty faced the Brewers twice during the regular season without allowing a run or an extra-base hit in 14 innings.
The key for Collmenter will be shutting down
Ryan Braun
, who is 6-for-8 with three extra-base hits in the NLDS. During the regular season, Braun was hitless in six at-bats against Collmenter.
The Brewers counter with
Shaun Marcum
, who is also making his first postseason start. Marcum struggled down the stretch, with a 1-2 record and 6.66 ERA in his last four regular-season starts.
Miguel Montero
is hitless so far in the NLDS, but is the only active Diamondback hitter with a home run off of Marcum.
Justin Upton
is 2-for-6 against the righty, but has also struck out three times.
The Brewers have struggled on the road during their previous postseason appearances. They have lost the last five games outside Milwaukee while allowing over a run a game more in playoff games away from home.
Since sweeping the Cubs in the 2007 NLDS, Arizona has dropped six straight postseason games. Returning to the desert could provide some relief, as the Diamondbacks are 9-6 in home playoff games.
March, 28, 2011
3/28/11
9:15
AM ET
Chicago Cubs

From August 14 until the end of the season,
Carlos Zambrano
went 8-0 with a 1.24 ERA and allowed just one home run. According to the Elias Sports Bureau, the only pitcher (minimum 50 innings) who had a lower ERA than Zambrano over that span was the American League Cy Young winner,
Felix Hernandez
(1.07 ERA).
Carlos Pena
was one of four players last season (along with
Mark Reynolds
,
Jim Thome
and
Russell Branyan
) with at least 25 home runs despite having fewer than 100 hits.
Cincinnati Reds

There are only three pitchers who have thrown at least 200 innings in each of the last six seasons:
Mark Buehrle
,
Dan Haren
and the Reds'
Bronson Arroyo
. He's made 169 starts since coming to the Reds in 2006, tied with Haren for the most starts over the last five seasons.
In 2010,
Joey Votto
became just the fourth player in franchise history to hit .300 with 30 home runs and 100 RBI and the first since George Foster in 1977.
Houston Astros

Three pitchers tied for the major-league lead in starts of at least six innings pitched; Cy Young winners
Roy Halladay
and Felix Hernandez and Houston's
Brett Myers
each made 32 such starts.
The Astros actually had a better record after the trades involving
Roy Oswalt
and
Lance Berkman
(34-27) than when both were on the roster (42-59).
Milwaukee Brewers

Much has been made about their offseason additions of starting pitchers
Zack Greinke
and
Shaun Marcum
. But with Greinke came
Yuniesky Betancourt
, whose -21 Defensive Runs Saved ranked last among shortstops in 2010. Betancourt's an addition to an infield that already wasn't the best defensively:
Rickie Weeks
was -11 (tied for worst among second basemen) and
Prince Fielder
was -13 (third worst among first basemen).
One reason the Brewers offense -- which ranked in the top four of the National League in batting average, OBP, slugging percentage, runs and home runs – could improve is that
Ryan Braun
posted career lows in OPS, slugging percentage, home runs and stolen bases.
Pittsburgh Pirates

They have finished with a losing record every year since 1993. The 18 consecutive losing seasons is the longest streak
ever
among the four major sports.
Andrew McCutchen
is widely considered to be one of the best young centerfielders in the game. However, he cannot escape the fact he was one of the worst "leading men" in baseball last year. Among position players who led their teams in Wins Above Replacement (WAR), McCutchen's mark (3.3) was the fourth-lowest in the league.
St. Louis Cardinals

Not only was the combined 14.2 WAR of
Albert Pujols
and
Matt Holliday
the best in baseball last season, but they were the only duo with a combined WAR above 12.5.
Pujols finished second in the 2010 National League MVP voting, the eighth time in his career that he's finished in the top three. The only player who has had more top-three finishes in MVP voting (since BBWAA voting began in 1931) is
Barry Bonds
with nine.
-- Justin Havens contributed to this report
December, 22, 2010
12/22/10
10:33
AM ET
The trades for
Zack Greinke
and
Shaun Marcum
will benefit the
Milwaukee Brewers
beyond just through their pitching capabilities. In obtaining this pair, the Brewers got two of the best fielders at their position in the sport.

Greinke tied for fifth-best among pitchers in 2010 with seven defensive runs saved. His 18 over the last three seasons rate second-best in baseball. Marcum, who ex-Baseball Tonight analyst J.P. Ricciardi said would someday win a Gold Glove, finished with four runs saved.
How does a pitcher save runs? There are two ways.
For one, both Greinke and Marcum very good at turning batted balls into outs. In Baseball Info Solutions plus-minus system, Greinke rated a +7 in 2010 and a +13 since 2008 (meaning he turned 13 more balls hit his way into outs than the average fielder would have), tied for second-best in baseball. Marcum was a +4 last season and a +8 in his last three seasons (he missed 2009 due to injury).
Greinke finished runner-up in BIS' Fielding Bible Awards voting for pitchers, and for good reason. Three times last year, he got an out on a ground ball that earned him a +.88 or better (meaning 88 percent of balls hit to that location at that speed would
not
have been turned into outs by the average fielding pitcher). Each of those plays required Greinke to make a quick reaction, made possible by a follow-through that left him in an ideal fielding position.
The other stat for which both Greinke and Marcum get some credit is for their work in preventing runners from stealing bases.
Last season Marcum yielded only seven steals in 15 attempts for a career-best rate of 46.7 percent, thanks partly to Jose Molina's presence.
The Brewers might want to consider picking up Molina. Thanks to
Baseball-Reference.com's
splits pages, we know that Marcum made nine starts with Molina behind the plate last season, and had a 1.74 ERA, a .218 opponents on-base percentage in them, with opponents failing on all three steal attempts.
Greinke has had more sustained excellence in this area, yielding only 19 stolen bases in 43 attempts over the last three seasons (not including five times that Greinke picked a runner off).
Over the last three seasons, opponents have only stolen 19 bases in 43 attempts with Greinke pitching (not including five times that Greinke picked a runner off). Compare that to the success of baserunners stealing against his Royals counterparts (76.4 percent) in that time and it's evident that Greinke has a skill of significant value.
As much as the Brewers improved this offseason, there remains one very significant issue -- their infield defense rated among the worst in the sport last season. All four projected starters for 2011 (
Prince Fielder
,
Rickie Weeks
,
Yuniesky Betancourt
and
Casey McGehee
) ranked at or near the very bottom at their respective positions in defensive runs saved, not just last season, but over the last three to four years.
Thus, they figure to be quite thankful for the presence of both Greinke and Marcum this season, not just for how they prevent runs on the mound, but on how they prevent them in the field as well.
December, 19, 2010
12/19/10
2:03
PM ET
By
Zachary Singer
and
Justin Havens
| ESPN.com
Just when it appeared the
Milwaukee Brewers
were caught in the middle between contention and rebuilding, the team continues its complete overhaul of its starting pitching staff, acquiring 2009 AL Cy Young award winner
Zack Greinke
from the
Kansas City Royals
in exchange for a bevy of prospects. While the merits of the prospects will certainly be debated, what cannot be argued is that Greinke makes the Brewers staff among the most formidable in the National League.
Greinke followed up his 2009 Cy Young campaign with a solid, if unspectacular 2010. His traditional numbers were not very good (10-14, 4.17), his K/9 rate had a significant drop (from 9.50 to 7.40, closer to his career average) and his HR/9 rate nearly doubled, from 0.43 to 0.74. But many of Greinke's problems in 2010 were not his fault.

Greinke
Greinke posted a career-high ground-ball percentage (46.0%), but he was doing so with terrible fielders responsible for getting to all those ground balls. According to Baseball Info Solutions, Kansas City was 30th in all of baseball in Defensive Runs Saved in 2010 (-88). Greinke's FIP (3.34) was over three-quarters of a run better than his ERA. The 2010 Brewers were league-average defensively last season (-0.7, 16th in Team UZR), but that represents a drastic improvement for Greinke.
One red flag is
Yuniesky Betancourt
, who is coming with Greinke to the Brewers. Betancourt was the third-worst starting shortstop in MLB in 2010 based on UZR (-9.5) and the less he plays at shortstop for the 2011 Brewers, the better.
Milwaukee acquired
Shaun Marcum
from the
Toronto Blue Jays
on December 6th, giving the Brewers a right-hander with success against the power bats of the AL East. Coming off of Tommy John surgery, Marcum had an impressive 2010, going 13-8 with an ERA of 3.64 and a nearly equal FIP of 3.74. He had a very low walk rate in 2010 (1.98 BB/9), despite the fact that only 48.7% of all strikes he threw were in the strike zone.

Marcum
Marcum is adept at getting hitters to chase, with nearly a third of all swings against him being on pitches outside the zone (30.4%). Marcum had a significant change in his arsenal coming off of Tommy John surgery. He threw a higher percentage of fastballs in 2010 than he had in 2008 with the Blue Jays (from 48.3% to 61.2%). He also threw a greater percentage of changeups (23.2% to 24.1%), but was more effective, with his batting average against his changeup dropping from .213 to .152.
Clearly, the Brewers can expect an upgrade in performance from their staff. But just how much? By using the Wins Above Replacement statistic, it's possible to estimate how much of an upgrade Greinke and Marcum will be.
In 2010, the Brewers' fourth and fifth starters --
Dave Bush
and
Manny Parra
-- combined to give the team 47 starts, going 10-20, 5.09 ERA. That combined production was worth -0.1 Wins Above Replacement.
On the flip side, Greinke contributed 5.2 WAR and Marcum chipped in 3.5. So, assuming Greinke and Marcum repeat their performances from 2010 -- a reasonable suggestion -- the Brewers stand to gain nearly nine wins. That's the difference between 77-85 and 86-76. Or, between non-contention and contention.
December, 12, 2010
12/12/10
9:00
AM ET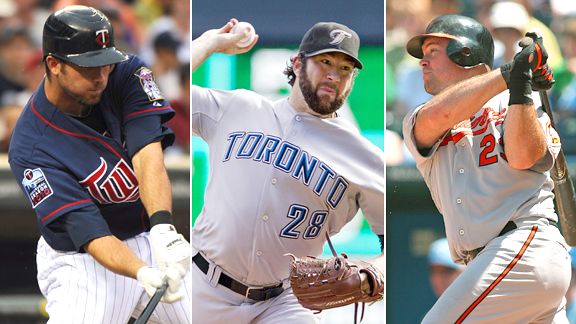 Getty Images
J.J. Hardy, Shaun Marcum and Ty Wigginton were among the under-the-radar players on the move last week.
With more than $750 million committed by major league teams, plus a slew of significant trades, it's been a busy offseason. Here are some quick takes on notable moves that took place in the last seven days.
Jason Bartlett (Padres)
Bartlett was consistently below average as a Ray in his ability to turn double plays. According to Baseball Info Solutions, it is estimated that Bartlett cost his team four runs in 2009 (worst in the majors) and three runs in 2010 (second-worst) because of his poor performance when attempting to turn double plays.
-- Katie Sharp
Carl Crawford (Red Sox)
If a good statistical benchmark for Carl Crawford over the next seven seasons is 250 steals and 100 home runs, consider this: The last player to do that over seven seasons was
Marquis Grissom
(1992-1998).
-- Mark Simon
Jack Cust (Mariners)
Cust fills a significant need for the Mariners. His .395 on-base-percentage, .438 slugging percentage, .166 isolated power and .371 weighted on-base average (wOBA) for the
Oakland Athletics
in 2010 all would have been the best on the Mariners.
-- Justin Havens
Jeff Francoeur (Royals)
Francoeur posted the second-worst on-base percentage of any outfielder in 2010. That runs counter to one area of improvement for Kansas City. The Royals tied for ninth in the AL in walks last year, after finishing in the bottom two in the previous three seasons.
-- Paul Carr
Tony Gwynn Jr.(Dodgers)
Gwynn finished fourth in Net Rating (a measure from Baseball Info Solutions that looks at approximately 30 categories of Good Fielding Plays and 50 categories of Misplays). Gwynn's signature defensive play was a game-saver on June 6, with the Padres leading by a run in the bottom of the 10th inning. He threw out
Placido Polanco
trying to go first-to-third on a single with one out. That's the kind of play the Dodgers could use. Their assist total from centerfielders dropped from 14 in 2009 to three in 2010, tied for fewest in the majors.
-- Mark Simon
J.J. Hardy (Orioles)
Last year's Orioles left side of the infield averaged a home run every 71 at-bats and a walk every 25. Hardy and Mark Reynolds netted a homer every 22 at-bats and a walk every eight.
-- Justin Havens
Shaun Marcum (Brewers)
It will be interesting to see if Marcum's ability to generate swings-and-misses is as good in the NL. Batters missed on 50 percent of their swings against his changeup and chased over 40 percent of those offerings, both ranking among the top five in the AL. His changeup putaway rate (strikeouts/two-strike changeups thrown) of 25.9 percent was the fourth-highest in the league.
-- Katie Sharp
Mark Reynolds (Orioles)
Reynolds' league-worst .198 batting average last season was unusual -- more than 50 points worse than the his .250 over the two previous seasons. Though Reynolds' contact rate and in-play percentage were consistent from 2008-10, he didn't have good fortune when putting balls in play. His BABIP of .257 in 2010 was the fourth-lowest in the NL, far below his mark of .330 from 2008-09.
-- Katie Sharp
Ty Wigginton (Rockies)
Wigginton may mesh well with Coors Field. Inside Edge tracks well-hit average (a subjective rating that favors line drives and long fly balls) and ranked Wigginton 33rd in that stat (.263). However, he ranked 95th in slugging percentage (.415). For comparative purposes, new teammate
Troy Tulowitzki
had a well-hit average one point higher than Wigginton (.264) and ranked eight-best in the majors in slugging.
-- Mark Simon
August, 11, 2010
8/11/10
2:14
PM ET
By
ESPN Stats & Info
| ESPN.com
Recapping Wednesday's early games:
Cardinals 6, Reds 1
The Cardinals get their first three-game sweep in Cincinnati since 2005.
Colby Rasmus
hit his first career grand slam (he had been 2-13 in his career with the bases loaded). St. Louis hit two slams in the series and has hit this season at Great American Ballpark.
Adam Wainwright
wins his 17th game, allowing only four base runners (two reached on errors) while improving to 9-0 in day games. Cincinnati has lost three straight for the first time since the All-Star Break and is swept at home for the first time this season.
From the Elias Sports Bureau: Rasmus turned 24 on Wednesday, becoming the sixth player in the last five seasons to hit a grand slam on his birthday.


• The Reds were 0-9 against Wainwright's curveball with four strikeouts, and 0-5 against his slider. In Wainwright's 17 wins this season, opponents are hitting .133 (19-143) with 59 strikeouts (3.5/game) against his curve and .143 (10-70) with 16 K (0.94/game) against his slider.

• Wainwright retired all 13 hitters in at-bats ending when he was ahead in the count -- the fourth start this season he hasn't allowed a hit when ahead in the count.

Braves 8, Astros 2
Atlanta scored six runs in the top of the 10th inning, the most runs scored in an extra inning this season. In the 10th, Brian McCann hit the Braves major-league leading third pinch-hit grand slam this season (Brooks Conrad has the other two). The last team to hit three pinch-hit grand slams in a season was the 1982 Orioles (Benny Ayala, Dan Ford, Terry Crowley).

Looking ahead to tonight's games:
• Cliff Lee starts tonight for the Rangers against the Yankees. Lee -- who was 2-0 against the Yankees in last year's World Series -- has pitched at least 8 innings in all six of his starts with Texas, although he has not received much in the way of run support. The Rangers are just 3-3 in Lee's six starts and have scored three runs or fewer in five of his six outings.

• Brad Bergesen is on the mound tonight for the O's. Although he's winless in his last 12 starts (hasn't won since May 12), Bergesen has pitched well in his last two outings. The righty has thrown 14 innings (7 in each start), allowed 10 hits, 3 earned runs and walked just two batters.

• Clay Buchholz goes for a team-leading 13th win tonight in Toronto. After a rough outing in his first start off the DL on July 21, Buchholz is 2-0, 2.02 ERA in his last three starts. What's more, he's gone at least 7 innings in each of those starts. The Red Sox will face Shaun Marcum, who leads the team in wins (10) and ERA (3.44). He's fared well in his career against Boston (5-2, 2.91 ERA).

• The Dodgers Chad Billingsley has not allowed a home run in more than two months. Since allowing 3 HR to the Diamondbacks on May 31, Billingsley has gone 68.1 innings since allowing a HR -- the second longest active streak in MLB behind the Twins Francisco Liriano (89.2 IP since allowing a HR).

• Phillie fans will get their first look at Roy Oswalt. (Both of his starts in a Phillies uniform came on the road.) They can only hope he has as much success at Citizens Bank Park with the Phillies as he did with the Astros. In four career starts at Citizens Bank, Oswalt is 4-0 with a 2.60 ERA and has allowed just one home run in 27.2 innings.

• The Cubs Tom Gorzelanny is 3-0 in his career against the Giants, and 2-0 with a 0.64 ERA (14 IP, ER) in two starts at AT&T Park.
April, 5, 2010
4/05/10
6:10
PM ET
By
Joe Pawlikowski, FanGraphs
| ESPN.com
The Indians and the Blue Jays had something in common on Opening Day. While both staffs feature a number of promising arms, each of their Opening Day starters hadn't thrown a pitch in the majors since 2008.
Jake Westbrook
, understandably, struggled during his start four Cleveland. In four innings of work he threw 82 pitches and just 47 for strikes. That led to four walks. Combined with five hits, including a two-run home run by White Sox first baseman
Paul Konerko
, and Westbrook surrendered five runs in his return. For Shaun Marcum, however, it was a different story.
Marcum has never been an overpowering pitcher. His fastball tops out at 88 mph, and over his career he has relied on his secondary pitches to keep hitters off-balance. He features a full arsenal, including a cutter, changeup, slider, and curveball, which allows him to throw his fastball only 40 percent of the time. While his cut fastball grades well, Marcum's favored secondary pitch is his changeup. It averages around 81 mph, giving it only five to six mph separation from his fastball, but it is his most effective weapon.
The changeup played a large part in Marcum's Opening Day no-hit bid. He deployed it liberally, throwing it 29 times out of 92 pitches, according to Pitch F/X. While Marcum has favored the changeup in the past, he hasn't typically thrown it this frequently, usually using it about 20 percent of the time. Then again, it was incredibly effective during this start. Only eight times did the umpire call his changeup a ball. The Rangers swung and missed at it 11 times, including four to end at-bats, accounting for two-thirds of Marcum's strikeout total for the day.
To measure the break of a pitch, the Pitch F/X system compares it with a pitch that has no spin. If a pitch had no spin, gravity would act on it to a greater degree than it would a pitch with backspin, so a pitch with no spin would drop faster. Because of this, many pitches have a positive vertical break. This doesn't mean that the pitch broke upward, but rather that it didn't drop as quickly as a pitch with no spin. A fastball with 10 inches of vertical break, for instance, stayed 10 inches higher than the same pitch if it had no spin.
The effectiveness of Marcum's change comes not from its separation from his fastball, but from its movement. His four-seam fastball has a vertical break of around 10 to 11 inches. His changeup has a vertical break of around 5 inches, so while a pitch with no spin would drop more, the changeup drops considerably more than the fastball. The movement keeps hitters off-balance, as they oftentimes think they see fastball, only to have the ball drop under their swings.
For the past seven seasons Blue Jays fans got to see
Roy Halladay
, perhaps the best pitcher in baseball over that span, start on Opening Day. Seeing Marcum, over a year removed from meaningful baseball, might have been a disappointment at first, but he certainly gave them something to cheer for. It was a disappointment to see
Vladimir Guerrero
single with one out in the seventh inning to break up the no-hit bid, and then to see
Nelson Cruz
hit a home run to tie a game the Jays would eventually lose. But Marcum certainly gave Jays fans something to look forward to. He, and his changeup, could lead the Jays to a few unexpected wins in the 2010 season.
Joe Pawlikowski is an author of FanGraphs.
March, 29, 2010
3/29/10
5:34
PM ET
By
Doug Kern, ESPN Stats & Info
| ESPN.com
Starting Off On The Right Foot... er, Arm

Let's just admit it, Opening Day is fun. It's a new season filled with new players, new storylines, new hope, a new stadium or two, over 2,400 games waiting to be contested. Every team is tied for first place. It's not just fun for the fans, it's fun for the players too. One of the biggest honors for a pitcher is to be named a team's opening-day starter. It's usually the staff's "ace", the one who will take those hopes on his shoulders - literally- and start a new chapter. Start that run to the championship (you know, the one that every team says they're really going to make this year). And over the years, it's become a great privilege to throw the first ball of the season.


It's also probably the last time this season you'll see so much talent on display on the same day. Aside from NL wins (Adam Wainwright), both leagues' leaders in every category below will be pitching on Monday. (As an added bonus, Zach Duke also led the National League in losses.)


And there will be some new faces, too. A full third of this season's opening-day starters-- including surprises like Zack Greinke ("he's never started an opener?") and Vicente Padilla ("he's starting the opener?")-- will be getting that nod for the first time. Two (Roy Halladay and Jon Garland) will be making their first appearance for a new team. Garland will actually face one of his staff-mates from last season, Dan Haren, as the Padres travel to Arizona.


Incidentally, Tom Seaver holds the all-time record for most opening-day starts (16, including 12 straight from 1968-79). The leaders on this year's list are only halfway there.
Did you know: According to Baseball Almanac, the AL team that's won the highest percentage of its openers is Toronto (25 of 33, 76%). The NL team with the best opening-day record-- really-- is the New York Mets (60%). It's those other 161 games that have been a problem in Flushing recently.

March, 5, 2010
3/05/10
9:00
AM ET
By
Justin Havens, ESPN Stats & Info
| ESPN.com
The
Toronto Blue Jays
posted a strong 2008 season with an 86-76 record. A big reason for that success was the remarkably steady performance from then-26-year old RHP
Shaun Marcum
. Marcum filled the void behind ace
Roy Halladay
, giving the Blue Jays one of the most productive rotations in the game.
Marcum, in particular, was among the most efficient pitchers in the AL in 2008:
However, while Marcum's 2008 was a success, it was not an unmitigated one. He missed the entire 2009 season due to Tommy John surgery, a development which had a clear impact on the Blue Jays rotation in 2009. With Marcum unable to give the team innings in 2009, the rotation as a whole crumbled. It went from a team ranked 1
st
in ERA, IP/start and WHIP to a decidedly mediocre unit.
With Halladay gone to the NL East, the Blue Jays will once again be dependent upon Marcum re-establishing himself as a top-of-the-rotation force. Incredibly, despite missing the entire 2009 season, Marcum will enter the spring as
the
most experienced potential starter, and that makes him One To Watch For in 2010.