May, 4, 2014
May 4
5:23
PM ET
Sometimes our weekly look at the interesting and unusual happenings in Major League Baseball lends itself to a theme. Some weeks it's just better to shake the whole pile of games and see what falls out.
• The
Oakland Athletics
'
Sonny Gray
spun the
first shutout of his brief career
on Monday, holding the
Texas Rangers
to just three singles. That's fitting, because in his previous start, the Rangers'
Martin Perez
threw a three-hit shutout
against
Gray.
It's the first time in 18-plus years that two teams have traded individual shutouts, on three or fewer hits, within six days of each other. On July 13, 1995, the Marlins'
Chris Hammond
blanked the
Los Angeles Dodgers
, and the following night,
Ramon Martinez
responded with his lone career no-hitter.
Since the 2009 All-Star break, the Rangers have been shut out at home on three or fewer hits just four times. Three of those are by Oakland.
• Friday's
Detroit Tigers
boxscore featured
four doubles by "Martinez"
. That's not one player with four doubles by himself. It's teammates Victor and J.D. with two each.
The last time two teammates with the same surname each had two (or more) two-baggers was on August 9, 2002, when the
Atlanta Braves
' Chipper and
Andruw Jones
both had two. That same pair did it earlier in the '02 season, and Todd and
Larry Walker
did it for the Rockies in 2001.
By the way, the player who had the last
solo
four-double game? It's
Victor Martinez
, then with the Red Sox, on June 1, 2010.
• The
Cincinnati Reds
gave the
Chicago Cubs
'
Anthony Rizzo
one chance to burn them on Wednesday. He did, opening the scoring with a two-run homer in the first inning. After that
Rizzo drew walks in all four of his subsequent plate appearances
, although only one was officially intentional.
The last player to homer in his first at-bat and then draw four or more walks (with no other outcomes mixed in)? Your first guess is probably right:
Barry Bonds
, July 27, 2007, against the Marlins.
It had been a quarter-century since a player did it
and
scored at least three runs as Rizzo did. Another
San Francisco Giants
star, Will Clark, pulled that off against the
Houston Astros
in September 1988.
•
Matt Wieters
brought an end to Thursday's
Baltimore Orioles
/
Pittsburgh Pirates
doubleheader at 12:53 am with
a solo home run in the bottom of the 10th
. Including two rain delays and the break between games, the twinbill lasted a total of 8 hours 45 minutes.
It was the first
extra-inning
homer to end a doubleheader since June 5, 2008, when
Elijah Dukes
' two-run shot gave the
Washington Nationals
a 10-9 win over the
St. Louis Cardinals
(who had scored twice in the ninth to tie and once in the 10th).
The Orioles hadn't ended a doubleheader with an extra-inning homer since July 4, 1973, when Elrod Hendricks took Milwaukee's Bill Champion deep. That game was the resumption of a doubleheader which started on the 3rd, but was suspended after seven innings because of a midnight curfew.
The Orioles' only other DH-ending homer since their move to Baltimore was on September 2, 1968, by Frank Robinson against the Yankees.
• No, we didn't forget
Friday's game
between the
Tampa Bay Rays
and
New York Yankees
... you know, the one where
all
of this happened:
-- The Rays hung a five-spot in the top of the 14th, their most runs ever scored, and the Yankees' most ever allowed, in an inning numbered 14 or higher.
-- There was a 3-9 forceout due to
Wil Myers
coming in to form a five-man shifted infield. It's believed to be the first 3-9 play in MLB history. Our friends at Retrosheet do have
a 4-3-9 play
in 1917 where the batter didn't run to first and the defense had all day to record the out.
-- There was a rundown double play that was scored
(4-3)-6-3-4-3-4-5-2
.
-- There was a replay review in the 13th and another in the 14th, the first game (under either system) with two reviews in extra innings.
--
Derek Jeter
posted the first 0-for-7 game of his 20-year career.
April, 29, 2014
Apr 29
1:01
AM ET
Sonny Gray
continues to impress.
Gray outpitched
Yu Darvish
and earned his first career shutout, beating the
Texas Rangers
4-0 on Monday night.
Gray is the first
Oakland Athletics
pitcher to shut out the Rangers since (new "Baseball Tonight" analyst)
Dallas Braden
in 2010.
His shutout lowered the team's ERA to an AL-best 2.85. The Athletics moved one game ahead of the Rangers for the AL West lead.
Gray lowered his career ERA to 2.31. That rates best in the American League since the date of his major league debut (July 10).
The pitcher who entered the day with the best ERA in the league was Gray's mound opponent on Monday, Darvish.
How he won
The fastball and curveball accounted for 97 of Gray's 108 pitches, and each fared very well. Gray got 13 outs with his heater and 12 outs with his hook, yielding only two baserunners with each pitch.
Gray
Gray threw 28 of his 37 curveballs for strikes. His 76 percent strike rate with that pitch was the best in a game for his career.
Gray also excelled at finishing off Rangers hitters, who were 0-for-12 with a walk against him in two-strike counts. Eight of those outs came against his curveball.
The curveball has been the putaway pitch for Gray since his debut. His 63 strikeouts with it rank tied with
Ivan Nova
for third most in the majors since his recall, trailing only
A.J. Burnett
's 98 and
Adam Wainwright
's 73.
View from the other side: Darvish rocked
Darvish allowed four runs and six hits in 3⅓ innings, the shortest start of his major league career.
Darvish has lost seven straight decisions against the Athletics since winning his first start against them. He's 1-7 with a 4.73 ERA against the Athletics, 29-12 with a 3.09 ERA against everyone else.
April, 28, 2014
Apr 28
12:15
PM ET
By
ESPN Stats & Information
| ESPN.com
The
Texas Rangers
host the
Oakland Athletics
on Monday night at 8 ET on ESPN.
The Rangers swept the A's last week in a three-game series in Oakland, but which team's ace will reign supreme tonight,
Yu Darvish
or
Sonny Gray
? Below is a look at the matchup.
Yu Darvish to the rescue
The Rangers currently have 11 players on the disabled list, including four starting pitchers. No other team has more than seven players on the DL.
The Rangers ranked in the top 10 in team ERA last season but rank 18th so far this season despite
Martin Perez
(1.42) and Darvish (1.61) ranking first and third in ERA in the American League.
Darvish has found success throughout his major league career, but has gotten better each season with improved control.
Darvish's 2014 season would look even better had it not been for last week's start against the Athletics, however.
Darvish took a no-decision in Texas' 4-3 win over Oakland on April 21. In Darvish's first three starts of the season, he allowed a combined two earned runs and four walks, and he gave up no more than seven hits in any of those games. Against the A's, Darvish allowed three earned runs, four walks and eight hits.
It was the first game all season that he struggled to locate his fastball. Darvish threw 52 fastballs that game, but threw a season-low 50 percent for strikes. When the A's did swing against the heat, they hit .429 with a home run (
Brandon Moss
).
Darvish held opponents to a .154 average against his fastball in his first three starts of the season.
Sonny Gray is A-OK
Gray has made 15 starts in his career, posting a 2.64 ERA and striking out 92 batters. Only
Tim Hudson
had more strikeouts for the Athletics in his first 15 career starts.
Gray is 3-1 this season, with his only loss coming against the Rangers, a 3-0 setback during which Gray struggled with his control.
Only 46 percent of Gray's pitches in the game were thrown in the strike zone. This led to a season-high four walks for Gray, but he also generated five strikeouts on pitches out of the zone.
The Rangers were able to take advantage when Gray threw one in the strike zone, slugging .563 on those pitches, the highest allowed by Gray this season.
October, 10, 2013
10/10/13
11:00
AM ET
Getty ImagesJustin Verlander (left) and Sonny Gray (right) struck out at least 9 and allowed zero runs in Game 2.
The
Detroit Tigers
visit the
Oakland Athletics
in Game 5 of the ALDS tonight (8:07 ET/ESPN Radio). Detroit is 2-0 in ALDS Game 5s (2011 and '12) and is looking to advance to the ALCS for the third straight season (would be first team to do that since the 1998-2001
New York Yankees
).
Oakland is 0-5 all-time in ALDS Game 5s and will be looking to advance to the ALCS for the first time since 2006. The A's were eliminated by the Tigers in their past two trips to the postseason (2006, 2012).
According to the Elias Sports Bureau, Oakland is 1-11 since 2000 in games in which they had a chance to eliminate an opponent from a postseason series.
Let's take a look at some other storylines for this game.
History Lesson
This will be the seventh time that two teams have met in a winner-take-all postseason game in consecutive years.
The last time it happened, the
Boston Red Sox
and Yankees met in consecutive Game 7s of the ALCS in 2003 and 2004.
The last team to win the first meeting and the rematch was the Yankees, who beat the Athletics in consecutive ALDS Game 5s in 2000 and 2001.
The team that won the first winner-take-all won the rematch three times and lost the rematch three times in the first six instances.
Justin Verlander stats to know
Verlander has thrown three straight scoreless starts dating back to the regular season, with 33 strikeouts in 19 innings, including 11 in the Game 2 duel in Oakland.
He has faced Oakland three times in the ALDS in the past two seasons, going 2-0 with a 0.39 ERA. In those 23 innings pitched, he's struck out 33 and walked six while allowing just 11 hits.
In his Game 2 start against Oakland, Verlander relied on his fastball and curveball to put hitters away. He threw 20 fastballs and 16 curveballs among his 42 two-strike pitches, his second-highest combined percentage (85.7) with those pitches this season. All 11 of his strikeouts came on those pitches.
Sonny Gray stats to know
Gray's eight scoreless innings in Game 2 against the Tigers marked the fourth time that a starter has thrown eight scoreless frames in the 67 postseason games the Tigers have played since 1968. The other three are Bob Gibson (1968 Cardinals), Blue Moon Odom (1972 Athletics) and
Chris Carpenter
(2006 Cardinals).
Like Verlander, Gray relied on his fastball and curveball in Game 2. All but two of his 111 pitches were fastballs (80) or curveballs (29). That was his second-highest combined percentage (98.2) with those pitches in 11 career starts.
Nineteen of the 24 outs Gray recorded were via strikeout (nine) or groundout (10). None of his 10 groundouts came on fastballs, and five of his nine strikeouts came on his curve.
In that game, Gray became the second rookie on postseason history with at least eight scoreless innings and nine strikeouts in his first career postseason start, joining the Orioles' Mike Boddicker in 1983. Boddicker had 27 career regular season starts under his belt while Gray had just 10.
The Big Bats: Cespedes and Cabrera
The big hitters for each team,
Yoenis Cespedes
and
Miguel Cabrera
, have had contrasting performances with regards to a specific pitch location.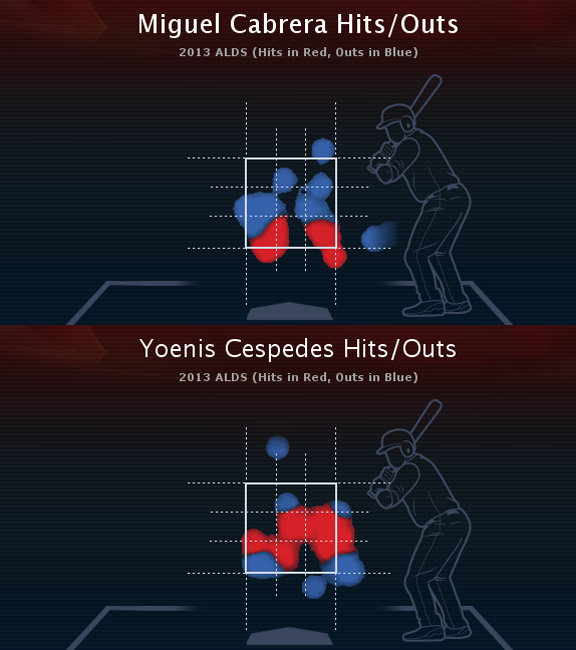 Cespedes is 7-for-18 in the series, with the bulk of that damage (five hits, including a homer) coming on pitches on the inner half of the plate.
Meanwhile Cabrera, who is 4-for-16 in the series and is battling injuries, has struggled to drive the inner-half pitches that he was crushing earlier this season.
Through the end of August, Cabrera had a .401 batting average and 27 home runs against pitches thrown to the inner half of the plate or off the inside corner.
But since the start of September, Cabrera has only 10 singles against such pitches, against which he is hitting .244. He has two hits versus such pitches in this series, both infield singles.
Justin Havens also contributed to this article.
October, 6, 2013
10/06/13
2:22
AM ET
By
ESPN Stats & Information
| ESPN.com
Kelley L Cox/USA TODAY SportsStephen Vogt's first career postseason hit was a walk-off hit.
Stephen Vogt
only had 34 career regular-season hits. Appearing in his first postseason, he had no postseason hits.
But his first career postseason hit was quite the notable one, as his RBI single gave the
Oakland Athletics
a 1-0 walk-off win to tie their Division Series with the
Detroit Tigers
at 1-1.
Vogt is the first player with a walk-off hit as his first career postseason hit since
Carlos Guillen
in 2000 for the
Seattle Mariners
against the
Chicago White Sox
, according to the Elias Sports Bureau.
Vogt's 34 career regular-season hits are the second-fewest by any player at the time of a postseason walk-off hit. The only player with fewer was George Vukovich, who had 23 career regular-season hits at the time of his walk-off, in the 1981 NLDS for the
Philadelphia Phillies
against the Montreal Expos.
Vogt is the seventh player in MLB postseason history with a walk-off hit to break a scoreless tie. The last player to do so was
Jeff Kent
for the
Houston Astros
in the 2004 NLCS against the
St. Louis Cardinals
.
The Athletics are the eighth team in MLB postseason history with a walk-off win to break a scoreless tie (in addition to the seven hits listed in the chart on the right, the Astros won with a walk-off sacrifice fly in the 1980 NLCS against the
Philadelphia Phillies
).
The Athletics' 1-0 walk-off win was the first 1-0 walk-off win in an MLB postseason game since Gene Larkin's walk-off single for the
Minnesota Twins
to win the 1991 World Series.
Don't forget about the pitching
There was a reason why the game was scoreless in the ninth inning -- great pitching.
Justin Verlander
struck out 11 batters in seven innings, while
Sonny Gray
struck out nine in eight innings.
Verlander and
Max Scherzer
are the first pair of teammates in postseason history with at least 11 strikeouts in back-to-back games.
Gray is the fifth rookie pitcher in postseason history with at least eight scoreless innings in his first career postseason start, according to the Elias Sports Bureau.
Gray is one of two rookie pitchers in history (Mike Boddicker, 1983 White Sox) with at least eight scoreless innings and nine strikeouts in his first career postseason start.
It was the first game in postseason history in which both starters had at least nine strikeouts and no runs allowed.