Stats & Info:

Starlin Castro
May, 10, 2012
5/10/12
2:49
PM ET
By
Justin Havens
| ESPN.com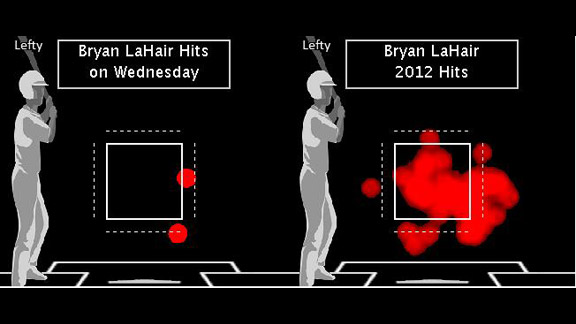 ESPN Stats & InfoWhen it comes to hitting outside pitches, no one has been better this season than Bryan LaHair.
The
Chicago Cubs
'
Starlin Castro
is in his age-22 season and already has accumulated more than 1,000 plate appearances. He also continues to improve, raising his batting average each season: .300 in 2010, .307 in 2011, .347 in 2012.
That sort of ability to put the bat on the ball is legitimately rare in baseball history. Among shortstops, Castro's .308 lifetime batting average is the third highest through an age-22 season (see chart).
Castro is steadily improving his recognition of off-speed pitches. Across the board, his performance has improved against changeups, sliders and curveballs. Castro has a tremendously high batting average on balls in play against such pitches (.453) and leads all of baseball with a .393 batting average on off-speed pitches.
Also, his strikeout rate on off-speed pitches has decreased each season (from 20.1 percent in 2010 to 14.5 this season), and his OPS has increased from .699 in his rookie season to .895 in 2012.
While Castro's future was already assured in Chicago, first baseman
Bryan LaHair
may have found a team to stick with, as well.
A 29-year-old minor league veteran, LaHair finally is getting a chance to play every day and is taking full advantage of it.
LaHair is absolutely destroying pitches on the outer half of the plate, leading all of baseball in both batting average (.436) and OPS (1.327) against such pitches.
On Wednesday, LaHair drove in the only run of the game on a pitch that was on the outside half of the plate.
April, 10, 2012
4/10/12
12:54
AM ET
Steve Mitchell/US PresswireBarry Zito tossed his first shutout since 2003 as the San Francisco Giants picked up their first win of the season.
The
San Francisco Giants
won for the first time in four games this season behind the arm of
Barry Zito
, who threw a shutout against the
Colorado Rockies
. He was just the second visiting left-handed pitcher to throw a shutout at Coors Field, joining
Tom Glavine
who did it twice.
Zito hadn't thrown a shutout since April 18, 2003. He made 274 starts between shutouts, the longest streak between shutouts in major-league history. According to the Elias Sports Bureau, it was the third-longest streak of consecutive streaks without a shutout, but
Tim Wakefield
and Kirk Reuter both ended their careers without breaking the streak.
Darvish overcomes shaky start
Yu Darvish
struggled early in his debut for the
Texas Rangers
, allowing four runs and seven runners to reach base (four hits, three walks) in the first inning. He settled down after that, allowing a single run on four hits and a walk in his final 4⅔ innings. With the Rangers scoring 11 runs, Darvish was able to pick up the win.
It's the second straight season that Darvish had some trouble shaking off the rust in the opener. In his first start with the Nippon Ham Fighters last year, he allowed seven runs in seven innings. In his other 28 starts, he didn't allow more than three runs in a game.
Quick hits
• The
Atlanta Braves
fell to 0-4 for the first time since 1988, when they lost their first 10 games. Dating to last season, the Braves have lost nine straight games.
•
Daniel Murphy
recorded his second career walk-off hit as the
New York Mets
improved to 4-0 for the fourth time in franchise history.
•
Homer Bailey
allowed three home runs to the
St. Louis Cardinals
in the first inning. It was the second time in his career that he allowed three homers in a game. The last time the Cardinals hit three home runs in the opening frame was a loss to the
Chicago Cubs
on July 24, 2005.
•
Derek Jeter
and
Matt Wieters
each recorded four hits in the
New York Yankees
win over the
Baltimore Orioles
. It was the 41st time that Jeter recorded at least four hits in a game but just the second time for Wieters.
• The
Boston Red Sox
scored three runs in the ninth inning to avoid starting back-to-back seasons at 0-4 for the first time in franchise history.
•
Starlin Castro
went 0-for-5, snapping his streak of reaching base safely at 43 games. That was one short of the most for the Cubs in the Live Ball Era (since 1920). Riggs Stephenson reach base safely in 44 straight games in 1928.
September, 29, 2011
9/29/11
3:48
PM ET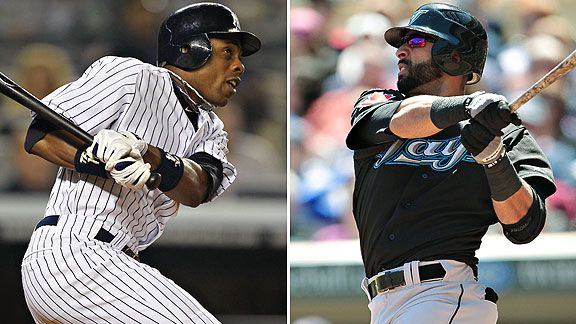 US Presswire
Jose Bautista (right) beat out Curtis Granderson (left) for the AL HR crown by 2 long balls.
The 2011 regular season finished, arguably, in one of the most exciting fashions in baseball history. Now that the postseason has been set, let's take a look back at which players won batting and pitching titles this season.
AL Crowns
• For the second consecutive year,
Jose Bautista
of the
Toronto Blue Jays
claimed the home run title. His 43 on the season were two ahead of the
New York Yankees
'
Curtis Granderson
. He's the first to claim the crown in two straight years since
Alex Rodriguez
did it in 2002-03.
•
Miguel Cabrera
of the
Detroit Tigers
- who also led the league in doubles with 47 - was the AL (and MLB) batting champion at .344. He is the second Tigers player to win the batting title in the last 50 seasons (
Magglio Ordonez
in 2007).
• Although Granderson and
Robinson Cano
started the day one-two in the AL RBI race, it was
Mark Teixeira
who came up big for the Yankees on Wednesday. His five-RBI game gave him 111 on the season and propelled him into fourth place. The last time three teammates finished within the top four of their league's RBI race was the 1966
Baltimore Orioles
. That year, Frank Robinson (122) won the AL RBI race, while teammates Boog Powell (109) and Brooks Robinson (100) finished second and tied for fourth, respectively.
NL Crowns

Reyes
•
Jose Reyes
singled in his first at-bat Wednesday and was promptly subbed out for a pinch runner. That left the
New York Mets
' leadoff hitter with a batting average of .337, potentially caught only by
Ryan Braun
who started the day at .335. Ultimately he finished the game 0-for-4 for a season average of .332, giving Reyes - and the Mets franchise - their first-ever NL batting champion. Reyes won the NL batting title in only 126 games played this season. That's the fewest amount of games played for a batting champion since
Manny Ramirez
hit .349 in 120 games played in 2002.
•
Prince Fielder
and
Matt Kemp
were tied for the NL home run lead entering Wednesday, but with just three innings left in the season, Kemp launched his 39th of the season out of Chase Field and claimed the title outright. Fielder finished with 38 and was followed by
Albert Pujols
' 37. The last season the National League leader did not finish with at least 40 HR was in 1992 when
Fred McGriff
had 35. Kemp also finished as the National League RBI leader with 126, six above Fielder.
•
Starlin Castro
led the National League in hits this year with 207. According to the Elias Sports Bureau, the 21-year-old Castro is the youngest player ever to lead the NL in that category, breaking the mark set in 1918 by another
Chicago Cubs
player, Charlie Hollocher, who was 22 years, 83 days old on the final day of that war-shortened season.
Other Point of Interest
•
Justin Verlander
and
Clayton Kershaw
both won the pitching Triple Crown in their respective leagues (Wins, ERA and Strikeouts). While the pitching Triple Crown has been won several times in MLB history (most recently by
Jake Peavy
with the
San Diego Padres
in 2007), this is the first time there's been dual pitching Triple Crowns since 1924.
September, 10, 2011
9/10/11
5:26
PM ET
By
Katie Sharp
| ESPN.com
Courtesy of Marc Levine/New York Mets
Former New York Mets teammates Mike Piazza (2nd-left) and John Franco (4th-left) will take part in pregame ceremonies honoring the 10th Anniversary of Sept. 11 prior to the Mets-Cubs game.
The
New York Mets
host the
Chicago Cubs
on Sunday Night Baseball at 8 ET on ESPN in the rubber game of a three-game series. Prior to the game, the Mets will hold a Sept. 11 Remembrance Ceremony.
Former closer
John Franco
will throw the first pitch to
Mike Piazza
, who hit a dramatic home run in the Mets 3-2 win over the
Atlanta Braves
on Sept. 21, 2001 – the first major league game in New York after the 9/11 terror attacks. In addition, a 300-foot-by-100 foot American flag will be unveiled; Marc Anthony – who sang the national anthem on Sept. 21, 2001 – will repeat the performance; and Queens native (and American Idol finalist) Pia Toscano will sing "God Bless America."
On the mound
Matt Garza
takes the mound for the Cubs, his first career start against the Mets. Garza is having the best season of his career, according to ERA. He has lowered his ERA nearly half a run from 3.91 last year to 3.52 this year.
However, the road hasn't been kind to Garza this season. In 12 road starts, he's 3-5 with a 4.84 ERA, more than double his home ERA (2.64). In addition, the opposition is hitting .279 against him on the road, compared to .230 in the Friendly Confines of Wrigley Field.
For the Mets, 40-year-old
Miguel Batista
takes the mound. Batista - playing for his 10th MLB team (tied with
Bruce Chen
for the second-most teams played for among active pitchers, behind
Octavio Dotel
, 12) - earned his 100th career win in his first start with New York (Sept. 1).
Batista is 1-0 with a 2.25 ERA in three starts this season (including one start with the
St. Louis Cardinals
on April 22). Batista's last loss as a starter was July 19, 2008. He is 2-0 with a 3.38 ERA in eight starts since then.
Matchup to watch
Jason Bay
is hitting just .218 (19-87) since August 13, despite hitting .452 (14-31) during his current nine-game hitting streak. Bay is 5-20 (including postseason) in his career against Garza, but hasn't faced him since 2009, when he went 3-15. However, those three hits were all for extra bases (double and two triples).
Stat of the game
Starlin Castro
leads the NL with 186 hits and is projected to finish with more than 200 this season. He would be the first Cubs player to have a 200-hit season before turning age 22.
April, 5, 2011
4/05/11
1:48
PM ET
Today's Trivia:
The Connecticut Huskies now are 3-0 in the men's basketball championship games. Can you name the only two MLB franchises with multiple appearances that have never lost the World Series?
In the spirit of last night's national championship game, let's look at the topics du jour: Low scoring and lots of misses.
• Consider former
Houston Astros
outfielder
Cory Sullivan
the Butler of baseball. Last season, he went 12-for-64 at the plate, just like the Bulldogs did from the field on Monday night. Sullivan is one of 22 players to go exactly 12-for-64 in a season, a list that includes Phillies' manager Charlie Manuel,
Greg Maddux
and Hall-of-Famer Bill Mazeroski
• In four games, the entire
Seattle Mariners
pitching staff has had only 22 swings-and-misses, three more than
Jonathan Sanchez
had in his lone start.

Castro
• The
Chicago Cubs
'
Starlin Castro
has taken 25 swings this season and doesn't have a single swing-and-miss.
• The
Oakland Athletics
have an MLB-low 10.7 swing-and-miss percentage thus far. With only 16 swing-and-misses, Oakland has only two more than Miguel Olivo's 14 in 14 plate appearances.
• Fun fact: The
Minnesota Twins
had more doubles (4) on Monday than Butler had two-point field goals (3).
• According to the Elias Sports Bureau, the
St. Louis Cardinals
have been held to three runs or fewer in each of their first four games of a season for the first time since 1980.
• The
Tampa Bay Rays
, according to Elias, are the first team since the 2007 Cardinals and the first American League team since the 2003
Detroit Tigers
to score one run or fewer in each of their first three games to open the season.
Birds, Bucs and Barbecue
The
Baltimore Orioles
(4-0) and
Kansas City Royals
(3-1) currently are in first place in their divisions, while the
Pittsburgh Pirates
(3-1) are a half-game out of first in the National League Central. From 2005-2010, the Pirates had the fewest wins in the majors (388) followed by the Royals (394) and Orioles (411). All three of the Royals' wins have come in their last at bat. They're the fifth team in the last 10 seasons to have at least their first three wins come in their last at-bat, according to the Elias Sports Bureau. Last season, the Royals were 3-86 when trailing at the beginning of the 9th inning. They are already 1-1 in that situation in 2011.
The Pirates are 3-1, and haven't even had their home opener. Last season the Pirates were 17-64 in road games, matching the 1963 Mets for the worst such record in the past 65 years. Pittsburgh had separate road losing streaks of 17 and 14 games.
The last time the Orioles allowed one or fewer runs in four consecutive games at any point in the season was 1995. That was a string of five consecutive shutouts. The O's are one win shy of last season's April win total (5-18).
Trivia Answer:
The
Florida Marlins
(2-0) and
Toronto Blue Jays
(2-0) are the only franchises that have been the World Series multiple times but never lost.
September, 3, 2010
9/03/10
11:49
PM ET

Cole Hamels
allowed no runs and just three hits in seven innings Friday as the
Philadelphia Phillies
pulled within one game of the
Atlanta Braves
in the NL East. It was Hamels' second straight start in which he's let up no runs and surrendered four or fewer hits. Since breaking into the bigs with the Phils in 2006, Hamels has given up less than five hits in a scoreless start 13 times. In the divisional era (since 1969), only
Curt Schilling
and Steve Carlton have more starts with no runs and fewer than five hits allowed for Philadelphia.
Hamels used pinpoint control to shut down Milwaukee. Of his 39 off-speed offerings, 31 were strikes. That 79 percent figure is his second-best of the season. Of the 25 batters he faced, he started 19 with strikes. Only once has Hamels recorded a higher percentage of first-pitch strikes this season. Hamels controlled the inside of the plate as Brewers hitters went 0-8 with three strikeouts on "middle-in" pitches.
It should be no surprise that Hamels is pitching his best as the postseason draws near. His ERA in 20 career September starts is 2.76, his best in any month by a wide margin. Among the six active starters with the lowest September ERAs, three will be pitching for the Phillies down the stretch. That bodes well for the Phils prospects of bringing home a fourth straight division title for the first time in franchise history.
Other notes from Friday's MLB action:
•
Kevin Millwood
fell to 3-15 in 2010 after allowing four runs in five-and-two-thirds innings as the
Baltimore Orioles
lost to the
Tampa Bay Rays
. Since 1990, only one pitcher with at least 18 decisions has finished the season with a lower winning percentage than Millwood's current .167 mark. Jim Abbott went 2-18 (.100) for the Angels in 1996.
• In his first start vs the Orioles since allowing a career-high-tying seven earned runs in Baltimore on July 20,
Matt Garza
surrenders just one run as he picks up his 14th win of the season. Garza is now 9-1 in his career vs the Orioles, his most wins vs any opponent.
• The
St. Louis Cardinals
beat the
Cincinnati Reds
3-2 to pick up a game in the NL Central. Friday is the first day since Monday, August 23 when the Cardinals won on the same day the Reds lost. Since the Cards wrapped a up three-game sweep in Cincinnati on August 11, it's just the second time in 23 days St. Louis has picked up a full game in the standings. Since August 9, the Cardinals are now 4-0 vs the Reds and 5-13 in all other games.
•
Chicago Cubs
shortstop
Starlin Castro
registered a run and two hits as the Cubs won consecutive home games for the first time since July 23-24. Castro has now strung together five straight multi-hit games. Only five other shortstops have at least five consecutive multi-hit games this season.
August, 21, 2010
8/21/10
7:58
PM ET
The New York Yankees have placed Alex Rodriguez on the disabled list. However, they improved to 11-0 without him this season with Saturday's win over the Seattle Mariners.

Mariano Rivera notched his 25th save. It's the 14th time he's had at least 25 saves in a season, tied with Trevor Hoffman for most all-time.

Rangers ace Cliff Lee allowed a career high four HR vs the Baltimore Orioles. Seven of the 13 HR he has allowed this season have come in his two starts against Baltimore. Lee also matched his career high by allowing 8 runs and pitched fewer than six innings for the first time this season.

Josh Bell hit two HR and had five RBI batting ninth for the Orioles. He's the first Oriole to do that since 1920, when RBI became an official statistic. He's just the second batter with at least two HR and five RBI batting ninth this season, joining the Rays' Reid Brignac.

The Cubs snapped their five-game losing streak with a win over the Braves. Tommy Hanson is now 0-4 in his last 9 starts.

Brooks Conrad nearly hit his third pinch-hit grand slam of the season, but settled for a 2-run double. He now has 10 pinch-hit RBI this season with the bases loaded. That is twice as many as any other player in baseball.

The Angels defeated the Twins and rookie Peter Bourjos was the hero. He had two hits (HR, triple) and recorded a career-high four RBI in his 15th big-league game. Bourjos becomes the second player this season to have his first career HR and triple come in the same game (Starlin Castro was the other on May 7). Bourjos and Bobby Abreu hit back-to-back HR. Abreu now has 15 or more HR in 13 consecutive seasons.
Russell Branyan homered for the third time in his last two games and each of his last five hits have been HR. His seven career HR at the new Yankee Stadium are tied with Victor Martinez for the most by a visiting player.
August, 4, 2010
8/04/10
4:34
PM ET
Forget about Shark Week, it's blowout week in baseball. We've now had an MLB game decided by 10+ runs for 6 straight days. The Elias Sports Bureau tells us that the last time this happened was from August 22-27, 2007.
Friday
: Rockies 17, Cubs 2
Saturday
: Cardinals 11, Pirates 1
Sunday
: Diamondbacks 14, Mets 1
Monday
: Brewers 18, Cubs 1
Tuesday
: Astros 18, Cardinals 4; Giants 10, Rockies 0; White Sox 12, Tigers 2
Wednesday
: Cubs 15, Brewers 3
Here are some more recaps from today's afternoon action on the diamond.
NL
Rockies 6, Giants 1
Ubaldo Jimenez
tied a Rockies' franchise record with his major-league leading 17th win. He improves to 8-0 at home, and is 13-1 this season following a Colorado loss.
Carlos Gonzalez
(22, 23) had hit first career multi-HR game, and has six HR in his last seven games.
Troy Tulowitzki
added his 10th HR of the season, and first since coming off the DL. The Rockies have won 5 of 6 following their 8-game losing streak. The loss snaps a 4-game win streak for the Giants, who allowed as many runs as they had in the previous 4 games combined.
Madison Bumgarner
lasted only 4 innings, the shortest outing of his career.
Andres Torres (SF): 0-for-4, 4 K
• First Giants player this season to record a game of 4+ strikeouts and no hits.
• First since
Fred Lewis
on April 15, 2009.
• Only one Giant has done it twice since 2000 -
Aaron Rowand
.
• There are now only three teams in the MLB who have not had a player with 4+ strikeouts and no hits in a game this season: White Sox, Indians, Tigers.
Cubs 15, Brewers 3
Cubs score a season-high 15 runs and snap their season-worst 7-game losing streak. It is the most runs they have scored since August 14 of last season.
Aramis Ramirez
hits his second career pinch-hit HR (1st since 2002 with PIT).
Starlin Castro
has first career four-hit game while
Geovany Soto
gets his 3rd career 5-RBI game.
Ryan Dempster
improves to 14-3 career vs the Brewers.
Reds 9, Pirates 4
The Reds break game open with 6-run 7th inning including RBI doubles by
Joey Votto
and
Jonny Gomes
, an RBI triple by Laynce Nix and a 3-run HR by
Paul Janish
. It is the 15th time Cincinnati scores at least 9 runs this season. All four Pittsburgh runs were scored on home runs.
Johnny Cueto
allows 1 run and 3 hits in 6 innings to improve to 9-2 career vs the Pirates and 5-0 with a 1.55 ERA in his last 8 starts.
Jeff Karstens
falls to 0-4 career vs Reds and is 0-5 in his last 8 starts.
AL
Yankees 5, Blue Jays 1
Alex Rodriguez
becomes the 7th player to hit 600 career HR when he hit a 2-0 fastball off
Shaun Marcum
in the first inning to center field. Rodriguez is the youngest to reach 600 HR (35 years, 8 days). Rodriguez snapped a streak of 46 at-bats since his last homer, the longest homerless streak ever between home run numbers 599 and 600. The homer came on the 3-year anniversary of his 500th HR, which was also in the first inning and also at Yankee Stadium and also in a game started by
Phil Hughes
.
Derek Jeter
(4-4, two doubles) has his 35th career 4-hit game, passing Joe DiMaggio and
Bernie Williams
for 4th-most 4-hit games by a Yankee in the live-ball era (since 1920). The Yankees snap their 3-game losing streak, which matched their longest of the season.
A's 4, Royals 3
Brett Anderson
picks up his first win since May 29 and goes 7 innings, his longest outing of the season. After giving up 2 runs in the first, A's pitchers held the Royals to 1 run on 3 hits the rest of the way.
Michael Wuertz
struck out the side in the 9th to notch his 4th save, tying a career-high. The A's have won 11 of their last 14 against the Royals. The Royals have lost 8 of their last 10 on the road.
Jose Guillen
(0-4) falls to 3-41 (.073) in his last 11 games. Wuertz struck out the side in the 9th to notch his 4th save, tying a career-high.
May, 8, 2010
5/08/10
2:50
AM ET
By
ESPN Stats & Info
| ESPN.com
Hitter of the Night

Starlin Castro, CHC: 2-5, 3B, HR, 6 RBI

Starlin Castro burst onto the national scene Friday with a six RBI performance that Cubs fans won't soon forget. The six RBI are the most in a debut in MLB history. Ben Grieve of the A's was the last to get 5, back in 1997 vs the Giants. RBI became an official stat in 1920.

Why Jered Weaver won:

- Weaver's slider was untouchable; hitters were 0-7 against slider. Entering Friday batters were hitting .368 against his slider.

- Stayed ahead of hitters; never went 2-0 in a count, went 3-1 only once

- Zero balls were put in play while he was behind in the count

Why David Price won:

- Hitters were 1-8 against curve ball (.125). Entering Friday batters were hitting .400 (6-15) against his curve ball

- According to Inside Edge, hitters had zero well-hit balls in 24 at-bats.

- Including Friday's 0-4, hitters are now 2 for 29 (.069) on the season when AHEAD in the count versus Price

Why Jamie Moyer won:

- Moyer was efficient, throwing an average of 11.7 pitches per inning with his highest inning being 19 pitches in the 8th. It is Moyer's first complete game shutout since June 2, 2006 - Off-speed pitches were working as Braves hitters were 0-16 against the change-up, slider and curve. In his last 2 starts, Moyer gave up 12 non-fastball hits.

- The off-speed was good because the Braves chased 47 percent of pitches (MLB Avg. 31 percent). Moyer also threw a strike on 70 percent of off-speed pitches thrown.

- When Moyer got behind, he still got outs. Braves hitters were 0-8 when ahead in the count. Opposing hitters were hitting .458 coming into Friday against Moyer when ahead.