January, 13, 2011
1/13/11
9:00
AM ET
Our weekly look at stats and notes from the "other" side of the ball.
In the aftermath of the
New York Jets'
wild card win, much of the praise has centered around a punishing Jets rushing attack and
Mark Sanchez
's skill in leading the drive for the game-winning field goal.
While the Jets offense was great in certain areas on Saturday, the play of their defense, particularly in short-yardage situations, is the primary reason they advanced to the Divisional Playoffs for a second consecutive season.
The
Indianapolis Colts
converted just twice on their six third-and-one opportunities, with each of their first three possessions ending after they were unable to move the chains in a third-and-one situation. Indianapolis' results in short-yardage situations were among the worst in a single game in quite some time.
The Colts are the first team to fail to convert on third-and-one four times in a playoff game in the last 10 seasons. During the entire 2010 regular season, a team failed to convert a third-and-one four or more times in a game on just four occasions.
Prior to Saturday, it had been more than eight years since the Colts performed so poorly in third-and-one situations, going 0-4 against the
Cleveland Browns
in Week 15 of 2002.
The Jets have made a habit of excelling in short-yardage situations under Rex Ryan. Since 2009, only four teams have allowed third-or fourth-and-one conversions at a rate lower than the Jets' 63.3 percent.
New York's defense faced just one third-and-one situation in the postseason last year, stoning
Peyton Manning
on third-and-goal in the second quarter of last year's AFC Championship.
Matthews will haunt Eagles in offseason

Matthews
Just months after shutting down the
Philadelphia Eagles
offense in a season-opening win (seven tackles, three sacks, game-sealing stop on a late fourth-and-one),
Clay Matthews
was every bit as impressive in the
Green Bay Packers'
wild-card win Sunday.
The line in the box score wasn't quite as full (three tackles, one sack), but, as usual, that doesn't tell the whole story.
The Packers went to extremes to put pressure on
Michael Vick
, sending five or more rushers after the quarterback 18 times on passing plays. Matthews dropped into coverage on half of those plays, and Vick completed six of nine passes for 116 yards when the Packers blitzed but didn't send Matthews.
Vick was far less effective when Matthews was part of the Packers blitz, hitting on just one of his five passes, being sacked twice, and scrambling twice for a total of two yards.
Hali puts finishing touch on fantastic 2010

Hali
He'll be watching the rest of the postseason, but
Tamba Hali
deserves credit for putting the finishing touches on a breakout season.
A week after registering 2.5; sacks to finish the regular season with an AFC-best 14.5;, Hali picked up two more against the
Baltimore Ravens
.
On his first, Hali forced a fumble from
Joe Flacco
and recovered it himself, setting up the Chiefs' only touchdown two plays later. Hali is the first player with a pair of sacks, a forced fumble and a fumble recovery in a playoff game since
Warren Sapp
did it for the
Tampa Bay Buccaneers
in the 1997 Divisional Playoffs.
December, 9, 2010
12/09/10
10:00
AM ET
Following a stretch of near-flawless football to start the season in which he led the league in touchdown-interception differential and was among the NFL's top-rated quarterbacks through eight weeks,
Peyton Manning
is in the midst of arguably the worst slump of his Hall-of-Fame career.

Manning
During the
Indianapolis Colts
' current three-game losing streak, their first in a single season since 2002, Manning ranks 19th in the NFL with a passer rating of 77.7, or one spot behind
Jake Delhomme
. His league-leading 11 interceptions over that span are more than he threw in any season from 2003-06.
Injuries to some of his favorite targets and the lack of anything resembling a running game are certainly factors in Manning's recent struggles, but how have NFL defenses contributed to Peyton's rough run?
One of the most shocking developments during Manning's recent slump has been how seemingly unconcerned defenses are with getting him on the ground. In his last three games, Manning has been sacked once and hit just nine times.
In consecutive losses to the Patriots, Chargers and Cowboys, Manning has been blitzed on only 14.1% of his dropbacks, nearly half the rate defenses sent five or more rushers after him in the Colts first nine games of the season (27.3%). Of the league's 31 quarterbacks who have at least 50 pass attempts over the last three weeks, none has been blitzed less frequently than Manning (
Shaun Hill
is next closest at 15.3%, no one else is below 20%).
In a league where defenses blitz on roughly one-third of passing plays, it's no accident that teams are repeatedly dropping extra bodies into coverage vs Manning and the Colts over the last three weeks -- and having tremendous success doing it.

Four picks can't keep Bills from 10th loss
The
Buffalo Bills
fell to 2-10 for just the second time in the last 25 seasons Sunday despite recording a season-high four interceptions in a 38-14 loss to the
Minnesota Vikings
.
The Bills are the third team to lose this season despite picking off four passes, but a 24-point loss in such a game is far less common. The Bills' margin of defeat is the fourth largest for a team that registered four or more interceptions in a game since the AFL-NFL merger in 1970. Prior to Sunday, no team had lost by 24 or more points in a game where they intercepted four or more passes since 1980.
All Hail Hali
With two sacks in the
Kansas City Chiefs
10-6 win over the
Denver Broncos
on Sunday,
Tamba Hali
became the eighth player in Chiefs history to record double-digit sacks in a season and first since
Jared Allen
in 2007.
Hali also reached another benchmark previously achieved by Allen, becoming the only player in the league this season with at least 10 sacks and two or more fumble recoveries. Allen,
James Harrison
and
Clay Matthews
were the only players in the NFL to reach those levels in 2009.
October, 14, 2010
10/14/10
10:00
AM ET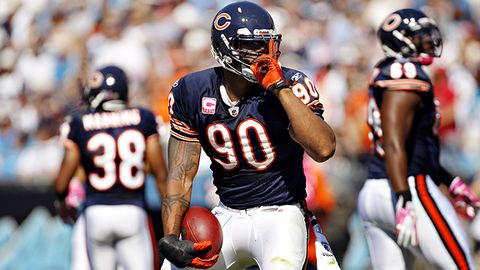 AP Photo/Nell Redmond
Julius Peppers has paid immediate dividends for the Chicago Bears' defense.
Filling you in on what you may have missed on the "other" side of the ball last week.
Through five weeks, there's no shortage of teams at or near the top of their divisions that were not expected to contend for much of anything in 2010. Here's how three of them --
Chicago Bears
,
Tampa Bay Buccaneers
and
Kansas City Chiefs
-- have excelled defensively this season.
Peppers filling up stat sheet:
A pair of sacks in five games may not seem like enough to justify the six-year, $91 million contract, but
Julius Peppers
is having an effect on the Bears defense even when he's not getting to the quarterback.
In addition to his two sacks, Peppers also has an interception and a pair of forced fumbles, making him the only player in the league this season with two sacks, two forced fumbles and an interception.
Peppers is disrupting opposing passing attacks even when he's not applying pressure. No defensive lineman has more pass breakups this season than Peppers' four, and his four passes defensed matches the total from the entire Bears defensive line in 2009 (
Anthony Adams
,
Gaines Adams
,
Alex Brown
and
Tommie Harris
each had one).
Peppers is just one of the factors contributing to the better effort by the Bears defense thus far. (The return of
Brian Urlacher
and emergence of
Israel Idonije
have also helped.) After allowing 23.4 points per game last season, the Bears are surrendering just 14.8 in 2010, fifth-best in the league. Only one team, the Chiefs, has had a larger decrease in points per game allowed from 2009 to 2010. The Bears are also allowing fewer yards per game in 2010. One year after ranking 17th in the NFL in yards allowed, the Bears are currently sixth.
Buccaneers defense dominant after halftime
After finishing 3-13 in 2009, 10 games behind the division-winning
New Orleans Saints
in the NFC South, the Buccaneers are 3-1, with their only loss coming against a
Pittsburgh Steelers
team widely considered one of the league's best.

The Bucs defense is receiving little credit for the team's hot start. It's easy to understand, too, when you consider the defense ranks near the middle of the league in both yards allowed (18th) and points per game (15th).
However, Tampa Bay's defense has surrendered an NFL-low 21 points after halftime this season, which is one reason why the Buccaneers already have two wins when trailing at the half. All three of the Buccaneers wins in 2009 came when they trailed at halftime, giving Tampa Bay an NFL-best five wins over the last two seasons when down at the half.
This is more than a result of Tampa Bay simply trailing at halftime more often than other teams since the start of 2009. Over that span, the Bucs are 5-11 when down at half, the ninth-best record in the league.
Chiefs finally getting to quarterbacks
Just two seasons after setting NFL records for fewest sacks in a season (10 in 2008), the Chiefs pass rush has upgraded from awful to average. After finishing 31st in the league in sacks in 2009, the Chiefs currently are tied for 18th with nine.

Kansas City has been able to pressure the quarterback without exposing its young secondary. Eight of the nine Chiefs sacks this season have come with four pass rushers or fewer. Only six teams have sacked the quarterback more often without blitzing.
Much of the credit should go to
Tamba Hali
, who leads the team with 4½ sacks, which is tied for seventh in the NFL. The last Chiefs player with more sacks through the first four games of a season was
Derrick Thomas
in 1998.