Stats & Info:

Terry Francona
November, 12, 2013
11/12/13
7:20
PM ET
By
ESPN Stats & Information
| ESPN.com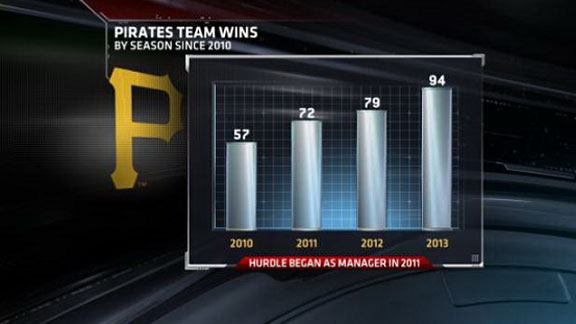 Awards season continued on Tuesday with
Pittsburgh Pirates
manager Clint Hurdle and
Cleveland Indians
manager Terry Francona taking Manager of the Year honors. Though each has had a considerable amount of success in the past, it marked the first time winning the award for both of them.
And both shared the common thread of coaxing major improvement from their teams to get them into the playoffs in 2013.
Clint Hurdle
Hurdle became the second Pirates manager to win the award, joining Jim Leyland who won in 1990 and 1992, the latter being the last time the Pirates made the postseason prior to 2013.
As the image above notes, the Pirates have increased their win total (and win percentage) in each of Hurdle's three seasons. That's their longest streak since a three-year run from 1986 to 1988.
The Pirates outscored their opponents this season, 634-577. The difference in their runs scored/runs allowed is typical of an 88-win team, historically speaking (by what's known in the sabermetric world as "
Pythagorean Win-Loss record
"). The Pirates exceeded their Pythagorean expectation by six wins, tied with the Yankees for the second-best in the majors. Only the Phillies (who had 73 wins when their Pythagorean expectation was 66) exceeded their expectation by more wins.
The Pirates won this season on the strength of their pitching and defense. Their pitching staff ranked third in the majors in ERA and first in fewest home runs allowed, and their defense third in Defensive Runs Saved. The Pirates improved in the latter stat from -25 Defensive Runs Saved in 2012 (which rated 24th) to 77 in 2013.
Terry Francona
Francona became the third manager to win the AL award in his first season with a team, joining Joe Torre (1996 Yankees) and Jim Leyland (2006 Tigers). He is the second Indians manager to win the award, along with Eric Wedge in 2007. Coincidentally, Francona was then the manager of the Red Sox, who beat Wedge's Indians in the ALCS that season.
The Elias Sports Bureau notes that Francona has had a winning record in his last nine seasons as a manager. He joined Bobby Cox (15 straight) and Torre (14 straight) as the only managers with such a streak in the last 25 seasons.
The Indians' 24-win improvement from 2012 to 2013 ranked second best in the American League, trailing only the Red Sox (who improved by 28 wins). Boston's manager, John Farrell, finished second in the voting.
The Indians won with offense, scoring half a run more per game than in 2012.
They went from 13th in the American League in that stat to 4th.
Their pitching staff, which ranked last in the AL with a 4.78 ERA in 2012 dropped that by nearly a full run to 3.82 (which ranked seventh).
Did You Know?
Farrell not winning the award extended a streak of eight straight years in which the World Series-winning manager did not win his league's manager of the year award. The last to win both in a season was Ozzie Guillen with the White Sox in 2005.
May, 23, 2013
5/23/13
11:23
AM ET
By
Justin Havens, ESPN Stats & Info
| ESPN.com
Terry Francona returns to Boston on Thursday as manager of the
Cleveland Indians
to begin a four-game series against his former team. Francona managed the
Boston Red Sox
to two World Series championships (2004 and 2007), the first of which broke an 86-year championship drought. This will be his first time back at Fenway Park as an opposing manager since being let go.
This isn't the first time "Tito" has managed against the Sox at Fenway, however. The last time was on July 17, 1999, when Francona was with the Phillies, who won 11-3 thanks to Doug Glanville's 4-for-6, three-run night.

Are the Sox on the rebound?
Francona recorded 744 wins as Red Sox manager, the second most in franchise history, and posted a winning record in each of his eight seasons at the helm.
While the Red Sox organization seems to have righted the ship in 2013, there's no question that the Red Sox have been less successful since Francona's departure.
Between 2004 and 2011 the Red Sox had a .574 win percentage and made five postseason appearances, winning two championships. Over the past two seasons Boston has a .464 win percentage and has not made the postseason since 2009.

Francona's Windians
Cleveland has been winning in a variety of ways this season and enters the series with the Red Sox at 26-19, one-half game ahead in the AL Central.
Francona's Indians rank first in MLB in extra-inning wins and have the best record in one-run games. However, it's worth noting that Cleveland's hot start is not particularly "new."
In each of the past three seasons the Indians have found themselves leading the AL Central through 45 games.
What is the difference with this season's Indians squad compared to last season?
The pitching rotation has certainly improved. Cleveland's starters own a 4.51 ERA currently, compared to 5.25 last season, which ranked 28th in MLB. The Cleveland rotation is striking out batters at a rate of 20.9 percent compared to 15.3 percent of the time last season.
Also, the Indians are showing that they have big time power at the plate. Cleveland had 37 home runs through 45 games last season, compared to 62 already this season, the most in MLB. The Indians have not led the league in home runs since 1995.
The offseason acquisitions that Cleveland made have been paying dividends early on. One of them is
Mark Reynolds
, who leads the team with 12 HR, and his 37 RBI are sixth most in the league.
Tough road ahead
The Indians entered their two-game series against Detroit with a 26-17 record, having won 18 of their previous 22 games.
After being swept by the Tigers, it does not get any easier for the Indians, as their next 23 games are against teams who currently have a record of .500 or better, including the Red Sox.
Cleveland is 18-8 with an ERA of 3.48 against teams that are below .500 this season. Against teams with a .500 record or better, they are 8-11 with an 4.95 ERA.
September, 30, 2011
9/30/11
5:46
PM ET
Kyle Terada/US Presswire
Terry Francona's 8 years as manager of the Red Sox is tied for the 2nd-longest tenure in team history.
The
Boston Red Sox
declined club options on manager Terry Francona for the 2012 and 2013 seasons, allowing Francona to pursue a job with other clubs.
In eight seasons as manager of the Red Sox, Francona went 744-552 while leading Boston to five postseason appearances (more than double any other Sox manager), where they won two World Series titles (2004 and 2007). He joins Bill Carrigan as the only managers in team history to win multiple World Series titles.
Francona was 8-0 in World Series games as Red Sox manager. That's the most World Series game wins to start a managerial career in MLB history, and the most wins without a loss over a manager's career.
Tito ranks second in franchise history in managerial wins (744), games managed (1,296) and win percentage (.574) among managers with a minimum of five years of service with the club. According to Elias, his 28-17 postseason record is the second-best in MLB history behind Joe McCarthy (30-13) among managers with a minimum of 25 postseason games.
Francona's best success with the Sox came in his first five years with the team. In that time, he led Boston to the playoffs four times and won seven series and two World Series titles. The team was 28-14 in the postseason during that stretch.
In his last three seasons, the Red Sox made just one postseason appearance and were swept by the
Los Angeles Angels
in the 2009 ALDS. Their last postseason win was Game 6 of the 2008 ALCS at the
Tampa Bay Rays
.
Other career tidbits:
• First manager ever to win his first six potential postseason series clinchers and is 7-2 in potential postseason series clinching games. According to Elias, only Lou Piniella and Mike Scioscia (5-1, .833) have a better win percentage in potential postseason series-clinching games than Francona (.778) among managers with five such games.
• Eighth manager to earn championships in at least his first two World Series appearances and 20th manager with multiple World Series titles.
• Since 2004, only Joe Torre (six) has more postseason appearances among AL managers than Francona (five).
• Francona's .529 win percentage is bested by just five active managers (minimum 1,000 games) and his 1,029 wins trail only six active managers.
• Scioscia (132) and Torre (131) are the only managers with more Interleague wins than Francona (126) according to Elias.
• Only Francona and Joe Cronin (13, 1935-47) managed the Red Sox for at least eight consecutive full seasons.
• Red Sox were 7-1 on Patriots Day under Francona.
April, 8, 2011
4/08/11
1:15
PM ET


Today's Trivia:
Can you name the only two players with 50+ home runs for both the
Boston Red Sox
and
New York Yankees
?
Quick Hits:
Let's take a look at some fast facts regarding the Red Sox-Yankees rivalry and what the fresh faces might mean for 2011.
• The Red Sox and Yankees have split the season series 9-9 in each of the past three seasons. That includes 2009 when the Red Sox took the first eight games against New York.
• Joe Girardi took over in 2008, so that makes him an even 27-27 against Boston while with New York. Including the postseason, Terry Francona is 67-69 against the Yankees as Boston manager.
• According to Elias, this will be the 28th time that the Red Sox have had their home opener against the Yankees. Boston has won the last six and in 14-13 overall.
• The last time the Red Sox faced the Yankees while on a six-game losing streak. According to Elias, it was in the midst of a nine-game streak in 2001. The last time the Red Sox snapped a six-game losing streak against the Yankees? May 1998.
•
Mark Teixeira
hit eight home runs against the Red Sox last season. That's the most by a Yankees hitter since Mickey Mantle clubbed nine in 1958. Oddly, Teixeira hit just .237 against Boston in 2010.

Gonzalez
•
Adrian Gonzalez
has never beaten the Yankees, though he's only had had three chances. Friday is also the Fenway Park debut for the hitter who has the most opposite field home runs in the majors since 2008.
• By contrast,
Carl Crawford
has almost a full season of data against New York. With a .301 lifetime average, he has 171 hits in 138 games. Among active players, only
Manny Ramirez
and
Vernon Wells
have more hits against New York, who is actually tied with
David Ortiz
for third. In 2005, Crawford tallied 35 hits against the Yankees, the first person to do that since Dale Mitchell in 1952.
• Since 2009,
Dan Wheeler
has made 10 appearances against the Yankees, but only lasted 5⅓ innings while allowing six home runs. His ERA in that span? 20.25. The Yankees are hitting .467 with a 1.634 OPS.
• It looks like
Dennys Reyes
won't quite get to experience the rivalry, as he was designated for assignment Friday. If this is it for Reyes in a Boston uniform, he will go down as the only pitcher in Red Sox history with more hit batsmen (2) than innings pitched (1⅔).
•
Russell Martin
has faced the Red Sox in three games, and is just 1-for-11 (.091).

Soriano
•
Rafael Soriano
has been excellent against the Red Sox in his career with a 2.61 ERA and .178 opponent batting average. He had five saves against Boston last season, the most for a pitcher since
Francisco Rodriguez
in 2008.
Trivia Answer:
Johnny Damon
and Mike Stanley are the only players with 50+ HR with both the Yankees and Red Sox. Babe Ruth? He only had 49 homers with Boston.
September, 17, 2010
9/17/10
2:39
PM ET

Today's Trivia:
The
Seattle Mariners
'
Ichiro Suzuki
is in the midst of his 10th straight season leading the American League in singles. Only two other AL players have had at least four consecutive seasons leading the league in singles. Can you name them?
Quick Hits:
Are the
New York Yankees
a sure thing for the playoffs? Coolstandings.com gives them a 97.3 percent chance of making the postseason. A half game out of first place in the American League East and with a six-game lead in the Wild Card, that seems about right with 16 games left. Six of those games are against the
Boston Red Sox
, and the Yankees have lost eight of 10 heading into their three-game series with one of the hottest teams in baseball –- the
Baltimore Orioles
. Yes, the 58-88 Orioles, who host the Yankees for three games then travel to Boston for three. Let's take a quick look at what the Orioles have done since manager Buck Showalter took over.
• 26-15 since Aug. 3, which is when Showalter took over. Only the
Minnesota Twins
(29-11) and
Philadelphia Phillies
(29-13) boast better records over that span. If the season started on that date, the Orioles would have a 3½-game lead over the Red Sox and
Tampa Bay Rays
, while the Yankees would trail by four games.

• Showalter's first game followed Baltimore's 73rd loss. According to the Elias Sports Bureau, the 1997 Phillies hold the MLB record for most wins in history following a team's 73rd loss. In Terry Francona's first season as manager, the 1997 Phillies went 34-21 to finish the season after starting 36-73. With 16 games to go, the Orioles need to go 9-7 to top that win total.
• Another gem from the Elias Sports Bureau: By winning his first four games, Showalter became the first manager in MLB history to do that after taking over at team that was at least 30 games under .500.
• While Showalter certainly deserves huge accolades, another major factor was the return of
Brian Roberts
, who had played only 11 games prior to Aug. 3. He's hitting .303 in 38 games since his return.
• Since Showalter took over, two of the top seven in the AL in ERA are Orioles starters:
Brad Bergesen
is 4-1 with a 2.37 ERA, while
Jeremy Guthrie
is 6-2 with a 2.64 ERA.
• In fact, prior to Showalter, Orioles' starters were 17-55 with a 5.61 ERA. Since Aug. 3, they are 19-11 with a 2.92 ERA. So in just 41 games, their starters have eclipsed their combined win total from the first 105 games.
Friday's Leaderboard:
At .880, the
Colorado Rockies
easily have the highest OPS at home this season (the Yankees are next at .835). However, on the road, Colorado's .657 OPS in the fourth worst in the majors, and its .228 batting average ranks dead last. The Rockies, who are 2.5 games back in both the NL West and Wild Card, begin a six-game road trip on Friday.
• Friday against the
Texas Rangers
, the Mariners'
Felix Hernandez
has a chance for a statement start on his quest for the American League Cy Young. However, like the rest of the AL West, King Felix has struggled against Texas this season. In four starts, he is 0-3 with a 6.38 ERA. Take a look at how much better his credentials look without those starts: 11-8, 1.92 ERA. So who has been the problem? No one has more hits off him this season than
Elvis Andrus
, who is 7-for-13 (.538) with five RBI.
• Is the Yankees'
A.J. Burnett
pitching for a spot in the postseason rotation? If so, take his performance Friday against the Orioles with a grain of salt. Burnett has a 2.48 ERA in 29 innings this season against Baltimore. Against everyone else, his ERA stands at 5.68. Non-Orioles are hitting .295 against him. The Oriole most confounded by Burnett is
Matt Wieters
, who is 0-for-9 this season, and 0-for-14 in his career.
Trivia Answer:
From 1979-1982, Willie Wilson led the American League in singles, becoming the second AL player to do it for four straight seasons. The other was Nellie Fox, who did it for seven straight seasons from 1954-1960. No Ty Cobb? He never had more than two straight seasons.
August, 18, 2010
8/18/10
4:29
PM ET
By
Gregg Found
| ESPN.com
Today's Trivia:
Brett Favre seems to be on the brain and on the lips of the sports world, so let's keep his name there for baseball. Over the last 50 years, there have been five players (including one who's a Hall-of-Famer) named Brett to be an All-Star. Who are they? Note: Brett can be either their first or last name, and it can be spelled with either one "T" or two.
Quick Hits:
The
Minnesota Twins
'
Jim Thome
hit his 12th career walk-off home run Tuesday. That ties five players (Foxx, Mantle, Musial, Robinson, Ruth) for most in MLB history. It also gives us a great chance to look at some fun walk-off home run notes:

• Dusty Baker hit plenty as a player and has seen his seen his fair share as a manager. Baker hit eight walk-off home runs in his career, twice as many as current managers Terry Francona and Joe Torre.
•
Aaron Boone
hit more walk-off home runs (6) than Willie Mays (5).
• Three players share the all-time mark for most walk-off HR in a come-from-behind situation: Babe Ruth, Frank Robinson and
Fred McGriff
.
• You'd be forgiven if you've never heard of Gates Brown. He hit .257 with 84 career home runs from 1963-75 with the
Detroit Tigers
. But it's funny how the baseball gods look down on some players. Brown hit three pinch-hit walk-off home runs, the most of any player in MLB history.
•
Harold Baines
has the distinction of hitting the latest walk-off home run in history. His came in the 25th inning of a game against the Brewers in 1984.
• Anyone up for a 13-pitch walk-off shot?
Garret Anderson
did it in 1997, taking Rick Aguilera deep to beat the Twins.
• Finally, let's circle back to Thome. His first career walk-off home run came on June 15, 1994, in a game where he did three things you haven't likely seen from him much in recent years: played third base, batted 8th in the order and finished a triple shy of the cycle.
Wednesday Matchups:
If the
Boston Red Sox
's
Dustin Pedroia
struggles tonight against the
Los Angeles Angels
of Anaheim's
Scott Kazmir
, you'll know something is wrong. Pedroia has hammered Kazmir in his career to the tune of a .526 BA and 1.433 OPS. Pedroia has 16 hits and six extra-base hits off Kazmir, the most against any pitcher.
The Twins
Francisco Liriano
has a career 5.22 ERA against the
Chicago White Sox
, almost a point and-a-half higher than his ERA against all other teams. Look to two main culprits for his lack of success against the Sox, but maybe not the ones you'd think:
Alexei Ramirez
and
A.J. Pierzynski
. Of the 72 batters who Liriano has faced at least 10 times in his career, Liriano is allowing a batting average above .400 to seven of them, and Ramirez (.500 BA) and Pierzynski (.417 BA) are two of them.
When the
San Francisco Giants
'
Matt Cain
tries to suppress the Phillies lineup tonight (7 ET on ESPN), there's one recently activated player he might want to avoid.
Trivia Answer:
The Hall-of-Famer is George Brett. The other players are
Bret Boone
, Ken Brett, Brett Butler and
Bret Saberhagen
.