Stats & Info:

Tom Glavine
May, 31, 2012
5/31/12
6:10
PM ET
By
Mark Simon
and
Katie Sharp, ESPN Stats & Info
| ESPN.com
It was a good month of May, and not just for the superstars like
Albert Pujols
,
Josh Hamilton
and
Paul Konerko
. Here's a look at five under-the-radar players who starred in May.
R.A. Dickey, New York Mets
(4-0, 1.83 ERA, 0.96 WHIP in five May starts)
He has allowed three earned runs or fewer, pitching six innings or more in 21 of his last 22 starts. Dickey showed a great touch with his knuckleball, and seemed to be able to put it wherever he wanted.

Dickey
Dickey's money pitch was the knuckleball on the outer-third of the plate. He got 36 outs with pitches to that spot and allowed only three hits.
Our pitch-trackers charted him hitting 80 mph with a knuckleball 20 times in May. That netted him 14 strikes, nine outs and no base runners allowed.
Chris Capuano, Los Angeles Dodgers
(1.62 ERA in 5 May starts)
After a strong April (3-0, 2.73 ERA), Capuano was even more dominant in May. He threw more than half of his changeups out of the zone in May (84 of 160) and got batters to swing at 51 of those pitches for a chase rate of 61 percent. He got 18 outs, including 12 strikeouts, on changeups he threw out of the zone, allowing just one hit.
Capuano's fastball averaged 87 mph this month, the lowest among pitchers who threw at least 250 fastballs. Still, opponents hit just .180 (9-50) in at-bats ending in his "heater" and he allowed just five line drives among the 44 balls hit into play against him.
He was at his best when he kept the ball down. He threw 46 percent of his pitches this month in the lower third of the strike zone or below, and allowed just three hits in 46 at-bats ending in a pitch thrown there. Twenty-one of his 29 strikeouts also came on pitches in that location.
James McDonald, Pittsburgh Pirates
(3-1, 1.54 ERA, 39 K in 35 IP)
McDonald, who owns a career-best 2.20 ERA this season, has been lights-out in May. His ERA ranks second in the majors and his .509 OPS ranks fourth.

McDonald
McDonald's breaking pitches were very tough to hit this month, something that has held true all season. In his last two starts, he's gotten 18 outs with his breaking pitches and allowed just one hit.
The slower McDonald throws his breaking ball, the more success he's had. He threw 53 of them at 77 miles-per-hour or slower in May, netting 15 outs without any batters getting a hit. He threw that pitch for a strike 68 percent of the time.
Melky Cabrera, San Francisco Giants
(.429 BA, 1.104 OPS, 51 Hits, 15 XBH, 16 multi-hit games)
He has established himself as a fan-favorite in San Francisco in May after netting 51 hits in 29 games.
Cabrera finished the month with a 25 percent line-drive rate, nearly double his 14 percent rate in April. He also had 23 hits on his 51 ground balls. (The average major leaguer gets hits on about 23 percent of his ground balls. Cabrera would match that with outs on his next 49 grounders.)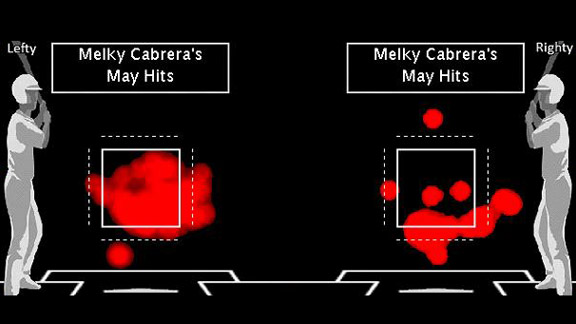 ESPN Stats & Info
Notice the pattern in the heat map above how Cabrera fared from the right side of the plate. Ten of his 16 hits as a right-handed batter came on pitches in the lower-third of the strike zone or below. Cabrera was 28-for-60 when an at-bat ended with a low pitch.
Dayan Viciedo, Chicago White Sox (.351 BA, 8 HR, .995 OPS)
Viciedo is emerging as a star. In his last 16 games (which coincides with the White Sox hot streak), Viciedo is 28-for-63 with twice as many home runs (8) as strikeouts (4).
If a pitcher left an off-speed pitch in the strike zone, Viciedo crushed it. Five of those home runs came on changeups, curveballs or sliders.
October, 19, 2011
10/19/11
12:12
PM ET
US Presswire
C.J. Wilson and Chris Carpenter get the call in Game 1 of the 107th World Series. Carpenter is 1 win shy of tying for the most wins by an active pitcher in postseason play.
The 107th World Series begins Wednesday with the
Texas Rangers
visiting the
St. Louis Cardinals
. The AL has won 62 of the previous 106 series and the winner of Game 1 has won seven of eight and 12 of the last 14. There have been 102 Best-of-7 World Series. The winner of Game 1 has gone on to win the World Series 64 times (62.7 percent).
The Rangers are the first team lose the World Series and return the following season since the 1992
Atlanta Braves
(who lost to the
Toronto Blue Jays
a year after losing to the
Minnesota Twins
). The last three AL teams to return to the Fall Classic a year after a loss have gone on to win the World Series. The last AL team to lose back-to-back World Series was the
New York Yankees
in 1963 and 1964.
The Cardinals are in their 18th World Series, tied for the second-most all-time with the
San Francisco Giants
and
Los Angeles Dodgers
. The Cardinals are making their third World Series appearance since the start of the 2004 season, the most of any team in that span.
On the Mound
C.J. Wilson
gets the nod for Texas. Wilson has not enjoyed recent postseason success as he is 0-2 with an 8.04 ERA in three starts this postseason. According to Elias, the only other time a Game 1 starter in the World Series had lost two previous games in that postseason was
Tom Glavine
for the Braves in 1992. He was 0-2 heading into his Game 1 start against the Blue Jays. He pitched a complete game and won.
A major problem for Wilson has been the long ball, as he has allowed six homers this postseason after giving up just 16 in 223⅓ innings during the regular season.
Chris Carpenter
takes the mound for the Cardinals. Carpenter has seven career postseason wins which is one shy of
Mariano Rivera
for the most among active pitchers. The seven wins are also tied with Bob Gibson for the most in Cardinals history.
Carpenter will face a Rangers lineup that includes six regulars who bat right-handed. Carpenter's main secondary pitch versus righties is a tight-breaking slider that sits in the high-80s. Carpenter likes to work his slider down and away to get hitters to expand their strike zone. However, he faces a tough challenge in a Rangers lineup that features some of the most disciplined hitters in the league against sliders.
Carpenter got right-handed hitters to chase 47 percent of his sliders that were out of the zone during the regular season, a mark that ranked in the top three in baseball among qualified righties. However, Rangers righties combined to chase just 24 percent of the sliders they saw, led by
Michael Young
,
Elvis Andrus
,
Ian Kinsler
and
Mike Napoli
. Each of them ranked in the top six in the league in chasing the lowest percentage of sliders against righties.
Stat of the Game
With frost and freeze warnings posted across much of Missouri and temperatures expected in the 40s for Game 1, it's worth pointing out that neither team is used to these conditions. There were 39 games this season that were played at a game-time temperature of 100° or higher, with 27 of those games being played in Arlington.
The Cardinals played 15 games (10 at home) where the listed boxscore temperature was below 60°. They went 5-10 in those games. The Rangers played 13 games with a boxscore temperature below 60°, going 5-8 in those contests. All of those were on the road.
July, 7, 2011
7/07/11
9:32
AM ET

Schierholtz
In a game that featured a combined 36 strikeouts -- a modern-era record for a game lasting 14 innings or fewer -- the
San Francisco Giants
defeated the
San Diego Padres
on a walk-off home run by
Nate Schierholtz
in the 14th inning.
It was his second home run of the game, the first Giants player with a multi-homer game that included a walk-off home run since
Bengie Molina
did it in April of 2008, also against the Padres.
Schierholtz, who hit his first home run in the fourth inning, became the first Giants player to hit two homer 10 innings apart in the same game since
Barry Bonds
who did so in September of 2001.
It marked the latest walk-off home run in the history of AT&T Park. In fact you have to go back to 1996 for the last time a Giants player hit a walk-off home run in the 14th inning or later. That was
Tom Lampkin
, whose three-run home run in the bottom of the 15th inning lifted the Giants to a win over the
Florida Marlins
.

Speaking of the Marlins they notched a walk-off victory on
Mike Stanton
's solo home run in the 10th inning to defeat the
Philadelphia Phillies
. It was Stanton's first career walk-off home run, and a rather special one according to Elias.
At 21, Stanton was the third-youngest player since 1900 to hit a walk-off home run against the Phillies. Eddie Mathews was 20 years old in 1952 when he hit a game-ending homer for the Boston Braves, and
Alex Gonzalez
was a "younger 21" than Stanton when he did the same for the 1998 Marlins.
While these games provided some late heroics, no game was more exciting on Wednesday than the tilt between the
Cincinnati Reds
and the
St. Louis Cardinals
. The Reds narrowly escaped with a 9-8 victory in 13 innings -- after holding an 8-0 lead through five innings.
Elias tells us it was the first time in 57 years that the Cardinals lost a game after erasing a deficit of eight or more runs. On July 17, 1954 at the old Busch Stadium, St. Louis rallied from down 9-0 to tie the Giants, but New York won in 11 innings, 10-9.
Elsewhere Around the Diamond:
Jair Jurrjens
continued his stellar 2011 campaign with six innings of one-run ball as the
Atlanta Braves
defeated the
Colorado Rockies
. Jurrjens heads into the All-Star break with a 12-3 record and a 1.87 ERA. According to Elias he is the first Major League pitcher to head into the break with 12 or more wins and an ERA below 2.00 since
Randy Johnson
in 2000.
Perhaps more impressive, he is just the third Braves pitcher all-time to have accomplished the feat joining
Greg Maddux
in 1998 and
Tom Glavine
in the 1991 season.
Jurrjens is a strong possibility to start for the National League in the All-Star Game, something Maddux and Glavine each did that season.
June, 25, 2011
6/25/11
12:45
AM ET

Shields
Recently anything
James Shields
has started he's gone on to finish. For the third consecutive game Shields pitched a complete game as the
Tampa Bay Rays
defeated the
Houston Astros
. He is the first pitcher in Rays history to throw three consecutive complete games.
Shields hasn't just been piling up innings, but he's also been keeping players off the bases. In each of the starts he's allowed five hits or fewer, just the fourth pitcher since 2000 to compile such a streak.
Two of the previous three --
Roy Halladay
in 2003 and
Randy Johnson
in 2000 -- went on to win the Cy Young award. You have to go back to
Greg Maddux
in 1998 for the last time a starter did so in four consecutive outings.
This is already Shields' sixth complete game this season, which sets the record for most in a season in franchise history. He is only the sixth pitcher with six complete game victories in his team's first 76 games in the last 20 seasons.
The list is rather impressive with
Pat Hentgen
in 1997, Randy Johnson in 1994 and
John Smoltz
,
Tom Glavine
and
David Cone
in 1992.
Shields continued to dominate with his changeup, relying on it as an out pitch even more than usual. He recorded 18 of his 27 outs with the pitch.
Astros hitters were 0-for-17 with five strikeouts and a double play on at-bats ending with a Shields changeup.
Just three of his 30 two-strike pitches were fastballs, his lowest in a start in over two years. As a result, all nine of his strikeouts were with his offspeed pitches. All 24 of Shields' strikeouts over his stretch of three consecutive complete games have been with offspeed pitches.
While the Astros were outdueled by Shields, Houston's staff did complete an extremely rare feat. The Astros had three pitchers pitch Friday, all with the last name Rodriguez (Wandy, Fernando, Aneury). Our good friends at Elias passed along this gem. This was the first game in the modern era (since 1900) that a trio of teammates with the same surname pitched in the same game.
Elsewhere around the diamond:
•
Jon Lester
became the latest pitcher to go for his 10th victory only to come up short as the
Pittsburgh Pirates
defeated the
Boston Red Sox
. According to Elias, excluding 1981 (strike delayed season), the last time that the Majors didn't have a 10-game winner until at least June 25 was in 1950. Four pitchers earned their tenth wins of the season on June 28 that year (Art Houtteman, Bob Lemon, Preacher Roe, and Johnny Sain).
-- Dan Braunstein contributed to this report
April, 1, 2011
4/01/11
11:19
AM ET
Today's Trivia:
For the first time since 2002,
Roy Oswalt
will not be the Opening Day starter for the
Houston Astros
. Who was the Opening Day starter for the Astros in 2002?
Quick Hits:
A quick look at more Opening Day longevity.
* With
Vladimir Guerrero
gone, the
Texas Rangers
will have a different Opening Day designated hitter for the 12th straight season. The last to go back-to-back was
Rafael Palmeiro
in 1999-2000.

Crawford
* The most storied position in franchise history, the
Boston Red Sox
may have finally found their man in left.
Carl Crawford
will be the fourth different Opening Day starter in as many years. That hasn't happened in Boston since 1973-76 when the team was transitioning from Carl Yastrzemski to Jim Rice.
* The
Chicago White Sox
appear set to start the same outfield trio that began the 2010 season. In the past 35 years, the White Sox have had the same Opening Day outfield in back-to-back seasons just once. That was in 2003-04 with
Carlos Lee
,
Aaron Rowand
and
Magglio Ordonez
.
* Here's a glimmer of hope for
New York Mets
fans: the Mets have won five straight games on Opening Day, the longest active Opening Day win streak. Of course, Friday starter
Mike Pelfrey
may not evoke memories of
Johan Santana
or
Tom Glavine
, the starting pitchers in those five Mets wins.
* Conversely, no team has a worse recent Opening Day history than the
Oakland Athletics
. The A's have lost six straight times on Opening Day, the longest current streak in baseball. Oakland's most recent win was 2004, which was the last Opening Day start that
Tim Hudson
made in an A's uniform.
* Apart from first base, the entire
Minnesota Twins
infield falls into this category. In its Opening Day lineup, Minnesota will have its fifth second baseman in five years and eighth shortstop in eight years. It also will be the ninth straight year that the starting third baseman is different from the year before.
*
Evan Longoria
will be the only player in the
Tampa Bay Rays
lineup who started each of the last two opening days.
*
Yunel Escobar
will be the
Toronto Blue Jays
sixth different Opening Day shortstop in six years.
Russ Adams
was the last to start back-to-back openers in 2005-06.
* Similarly,
Josh Willingham
will be the A's 12th Opening Day leftfielder in 12 years.
Ben Grieve
was the last to go back-to-back.
*
Carlos Beltran
is expected to be the 13th different person to man right field on Opening Day for the Mets in the past 15 years. Only
Ryan Church
and
Jeromy Burnitz
managed two such starts in that span, which included the likes of
Eric Valent
and Butch Huskey.

* The
Colorado Rockies
have only had two Opening Day first basemen:
Todd Helton
and
Andres Galarraga
.
Jose Lopez
will be the 14th to start at second in the opener. The last to do so in back-to-back seasons was
Mike Lansing
(1998-2000).
*
Kevin Correia
will be the 15th different Opener Day starter for the
Pittsburgh Pirates
in 19 years. That's the period since Doug Drabek left via free agency.
Trivia Answer:
Wade Miller
was the last Astros pitcher not named Roy Oswalt to start on Opening Day.