Stats & Info:

Tommy Hanson
November, 16, 2010
11/16/10
2:29
PM ET

Halladay
Roy Halladay
won the National League Cy Young Award Tuesday, receiving all 32 first-place votes, the first time he's won in the NL and the second Cy Young he's won in his career. He is the fifth pitcher ever to win the award in both leagues, joining
Roger Clemens
,
Randy Johnson
,
Pedro Martinez
and Hall of Famer Gaylord Perry.
He's the fourth
Philadelphia Phillies
pitcher to win the award and the first since reliever Steve Bedrosian won it in 1987. After winning six times in the 16 seasons from 1972-1987, this is the first time in 23 years that a Phillies pitcher won the award.

Halladay went 21-10 with a 2.44 ERA, with 219 strikeouts and just 30 walks in 250 ⅔ innings. He's just the fourth National League pitcher since 1994 to throw at least 250 innings with an ERA of 2.50 or below, joining Johnson,
Greg Maddux
and
Kevin Brown
. Halladay led the league in wins, complete games, shutouts, innings pitched and K/BB ratio. He was second in the league in strikeouts and WHIP (1.04), and third in ERA, and he threw the 20th perfect game in major league history when he beat the
Florida Marlins
on May 29.
The superior start is a statistic created by Stats & Information designed as an enhanced version of the quality start. For each start a pitcher is assigned a probability he gave his team of winning based on his innings pitched and earned runs -- the same statistics used to determine a quality start.
A superior start is deemed to be any start where the pitcher gave his team at least a 75 percent chance to win. The four pitchers who tied for the lead finished in the top five of the Cy Young voting.
Adam Wainwright
of the
St. Louis Cardinals
finished second, his second top-three finish in the last three seasons. Wainwright went 20-11 with a career-low 2.42 ERA and a career-high 213 strikeouts in 230 ⅓ innings pitched. He won 20 games for the first time in his career and had five complete games, after throwing three combined in his career entering this season.
xWIN is another statistic created by Stats & Information that measures how many wins a pitchers team should get based on his combination of innings pitched and earned runs allowed in each start. It eliminates the adverse effect of a having a bad offense on a pitcher's win total. Wainwright
barely
outpaced Halladay to lead the National League this season.
Ubaldo Jimenez
finished third after having one of the best seasons in
Colorado Rockies
history. He went 19-8 with a 2.88 ERA and 214 strikeouts in 221 ⅔ innings. That's the second-best ERA by a starting pitcher in Rockies history and his 214 strikeouts set the all-time franchise mark.
Jimenez was counting on the fact that the NL Cy Young winner had fewer than 20 wins for four straight seasons before this one. With Halladay's win, just twice in the last eight years has the winner registered 20 wins or more.
October, 8, 2010
10/08/10
3:06
PM ET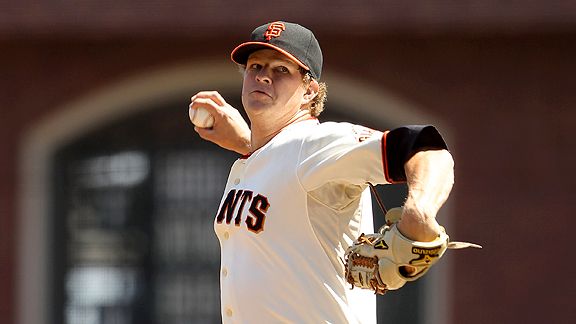 Ezra Shaw/Getty Images
The Giants' Game 2 starter, Matt Cain, has found AT&T Park to be much to his liking of late.
If history is any indicator, chances are that one of the day-after discussion points about Game 2 of the Braves-Giants NLDS will be on how unfortunate one of the starting pitchers was. That's the same talk taking place Thursday regarding Braves Game 1 starter
Derek Lowe
.
For Game 2, the subject of hard luck refers to the run support for
Matt Cain
and
Tommy Hanson
, which hasn't historically correlated with their records. In Hanson's case, that's why he was a sub-.500 pitcher this season after the All-Star break. His 2-6 record and 2.51 ERA are largely a product of the Braves' scoring an average of 2.9 runs per game in his 16 second-half starts. Amazingly, over a five-start stretch in July and August, Hanson had a 1.05 ERA and a .169 opponents' batting average … and no wins.
Cain has no sympathy, as this was an issue he dealt with for years. But over the last two seasons, the Giants' offense has been kind to him, averaging slightly more than four runs per game. That's significantly better than the three-year run from 2006 to 2008, in which Cain was the least supported pitcher in the majors.
Cain has a good comfort zone at AT&T Park. The Giants have won seven of his past eight starts there, the exception being his final regular-season start against the Padres. In Cain's last six starts, he had the total support of the Giants' bullpen. Giants relievers allowed one run in 13 innings in Cain's starts in September and October.
How They Get It Done
For much of the season, Cain's out pitch was his changeup, but September saw a shift in success. From April to August, Cain threw his curveball with two strikes 13 percent of the time. He upped that to 20 percent in September and used it to get 13 outs in those situations, without giving up a hit in a stretch that lasted until his last appearance.
Hanson's key is the effectiveness of his slider, which he throws about once every four pitches, but recently the curveball has been a winning option. According to Inside Edge, he didn't give up a hit with any of the 93 curveballs he threw in his last seven starts.
Matchup to Watch
Braves shortstop
Alex Gonzalez
is 0-for-9 for his career against Cain, including 0-for-5 against him this season with a pair of strikeouts. That's within striking distance of Gonzalez's all-time worst 0-for against a pitcher. He's 0-for-11 in his career against former Braves reliever
Mike Remlinger
.
Stat of the Day
The Giants haven't had consecutive postseason games in which they've held their opponent scoreless since doing so in the 1917 World Series.
August, 21, 2010
8/21/10
7:58
PM ET
The New York Yankees have placed Alex Rodriguez on the disabled list. However, they improved to 11-0 without him this season with Saturday's win over the Seattle Mariners.

Mariano Rivera notched his 25th save. It's the 14th time he's had at least 25 saves in a season, tied with Trevor Hoffman for most all-time.

Rangers ace Cliff Lee allowed a career high four HR vs the Baltimore Orioles. Seven of the 13 HR he has allowed this season have come in his two starts against Baltimore. Lee also matched his career high by allowing 8 runs and pitched fewer than six innings for the first time this season.

Josh Bell hit two HR and had five RBI batting ninth for the Orioles. He's the first Oriole to do that since 1920, when RBI became an official statistic. He's just the second batter with at least two HR and five RBI batting ninth this season, joining the Rays' Reid Brignac.

The Cubs snapped their five-game losing streak with a win over the Braves. Tommy Hanson is now 0-4 in his last 9 starts.

Brooks Conrad nearly hit his third pinch-hit grand slam of the season, but settled for a 2-run double. He now has 10 pinch-hit RBI this season with the bases loaded. That is twice as many as any other player in baseball.

The Angels defeated the Twins and rookie Peter Bourjos was the hero. He had two hits (HR, triple) and recorded a career-high four RBI in his 15th big-league game. Bourjos becomes the second player this season to have his first career HR and triple come in the same game (Starlin Castro was the other on May 7). Bourjos and Bobby Abreu hit back-to-back HR. Abreu now has 15 or more HR in 13 consecutive seasons.
Russell Branyan homered for the third time in his last two games and each of his last five hits have been HR. His seven career HR at the new Yankee Stadium are tied with Victor Martinez for the most by a visiting player.
August, 21, 2010
8/21/10
2:55
PM ET
With the
New York Yankees
and
Seattle Mariners
the only early East Coast start on Saturday, let's look ahead to some of the later games:

Braves at Cubs, 4:10 ET: In seven starts since the All-Star break,
Atlanta Braves
starter
Tommy Hanson
is 0-3 with a 1.77 ERA. If those numbers seem a little incongruous, that's because they most certainly are. Hanson has pitched at least six innings and allowed no more than one run in each of his past five starts, but has an 0-2 record over the span. According to our friends at the Elias Sports Bureau, Hanson is the first pitcher with a streak of five such starts to not earn a win in any of them since 1913, which was the first season in which earned runs were official in the American and National Leagues. Perhaps Hanson's luck will change against a
Chicago Cubs
team that enters Saturday on a five-game losing streak.
Rangers at Orioles, 4:10 ET:
Cliff Lee
takes the hill for the
Texas Rangers
looking to buck a trend that has emerged for him this season: struggles against the AL East. Though he sports an 8-2 record and 2.06 ERA against baseball's five other divisions, he is just 2-4 with a 3.92 ERA against the AL East. In fact, five of the nine homers Lee has allowed this season have been against the AL East. Lee is 1-1 with a 3.86 ERA in two starts against the
Baltimore Orioles
this season.
Angels at Twins, 4:10 ET:
Minnesota Twins
starter
Kevin Slowey
, removed from his most recent start after seven no-hit innings, is unbeaten in his past nine starts (4-0) with a 3.31 ERA. The Twins have won each of his past four starts.

Nationals at Phillies, 7:05 ET:
Stephen Strasburg
makes his third start since returning from the DL. He has gone 0-1 with a 6.75 ERA in the first two.
Philadelphia Phillies
starter
Kyle Kendrick
will make his third start of the season against the Nationals. The other two were his first two starts of the season and he was torched in both games. He managed two no-decisions, but sports a 17.47 ERA versus Washington this season.
Giants at Cardinals, 7:15 ET: Great starting pitching matchup here:
Tim Lincecum
versus
Chris Carpenter
. The duo have accounted for three of the past five NL Cy Young Awards (with Lincecum winning the past two). Carpenter is 14-2 after the All-Star break the past two seasons and is sporting a 2.10 ERA in his past seven starts. Lincecum enters having lost three consecutive starts for the first time in his career. With a loss on Saturday, he'd set a career high with his eighth loss of the season.
Rockies at Diamondbacks, 8:10 ET:
Colorado Rockies
ace
Ubaldo Jimenez
looks to become the first pitcher in franchise history to rack up 18 wins in a season. He's sporting a 1.86 ERA in his past four starts.
Rays at Athletics, 9:05 ET:
David Price
, already the first 15-game winner in
Tampa Bay Rays
history, aims for his 16th win of the season. He's 1-0 with a spotless ERA in his lone career start versus the
Oakland Athletics
.
May, 27, 2010
5/27/10
11:00
AM ET
By
John Perrotto, Baseball Prospectus
| ESPN.com
A few weeks back, we put forth the idea this could be the
Year of the Pitcher in the National League
. Little has changed since then.
But with the calendar nearing Memorial Day — the traditional one-third mark on the baseball season — the question is: Who is the best pitcher in the NL?
To weed through the very strong field to determine the answer, we'll use three Baseball Prospectus metrics that measure starters, counting only those who have pitched at least 50 innings, and awarding points in the same manner of the new Cy Young voting system that will be unveiled in November by the Baseball Writers Association of America — 10 points for first place, seven for second, five for third, three for fourth and one for fifth.
First, let's look at SNLVAR (support-neutral league value above replacement),which gauges how many more wins a starting pitcher provides throughout the course of the season than would a replacement-level player, which represents someone who could be claimed off waivers or purchased off a Triple-A roster:
Next, we will look at FRA (fair run average). This is a simple statistic: It measures how many runs per nine innings a pitcher allows while also including the number of baserunners a starter bequeaths to his bullpen when pulled in the middle of an inning.
Finally, we'll take into account BP's newest pitching metric, SIERA (skill-interactive earned run average). This stat estimates ERA through walk rate, strikeout rate and ground ball rate while eliminating the effects of park, defense and luck.
Tally the three metrics up with the scoring system and the top three are: Jimenez (20 points), Lincecum (16) and Halladay (15). In case you're wondering, Jimenez is ninth in SIERA with a 3.35 mark.
Jimenez would certainly be the pick of the BBWAA if voting were held today because he is putting up eye-popping numbers in the traditional statistical categories. The
Colorado Rockies
right-hander shut out the
Arizona Diamondbacks
for eight innings on Wednesday night to raise his record to 9-1 and lower his earned run average to 0.88 through 10 starts. The 26-year-old has allowed just 42 hits in 63 1/3 innings to go with 61 strikeouts and 24 walks.
So whether you look at it through the prism of the new statistics or the old ones, Jimenez has clearly been the NL's best pitcher through the first third of 2010 season.
John Perrotto is editor-in-chief of BaseballProspectus.com.
May, 26, 2010
5/26/10
9:07
AM ET
By
Ryan McCrystal, ESPN Stats
and
Info
| ESPN.com
Following Joe Nathan's injury this past March,
Mark Simon introduced a stat
which he labeled "putaway rate." He defined it as "the percentage of two-strike plate appearances that ended in strikeouts."
Taking his idea a step further, we set out to determine who has the best "putaway pitch." It's the same concept, but narrows down the stat to a specific pitch. For example, if a pitcher threw 100 two-strike fastballs and recorded 25 strikeouts on those pitches, his "putaway rate" would be 25 percent.
We applied this measurement to fastballs, curves, sliders and changeups, using data for this season from Inside Edge. Since each pitcher uses his pitches at varying rates, we considered the top 100 pitchers who had thrown the most two-strike fastballs and the top 50 for the three off-speed pitches. While there's certainly some amount of subjectivity in that cutoff, it essentially gives us a list of the players who actually use that particular pitch as a "putaway pitch."
So here are the top "putaway pitches" through May 24
FASTBALLS
1. Yovani Gallardo – Putaway Rate: 25.0 pct
Gallardo's fastball is somewhat of a mystery. His speed (92.6) is only slightly above average for two-strike fastballs. His chase percentage (19.4 percent) is well below the league average of 31.7 percent. And his strike percentage (64.9) is also below the average of 66.7. Yet, he has thrown 148 two-strike fastballs, 37 of which have resulted in strikeouts.
2. Brandon Morrow – 22.6 pct
It's been a rough season for Morrow, but the 25-year-old is currently tied for the league lead, averaging 11.8 strikeouts per nine innings. His two-strike fastball, which averages 94.6 mph, has induced whiffs on 26.8 pct of the pitches swung at – a rate which trails only Ryan Dempster's 27.0 pct.
3. Josh Johnson – 20.6 pct
When Johnson works his way into a two-strike count, he prefers pure heat to finish the job. 40 of his 63 strikeouts this season have been recorded via the fastball, which averages 94.7 mph.
Best of the rest: Cole Hamels (20.4), Ryan Dempster (20.2), Dan Haren (19.9) and Ubaldo Jimenez (19.7)
CURVEBALLS
1. Tommy Hanson – 39.5 pct
Based on our criteria, Hanson's curveball rates as the best strikeout pitch in the game this season. Of hitters who have offered at his two-strike curve, less than half have made contact (47.8 pct).
2. Clay Hensley – 33.3 pct
Hensley is one of three relievers who makes our list. His curve, which comes in at just 72.0 mph (league average: 76.8) has been used to record 19 of his 32 strikeouts this season.
3. Ricky Romero – 31.0 pct
Romero isn't afraid to throw his curve across the plate (55.2 strike pct) because it's nearly unhittable. Hitters have missed 50.0 pct of their swings against his two-strike curve.
Best of the rest: Jason Bulger (28.3 pct), Gavin Floyd (28.0 pct), Gio Gonzalez (27.8 pct) and Ricky Nolasco (25.5 pct)
SLIDERS
1. Brandon Morrow – 34.6 pct
Morrow makes his second appearance on the list, this time with his slider. He's used his slider to record 28 of 59 strikeouts this season. He throws it for a strike 79.0 pct of the time, and induces a swing and miss 40.0 pct of the time (5th best rate in the majors).
2. Matt Garza – 33.8 pct
Garza boasts one of the league's fastest sliders, which averages 86.3 mph in two-strike counts. He's recorded 36 of his 54 strikeouts this season with his slider.
3. Luke Gregerson – 33.8 pct
The key to Gregerson's slider is his ability to get hitters to chase it out of the zone. He's induced swings on a league-high 67.5 pct of the sliders he's thrown out of the strike zone on two-strike counts. He's used his slider to record an astounding 24 of his 26 strikeouts this season (92.3 pct).
Best of the rest: Carlos Marmol (32.7), Francisco Liriano (31.6 pct), Edwin Jackson (30.4 pct) and Justin Masterson (27.9 pct)
CHANGEUPS
1. Leo Nunez – 36.4 pct
Nunez, whose fastball clocks in at 93.5 mph, takes a full seven mph off on his change (86.5 mph). While changeup is a fairly uncommon "putaway pitch" it's Nunez's go-to selection. He's recorded 16 of his 20 strikeouts with the changeup.
2. Ricky Romero – 36.0 pct
Ricky Romero joins his teammate Brandon Morrow as the only two pitchers to appear in the top three with two different pitches. Hitters have whiffed on a league-high 50.9 pct of their swings on his two-strike changeups.
3. Cole Hamels – 34.2 pct
Hamels may have the most deadly putaway pitch combo, as his changeup rates 3rd and his fastball 4th. His success likely comes from a drastic 10 mph difference between the pitches – 91.3 mph on fastballs, 81.6 mph on changeups.
Best of the rest: John Ely (33.3), James Shields (32.7), Jorge De La Rosa (31.4) and Francisco Rodriguez (30.8)

Curious where someone's pitch ranks? Post a comment and we'll try to track down an answer for you.
May, 18, 2010
5/18/10
2:30
PM ET
By
Kenton Wong, ESPN Stats & Info
| ESPN.com
This week in the TMI Power Poll it's all about starting pitchers. Who is the best in the game today? Who is the most likely to throw a no-hitter? We break down why each starter in our top ten strikes fear into opposing hitters.

Only two pitchers received first-place votes...Roy Halladay and Tim Lincecum...The two right-handers finished tied atop our rankings. Here's a look at the rest of the top ten:



Others receiving votes:
David Price, Justin Verlander, Dan Haren, Jon Lester, Roy Oswalt, Tim Hudson, Jake Peavy, Tommy Hanson, Josh Johnson, Yovani Gallardo, Matt Garza, Phil Hughes, Josh Beckett.
May, 13, 2010
5/13/10
10:40
AM ET
By
John Perrotto, Baseball Prospectus
| ESPN.com
It is widely accepted that 1968 was the year of the pitcher. Bob Gibson had a 1.12 ERA and 13 shutouts; Denny McLain won 31 games; and run scoring reached such depths that the height of the pitcher's mound was lowered to 10 inches from 15 inches for the 1969 season.
However, 2010 is starting to shape as another banner season for pitchers, at least in the National League.
At Baseball Prospectus, we use a metric called SNLVAR (support-neutral league value above replacement) to gauge how many more wins a starting pitcher provides throughout the course of the season than would a replacement-level player, someone who could be claimed off waivers or purchased from a Triple-A roster. A pitcher with an SNLVAR of 7.0 would be seven wins better than a replacement-level player, and that is considered the benchmark of an outstanding season.
Before Wednesday's action, 11 NL pitchers were on pace to finish the season with at least a 7.0 SNLVAR:
Since 1954, the earliest season from which play-by-play data are available to compute SNLVAR, no more than seven National League pitchers have had a mark of 7.0 or better in one season. In 1968, just three pitchers reached that level: Gibson, Tom Seaver and Jerry Koosman. (Remember, SNLVAR is neutralized relative to the run-scoring context. So, for example, Tim Lincecum's 2.48 ERA last year was roughly equivalent to about a 1.65 ERA in 1968.) Instead, 1997 was
really
the year of the pitcher. Here is a look at the seven pitchers who reached the magic 7.0 level in the NL that season:
Now that's a pretty strong group of pitchers. Maddux and Glavine are locks to make it into the Hall of Fame as 300-game winners, Martinez and Smoltz also are likely to be elected and few would be surprised if Schilling is immortalized in Cooperstown. Meanwhile, Brown had 211 career victories, and Kile's career was cut short when he died at age 33 in 2002.
Can the 2010 group of NL starters top that? The 11 pitchers on pace for a 7.0 SNLVAR are an accomplished group, including Cy Young Award winners (Halladay, Lincecum, Zito), 20-game winners (Hudson, Oswalt), a 19-game winner (Wainwright), a guy who threw a no-hitter (Jimenez), All-Stars (Hernandez, Penny) and two of the top young starters in the game (Garcia, Hanson). However, the peripheral stats for Hernandez, Hudson, Zito and Penny make it seem unlikely that those four can maintain their current performance. But even if those four miss out on our magic number, we'd still have seven pitchers with an SNLVAR of at least 7.0.
Thus, it could be a fun season -- if you're not a National League hitter.
John Perrotto is editor-in-chief of BaseballProspectus.com.
May, 10, 2010
5/10/10
3:33
PM ET
By
Ryan McCrystal, ESPN Stats
and
Info
| ESPN.com
Today's Trivia: Today is the anniversary of Nomar Garciaparra's three HR, 10 RBI game against the Mariners in 1999. Including that game, there were eight three-HR games by AL shortstops between 1999 and 2003. However, there hasn't been one since July 30, 2003. Can you name the last AL shortstop to hit three homers in a game? (hint: he did it for an AL Central team)

Quick Hits: We're a little over a full week into May, so let's take a look at some players who are off to a hot start this month:
* Nick Swisher leads the AL with five HR this month. He had just two in April.
* Andre Ethier is batting .516 this month, easily tops in the majors.
* Tyler Clippard has pitched just 5 2/3 innings this month, but has picked up three wins for the Nationals.
* In two starts this month, the second and third of his career, Jhoulys Chacin has yet to allow a run.
* Neftali Feliz is a perfect five for five in save situations in May, and has only allowed one hit in five innings of work.
* Yovani Gallardo has struck out 21 batters in 12 innings of work this month.

Today's Leaderboard: Here's a look at the players with the lowest batting average with runners in scoring position this season. It should come as no surprise that all of the teams represented have a losing record, including the White Sox who have two players on the list.

Key Matchups: Tommy Hanson hasn't struggled with many hitters in his young career, but one guy he can't seem to get out is Ryan Braun. In seven career at bats against Hanson, Braun has three hits, including two homers. Braun is the only player who has taken Hanson deep more than once.

Carlos Pena hasn't faced Joel Pineiro since 2004, but back when Pineiro was in the AL the first time around he owned Pena. In 11 career at bats against Pineiro, Pena struck out six times and only recorded two hits.

Trivia Answer: Jose Valentin hit 3 HR for the White Sox. All three homers came off Royals' starter Runelvys Hernandez.
May, 1, 2010
5/01/10
3:01
AM ET
By
ESPN Stats & Info
| ESPN.com
The Rangers and Mariners traded zeroes for 11 innings Friday before Texas scored twice in the top of the 12th inning and held on for the 2-0 win. The Mariners loss spoiled a great Seattle debut for
Cliff Lee
who threw 7 shutout innings. Lee sure knows how to make a good first impression. Last season in his first start with the Phillies he threw a complete game 4-hitter against the Giants. The Rangers
Colby Lewis
did Lee two innings better with 10 K in nine innings. The last Rangers pitcher to pitch at least 9 innings while allowing no runs, striking out more than 10 all while getting a no-decision? Nolan Ryan on August 17, 1990 (10 IP, 0 R, 15 K).
Why Colby Lewis should have won:
- 10 strikeouts; third start this season with double-digit K.
- 7 strikeouts with the slider, giving him 18 for the season.
- Hitters were 0-12 against the fastball (.169 BA against this season).
- First pitch strike to 74 percent of batters faced (MLB Avg. 58 percent).
- Mariners hitters chased 45.5 percent of off-speed pitches, well above his average of 29.3 percent coming into Friday.
Why Tommy Hanson won:
- Threw a first-pitch strike to 78.6 percent of batters faced (second highest of career: 80.8 on Sep 26, 2009).
- Threw his fastball for strikes on 76.8 percent of pitches (highest of career).
- Had better command of his slider as hitters went 0-5 (first 4 starts 11-33).
- Threw 16 curveballs, 11 for strikes and struck out three of seven batters. Hanson has struck out 6 with the curve in his past two starts (three in first three starts).
- Third time in five starts this season with no extra base hits allowed (three in 21 starts last season).
Why Barry Zito won:
- Held Rockies hitters to 0-6 with 4 K with his curveball. In five starts in 2010, Zito has not allowed a hit with the curveball (0-35) with 11 K.
- Threw 38 pitches inside, getting hitters to miss on 41.7 percent of the pitches and record zero hits in seven at-bats.
- Finished off batters when getting two strikes as Rockies were 1-15.
Hitter of the Night:
Austin Jackson, DET: 5-5, 5 1B, 2 R
Jackson finishes his hot April with a 5-5 night with 5 singles in the Tigers 10-6 victory over the Angels. Jackson is now batting .364 overall but it's the fastball that the rookie has really excelled at hitting. Of his 36 hits, 27 have come off the fastball, including 4-4 on Friday night.
April, 9, 2010
4/09/10
2:37
PM ET
It was a treat to watch a matchup Thursday night between two sophomore hurlers: the
Atlanta Braves
'
Tommy Hanson
and
Chicago Cubs
'
Randy Wells
. Hanson finished third in the NL Rookie of the Year voting last season, while Wells was sixth. Clearly, both pitchers have the potential to play large roles in their respective organizations' futures. However, when they take to the mound, these two hurlers employ very different, yet effective, approaches.
Last season, Hanson's fastball sat at 92 mph, while his slider came in at 83 mph, his curve at 75 mph and his seldom-used change-up at 83 mph, according to Pitch Type velocities at FanGraphs. In the first inning of last night's game, the 23-year-old came out like a man possessed and was throwing his fastball 96-97 mph, his slider 89 mph and his curve 75 mph. The Cubs hitters were simply overmatched, and Hanson struck out the side (with a walk of
Derrek Lee
mixed in).
Hanson came out in subsequent innings and took a little off his pitches; the adrenaline had clearly drained a bit. Even so, he was still pumping his pitches in at a higher velocity than last season's averages. When all was said and done, he had struck out seven batters in 5 1/3 innings, while issuing three walks and two solo homers. Along with the seven K's, another seven of his outs came on fly balls and two were via the ground ball.
A former minor league catcher who couldn't hit, Wells is already 27 years old. The late bloomer came into the first inning of last night's game showing respectable velocity at 88-92 mph. His approach, though, was to induce contact with his heavy sinker. Wells' ground-ball rate was just shy of 50 percent in 2009 (while Hanson just scraped 40 percent). The Cubs pitcher had his good sinker working Thursday, and he made the Braves hitters look like they should all take up new careers on the mound. And he did it without mid-to-high-90s heat.
Wells induced 13 ground ball outs; that's important because it means none of those batted balls were a threat to go over the wall for a home run, or to split the outfield defense for a bases-clearing triple. Just two of his 18 outs came in the air. When Wells did get into trouble, he was able to defuse the situations with three double plays.
Jason Heyward
, Atlanta's rookie phenom, was rendered impotent by Wells' approach. The right-fielder could not get any lift on the ball. He rolled into a force play in the second inning and then, after breaking his bat, grounded weakly back to Wells in the fourth. All the Braves hitters shared his frustrations.
In 27 starts in '09, Wells posted a WAR (Wins Above Replacement) of 3.0, while Hanson came in at 2.6 WAR in 21 starts. While the Braves right-hander is clearly a crowd favorite for his radar-busting velocities and eye-popping counting stats, Wells has shown that he can be an equally effective big league pitcher -- albeit with a lower overall ceiling -- by pounding the lower half of the strike zone with sinkers and pitching to contact.
March, 24, 2010
3/24/10
9:00
AM ET
By
Tom Tango, Inside The Book
| ESPN.com
Clayton Kershaw
(2.79 ERA),
Felix Hernandez
(2.49),
Jair Jurrjens
(2.60) and
Tommy Hanson
(2.89) had their breakout seasons in 2009. Can we expect them to repeat those performances in 2010? If history is a guide, the answer is no.
To clarify, I'm defining a breakout season as one in which the pitcher allows runs at less than 80 percent of the league average. For example,
John Danks
broke out at 72 percent in 2008, and
Matt Cain
(78 percent) and
Chad Billingsley
(71 percent) broke out in 2007. What happened to these young pitchers the year after their breakouts? Billingsley kept pace at 73 percent, while Danks regressed to 83 percent and Cain to 84 percent.
From 1920 to 2008, 93 pitchers had their breakout season at age 23 or younger, the same as our 2009 quartet. Their average breakout level was 72.5 percent. Those 93 pitchers, in the season after their breakout, gave up runs at 88.5 percent of the league average.
Historically speaking, in the year after their breakout seasons, young pitchers will increase their ERA by about 20-25 percent on average. In fact, only 11 of the 93 improved from their breakout level, with Dwight Gooden leading the way. Gooden had his breakout season in his rookie year in 1984 and followed with one of the best seasons of all time the next year. However, another 19 pitchers gave up more runs than the league average in their postbreakout year, with the 2004 versions of Ollie Perez and
Zack Greinke
being the worst of the bunch.
Do young pitchers worsen? No. This is a result of a phenomenon called regression toward the mean. Basically, you are never as good as the results show, and you are never as bad as the results show. If a group of young pitchers gave up runs at far below the league average, they benefited from more good breaks than bad breaks. As a group, the breaks will even out for them the next season.
Getting back to our 2009 quartet, expect their ERA as a group to rise by 20-25 percent, with a 10 percent chance of one of them improving his ERA and a 10 percent chance of one's ERA worsening by more than 34 percent.
Tom Tango writes for Inside The Book.