Stats & Info:

tommy hunter
August, 24, 2013
8/24/13
12:23
AM ET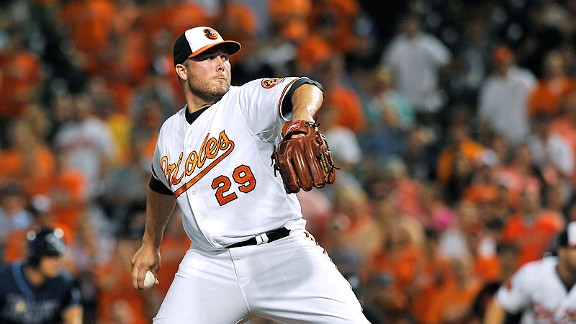 AP Photo/Gail Burton
Tommy Hunter has been huge for the Orioles' bullpen this season.
On Thursday, we wrote about the
New York Yankees
'
David Robertson
and his work as the game's best setup man.
The
Baltimore Orioles
have found a Robertson of their own in
Tommy Hunter
.
Hunter was one of four Orioles relievers to combine for 4 1/3 scoreless innings in a win over the
Oakland Athletics
that gained them a game in the race for the wild card.
Hunter is the power arm that complements submariner Darren O'Day and veteran
Francisco Rodriguez
in getting the ball to closer
Jim Johnson
.
Hunter, like Johnson, has had a few ups and downs this season. But he's on a pretty good roll right now with two saves and five holds this month. Here's a closer look at his season.
Comfortable transition
This is the first season in which Hunter has been a full-time relief pitcher, and he's adapted to the role pretty well. Most notably, his strikeout rate is up. He's getting 18 percent of hitters to whiff this season, up from 13 percent from 2009 to 2012.
With the move to the bullpen, Hunter has cut loose his four-seam fastball, airing it out with an average speed of 96 mph, up from 92 mph over most of the last two seasons (the increased velocity began with a move to the bullpen late in 2012).
He's also increased how often he uses it, cutting back on the cutter that was his primary No. 2 pitch.
The velocity change has turned the pitch into a nasty one. The chart on the right notes the success he's had compared to his struggles from the past.
Tough to square up
One of our video-tracking services charts every at-bat, classifying batted balls as "hard," "medium" or "soft" based on a number of parameters.
Of the balls that have been hit against Hunter this season, only 16 percent have been classified as "hard-hit." That's nearly half of his rate of 30 percent from 2010 to 2012.
Hunter was extremely prone to the home run before this season. In 2012, he yielded 32 homers in 133 2/3 innings. He's given up seven in 68 1/3 innings this season, but only one in his past 29 innings pitched.
Great Eight
Buck Showalter often gives Hunter eighth-inning responsibilities. On Friday, Hunter got through the eighth, retiring
Jed Lowrie
and
Josh Donaldson
to preserve a two-run lead.
Hunter has pitched in the eighth inning 32 times this season and has held oppponents to a .177 batting average and one extra-base hit in 79 at-bats.
Those are numbers that justify his nickname, "Big Game."
July, 30, 2011
7/30/11
7:09
PM ET

Uehara
With the acquisition of reliever
Koji Uehara
from the Orioles Saturday afternoon, the Rangers are the latest team to wheel and deal before the trade deadline.
The Rangers had to give up a lot (
Tommy Hunter
and
Chris Davis
) to land Uehara, but the deal should definitely help them improve a floundering bullpen.
Entering Saturday, the Rangers' relief corps was in the bottom five among American League teams in ERA, opponents' batting average, save percentage and strikeouts per nine IP.
At the minimum, Uehara should help the strikeout numbers.
He is averaging 11.9 strikeouts per nine innings pitched (fifth-best among AL relievers), and his 62 strikeouts are second-most among AL relievers.
Uehara also doesn't walk many hitters. His 7.75 K/BB rate this season is best among AL relievers (
Mariano Rivera
is second at 7.20).
In his career as a reliever (past two seasons), he's struck out 117 hitters and walked 13 in 91 innings. Last season after July 31, Uehara struck out 38 hitters and walked none in 27 2/3 innings.
Uehara is also very hot as of late. He hasn't surrendered a run in his last 13 games (15 IP). During that stretch, he has yielded only five hits while striking out 23 hitters and walking two.
In other early Saturday trades:
• The Tigers acquired starter
Doug Fister
and reliever
David Pauley
from the Mariners in exchange for outfielder
Casper Wells
, infielder Francisco Martinez, left-hander
Charlie Furbush
and a player to be named later.
• The Nationals made two deals, trading utilityman
Jerry
Hairston Jr.
to the Brewers for prospect Erik Komatsu and dealing starter
Jason Marquis
to the Diamondbacks for infielder Zach Walters.
October, 19, 2010
10/19/10
2:56
PM ET


A quick preview of Game 4 of the American League Championship Series between the Texas Rangers and New York Yankees.
The
New York Yankees
are down two-games-to-one and send
A.J. Burnett
to the hill for Game 4. Burnett's 15 losses are tied for the second-most by a pitcher who started a postseason game for the Yankees. Jim "Catfish" Hunter started in the 1976 postseason after losing 15 games, and "Bullet" Joe Bush started a game in 1923 after losing 16 games, including one earlier in the postseason.
From the Elias Sports Bureau:
Burnett finished the season with a 5.26 ERA. That would be the third-highest ERA for a Yankees pitcher who started a postseason game.
Denny Neagle
made three postseason starts in 2000, a year in which he had a 5.81 ERA for the Yankees. He went 0-2 with a no-decision in those postseason starts, with the Yankees winning the last of the three (Game 4 of the World Series against the Mets). Bump Hadley had a 5.31 ERA for the Yankees in 1937. He made one start for them in the World Series that season and lost, allowing five runs in 1⅓ innings.
However, Burnett is 3-1 with a 2.68 ERA vs the Rangers in six starts with the Yankees, not having allowed more than three runs in any game. Additionally, only one current Ranger has a career batting average higher than .294: catcher
Matt Treanor
, who is 1-for-1.
The Rangers counter with
Tommy Hunter
, who lost his postseason debut in the NLDS against the Rays, allowing three runs (two earned) on six hits in four innings. That was Hunter's first loss at home this season!
In his short career, Hunter is 0-1 in two starts against the Yankees, allowing seven earned runs on 14 hits in 9⅓ innings.
The nine Yankee hitters who are starting Game 4 are a combined 12-for-33 (.387) with two doubles and a home run, but Hunter has never pitched in New York, at old or new Yankee Stadium.
Veteran umpire Angel Hernandez is behind the plate tonight, and Hunter has never pitched with Hernandez umping the plate. But Burnett has made seven career starts with Hernandez calling balls and strikes, and has a 5.08 ERA and an opponents' batting average of .307.
October, 15, 2010
10/15/10
3:00
PM ET
By
Mark Simon & John Fisher
| ESPN.com
HOW DO WE KNOW DEREK JETER WILL HAVE A GOOD ALCS?
1. He's comfortable against all four of the starting pitchers in this series

Jeter
Derek Jeter
has a .432 batting average and 1.081 OPS against
Cliff Lee
, combining both regular season and postseason. There are 62 hitters who have faced Cliff Lee at least 25 times in their careers. None has a better batting average than Jeter.
Jeter homered in his first career at-bat against
C.J. Wilson
in 2005, and is 5-for-14 with three walks against him. Sometimes he gets a little lucky – two of his three hits against Wilson this season have been of the infield variety.
It's been a long time since Jeter saw
Colby Lewis
, but he's 3-for-5 against the Rangers righty, homering twice against him in their last meeting – in 2003.
Jeter also went 2-for-3 in his career against
Tommy Hunter
.
2. He's looking better at the plate

Jeter had hits in all three games of the ALDS, going 2-for-4 in the third game of the sweep after a pair of 1-for-5s. Perhaps of greater significance, he's getting better swings. He hit five line drives in his 14 plate appearances, a small-sample rate more commensurate with an effective Jeter, rather than the one who had issues throughout 2010.
3. History says he's due for some hits
Jeter is a .313 career hitter in postseason play, but his LCS numbers (.262 batting average) don't quite match that level of performance. It's been awhile since Jeter last had a good LCS. In his last four, he's hit .118 (2001 vs Mariners), .233 (2003 vs Red Sox), .200 (2004 vs Red Sox) and .259 (2009 vs Rangers). So he's due to match the likes of 10 years ago, when he hit .318 with two home runs and five RBI in a win over the Mariners.
HOW DO WE KNOW THE GIANTS OFFENSE WILL STRUGGLE?
1. They had the worst offense of the eight playoff teams during the regular season
They were the only team to make the postseason scoring less than 700 runs, ranked in the middle of the pack in batting average and in the bottom half of the league in walks and OBP. Despite such trouble getting on base, the Giants managed to ground into 158 double plays, with 3B
Pablo Sandoval
leading the NL with 26. That's the most double plays grounded into by a National League team since 1958, when the Cardinals grounded into 166.
This explains why the Giants ranked ninth in the National League in runs scored during the regular season. Keep in mind, only two teams since 1974 have won the National League pennant with a ranking that low.
2. Their offensive struggles continued in the NLDS
The Giants grounded into six more double plays in the NLDS after finishing one behind the
Minnesota Twins
for the major league lead during the regular season. And after finishing last in the National League in BA with RISP (.248) during the regular season, they hit just .185 (5-for-27) in that situation against the Braves in the NLDS.
3. The Phillies pitchers are pretty good

Everyone knows by now that the Phillies have a star-studded rotation, and their entire staff allowed only 11 hits in three games in the NLDS. During the regular season their pitching staff was fifth in the National League by inducing 132 groundball double plays – even though they were next to last in GIDP opportunities! In fact, three of their pitchers ranked in the top 14 of the league in that category. How did they do that? Their pitching staff was third in the majors this season in groundball percentage.
September, 23, 2010
9/23/10
3:25
PM ET
Today's Trivia:
If
David Price
wins, he will join
Jon Lester
and
CC Sabathia
with 18 wins. All lefties, all in the AL East. The last time three AL East left-handers won 18 games was 1979. Can you name the three lefties?
Quick Hits:
Just 10 days after their epic matchup, Sabathia and Price are at it again. Both pitchers went eight scoreless innings in the first one, so what are some fun things to look for this time around?

" Sabathia is 11-1 at home this season. He could become the first
New York Yankees
pitcher to finish 12-1 at home since Ron Guidry in 1978. The last AL pitcher to go 12-1 at home was
Curt Schilling
for the 2004
Boston Red Sox
.
• Sabathia is 19-1 when receiving at least three runs of support.
• Sabathia tied for the AL lead with 19 wins last season, and is on his way to a solo title in 2010. The last Yankee to lead the league in wins in back-to-back seasons? Sorry, it's never happened before!
• A win would give Sabathia 40 over the past two years. The last Yankees pitcher with 40 wins over two seasons was Tommy John, who won 43 in 1979 and 1980.

" Price has faced 183 left-handed hitters this season without allowing a home run. That's the most for an AL pitcher since
Kevin Brown
faced 184 for the 2005 Yankees. Before that, you have to go back to
Scott Schoeneweis
(217 in 2001).
• Price is 8-2 with a 2.16 ERA against AL East opponents this season. Those numbers are unprecedented in the wild-card era. The last pitcher with eight wins and an ERA below 2.20 against the AL East?
Kansas City Royals
pitcher
Kevin Appier
, who was 11-2 with a 1.60 ERA against the AL East in 1992. Oddly, he was just 4-5 with a 3.74 ERA against his own division.
• Only
Fausto Carmona
(1.52) has a lower ERA than Price (1.55). But more amazing is the fact that Price is holding opposing hitters to a .133 batting average this month. The last AL starter to do that in September was
Ken Hill
in 1997, when he held opponents to a .126 average.
Today's Leaderboard:
Bad news for leadoff hitters. Hitters in the one-spot are batting .160 against Sabathia and .174 against Price, who rank second and fifth, respectively, in that category.
Key Matchups:
Carlos Pena
is 0-for-6 with 5 K's against Sabathia this season. In fact, he's fanned 19 times in 35 at-bats against the big lefty, so it's no surprise that he's not expected to be in the lineup Thursday. His likely replacement is
Dan Johnson
, who is 5-for-9 against Sabathia in his career, though the two haven't faced each other since 2007.
Derek Jeter
entered this season with just one hit in 10 career AB against Price, but is 4-for-10 this year. Other Yankees haven't had the same success in changing their luck.
Jorge Posada
is now 1-for-15 lifetime, though that one hit did come this year.
Curtis Granderson
is 1-for-8 with 5 K's this season, and is now a .154 career hitter against Price.
Trivia Answer:
In 1979, Mike Flanagan went 23-9 on his way to the Cy Young. The other two AL East southpaws were both Yankees: Tommy John (21-9) and Ron Guidry (18-8).
September, 1, 2010
9/01/10
6:30
AM ET
Chicago Cubs
Tom Gorzelanny
: In August, he threw 68.0 pct of his fastballs for strikes, which is well above his average of 63.0 pct in the 1st 4 months of the season.
Chicago White Sox
Juan Pierre
: In August Pierre set the table for the White Sox. He hit .354 (45-127), which is well above his .284 season batting average. His OBP was .397 compared to his season OBP of .352. Prior to his 45 hits in August, Pierre's previous high for hits in a month this season was 32 in May.
Los Angeles Angels
Trevor Bell
: Look for Bell to rely less on his slider and throw more changeups in his start against the
Seattle Mariners
. Mariners hitters have hit .205 (99-484) against changeups compared to the league average of .247. Seattle's offense has done better against the slider, batting .254 (159-626) compared to the league average of .221.
Los Angeles Dodgers
Andre Ethier
: Hitting .188 (12-64) and slugging .359 (21.3 AB/HR) against non-fastballs since the All-Star break. For comparison, Ethier hit .333 (37-111) and slugged .640 (12.5 AB/HR) prior to All-Star break.
New York Mets
Mike Pelfrey
: .190 opp BA (4-21) vs curveball this season, 23 points better than the league average (.213). The Braves enter Wednesday hitting .238 against curveballs.
New York Yankees
A.J. Burnett
: His fastball has been lit up this season plus it hasn't been very accurate. Take a look at how Burnett's effectiveness with the fastball compares to the rest of the league.
Texas Rangers
Tommy Hunter
: Opponents hit .325 (25-77) off Hunter's fastball in August after hitting .244 (47-193) in June and July.
August, 17, 2010
8/17/10
11:40
PM ET
By
Stats & Info
| ESPN.com
• The Detroit Tigers'
Austin Jackson
hit a leadoff home run on the first pitch that
CC Sabathia
threw. It was the seventh leadoff HR allowed by Sabathia in his career and the first since 2007. However, it's the first time Sabathia has allowed a HR on the first pitch of the game.
• Sabathia (7 IP, 2 ER) extends his streak of pitching more than six innings and allowing three earned runs or fewer to 15 starts, the longest streak by a Yankee since Ron Guidry (also 15) in 1978.
•
From the Elias Sports Bureau:
Sabathia is now undefeated in his last 19 home starts. That's tied for the second-longest streak without a loss at home by a Yankees starter in franchise history.
• The
Minnesota Twins
'
Jim Thome
hit a walk-off HR in the 10th inning to give the Twins a 7-6 win. It was his 12th career walk-off, which is tied for the most in major league history. The other players with a dozen walk-offs: Jimmie Foxx, Mickey Mantle, Stan Musial, Frank Robinson and Babe Ruth.
• The
Tampa Bay Rays
roughed up
Texas Rangers
starting pitcher
Tommy Hunter
early on Tuesday. In the 1st inning, the Rays scored three runs on three extra-base hits and drew two walks. In his previous 13 starts, Hunter had allowed just one run and three extra-base hits, holding opponents to a .156 batting average. Tuesday was also the third time in his last four starts that Hunter lasted just three innings.
• The
Los Angeles Angels
of Anaheim's
Torii Hunter
robbed the Boston Red Sox's
Adrian Beltre
of a home run in right field in the 2nd inning. According to Baseball Info Solutions, Hunter led the majors with five home run robberies from 2007 to 2009. This was his first of 2010.
•
Ryan Kalish
is the second
Boston Red Sox
rookie to hit a grand slam this season (
Daniel Nava
being the other). Boston is the first team since the 2008 Texas Rangers (
Taylor Teagarden
,
David Murphy
) with two rookies to hit a grand slam. The last time the Red Sox had two rookies hit a grand slam in the same season was 1992:
John Valentin
and Bob Zupcic.
•
Paul Konerko
hit his 30th home run, his sixth 30-HR season of his career (all with the
Chicago White Sox
). Only
Frank Thomas
(8) has more 30-HR seasons in franchise history.
•
Jose Guillen
hit his first home run as a member of the
San Francisco Giants
. Guillen now has hit a home run with 10 different teams (Pirates, Devil Rays, Diamondbacks, Reds, Athletics, Angels, Nationals, Mariners, Royals and Giants). Among active players, only the San Diego Padres'
Matt Stairs
has hit a HR with more different teams (11).
• The
San Diego Padres
blanked the
Chicago Cubs
, 1-0. It's their fifth 1-0 win of the season, matching the Dodgers for the most this season. As for the Cubs, they lose a 1-0 game for the first time since June 16, 2007 … against the Padres.
August, 17, 2010
8/17/10
2:55
PM ET
By
Stats & Information
| ESPN.com
FROM THE ELIAS SPORTS BUREAU:
The
Boston Red Sox
's
Dustin Pedroia
, who turns 27 Tuesday, is expected to be activated from the disabled list and play for the first time since June 25. On that date, Boston was three games back of the Yankees and tied with the Rays for the wild-card lead. Since then, Boston is 23-21 while Tampa Bay has the best record in baseball at 29-16. The Sox were averaging 5.5 runs per game before Pedroia was injured. Without him in the lineup, they have been averaging 4.5 runs.
Today's Trivia:
In a matchup of the National League Wild-Card leaders, the
Philadelphia Phillies
host the
San Francisco Giants
in a three-game series. The Phillies are one of the seven teams that have never been the NL Wild Card representative. Can you name the other six?
TUESDAY'S KEY MATCHUPS:
•
Tigers at Yankees:
Only one batter has struck out more against
Justin Verlander
than the Yankees' Nick Swisher - who has whiffed 14 times. The only player to fan more against Verlander is teammate
Jhonny Peralta
, who has 20 strikeouts.
•
Giants at Phillies:
Raul Ibanez
knows how to end a hit streak in style, or lack thereof. Since the last game of his 18-game hit streak, Ibanez is 0-18 with four strikeouts. And it's not likely to get better tonight against
Barry Zito
. Ibanez has an OPS of .486 against Zito in 47 at-bats. That's Ibanez's worst against any pitcher he's faced at least 40 times.
•
Angels at Red Sox, White Sox at Twins:
Good luck to the right-handed batters in the Angels and Twins lineups. The American League's two toughest pitchers against right-handed hitters – Boston's
Clay Buchholz
and Chicago's
John Danks
-- toe the rubber. Buchholz is allowing a .523 OPS to righties and Danks is close behind with a .529.
•
Rangers at Rays:
Since throwing a no-hitter on July 26, the Rays
Matt Garza
is winless in three starts (0-2, 3.05 ERA).
•
Blue Jays at Athletics:
Toronto's
Brandon Morrow
makes his first start since coming within one out of a no-hitter on Saturday against the Rays. As for the A's, they have been no-hit through at least six innings in each of their last two games.
MORE FROM THE ELIAS SPORTS BUREAU:
•
Ichiro Suzuki
has hits against 629 different major league pitchers, but the one he enjoys seeing most is
Kevin Millwood
, who is scheduled to start for Baltimore on Tuesday. Ichiro has 30 hits off Millwood, the most against any pitcher he's faced. The only active player who Millwood has surrendered more hits to than Suzuki is
Vladimir Guerrero
(33).
• Arizona's
Daniel Hudson
(starting Tuesday against the Reds) will try to win his fourth straight start since joining the Diamondbacks. With a victory, Hudson would join Philadelphia's
Roy Halladay
as the only pitchers this season to get a victory in each of their first four starts with a new team.
• The Mets'
Johan Santana
brings a 16⅓-inning scoreless streak to the mound tonight against the Astros. Santana has won each of his last two starts, going at least seven innings in each game without allowing a run. No Mets pitcher has ever had three consecutive starts like that. Santana has made seven starts this season with no runs allowed in seven innings or more, tying Halladay for the league lead. The last Mets pitcher with more scoreless starts of seven or more innings in one season was Dwight Gooden, who had 11 in 1985.
• With a win tonight at Tampa Bay, the Rangers'
Tommy Hunter
will join
Ubaldo Jimenez
and
Phil Hughes
as the third pitcher this season to win 10 of his first 11 decisions.
Trivia Answer:
The six teams other than the Phillies that have never been the NL Wild Card representative are: Braves, Reds, Padres, Diamondbacks, Nationals and Pirates.
August, 5, 2010
8/05/10
2:19
PM ET
• The White Sox
Juan Pierre
stole his 500th career base on Thursday against the Tigers. He's the 37th player in MLB history to reach the milestone.
Pierre has the most stolen bases among active players, 100 more than the next closest player, Tampa Bay's
Carl Crawford
.
Notes on some of Thursday's starting pitchers:
• The Angels
Dan Haren
is winless in his last nine starts (0-6), the longest start streak he's gone in his career without a win. His last win was June 12 against the Cardinals. Camden Yards might be the best place for Haren to end his drought. He's 3-0 with a 1.67 ERA in four starts at Baltimore.
•
Texas Rangers
starter
Tommy Hunter
will pitch tonight in Seattle for the first time this season following a loss (8-1). He's allowed nine home runs in 11 starts, but eight of them have come in his last five outings. And while he's been perfect at home (6-0, 2.53 ERA), Hunter's road ERA is 5.21.
• Hunter will face off against the Mariners
Felix Hernandez
. Seattle's ace has a 2.90 ERA, but he's winless in his last four starts (0-3), thanks in large part to a lack of run support. In his last four starts, the Mariners have scored a total of five runs. Hernandez's run support this season is 3.30, which ranks fifth in the American League, among pitchers who have made at least 15 starts. Oddly enough, the top two in the A.L. are Hernandez's teammates:
Ryan Rowland-Smith
is first (2.95 run support) and
Jason Vargas
is second (3.00).
•
Tim Lincecum
has yet to allow more than one home run in any of his 22 starts this season. In fact, you have to go back to July 20, 2008 (a span of 68 starts) to find the last time Lincecum gave up two home runs in a start.
• The Braves'
Jair Jurrjens
is scheduled to start tonight at home against the Giants. He has a 1.71 ERA at home (3-0), and a 7.63 ERA on the road (0-4).
• After allowing three home runs on May 31 to the Diamondbacks,
Chad Billingsley
has gone nine straight starts without allowing an opposing hitter to go deep.