Stats & Info:

Torii Hunter
October, 17, 2013
Oct 17
12:54
AM ET
By
ESPN Stats & Information
| ESPN.com
The
Detroit Tigers
evened the ALCS with the
Boston Red Sox
with an offensive outburst previously unseen in this series.
It was a game in which the pitcher with a really good breaking ball pitched very well and one in which the pitcher with an uncontrollable breaking ball got hit hard.
The lineup changes work out fine
Tigers manager Jim Leyland juggled his lineup, putting
Torii Hunter
in the leadoff spot,
Miguel Cabrera
second, and
Austin Jackson
eighth.
Each of the three had two RBIs in the win.
Hunter had an RBI as a leadoff hitter for the first time since the 1999 season. It was the first time in his career that he had multiple RBIs when hitting leadoff.
Cabrera broke a tie with Hank Greenberg for sole possession of the Tigers' postseason RBIs lead (he has 24, two more than Greenberg).
He also had his first stolen base since July 7. It was only the third time in his career that he batted in the No. 2 spot, the first time since June 2004.
Jackson was 2-for-2 with two walks. He was 3-for-33 with two walks in his first eight games this postseason.
This was the fourth time in Tigers history that they had at least three players with multiple RBI in the same postseason game. They previously did so in the 1940 World Series against the Reds, the 1968 World Series against the Cardinals and the 2006 ALDS against the Yankees.
Fister solid again
Tigers starter
Doug Fister
allowed one run in six innings to earn the win.
This was a game in which Fister had his good 12-to-6 curveball working and that proved to be a difference-maker.
Fister threw 27 pitches with two strikes, 16 of which were curveballs. It was the most often he's thrown a two-strike curve in any start in his career.
The Red Sox went 1-for-8 against his hook in those situations, with four strikeouts.
Fister's effort lowered his postseason ERA to 2.06 in seven career starts.
Peavy's ugly outing
Jake Peavy
became the first pitcher in Red Sox postseason history to allow seven runs in three or fewer innings of work.
Peavy had all sorts of trouble throwing strikes. His 54 percent strike rate was his third-worst in any game of his career, his worst since a 33-pitch start while pitching on an injured ankle against the Phillies in 2009.
Peavy's breaking ball was what did him in. He threw only 10 of 25 curves and sliders for strikes. The Tigers got three hits against his slider, including Hunter's two-run double.
Peavy has a 10.31 career postseason ERA in four appearances, all starts.
The Elias Sports Bureau notes that is the highest postseason ERA for a pitcher in his first four appearances (with all of those appearances being starts).
The previous high was 8.15 by Charlie Root, who is best known as the pitcher against whom Babe Ruth hit his "called shot" home run in the 1932 World Series.
December, 13, 2012
12/13/12
5:21
PM ET
By
ESPN Stats & Information
| ESPN.com
Ezra Shaw/Getty ImagesJosh Hamilton has much to look forward to in the next five seasons.
The
Los Angeles Angels
of Anaheim have been good for surprise movement in the free-agent market over the last two seasons. This year, they splurged on
Josh Hamilton
, agreeing to terms with him on a lengthy, pricey contract today.
Let's take a closer look at this move from a number of different perspectives.
The contract
A five-year, $125 million contract would be the third-largest multi-year free agent contract in terms of average annual value, trailing the two free-agent deals signed by
Alex Rodriguez
(for an average of $25.2 million and $27.5 million respectively) with the
Texas Rangers
and
New York Yankees
.
It is the second-largest free-agent contract for an Angels player in terms of total value, trailing only the 10-year, $240 million deal signed by
Albert Pujols
last season.
Hamilton's value
Over the last three seasons, Hamilton has totaled 15.3 Wins Above Replacement, the fourth-most for an outfielder, trailing
Ryan Braun
(20.0), Jose Bautista (17.5) and
Andrew McCutchen
(15.9).
Hamilton ranks fourth among all players in that span with a .952 OPS and 322 RBI (tied for fourth). He is one of six players with 100 home runs in the last three seasons.
Hamilton's value in that span has been more and more related to his offense than to his all-around game. His advanced defensive metrics have plunged a bit.
In 2010 and 2011, he was credited with a combined 13 Defensive Runs Saved (a stat that measures an outfielder's ability to turn batted balls into outs and the deterrent value of his throwing arm).
But in 2012, that dropped to -9 Defensive Runs Saved, almost all of which was accumulated in the final two months of the season.
Hamilton did not finish strong offensively either, or at least not with the sort of dominant production that he'd previously had.
After hitting .368 with 21 home runs, and a 1.184 OPS in April and May, Hamilton hit .245 with 22 home runs and an .809 OPS from June to October.
As a result of both his offensive and defensive decline, Hamilton's 2012 WAR was 3.4. That ranked tied for 52nd in the majors and ranked just outside the top-20 among outfielders with
Yoenis Cespedes
and
Adam Jones
.
He actually rated two wins worse than the player he'll be replacing in right field,
Torii Hunter
, who signed with the
Detroit Tigers
this offseason.
Why the Angels needed Hamilton
The 2012 Angels had Albert Pujols,
Mike Trout
and Torii Hunter in their everyday lineup, but they didn't have much of a left-handed presence in their lineup last season as most other teams, ranking last in the AL in total at-bats and homeruns by left-handed batters.
Will Hamilton prosper in Anaheim? He is moving from Rangers Ballpark that had a Park Factor of 117 for home runs last year according to espn.com (seventh-most hitter-friendly in the majors), which means that 17 percent more HRs were hit there than at the average stadium, to Angel Stadium that had a park factor for homers of 76 last year (fifth-most pitcher-friendly in MLB), which means that 24 percent fewer homers were hit there than at the average stadium.
Looking ahead to Opening Day
Coincidentally, Hamilton will return to face his two previous teams in the Angels first two series of the season.
The Angels open the 2013 season with three games in Cincinnati (Josh Hamilton's team in 2007) against the Reds, then head to a three-game set to face the Rangers in Texas.
November, 17, 2012
11/17/12
9:37
PM ET
By
ESPN Stats & Information
| ESPN.com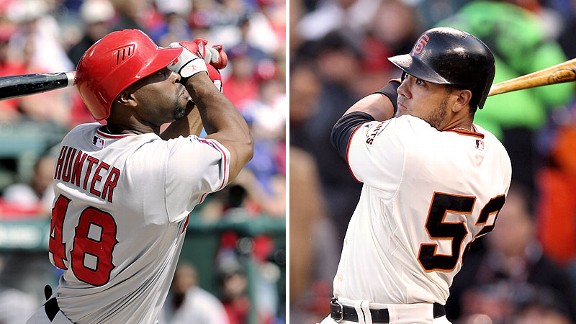 Getty ImagesTorii Hunter and Melky Cabrera are headed to new teams in 2013.
Throughout the offseason, we'll feature regular in-depth reviews of MLB moves. Our first look focuses on a pair of outfielders who share the common bond of trying to duplicate a season that was unusually good in one respect
Tigers sign Torii Hunter
The Tigers will be very excited to have
Torii Hunter
in their lineup next season, as he fills two very specific needs.
Hunter's late surge with the
Los Angeles Angels
pushed his OPS to .817 by season's end.
Last season, Tigers rightfielders combined to compile a .641 OPS, lowest of any team in the majors and 58 points lower than any other AL team.
Hunter will also make a huge impact for the Tigers on defense. Tigers rightfielders cost the team 17 runs in the field last season, the second-worst total in the MLB.
Hunter finished third among major league rightfielders with 15 Defensive Runs Saved last season.
Hunter produced a career-high 5.5 Wins Above Replacement last season in his age 36 season, as he finished with a .313/.365/.451 batting average/on-base-percentage/slugging percentage slashline. It was the first time in his career he batted over .300 in a season.
However, this acquisition comes with a few caveats.
* Hunter struck out at a career-high rate last year (23 percent of his plate appearances).
* After walking at an above-average rate for three straight seasons, Hunter drew walks at his lowest rate in five years with the Angels (seven percent of plate appearances).
* Hunter also posted his lowest Isolated Power (extra bases per at-bat) since 2000 (.139).
Hunter finished 2012 with an AL-best .389 batting average on balls in play, including .449 over his last 63 games.
Hunter does not typically post this sort of BABIP. His career BABIP entering last season was .307. His previous career high BABIP for a single season was .336 in just 99 games in 2000.
Next season, if Hunter were to maintain last season's strikeout, walk and home run rates while reverting to his previous career .307 BABIP, in the same number of plate appearances, he'd have 34 fewer hits, resulting in a .249 batting average.
--Will Cohen & Katie Sharp
Blue Jays sign Melky Cabrera
What is a stat to keep an eye on for
Melky Cabrera
from a pitch-performance perspective as he transitions to the
Toronto Blue Jays
in 2013?
The number that differed most significantly for Cabrera in 2012 from his past performance was how he fared when a left-handed pitcher threw him a pitch to the lower-half of the strike zone or below.
Last season with the Giants, Cabrera saw 335 pitches to that area from lefties. He turned those into 42 hits but made only 48 outs, and missed on only 10 percent of his swings.
Of those 42 hits, eight were home runs. Only three players had more home runs against lower-half pitches from lefties last season-
Ryan Braun
(12),
Mark Trumbo
(10), and
Edwin Encarnacion
(9).
This is part of a two-year run for Cabrera in which he transformed himself into an elite low-ball hitter, as noted in the chart above. Had Cabrera hit like he had hit against lower-half pitches from
all
pitchers in 2009 and 2010, he'd have batted .283, instead of .346.
--Mark Simon
October, 10, 2012
10/10/12
1:18
AM ET
By
ESPN Stats & Information
| ESPN.com
AP Photo/Marcio Jose SanchezBrett Anderson was dominant for
the Athletics in a must-win game

Brett Anderson
didn't show any jitters in his postseason debut, allowing just two hits in six scoreless innings.
It is just the fourth time that an
Oakland Athletics
pitcher has put up a pitching line at least that good in postseason history and the first since Vida Blue threw a two-hit shutout against the Orioles in Game 3 of the 1974 ALCS.
Anderson Staying Grounded
Anderson got it done by keeping the ball on the ground. Of the 18 outs he recorded, 11 came on the ground and six were strikeouts.
The Tigers were kept off balance by Anderson's breaking ball which ranged in velocity from 75 MPH to 86 MPH. All six of his strikeouts came with his faster breaking ball, all thrown between 83 and 84 MPH. Seventy-four percent of Anderson's breaking pitches were down in the zone or below it, the second-highest percentage of his career.
Crisp Steals Another Homer
The lone fly ball out Anderson got was dramatic as
Coco Crisp
robbed
Prince Fielder
of a would-be home run.
According to Baseball Info Solutions, Fielder has been robbed of a homer three times in 2012, more than any other player.
In addition to Crisp's robbery Tuesday, he has seven regular-season HR robberies since 2004. Only three players have more regular-season HR robberies than him in that span (
Torii Hunter
12,
Jason Bay
9,
Ichiro Suzuki
8).
Shutout Notes
For the Athletics, the shutout was the 11th in their postseason history and the first since Game 2 of the 2001 ALDS against the Yankees.
It is the first time they've allowed four hits or fewer in a postseason shutout since the 1981 ALDS against the Royals.
According to Elias, it was the eighth time a team used four or more pitchers in a nine-inning shutout while allowing no more than four hits in a postseason game. The last time came in Game 1 of the 2008 ALCS when the Red Sox blanked the
Tampa Bay Rays
behind
Daisuke Matsuzaka
,
Hideki Okajima
,
Justin Masterson
and
Jonathan Papelbon
.
April, 25, 2012
4/25/12
12:29
PM ET
By
William Cohen, ESPN Stats & Info
| ESPN.com
AP Photo/Steve NesiusJeremy Hellickson has gone away from his change and curveball this season to a new cutter, throwing it for a strike rate of 71.4 percent.
The
Tampa Bay Rays
play host to the
Los Angeles Angels
of Anaheim in the middle game of a three-game set tonight (ESPN2, 7 ET). The two teams are moving in opposite directions – the Rays have won five of six, while the Angels have lost five of seven.
What's Wrong with the Angels?
The Angels have stumbled out of the gate, falling to 6-11 to start the season after their 5-0 loss Tuesday night. The Angels are in last place in the AL West, already 7.5 games behind the division-leading
Texas Rangers
. So what's not working for LA?
• Scored 3.9 runs per game, 10th in the AL.
• Drawn a walk about once every 15 plate appearances, the 12th ranked walk rate in the AL in front of only the
Seattle Mariners
and
Baltimore Orioles
.
• Correspondingly, the Angels have a team .304 on-base percentage, 11th in the AL.
• Have hit an AL-low 11 home runs so far this year.
What's Wrong with Albert Pujols?
Pujols has stumbled out of the gate in his first season with the Angels. After going 0-for-4 Tuesday night, he is homerless in his last 23 regular-season games dating back to last season, the second longest streak in his career (went 26 straight homerless games in 2011).
Pujols is also in danger of going hitless in five straight games. He's done that just once before in his career – September of his 2001 rookie season!
Last season, Pujols batted .301 in at-bats ending with a curveball or slider, a mark that ranked 10th-best in the majors. He chased only 23 percent of those pitches out of the zone – better than the league average of 31 percent.
This season, Pujols has batted only .091 in at-bats ending with curves and sliders. He already has seven strikeouts on those pitches and he's chased a whopping 58 percent of curves and sliders out of the zone.
Pitching Matchup
C.J. Wilson
is 4-0 with a 2.25 ERA in 40 career innings pitched against the Rays. Current Tampa Bay players have hit just .139 in their careers against Wilson with just three extra base hits. And four current Rays regulars are hitless in their careers against Wilson.
•
B.J. Upton
: 0-for-17, 8 K
•
Desmond Jennings
: 0-for-10, 3 K
•
Jose Molina
: 0-for-10, 3 K
•
Carlos Pena
: 0-for-8, 1 K
Jeremy Hellickson
has seen his strikeout rate drop progressively in each season of his career so far (8.2 in 2010; 5.6 in 2011; 4.2 so far this season).
Last year in his only start against the Angels, he took the loss but struck out a season-high 10 batters in 5⅔ innings, including three strikeouts each of
Torii Hunter
and
Vernon Wells
.
Before this season, Hellickson's two most effective out pitches were his curveball and changeup. He got to the most swings and misses on these pitches and hitters chased over 40 percent of his changeups out of the zone.
However, so far this season, Hellickson has curtailed the use of his two most effective pitches in favor of a new cutter.
He's thrown the cutter for a strike at a high rate, but he's also allowed a .953 OPS on at-bats ending with the pitch, the worst results of any of his pitches this season.
Stat of the Game
Evan Longoria
has continued on a tear he began starting last September. Since then, Longoria is batting .309 with a .451 on-base percentage, ranking him third in the majors over that span, trailing only
Miguel Cabrera
(.470) and
Matt Kemp
(.456). In addition, his 1.036 OPS is fourth highest in the AL since last September.
July, 25, 2011
7/25/11
11:10
AM ET
While most of the trade market discussion for outfielders has centered around
Carlos Beltran
and
Hunter Pence
,
B.J. Upton
's name has joined the conversation.
The tone of the discussion indicates that Upton is considerably less desirable than either Beltran or Pence, but perhaps that's misleading. When you peel away the fact that he's underachieved relative to expectations, Upton has been a very valuable player over the last few years (see graph).
Since the start of the 2007 season, Upton has been almost as valuable as Pence and Beltran when you consider both offense and defense, something that Wins Above Replacement does very well.
As teams search for impact bats, the highest profile player available is, perhaps, Beltran. After battling knee injuries the previous two years, the free-agent-to-be finally is healthy and back to producing at a high level. According to Buster Olney, Beltran's primary suitors are the
Atlanta Braves
,
Philadelphia Phillies
,
San Francisco Giants
,
Texas Rangers
and
Boston Red Sox
.
So, which of these teams need Beltran the most?
The team that makes the most sense on paper -- both offensively and defensively -- is San Francisco. It's no secret that the Giants are starved for offense:
• 3.6 runs per game, which ranks 26th in MLB.
• Scored four or more runs in only 43 of 102 games, the second fewest just ahead of the
Seattle Mariners
.
• 37-6 when scoring at least four runs. Only one team has a higher winning percentage when scoring four or more runs (Phillies, 44-5).
Besides the boost Beltran would provide offensively -- his .910 OPS would be tops on the Giants -- his skills in right field would strengthen the team's defense. Beltran has saved nine runs this season in right field, the third most in the majors among right fielders. Giants right fielders have cost the team 10 runs this season, which is last in the majors.
What's more, Beltran has a history of excelling in the postseason. No player in MLB history with at least 75 postseason plate appearances has a higher OPS in the postseason than Beltran's 1.302.
-- Dan Braunstein, Justin Havens and Lee Singer contributed to this post
May, 11, 2011
5/11/11
1:09
PM ET
How the
St. Louis Cardinals
handle two former
Tampa Bay Rays
will be one storyline worth watching as the Cardinals and
Chicago Cubs
play on Wednesday at Wrigley Field (8 ET on ESPN).
Carlos Pena
-- who signed a one-year, $10 million contract in December -- is hitting just .213, but is showing signs of life. In his past six games, he's 8-for-19 (.421) with three home runs. And on Wednesday, he'll face
Jake Westbrook
, a pitcher he's had success against in his career.


Pena is 10-for-32 with five doubles and four home runs against Westbrook, but he's also struck out 10 times.
While Westbrook has struck out Pena once every 3.2 at-bats, he has not had similar strikeout success against the free-swinging
Alfonso Soriano
. Although he's just 3-for-21 (.143) against Westbrook, Soriano has struck out only twice. That means Soriano's batting average on balls in play against Westbrook is just .158 (3-for-19). A typical batting average on balls in play usually is around .295 to .300.
Opposing Westbrook will be
Matt Garza
, who's winless at Wrigley Field this season (0-2 in four starts) despite a 3.25 ERA. Garza has struck out 58 batters in his seven starts this season, and he's allowed only one home run. According to the Elias Sports Bureau, only two other National League pitchers in the past 25 years had at least that many strikeouts while giving up no more than one home run in their first seven starts of a season:
David Cone
in 1992 with the Mets and
Tim Lincecum
in 2009 with the
San Francisco Giants
.
Garza, who came to Chicago in January in trade and is 1-4 overall, has not fared well against No. 4 and 5 hitters in his seven starts. He's allowed 18 hits in 43 at-bats (.419 BA), although the four-five hitters have yet to hit a home run off him.
And it would be somewhat of a surprise if the Cardinals' No. 4 hitter,
Matt Holliday
, took Garza deep. Holliday has three extra-base hits and just one home run -- which came in 2006 -- in 91 at-bats at Wrigley Field.
Lance Berkman
, who hits behind Holliday, will be playing in his 162nd career game against the Cubs -- the equivalent of a full season. He's a .249 hitter against them with 30 HRs, 88 RBIs and 147 strikeouts. However, Berkman does have eight home runs on the road this season, after hitting just four in 57 road games in 2010.
As for
Albert Pujols
, who hits in front of Holliday, he's coming off his first four-hit game of the season on Tuesday. And although he hasn't hit a home run since April 23, Pujols has hit 47 home runs against the Cubs (25 at Wrigley), the most he's hit against any team.
Pujols, however, has had some struggles early this season.
He's accounted for almost 25 percent of the double plays that St. Louis has hit into this season. The Cardinals have hit into a major league-leading 45 double plays, including 11 by Pujols. (Only
Torii Hunter
has hit into more, with 12.)
He's also drawing fewer walks per at-bats (one every 9.8 plate appearances) compared to recent seasons, and is hitting just .238 on outside pitches. In 2009 and 2010, he hit .320 on those pitches.
-- Jon Kramer and Mark Simon contributed to this report.
November, 12, 2010
11/12/10
12:00
PM ET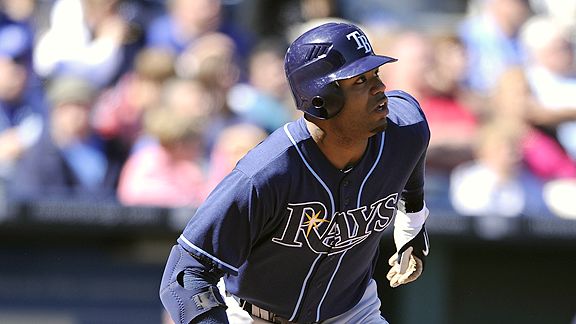 John Williamson/MLB Photos via Getty Images
The skill sets of Carl Crawford make him an ideal fit for the Angels, whose offensive and defensive numbers suffered significantly in 2010
There may be few moves that would make more statistical sense this winter than for
Carl Crawford
to sign with the
Los Angeles Angels
of Anaheim.
News reports indicate that the
Angels will be among the heaviest pursuers
in the Crawford sweepstakes and give them credit for knowing their primary weakness. The departures of
Chone Figgins
and
Vladimir Guerrero
were significantly costly. No team in the majors had a bigger drop in both runs scored (the Angels dropped from 883 runs in 2009 to 681 in 2010) and on-base percentage (.350 to .311) over the last two seasons.
Crawford, a Silver Slugger winner, can fix a lot of the Angels issues in one swoop. He hit .307 in 2010 with a .356 on-base percentage and a .495 slugging percentage. His 13 triples would help a team that had only 19 last season, tied for third-fewest in baseball. Crawford rated behind only
Josh Hamilton
among American Leaguers whose primary position was left field using a metric known as weighted On-Base Average (devised by occasional ESPN.com contributor, Tom Tango, it is scaled similar to on-base percentage, but with a greater weight for doubles, triples and home runs).
In a year in which pitching dominated, Crawford was one of a small group of players whose offensive production increased from 2009 to 2010, with his wOBA increasing from .367 to .378. No Angels regular had a higher wOBA than
Hideki Matsui
's .356 in 2010.
Chances are you're familiar with Crawford's speed. He ranked among the American League leaders with 47 stolen bases and ranked fourth in a Bill James-devised stat, baserunning gain. Crawford scored a +25 in this metric, which measures a hitter's ability to avoid double plays (he hit into two in 2010) and take extra bases as a baserunner without being thrown out (for example, he scored from first on a double 11 times in 19 possible situations, above the MLB average of 40 percent).
The feeling is that the Angels could make Crawford their No. 3 hitter, but they also could hit him leadoff if the need bore out. Much of the Angels offensive struggle in 2010 could be attributed both to injuries (
Kendry Morales
most notably) and the inability of their leadoff man to get on base. The top hitter in the Angels order had an on-base percentage decline from .387 in 2009 to .325 in 2010.
Crawford, coming off his first Gold Glove Award, also fills a significant need defensively. Angels leftfielders ranked tied for third-worst in the Baseball Info Solutions metric Defensive Runs Saved. This stat measures an outfielder's ability to turn batted balls into outs, deter baserunners and rob home runs. Crawford has led all leftfielders in that measurement in each of the last three seasons, finishing tied in 2010 with
Gerardo Parra
.
The other means by which this is a perfect marriage is that a large contractual commitment will not be an issue to Angels owner Arte Moreno. Over the last three seasons, the Angels have signed players to contracts that will pay out $162 million, the fourth-largest potential outlay for any team in free agency in that span. Crawford's deal will likely rival the three largest free agent commitments in Angels history --
Torii Hunter
(five years, $90 million), Mo Vaughn (six years, $80 million) and Vladimir Guerrero (five years, $70 million).
August, 17, 2010
8/17/10
11:40
PM ET
By
Stats & Info
| ESPN.com
• The Detroit Tigers'
Austin Jackson
hit a leadoff home run on the first pitch that
CC Sabathia
threw. It was the seventh leadoff HR allowed by Sabathia in his career and the first since 2007. However, it's the first time Sabathia has allowed a HR on the first pitch of the game.
• Sabathia (7 IP, 2 ER) extends his streak of pitching more than six innings and allowing three earned runs or fewer to 15 starts, the longest streak by a Yankee since Ron Guidry (also 15) in 1978.
•
From the Elias Sports Bureau:
Sabathia is now undefeated in his last 19 home starts. That's tied for the second-longest streak without a loss at home by a Yankees starter in franchise history.
• The
Minnesota Twins
'
Jim Thome
hit a walk-off HR in the 10th inning to give the Twins a 7-6 win. It was his 12th career walk-off, which is tied for the most in major league history. The other players with a dozen walk-offs: Jimmie Foxx, Mickey Mantle, Stan Musial, Frank Robinson and Babe Ruth.
• The
Tampa Bay Rays
roughed up
Texas Rangers
starting pitcher
Tommy Hunter
early on Tuesday. In the 1st inning, the Rays scored three runs on three extra-base hits and drew two walks. In his previous 13 starts, Hunter had allowed just one run and three extra-base hits, holding opponents to a .156 batting average. Tuesday was also the third time in his last four starts that Hunter lasted just three innings.
• The
Los Angeles Angels
of Anaheim's
Torii Hunter
robbed the Boston Red Sox's
Adrian Beltre
of a home run in right field in the 2nd inning. According to Baseball Info Solutions, Hunter led the majors with five home run robberies from 2007 to 2009. This was his first of 2010.
•
Ryan Kalish
is the second
Boston Red Sox
rookie to hit a grand slam this season (
Daniel Nava
being the other). Boston is the first team since the 2008 Texas Rangers (
Taylor Teagarden
,
David Murphy
) with two rookies to hit a grand slam. The last time the Red Sox had two rookies hit a grand slam in the same season was 1992:
John Valentin
and Bob Zupcic.
•
Paul Konerko
hit his 30th home run, his sixth 30-HR season of his career (all with the
Chicago White Sox
). Only
Frank Thomas
(8) has more 30-HR seasons in franchise history.
•
Jose Guillen
hit his first home run as a member of the
San Francisco Giants
. Guillen now has hit a home run with 10 different teams (Pirates, Devil Rays, Diamondbacks, Reds, Athletics, Angels, Nationals, Mariners, Royals and Giants). Among active players, only the San Diego Padres'
Matt Stairs
has hit a HR with more different teams (11).
• The
San Diego Padres
blanked the
Chicago Cubs
, 1-0. It's their fifth 1-0 win of the season, matching the Dodgers for the most this season. As for the Cubs, they lose a 1-0 game for the first time since June 16, 2007 … against the Padres.
July, 7, 2010
7/07/10
1:25
PM ET
By
Jeremy Lundblad, ESPN Stats & Info
| ESPN.com
Quick Hits
:
Alex Rodriguez
smacked his third grand slam of the season on Tuesday. It's the fourth time he's had multiple grand slams in a season, a feat only Jimmie Foxx can match according to the Elias Sports Bureau. With 21 in his career, A-Rod is tied with
Manny Ramirez
for second all-time behind Lou Gehrig (23). Let's take a look at how others have fared with the bases loaded.
According to Elias, the Yankees' nine grand slams before the All-Star break are a record. Three teams had eight slams before the break: the 2000 A's, 2005 Red Sox and 2006 Indians.
Already, those nine grand slams are tied for the second-most in Yankees history.
With 123 RBI with the bases loaded, the Yankees already have more than 16 teams had all of last season. They are on pace for 240. Over the last 35 years, the only team with 200 bases loaded RBI in a season was the 2000 A's with 203.
The Yankees are also hitting .422 with the bases loaded. Over the last 35 years, the highest bases-loaded batting average belonged to the 1976 Phillies (.410), according to STATS LLC.
Mark Reynolds has averaged about one home run per 16 at-bats in his career, but he is homerless in 46 bases-loaded at-bats with 21 strikeouts.
David Ross is just 1-for-3 this season with the bases loaded, but has managed seven RBI. Confused? Ross also has three walks and a hit by pitch with the bases full. In fact, three of his 12 walks this season have been with the bases loaded.
Torii Hunter is a perfect 6-for-6 with the bases full, leading to 14 of his 60 RBI on the season.
Hunter faces Freddy Garcia tonight. He has never allowed a grand slam to the 109 batters that he's faced with the bases loaded, most of any active pitcher.
Half of Francisco Cervelli's 30 RBI have come with the bases loaded.
B.J. Upton is 0-for-10 with the bases loaded this season after hitting .429 last season.
Ivan Rodriguez has grounded into a MLB-most four double plays with the bases loaded.
Today's Trivia
: Among active players, who has the most career home runs without a grand slam?
Today's Leaderboad
: The Rockies are hitting just .200 with the bases loaded this season, and join the Mets, Blue Jays and A's as the only teams without a grand slam. In fact, the Rockies have one more bases-loaded strikeout than the Yankees, despite 42 fewer plate appearances.
Key Matchups
:
Tim Lincecum
and
Ryan Braun
debuted within three weeks of each other in May 2007, and they've faced one another each year since. Braun has owned the matchup between the two phenoms, having hit .462 with a pair of home runs in 13 at-bats. In fact, Braun's seven RBI are the most of anyone against Lincecum, despite the fact that the Giants' ace has faced 49 batters on more occasions.
Torii Hunter hasn't faced Freddy Garcia since 2006, but he sure would like to pick up where he left off. In 2006, Hunter went 7-for-12 with three home runs against Garcia. Overall, he's a .400 hitter with four long balls. Estaban Loaiza (5) is the only pitcher he has taken deep more often.
Trivia Answer
:
Orlando Cabrera
has yet to hit a grand slam in a career that has included 117 home runs. His 168 plate appearances with the bases loaded are also the most for any active player without a grand slam.
May, 3, 2010
5/03/10
7:06
AM ET
By
Kenton Wong, ESPN Stats & Info
| ESPN.com
This week on the TMI Power Poll we look at the top all-around centerfielders.

Dodgers GM Ned Colletti publicly criticized Matt Kemp last week, suggesting that the centerfielder's new contract has him too comfortable and that his baserunning and defense were "below average." There might be something to that as Kemp was caught stealing Sunday for the sixth time this season, which leads the majors.


Those early season baserunning blunders weren't enough to sway our voters from ranking Kemp the game's best centerfielder as the Dodger picked up 7 of 9 first-place votes. Here's the rest of the top 10:

Others receiving votes:
Vernon Wells
,
Michael Bourn
,
Marlon Byrd
,
Nyjer Morgan
,
Adam Jones
, Mike Cameron,
Chris Young
,
Carlos Beltran
,
Nate McLouth
,
Alex Rios
April, 21, 2010
4/21/10
1:43
PM ET
By
Jeremy Lundblad, ESPN Stats & Info
| ESPN.com
Today's Trivia
:
Mark Buehrle
is set to face the Rays for the first time since his perfect game last July. Besides Buehrle, who are the only two pitchers with a World Series title and multiple no-hitters including a perfect game all with the same team?
Quick Hits
: With the late-inning heroics of
Darnell McDonald
and
Nate McLouth
capping a wild Tuesday, let's take a look at some late-inning tidbits from the opening weeks.
*
Eugenio Velez
is 4-5 with 2 HR and 5 RBI in the ninth inning and 4-23 otherwise, according to baseballmusings.com's day by day database.
* Last season,
Vernon Wells
had a .598 OPS in the seventh or later and was homerless in 210 at-bats. This season, he's posted a 1.838 OPS in the seventh or later thanks in part to a pair of ninth inning home runs.
* Joining Velez and Wells with two homers in the ninth are
Jason Heyward
,
Shane Victorino
,
Adrian Gonzalez
,
Ty Wigginton
and
Juan Rivera
.
* Gonzalez is batting .615 after the sixth inning with a 1.968 OPS. In innings one through six, he has a .176 average with a .545 OPS.
*
Drew Stubbs
is 3-13 (.231) in the seventh inning or later. However, of those 10 outs, nine have been via strikeout.
*
Juan Uribe
has scored nine runs this season, with eight of them coming in the seventh or later.
* In the seventh inning or later, the Dodgers are batting .349, easily the best in the baseball. Before that, they are hitting .282.
* The Braves are hitting an MLB-worst .193 after the sixth inning. Jason Heyward is hitting .353 in those innings, which means his teammates are hitting just .172 after the sixth inning. Despite this, the Braves are fourth in the majors in runs scored after the sixth.
* Only 13 of the White Sox's 57 runs have been after the sixth inning. Of those 13 runs, nine were scored by way of home runs.
Today's Leaderboard
: STATS defines "close and late" situations as the seventh inning or later when ahead by one run, tied, or with the tying run on base, at bat or on deck. In those situations, no one touches the Tigers, who are hitting .396 close and late. The next best team is Dodgers at .305. It helps explain how the Tigers are an amazing 4-5 when trailing to start the seventh inning. In 2009, they were 10-58 when trailing to start the seventh according to baseball-reference.com.
Key Matchups
: Mark Buehrle faces the Rays for the first time since his perfect game last season. Not every Tampa Bay hitter dislikes facing Buehrle.
Carl Crawford
is a lifetime .429 hitter against him. However, the real thing to watch is the longball. Since 2001, only
Jamie Moyer
and
Javier Vazquez
have allowed more home runs than Buehrle's 232. However, such has not been the case against Tampa Bay. Buehrle has allowed only one homer in his last six appearances against the Rays. Among current members of the Rays, only
Carlos Pena
has hit a home run off of Buehrle. He's only done so once, and that was back in 2002. In fact, current Rays have just that one homer in 216 plate appearances. For his career, Buehrle allows one home run per 36 plate appearances.
Take all 69 batters that
Jeremy Bonderman
has faced at least 19 times. Bobby Abreu's .571 batting average is the best of anyone (not to mention his .684 on-base percentage). Torii Hunter's .424 average and Hideki Matsui's .500 average are sixth and second best respectively. Yes, those would be the Angels' two, three and four hitters that Bonderman faces Wednesday. Combined, the three are hitting .479 against the Tigers hurler.
Trivia Answer
: Sandy Koufax (Dodgers) and Cy Young (Red Sox) both had multiple no-hitters including a perfect game and won a World Series with the same team. Buehrle became the third pitcher able to make that claim.