February, 3, 2014
Feb 3
2:59
AM ET
By
ESPN Stats & Information
| ESPN.com
Joe Camporeale/USA TODAY Sports
Malcolm Smith recovered a fumble and returned an interception for a touchdown in Seattle's victory.
Their first defensive snap resulted in a safety. Their first offensive drive produced points. Their kickoff return to start the second half was a touchdown.
In all phases of the game, the
Seattle Seahawks
dominated the
Denver Broncos
in winning Super Bowl XLVIII,
43-8
.
Seahawks' defense locks down Broncos
The Seahawks forced the Broncos into their worst offensive-efficiency performance of the season. The Broncos' offense contributed minus-21.6 points to their net scoring margin, their first game this season with a negative offensive efficiency. They entered the Super Bowl as the only team without such a game this season.
The first-snap safety was only part of the Broncos' offensive difficulties.
Peyton Manning
averaged 8.2 yards per completion (league average in 2013: 11.6 yards).
Malcolm Smith
returned one of Manning's two interceptions for a touchdown. It added up to the Seahawks' second-best game in terms of defensive efficiency this season, behind their
shutout win
against
Eli Manning
and the
New York Giants
at MetLife Stadium in Week 15 (plus-24.3 points).
The performance in the Super Bowl crowned the Seahawks' season-long stretch of defensive supremacy. They finished the season with the league's best defensive efficiency, contributing 7.2 points per game to their net scoring margin (the next closest team:
Cincinnati Bengals
, 4.7). Of those 7.2 points, an NFL-high 6.3 per game were on pass plays. The Seahawks' defensive efficiency on pass plays Sunday equaled 14.3 points toward their scoring margin.
The Seahawks' defensive efficiency in the Super Bowl was the best in a postseason game since the 2009 wild-card round (the
Baltimore Ravens
contributed 23.1 points against the
New England Patriots
).
But the Seahawks dominated in every phase, not just defense. Their offense had zero turnovers, allowed zero sacks and limited negative plays to three. The Seahawks converted 7 of 12 third-down plays.
And their special teams added a touchdown on
Percy Harvin
's return of the second-half kickoff for a touchdown.
Manning struggles, Wilson reverses field
Manning's 24.4
Total QBR
in the Super Bowl was his lowest in a game this season and the worst in a Super Bowl since the
Chicago Bears
'
Rex Grossman
in
2006
(7.1).
Russell Wilson
posted a 88.1 Total QBR, the second-highest in a Super Bowl since 2006 (
Joe Flacco
had a 93.4 last year), and it snapped Wilson's streak of six games with a Total QBR of less than 50.0. Wilson's Total QBR in his first two postseason games this season was 34.3.
Wilson completed 7 of 8 passes for 82 yards and six first-downs on third-down plays.
Game was out of hand early
The Broncos' first play from scrimmage, a safety, resulted in a 4.7-point hit to the team's offensive efficiency.
After Manning's interception that Smith returned for a touchdown with 3:36 left in the first half, the Broncos' win probability dropped to 3.5 percent. It never rose to more than 5 percent.
The Broncos ran 41 offensive plays with a win probability below 5.0 percent. They ran 19 such plays the rest of the season.
December, 9, 2013
12/09/13
2:36
AM ET
By
ESPN Stats & Info
| ESPN.com
The Ravens and Vikings combined to score 5 touchdowns in the final 2 minutes, 1 second of their game. All 5 touchdowns caused the lead to change hands. The score went from a defensive-looking 12-7 to 29-26 in a blink.
Here is a win probability breakdown after each touchdown in the final 2:05:
𔅖:01: 1-yd Pass TD Flacco-Pitta - 26.9% win probability change, to
Ravens 74.3%
𔅕:27: 41-yd Rush TD Gerhart - 40.8% win probability change, to
Vikings 88.8%
𔅕:16: 77-yd KO ret TD Jones - 69.1% win probability change, to
Ravens 84.0%
𔅔:45: 79-yd Pass TD Cassel-Patterson - 75.4% win probability change, to
Vikings 96.4%
𔅔:04: 9-yd Pass TD Flacco-Brown - 59.4% win probability change, to
Ravens 98.4%
According to Elias, the five touchdowns in 2:01 were the fastest that five touchdowns have been scored in the last 50 seasons -- by more than 3½ minutes.
Patriots Defying Probability
In the past 3 weeks, the Patriots have rallied after facing deficits of 24 points (against the Broncos), 10 points (Texans) and 16 points (Browns). In all 3 games, the Patriots' win probability reached below 15%.
The small likelihood of victory seems to have inspired
Tom Brady
. In the second halves and overtime of those games, Brady has completed 75% of his passes (67-of-89) for 6 touchdowns and no interceptions.
After
Jason Campbell
's touchdown pass to
Jordan Cameron
gave the Browns a 26-14 lead with 2:39 left, the Patriots' win probability dropped to 2.0%. After Brady's touchdown pass to
Julian Edelman
, it was only 2.5%, but it really swung after the onside kick recovery, increasing the Patriots' likelihood of winning by 21%.
According to Elias, the Patriots are the first team to win 3 consecutive games (all in one season) in which it trailed by double digits in the second half since the 1993 Eagles (weeks 2-5), who had
Randall Cunningham
at QB.
Pats Offense Below Average Before Gronk
Based on expected points added -- which takes into account everything an offense does to move the ball and score points -- the Patriots' offense contributed -1.9 expected points per game to the team's net scoring margin in 6 games without
Rob Gronkowski
(19th in the NFL). In 7 games since Gronkowski's return, the Patriots' offensive EPA is +8.7 per game, 4th in the NFL.
In the past seven games, the Patriots' red zone touchdown percentage improved to 68.8% from 40.9% in the first six games. And Brady's Total QBR is 68.1 in the past seven games, compared with 52.7 without Gronkowski (50 is average).
RG III, Redskins in Tailspin
Robert Griffin
's 6.7 Total QBR against the Chiefs was the worst of his career. His Total QBR this season is 40.1, down from 73.2 last season (fifth in NFL). That is a decrease of 33.1 points, the worst differential of any qualified QB in the NFL this season.
The Redskins allowed two special teams touchdowns to the Chiefs and have allowed an NFL-high five special teams touchdowns this season (one kickoff return, three punt returns and one blocked punt return). They are allowing the most yards per punt return this season (18.0), all reasons they have the worst special teams EPA in the NFL.
Their special teams expected points is -47.0, nearly a point a game worse than the Falcons' -35.1.
On the flip side, the Chiefs have an NFL-high five special teams touchdowns this season, and they lead the NFL with 41.3 expected points added on special teams (next closest team: Patriots – 31.7).
September, 1, 2013
9/01/13
5:24
AM ET
By
Alok Pattani, ESPN Stats & Info
| ESPN.com
Paul Abell/USA TODAY SportsChristion Jones scored three touchdowns in Alabama's win against Virginia Tech on Saturday.
Below are some storylines from Week 1 of the college football season using ESPN's new set of analytical storytelling metrics for college football. For more background on these metrics, read Dean Oliver's primer on all of them and his explanation of college Total QBR. For complete college Total QBR information, go here.
Alabama Wins with Defense and Special Teams
If you just looked at the final score, it looks like the Alabama offense had a pretty solid effort in a 35-10 win against Virginia Tech.
But a look at how the points were actually scored and how each unit performed while actually on the field, and it's clear the Crimson Tide were actually well below average on offense but spectacular in the other two phases.
The special teams scored two touchdowns: one on a punt return and one on a kickoff return, both by
Christion Jones
. The defense was responsible for an interception return score and set up the offense in opposing territory for each of their two touchdown drives.
Outside of a 77-yard rushing touchdown by
Trey Edmunds
, the Alabama defense held Virginia Tech very much in check – the Hokies had only six other first downs the whole game.
They held Hokies quarterback
Logan Thomas
to a career-low 1.9 Total QBR, one of the lowest ratings of the week and the third-lowest by a quarterback with at least 20 action plays in a single game against Alabama since 2004.
On the other hand, the offense was pretty awful, averaging just 3.3 yards per play and stalling out for nearly as many punts (nine) as first downs (11). The Tide's -12.1 offensive EPA was their fifth-worst of the Saban era (since 2007), and their worst since 2009.
AJ McCarron's (unadjusted) Total QBR of 23.4 was the second-lowest in a game with at least 20 action plays in his career, ahead of only his 20.7 in Alabama's 9-6 loss to LSU two years ago.
Johnny Manziel Returns in 2nd Half, Puts His Signature on the Game
After being suspended for the first half,
Johnny Manziel
took the field with Texas A&M up seven early in the third quarter and led them to 24 points on his five drives to help put the game away.
While his passing numbers look spectacular (6-8, 94 yds, 3 TD) and he ran for two first downs, Manziel also had two third-down sacks that ended Texas A&M drives.
Overall, the reigning Heisman winner finished with a very good Total QBR of 84.6 on just 14 action plays, close to his FBS-best 86.4 (unadjusted) Total QBR from last season. Manziel has seven straight games with a raw QBR of 80 or above going back to last season.
October, 29, 2012
10/29/12
11:56
AM ET
By
ESPN Stats & Information
| ESPN.com
Christian Petersen/Getty ImagesThe key for the Cardinals tonight may be protecting this guy.
First place in the NFC West will be on the line when the
Arizona Cardinals
host the
San Francisco 49ers
tonight on Monday Night Football at 8:30 ET on ESPN.
It's a meeting of two of the league's best defenses. The 49ers currently lead the league in fewest yards allowed per game (272.3) and are tied for first in points allowed per game (14.3). The Cardinals are sixth in yards (312.1) and fourth in points (16.9).
This will be the sixth Monday Night Football meeting between these teams, with the 49ers winning four of the previous five.
49ers KEYS TO VICTORY
The key for the 49ers on the offensive side will be their running game. Under
Jim Harbaugh
, the 49ers are 17-0 when they run the ball at least 25 times and 1-5 when they don't.
If they maintained their current average of 5.9 yards per carry, it would be the NFL's highest single-season mark since the merger.
The other key is reducing turnovers, particularly with their quarterback.
Alex Smith
led the NFL with a Total QBR of 81.1 through Week 5, but his last two games haven't been so good. Smith has thrown five interceptions this season (including four in last two games), matching his total for all of 2011.
Perhaps one of the reasons for Smith's recent struggles is due to a sprained finger in Week 5 against the
Buffalo Bills
. Since that game, his downfield throwing has taken a hit. Smith has gone 5-of-13 (38.5 percent) on throws more than 10 yards downfield his last two games (third-worst), after leading the NFL in completion percentage on such throws (59.5) through the first five weeks of the season.
CARDINALS KEYS TO VICTORY
The key for the Cardinals will be protecting their quarterback
John Skelton
.
The Cardinals have allowed a league-high 35 sacks (seven more any other team). Arizona's passers have now been sacked 29 times in their last four games, the most suffered by any NFL team over a four-game span since the Cardinals themselves were sacked 29 times over four games in November 1997 (according to Elias).
Skelton hasn't been particularly great.
Skelton has thrown an interception in 10 straight games, the longest active streak in the NFL.
Skelton has completed just 44.4 percent of his attempts to
Larry Fitzgerald
more than 10 yards downfield this season, while
Kevin Kolb
has completed 62.5 percent of such passes this season.
But the Cardinals defense has kept them in games this season. They're the only team to hold each opponent this season to 21 points or fewer.
January, 23, 2012
1/23/12
8:14
PM ET
By
ESPN Stats & Information
| ESPN.com
On the surface it may appear
Joe Flacco
outplayed
Tom Brady
on Sunday at Foxboro, but a deeper look shows this simply is not true.
Surface:
Joe Flacco: 22-36, 306 yards, 2 TD, INT, 95.4 NFL passer rating
Tom Brady: 22-36, 239 yards, 0 TD, 2 INT, 57.5 NFL passer rating
Deeper:
Sacks are a big thing missing from the common stats for quarterbacks. Flacco took three sacks, all on third down, twice with blitzers coming, which is when a quarterback needs to make a quick read and throw. Brady was sacked once. And it happened when only four rushers were coming, which is more on his offensive line.


Surface:
Joe Flacco: 1 INT
Tom Brady: 2 INT
Deeper:
There are interceptions that hurt and there are interceptions that really hurt. Flacco's pick came when down three, midway through the fourth quarter, when the
Baltimore Ravens
were in Patriot territory and led to the
New England Patriots
having the ball at midfield. Brady's first pick was early in the game when up three and left the Ravens at their own 30. His second one was a 50 yard heave into the endzone that got tipped and returned to the Ravens' own 38.
Flacco threw his lone pick down three, midway through the 4th quarter. From an expected points view this play cost the Ravens 4.3 points, the second-worst interception of the playoffs. From a win probability standpoint this sent Baltimore's win probability from 43.2% to 23.0%, the second biggest swing on an interception this postseason. At the time of the interception, Flacco's QBR was 79.4. After the pick it fell to 55.4.
After dividing blame, Flacco's one inteception cost his team more than Brady's two combined.

Brady

Flacco
Along the same lines, Flacco was the much more volatile quarterback. After dividing the appropriate amount of QB credit for each play in the game, Joe Flacco had five of the six worst QB plays in the game AND five of the six best QB plays.
Another important point to make is that Flacco's QBR did go up on the final drive. If Baltimore would have converted the last drive for a touchdown Flacco likely would have had a better QBR than Brady. Unfortunately for Ravens fans, they didn't, and Flacco finished behind Brady literally and figuratively.
Overall, 24 of Brady's 45 action plays increased the Patriots chance of scoring as he finished with a 66.5 Total QBR. For Flacco, 23 of his 46 action plays increased the Ravens chance of scoring as he finished with a 45.6 Total QBR. A slight difference to be sure, but it was Brady who was slightly better than Flacco on Sunday.
December, 27, 2011
12/27/11
8:45
PM ET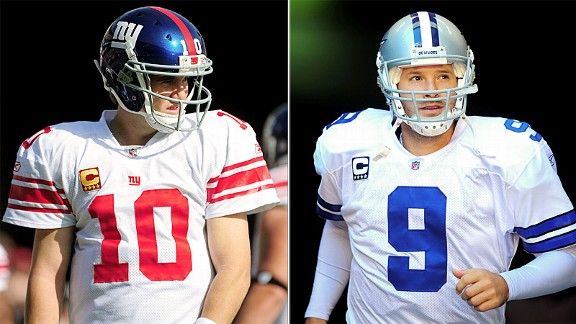 US Presswire
Eli Manning was selected to the Pro Bowl, though a stat-based argument could be made for Tony Romo.
If
Dallas Cowboys
quarterback
Tony Romo
was looking for any further motivation regarding Sunday's matchup with
Eli Manning
and the
New York Giants
, he can find it, at least statistically, in his omission from the NFC's Pro Bowl roster.
Manning was selected over Romo despite Romo ranking eight spots ahead of him in
the Total QBR rankings
.
Romo's Total QBR for the season is 72.4, fourth-best in the NFL and third-best in the NFC, behind
Aaron Rodgers
of the
Green Bay Packers
(85.2) and
Drew Brees
of the
New Orleans Saints
(82.7).
Manning ranks 12th overall and among NFC quarterbacks, he also rates behind
Matt Ryan
of the
Atlanta Falcons
(66.2),
Michael Vick
of the
Philadelphia Eagles
(62.4),
Matthew Stafford
of the
Detroit Lions
(60.8), and
Jay Cutler
, who was placed on injured reserve on Tuesday by the
Chicago Bears
(59.5).
The biggest difference between Romo and his competitors is a big gap in the expected points he added in his pass attempts. He ranks fourth in that stat, (known as Pass EPA), adding 111.7 points to his team this season. Manning rates a distant fifth (85.9). A major reason for this is that Manning has thrown nearly twice as many interceptions (16) as Romo (nine).
Romo's Total QBR was boosted by four games with a Total QBR of 90 or better, a 27-24 win over the
San Francisco 49ers
in Week 2 (Total QBR: 93.9), a 23-13 win over the
Seattle Seahawks
in Week 9 (Total QBR: 90.0), a 44-7 win over the
Buffalo Bills
in Week 10 (Total QBR: 99.3) and a 31-15 win over the
Tampa Bay Buccaneers
in Week 15.
In those four games, Romo was a combined 85-for-120 for 1,143 yards, with 10 touchdowns and no interceptions.
Manning only has one game this season that ranked in the Top 50, a 27-24 win over the Buffalo Bills in Week 6 (Total QBR: 91.4; 27th-best in the NFL this season).
He does have three others that rate very well, and it likely helps his cause among those selecting the Pro Bowl rosters, that two of those were in wins against the
New England Patriots
(Total QBR: 81.3) and the Cowboys (Total QBR: 77.1)
The Pro Bowl selections for the AFC were basically a match for the Total QBR rankings.
Tom Brady
of the New England Patriots,
Ben Roethlisberger
of the
Pittsburgh Steelers
, and
Philip Rivers
of the
San Diego Chargers
, are first, third, and fourth in the conference in Total QBR, respectively. Injured
Houston Texans
quarterback
Matt Schaub
was second.
The next-best possible AFC quarterback by Total QBR,
Matt Hasselbeck
of the
Tennessee Titans
was actually just one spot below Manning, at 58.8, 13th-best in the NFL.