Stats & Info:

Travis Wood
July, 14, 2013
7/14/13
2:23
PM ET
The
St. Louis Cardinals
and
Chicago Cubs
will close the first half of the 2013 baseball season by meeting on Sunday Night Baseball at 8 p.m. ET on ESPN.
The game will feature a matchup of All-Star starting pitchers. Here are a few of the topics our broadcast crew will be focusing on tonight.
1--
The Cardinals entered Sunday tied for the best record in the NL and could have the league's best record at the break for the first time since 2005. The last team to win the World Series that had the NL's best record at the All-Star Break was the 1995 Braves.
The Cardinals have had the NL's best record at the break six other times in the last 50 years. In five of those seasons, they went to the World Series.
2--
Cardinals starter
Adam Wainwright
has a 9-to-1 strikeout-to-walk ratio this season. The top eight pitchers in the majors in that stat made the All-Star team this season. Wainwright's strikeout-to-walk rate is even better when considering only right-handed batters. He's whiffed 57 of them and walked only three.
3--
Cubs starter
Travis Wood
enters the day as the NL leader in quality starts with 17. He enters the day with an 0.97 WHIP. He has a chance to be the first Cubs pitcher with a WHIP of 1-or-better at the All-Star Break since
Greg Maddux
in 1992.
One notable weakness for the Cardinals: They are 8-12 in games started by left-handers this season.
Wainwright is 6-foot-7, the tallest starting pitcher in the NL. Wood is 5-for-11, tied for the fourth-shortest starter in the NL.
4--
The Cardinals are hitting .334 with runners in scoring position this season, 68 points better than any other National League team. The last NL team to hit .300 with RISP over a full season was the 2000 Rockies.
The Cardinals have the top two hitters in the league in batting average with runners in scoring position-- Alen Craig (.477) and
Carlos Beltran
and three others in the top eight--
Matt Carpenter
(.383, sixth-best),
Yadier Molina
(.378, seventh-best) and
Matt Holliday
(.368, eighth-best).
Cardinals one through five hitters in the batting order are hitting .399 with runners in scoring position in 2013.
5--
The Cubs are 15-27 vs the NL Central this season, but are 27-23 against teams outside the division. They are also a major-league worst 11-20 in one-run games and have the fewest comeback wins (13) and most losses in which they blew a lead (26) in the league .
Since 2010, the Cubs have the third-worst winning percentage in baseball, trailing only the
Houston Astros
and
Seattle Mariners
.
June, 17, 2013
6/17/13
1:20
PM ET
By
William Cohen, ESPN Stats & Info
| ESPN.com
Dilip Vishwanat/Getty ImagesShelby Miller's 2.21 ERA is the lowest this season among all rookie qualifiers.
(The St. Louis Cardinals host the Chicago Cubs, Monday at 7 ET on ESPN and WatchESPN.)
Ten rookies on the St. Louis Cardinals pitching staff have combined to throw 221.2 innings this season, and are 17-8 with a 3.17 ERA. That's one reason the Cardinals' 3.29 team ERA is second this season only to the
Atlanta Braves
(3.23).


The Cardinals' crop of rookie arms has been led by
Shelby Miller
, who ranks sixth in the National League with 91 strikeouts. He has struck out 29 percent of batters faced, which is the highest rate in the National League this season.
He has been most successful when he climbs the ladder with the fastball. More than 40 percent of his strikeouts (39 of 91) have come on high fastballs. When Miller throws his fastball up in the zone, opponents are hitting .079 (6-for-76) and have missed on 36 percent of swings (league average is .232). When his fastball is down or in the middle of the strike zone, opponents hit .270 with a miss rate of 15 percent.
The last time Miller took the mound for the Cardinals, he allowed four earned runs – the first time in 14 career starts that he allowed more than three earned runs.
Wood Channeling His Inner Greg Maddux
Opposing Miller will be
Travis Wood
, who has a 2.65 ERA and has made a quality start in 12 of 13 appearances this season.
If Wood has a quality start on Monday, he'll be the first Cubs pitcher since
Greg Maddux
in 1988 with 13 quality starts within the team's first 68 games.
What's fueling his hot start? He's dominated left-handed hitters. Lefties are hitting .155 against Wood, that's the fourth lowest opponent batting average this season.
He's also done a much better job this season of keeping the ball in the ballpark. In 2012, he allowed 25 home runs, and gave up 1.44 home runs per nine innings pitched. This season, he's allowed six home runs, and 0.64 per nine innings.
Wood has also benefited this season from the lowest opponent batting average on balls in play (BABIP) among all qualifiers at .218 (league average is .295). The low average is not because he's generating weaker contact. According to Inside Edge, which tracks well-hit balls, Wood has allowed hard contact on 16 percent of at-bats, a rate not significantly lower than the 16.5 percent league average.
Wood has recorded 21 outs on what were deemed hard hit fly balls or line drives. That's the fifth-highest total this season. Opponents have hit .524 against Wood when generating a hard hit fly ball or line drive. That sounds like a nice clip, but it's actually the lowest rate among qualifiers and well below the league average of .712. Going forward, Wood shouldn't expect to convert outs that efficiently on hard-hit balls.
May, 25, 2011
5/25/11
12:36
PM ET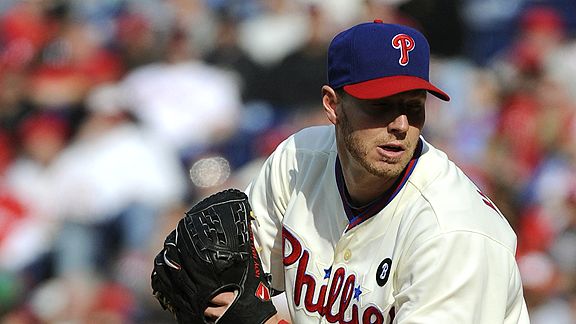 Barbara Johnston/US Presswire
Roy Halladay will face the Reds for the first time since he no-hit Cincinnati in the 2010 NLDS.
(The Philadelphia Phillies host the Cincinnati Reds at 7 p.m. ET on ESPN2.)
On Tuesday, the Reds snapped an eight-game losing streak (including playoff games) to the Phillies.
On Wednesday, the Reds have one more streak to break -- getting a hit off
Roy Halladay
. The last time Halladay faced the Reds, he threw the second postseason no-hitter in baseball history.
Halladay leads all of baseball with 80 strikeouts and is averaging 9.3 strikeouts per nine innings. That's well above his career high of 7.9 set last season. Only three Phillies have averaged better than a strikeout per inning and qualified for the ERA title:
Curt Schilling
in 1997 and 1998,
Brandon Duckworth
in 2002 and
Cole Hamels
last season.
This will be Halladay's sixth regular-season start with umpire Tony Randazzo working behind the plate. In his first two starts (2000 and 2004), Halladay was 0-2 and allowed 10 runs in 10 innings. In his past three (all since the start of 2010), Doc is 2-1 with a 1.44 ERA (four earned runs, 25 innings), 21 strikeouts and three walks.
Several Reds have had success against Halladay, highlighted by
Ramon Hernandez
. His .351 (13-37) average against Halladay is the fourth-highest among players with at least 30 at-bats:
Kevin Youkilis
(.375),
Ivan Rodriguez
(.359) and
B.J. Upton
(.357).
Opposing Halladay will be
Travis Wood
, who took a perfect game into the ninth inning in his only career start against the Phillies before allowing a leadoff double in the ninth. Halladay was the opposing starter in that game, too.
Wood is unbeaten in his past three starts but has failed to pitch seven innings in each of his past nine starts.
The Reds are third in the National League with a .262 batting average but are hitting just .254 against right-handed pitching. Furthermore, Cincinnati is hitting just .239 on the road, compared to .282 at home.
April, 23, 2011
4/23/11
12:29
AM ET
Not only was 2010 the Year of the No-Hitter (six including the postseason), but it also was the Year of the Near No-Hitter. Five other potential no-nos were broken up in the ninth inning, the highest number since 1990.
On Friday night,
Florida Marlins
pitcher
Anibal Sanchez
recorded the first near no-hitter of the 2011 campaign, losing his bid after
Colorado Rockies
center fielder
Dexter Fowler
led off the ninth inning with a single.
How did Sanchez shut down the Rockies? He was dominant with several pitches.
Sanchez's fastball averaged 92.1 mph, only the eighth time since the 2009 season he averaged 92 or faster in a start. He recorded eight misses on 26 swings on his fastball (30.8 percent), the third-highest miss percentage on his fastball in the past three seasons.
While the heater was superb, Sanchez also used his off-speed pitches to get hitters out, especially with two strikes. Sanchez retired 13 Rockies hitters with off-speed pitches, despite throwing just 17 off-speed pitches with two strikes the entire game. He recorded 12 outs on his slider, including nine with two strikes -- the most in a start since September 2009.
The Marlins have three of the five longest no-hit bids so far this season. Sanchez's is the longest of the season, and
Josh Johnson
has taken one into the eighth inning and another into the seventh.
The Marlins are tied with the Red Sox and Yankees for the most no-hitters since 1993 (Marlins' inaugural season) with four.
Al Leiter
,
Kevin Brown
,
A.J. Burnett
and Sanchez have tossed the Florida no-hitters.
Had Sanchez finished off the no-hitter Friday, the 27-year-old would have become the sixth-youngest pitcher at the time of his second no-hitter (Johnny Vander Meer is the youngest at 23 years, 225 days).
August, 24, 2010
8/24/10
3:13
PM ET
By
Gregg Found
| ESPN.com
Today's Trivia:
After going deep last night in Pittsburgh,
Albert Pujols
is now one home run away from his 400th career HR. Pujols' first career longball came in April of 2001 off of
Armando Reynoso
and the
Arizona Diamondbacks
. What did Pujols do in that game that he ALSO did last night? Hint: it's something he has now done 26 times in his career.

Bonus: Obviously, Busch Stadium is the park where Pujols has gone deep the most. But which Busch Stadium – the one that closed in 2005 (Busch II) or the one that opened in 2006 (Busch III)?
Quick Hits:
The Tampa Bay Rays'
Rafael Soriano
accomplished a rare baseball feat on Monday (a feat with a cool-sounding moniker to match its impressiveness): the Immaculate Inning. Such an inning requires striking out the side on nine pitches, which Soriano did against
Erick Aybar
,
Mike Napoli
and
Peter Bourjos
.

So rare is the feat that it has only been done 44 times in MLB history. Let's take a look at some of the pitchers who have pulled off the Immaculate Inning, according to baseball-almanac.com:
• Only three have done the feat twice, and all three are Hall-of-Famers: Lefty Grove, Sandy Koufax and Nolan Ryan. No one has done it three times.
• An Immaculate Inning has occurred in every inning, though it is most common late in games. It's happened nine times in the ninth, seven times in the eighth and four times in the seventh.
• There are some pretty solid sluggers who have been on the other end of an Immaculate Inning. Ken Boyer was part of one thrown by Bob Bruce in 1964. Andre Dawson and
Rafael Palmeiro
were both part of one thrown by Jeff Robinson in 1987.
Jeff Bagwell
and
Craig Biggio
have each been victims, though in different games. Even contact machine
Ichiro Suzuki
fell prey to one, but in his defense, it was done by
Pedro Martinez
.
• From Elias: The last closer to get a save while striking out the side on nine pitches in the ninth inning was
LaTroy Hawkins
in September 2004 for the
Chicago Cubs
.
• Call it the
Rich Harden
connection: On the same night Harden was pulled in the middle of a no-hitter, Soriano threw his Immaculate Inning. But Harden has an I.I. of his own, and it came in the first inning. He did it in June 2008 with the
Oakland Athletics
against the
Los Angeles Angels
of Anaheim.
• Koufax is the only one to throw an Immaculate Inning that turned into an immaculate game. His first Immaculate Inning came in his first no-hitter – on June 30, 1962 - and was also done in the first inning. His immaculaticity (not a word) ended in the second inning when the New York Mets'
Frank Thomas
grounded out to short.
• And finally, a Lou Piniella connection. Piniella managed the 1991
Cincinnati Reds
to a 74-88 record and fifth place division finish. But that might not have been the worst of it. That team, featuring
Barry Larkin
, Chris Sabo and Hal Morris, is the only team in MLB history to have two Immaculate Innings thrown against them in the same season.
Andy Ashby
and
David Cone
did it to them that year.
Today's Leaderboard:
It's becoming one of the classic adages in the sport – if you let the leadoff man get on base in an inning, he's going to come around to hurt you. Well, don't pity the leadoff men tonight. Several of the pitchers who are the top culprits in letting the leadoff man get on base are starting for their teams on Tuesday.
Key Matchups:
• Ichiro has been an All-Star every year of his 10-year MLB career and has never batted below .303 in a season. But none of that might be true if he had to face
Josh Beckett
in every at-bat. Beckett is limiting Ichiro to a career .190 BA (4-21) with more strikeouts (five) than hits. Among pitchers who have faced Ichiro at least 20 times, Beckett is the starter who's holding him to the lowest average.
• These numbers don't seem to match up:
Adam Wainwright
has a perfect 5-0 record at PNC Park, yet a pedestrian 5.56 ERA there. Among parks where Wainwright has pitched more than once, he has a higher era at only Dodger Stadium. Turns out, you can chalk up his sparkling record at PNC to run support. His offense has scored an average of 7.43 runs in games he started there.
• There's a new Cincinnati Reds rookie starter in town, and he's not named
Mike Leake
.
Travis Wood
takes the mound in San Francisco tonight, making his 10th career start. No Giant has seen him before, but they might want to know these numbers. Wood is allowing a .135 BA his first time through the lineup, but that jumps to .184 his second time through and .222 his third time through.
Trivia Answer: In both games, Pujols finished a triple shy of the cycle. In fact, Pujols has never hit for the cycle in his career despite coming a triple shy of it on 26 occasions. He has finished a home run shy of the cycle twice and finished a double shy of the cycle once.
The bonus question was a trick question. Sort of. Pujols has the exact same number of home runs at both Busch Stadiums – 94 at each.