Stats & Info:

Trevor Cahill
September, 12, 2012
9/12/12
12:55
PM ET
By
ESPN Stats & Information
| ESPN.com
(The Baltimore Orioles host the Tampa Bay Rays, Wednesday at 7ET on ESPN2.)
At 79-62, the Baltimore Orioles are three wins away from their first winning season since 1997, when they went 98-64 and lost to the
New York Yankees
in the ALCS.


Baltimore already has won 10 more games than it did last season, which was Buck Showalter's first full season as the Orioles' manager. In his previous three managerial stints (1992-95 Yankees, 1998-00
Arizona Diamondbacks
, 2003-06
Texas Rangers
) Showalter's teams improved by at least 12 games from his first full season to his second.
Offensively, the Orioles have been riding the hot bat of
Mark Reynolds
. In September, Reynolds leads all of baseball in home runs (7) is second in slug percentage and third in OPS.
B.J. Upton
has been just as hot for the Rays. His slug percentage is first in baseball this month and his OPS ranks second.
Baltimore will be opposed by 24-year-old
Alex Cobb
. After going 8-13 in his first 21 career starts, the Rays are 7-0 in Cobb's past 7 starts.
Cobb threw his first career shutout on August 23. Only four players younger than Cobb have thrown a shutout this season --
Clayton Kershaw
,
Trevor Cahill
,
Madison Bumgarner
and
Henderson Alvarez
. He's one of just 10 pitchers in Rays history to throw a shutout before the age of 25.
Cobb has a groundball rate of 58.1 percent, which is the second-highest among American League starters. However, Cobb is 3-1 with a 2.17 ERA when his groundball rate is below 50 percent, and 6-7 with a 5.00 ERA in 14 starts when his groundball rate is 50 percent or higher.
Baltimore's bats better get to Cobb early, because he gets stronger as the game goes longer. Cobb has posted a 5.50 ERA in the first three innings of his starts. From the fourth inning on, Cobb's ERA is 3.10.
Cobb is part of one of the best pitching staffs in baseball:
• Tampa Bay's 3.25 team ERA would be the best by an American League team since the 1990
Oakland Athletics
(3.18)
• 2.52 team ERA since the All-Star break would be the second-best by an AL team since the first All-Star game in 1933. (The lowest is 2.37 by the 1972
Los Angeles Angels
.)
• The entire staff leads the league in strikeouts (1,176), ERA (3.25) and opponents' batting average (.231). The only AL team to claim that triple crown in the past 25 years is the 1999
Boston Red Sox
.
December, 23, 2011
12/23/11
12:30
AM ET
Andy Lyons/Getty Images
Carlos Beltran
is headed to St. Louis after reportedly agreeing to a two-year deal with the Cardinals.
After spending the past seven seasons on the East and West Coast, Carlos Beltran is headed back to the Midwest. Beltran agreed to a two-year deal with the world champion
St. Louis Cardinals
Thursday, according to sources. The six-time All-Star batted .300 and hit 22 home runs with 84 RBI last season with the
New York Mets
and
San Francisco Giants
.
This will be Beltran's second stint with a team in the state of Missouri. He spent seven seasons with the
Kansas City Royals
winning Rookie of the Year in 1999.
While he's no longer a borderline MVP-candidate, Beltran's track record of productivity can be matched by few in the National League since 2005. Beltran ranks sixth in the NL among position players in Wins Above Replacement over that span.
Besides his offensive and defensive skills, Beltran has a history of excelling in the postseason. No player in MLB history with a minimum 75 plate appearances has a higher OPS in the postseason than Beltran's 1.302.
With Beltran joining the Cardinals, St. Louis now has the two best offensive switch-hitters in the majors from last year.
Lance Berkman
's OPS was .959 last season while Beltran's was .910.
Meanwhile, the
Oakland Athletics
traded All-Star pitcher
Gio Gonzalez
to the
Washington Nationals
for four prospects according to sources. The Nationals receive pitchers
Brad Peacock
, A.J. Cole, Tom Milone and catcher Derek Norris. Gonzalez had a career best in wins (16), ERA (3.12) and strikeouts (197) last season, but also led the league in walks (91).
Few pitchers have provided a greater value for the dollar than Gonzalez. Over the last two seasons, 13 pitchers have won at least 30 games. Of those, Gonzalez has been the most cost-effective option, earning $26,613 for every win since 2010.
Gonzalez is under team control through 2015, but he's about to get more expensive. MLBtraderumors.com projects a $4.2 million salary in 2012, the first of Gonzalez's four arbitration-eligible years.
With the acquisition of Gonzalez, the Nationals now have three pitchers (
Stephen Strasburg
,
Jordan Zimmermann
) who will all be age 26 or younger in 2012. They join two other franchises (Braves, Diamondbacks) who have at least three starters – all of whom were 25 or younger in 2011 - who posted a cumulative ERA better than 4.00 since the start of the 2010 season.
December, 11, 2011
12/11/11
11:02
AM ET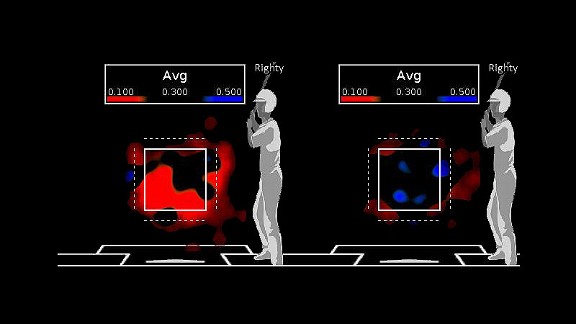 Left: Where Trevor Cahill struggled/succeeeded with his sinker (2010)
Right: Where Cahill struggled/succeeded (2011)
Click here to create your own Cahill heat maps
Each Sunday, ESPN Stats & Information reviews significant moves from the past week.
Diamondbacks trade with Athletics for P Trevor Cahill
Cahill is coming off a disappointing season, in which his ERA rose more than a run from 2010, even though his strikeout-to-walk ratio and home run rate were almost identical in both seasons.
The difference in Cahill's performance over the last two seasons was a BABIP (Batting Average on Balls in Play) that rose from an MLB-low .236 in 2010 to .302 in 2011.
Was his 4.16 ERA last year a product of bad luck?
Cahill is a ground-ball specialist, ranking first among AL starters in ground ball rate over the last two seasons (56.4 percent).
Last season, he struggled to locate his signature sinker down in the zone, especially against righties.
Only one-third of his sinkers thrown to right-handed hitters in 2011 were located in the lower-third of the strike zone or below the knees, compared to 43 percent in 2010.
The effectiveness of the pitch was much worse last season compared to the previous year, as noted in the chart on the right.
Cahill continued to challenge hitters with his sinker in 2011 despite its ineffectiveness, throwing it more than 50 percent of the time compared to less than 40 percent in 2010.
Cahill recorded double-digit ground outs in just two of his 14 starts in the second half, after doing so in half of his 20 starts before the break.
The heat map at the top of this piece shows the difference in the effectiveness of Cahill's sinker in each of the last two seasons.
--Katie Sharp
Angels sign C.J. Wilson
Wilson pitched like an ace last year, with the fourth-highest WAR and seventh-best ERA among AL pitchers.
There is a thought that in 2012 Wilson could post even better numbers than he did in 2011, when his ERA ranked seventh-best.
He'll be moving from the hitter-friendly Rangers Ballpark to Angel Stadium, which last year reduced run-scoring by an AL-high 16 percent according to ESPN.com's Park Factors.
However, Wilson must now face the
Texas Rangers
lineup likely four or five times in 2012. The Rangers ranked among the AL's top three in batting average, slugging percentage, runs and OPS.
Last year, just four of his 34 starts came against the Yankees,
Boston Red Sox
, and
Detroit Tigers
, which ranked first, second and fourth, respectively in OPS in the league.
Via
Baseball Prospectus
, the opposing hitters that Wilson faced had a combined .728 OPS, lowest among pitchers who threw at least 150 innings last season.
Wilson could be replacing his six starts against the Angels with six against the Rangers. He had a solid 2.65 ERA against his current team last season, but will be challenged to repeat that against Texas in 2012.
Last season 17 pitchers made at least three starts against the Rangers. Only four of them posted an ERA below four, led by Cahill's 3.10 in six starts.
--Katie Sharp
Brewers sign SS Alex Gonzalez
The
Milwaukee Brewers
signed Gonzalez to replace
Yuniesky Betancourt
at shortstop.
It's an even move offensively; Gonzalez has a career on-base percentage of .291 and slugging percentage of .399. Betancourt's career numbers are .292 and .391, respectively.
But over the past two seasons -- according to Baseball Info Solutions' stat Defensive Runs Saved -- Gonzalez has saved his teams 31 runs. Betancourt has cost his team 27.
If we use the sabermetric value of 10 runs equaling a win, that means Gonzalez has been worth nearly
six
more wins than Betancourt over the past two seasons with his glove alone.
That's a big upgrade for a team that had its share of defensive issues during the postseason after finishing 11th in the majors in Defensive Runs Saved in 2011.
-- John Fisher
November, 21, 2010
11/21/10
6:40
PM ET
By
Justin Havens
| ESPN.com

The
Oakland Athletics
won the bidding for Japanese right-hander Hisashi Iwakuma earlier this month, but reports Sunday indicated that the team and pitcher are at a negotiating standstill, with Iwakuma's group looking for a contract worth comparable to Barry Zito's $18 million per year.
Given that the Athletics boasted one of the best rotations in baseball last season and are on a strict budget, the question that comes to mind is why the need is so great for the team to sign Iwakuma.
Perhaps because it would be wise to expect some regression from the Athletics starters in 2011.
There are several indicators that suggest that the performance of the Athletics rotation in 2010 was not statistically sustainable. While the rotation ranked fourth in baseball in ERA at 3.47, it ranked a much more average 17th in Fielding Independent Pitching at 4.10 (according to
Fangraphs.com
).
Fielding Independent Pitching is an ERA estimator based around strikeouts, walks and home runs allowed, helping to understand how well a pitcher pitched, regardless of how well his fielders fielded. This gap between the team's ERA and FIP suggests that the team could experience some regression in 2011.
Further supplementing that point is that the team also posted the lowest Batting Average on Balls In Play in the Majors at .275, while the percentage of runners that were left on base by the team's pitchers was the fifth-best in baseball at 74.7 percent. While a strong defense is certainly at least partly responsible for the low BABiP, history says that it's a tough level of performance to maintain.
While the team might boast a frontline rotation at first glance, there are reasons why stockpiling pitching depth might actually be a good use of resources. Three of the team's primary rotation pieces from 2010 had significant gaps between their ERA and FIP, most notably
Trevor Cahill
,
Gio Gonzalez
and
Vin Mazzaro
, the latter of whom was traded to the Royals already this offseason. Of the top 35 qualified starters in baseball according to ERA, only
Jon Garland
had a higher FIP than Cahill.
In addition to the team's likelihood of regression in 2011, there's also two other factors to consider. First, the starter with arguably the most upside on the staff,
Brett Anderson
, also has experienced durability issues in his first two seasons. He threw just 131 ⅔ innings overall last season between the majors and minors and has never thrown more than 175 ⅓ innings in any professional season.
The team also is putting together a foundation built upon pitching and defense and, as part of that plan, the team is loading up on groundball-heavy pitchers. The pitching staff as a whole ranked fifth in MLB in groundball percentage at 48.2.
Not coincidentally, here's what ESPN.com's Keith Law wrote about Iwakuma:
"He pitches differently than most of the Japanese pitchers who have come over, with a more conventional delivery and a pitch-to-contact approach that yields ground balls and few walks but not many strikeouts."
So while at first glance the Athletics move to sign Iwakuma might seem redundant for a team that was so pitching-heavy last season and is in such desperate need for offense. But as has been demonstrated time after time, there's never enough pitching, particularly when the numbers suggest there's some regression ahead in 2011.
September, 18, 2010
9/18/10
12:05
AM ET
The clock. It controls so much of our everyday lives -- what time to wake up, what time to be at work or school, what time we can
leave
work or school.
In sports, baseball is one of the few that's not beholden to the clock. There's no 60- or 48- or 40-minute limit. There aren't timeouts to stop the clock. We could care less about tenths of a second. When you start a game, there's no telling when it will end. To some, it's the beauty of the game; to others, it's the biggest frustration.


In these days of commercials and warmup pitches and elaborate player routines (both at the plate and on the mound), even a two-hour game is the exception. Although most games come in under three hours, you can't bank on that. Rule changes to speed games up have largely been ignored. Seriously, have you
ever
seen a pitcher charged with an automatic ball for violating the "12-second rule" with nobody on base? Go ahead, we'll wait.

Here at Stats & Information, we've tracked the game times of every Major League Baseball contest this season. We can recommend some pitchers and teams to see, regardless of which side of the "clock argument" you fall on. For example, it's not a myth that the Chicago White Sox's Mark Buehrle pitches quickly. Or that the Boston Red Sox's Daisuke Matsuzaka takes forever. Or that you will get a marathon out of nearly any New York Yankees game.

While the official game times
do
adjust for rain delays, power outages and the occasional tornado outside Citi Field, there are obviously a few other factors at play. The speed of the pitcher's opponent isn't taken into account. A starter might get roughed up and turn things over to a slow- (or fast-) moving bullpen, but when you think of fast workers and slow workers, the list is pretty accurate.

Random fact: The total number of minutes consumed by all the games this season (through Thursday) is 383,639. That's more than 266 days. If you watched every game back-to-back, starting on Opening Night (April 4), you'd already have enough baseball to last you until Dec. 27. With no breaks.


Anyhow, this got us to thinking, which teams give you the most baseball for your money? If you want to watch as much baseball as possible in terms of time, which team's season tickets should you buy? Similarly, which teams are "cheating you" by playing really short games all the time?

Adjusting for extra innings, we can get the average length of a nine-inning home game for each team this season. We didn't adjust for home victories where the bottom of the ninth doesn't get played. (We figure you'd sacrifice those extra seven minutes in exchange for seeing the home team win.)

The Cleveland Indians have been involved in both the shortest and longest nine-inning games this season. The Detroit Tigers' Armando Galarraga's near-perfect game against the Indians on June 2 was the fastest nine-inning game played this season -- one hour, 44 minutes. As for the longest? The Indians and Yankees combined to score 24 runs on May 27, a game the Yankees won 13-11. That game lasted four hours and 22 minutes. There have been just four games this season played in less than two hours, compared with six games that have lasted longer than four hours.
September, 15, 2010
9/15/10
4:29
PM ET
Today's Trivia:
Paul Maholm
takes the hill for the
Pittsburgh Pirates
Wednesday holding the team-lead in strikeouts with 90 (Side note: 34 pitchers had more than that before the All-Star break). Not having a 100-K pitcher is a bit more common than you might think. In fact, it happened five times last decade, including last season to the
Washington Nationals
. Which brings us today's trivia question: Which pitcher led the Nationals in strikeouts last season?
The standings might say otherwise, but there's always something to play for – in this case, history. In the first of a series of divisional breakdowns, here's some statistical minutiae to keep an eye on in the closing weeks. First the AL West.
Los Angeles Angels
Bobby Abreu needs one stolen base for 20 on the season. That would give him 12 straight seasons of 15 HR and 20 SB, extending his own record streak. Barry Bonds (10 straight) has the next longest such stretch.
Brandon Wood's .397 OPS would be the lowest for a player with 200 plate appearances since Frank O'Rourke posted a .325 OPS for the 1912 Boston Braves. Wood is just below Tony Pena Jr.'s .398 for the Kansas City Royals in 2008. Wood's .185 on-base percentage would be the seventh lowest since 1900 for players with 200 PA.
With 56 strikeouts and only four walks, Wood would have the most strikeouts for a player with fewer than five walks since Rob Picciolo (63 K, 2 BB) of the 1980 Oakland A's.
Oakland A's
Both the Seattle Mariners and A's do not have a player with 15 home runs. The difference is that the A's leader Kevin Kouzmanoff (14 HR) has been missing time with a back injury. The last AL team without a 15-HR player was the 1992 Angels, who were led by Gary Gaetti's 12.
If Daric Barton (100 BB, 88 K) stays below 100 strikeouts, he'd be the first American League player since Rafael Palmeiro to do that in a season with over 100 walks. Since Palmeiro's 2002 campaign, 16 players have done this, but all were in the National League. With only eight HR, Barton would be the first to do this with fewer than 10 HR since Rickey Henderson in 1996.
How does a pitcher with only 98 strikeouts have the lowest opponent OPS in the AL since Tim Hudson in 2003? There just might be some luck involved for Trevor Cahill. The .224 BABIP against Cahill is the lowest against a qualifying AL pitcher since opponents had a .212 BABIP against the Detroit Tigers Jeff Robinson in 1988. Not only was that Robinson's only season with a sub-3.00 ERA, but his next best was 4.73.
Seattle Mariners
With Franklin Gutierrez currently leading the team with 56 RBI, the Mariners could become the first team since the 1983 Cincinnati Reds without a 60 RBI player in a non-strike shortened season. That Reds squad was led by Ron Oester's 58 RBI.
Russell Branyan only has 56 RBI to go with the 24 home runs he's hit between the Cleveland Indians and Mariners. He's safe though. The fewest RBI for a player with 25+ HR is 54 by Ron Gant when he played for the Philadelphia Phillies and Angels in 2000. The AL "record" is shared by Fred Lynn (1988 Orioles/Tigers) and Marcus Thames (2008 Tigers) with 56.
Mariners designated hitters are batting just .190 at the plate this season. Over the last 35 years, the only AL team to hit below the Mendoza Line at DH was the Texas Rangers (.197) in 1988. Larry Parrish was the most frequent DH on that squad.
Texas Rangers
Left-handed hitters are batting just .136 against C.J. Wilson. That's the second lowest for a qualifying AL starter over the last 35 years. In 1995, lefties hit just .129 against Randy Johnson. The difference is that Johnson only faced 92 lefties that season, while Wilson has done battle with 156.
If he doesn't suit up again in the regular season, Josh Hamilton will finish with 21 home runs and .395 batting average at home. Over the last 50 years, the only other AL player to hit .390 with 20 HR at home was Albert Belle for the 1994 Indians.
Elvis Andrus has 145 hits, but only 17 have gone for extra bases. The last player with over 150 hits in a season with 17 of fewer extra base hits was Kirby Puckett in 1984. Only 17 of his 165 hits were no singles.

Key Matchups:
Alex Rodriguez
(.208) and
Mark Teixeira
(.143) have been baffled by
James Shields
in the past. However, no one compares to
Curtis Granderson
. His .077 average is lowest for anyone that Shields has faced at least 20 times. Granderson's struggles are notable for the fact that he usually struggles against right-handed pitchers. In fact, against righties not named James Shields, he has a .289 career average compared to .216 against southpaws.
Chad Billingsley
has an 0.61 in 29 2/3 innings against the
Los Angeles Dodgers
this season, good enough for a 2-0 record in four starts. In fact, Billingsley has tossed 23 2/3 consecutive scoreless innings against San Francisco. Both
Juan Uribe
and
Pablo Sandoval
are 0-for-10 against him in 2010. Uribe was 5-for-10 entering the season.
Trivia Answer:
With 92 strikeouts,
Jordan Zimmermann
led the 2009 Nationals, despite making only one appearance after the break. Washington's
Tyler Clippard
(97) had already eclipsed that total while pitching solely in relief.
September, 13, 2010
9/13/10
3:16
PM ET
Today's Trivia:
Felix Hernandez
is 11-7 in 27 quality starts this season after going 19-1 in them last season. Who is the only pitcher this season with at least 15 quality starts and a losing record in those games?


Quick Hits:
With
David Price
and
CC Sabathia
set to face each other on Monday, what better time to dive into the numbers of American League Cy Young contenders?
• With four starts likely remaining, Felix Hernandez has a fair shot at 250 strikeouts (he needs 36). Yet, he's still just 11-11. The fewest wins for a pitcher with 250 strikeouts and an ERA below 2.40 is 15 by Sam McDowell in 1968. He went 15-14 for the Indians despite a 1.81 ERA and 283 strikeouts. That was 16 fewer wins than Cy Young winner Denny McLain.
• King Felix is 5-0 against AL East teams with a 0.55 ERA. That includes two wins apiece against the
Boston Red Sox
and
New York Yankees
, three coming on the road. However, he plays in the AL West, a division against which he is 1-6 with a 4.42 ERA. Amazingly, if you take away his divisional games, Hernandez is 10-5 with a 1.33 ERA.
• When allowing two or three runs, Hernandez is 2-6. Meanwhile, Sabathia is 8-3, while Price is 8-5.
• The poor defense behind Hernandez has resulted in 17 unearned runs, which is the most in the AL. Price and Sabathia have seen just eight unearned runs scored against them.
• Since June 1, Sabathia is 15-3 with a 2.62 ERA. No other pitcher has even 13 wins in that span.
• With 19 wins, Sabathia could be looking at 22 or 23 wins if all goes to plan. The last AL pitcher with 22 wins to lose out on the Cy Young was Dave Stewart in 1990, but he had to contend with teammate Bob Welch (27 wins). The last player to lead the AL with at least 22 wins and not take home the award? Ron Guidry, a fellow Yankee, went 22-6 in 1985, but
Bret Saberhagen
(20-6) won.
• Sabathia may be getting better support than Hernandez, but 18 of his 19 wins have come in quality starts. He is 1-4 in non-quality starts.
• But what if Price has something that Sabathia and Hernandez don't? Namely 20+ wins and an ERA below 3.00. Over the last 30 years, only once has an AL pitcher with both of those lost the Cy Young to an AL starter who did not. In 2003,
Esteban Loaiza
(21-9, 2.90) lost out to
Roy Halladay
(22-7, 3.25).
• Meanwhile, opponents are slugging .303 against
C.J. Wilson
, the lowest for an AL starter since 2002 (
Derek Lowe
). The .590 OPS against
Trevor Cahill
is the lowest since
Johan Santana
(.565) in 2004.
Today's Leaderboard:
Not only does he lead the league with 27 quality starts, but Hernandez has 20 starts of at least seven innings and allowing two ER or fewer. Jered Weaver (16) is the only AL pitcher with more than 15. Sabathia has 13, while Price has 9. Over the last two seasons, Hernandez has 41 such games, which is 13 more than the next AL pitcher (Sabathia).
Key Matchups:
A pair of the top AL Cy Young contenders square off on Monday, as CC Sabathia tries to wake up the Yankees against David Price and the
Tampa Bay Rays
. According to Elias, it's the first time in seven years that two AL pitchers with at least 17 wins and 150 strikeouts have faced each other.
Sabathia is looking to become the first 20-game winner in the majors. The last Yankees pitcher to do that was Ron Guidry in 1978. Sabathia is 8-4 with a 3.08 ERA in his career against the Rays. However, since joining the Yankees, he's just 1-3 with a 4.23 ERA. Let's see how he stacks up against some of the Rays' top bats:
•
Carl Crawford
has a hit in four of his last six at-bats against Sabathia after hitting .238 against him before that.
• Over the last two seasons,
Carlos Pena
is 0-for-11 against Sabathia with nine strikeouts.
• Of Evan Longoria's five career hits off Sabathia, two are doubles and two are home runs.
Price is 1-1 with a 7.11 ERA against the Yankees this season. Against everyone else he is 16-5 with a 2.55 ERA. In his first start after the break, he allowed seven earned runs against New York. However, it should also be pointed out that Price has won both career starts at home against the Yankees. Let's take a look at some key matchups:
•
Derek Jeter
has hits in three of his last four at-bats against Price. He was just 1-for-13 prior to that.
•
Jorge Posada
is just 1-for-13 against Price with six strikeouts.
•
Mark Teixeira
is just 2-for-13, but Price has never struck him out.
Trivia Answer:
Hiroki Kuroda
is just 6-8 in his 19 quality starts this season. Overall, the
Los Angeles Dodgers
are 10-9 in those games.
September, 4, 2010
9/04/10
7:23
PM ET
Not only did the
Minnesota Twins
'
Jim Thome
pass
Mark McGwire
for ninth on the all-time home run list with HRs 583 and 584 on Saturday, but it also marked the 16th season that Thome's hit at least 20 home runs. Since 1994, Thome has hit at least 20 HR in each season with the exception of 2005, when he hit seven in 59 games with the
Philadelphia Phillies
.
• The
Texas Rangers
'
Colby Lewis
has now allowed two home runs in back-to-back starts for the first time this season. This after he allowed more than one HR just twice in his first 25 starts.
• On Aug. 11, the
St. Louis Cardinals
finished a three-game sweep of the
Cincinnati Reds
. Since then? The Reds are 15-5 while the Red Birds are 6-14. In that span, the Reds went from one back of the Cardinals in the National League Central to eight games in front.
•
Albert Pujols
had an infield single Saturday, snapping the longest at-bat drought of his career without a hit at 18. His batting average dropped from .322 to .310 during that stretch.
• After going 17-6 with a 1.99 ERA in his first 25 starts, the Cardinals'
Adam Wainwright
is now 0-4 with a 4.88 ERA in his last four starts.
• The
Chicago Cubs
'
Carlos Zambrano
continues to pitch well of late: 4-0, 1.98 ERA in his last six starts. Saturday against the Mets, he allowed one walk and no hits against the 12 batters who faced a two-strike count. Zambrano also retired nine of the 10 Mets he faced with runners on base. The first 10 batters of the game and 19 of 26 overall saw a first-pitch strike. Zambrano's overall first-pitch strike percentage was also his highest in six starts.

• Twenty-three of the
Boston Red Sox
30 plate appearances against the
Chicago White Sox
John Danks
were four pitches or less, and 17 of those 23 began with first-pitch strikes. The Red Sox were 2-for-17 (.118) when Danks was even or ahead in the count. Danks used his changeup as his out pitch. Of 18 changeups he threw, 13 came in two-strike counts. He threw 52 of 103 pitches either low in the zone or below it, including 30 that were out of the strike zone. That's the first time in 11 starts that more than half of Danks' pitches have been on the low side.
• The
Oakland Athletics
'
Trevor Cahill
became the fourth starting pitcher since 2000 -- and first since
Mark Prior
in 2003 -- to win at least 15 games in season at age 22 or younger.
August, 30, 2010
8/30/10
2:34
PM ET
By
Gregg Found, ESPN Stats & Info
| ESPN.com
Today's Trivia
:
Trevor Hoffman
has his first opportunity to nab save No. 600 tonight, so let's take a look back at his career with a two-part trivia question.
You might not have realized that Hoffman's first career save came not with the
San Diego Padres
but with the
Florida Marlins
. Hoffman played on that inaugural Marlin team in 1993 but was traded in the middle of the season to the Padres. Who was the big name on the other end of the deal that was traded for Hoffman?
In Hoffman's career, only two closers have won Cy Young awards –
Eric Gagne
and Dennis Eckersley. But Hoffman TWICE finished as the runner-up in Cy voting. Who did he lose to? Bonus points if you know the year.
Quick Hits
: If Sunday was Manny Ramirez's last game and last plate appearance with the
Los Angeles Dodgers
, then he went out with an … extended thumb. Manny's ejection, after arguing about a strike call that PitchFX had located 3.8 inches off the outside corner, was certainly a memorable and odd way to finish a stint with a team. Let's take a look at some of Manny's other openers and closers with the team's he has played for in his 18-year career:
• His MLB debut, in 1993 with the
Cleveland Indians
, didn't come until September as a call-up. In his first-ever game, Manny was the DH and went 0-for-4, though he didn't strike out. It was the first of 268 times that Manny has gone 0-4 or worse in his career, though only 68 of them didn't include a strikeout.
• He went out with a bang, or more appropriately, a bomb with the Indians, homering in his last game. In fact, Manny finished his Cleveland career by homering in each of his last three games. Manny has had 20 streaks of three-plus games with a home run in his career.
• There's more: Manny also had two-plus hits in each of those last three games with the Indians. He's only had seven streaks of three-plus games with two hits and a homer in his career, and his streak to finish his Indians career was one of them.
• In his first game with the
Boston Red Sox
, Manny went 1-3 and only lasted seven innings before being lifted for a pinch runner,
Darren Lewis
. Not a smart decision by Jimy Williams, then the Red Sox manager. The Sox ended up losing, 2-1 in extra innings, and Manny would have had two more at-bats in the game. Instead, Lewis took those at-bats and went 0-2.
• Manny's last game with Boston was a lesson in bad breakups. Ramirez went 0-3, then gave this quote: "The Red Sox don't deserve a player like me," he said in an interview with ESPNdeportes.com. "During my years here I've seen how they have mistreated other great players when they didn't want them to try to turn the fans against them."
• His first game as a Dodger had better numbers: 2-4 at the plate, the only Dodger in the lineup that day who got multiple hits against Diamondbacks starter
Randy Johnson
. But in the bottom of the ninth with the Dodgers down a run, Manny had a chance to have an extra-special debut and send Dodgers fans into a frenzy. Instead, he grounded into a double play with a runner on base, sealing the Dodgers' loss.
Today's Leaderboard
: You'll never guess where Manny's new team is playing this week. They're headed to Cleveland and then Boston – two locations pretty familiar to Ramirez. Thank the baseball scheduling gods for their sense of timing.
There are only two stadiums where Manny has not had a plate appearance - Target Field and the new Yankee Stadium. The White Sox don't travel to either park the rest of the year, so Manny won't be able to cross those off his list yet.
Key Matchups
:
Trevor Cahill
enters tonight's matchup with the
New York Yankees
on an absolute tear. He has a 1.00 ERA over his last seven starts, throwing a quality start every time. Cahill has faced the Yankees only once in his two-year career, and it came earlier this season. That start was one of the worst of the year for Cahill, allowing six ER in six innings. But it was
Alex Rodriguez
who did most of the damage, hitting two home runs. That won't be the case this time around - A-Rod is on the DL, and the rest of the Yanks haven't had much success against Cahill. All other Yankees are 3-22 (.136 BA).
• Something to keep an eye on when
Pat Misch
tries to limit the
Atlanta Braves
in tonight's ESPN game: in his career Misch allows a .256 batting average when the bases are empty but that jumps to .322 when there are runners on. Pretty odd numbers for a former reliever that should be used to pitching out of the stretch. Those numbers are even more disparate this season: .222 opponents' BA when the bases are empty, .379 with runners on.
• Among all active batters whom
Jake Westbrook
has faced more than 30 times,
Carlos Lee
is hitting them the hardest. Lee has a career .406 BA and .594 slugging percentage against Westbrook, whom he'll face tonight in Houston. Lee and Westbrook spent most of their duels in AL Central play when Lee was on the White Sox and Westbrook an Indian.
Trivia Answer
: On the other end of the deal was
Gary Sheffield
, who went to the Marlins in June. Just for fun, Sheffield batted just .150 (3-20) with seven strikeouts in his career against Hoffman.
Hoffman was runner-up for the Cy in 1998 to
Tom Glavine
. Hoffman's Padres beat Glavine's Braves that year in the NLCS. In 2006, Hoffman finished second to
Brandon Webb
.
August, 26, 2010
8/26/10
12:05
AM ET
Let's take a look at some of the notes from around baseball Wednesday night:
•
Felix Hernandez
pulled his record to .500 (10-10) by allowing two runs (one earned) in 7 1/3 IP in the
Seattle Mariners
4-2 win at the
Boston Red Sox
. King Felix's seventh strikeout of the night (in the sixth inning against
David Ortiz
) was the 1,000th of his MLB career. At 24 years and 139 days old, Hernandez is the fourth-youngest pitcher in MLB history to reach 1,000 career strikeouts. Hernandez is now 3-0 with a 1.53 ERA in his career at Fenway Park.
•
Trevor Cahill
allowed 1 unearned run in seven innings pitched against the
Cleveland Indians
to pick up his 14th win of the season. His performance is the 17th straight quality start by
Oakland Athletics
starters. According to the Elias Sports Bureau, that is the longest streak by an MLB team since the Braves had a 21-start streak in 1997. It is the longest by an AL team since the Yankees had an 18-start streak back in 1981.
• In the
Texas Rangers
win over the
Minnesota Twins
,
Josh Hamilton
reached 30 HR for the second time in his career. He's the seventh player to have multiple 30-HR seasons for the Rangers. Twins starter
Brian Duensing
had gone 110 AB without allowing a HR to a left-handed batter before Hamilton's blast.
•
Vladimir Guerrero
hit his 430th career home run and is now one HR shy of tying
Cal Ripken
, Jr. for 39th all-time.
•
C.J. Wilson
improved to 10-2 at home. He's the first Rangers starter with 10 home wins since 2004 (
Kenny Rogers
and
Ryan Drese
).
Joe Mauer
was hitless in three at-bats vs Wilson. He's now 1-17 in his career against Wilson. His .059 batting average vs Wilson is his worst vs any pitcher he has faced at least 10 times.
•
Hiroki Kuroda
tossed seven innings and picks up a win as the
Los Angeles Dodgers
defeated the
Milwaukee Brewers
. However, the story we're following is Kuroda's batting (or lack thereof). Kuroda went 0-3 and is now hitless in 43 at-bats this season. The last player with MORE than 40 AB without a hit (in an entire season) was Randy Tate in 1975.
• The
Houston Astros
defeated the
Philadelphia Phillies
again and have now taken the opening three games of their four-game set at Citizens Bank Park. It's the Phillies' first three-game home losing streak since April. The Astros have won four straight on the road for the first time since April of 2009.
July, 15, 2010
7/15/10
9:11
AM ET
By
Doug Kern, ESPN Stats & Info
| ESPN.com
Yesterday, we unveiled some of our midseason 2010 Next-Level Awards. Here are the rest of the honors:

The "Let's Go Home" award

For exemplary performance in the 7th inning and later.

Despite Baltimore's lowly place in the standings, Nick Markakis has been trying his best to keep them in the game. Among players with 100 plate appearances from the 7th inning onward, he has the best batting average (.384), and is among the league leaders in doubles (10).

Unfortunately, by the 7th inning, the Orioles are already trailing 58% of the time, and they're a ridiculous 1-51 when behind entering the 9th. That one win was the extra-inning, rain-delayed affair in Texas last Friday. Markakis can only do so much.

Runners-up: Joey Votto (.380), Angel Pagan (.379), Jose Guillen (.353).


And now (drum roll) on to the pitching side. For pitching awards, we used a minimum of 200 batters faced (as opposed to a certain number of innings), giving us 164 eligible recipients.


The "Tie 'Em Up" award

Some of the silliest-looking swings are when hitters chase balls way in on their hands. It's hard to get around quickly on an inside pitch, so even if you do hit it, it's generally not for power.

The best at tying 'em up? The Braves' Tim Hudson, who surrenders just a .116 batting average on pitches that are on the inner third or too far inside.

Hudson is doubly qualified for this award; his overall opponents' average is .219. That 103-point difference between the two is also the best among our qualifying pitchers.

Runners-up: Francisco Rodriguez (.143), David Price (.155), Mat Latos (.158)


The "Finish Him" award

If the best pitch in baseball is strike one, then strike three must be right behind it. For some reason, though, some pitchers can't get over that two-strike hump. Sometimes they get cute and try to trick a hitter into swinging at bad pitches. Sometimes they know a hitter is sitting on a pitch in the zone and will try to nibble.

The pitcher who gives up the least once he gets to two strikes is the Mariners' Felix Hernandez. You'd better get to King Felix early, because opponents only hit .117 off of him in two-strike counts. (And that's ALL two-strike counts; when it's 0-2 it drops to .089.) Before two strikes, though, his average against is a whopping .331.

A close second is Giants ace Tim Lincecum, at .121. With all those strikeouts, you'd expect he'd be good at closing the door. But his average allowed with zero and one strikes -- .367 -- is even worse than Felix's. In fact, the 246-point difference in Lincecum's averages is third-highest in the majors.

Other runners-up: Trevor Cahill (.131), Mat Latos (.132), Ervin Santana (.138).

And the worst? The Nationals' John Lannan, who allows a .293 average and has surrendered 11 of his 26 extra-base hits after he's got two strikes.


The "Souvenir Hunter" award

Tiger fans are going to show up to watch Justin Verlander pitch anyway. But bring your glove. Verlander is currently inducing the highest number of foul balls off the bats of opposing hitters (414). He barely lost this category (by three) to Cliff Lee last season. Obviously not all of those reach the seats. But it's an indication of how much trouble batters have catching up to Verlander's fastball which averages in the 96-mph range.

Runners-up: Phil Hughes (407), Johan Santana (402), Matt Cain (392).


The "Making Him Work" award

In this blog and others, we reference the "patience index" -- the average number of pitches that a batter sees during a plate appearance. We can do that for pitchers also. Because, again, it's not always innings that matter.

Jered Weaver of the Angels gets the nod for having the most pitches thrown per batter this season. He's faced 490 hitters and launched 2,088 balls toward them. That's 4.26 each. Only 33 of those batters bothered to put Weaver's first pitch in play, and a third of them got hits.

Runners-up: Rich Harden (4.25), Tyler Clippard (4.20), Bruce Chen (4.18).

Honorable mention: Appropriately, we'll close with the guy who's occasionally labeled the "greatest closer ever", Mariano Rivera. He actually comes in higher than Weaver, at 4.42 pitches for every batter faced. Alas, he doesn't face enough batters to make our minimum.
July, 2, 2010
7/02/10
6:04
AM ET
By
ESPN Stats & Info
| ESPN.com
Why Yankees starter
CC Sabathia
beat the Mariners:
- Despite allowing a season-high 9 offspeed pitches to be put in play, hitters went just 2-11 (2 K) and are now 6-64 against them over his last 6 starts (8-15 in previous 2 starts).
- Narrowing the above note to just change ups, hitters were 0-6 and are now 1-25 over his last 6 starts (4-5 in previous 2 starts).
- Finished off 11 of 12 hitters that reached 2 strikes (92 percent; MLB avg is 72) despite striking out just 4 batters (33 percent; Sabathia's avg was 45 entering today)
Why Angels starter
Jered Weaver
beat the Rangers:
- Threw 24 curveballs (21.2 pct of his pitches), 2nd-most in a start this season.
- This kept hitters off his heater: 1-for-15 (.067) vs fastball (.218 before Thursday).
- Also helped other pitches: 41.7 chase pct vs sliders/change ups (2nd best this season), hitters just 1-for-6 vs those 2 pitches.
Why A's starter
Trevor Cahill
beat the Orioles:
- Hitters were 0-8 against offspeed pitches; 0-15 over last 2 starts.
- Hitters were 4-16 against fastballs (.211 BA for the season is 2nd among AL starters).
- Kept over half of his pitches down in the zone, inducing hitters to go 1-12 (3-32 over last 3 starts).
- Hitters were 0-10 when they reached 2 strikes, 0-23 over last 2 starts.
BOUNCING BACK
Despite the Mets losing for the 9th time in his last 12 starts,
Johan Santana
bounced back from a tough stretch with his 1st quality start since June 2. The key for Santana was his ability to finish the job when the count got to 2 strikes. Recently, opposing hitters had been able to fight him off and eventually get hits:
LOOKING AHEAD TO FRIDAY
BOSTON RED SOX
Opposing Orioles starter
Brad Bergesen
has struggled this season with his fastball, his primary pitch, allowing a .356 batting average against. The Red Sox are especially strong against the fastball, hitting .304 and slugging .531.
LOS ANGELES DODGERS
Against the Diamondbacks
Edwin Jackson
, teams are batting .200 (23-115) with 49 strikeouts when seeing his slider. The Dodgers are hitting .214 against sliders this season, with just 10 of their 58 home runs and 160 of their 550 strikeouts against the pitch.
NEW YORK YANKEES
The Yankees lost to
Brett Cecil
and the Blue Jays on June 4th when they chased 50.7 pct of Cecil's pitches out of the strike zone (most in a Cecil start this season). That game was a rarity - the Yanks' highest chase pct in a game this season - as they currently rank 28th in the majors in chase pct (20.4).
In his June 4th loss to Toronto,
A.J. Burnett
allowed a season-high 3 HR (since matched). Burnett threw 41 curveballs (most in a start this season), but all 3 Blue Jay HR came against fastballs.