Stats & Info:

Vance Worley
June, 3, 2012
6/03/12
11:37
PM ET
By
John Fisher
| ESPN.com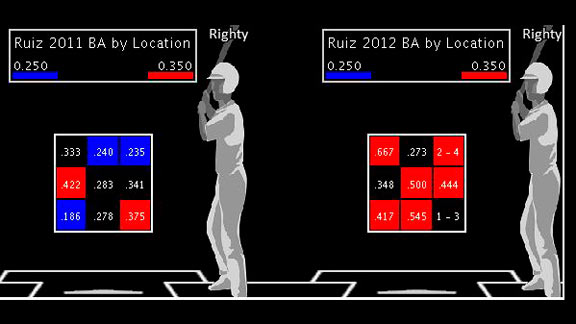 Carlos Ruiz is off to a great start in 2012, pounding everything thrown in the strike zone.
When the
Los Angeles Dodgers
visit the
Philadelphia Phillies
on Monday Night Baseball (ESPN, 7 ET), it'll be a rematch of the 2008 and 2009 NLCS, both of which were Phillies wins.
It will also be a matchup featuring one of the three Cy Young Award winners on these two teams against an up-and-comer with a special skill.
But the most intriguing matchup this week will be the one between the two catchers who are playing like they're headed to the All-Star Game.

Ruiz
Ruiz vs Ellis
Phillies catcher
Carlos Ruiz
has a World Series ring and has caught a postseason no-hitter and a regular-season perfect game, but this season he's become a legitimate MVP candidate with his work
at
the plate.
His counterpart, Dodgers backstop
A.J. Ellis
, has nearly been Ruiz's equal, an on-base machine who stops a team's running game in its tracks.
Ruiz is not just the team MVP and one of baseball's best catchers, he's one of the best players in the majors.
He's in the top five in all of baseball in batting average (.371), on-base percentage (.420) and slugging percentage (.609).
After hitting six home runs and driving in 40 runs last season, he's already got eight homers -- one away from his career high -- and 32 RBI in a little more than a quarter of the at-bats.
Ruiz has taken a more aggressive approach, which has paid dividends, as he's swinging more often and making more contact.
And he's improved an already impressive performance against fastballs, hitting .435, slugging .667 and missing fewer than five percent of his swings against the heater.
Ellis, who has already set a career-high for at-bats in a single season, is the only catcher in the bigs this season with a better on-base percentage than Ruiz. His mark of .430 is fourth-best in the majors.
Ellis, who brings a seven-game hitting streak into the series, is in the top four in hitting and slugging among catchers.
He's proving his worth behind the plate as well, throwing out 42 percent of attempted base-stealers, the second-best mark in the big leagues. Ruiz, at 37 percent, is fifth (minimum 25 SB attempts). And Ruiz is one of only three catchers with more Defensive Runs Saved than Ellis among those with at least 250 innings.

Kershaw
The Starters
Clayton Kershaw
, who goes for the Dodgers, has lost two straight starts for the first time since September 1 and 7, 2010. He has never lost three straight starts in his career.
He's 0-4 with a 5.18 ERA in six career starts against the Phillies, his most starts and losses against any team without a win and his highest ERA against any team he's faced more than once.
Vance Worley
goes for the Phillies, making his first start since coming off the DL. Despite missing four starts, he leads the major leagues in strikeouts looking, with 27.
Through May 11, the date of Worley's last start,
Mike Minor
was second with 20 strikeouts looking, the only other pitcher with more than 17. Since becoming a member of the starting rotation full-time last season (June 18), he leads the majors with 82 strikeouts looking, just ahead of
David Price
(77),
Justin Verlander
(77) and teammate
Cliff Lee
(75).
The Injury Effect
Both of these teams are familiar with the Disabled List. The Dodgers have used the DL 14 times (tied for third in MLB) and the Phillies have used it 12 times (fifth in MLB). Both teams have put 12 different players on the Disabled List, tied for fourth-most in baseball.
September, 20, 2011
9/20/11
3:42
PM ET
By
John Fisher
| ESPN.com

The
Philadelphia Phillies
entered this season with World Series expectations on the strength of a starting rotation that many thought could reach historic performance levels. Injuries have a way of messing up the best-laid plans, and the Phils rotation was no different.
Roy Oswalt
and
Joe Blanton
have started 27 games combined; Blanton isn't guaranteed a spot on the postseason roster and Oswalt may not even crack the rotation.
Worley
That's because rookie
Vance Worley
, the Phillies' third-round draft pick in 2008, has been one of the best starters in the National League this season, especially since being recalled from the minor leagues and officially stuck in the rotation on June 18.
He's done it by using his changeup in favor of his slider -- but before he gets to two strikes. Since being recalled in June, Worley has cut his changeup usage in half (14 percent to 7 percent) and nearly doubled his slider usage (12 percent to 23 percent).
And perhaps an even bigger difference is the change he's made with two strikes. Since June, Worley has thrown his fastball less often and his slider more often in two-strike counts. Perhaps that's made his fastball somewhat of a sneaky two-strike offering.
With two strikes he's throwing all of his pitches in the strike zone more often (from 36 to 46 percent). Opponents are missing only nine percent of his two-strike fastballs, way down from 23 percent before his demotion. That hasn't mattered because hitters don't seem ready for the heater.
Since rejoining the big league club on June 18, Worley -- whose fastball averages just 90.2 MPH -- has the second-most strikeouts looking in the major leagues. Only Justin Verlander, he of the 12 straight wins and 95 MPH fastball, has more in that span.
Incredibly, 45 of his 49 called strike threes have come via the fastball, nine more than David Price, who's second in the bigs with 36 over that same span.
As a result, he's got the 11th-best ERA and the 15th-best opponents' batting average in the major leagues since his callup.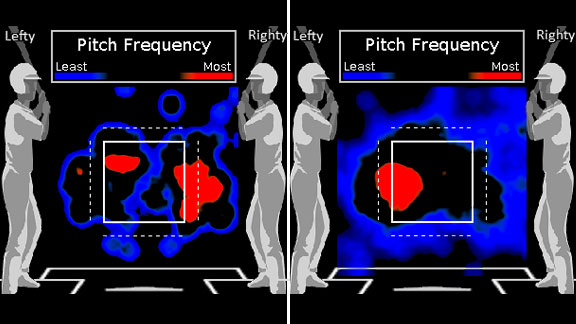 ESPN Stats and Information
Left
: Worley's fastball location through before June 18.
Right
: Worley's fastball location since then.
September, 12, 2011
9/12/11
1:29
AM ET

With their 6-5 come-from-behind win against the Angels Sunday, the
New York Yankees
increased their lead in the AL East to 3 ½ games in front of the
Boston Red Sox
.
Mariano Rivera
picked up his 40th save this season and 599th of his career. He's now one save away from joining
Trevor Hoffman
as the only players with 600 saves.
Prior to Sunday, the Yankees' biggest lead in the AL East at the end of any day's play this season was three games and their largest deficit was also three games. According to the Elias Sports Bureau, no major-league team has ever gone through an entire season without either leading or trailing in its division (or league before 1969) by more than three games at the end of any day's play. Since 1900, no other team had done that as far into a season as this year's Yankees.

Upton
The
Tampa Bay Rays
completed a sweep of the Red Sox after
B.J. Upton
blew the game open with a grand slam in the fifth inning. With
Justin Upton
having hit a bases-loaded homer on July 23, Elias also tells us the Uptons became the tenth pair of brothers to hit grand slams in the major leagues in the same season. The Molinas are the only other brothers to do that over the last ten seasons (Bengie and Jose in 2004, Bengie and Yadier in 2010). All three DiMaggio brothers (Joe, Dom and Vince) hit grand slams in 1941.
After 14 straight wins when
Vance Worley
has started, the
Philadelphia Phillies
finally lost Sunday with Worley on the mound, 3-2 to the Brewers. According to Elias, the 14 straight wins matched the longest such single-season streak for a rookie pitcher in the Live Ball era. The 1970 Reds won 14 straight behind Wayne Simpson, as did the 1944 Cardinals behind Ted Wilks.
Finally, in our nation's capital,
Ian Desmond
,
Rick Ankiel
and
Ryan Zimmerman
homered back-to-back-to-back as Washington beat the Astros 8-2. It was the first time the Nationals accomplished that feat since July 2009.
Stephen Strasburg
lasted just three innings and got another no-decision, the shortest start of his career.
September, 10, 2011
9/10/11
1:00
AM ET
October is fast approaching and baseball fans are lamenting the lack of pennant races. But many of those teams with their tickets virtually punched for the postseason are facing a race to get some key contributors healthy.
Entering Friday's action, there are nine teams either leading a race for a playoff spot or within five games of one of those spots.
Among those, the
Boston Red Sox
have had the most 2011 contributors hit the disabled list this season with 16.
The Red Sox have the depth and star power to overcome those losses to make a playoff berth likely.
The AL has six players with a WAR above six this season and the Red Sox have three of them:
Jacoby Ellsbury
(8.2),
Dustin Pedroia
(6.9) and
Adrian Gonzalez
(6.1). They went 12-2 without
Jon Lester
in July.
But things have been rough lately without
Kevin Youkilis
. The third baseman was placed on the 15-day DL on August 18 and has been undergoing tests on his sore left hip. Late reports out of Boston indicate that Youkilis has bursitis in the hip and could rejoin the team this weekend.
In the meantime the Sox have gone 11-11 and seen their wild card lead over the
Tampa Bay Rays
shrink from eight to five and a half after Friday's loss.
Of course not all injuries are created equal.

For example, the Texas Rangers' missed-games total this season is 636, within a dozen of the other more "injury-prone" teams like Boston, the
New York Yankees
and the
Philadelphia Phillies
.
However, only 113 of those games have been missed by players ever named to an All-Star Game. The biggest suppliers of that 636 total are
Scott Feldman
(92 games),
Tommy Hunter
(82), Darren O'Day (60) and
Eric Hurley
(57).
The likely playoff team with the most combined games missed due to DL stints this season is the Philadelphia Phillies, which makes their MLB-best 93-48 record all the more impressive.
Pitching has been the source of both the team's strength and injury woes so far. Consider how the Cy Young cases of
Roy Halladay
(MLB-best among pitchers 7.4 WAR) and
Cliff Lee
(5.9), along with the emergence of rookie
Vance Worley
, helped Philly go 62-36 without closer
Brad Lidge
and 31-16 without
Roy Oswalt
.
Nick Loucks and Kim Meyer contributed to this story.
August, 23, 2011
8/23/11
11:47
PM ET

With all the firepower of the
Philadelphia Phillies
rotation entering the season, what are the chances the Phils would find the most success not in games started by
Roy Halladay
, he of the two Cy Youngs and two no-hitters? Not in starts by $120 million man
Cliff Lee
? Not in the starts of former World Series MVP
Cole Hamels
? Nor the outings of 3-time All-Star
Roy Oswalt
? Against all odds, the top team in the majors has been at its best when a 23-year old rookie is on the mound.
When the Phillies beat the
New York Mets
Tuesday, they improved to 14-2 in games started by
Vance Worley
this season. Not only is that Philadelphia's best record with any pitcher on the mound, the Elias Sports Bureau tells us it's the best mark any team has in games started by a single pitcher in 2011 (minimum 15 starts).
Worley allowed one run on five hits while striking out a career-high nine and walking one over seven innings. The win was the Phillies 12th straight in a game started by Worley, the longest team win streak in starts by a single pitcher since the
Boston Red Sox
won 12 straight starts by
Daisuke Matsuzaka
over the 2007-2008 seasons.
Prior to Tuesday, the last time the Phillies had won 12 consecutive starts by a single pitcher was 1972 when they won 15 straight outings by Steve Carlton. Worley's next start is scheduled for Tuesday in Cincinnati. If the Phillies win, Worley would be the first pitcher to have his team win 13 of his starts in a row since the
Oakland Athletics
won 14 straight starts by
Dan Haren
in 2005.
Elsewhere around the majors:
•
Craig Kimbrel
worked a scoreless 9th inning for his 40th save of the season, tying the MLB rookie record set by
Neftali Feliz
last year. Kimbrel has not allowed a run in his last 31T innings, the longest streak by a rookie since Brad Ziegler in 2008 (39 innings), according to Elias.
•
Sean Burroughs
provided the only offense in the
Arizona Diamondbacks
2-0 win vs the
Washington Nationals
, hitting a two-run HR in 7th inning. It was Burroughs' first HR since April 30, 2005, a span of 2,306 days. During that span, the MLB HR leader was
Ryan Howard
with 277.
•
Prince Fielder
became the first player to reach 100 RBI in 2011, scoring
Ryan Braun
on a double in the 6th inning in the
Milwaukee Brewers
win over the slumping
Pittsburgh Pirates
. Fielder now has four career seasons with at least 100 RBI, tying Cecil Cooper's franchise record.
•
Ricky Nolasco
passed
Dontrelle Willis
for the most strikeouts in
Florida Marlins
history when he fanned
Johnny Cueto
in the 2nd inning. Nolasco finished the night with eight strikeouts, tied for his second most in an outing this year.
July, 27, 2011
7/27/11
12:01
AM ET
CC Sabathia
bolstered his case for the AL Cy Young Award with another gem on Tuesday night. He struck out a career-best 14 batters while allowing just one hit in seven innings, as the
New York Yankees
sent the
Seattle Mariners
to their 17th straight loss.

Sabathia
Sabathia took a perfect game into the seventh inning before
Brendan Ryan
broke it up with a one-out single. It was the longest perfect bid by a Yankee since
Andy Pettitte
went 6⅔ innings in 2009.
Sabathia also struck out seven straight Mariners, the longest streak by a Yankee since Ron Davis set down eight in a row on May 4, 1981. Sabathia's 14 strikeouts are tied for the fourth-most by a Yankee left-hander, the most since
David Wells
had a 16-strikeout game in 1997.
Sabathia's pitching line of 14 strikeouts and one hit allowed has been duplicated by just four other left-handers in the Live Ball Era.
Randy Johnson
had six such games, while Steve Carlton (1972), Sandy Koufax (1965) and Warren Spahn (1960) also did it.

The Mariners extend their franchise-record losing streak to 17 games, the longest since the Royals dropped 19 in a row in 2005. They struck out 18 times, tied for the second-most strikeouts in a game in team history, and got just one hit on the night.
Only one other team in the Live Ball Era has struck out at least 18 times with one hit or fewer: in 1998, the
Chicago Cubs
Kerry Wood
tossed 20-strikeout, one-hit shutout against the Houston Astros on May 6, 1998.
Around the Diamond
•
Vance Worley
allowed two runs for his first career complete game. He snapped his streak of six straight starts with five-or-more innings pitched and one earned run or fewer allowed, which was tied for the longest by a
Philadelphia Phillies
starter since earned runs became official in 1913.
Worley didn't get a swing-and-miss during his complete game, the first pitcher since
Steve Trachsel
on May 28, 2007 to throw a complete game without getting a swing and miss.
•
Jered Weaver
tossed seven innings of one-run ball, extending his streak of quality starts to 13. He's now tied with Hall-of-Famer Bert Blyleven for the second-longest such streak in Angels history.
•
Joe Nathan
recorded his 254th career save, tying Rick Aguilera for the most in Twins franchise history.
•
Justin Verlander
allowed two homers in a game for the third time this season. It's the seventh time the
Chicago White Sox
have taken him deep twice in a game during his career, the most multi-homer games against him by any team. Only three other teams (
Oakland Athletics
,
Cleveland Indians
,
Toronto Blue Jays
) have even had two such games.
• One of those home runs was by
Adam Dunn
after he was down in the count 0-2. It was his first home run - and only second hit this season - after being down in the count 0-2. Prior to that at-bat, Dunn was 1-for-74 (.014) with 50 strikeouts after being down 0-2.
•
Dustin Pedroia
extended his hit streak to 23 games, tied with Del Pratt in 1922 for the longest by a
Boston Red Sox
second baseman in the Live Ball Era.
Thanks to the Elias Sports Bureau and Baseball-Reference.com for providing many of the notes
July, 21, 2011
7/21/11
12:24
AM ET
Coming into Wedneday's game against the
Los Angeles Dodgers
and
Clayton Kershaw
,
San Francisco Giants
' ace
Tim Lincecum
was 0-3 this season against pitchers named Clayton.
Lincecum can now add a fourth loss to that list and his second to Kershaw, all because of a single pitch.
With the game scoreless in the seventh inning, Lincecum coughed up a solo home run to Dodgers C
Dioner Navarro
. That hit proved to be all the offense Kershaw needed, as he held on for the win, 1-0.
Kershaw threw eight shutout innings, allowing just three hits and a walk, while striking out 12 to improve to 11-4 this season.
It is the sixth time Kershaw has struck out 10 or more batters in a game this season - tied with
Cliff Lee
for most in MLB.
Lincecum, meanwhile lasted seven innings, tallying seven strikeouts and allowing five hits.
Kershaw went to his curveball more often than usual to put Giants hitters away. Ten of his 26 two-strike pitches (38.5 percent) were curveballs, above his 12.9 season average entering the start.
Five of Kershaw's strikeouts were with his curveball, matching his most in a start in the last three seasons.
Four more of Kershaw's strikeouts came with his slider, giving him nine strikeouts on the day with offspeed pitches. He leads the league in strikeouts, mostly because of his ability to punch hitters out with his breaking ball pitches.
ELSEWHERE AROUND THE DIAMOND:
•
Vance Worley
continued his stretch of strong starts as he allowed one earned run in eight innings for his sixth victory of the season as the
Philadelphia Phillies
beat the
Chicago Cubs
, 9-1.
Worley has now made six consecutive starts with five or more innings pitched, while allowing one earned run or fewer. The only other Phillies pitcher in the Live Ball Era (since 1920) with a streak that long is Steve Carlton, who did so in six straight in 1972.

Rollins
Jimmy Rollins
homered from both sides of the plate against the Cubs, the second time in his career that he has accomplished that feat (August 12, 2006 vs.
Cincinnati Reds
).
• In a 14-3 rout of the
Florida Marlins
, all nine
San Diego Padres
players scored a run en route to leading by at least 13 runs through two innings for the first time since May 31, 1994.
The last team overall prior to the Padres to be up by at least 13 runs through two innings was the Cubs, who on August 14, 2009 led 14-0 over the Pirates.

Harang
The Padres have won three of four overall, as
Aaron Harang
(5⅓ IP, 3 ER) has not lost since May 2.
For the Marlins,
Ricky Nolasco
(1⅓ IP, 9 ER) becomes the first pitcher this season to allow nine or more earned runs in fewer than two innings pitched; it happened four times last season.
Hanley Ramirez
hit his tenth home run; he's now hitting .366 over his last 25 games.