Stats & Info:

Vernon Davis
September, 27, 2013
Sep 27
1:49
AM ET
By
ESPN Stats & Information
| ESPN.com
Scott Rovak/USA TODAY SportsFrank Gore ran for 153 yards against the Rams.
After two straight subpar weeks that resulted in consecutive losses for the
San Francisco 49ers
,
Colin Kaepernick
got back on track against the
St. Louis Rams
to snap his team's losing streak.
Kaepernick threw multiple touchdown passes for the fifth time in his career, all five of which have resulted in 49ers victories.
Kaepernick averaged 9.8 yards per attempt when targeting
Anquan Boldin
or
Vernon Davis
, including a pair of touchdowns. When targeting all other receivers, Kaepernick averaged 4.9 yards per attempt with no touchdowns.
Despite the improved numbers on Thursday, Kaepernick continues to struggle on throws of at least 15 yards downfield this season. Kaepernick was 2-of-5 on such throws Thursday. This season, Kaepernick is completing 34 percent of throws at least 15 yards downfield after completing 54 percent of such throws last season, which ranked third in the NFL.
Gore looking young again
Frank Gore
had 153 rushing yards, his most in a game since Week 14 of the 2009 season (167 vs Cardinals).
Gore now has 14 career rushing touchdowns against the Rams, the most by any player against the Rams in franchise history. The next-most is 12 by Lenny Moore, according to the Elias Sports Bureau.
His touchdown came on a 4th-and-1 at the Rams' 34-yard line. It was the longest fourth-down rushing touchdown by any player since
LeSean McCoy
's 50-yarder in Week 11 of the 2010 season against the
New York Giants
.
Gore ran for 115 yards between the tackles. In Gore's first three games this season, he totaled 88 rushing yards between the tackles. Gore averaged 9.6 yards per carry between the tackles Thursday, the most by a running back in a game this season (minimum 10 such rushes).
Rams' rushing problems
The Rams had trouble running the ball against the 49ers, who had allowed more than 170 rushing yards in each of their previous two games. The 49ers came into the game allowing the fourth-most rushing yards in the NFL this season after allowing the fourth-fewest last season.
The Rams totaled just 18 rushing yards on 19 rushes, the first team with at least 19 rushes and 18 or fewer rushing yards since (coincidentally) the 2008 Rams, who had 19 rushes for 14 rushing yards against the Bears in Week 12.
The Rams' struggles on the ground are nothing new. They now have nine straight games with less than 100 rushing yards, tied with the
Arizona Cardinals
and
Pittsburgh Steelers
for the longest active streak in the NFL.
September, 10, 2013
Sep 10
2:03
PM ET
By
John McTigue, ESPN Stats & Info
| ESPN.com
USA TODAY SportsThe threat of running opened the passing game for Wilson (left) and Kaepernick (right) in Week 1.
The
49ers
and
Seahawks
are ranked No. 1 and 2, respectively, in this week's
ESPN.com Power Rankings
. They entered the 2013 season ready to run, and although both
Colin Kaepernick
and
Russell Wilson
displayed an ability to throw last season, each team made waves with their rushing attack, specifically with the read option.
The 49ers averaged 161.3 rush yards per game with Kaepernick as the starter last season (including playoffs), while the Seahawks averaged 200.8 rush yards per game after introducing the read option in Week 13.
Both the Seahawks and 49ers used the read option with great success in 2012. Each team averaged at least 7.0 yards per rush on zone-read options (including playoffs), and each team's most effective rusher on those plays was the quarterback. Kaepernick averaged 10.5 yards per rush on zone reads, and Wilson averaged 8.0 yards.
In Week 1, neither team eclipsed 100 yards rushing, and neither got the option game going. They both used the option seven times, combining for 46 yards. Wilson didn't rush once on those plays, and Kaepernick had two runs: one for no gain and one for minus-10 yards.
As their opponents geared up to stop the run though, Wilson and Kaepernick proved that their arms were up for the challenge.
Both quarterbacks set career highs for passing yards in a regular-season game in Week 1. Wilson threw for 320 yards, and the team ran for 70 (including seven from Wilson). Kaepernick threw for 412 yards, and the team recorded 90 rush yards, with 22 from the quarterback.
Although the rushing game stalled, the threat of the run helped fuel the play-action passing game.
Wilson's 11 play-action completions in Week 1 were the most in the NFL, and his 182 yards on those plays were second to only
Peyton Manning
(200 yards). Since introducing the option in Week 13 against the
Bears
last season, Wilson has averaged 10.5 yards per attempt on play-action passes, a two-yard jump from his first 11 games.
Kaepernick was even more efficient on play action in Week 1, completing 9 of 11 attempts for 152 yards and two scores, all either matching or setting career highs.
The 49ers' play-action game worked mostly to the benefit of
Vernon Davis
. Kaepernick completed all four attempts to him following a play-fake for 74 yards and two touchdowns.
The Seahawks and 49ers will likely find more success on the ground as the season progresses, but if Week 1 proved anything, it's that opponents won't be able to key in on one aspect of the offense.
September, 8, 2013
Sep 8
10:08
PM ET
By
ESPN Stats & Information
| ESPN.com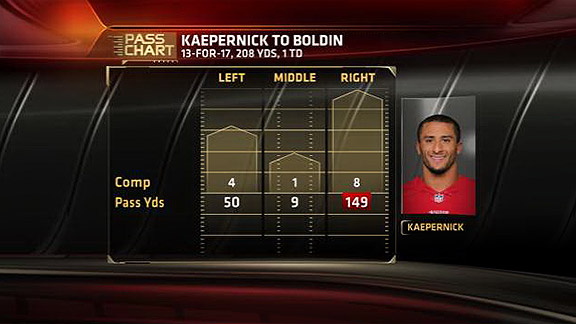 Colin Kaepernick found Anquan Boldin often, especially on the right side of the field.
The
San Francisco 49ers
got the best of the
Green Bay Packers
both in last year's playoffs and on Sunday afternoon.
But the manner in which they did so differed a little bit this time around.
Here's a closer look:
Boldin the beautiful
Statistically speaking,
Anquan Boldin
had one of the best season-opening games in NFL history.
Boldin had 208 receiving yards, the most in a season opener since 2003 when Boldin had 217 as a member of the
Arizona Cardinals
.
He is the only player in the Super Bowl era to have one season opener with at least 10 catches and 200 receiving yards, let alone two.
Boldin was most effective on the right side of the field, as noted in the image atop the article. He finished with five catches at least 15 yards downfield, tied for his most in a game in the last six seasons.
Boldin's 208 yards were 39 more than 49ers great
Jerry Rice
had in his best season opener for the team (1994).
The Elias Sports Bureau noted that Boldin is the first player in NFL history to have 100-yard receiving games in his debut for three different teams.
Packers shut down read option, but not Kaepernick
When the 49ers and Packers met in the playoffs, the 49ers had 16 zone-read rushes for 176 yards en route to the win. They had only seven such rushes for 10 yards on Sunday.
But that did nothing to thwart Kaepernick's effectiveness.
Kaepernick completed 69 percent of his passes and threw for 350 yards and 2 touchdowns from the pocket Sunday. The last time these two teams met, Kaepernick completed a career-low 55 percent of his passes from the inside the pocket.
Kaepernick was 9-of-11 for 152 yards and a pair of touchdowns using play-action fakes.
Vernon Davis
caught all four targets for 74 yards and both touchdowns on play-action passes.
Davis also had 81 of his 98 total receiving yards from the slot. Last season, Davis gained less than one-quarter of his total receiving yards from the slot.
Kaepernick's 89.8 Total QBR against the Packers was the best in any game against them in the last four seasons.
Rodgers struggles against pressure
Aaron Rodgers
was his normal productive self against a standard pass rush Sunday, completing 20-of-30 passes for 330 yards and three touchdowns.
However, when the 49ers sent extra pressure after Rodgers, as they did on four of his eight third-down dropbacks, he was ineffective. Rodgers finished the game 4-of-8 for 45 yards on third down, converting only twice.
April, 25, 2013
Apr 25
11:30
AM ET
By
Doug Clawson, ESPN Stats & Information
| ESPN.com
Matthew Emmons/USA TODAY SportsThe 49ers have had success with a home grown team built primrily through the draft.
The
San Francisco 49ers
enter the 2013 NFL Draft with 13 draft picks, the most of any team. If they make all 13 picks, it will be the most for any team in the draft since the 2010
Philadelphia Eagles
made 13.
Home Grown Team
The 49ers are looking to build on recent draft success and a mostly home grown team. Five of their 10 first-round selections since 2006 have made at least one Pro Bowl, tied for most in the league with the
Washington Redskins
. By comparison, 30 percent of the first-round selections by other teams since 2006 have made at least one pro bowl (An average of two per team).
Fifteen of the 49ers' 22 offensive and defensive starters on last season's Super Bowl roster were drafted by San Francisco, and seven of them were drafted in the third round or later. They have 10 picks in the third round or later this season.
Tough in the Trenches
The 49ers have built their team in the draft starting with the front lines. They started the same offensive line group in all 16 games in 2012 and were the only group to feature three first-round draft picks as their most frequent line combination (
Joe Staley
,
Anthony Davis
and
Mike Iupati
).
Don't be surprised if the 49ers beef up their defensive line in this year's draft. With
Justin Smith
suffering an injury late last season a lack of depth along the defensive line was exposed. The 49ers recorded a sack once every 16.2 dropbacks and allowed a 57.8 Total QBR with Smith on the field last season. With Smith off the field, the 49ers recorded a sack once every 29.4 dropbacks and allowed a 75.2 QBR.
Moving Up?
Will they move up in the draft order to secure one of this year's top defensive lineman? San Francisco especially needs depth at the position after they lost starting lineman
Isaac Sopoaga
and backup
Ricky Jean Francois
in free agency (although they did sign
Glenn Dorsey
).
Trading up has worked for them in the past. The 49ers moved up in the 2011 Draft to the No. 36 pick and selected quarterback
Colin Kaepernick
.
January, 20, 2013
Jan 20
7:08
PM ET
By
ESPN Stats & Info
| ESPN.com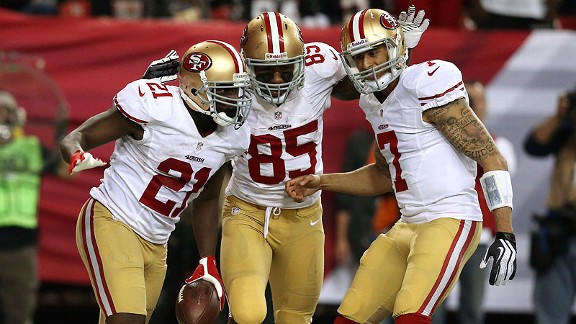 Matthew Emmons/USA TODAY SportsColin Kaepernick (right) and Vernon Davis (middle) gave the Falcons fits for most of the game.
For the second straight week, the
Atlanta Falcons
let a big lead at home get away from them.
Only this time they were not able to come from behind and win.
According to the Elias Sports Bureau, the
San Francisco 49ers
' 17-point comeback (they trailed 17-0) is the third largest road comeback in postseason history. The record is owned by the 1957
Detroit Lions
, who came back from a 20-point deficit at San Francisco. It was the second largest deficit overcome to win a conference championship game. That record is held by the 2006
Indianapolis Colts
, who overcame an 18-point deficit against the
New England Patriots
.
The 49ers' win snapped their five-game playoff road losing streak, winning on the road for the first time since beating the Bears in Chicago in the 1988 NFC Championship Game.
Davis does damage
Vernon Davis
had been virtually nonexistent leading up to the NFC Championship Game. In the previous seven games, Davis had seven receptions for 105 yards and no touchdowns. Against the Falcons, Davis had five receptions for 106 yards and a touchdown -- his first TD reception from
Colin Kaepernick
since Week 11, which was Kaepernick's first start.
Davis was targeted six times on Sunday, this after being targeted an average of three times per game in Kaepernick's first eight starts.
Atlanta struggled defending tight ends this postseason. During the regular season, only one tight end (
Jimmy Graham
) had 100 yards receiving against the Falcons. This postseason, they allowed two such games. (Seattle's
Zach Miller
had 142 yards in the divisional round.)
Containing Ryan's deep throws
Matt Ryan
threw for 271 yards and three touchdowns in the first half. However, after halftime he had 125 yards passing and turned it over twice with an interception and a fumble. Ryan's 396 yards passing are a franchise record in a playoff game, breaking the previous record of 366 set by
Jeff George
in 1995.
In the first half, Ryan was 11-for-12 with two touchdowns on throws more than 10 yards downfield and averaged more than 18 yards an attempt. However, in the second half he attempted just six throws and completed four of them, averaging just more than 12 yards an attempt.
Colin Kaepernick was kept in the pocket on 21 of his 23 dropbacks (91.3 percent), his highest rate of the season, but he averaged 11.5 yards per pass attempt inside the pocket. That was his highest rate since his first start in Week 11 (13.5 yards per attempt).
Also of note
Also according to Elias, the Falcons are the first home "dome" team to lose the conference championship game since the 1998
Minnesota Vikings
, who lost to the Falcons.
The Falcons also are the first No. 1 seed from the NFC to lose in the conference championship game since the 2003
Philadelphia Eagles
.
San Francisco will be going to its sixth Super Bowl, and its first since the 1994 season.
The 49ers have never lost in the Super Bowl (5-0); however, history is not on their side. No team has ever won the Super Bowl without winning at least three straight games during that regular season. And the 49ers did not win three straight games in 2012.
April, 19, 2012
4/19/12
5:34
PM ET
By
Doug Clawson, ESPN Stats & Info
| ESPN.com
Stats & Information gets you ready for the NFL Draft at the end of the month with a look at the biggest need for each team. Today, we take a look at the NFC West.

Arizona Cardinals
Needs:
Offensive line, wide receiver
The Cardinals used only five different offensive line combinations last season, yet allowed a league-high 32 sacks facing four or fewer pass rushers.
Larry Fitzgerald
had 28 catches on throws traveling at least 15 air yards, while no other Cardinal receiver had more than six.
Kiper's 1st-Round Prediction
:
Michael Floyd
, WR,
Notre Dame
McShay's 1st-Round Prediction
:
Melvin Ingram
, DE/OLB,
South Carolina
St. Louis Rams
Needs:
Offensive line, defensive tackle, defensive back, quarterback, wide receiver

The St. Louis Rams need to fill multiple positions under first-year head coach Jeff Fisher.
The Rams' most used offensive line unit played 26 percent of plays together last season (29th in the NFL), and no team allowed more than the Rams' 55 sacks.
Staying on the line, but this time defensively, the Rams allowed a league-worst 5.7 yards per rush and 3.2 yards before contact up the middle last season. In the backfield, St. Louis cornerbacks only intercepted one pass on throws outside the numbers in 2011.
Rams' receivers combined for only 39 receptions on throws traveling at least 15 yards downfield last season (27th in NFL), and
Brandon Lloyd
(who signed a free agent deal with the
New England Patriots
) led the team with 13.
Getting those receivers the ball is quarterback
Sam Bradford
, who is the only player to finish in the bottom five in Total QBR rankings each of the last two seasons.
Kiper's 1st-Round Prediction
:
Justin Blackmon
, WR,
Oklahoma St.
McShay's 1st-Round Prediction
:
Morris Claiborne
, CB,
LSU

Seattle Seahawks
Needs:
Tight end, defensive line
The Seahawks had 12 of their 33 sacks last season with four or fewer pass rushers, despite sending such pressure 70 percent of the time.
Chris Clemons
led the team with 6.5 sacks when Seattle sent four or fewer rushers, but no other defensive lineman contributed more than one.
Seahawks' tight ends accumulated 453 receiving yards, fourth-fewest in the league, including only six receptions on throws at least 15 yards downfield.
Kiper's 1st-Round Prediction
:
Quinton Coples
, DE,
North Carolina
McShay's 1st-Round Prediction
: Quinton Coples, DE, North Carolina

San Francisco 49ers
Needs:
Wide receiver, running back
The 49ers added
Randy Moss
and
Mario Manningham
, but lost
Josh Morgan
to free agency.
Vernon Davis
caught 60 percent of his targets on throws traveling at least 15 air yards, but other San Francisco receivers hauled in 41 percent of their targets and accounted for just half of
Alex Smith's
touchdowns on throws of that distance.
The 49ers were one of eight teams without a receiving touchdown by a running back last season, and led the league in drops despite having the second-fewest targets.
Kiper's 1st-Round Prediction
:
Stephen Hill
, WR,
Georgia Tech
McShay's 1st-Round Prediction
: Stephen Hill, WR, Georgia Tech
January, 14, 2012
1/14/12
9:50
PM ET
US PresswireThe 49ers celebrate after rallying for a 36-32 win over the Saints in a NFC Divisional Playoff game.
The
San Francisco 49ers
and
New Orleans Saints
once again proved that no lead is safe in the playoffs. The two teams exchanged leads four times and combined for four touchdowns in the final five minutes of the game, with
Vernon Davis
catching the final score with nine seconds remaining to lift the 49ers to a 36-32 win.
Elias confirms that this game was only the second playoff contest in NFL history in which both teams scored at least 16 points in the fourth quarter. The only other game was Super Bowl XXXVIII between the
New England Patriots
and
Carolina Panthers
.
Why the 49ers Won
Davis emerged as a pass-catching threat for the unusually pass-happy 49ers. Davis caught seven passes for a career-best 180 yards, the second-most in 49ers postseason history, as
Alex Smith
reached season-highs in attempts (42) and yards (299).
Smith was really effective finding Davis on deep throws. Smith went 5-for-5 for 167 yards and two touchdowns, including the game-winner, when targeting Vernon Davis 11 yards or more downfield. Davis hadn't caught five such throws in a game over the past four seasons.
Smith also was able to do damage with his legs, scoring a go-ahead touchdown on a designed run on 3rd-and-7 from the Saints' 28-yard line. That play was far from ordinary.
During the regular season, quarterbacks attempted a designed run on 3rd-and-7 or more only 2.4 percent of the time and only once on those 81 carries did the quarterback score a rushing touchdown on the play (
Chad Henne
in Week 1).
The 49ers defense also did its job, forcing five takeaways that led to 13 points. San Francisco tied for the NFL lead in takeaways during the regular season and had the sixth-most points off turnovers.
Turning Point
Facing third down on the Saints' 14-yardline with under 15 seconds remaining in regulation, Smith found Davis on a short pass up the middle and Davis went in for the game-winning score with nine seconds left on the clock.
According to Elias, this was just the fifth time in NFL postseason history that a team scored a touchdown to take the lead when trailing with fewer than 10 seconds left in regulation. The last such score was Kevin Dyson's 75-yard kickoff return in the 1999 Wild Card Playoffs.
Why the Saints lost
Drew Brees
piled up the passing yards in typical fashion but was uncharacteristically inaccurate in this game. He entered this game with a NFL-record streak of 215 postseason passes without an interception and then threw two in the first half.
Both of those picks came on throws more than 20 air yards downfield, his first multi-interception game on such throws since Week 7 of 2009.
Brees also struggled when under duress (i.e. forced to move or alter throw due to pressure) in this game. Brees completed just 5-of-16 passes when under duress, after posting the second-best completion percentage (53.3 percent) in those situations during the regular season.
Brees did throw for 462 yards, becoming the first player in NFL history with three 400-yard passing games in the postseason. Brees now has the two highest passing yard totals in a playoff regulation game. His 63 attempts were the fourth-most ever in a postseason game.
Stats of the game
With the win, the 49ers have have 19 home playoff victories, matching the
Cowboys
and
Raiders
for the second-most in NFL history.
With the loss, the Saints drop to 0-5 all-time in road playoff games, tying the
Cincinnati Bengals
for the worst road playoff record in NFL history.
November, 20, 2011
11/20/11
9:53
PM ET
Jay Cutler
and
Philip Rivers
are two quarterbacks headed in completely different directions, and the results are reflected in the recent performances of their teams.
The
Chicago Bears
have a five-game winning streak for the second straight season. The
San Diego Chargers
have lost five straight for the first time since a nine-game losing streak spanning 2002 and 2003.
Cutler avoided a sack for just the second time in his last 30 games, even though there were multiple situations in which he faced significant trouble.
Cutler did complete six of his eight pass attempts while under duress (a term used by our video review crew describing a quarterback who was either forced from the pocket, altered his throwing motion due to pressure, or there was a defender who had a clear path in his line of sight), including a third-quarter touchdown to
Johnny Knox
that gave the Bears the lead for good.
Entering Week 11, Cutler had attempted 81 passes while under duress, the most in the NFL, but hadn't had anywhere near the success he had on Sunday.
On the other hand, Rivers struggled, even when not pressured. He now has 21 turnovers, matching his career high for
an entire season
, set in 2007. He had major issues in the fourth quarter, throwing interceptions on two of his four pass attempts when the Bears sent four-or-fewer pass rushers, after completing 17-of-22 passes in such situations in the first three quarters.
Following the game, sources reported that Cutler suffered a broken thumb that may cost him the rest of the regular season.
A good day for record-setting tight ends
San Francisco 49ers
tight end
Vernon Davis
set the team record for most touchdowns caught at that position (34) as his team improved to 9-1 with its win. Davis previously shared the mark with
Brent Jones
.

Davis
One of the differences in the game was that the 49ers' secondary limited Arizona quarterbacks to 2-for-13 (15.4 percent) passing, and intercepted two throws traveling at least 11 yards from the line of scrimmage.
San Francisco had not held an opposing team to two or fewer completions in a single game on throws of that distance since Week 11 last season.
The other record of note from the late-afternoon games was that
Atlanta Falcons
tight end
Tony Gonzalez
joined
Jerry Rice
as the only two players in NFL history with 14 seasons of 50 receptions or more.
Gonzalez had five catches in the Falcons win, and had his third straight game with a touchdown catch.

Gonzalez
Gonzalez did that in a game in which
Matt Ryan
threw for more than 300 yards, the fourth time this season he's done that, matching
Jeff George
for the most 300-yard games by a Falcon in a single season.
Ryan completed 9-of-10 passes for 178 yards against five or more pass rushers Sunday. Ryan's 17.8 yards per attempt against added pressure is his highest mark in a single game since Week 10 of the 2008 season against the New Orland Saints.
Teammate
Roddy White
had his 25th career game with 100 yards receiving, the most such games in Falcons history.
November, 13, 2011
11/13/11
9:55
PM ET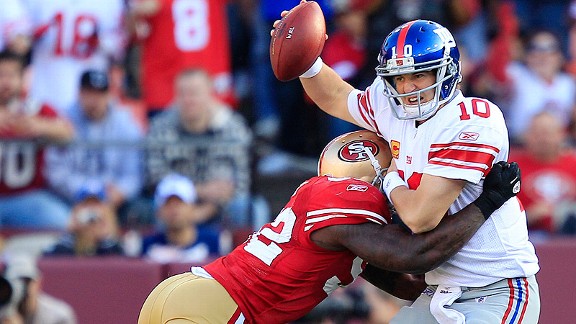 AP Photo/Marcio Jose Sanchez
The 49ers defense caused trouble for Eli Manning, leading to good field position for an offense that capitalized enough to win.
On Sunday, the
San Francisco 49ers
got the biggest win on a day when the west proved to be best.
That's west as in the NFC West, which went 4-0, with the
St. Louis Rams
,
Arizona Cardinals
and
Seattle Seahawks
all winning close games as well.
Since the NFL's divisions were re-aligned in 2002, the four teams had
never
won in the same week.
The 49ers beat the Giants despite losing
Frank Gore
to a knee injury. He finished with zero rushing yards, snapping his streak of five straight 100-yard games.
Alex Smith, who entered the day second in the NFL in completion percentage when targeting his tight ends, was again sharp when looking to his big target on Sunday. He was 9-for-11 for 109 yards and a touchdown on such throws. The touchdown for
Vernon Davis
was his 33rd, tying
Brent Jones
for the most by a tight end in team history.
The 49ers defense forced two turnovers and won the field position battle. It was the eighth time in nine games this season that they forced two or more turnovers. The Giants' best starting field position was their own 22-yard line (10 possessions), while the 49ers' average drive started at their own 35-yard line.
Eli Manning had a pair of interceptions on throws traveling at least yards downfield, giving them 10 interceptions on such throws this season. Last season, the 49ers intercepted only four passes on throws of that distance, ranking 28th in the league.
Earlier this week,
we wrote about how the 49ers special teams would be a key
and the kicking game was huge.
David Akers
made all four of his field goal attempts, including a 52-yarder that made him 5-for-5 on kicks of at least 50 yards this season. He's made 15 straight field goals overall and is now 23-for-25 on tries this season.
Elsewhere in the NFC West
Other statistical highlights from Sunday …
• The Seahawks eked out a 22-17 win over the
Baltimore Ravens
.
Marshawn Lynch
ran for 109 yards, giving him consecutive 100-yard rushing games for the first time in his 65-game career.
Steven Hauschka
made a career-high five field goals.
The Seattle defense held
Ray Rice
to 27 rushing yards, his lowest total in 21 games (ran for 20 yards at Steelers in Week 4 last season).
• Earlier in the day, the Cardinals snapped a streak of 25 straight games without back-to-back wins and snapped its 11-game road losing streak by beating the
Philadelphia Eagles
, 21-17. The Eagles have now blown five fourth-quarter leads this season and been outscored, 74-27 in the fourth quarter.
The Cardinals thwarted
Michael Vick
, holding him to 1-for-11 with an interception on throws of at least 11 yards.
• The Rams survived a scare from the
Cleveland Browns
, 13-12, winning when
Phil Dawson
missed a late field goal attempt from 22 yards.
Steven Jackson
rushed for 128 yards. He's had three straight games with at least 100 yards rushing, the third straight season in which he's had a streak of that length.