Stats & Info:

Villanova Wildcats
March, 18, 2014
3/18/14
10:41
AM ET
By
Alok Pattani, ESPN Stats & Info
| ESPN.com
Ralph Freso/Getty ImagesBehind Nick Johnson, Arizona is No. 1 in BPI and the most likely team to win the NCAA championship.
While ESPN's
Basketball Power Index
wasn't designed to be purely predictive, there has been interest in using BPI to help with picking
NCAA Tournament
brackets. It's one thing to just look at the BPI rankings and pick the higher-ranked team to win each matchup. If you do that this year, you end up with a pretty chalky bracket with all four No. 1 seeds making the Final Four and
Arizona
over
Florida
in the title game.
A more nuanced way to look at things, however, is to determine the percentage chance of each team getting to each round. This can help not only by taking into account the effects of opponent strength round-by-round (beyond just "better BPI"), but it also helps illuminate what might be considered smart upset picks and undervalued or overvalued teams.
With so much randomness in a single-elimination tournament, it's important to know how certain (or uncertain) you should be as you fill out each line of your bracket.
With the BPI game prediction calculation we've used throughout the year, each possible tournament matchup can be projected using each team's current BPI. After calculating the individual matchup probabilities and accounting for every possible way the tournament could unfold, the probability of each team reaching any given round can be found.
Below are the 12 teams with at least a 10 percent chance of making the Final Four this year, along with their percentage chances of going beyond that.
The chart shows that although the most likely Final Four according to BPI consists of the four No. 1 seeds, the likelihood of all four of them getting to North Texas is 1.3 percent.
The most likely scenario is that only one of the No. 1 seeds makes it, as has been the case in each of the last two seasons.
The East is the most "open" region with each of the top four seeds having between a 14 percent and 27 percent chance of making the Final Four. The West is the most lopsided, with Arizona's 47 percent chance much better than 2-seed
Wisconsin
's 13 percent.
Although Arizona is the "BPI favorite" to win the title, keep in mind that there is nearly a 4-in-5 chance that another team will win it. The fact that the top teams are a bit closer together this year and the randomness of a single-elimination tournament make the field a much better bet than any single team to make the Final Four, and certainly to win the championship.
Finding value
If you compare these values to what the public is picking in ESPN.com's Tournament Challenge, you can find "value" picks or teams to avoid. For example:
•
Villanova
has a 24 percent chance of making it to the Final Four. Less than 10 percent of the public is picking the Wildcats to get there, which might make them an undervalued selection.
• Conversely,
Michigan State
has a 15 percent chance of making the Final Four. Even if Michigan State's BPI rank of ninth understates the team's true quality going forward, it's unlikely the Spartans are as high as 44 percent likely to make it to North Texas, which is the rate at which the public is picking them.
• Florida's chances of making it to the Sweet 16 and beyond are significantly overestimated by the public, with the Gators being picked 94 percent of the time to reach the South Regional in Memphis, Tenn., 62 percent of the time to reach North Texas and 28 percent of the time to win it all.
To get to the Final Four, the Gators could face an underrated
Pittsburgh
team in the Round of 32 and might have to beat a strong
Kansas
team for the second time this season in the Elite Eight, so BPI doesn't see their advancement to be as likely as fans do.
Keep in mind that this system is based on Selection Sunday BPI and the structure of the bracket itself. It has no additional factors included and is
not
fit to past years' data or anything like that as would be done in a traditional predictive model.
Given this and the fact BPI isn't designed to predict the tournament, this fairly simple projection has performed pretty well the past couple of years.
March, 16, 2014
3/16/14
10:31
AM ET
By
Ryan Feldman
| ESPN.com
It seems clear that Arizona, Florida and Wichita State will receive No. 1 seeds. But which team should be the 4th No. 1 seed?
LOUISVILLE
Are choosing No. 1 seeds about who the best four teams are? Or are they about selecting the best 4 resumes using
RPI
data?
Using RPI data, Louisville doesn't have the best resume based solely on quality wins.
But there's certainly an argument that Louisville is one of the best four teams in college basketball, maybe even the best team.
Louisville has the best net efficiency in the country. Net efficiency is the difference in offensive efficiency (points per 100 possessions) and defensive efficiency (points allowed per 100 possessions).
The Cardinals are the only team that ranks in the top five in both offensive and defensive efficiency.
Louisville ranks No. 4 in
BPI
, which takes into account scoring margin, opponent strength, pace, location and key players missing.
The Cardinals also rank No. 2 in
KenPom
rating. They rank in the top 10 in both adjusted offensive efficiency and adjusted defensive efficiency, which take into account opponent strength.
Louisville has 19 wins by at least 20 points this season. No other team has more than 15 such wins.
The Cardinals have no bad losses, something that can't be said for Duke, Michigan and Villanova. Each of Louisville's five losses are by single digits against teams ranked in the top 50 in both BPI and RPI.
MICHIGAN STATE
It's often mentioned that the NCAA selection committee evaluates how a team performs at full strength -- if that team is entering the NCAA Tournament at full strength.
If that's true, then Michigan State should be a No. 1 seed if it wins the Big Ten Tournament.
Michigan State is 13-3 with all of its key players (defined as top five players in minutes per game among players who have played at least half of their team's games): Keith Appling, Gary Harris, Denzel Valentine, Branden Dawson and Adreian Payne.
Michigan State has the fifth-best BPI of any team with all of its key players.
The Spartans are 20-3 with Branden Dawson in the lineup (5-5 without him). Their only three losses with Dawson in the lineup are North Carolina, Illinois and Ohio State.
With all of their key players, the Spartans are 6-2 against the BPI top 50 and 8-3 against the BPI top 100.
KANSAS
Kansas, Arizona, Florida and Wichita State are the only teams that rank in the top five in RPI, BPI and KenPom.
Kansas has the No. 1 overall strength of schedule, the No. 1 non-conference strength of schedule, the most RPI top-50 wins of any team (12) and the most RPI top-100 wins (18).
The Jayhawks have no losses outside the RPI top 100.
MICHIGAN

Michigan has 10 wins against the RPI top 50. Only Kansas (12) and Arizona (11) have more.
If Virginia and Florida don't win their conference tournaments, Michigan could be the only "major conference" team to win its regular-season conference title outright and its conference tournament.
DUKE
Duke has five wins against the RPI top 25, the most of any team. The Blue Devils have a head-to-head win against Michigan, another team competing for a No. 1 seed. They also have wins against Virginia and Syracuse.
VILLANOVA
Villanova has 16 wins against the RPI top 100. Only Kansas (18), Arizona (17) and Wisconsin (17) have more. The Wildcats have a head-to-head win against Kansas, another team that could potentially receive a No. 1 seed.
March, 11, 2014
3/11/14
11:21
AM ET
By
Ryan Feldman
| ESPN.com
Championship Week can be unpredictable as teams try to improve their NCAA tournament résumés, whether it's to vie for a No. 1 seed or just to get into the field.
ESPN's Basketball Power Index (BPI)
measures how well each team performs based on game result, margin, pace of game, location, opponent strength and the absence of any key players.
Using BPI, we are able to project the chances for each team to win its major conference tournament. The probabilities take into account the matchups in each bracket based on each team's BPI. The team with the best BPI isn't necessarily always the favorite if that team has much tougher matchups than other teams in the tournament.
According to BPI, the
Arizona Wildcats
have the best chance of any team in one of the seven major conferences (American, ACC, Big East, Big Ten, Big 12, Pac-12, SEC) to win its tournament. They have a 63 percent chance of winning the Pac-12 tournament.
Pac-12
Arizona has more than a six times better chance of winning the Pac-12 tournament than any other team. The
UCLA Bruins
have the second-best chance at 10 percent.
Pac-12 best chances: Arizona 63 percent, UCLA 10 percent, Oregon 10 percent, Arizona State 5 percent, Stanford 4 percent
SEC
The
Florida Gators
are the prohibitive favorites in the SEC tournament with a 57 percent chance to win it. The
Kentucky Wildcats
(25 percent) are the only other SEC team with better than a 7 percent chance. The No. 9 seed
Missouri Tigers
have a slightly better chance to win the SEC tournament than the No. 3 seed
Georgia Bulldogs
.
SEC best chances: Florida 57 percent, Kentucky 25 percent, Tennessee 7 percent, Arkansas 3 percent, Missouri 2 percent
American & Big East
The
Louisville Cardinals
(American) and
Villanova Wildcats
(Big East) are both close to 50 percent in terms of their chances of winning their respective conference tournaments.
The
Memphis Tigers
have an edge playing on their home court in the American Tournament, but they still have a significantly worse chance than Louisville and
Cincinnati
. Memphis does, however, have a greater probability of winning the tournament than higher-seeded teams
Southern Methodist
and
Connecticut
. With its home-court advantage, Memphis would be a favorite against any team in the tournament other than Louisville.
American best chances: Louisville 49 percent, Cincinnati 18 percent, Memphis 14 percent, SMU 12 percent, Connecticut 8 percent
No team other than Villanova or
Creighton
has better than a 6 percent chance to win the Big East tournament. There's a 44 percent chance that Villanova and Creighton meet in the Big East championship game.
Big East best chances: Villanova 48 percent, Creighton 31 percent, Xavier 6 percent, St. John's 6 percent, Providence 4 percent
ACC

Perhaps the most interesting conference tournament is the ACC, where the No. 3 seed
Duke Blue Devils
are the favorites at 27 percent. The No. 1 seed
Virginia Cavaliers
(25 percent) and No. 2
Syracuse Orange
(23 percent) are close behind.
ACC best chances: Duke 27 percent, Virginia 25 percent, Syracuse 23 percent, Pittsburgh 12 percent, North Carolina 7 percent
Big Ten
Another interesting conference tournament is the Big Ten, where four teams have between a 17 percent and a 26 percent chance of winning the tournament. The No. 2 seed
Wisconsin Badgers
are the favorites at 26 percent, while the No. 1 seed
Michigan Wolverines
are only the third favorites.
Big Ten best chances: Wisconsin 26 percent, Ohio State 19 percent, Michigan 19 percent, Michigan State 17 percent, Iowa 11 percent
Big 12
The
Kansas Jayhawks
have a 37 percent chance to win the Big 12 tournament, but their path isn't easy. They could face the teams with the fourth- and second-best chances of winning the tournament in the quarterfinals and semifinals.
The No. 8 seed
Oklahoma State Cowboys
, with a 10 percent chance of winning it, could face Kansas in the quarterfinals. The No. 4 seed
Iowa State Cyclones
, with an 18 percent chance, could face Kansas in the semifinals. Both teams have a 35 percent chance of beating Kansas, according to BPI.
Big 12 best chances: Kansas 37 percent, Iowa State 18 percent, Oklahoma 16 percent, Oklahoma State 10 percent, Baylor 6 percent
February, 17, 2014
2/17/14
12:50
PM ET
By
ESPN Stats & Information
| ESPN.com
AP Photo/Laurence Kesterson
Head Coach Jay Wright and Villanova lost to Creighton Sunday, dropping them to No. 10 in BPI.
Villanova
and
Michigan State
absorbed solid hits to their
Basketball Power Index
ratings after suffering emphatic losses Sunday.
Villanova was fifth in the BPI rankings before a 101-80 loss to
Creighton
, and now the Wildcats are 10th.
The Bluejays climbed from No. 14 in the BPI rankings to No. 11 after their second dominant victory this season over Villanova. Creighton
scored a 99.6
on the BPI game score scale Sunday, the fourth-best of the season across all games. On Jan. 20, Creighton beat the Wildcats 96-68 in Philadelphia and earned a game score of 99.9, the best of the season.
Michigan State's 60-51 loss to
Nebraska
in East Lansing, Mich., dropped the Spartans from sixth to 15th in the BPI rankings. Michigan State averaged 0.88 points per possession, its worst offensive efficiency in the last two seasons. The Spartans'
game score of 33
was a season low for the team.
Two dramatic victories last week kept
Syracuse
undefeated, but the most recent win – 56-55 over
North Carolina State
on Saturday at the Carrier Dome – resulted in the Orange falling from No. 2 to No. 3 in BPI.
Unlike many polls in which humans determine rankings with their ballots – and teams that win often retain their positions, regardless of how unimpressive a win might be – BPI evaluates each team's performance in every game to produce its ratings.
Although Syracuse beat the Wolfpack, its performance was among its worst of the season. The one-point home victory over a team ranked 69th in BPI resulted in a
game score of 78
, the Orange's worst against an ACC opponent and their fourth-worst of the season.
Florida
, which was No. 3, took over the No. 2 spot. The Gators beat
Kentucky
69-59 in Lexington, Ky., in a game with 59 possessions (the Gators average 65 possessions). The 10-point win in a relatively low-possession game helped produce a
game score of 99.4
for Florida, its second-best of the season behind the 99.5 from a 67-41 win over Tennessee on Jan. 25.
Saturday's loss dropped the Wildcats from No. 5 in BPI to No. 8 after their worst BPI
game score (59)
of the season (Kentucky rose to No. 7 after Villanova's loss Sunday).
Looking ahead
Using BPI ratings, we can assign a "Matchup Quality" factor for every game. This is a 0-to-100 rating that measures how good each team is as well as how close the two teams' ratings are to each other. Based on BPI Matchup Quality, the following are among the most appealing matchups in the coming week (in chronological order):
BPI No. 1 Arizona at No. 39 Utah, 10 p.m. Wednesday (FS1)
Matchup Quality:
84 |
Arizona 77 percent likely to win

Arizona
has been BPI No. 1 since Jan. 12, retaining the top spot even after a loss (in double overtime, on the road) to
Arizona State
on Feb. 14.
Utah
spent much of the season with a BPI rank in the 40s and has
a victory
over BPI No. 12
UCLA
in January among its achievements.
BPI No. 5 Duke at No. 33 North Carolina, 9 p.m. Thursday (ESPN)
Matchup Quality:
83 |
Duke 58 percent likely to win
Other games have a slightly superior matchup quality, but the
Blue Devils
and the
Tar Heels
have been among the most powerful teams in the past month.
BPI No. 14 Wisconsin at No. 8 Iowa, 12 p.m. Saturday (ESPN2)
Matchup Quality:
87 |
Iowa 68 percent likely to win

Iowa
is
the fifth-most consistent team
in the BPI Top 10, whereas
Wisconsin
is the fourth-most inconsistent in the BPI Top 25. Wisconsin won the first matchup 75-71 in Madison, Wis., on Jan. 5
BPI No. 3 Syracuse at No. 5 Duke, 7 p.m. Saturday (ESPN)
Matchup Quality:
89 |
Duke 55 percent likely to win
This is a rematch of Syracuse's 91-89 overtime win over Duke on Feb. 1. The
Blue Devils' 89.5 game score
from the game is the fourth-greatest for a losing team this season. BPI projects this as Syracuse's only remaining regular-season game with the Orange having less than a 50 percent likelihood of winning.
January, 27, 2014
1/27/14
3:54
PM ET
By
Ryan Feldman
| ESPN.com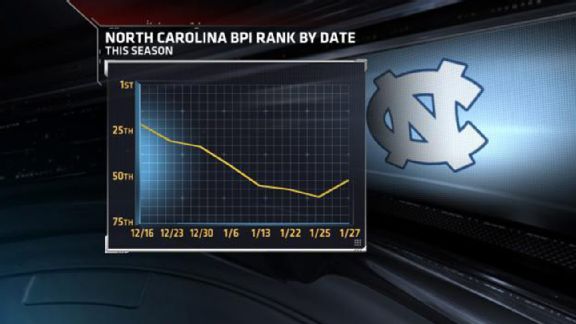 ESPN Stats & InformationNorth Carolina's BPI rank is starting to rebound after a season-long tumble.
The best college basketball team this month isn't
Arizona
or
Michigan
or
Syracuse
or
Florida
or
Kansas
. It's the
Virginia Cavaliers
.
Virginia leads all teams in
BPI
in January.
The Cavaliers were ranked as low as 55th on Jan. 2 after a 35-point loss on Dec. 30 against
Tennessee
. But they've won six of seven games this month, all against ACC opponents.
They're now 21st in BPI, their highest rank this season. All six of their wins this month have a BPI game score better than 95. Game score is on a 0-100 scale.
Virginia's five losses have all come against teams ranked in the BPI top 55, three of them by four points or fewer.
Memphis streaking
In the last week, the
Memphis Tigers
have risen 12 spots from No. 48 to No. 36 in BPI. That's tied with
Arizona State
for the largest jump in the last week among teams currently ranked in the top 50.
Two of the Tigers' six best performances in terms of BPI game score have come in the last week: a 23-point win against
Houston
and a 22-point win against
South Florida
.
The Tigers have two top-15 wins to bolster their resume, both away from home: a five-point win on a neutral court against No. 9
Oklahoma State
and a six-point win on the road at No. 14
Louisville
.
All four of their losses have come against teams ranked in the BPI top 35: Oklahoma State, Florida,
Cincinnati
and
Connecticut
.
Memphis is one of four teams with multiple wins against the BPI top 15 without any losses outside the BPI top 35. The others are Syracuse (BPI No. 4),
Villanova
(15) and
San Diego State
(22).
Ups and downs for UNC
The
North Carolina Tar Heels
have had quite the turbulent season. They're the only team with two wins against the BPI top seven this season. Michigan and Kansas are the only other teams with two wins against the BPI top 10.
The Tar Heels have defeated No. 5
Kentucky
, No. 7
Michigan State
and No. 14 Louisville. Michigan is the only other team with three wins against the BPI top 15.
North Carolina was No. 22 in BPI after its win against Kentucky in mid-December. But since then, the Tar Heels have been in a free fall.
They dropped outside the top 40 for the first time on Jan. 6 after a loss to
Wake Forest
. They dropped outside the top 50 three days later after a loss to
Miami (FL)
.
They reached their low point on Saturday, falling all the way to No. 61. But after their 19-point win against
Clemson
on Sunday, the Tar Heels jumped back up to No. 50. The win against Clemson was their second-best BPI game score of the season, 98.7 (only their win against Michigan State, 99.5, was better).
Tough week for Harvard, Colorado and Villanova
Of teams currently in the BPI top 50, no teams fell further in the last week than
Harvard
,
Colorado
and Villanova.
Harvard fell 12 spots from No. 26 to No. 38 after a 15-point loss to No. 223
Florida Atlantic
on Tuesday. It was by far Harvard's worst performance of the season in terms of BPI game score.
In fact, Harvard's 8.4 BPI game score against Florida Atlantic is the worst performance this season by any team currently ranked in the top 50.
Colorado and Villanova each fell 10 spots in the last week. Colorado now is No. 46, Villanova is No. 15.
January, 20, 2014
1/20/14
10:11
PM ET
By
ESPN Stats & Information
| ESPN.com
The
Creighton Bluejays
used an impressive 3-point shooting night to knock off the fourth-ranked
Villanova Wildcats
with a 28-point victory.
In doing so, Creighton made history, both from a team perspective and an individual angle, as
Doug McDermott
continued working his way up the Division I all-time scoring list.
Here are three main takeaways from Monday's game.
Top-Five Wins Rare for Creighton
Entering Monday night, Creighton was just 2-25 all-time against ranked teams ranked in the top five, and its last such win came in 1970 against fifth-ranked New Mexico State.
The win over Villanova (ranked fourth in the nation) matches the highest-ranked team the Bluejays have ever beaten. In 1963, Creighton also knocked off fourth-ranked Arizona State.
The 28-point victory is also notable, because it's the third-biggest win for an unranked team over a top-five opponent over the last 20 seasons, according to the Elias Sports Bureau.
Creighton also won Monday's game on Villanova's home floor. The last time Creighton won a true road game against a ranked team was in January 1978 against 13th-ranked Indiana State. That Indiana State team was led by Larry Bird.
Creighton Huge From Outside
Key in the Bluejays' win was 3-point shooting, as they hit 21 3-pointers in the win, setting both a school record and a Big East record. They also shot 60 percent from beyond the arc.
The previous Big East record was 20, shared by the 2005-06 West Virginia and 2010-11 Notre Dame teams. No other Big East team had ever hit more than 17 in a game.
Creighton's 21 3-pointers are also the most made in a Division I game this season. Three other teams had hit 20 in a game.
McDermott Keeps Moving Up
McDermott finished with 23 points in Monday's win, moving him up from 24th to 22nd on the all-time Division I scoring list, passing Navy's
David Robinson
and New Orleans' Bo McCalebb.
McDermott is averaging 24.8 PPG this season, and if he scores more than 20 points in his next outing (Saturday vs
Georgetown
), he'll move all the way up to 19th on the all-time scoring list, passing, among others, former Northeastern player Reggie Lewis.
If McDermott continues at his current scoring pace, he'll finish the regular season (11 more games) ninth on the Division I scoring list, right between Oscar Robertson and Danny Manning. He could continue to add to that total in the Big East Tournament or any other possible postseason tournament.
December, 24, 2013
12/24/13
1:40
AM ET
By
Ryan Feldman
| ESPN.com
Who had the
Villanova Wildcats
pegged in the preseason as one of the elite teams in college basketball? The 11-0 Wildcats are ranked No. 2 in
BPI
.
Villanova and
North Carolina
are the only teams with two wins against teams ranked in the BPI top 15. Villanova has defeated
Kansas
(No. 6 BPI) and
Iowa
(No. 13).
The Wildcats' seven wins against teams ranked outside the BPI top 100 are each by at least 15 points. Their average margin in those games is 23 points.
The Wildcats have been the third-most consistent team in the country, in relation to variance in BPI game score.
Their best BPI game score was a 30-point win against No. 84
Saint Joseph's
. Their worst performance of the season was a four-point win against
Delaware
, a team also ranked in the top 100.
UConn tends to play close games
Connecticut
is ranked No. 15 in the AP Poll but No. 38 in BPI.
UConn has faced four top-100 teams and is 3-1 against those teams, including a two-point loss to No. 44
Stanford
last week. Each of the Huskies' three wins against top-100 teams have been by one point.
The Huskies have seven wins against teams outside the BPI top 150, and three of those wins are performances that hurt their BPI (their three worst BPI game scores):
-A win by 10 points against No. 294
Loyola
(MD)
-A two-point win against No. 190
Boston College
-A 27-point win against No. 348
Maine
There's nothing wrong with beating any team by 27 points, but doing so against the team with the fourth-lowest BPI doesn't help UConn's BPI.
Unlike RPI, BPI takes margin into account, and it recognizes that UConn has not performed its best against its toughest opponents. Sure, the Huskies are 3-1 against the top 100, but with each of those three wins by one point, they're lacking a "convincing" win against a quality opponent.
UMass stays consistent
Massachusetts
lost to
Florida State
on Saturday, but the Minutemen -- ranked No. 2 in BPI entering Saturday's game -- are still No. 5 in BPI.
The Minutemen have played the second-toughest schedule according to BPI, and they've been quite successful against that schedule. They're 7-1 against the BPI top 100, including 4-1 against the top 50. Only
Wisconsin
has more top-50 wins this season, with five.
UMass has faced three teams outside the BPI top 100, each of which ranks between 150 and 200, and has defeated each of those teams by at least 13 points.
UMass ranks as the fourth-most consistent team in the country in terms of variance, in relation to variance in BPI game score.
Is Baylor overrated?
Baylor
is No. 11 in the AP Poll, but the Bears are No. 53 in BPI.
Why so low?
The Bears have two games against non-D-I opponents -- Chaminade and Hardin-Simmons -- that don't help their BPI. Additionally, they have three close wins against lower-ranked opponents -- a two-point win against No. 131
South Carolina
, a five-point victory against No. 192
Charleston Southern
, and a seven-point overtime win against No. 203
Northwestern State
.
Holy Toledo
Toledo
is one of nine remaining unbeaten teams, but the Rockets are the only unbeaten not ranked in the AP Top 25. The Rockets have the fifth-most votes of teams outside the AP Top 25, but do they deserve that much consideration?
Toledo hasn't faced a team in the BPI top 100, and nine of its 11 games have been against teams outside the top 150.
The Rockets have faced seven top-200 teams, and five of those wins have been by four points or fewer. Against their two top-150 opponents -- No. 105
Cleveland State
and No. 139
Stony Brook
-- they won each game by four points.
BPI Rankings
February, 21, 2012
2/21/12
11:51
AM ET
By
Jeremy Lundblad, ESPN Stats & Info
| ESPN.com

Player of the Night – Jeremy Lamb
This was supposed to be Lamb's season, but the preseason All-American was averaging just 15.6 points per game in Big East play coming into last night.
Shabazz Napier
may have hit the big shot, but Lamb was the key to
Connecticut
's 73-70 overtime win over
Villanova
. He scored a career-high 32 points, as the Huskies rallied from an 18-point deficit.
Scoring Star - Parker Smith
Smith scored a school-record 46 points as
North Florida
beat
Mercer
75-66. It's the second-most points scored in a game this season behind only
Kevin Murphy
's 50. It also tied an Atlantic Sun record for a conference game. Coming off a 1-for-11 performance from 3-point range on Saturday, Smith went 11-for-17 from beyond the arc. That's the most 3s in a game this season.

Freshman of the Night – Amir Garrett
Garrett entered Monday as the sixth leading scorer for
St. John
's, and lowest scorer in the all-freshman starting lineup. But in a 79-72 win over
DePaul
, Garrett poured in a career-high 18 points and nine rebounds. Maybe it has something to do with pitchers and catchers reporting to spring training. Garrett was a 22nd-round pick of the Reds, who gave him a $1 million signing bonus.
Record Breaker – Antwan Carter
Longwood
came up short in a 66-52 loss to
Norfolk State
, but the Lancers got a new all-time leading scorer in the process. Antwan Carter scored 19 points to give him 1,808 for his career. That surpassed Kevin Jefferson's school record. A more familiar name is third on that list: Former Portland Trail Blazer Jerome Kersey.

Free Throw Star – Pierre Jackson
Jackson scored 18 of his career-high 25 points in the second half as
Baylor
overcame a 10-point halftime deficit to beat
Texas
77-72. Jackson went 6-for-6 from the line in the final 30 seconds to seal the win. He hit all 12 of his free throws on the night.
January, 31, 2012
1/31/12
7:10
PM ET
By
Mackenzie Kraemer
| ESPN.com
For more than seven years, Texas, Pittsburgh and Villanova have been staples in the NCAA tournament. However, as of now, none is in Joe Lunardi's bracket. Texas, Pittsburgh and Villanova each have at least eight losses and RPIs of 59, 75 and 90, respectively.
Currently, the Longhorns are the fifth team out as they hope to extend their 13-year streak of making the tournament. As for Pittsburgh and Villanova, both schools likely will not be so lucky.

Texas Longhorns (13-9, 3-6, RPI: 59; 13-year NCAA tournament streak)
What's gone wrong:
Many of Texas' problems can be traced to the offseason. Between graduation and Tristan Thompson, Cory Joseph and
Jordan Hamilton
leaving for the NBA, the Longhorns lost 84.6 percent of their minutes and 83 percent of their scoring from last season. No returning player started a game last year, and only
J'Covan Brown
averaged more than 2.3 PPG. As a result, Texas is the 324th most-experienced team in the nation, averaging less than a year's experience per player, according to kenpom.com. That inexperience manifests itself in the team's 1-6 record in road/neutral-site games. It also forces Brown (19.7 PPG, 3.9 APG) to shoulder most of the scoring load. He takes the most shots per game (16.1) among major conference players (minimum 16 games).
Reasons for hope:
With a .207 adjusted points per possession advantage over its opponents (24th in D-I), Texas statistically should be a tournament team. However, one reason Rick Barnes' squad is the fifth team out is Texas' 0-7 record in games decided by six points or fewer, including Monday's one-point loss vs fourth-ranked Missouri. With an RPI of 59 and no bad losses on their résumé, the Longhorns can easily make the tournament if they can win close games. Road games against Texas A&M, Oklahoma, Oklahoma State and Texas Tech give the Longhorns several opportunities to improve their record away from Austin.

Pittsburgh Panthers (14-9, 3-7, RPI: 75; 10-year NCAA tournament streak)
What's gone wrong:
Pittsburgh already has its most losses since it last missed the tournament in 2000-01. Like Texas, Pittsburgh is forced to rely on one player to take most of its shots.
Ashton Gibbs
is averaging 16.4 points per game on 14.3 shots. However, Pitt's biggest issue has been its defense, which has allowed 66.6 PPG and 1.02 points per possession (199th in D-1), most since that 2000-01 season.
Reasons for hope:
After losing its first seven Big East games, Pittsburgh is coming off back-to-back-to-back wins against Providence, Georgetown and West Virginia. Point guard
Tray Woodall
, who has missed 11 games this year with a groin injury, had 22 assists and 10 turnovers in those three games. In five Big East games without Woodall, Pittsburgh was 0-5, posting 60 assists and 77 turnovers. In five conference games with him, the Panthers have 82 assists to just 62 turnovers. The opportunity is there for Pittsburgh to make a run with five straight games against unranked opponents.

Villanova Wildcats (10-12, 3-7, RPI: 90; 7-year NCAA tournament streak)
What's gone wrong:
Villanova is in danger of its first losing season since 2002-03. Without any scholarship seniors, the Wildcats are 2-9 in road/neutral-site games. The defense (0.98 points per possession) is the worst in the Jay Wright era, and forces turnovers on only 16.7 percent of possessions, worst among major-conference teams. Offensively, no team in the Big East shoots worse than Villanova (42.1 percent). Like Brown and Gibbs,
Maalik Wayns
(18.4 PPG, 13.7 FGA per game) is forced to carry a heavy offensive burden.
Reasons for hope:
Despite its reputation as "Guard U," Villanova is seventh in the nation in rebounding at 40.8 rebounds per game. With 12 losses, the Wildcats may need to run the table to have any shot at the NCAA tournament.
January, 19, 2012
1/19/12
11:23
AM ET
Player of the Night - Rodney McGruder

After a 1-3 start in the Big 12,
Kansas State
badly needed a win Wednesday against
Texas
. Rodney McGruder made sure of it with a career-high 33 points, as the
Wildcats held on to win, 84-80
. McGruder kept the Wildcats above water early, scoring 13 of their first 26 points. He's really stepping up at home. In three conference games in Manhattan, McGruder is averaging 27.7 PPG with a 62.5 field goal percentage.
Filling Up The Stat Sheet – Colt Ryan

Two weeks ago,
Doug McDermott
torched
Bradley
for 44 points. On Wednesday, it was Colt Ryan's turn. The
Evansville
junior scored a career-high 39 points in a
90-67 win
over the Braves. Ryan was just one point shy of being the first Evansville player to score 40 in a game since Parrish Casebier in Dec. 1992. Ryan finished 8-for-14 from 3-point range. He's joins
Villanova's
Maalik Wayns
as the only players with at least 39 points, nine rebounds and three assists in a game this season.
Breakout Game – Reginald Buckner

Arnett Moultrie
has been the talk of the SEC, but he was overshadowed Wednesday, as Reginald Buckner scored a career-high 19 points to go with 15 rebounds as
Ole Miss
topped
Mississippi State
,
75-68
. Buckner entered the game averaging just 5.9 PPG.
Bench Stars – Jorge Brian Diaz and Dylan Talley

Jorge Brian Diaz knocked down a pair of free throws with 11 seconds remaining give
Nebraska
a
70-69 upset win
over
Indiana
. It's the Cornhuskers' first win over Indiana since 1920. Diaz and Dylan Talley, both bench players, combined for 17 points in the second half, as the Cornhuskers erased a seven-point halftime deficit.
Ugly Stat Line of the Night - Jordan Theodore

Jordan Theodore entered Wednesday on track to be the first Big East player to average 16 points and seven assists per game since Sherman Douglas in the late 1980s. But in
Seton Hall's
84-76 loss
to
Villanova
, Theodore couldn't find the bottom of the net. He went 2-for-16 from the field, including 0-for-8 from two-point range.
January, 16, 2012
1/16/12
11:26
AM ET
Player of the Weekend – Deividas Dulkys

Dulkys poured in a career-high 32 points in
Florida State's
90-57 blowout
of
North Carolina
on Saturday, the Tar Heels' worst loss of the Roy Williams era. Just how unexpected was Dulkys's performance? His previous season-high was just 16 points, and he'd scored 32 points in his previous nine games combined. Dulkys went 12-14 from the field, including 8-10 from 3-point range.
Filling Up the Stat Sheet – Maalik Wayns

Cincinnati
outlasted
Villanova
despite a memorable game from Wayns. The junior guard finished with a career-high 39 points to go with 13 rebounds and six assists. It's the first 39-13 game by a Big East player since
Marquette's
Steve Novak in 2006. The only other major conference player with a 39-13-5 game in the past 15 seasons was Luke Jackson in 2004.
Bench Hero – Pierre Jackson
Baylor
walked all over
Oklahoma State
with a
106-65 win
to improve to 17-0 entering tonight's matchup with
Kansas
. Once again, Jackson provided a huge boost off the bench, finishing with 18 points and eight assists. Jackson is one of only eight major-conference players averaging 12 PPG, five APG and three RPG. And he hasn't started a game all season. In fact, his 12.3 PPG ranks second among power six conference players who haven't started a game. Only
Syracuse's
Dion Waiters
(12.9 PPG) ranks higher.
Block Party – Alec Brown

Brown blocked more shots on Saturday than 276 teams. The
Green Bay
sophomore blocked 11 shots in a
57-56 comeback win
over
Wright State
. It's the most blocks in a game this season. The Phoenix went on a 20-3 run in the second half during which Brown had four of his blocks. The 11 blocks set a school record, as well as a Horizon League record.
Ugly Stat Line of the Weekend – John Henson

Henson went 0-for-7 from the free throw line in
North Carolina's
loss to
Florida State
. That's the most free throw attempts without a make this season. He's the only ACC player in at least the past 15 seasons to attempt that many free throws without connecting on one. The last major conference player with a worse game at the line?
Tennessee's
Ramar Smith, who went 0-12 in a game in 2007.