Stats & Info:

Wade LeBlanc
November, 27, 2011
11/27/11
10:55
AM ET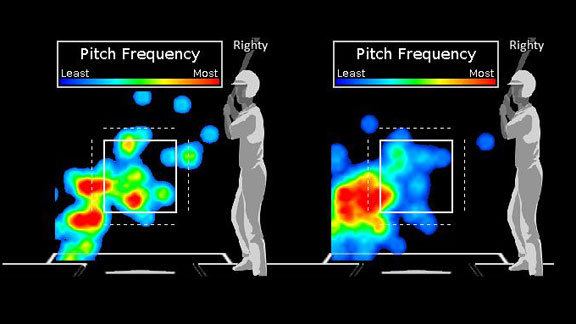 Left: Where Joe Nathan located his slider to right-handed hitters prior to his midseason DL stint
Right: Where he located his slider to right-handed hitters after returning from DL
Click here to create your own Nathan heat maps

Each Sunday, ESPN Stats & Information reviews significant moves from the past week.
Rangers sign Joe Nathan: 2 years, $14.5 million
The Texas Rangers must have liked what they saw from Joe Nathan's last three months with the Minnesota Twins in 2011.
The key to Nathan's improved performance after coming off the disabled list in late June (he missed a month with a muscle strain) was a much more effective slider.
In his first 17 appearances back from Tommy John Surgery, Nathan's slider was flat, averaging 1.5 inches of vertical break. Hitters weren't fooled, going 4-for-20 while missing on only one of every four swings.
After a month on the disabled list, Nathan returned with a slider that was nearly unhittable.
Batters managed just two hits in 35 at-bats (.057) and whiffed on almost half of their swings in his final 31 appearances.
The vertical break on his slider nearly doubled to 2.8 inches during this stretch, and of the 18 sliders put in play, not a single one was classified as "well hit" by video scouts at Inside Edge.
Nathan has a good history against the Rangers current AL West opponents, converting 43 of 48 save chances for his career against the Seattle Mariners, Los Angeles Angels, and Oakland Athletics.
In 83 innings against those three teams, he's allowed just 10 earned runs, and his WHIP against each is 0.85 or lower.
--Katie Sharp and Michael Bonzagni
Pirates sign Clint Barmes: 2 years, $10.5 million
Amazingly, this deal was the Pirates first free-agent signing to a contract with a total value of at least $10 million since inking third baseman Steve Buechele for four years and $11 million in the 1991-92 offseason.
What did the Pirates get for their investment in Barmes?
Barmes had 12 Defensive Runs Saved last season, four more than Ronny Cedeno had in nearly the same number of innings.
The major difference in their performance was in Barmes' success rate at turning double plays.
Barmes converted double plays at a 66 percent rate. Cedeno converted 59 percent.
Offensively, Barmes had a .141 isolated power last year, seventh-best among shortstops (min. 400 PA). All 12 of his homers went over the left-field fence last season and 40 of 43 have since 2009.
He'll be challenged to retain that home-run power as a Pirate. Minute Maid Park in Houston boosted homer production by seven percent for right-handed batters in 2011.
PNC Park deflated right-handed batters' home runs by 16 percent over the last three seasons, according to ballpark factors from Baseball Info Solutions.
--Katie Sharp
Marlins trade Josh Baker to Padres for Wade LeBlanc
The Florida Marlins attempt at adding depth to their starting rotation netted them a pitcher with previous big-ballpark success.
LeBlanc succeeded in PETCO Park, where he had a 2.97 career ERA, but had a 6.16 ERA in his road appearances since debuting in 2008.
The 3.19 difference between road and home is the largest for any pitcher who pitched at least 100 innings in the last four seasons, and is largely due to LeBlanc's rate of home runs allowed (one every 5.4 innings on road, every 8.7 innings at home).
Leblanc, a lefty, has two issues that the Marlins staff will look to fix. One is a cutter that got 48 outs and allowed only 14 hits against right-handed hitters, but got just 10 outs and yielded 11 hits to lefties.
The other is that his stuff is simply too hittable. Left-handed hitters were 29-for-61 when making contact against LeBlanc last season. Of the 60 balls that lefties hit that stayed in the ballpark, nearly half (28 of them) were classified as line drives.
LeBlanc's 47 percent line drive rate versus lefties last season was the worst in the majors.
-- Mark Simon
May, 17, 2010
5/17/10
1:17
AM ET
By
Vince Masi, ESPN Stats & Info
| ESPN.com
Sunday proves once again why baseball is such a great game. You'll see things you either have never seen or haven't seen in some time. Here are just a few of the many rarities that occurred across MLB on Sunday:
Mariano Rivera
He allowed a grand slam in a home game for the first time since 1995 against the Athletics (Geronimo Berroa). His streak of 51 straight saves at home comes to an end and he also walked a runner with the bases loaded for the first time since 2005.
Marlins Sweep Mets
It was just the second time in team history in which the Marlins swept a four-game series from their division rivals and the first time since 2004 in New York.
Jake Westbrook Throws a Complete Game?
He allowed one run in a complete game for the first time since August 9, 2006. He's won consecutive starts for the first time since 2007.
Cardinals out, Reds in
The Reds defeated the Cardinals Sunday to move into first place. That's somewhere Cincinnati hasn't been this late into a season since the 2006 season.
Be Proud of Prado
Martin Prado
had four hits, two of which were homers in the Braves' 13-1 thumping of the Diamondbacks. He became the first Braves leadoff hitter to have two homers and four hits in a single game since Felipe Alou on April 26, 1966, against the Giants.
Cliff Lee
He threw a complete game with 10 strikeouts in a hard-luck loss to the Rays. He's the first Mariners pitcher with 10 strikeouts in a complete-game loss since
Freddy Garcia
on August 7, 1999. But while it was rare in recent years, that was something
Randy Johnson
did eight times with the Mariners.
Wade LeBlanc
Another ho-hum strong start from a Padres pitcher. LeBlanc unfortunately took the loss when he allowed 1 ER in 7 IP against the Dodgers. But he did extend his streak of starts with 2 ER or fewer to 6 straight from the start of the season. That's the longest streak by a Padres pitcher to begin a year since
Jake Peavy
had a team-record 10 straight to start the 2004 season.
You Complete Me
Five pitchers threw complete games on Sunday (Lee, Westbrook,
Joel Pineiro
,
Brett Myers
and
Bronson Arroyo
). Sounds rare right? Actually it happened on July 10, 2009, when
Jeff Niemann
,
Dan Haren
,
Zach Duke
, Arroyo and
Jonathan Sanchez
did so. Sanchez threw a no-hitter that day.
March, 14, 2010
3/14/10
8:09
AM ET
By
Mike Trainor, ESPN Stats & Info
| ESPN.com
When the Padres traded
Jake Peavy
– the face of their franchise - in July, the team immediately put pressure on the players it received in return.
The quickest payoff of the deal for the Padres is left-handed pitcher
Clayton Richard
. The 26-year-old is penciled in as San Diego's fourth starter this season (behind
Chris Young
,
Kevin Correia
and
Jon Garland
) after a very respectable final two months of 2009.
Richard made 12 appearances for the Padres – all starts – and compiled a 5-2 record and 4.08 ERA. Where Richard excelled the most was PETCO Park, as he posted a 4-0 mark and 2.00 ERA in six starts. Breaking down the numbers further, he held opposing hitters to a paltry .254 slugging percentage at PETCO – good for sixth-lowest among NL pitchers with at least three starts in a specific park.
One of the keys to Richard's early success is his ability to get ground balls. His career groundball/flyball ratio is 1.00 – significantly better than the MLB average of 0.78 over the past two seasons. Richard's number even improved a little with the Padres, jumping up to 1.07. Here is where Richard ranked in the category among NL starters 26 or younger with at least 50 IP last season.
Highest Groundball/Flyball Ratio by NL Starters, 2009
26 Years Old or Younger, Min. 50 IP
| | Age | GB/FB ratio |
| --- | --- | --- |
| Mitchell Boggs, STL | 25 | 1.25 |
| Burke Badenhop, FLA | 26 | 1.24 |
| Ubaldo Jimenez, COL | 25 | 1.16 |
| John Lannan, WSH | 25 | 1.13 |
| Clayton Richard, SD | 25 | 1.07 |
That number was better than many pitchers known for their ability to induce grounders – such as
Mike Pelfrey
(1.06),
Adam Wainwright
(1.04),
Josh Johnson
(1.00),
Jeff Suppan
(0.98) and
Zach Duke
(0.94).
Here's one final nugget that Padres fans can get excited about:
Baseball-reference.com compares players' statistics at similar ages throughout the sport's history. Through the age of 25, who is Clayton Richard's most similar pitcher? None other than Lefty Grove!
That alone makes Richard One2Watch4 in 2010.