September, 24, 2013
9/24/13
12:03
AM ET
By
ESPN Stats & Information
| ESPN.com
And you thought Peyton Manning's stats through the first two games were impressive.
Manning added to his ledger with an amazing performance in the
Denver Broncos
37-21 win over the
Oakland Raiders
.
Record-Book Rewrite
Manning broke the record for most touchdown throws in the first three games of a season by the end of the first half. His 12 is one better than the previous mark of 11, set by
Tom Brady
for the
New England Patriots
in 2011.
Manning finished 32-for-37 for 374 yards. His 86.5 percent completion rate was the best he's ever had in a game in which he threw at least 20 passes. His previous-best was an 85.3 percent effort against the Jaguars in 2008.
Manning was 21-for-24 passing in the first half. He hadn't had a more accurate half in which he threw at least 20 passes since Week 15 in 2006 when he went 18-for-20 against the
Cincinnati Bengals
.
Key to the early success was his completing all eight of his play-action passes, which netted him 155 yards and one of his three touchdowns.
The image below shows Manning's completion rate by area of the field. The bottom of the image represents the area closest to him in his dropback. The top rows represent his longest throws of the day.
Of note: In the four sections that have a 100 percent rating, Manning was a
combined 21-for-21 for 184 yards.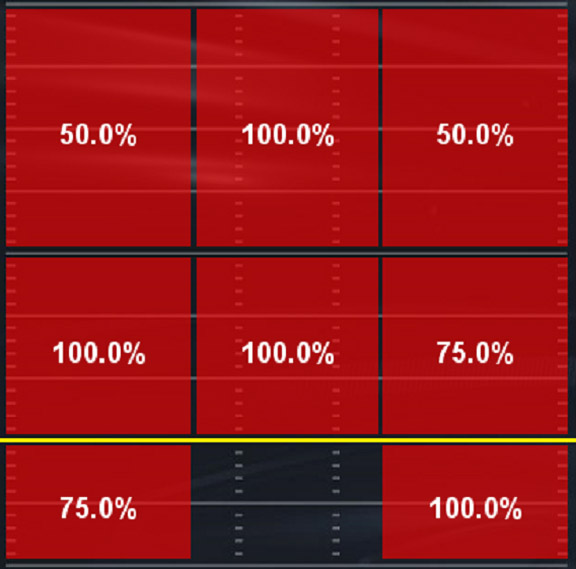 Manning has 1,143 passing yards through three weeks, which Elias notes is fourth-most through three games in NFL history.
Not just for Manning … for the Broncos too
The Broncos have won 14 straight regular-season games, tied with the 1997-1998 teams for the longest regular-season streak in team history.
Their 127 points through three games is tied for second-most in NFL history, five points shy of the 132 points put up by the
Dallas Cowboys
in 1968.
Denver finished with 536 total yards of offense. The Broncos are the only NFL team with multiple games of 500 yards of offense this season. The Elias Sports Bureau notes that their 1,460 yards are the fourth-most of any team through three games (the 2011 Patriots hold that record, 1,621).
The guys who caught the ball
Eric Decker
had 133 receiving yards for the Broncos, tied for the second-most in any game in his career. His best game came a year ago to the day, 135 yards against the
Houston Texans
.
Decker had 60 yards after the catch. Broncos receivers have an NFL-best 355 yards after the catch this season.
Decker has 12 red-zone touchdowns since the start of last season, tied with
James Jones
for the most in the NFL.
Decker's teammate
Wes Welker
caught a touchdown pass for the fifth straight game. That's the longest streak of his career.
Elias Sports Bureau Stat of the Night
The Broncos are 3-0, the 12th time they've been 3-0 since the AFL-NFL merger. That's tied with the Dallas Cowboys for second-most 3-0 starts in that span, trailing only the Dolphins who are 3-0 for the 13th time.
Manning is now 3-0 to start a season for the sixth time in his career, tying
Dan Marino
for the most such starts in the Super Bowl-era.
September, 13, 2013
9/13/13
12:10
PM ET
By
John Carr & Evan Kaplan
| ESPN.com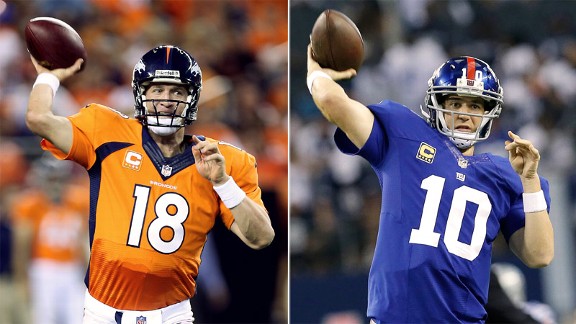 Thearon W. Henderson/Getty ImagesThe Mannings can both throw it, but which has the better teammates for catching it?
The Manning brothers take center stage Sunday when the
Denver Broncos
visit the
New York Giants
.
Which of the two has the better receiving corps to work with in 2013? Read our debate and cast your vote.
The case for Eli
The combination of
Victor Cruz
and
Hakeem Nicks
, along with the emergence of
Rueben Randle
, gives Eli the best receiving corps in the family, and maybe the best in the NFL.
Since the start of the 2011 season,
Eli Manning
has thrown for the fifth-most yards in the NFL, and his ability to find Victor Cruz for big plays is a major reason for his success. Cruz has eight touchdowns of at least 50 yards in the last three seasons, two more than the next closest receiver in the league.

While Cruz excels with big plays, his ability to put pressure on defenses from the slot position makes him a tough cover. Wes Welker is widely regarded as the best slot receiver in the NFL, but Cruz has six more touchdowns when lined up in the slot since the start of the 2011 season.
Hakeem Nicks was once Eli's go-to-guy, but injuries have hampered him in the last few seasons. He caught 18 touchdowns between the start of the 2010 season and the end of 2011, tied for the fifth most in the league.
After catching a career-low three touchdowns in 2012, Nicks had 114 receiving yards in Week 1, his most since Week 2 of last season. His 22.8 yards per reception against the Cowboys was tied for the highest in his career, minimum five receptions.
The final reason why Eli has the better receivers is the emergence of Rueben Randle. He had one touchdown catch in his first 15 career games, but caught two in Week 16 last season and had his first career 100-yard receiving game in Week 1 this year.
Eli knows Randle can be the big-play threat to compliment Cruz and Nicks; 22 of Randle's 38 career targets have come on throws of 10 or yards downfield.
The case for Peyton
Peyton Manning
may have the best receiving corps in the league, let alone compared to Eli's.
With the offseason acquisition of
Wes Welker
, Peyton has three receivers coming off of 1,000-yard seasons:
Demaryius Thomas
(1,434),
Eric Decker
(1,064) and Welker (1,354).
The last team to start a season with three receivers who had over 1,000 yards in the previous season was the 2009
Arizona Cardinals
.
With his ability to rack up yards after the catch, Welker may end up being the big-play catalyst for the Broncos this season. His 4,098 yards after the catch is the most for any player since he joined the league in 2004 and he has the five highest single-season totals in yards after the catch since the beginning of 2001.
Last season, his 669 total yards after the catch were just ahead of his new teammate Thomas, who was second among receivers with 543.
Last season the Peyton-to-Demaryius combo was deadly on the deep ball. Peyton hit Thomas 11 times on balls thrown 25 yards or more downfield, tied with
Drew Brees
and
Lance Moore
for the most in the league.
Thomas was also one of three Broncos players to catch two touchdown passes from Peyton on the opening night of the season, along with Welker and
Julius Thomas
. According to Elias, it's only the second time in NFL history that three teammates have each had two touchdown receptions in the same game.
There's also Eric Decker, who has been a stalwart for the Denver receiving corps since joining the team in 2010. Decker's 13 receiving touchdowns last season were second only to James Jones' 14 among wide receivers, and were the most by a Broncos player in a single season since the beginning of 2001.
July, 29, 2013
7/29/13
7:14
PM ET
By
Micah Adams
| ESPN Stats & Information
AP PhotosDanny Amendola, left, will likely be the top target for Tom Brady this season.
The 2013
New England Patriots
have experienced a great deal of turnover from last season. Let's evaluate the top questions facing them as the new season approaches.
How significant are the personnel losses?
Including
Rob Gronkowski
, who is currently on the physically unable to perform list, the Patriots are likely without each of their top five receivers from last season to begin the season. Those five players (
Wes Welker
,
Brandon Lloyd
, Gronkowski,
Aaron Hernandez
,
Danny Woodhead
) represent more than 84 percent of
Tom Brady
's completions last season.
Should Gronkowski miss Week 1, the Patriots would likely become the first team since the 1997
New Orleans Saints
to start a season without their five leaders in receiving yards from the previous season, according to the Elias Sports Bureau.
Who will Brady rely on?
The Patriots will be relying on
Danny Amendola
to help offset the loss of Welker. Amendola's 2012 season was strikingly similar to Welker's in his first season prior to joining the Patriots, with Welker catching just four more passes and Amendola catching two more touchdowns.
Brady hopes to replicate the success he had with Welker with Amendola this season, particularly out of the slot. Although Welker is regarded as perhaps the league's best slot receiver, Amendola ranked second last season in receptions per game out of the slot behind Welker.
New England is now especially thin at tight end, but
Jake Ballard
could be a potential solution after missing the entire 2012 season. In 2011, he emerged as Eli Manning's favorite red zone target, leading the
New York Giants
with eight red zone receptions.
What's at stake for Brady?
Brady continues to climb in the record books, and this season he has a chance to gain some more headway on other legends.
Brady (136-39 career record) needs 11 wins to tie
Dan Marino
for the fourth-most wins by a starting quarterback in NFL history and 12 to tie
John Elway
for third-most.
In his sixth game of the season, Brady could tie
Drew Brees
' NFL record for consecutive games with a passing touchdown (54).
Brady (334) could pass Fran Tarkenton (342) for the fourth-most passing touchdowns in league history.
More important than any statistic, Brady and the Patriots haven't won a Super Bowl in nine years. Since winning his first 10 career playoff games, Brady is 7-7 in the postseason.
July, 25, 2013
7/25/13
1:36
AM ET
By
Jason Vida, ESPN Stats & Information
| ESPN.com
USA TODAY SportsWes Welker (left) will catch passes from Peyton Manning (right) this season after being acquired by the Broncos in the offseason.
There's plenty of hype and intrigue for the
Denver Broncos
entering the 2013 season. SportsCenter is at Broncos training camp on Thursday and will try to answer some of their most important offseason questions.
Is Peyton Manning the best QB in the NFL?
Coming off neck surgery,
Peyton Manning
led the NFL in Total QBR last season and posted his second-most passing yards and passing touchdowns in any season.
According to Total QBR, Manning's 2012 season was the second best by a quarterback in the last five seasons. He's also the highest-rated quarterback in the NFL during the last five seasons.
The Broncos appear to be in good position to compete for a Super Bowl title.
Manning, who turned 37 on March 24, will look to join Johnny Unitas and
John Elway
as the only starting quarterbacks 37 or older to win a Super Bowl.
What impact will Wes Welker have on Demaryius Thomas and Eric Decker?
Last year,
Demaryius Thomas
and
Eric Decker
became the third pair of teammates in NFL history to each have 85 receptions, 1,000 receiving yards and 10 touchdowns in a season. And the Broncos added
Wes Welker
, who has reached five straight Pro Bowls, to the wide receiver mix this offseason.
Welker led the league in receptions, receiving yards and receiving first downs when lined up in the slot in 2012. Manning completed a league-high 71.7 percent of his passes to slot receivers last season.
Will the Broncos fix their running game?
The Broncos cut
Willis McGahee
, their leading rusher in each of the last two seasons, in June.
Montee Ball
,
Ronnie Hillman
and
Knowshon Moreno
are expected to compete for the starting running back job.
Hillman was drafted in the third round in 2012. Ball was drafted in the second round in 2013. The Broncos are the only team to draft two running backs in the first three rounds of each of the last two drafts.
The Broncos led the NFL in rushing in 2011 but ranked 16th in 2012.
What would the Broncos lose if Von Miller is suspended?
Two-time Pro Bowler and 2011 Defensive Rookie of the Year
Von Miller
is reportedly facing a possible four-game suspension for violating the league's substance abuse policy.
Denver plays the
Ravens
,
Giants
,
Raiders
and
Eagles
in its first four games. Collectively, those opponents have better passing offenses and are better at protecting the quarterback than the Broncos' final 12 opponents.
Since sacks became official in 1982, Miller is one of four players with 30 sacks in his first 2 NFL seasons.
Do the Broncos have the league's easiest schedule?
The Broncos will have a chance to avenge their playoff loss to the Ravens on Sept. 5 in Denver, the first game of the 2013 NFL regular season.
It will also be a reunion game for Ravens linebacker
Elvis Dumervil
, a Bronco from 2006-12.
Based on 2012 results, the Broncos will play the league's easiest schedule in 2013. Of the seven teams that entered the season with the league's easiest schedule, according to the Elias Sports Bureau, only the 2006
Bears
advanced to the Super Bowl (lost to Peyton Manning and the Colts).
June, 10, 2013
6/10/13
9:05
PM ET
By
ESPN Stats & Information
| ESPN.com
The Patriots have been very aggressive in pursuing players right after they played for a divisional rival, with
Tim Tebow
being the latest example.
Here's a look at five other prominent players who signed to play for the Bill Belichick-led Patriots immediately after being a member of a division rival. It's a list that Tim Tebow will be trying to join in whatever role he serves the 2013 team.
Otis Smith (2000, previously with Jets)
Smith jumped from the Jets to the Patriots along with Belichick in the latter's first season as head coach. The cornerback won a Super Bowl in 2001, making 42 of a possible 48 starts from 2000 to 2002. His best season was in 2001, when he had five interceptions (including two for touchdowns) and 19 pass deflections.
Smith also had an interception that set up a field goal in the third quarter against the Rams in Super Bowl XXXVI.
Antowain Smith (2001, previously with Bills)
Smith rushed for 1,157 yards in 2001, his first season with the Patriots. Smith played a key role in New England's first two Super Bowl wins, gaining 175 yards and a touchdown in the two games. Smith scored 21 touchdowns over his three-year Patriots career before finishing with the Titans and Saints.
Wes Welker (2007, previously with Dolphins)
This was the best previous example of Belichick plucking a rival and turning him into a star. In six seasons with the Patriots, Welker averaged 102 catches and six touchdowns as the ultimate target for
Tom Brady
before bolting this offseason for the
Denver Broncos
.
Rob Ninkovich (2009, previously with Dolphins)
Ninkovich morphed into a starter after not starting with the Saints and Dolphins from 2006 to 2008. He's had his best two seasons the last two seasons, combining for 14 ½ sacks and seven fumble recoveries in 31 starts.
Danny Woodhead (2010, previously with Jets)
After being cut by the Jets at the start of the 2010 season, Woodhead latched on with the Patriots and made a significant impact as both a rusher and pass catcher. Woodhead has averaged 4.8 yards per carry over the last three seasons, eighth-best among running backs with at least 200 carries in that stretch.
March, 14, 2013
3/14/13
9:50
AM ET
By
ESPN Stats & Information
| ESPN.com
Three things to know about new Patriots wide receiver
Danny Amendola
, with an emphasis on how he compares to now ex-Patriot
Wes Welker
.
Similar upon arrival
Amendola definitely has big shoes to fill, but as he arrives in New England - he actually is coming off a very similar season production-wise to what Welker put up with the Dolphins in the season before the Patriots acquired him.
Welker had 67 receptions and averaged 10.3 yards per catch for the 2006 Dolphins. Amendola had 63 catches and averaged 10.6 yards for the 2012 Rams.
That goes with their more obvious common bond of each being from Texas Tech and each having gone undrafted.
Lacking durability
Since entering the NFL in 2009, Danny Amendola has never played more than 677 snaps in a season and has averaged 423 per season.
Welker has averaged 883 offensive snaps since the start of 2008 and played the third-most snaps among wide receivers last season (1,089).
More sure-handed
Over the last three seasons, Welker's reputation for being super-surehanded took a bit of a hit.
In that same stretch, Amendola has been what Welker used to be in terms of surehandedness.
Since 2010, Welker has caught passes at a rate of 12.5 receptions for every drop (326 catches, 26 drops).
Amendola's success rate is considerably higher at 21.9 receptions per drop.
Welker's 11 drops last season were second-most in the NFL. Amendola's drop rate (2.1 percent of targets dropped) rated
second-lowest
in the NFL.
March, 13, 2013
3/13/13
5:29
PM ET
By
ESPN Stats & Information
| ESPN.com
Elsa/Getty ImagesWes Welker was one of the NFL's best receivers while with the Patriots.
For the second straight season, the Denver Broncos have signed one of – if not the – biggest free agents.
Last year it was Peyton Manning. This year it's Wes Welker, who put up historic numbers in six seasons with the New England Patriots
In the three seasons before he being traded to the Patriots, Welker totaled 96 receptions in three seasons.
In six seasons with the Patriots averaged 112 receptions a season. His 672 receptions are the most in NFL history over a six-year span, and he owns the NFL record for 100-reception seasons with five.
Welker is one of four players (along with Drew Brees, Larry Fitzgerald and Joe Thomas) who was named to the Pro Bowl each of the last five seasons.
Over the last four seasons, Tom Brady completed 72.7 percent of his passes to Welker. Among QB-WR combinations with at least 200 targets, only Aaron Rodgers and Jordy Nelson are better over that span (73 percent).
Welker does bring the best skills of any slot receiver in the NFL.
He led the league in receptions, receiving yards and receiving first downs out of the slot last season. He had more of each when lined up in the slot than all Broncos wide receivers combined.
Manning completed 71.7 percent of his passes to slot receivers last year, best among all quarterbacks who targeted slot receivers at least 50 times.
Welker's average target depth over the past four seasons was just 6.7 yards – the second lowest among wide receivers behind only Danny Amendola (who, coincidentally went to the same school as Welker, Texas Tech).
Since the start of 2008, 85 percent of Wes Welker's receptions have been within 10 yards of the line of scrimmage. No other wide receiver has had a higher rate of receptions within 10 yards during that time.
Still, Welker moved the chains to the tune of 389 receptions resulting in first downs -- only two players since 2007 have more receptions that resulted in first downs: Reggie Wayne (403) and Roddy White (390).
The one hitch in Welker's game is that he's not as sure-handed as he used to be. In 2008 and 2009, Welker caught passes at a rate of 33 for every one he dropped. From 2010 to 2012, he had 326 catches and 26 drops, a rate of 12.5 catches for every drop.
Even though Welker is going to the Broncos, he will still play one game next season at Foxboro – the Broncos will play at the Patriots in 2013.
February, 14, 2013
2/14/13
12:50
PM ET
By
Jon Kramer, ESPN Stats & Information
| ESPN.com
Today is Valentine's Day, when the thoughts of young football fans turn to ... well ... more football.
Stats & Information looks at some NFL couples and lets you know who should stay together, who needs to rebuild their relationship and who might want to spend some time apart.
COUPLES WHO NEED TO STAY TOGETHER
•
Tom Brady and Wes Welker
: Free-agent-to-be Welker has 672 receptions since joining the
Patriots
in 2007, the most for a player over any six-year span in NFL history.
•
Eli Manning and Victor Cruz
: Cruz, who is slated to become a restricted free agent, has 168 receptions and 19 touchdowns over the last two seasons. Along with
Hakeem Nicks
, he gives Manning one of the game's best deep threats in the league.
•
Matthew Stafford and Calvin Johnson
: Johnson set an NFL single-season record with 1,964 receiving yards in 2012, while Stafford set an NFL record with 727 pass attempts. These two need to stay together if only to torture statisticians everywhere.
COUPLES WHO NEED TO REBUILD THEIR RELATIONSHIP
•
Tony Romo and Dez Bryant
: Early in the season, they didn't appear to be on the same page, but Bryant caught a league-high 10 TD passes from Week 10 until the end of the season.
•
Aaron Rodgers and Jermichael Finley
: Finley caught a career-high 61 balls in 2012, but just two went for touchdowns. At times it appeared that Rodgers had lost confidence in his tight end and reports have appeared that the Packers might release Finley.
•
Cam Newton and Steve Smith
: Smith was critical of Newton's sideline demeanor last season, and he could have a point. When trailing in the fourth quarter over the last two seasons, Newton's QBR of 35.9 is 35th among 45 qualifying quarterbacks.
COUPLES WHO MIGHT NEED TO SPEND SOME TIME APART
•
Mark Sanchez and Rex Ryan
: After going to a pair of AFC Championship games in their first two seasons together, the relationship hasn't worked recently. Sanchez regressed even further in 2012, and has an NFL-high 52 turnovers over the last two seasons.
•
Alex Smith and Jim Harbaugh
: Harbaugh has turned to the younger
Colin Kaepernick
. Since Kaepernick took over as the starter in Week 11, his 81.2 Total QBR is second to only
Russell Wilson
. Smith's QBR of 54.1 since the start of 2011 is 19th among quarterbacks with at least 500 action plays.
•
Matt Cassel and Andy Reid
: The
Chiefs
and Reid's
Eagles
were tied with the
Jets
for the most turnovers in the NFL last season with 37. Cassel struggled with 19 turnovers in just nine games.
January, 13, 2013
1/13/13
9:03
PM ET
By
ESPN Stats & Information
| ESPN.com
AP Photo/Elise AmendolaShane Vereen and Tom Brady combined to do in the Texans again.
The
Houston Texans
elected to pursue
New England Patriots
quarterback
Tom Brady
with nearly the same fervor that they did when the Patriots clobbered them in Week 14.
And on Sunday they paid a similar price.
Brady was 12-for-19 for 208 yards and two touchdowns against five or more pass rushers, as part of a 344-yard, three-touchdown day. As you can see in the chart on the right, it mimicked his performance in Week 14.
Brady passed
Joe Montana
for most postseason starts won with his 17th.
He'll tie Montana for the most conference championship game starts when he faces the
Baltimore Ravens
in the AFC Championship next Sunday. He also joined Montana and
Brett Favre
as the only quarterbacks with at least 40 postseason touchdown passes.
Brady wasn't the only one to have a huge game in the Patriots' 41-28 win. Let's take a look at some of the other statistical highlights.
Vereen leads ground game
Patriot running backs
Stevan Ridley
and
Shane Vereen
combined for 219 total yards (48 percent of the Patriots offense) and four touchdowns, showcasing an inside running game the Patriots haven't had in recent postseason appearances.
Nearly all (113) of their 123 rushing yards came inside the tackles, an average of more than six per rush. In the previous three postseasons, Patriots running backs averaged only 3.5 yards when running inside the tackles.
The Elias Sports Bureau noted that Vereen became the third player in NFL postseason history with two touchdown receptions and a touchdown run in a postseason game. He joins
Roger Craig
(1984
San Francisco 49ers
) and
Ricky Watters
(1994 49ers), each of whom did so in a Super Bowl.
Vereen also tied the Patriots record for most touchdowns in a postseason game, matching a mark previously set by
Curtis Martin
and
Rob Gronkowski
.
Vereen collected 58 receiving yards and two receptions and a touchdown when lined up wide, only the third touchdown for a running back lined up wide this season, and the most such receiving yards for a RB in a game over the last three seasons in any game.
Welker comes up big
Wes Welker's 131 receiving yards were a career-high, surpassing his previous best of 103
in Super Bowl XLII against the Giants.
Welker entered the game with a league-high 669 yards after the catch. He had 62 in this game.
With eight catches Welker also broke the Patriots postseason record for career receptions, his 61 surpassing Troy Brown's record of 58.
Stat of the Weekend
With 276 points scored, the 2012 Divisional Playoffs are the highest scoring round of the postseason in NFL history.
All eight teams scored at least 28 points in the Divisional Round. No team scored more than 24 points in the Wild Card games.
Looking ahead
This will be the first AFC Championship rematch since the
Denver Broncos
and
Cleveland Browns
faced each other in both 1986 and 1987.
Baltimore Ravens linebacker
Ray Lewis
will face the Patriots in Foxborough for the seventh time. He's 0-4 against them in the regular season, 1-1 in the postseason.
September, 11, 2012
9/11/12
12:53
PM ET
By
ESPN Stats & Information
| ESPN.com
AP Photo/Mike RoemerThings have not been looking up of late for Aaron Rodgers and the Packers.
Since winning 19 straight games (including playoffs), the
Green Bay Packers
have lost three of their last five.
In Week 1, Green Bay's 13-game home win streak came to an end. Now they host the
Chicago Bears
on Thursday.


Green Bay has opened up the season with consecutive losses at home only twice in the Super Bowl era (1988, 2006).
Under the current playoff format since 1990, only 25 percent of teams that started 0-1 went on to make the playoffs. And, if history is any indication, then Thursday is a must-win situation for the Packers. Each of the five times the Packers have started 0-2 under the current playoff format they have missed the playoffs.
During the Packers' 19-game win streak,
Aaron Rodgers
completed 55.5 percent of his throws 15 yards or more downfield. In his last four games, including last year's playoff loss to the
New York Giants
, Rodgers has completed just 25.8 percent of such throws.
Rodgers' counterpart,
Jay Cutler
, completed 7-of-13 (53.8 percent) of his throws 15 yards or more downfield in Week 1 against the
Indianapolis Colts
. Only
Drew Brees
completed more such throws. However, since joining the Bears, Cutler has thrown two touchdowns and nine interceptions on passes at least 15 yards downfield against the Packers.
Cardinals at Patriots
One of the four matchups in Week 2 between 1-0 teams.
Tom Brady
has never lost a home opener as the New England Patriots' starting quarterback (9-0). He's also 35-1 in his last 36 regular-season home starts. Both of Brady's touchdown passes in Week 1 went to his tight ends,
Aaron Hernandez
and
Rob Gronkowski
.


Not including a kneel down, New England used at least two tight ends on all of its offensive plays against the
Tennessee Titans
, and Hernandez and Gronkowski each played 66 of a possible 67 offensive snaps.
Wes Welker
was on field for 42 of the Patriots' 67 plays (62.7 percent). That was his lowest snap percentage since Week 3 of 2010. Last season, Welker was on field for 88.7 percent of the Patriots' snaps.
Lions at 49ers
Can the 49ers slow down a second straight high-powered offense from the NFC North? San Francisco has won eight straight against Detroit -- the longest by either team in the history of the series.


Alex Smith
was 15-of-16 for 152 yards and a touchdown when targeting his wide receivers in Week 1. Smith didn't complete more than 13 passes to his wide receivers in a game last season, and was just 1-of-5 in the NFC Championship game.
The 49ers secondary will have to try to stop the Lions duo of
Matthew Stafford
and
Calvin Johnson
.
Stafford has thrown for at least at least 350 yards in four straight games, which is tied for longest streak in NFL history with Drew Brees. And Johnson has at least 100 receiving yards in four straight games. No Lions player has at least five straight 100-yard receiving games since Pat Studstill had six consecutive 100-yard games in 1966.
In their win last season at Detroit, the 49ers sent four or fewer rushers on 55 of Matthew Stafford's 56 dropbacks. Since the start of 2008, no quarterback has had more dropbacks against such pressure in a single game.
March, 13, 2012
3/13/12
4:46
PM ET
AP Photo/David ZalubowskiBrandon Marshall (left) and Jay Cutler both were drafted by the Denver Broncos in 2006.
Only three players have had at least 1,000 yards receiving each of the last five seasons:
Larry Fitzgerald
,
Roddy White
and
Brandon Marshall
.
For Marshall, his first two 1,000-yard seasons came when he was paired with QB
Jay Cutler
with the
Denver Broncos
. From 2007-08, Marshall had 206 receptions (only
Wes Welker
had more) and his 2,590 yards ranked third behind Fitzgerald and
Reggie Wayne
.
In 2008, Cutler targeted Marshall a league-high 179 times, 33 more than any other QB-receiver combination. That's the most times a QB has targeted a player in a single season in the last four years.
Marshall and Cutler have been reunited with the
Chicago Bears
, a team that hasn't had a 1,000-yard receiver since Marty Booker in 2002.
In fact, since the 1970 merger, the Bears have had a total of seven 1,000-yard seasons posted by receivers. (Booker and
Curtis Conway
are tied for the most with two.)
In his three seasons in Chicago, Cutler's leader in receptions among wide receivers is
Johnny Knox
with 133, which ranks 43rd in the NFL among wide receivers. (The Bears leader in receptions the last three seasons is running back
Matt Forte
with 160.)
However, one area that Knox has proven to be Marshall's equal is on deep routes. On throws over 20 yards, Marshall has been targeted 68 times, with 24 receptions (and three drops) and four touchdowns over the last three seasons. (In 2008 with Cutler, Marshall was targeted 25 times on throws more than 20 yards downfield, with seven receptions, 235 yards and one TD.)
Knox has been targeted 18 fewer times than Marshall on throws over 20 yards, and still has 22 receptions (and only one drop) and six touchdowns.
One flaw in Marshall's game is drops. Since 2008, his 26 on-target drops are third most in the NFL behind
Dwayne Bowe
(37) and White (31).
Marshall also has caught only 12 of his 64 end zone targets the last four seasons. That's the second-worst rate in the NFL behind
Braylon Edwards
. (Marshall caught five of 15 attempts from Cutler in 2008.)
February, 6, 2012
2/06/12
8:05
PM ET
By
Alok Pattani
| ESPN.com
Paul Sancya/AP Photo
Tom Brady
could only wonder what might have been.
Super Bowl XLVI between the
New York Giants
and
New England Patriots
featured several key moments on which the outcome of the game could have swung significantly.
The ESPN Analytics Team looked at a few of those moments and analyzed them based on our historic win probability data from the past 10 seasons. Here's what we found.
How much should the Patriots rue their missed opportunities?
The Patriots just missed converting two plays that would have made a significant difference in the outcome of the game.
A couple plays after Tom Brady threw an interception for the game's only turnover early in the fourth quarter,
Ahmad Bradshaw
fumbled with the Giants deep in their own territory.
Fortunately for Bradshaw and the Giants,
Chris Snee
recovered the ball at the 11, keeping possession of the ball.
Had the Patriots recovered the fumble, their win probability would have jumped to from 69 percent to 78 percent. So the inability to recover Bradshaw's fumble cost the Patriots nearly 10% in terms of win probability.
Similarly, with the Patriots facing a 2nd-and-11 from the Giants 44, leading 17-15 with 4:06 left in the fourth quarter,
Wes Welker
dropped a pass from Tom Brady at the Giants 21.
Suppose he made the catch and gained six more yards after the catch (he had some space around him and would probably have been able to pick up a few yards). In that case, the Patriots would have had a 1st-and-10 from the Giants 15, and their win probability would have increased from 73 percent to 84 percent.
Should the Patriots have let the Giants score?
With the Giants having the ball inside the Patriots 10 with just over a minute to go, the Patriots had a decision to make: let the Giants score right away and leave as much time as possible for their offense, or play defense and hope for a turnover or missed field goal.
The math shows that the Patriots were in a deep hole either way.
If they held the Giants out of the end zone and made them attempt a last-second field goal, it would have had a
very
high likelihood of success.
This season, NFL kickers were 37-for-38 (97.4 percent) on game-tying or go-ahead field attempts from inside of 26 yards (the longest field goal attempt the Giants likely would have ended up with) with under a minute and a half left in the 4th quarter.
On the other hand, the Patriots' win probability after Bradshaw's touchdown with 57 seconds remaining was only 3.4 percent.
This is confirmed by historical analysis of similar situations.
The Patriots took over on their own 20, needing a touchdown to win the game and 57 seconds to go 80 yards.
Since 2001, NFL teams beginning a drive between their own 10 and own 30 when trailing by four to eight points (in other words, needing the touchdown) with between 40 seconds and 1:15 left in the fourth quarter have scored a touchdown just twice on 63 such drives, a 3.2 percent success rate.
So essentially the Patriots were choosing between a 2.6 percent chance of winning via a missed field goal (maybe a bit higher if you account for the very small likelihood of a fumbled snap or something like that) and a little bit better than a three percent chance of winning with a game-winning touchdown drive after letting the Giants score.
Either way, the decision had a very small impact on the overall outcome – the Patriots had essentially lost the game on the preceding plays of the Giants' final drive.
What were the biggest plays of the game?
Here are the biggest plays of the game in terms of changes in win probability from before to after the play.
1. Ahmad Bradshaw's rushing touchdown in the final minute raised the Giants' win probability from 74 percent to 97 percent.
2. Tom Brady's touchdown pass to Danny Woodhead in the final seconds of the second quarter raised the Patriots' win probability from 42 percent to 56 percent.
3. Eli Manning's 38-yd pass to Mario Manningham with just under four minutes remaining in the fourth quarter raised the Giants' win probability from 37 percent to 49 percent.
February, 1, 2012
2/01/12
1:50
PM ET
By
John McTigue
| ESPN.com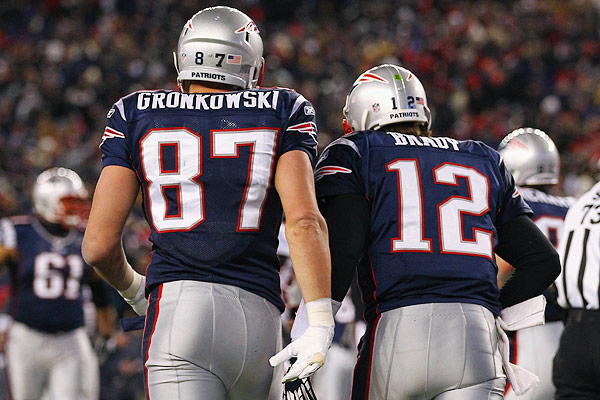 Al Bello/Getty ImagesTom Brady and the Patriots' effectiveness in the Super Bowl could ride on Rob Gronkowski's left ankle.
One of the key storylines leading up to the Super Bowl XLVI is the availability of
New England Patriots
tight end
Rob Gronkowski
. He was without a walking boot on media day, but it has yet to be seen if he will be 100 percent against the
New York Giants
on Sunday.
If he isn't, the Patriots offense might take on a new look.
The Patriots used two or more tight ends on 81 percent of their regular-season plays and have done so on 88 percent of their postseason plays (excluding spikes and kneel-downs). No other team has featured multiple tight ends on a higher percent of plays, and the Patriots don't have a third tight end on their roster.
If Gronkowski is limited or doesn't play, that would likely lead to more three-wide receiver sets. Outside of
Wes Welker
and
Deion Branch
, the Patriots haven't had a consistent threat from a third wide receiver this season.
Tom Brady
has thrown only 140 of his 681 passes this season with three wide receivers and just one tight end on the field. Although Brady is completing 71 percent of his passes with such personnel on field, he is also throwing an interception about once every 28 attempts, compared to once every 68 attempts with all other personnel groupings.
Less or no Gronkowski could also limit the versatility of
Aaron Hernandez
. Gronkowski has taken 61 percent of his snaps attached to the line of scrimmage. In contrast, Hernandez has taken 66 percent of his snaps and caught 52 of his 90 receptions when split out wide or in the slot. The Patriots may keep Hernandez in more often to compensate, which could lead to fewer mismatches.
If Gronkowski is able to play he may not be at 100 percent, which could limit his performance in areas he normally excels.
Gronkowski finished the regular season with the fourth-most yards after the catch (641), most among tight ends. The only tight end to average more yards after the catch per reception was
Brent Celek
(7.9 to 7.1).
Of course, the Patriots could opt to base Gronkowski's playing time on the situation. Only
Calvin Johnson
has more red zone touchdowns than "Gronk" the past two seasons, and no Patriots receiver has been nearly as effective in the end zone.