Stats & Info:

Willie Mays
July, 2, 2013
7/02/13
3:43
PM ET
By
ESPN Stats & Information
| ESPN.com
Harry How/Getty Images Albert Pujols faces the Cardinals for first time in his career on Tuesday.
Albert Pujols
' tenure in St. Louis was arguably the most productive start to a career in history. His 445 home runs, 1,329 RBI and 3,893 total bases all set new standards for a player's first 11 seasons in the league.
On Tuesday, Pujols faces the
St. Louis Cardinals
for the first time since leaving via free agency following the 2011 season.
He's second in franchise history in nearly every power hitting category, from home runs to slugging percentage.
But Pujols hasn't quite been the same hitter with the
Los Angeles Angels
. In fact, he's been less productive than the Cardinals who have replaced him.
Since the start of 2012, Cardinals first basemen have combined for an .826 OPS, while Pujols has had an uncharacteristically low .822 OPS. The 173 combined RBI at first base for the Cardinals is the most for any team in the majors over the past two seasons.
Perhaps the bigger drama will come when Pujols returns to play in front of the fans in St. Louis, but Tuesday won't be without drama when he takes the field against his old club.
Here's a look at some of the most memorable performances in which a star player faced his former team for the first time.
Willie Mays (Mets) versus Giants -- May 14, 1972
After 2,857 games with the Giants, Mays finally suited up for another team -- and played against the Giants. His first hit for the Mets was a go-ahead solo home run in the fifth inning.
Tom Seaver (Reds) at Mets -- Aug. 21, 1977
Seaver received a hero's welcome with three separate standing ovations from the Shea Stadium crowd. He struck out 11 while allowing one run in a complete-game, 5-1 win. "It's hard to put into words how much this game meant to me," Seaver said.
Roger Clemens (Blue Jays) at Red Sox -- July 12, 1997
Back in Boston for the first time, Clemens struck out a Blue Jays franchise-record 16 Red Sox over eight innings in a 3-1 win. Improving to 14-3 on the season, Clemens walked off the mound glaring at Red Sox GM Dan Duquette, who had previously said Clemens was "in the twilight of his career."
Frank Thomas (A's) at White Sox -- May 22, 2006
After 16 years with Chicago, Thomas quickly provided a reminder of what he could do. After a standing ovation, the Big Hurt went 3-for-5 with two home runs, his first multi-home run game in almost two years.
Pedro Martinez (Mets) at Red Sox -- June 28, 2006
Pedro wasn't as successful as Clemens in his first game back against the Red Sox. He received a warm greeting from the Fenway faithful, but didn't provide a performance to match. Martinez lasted three innings and allowed eight runs, while striking out only one.
November, 12, 2012
11/12/12
7:41
PM ET
By
ESPN Stats & Information
| ESPN.com
Rob Carr/Getty ImagesBryce Harper hit like a seasoned pro in the latter part of 2012.
As the second-youngest player to win Rookie of the Year honors,
Bryce Harper
finds himself in memorable statistical company.
The only player younger than Harper to win Rookie of the Year was Dwight Gooden for the
New York Mets
in 1984.
The player who was the youngest
position player
to win Rookie of the Year was one of the sports all-time greats, Hall-of-Famer Willie Mays.
What else was notable about Harper's selection? Let's take a look.
The History
Harper is the third player in Nationals/Expos franchise history to bring home the Rookie of the Year – the previous two were pitcher Carl Morton in 1970 outfielder Andre Dawson in 1977.
He's the third player from a Washington-based franchise to win Rookie of the Year, an award given out since 1947. The other two were members of the Washington Senators- Albie Pearson in 1958 and Bob Allison in 1959.
The Numbers
Harper had the most Wins Above Replacement (5.0) of any player in his age 19-or younger season in baseball's modern era (since 1900), surpassing the mark previously set by New York Giants outfielder Mel Ott (3.7) in 1928.
Harper was the newest statistical standard-setter among baseball teenagers. His 57 extra-base hits were the most by a player in his age 19-or-younger season (age computed as of June 30 of that season).
The only player to have more home runs in a season as a teenager than Harper's 22 was Tony Conigliaro, who had 24 for the 1964
Boston Red Sox
.
How he won
Harper won the season buoyed by a strong finish. He had a .333/.394/.660 batting average/on-base percentage/slugging percentage slashline in his last 38 games, which helped raise his OPS from .732 to .817.
His 1.053 OPS over that span was the best in the National League and fourth-best in the majors.
Harper took after AL Rookie of the Year winner
Mike Trout
in that he became a much more impactful hitter on pitches in the lower half of the strike zone.
Harper hit .321 with a .957 OPS in at-bats ending with pitches to that location over his last 38 games. Prior to that, he hit just .210 with a .601 OPS against those pitches.
Harper was also significantly more effective in two-strike counts, as highlighted in the chart on the right.
Had Harper maintained that .145 two-strike batting average throughout the season, it would have cost him 15 points on his end-of-year .270 batting average.
More than that, it might have cost him Rookie of the Year honors.
October, 10, 2012
10/10/12
9:15
PM ET
It's been quite some time since
Tim Lincecum
pitched the way that he did on Wednesday.
Lincecum and the
San Francisco Giants
forced Game 5 with a rout of the
Cincinnati Reds
.
Banished to the bullpen due to his struggles throughout 2012, Lincecum played the biggest role in this game with 4 1/3 innings of stellar relief. With their former ace in vintage form, the Giants bats woke up with a record-setting performance.
Let's go inside the numbers on their Game 4 win.
How Lincecum Won
Lincecum came out of the bullpen with some of best stuff of the season.
Lincecum's changeup was his most valuable pitch and he seemed to sense that. He virtually abandoned his curve and slider and threw the changeup 23 times in 55 pitches. That 42 percent usage rate was a season high.
Lincecum got six outs with his changeup, the biggest of which was his strikeout of
Ryan Ludwick
to protect a 3-2 lead with two on and two out in the fourth inning.
He struck out two other hitters with the changeup later in the game:
Jay Bruce
and
Todd Frazier
.
The three strikeouts with the changeup were his most in any game since he had four against the Mets on July 31. In his last three starts, spanning 16 1/3 innings, he totaled three strikeouts with the changeup.
Linecum is the first pitcher to win a postseason game in relief in which he got at least 13 outs while allowing two hits or fewer since
Pedro Martinez
threw six hitless innings for the 1999
Boston Red Sox
in Game 5 of the ALDS against the Indians.
The last NL pitcher with such a game was another Giant: lefty reliever Joe Price, 25 years ago Thursday in the NLCS against the
St. Louis Cardinals
.
A Giant barrage
The Giants had a franchise postseason record eight extra-base hits in Game 4. That was more extra-base hits than they had in any game in 2012.
At the forefront of that was centerfielder
Angel Pagan
, the first Giants centerfielder with two hits, a home run, and two RBI in a postseason game since Willie Mays in the 1971 NLCS. He was also the first player in Giants history to lead off a postseason game with a home run.
Pagan has nine home runs this season (combining the regular season and postseason). Three have come against the Reds.
Gregor Blanco
also snapped a 140 at-bat homerless drought with his second-inning homer.
Blanco had only one home run on the 132 pitches he saw this season that our pitch classification system labeled as "middle-in" but homered on this one against Reds starter
Mike Leake
to put the Giants ahead.
Pablo Sandoval
had a home run, double, single and sacrifice fly, all on pitches out of the strike zone.
Since his first full season in 2009, Sandoval has been among the best bad-ball hitters in baseball, ranking first in hits and second in home runs and batting average on pitches out of the zone.
What's next?
The Giants and Reds will play a winner-take-all Game 5 on Thursday for the right to go to the NLCS.
The Reds will be playing their first winner-take-all postseason game since Game 7 of the 1975 World Series when they beat the Boston Red Sox 4-3 on a 9th-inning hit by Joe Morgan.
The Reds are 3-2 all-time in winner-take-all postseason games, with wins in 1940, 1972, and 1975.
The Giants will be playing their first since Game 7 of the 2002 World Series, a 4-1 loss to the Angels. The Giants were managed by current Reds manager Dusty Baker that season.
The Giants are 1-5 all-time in winner-take-all postseason games. Their lone win was in Game 5 of the 2002 NLDS against the
Atlanta Braves
.
June, 30, 2012
6/30/12
1:21
AM ET
By
ESPN Stats & Information
| ESPN.com
Benny Sieu/US PresswireAaron Hill became the fourth player in Major League Baseball history to hit for the cycle twice in the same season.
Barry Bonds
, Tony Gwynn, Willie Mays, Babe Ruth and Ty Cobb are among the great hitters who never did it even once in their careers.
Aaron Hill
now has hit a cycle twice in 12 days.
He's the first player with two cycles in the same season since Babe Herman in 1931.
Hill is the fourth player in Major League Baseball history with two cycles in the same season, joining Herman (1931 Brooklyn Robins), Tip O'Neill (1887 St. Louis Browns) and John Reilly (1883 Cincinnati Red Stockings).
Hill, whose previous cycle was June 18, is the second player in MLB history with two cycles in the same calendar month and the first since Reilly in September 1883.
The concept that Reilly accomplished this feat in 1883 and nobody else did for almost 129 years is incredible. It's a rare gap between feats.
Let's consider what was happening in the United States back in 1883:
• The president was Chester A. Arthur and there was no vice president.
• There were only 38 states.
• Basketball hadn't been invented yet.
• The Brooklyn Bridge opened to traffic in May.
• The first Metropolitan Opera House opened in October.
• The past 12 presidents weren't even born yet, including Harry S. Truman, who was born in 1884.
• Airplanes had not yet been invented.
Hill now has as many cycles in the past 12 days as the entire
Toronto Blue Jays
franchise (his former team). He has more cycles in the past 12 days than the
Tampa Bay Rays
(1),
San Diego Padres
(0) and
Miami Marlins
(0) franchises combined.
How did Hill hit for the cycle Friday?

• In the first inning, he hit a ground-rule double off a fastball, his eighth double against a fastball this season.
• In the third inning, he singled to center off a slider. He was hitting .267 against sliders going into the game.
• In the fourth inning, he homered to left field off a curveball, his first home run off a curveball since June 19, 2011.
• In the sixth inning, he tripled to center field off a slider.
Hill is hitting .465 in his past 10 games with four home runs, 11 RBIs and a .953 slugging percentage. Eleven of his 20 hits are extra-base hits during that span.
No player in MLB history has had three cycles in the same season. The
Arizona Diamondbacks
still have 86 games left, so Hill has a chance to be the first to do so.
April, 19, 2012
4/19/12
7:32
PM ET
By
Justin Havens, ESPN Stats & Info
| ESPN.com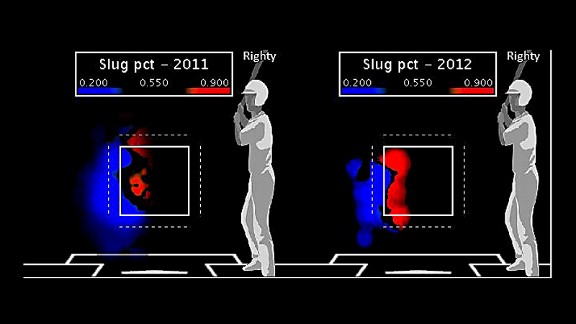 ESPN Stats & InformationMatt Kemp has doubled his slugging percentage against outside pitches since last season.
After narrowly missing out on the Triple Crown last season,
Matt Kemp
is off to a fast start in 2012.
Through 13 games, Kemp is hitting .451 with seven home runs and 18 runs batted in. According to the Elias Sports Bureau, he is the third player since RBI became official in 1920 to reach each of those thresholds in his team's first 13 games. The others were
Larry Walker
for the
Colorado Rockies
in 1997 and Willie Mays for the
San Francisco Giants
in 1964.
Kemp has shown tremendous power to the opposite field in the early going, in large part because of how he is handling pitches on the outside part of the plate.
As shown in the heat maps at the top of the article, Kemp's ability to drive pitches on the outer portion of the plate has markedly improved since last season. In 2011, he had six home runs in 207 at-bats that ended on outside pitches. Through the first two weeks this season, he has three home runs in 22 at-bats ending on such pitches.
This isn't the case of Kemp doing better against outside pitches as a function of doing better against everything. His numbers against inside pitches are slightly improved from last year, with his slugging percentage up from .672 to .727. Against outside pitches, his slugging percentage has more than doubled from .362 to .727.
Kemp hit his fifth opposite-field home run of the season in Thursday's win against the
Milwaukee Brewers
. Entering Thursday evening's games,
Derek Jeter
is the only other player in the majors with more than two opposite-field homers this year. Kemp hit eight home runs to the opposite field all last season.
April, 5, 2011
4/05/11
12:37
AM ET

While all of the preseason hype was about the
Philadelphia Phillies
top four starting pitchers, it was the
Baltimore Orioles
starting pitchers that set a team record just four games into the season.
In each of their first four games, the Orioles starting pitcher has gone at least six innings while allowing one run or fewer.
That's the longest streak to start a season in Orioles franchise history.
The last team to have their starters go at least six innings allowing one run or fewer in each of the first four games of a season was the 2007 Mets (
Tom Glavine
,
Orlando Hernandez
,
John Maine
and
Oliver Perez
)
The last American League team to do this was the 1991 White Sox (Jack McDowell, Greg Hibbard, Alex Fernandez, Jack McDowell again).
Even better, the Orioles are 4-0 for just the seventh time in franchise history and first since 1997, when they won 98 games and made their last playoff appearance.
The
Texas Rangers
joined them with a 4-0 start as they defeated the
Seattle Mariners
.
Texas continued to do damage with the longball, hitting two more home runs, giving them 13 through the first four games of the season.
According to Elias, the 13 is tied for the second-most through four games in MLB history.
Nelson Cruz
has four of those home runs, one in each game to start the season.
In doing so, he joined
Mark McGwire
in 1998 and Willie Mays in 1971 as the only players in Major League Baseball history to hit a home run in each of his team's first four games.
The Rangers aren't the only team tearing the cover off the ball as the
New York Yankees
hit two more home runs in their victory over the
Minnesota Twins
.
Elias tells us this is the third time in franchise history the Yankees have reached double-digit home runs in their first four games.
Each of the previous two times they reached the World Series.
Alex Rodriguez
had a two-run home run which gave him 1,835 career RBI. Elias confirmed this moved him into a tie for 14th place all-time with Rafael Palameiro.
Mariano Rivera
closed the game out picking up his third save already this season.
It's the first time in his 17-year career that he has three saves in his team's first four games.
August, 12, 2010
8/12/10
7:54
PM ET
The Braves announced that
Chipper Jones
tore his anterior cruciate ligament Tuesday night and will need surgery, ending his 2010 season.
Will it also end his career? The 38-year-old third baseman had mentioned retirement earlier this season.
Let's take a look at some things Chipper:
Among active players, Jones ranks 9th in hits (2,490), 7th in runs (1,505), 6th in home runs (436), 6th in extra-base hits (966) and 7th in OBP (.405, minimum 3,000 plate appearances).
With this being Bobby Cox's last season, it looks as if Tuesday was the last game for the Chipper-Cox combo. The Elias Sports Bureau tells us that the player/manager duo has logged 2,261 games together, the second-most of any such tandem in MLB history. Only Honus Wagner under Fred Clarke for Louisville (1897-1899) and Pittsburgh (1900-1915) had more.

Chipper Jones ranks in the top 30 all-time with a .941 OPS, matching that of the legendary Willie Mays.

A team of nine players with career numbers of Chipper Jones would win nearly 72 percent of the time, by way of Bill James Offensive Winning Percentage metric. By comparison, a team comprised of nine Alex Rodriguez's would win 70 percent of the time.


June, 2, 2010
6/02/10
9:40
PM ET
By
ESPN Stats & Info
| ESPN.com
Ken Griffey Jr.
's long and historic career appears to have come to an end with the announcement that he has retired. The first-overall pick in the 1987 draft retires with the same team that drafted him exactly 23 years ago to the day.
Griffey's power hitting is what helped burst him onto the national scene early in his career. In the summer of 1993 as a 23-year old, he tied Don Mattingly and Dale Long's MLB record for most consecutive games with a HR at 8. He hit 398 HR before turning 30 years old, breaking a record that Jimmie Foxx had held since 1937. The 13-time All-Star finishes in fifth place on the all-time HR list with 630. He was the active leader with 1,836 RBI. He finished in the top five of MVP balloting five times, but walked away with the award just once, in 1997.
Right or wrong, Griffey's monster HR total is often seen as a more pure number than some of his contemporaries'. Only one other player hit more HR than Griffey since he made his MLB debut on April 3, 1989 and it was Barry Bonds. The only player to hit more HR than Griffey in the 1990s was
Mark McGwire
.
Overlooked because of those power numbers is the fact the Griffey will go down as one of the best defensive centerfielders of all time. He was a 10-time Gold Glove winner. Only Roberto Clemente and Willie Mays had more as an outfielder.
Still some people will be hard on Griffey because he never consistently dominated in the postseason. He has the most HR of a player to never appear in the World Series. He appeared in the postseason three times for a total of 18 games. After he clinched the franchise-saving, series-winning run in the 1995 ALDS for the
Seattle Mariners
, Griffey's teams went 4-9 in postseason games and Griffey himself had just three extra-base hits in that stretch.
But in the end, Griffey was more than just a compiler. He often had a flare for the dramatic. On September 14, 1990, Griffey and his father become first father-son combo to hit back-to-back HR. In 1997, his 56th HR of the season at the time set the record for the most in the AL since Roger Maris in 1961. On June 24, 2007, he hit his 583rd and 584th career HR in his return to Seattle against the Mariners.
Statisically speaking, he will go down as one of the all-time greats. But in the eyes of Mariners fans, he will be remembered as so much more than that.