June, 26, 2013
6/26/13
7:35
PM ET
By
ESPN Stats & Information
| ESPN.com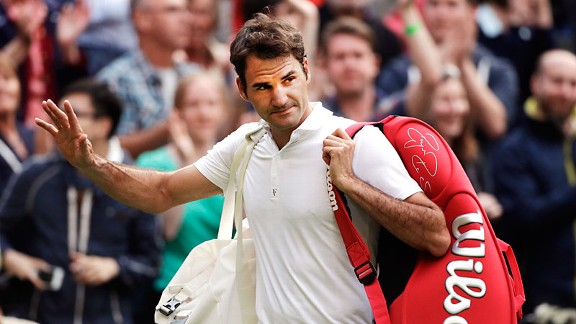 AP Photo/Anja NiedringhausRoger Federer's loss Wednesday was his first loss in the second round of a Grand Slam in his career.
The upsets continued at the All-England Club today as third-seeded
Roger Federer
lost in the second round to
Sergiy Stakhovsky
in four sets.
Combined with
Rafael Nadal
's loss in the
Steve Darcis
in the first round yesterday, this is the first Grand Slam in which both Federer and Nadal were in the draw and that neither reached the third round.
Federer had several notable streaks snapped with the loss to the 116th-ranked Stakhovsky.
This was Federer's first loss to a player ranked outside the top 100 in eight years.
Richard Gasquet
was ranked 101st in the world when he beat Federer in the quarterfinals at Monte-Carlo in 2005.
It was only his second loss to a player ranked outside top 100 at Grand Slam, and the first since he lost to No. 154
Mario Ancic
at Wimbledon 2002. Federer is now 45-2 in his career at Grand Slams against players ranked 100 or above.
Federer's record streak of 36 Grand Slam quarterfinal appearances, which started at Wimbledon in 2004, ended with this loss. Before Stakhovsky, the last player to beat Federer before the quarters of a Slam was
Gustavo Kuerten
in the third round of the 2004 French Open
And this was the first time that Federer has ever lost in the second round of a Grand Slam. He was 50-0 in the second round of Slams before losing to Stakhovsky.
How unlikely was Stakhovsky's upset against Federer? The Ukrainian was 0-20 in his career against top-10 players, the second-most losses without a win vs the top 10 among active players. Even with the win, Stakhovsky still has a losing record this season (9-10).
Federer lost the second and fourth set tiebreaks, a shocking result considering that this season he had won eight of 11 tiebreaks entering the match. Federer also broke Stakhovsky's serve only once during the entire match.
With the loss, Federer must wait until next year to go for his record-breaking eighth Wimbledon title. He was also trying to join Nadal, who has won the French Open eight times, as the only players to win eight titles at a single Grand Slam event.
June, 24, 2013
6/24/13
5:37
PM ET
By
ESPN Stats & Information
| ESPN.com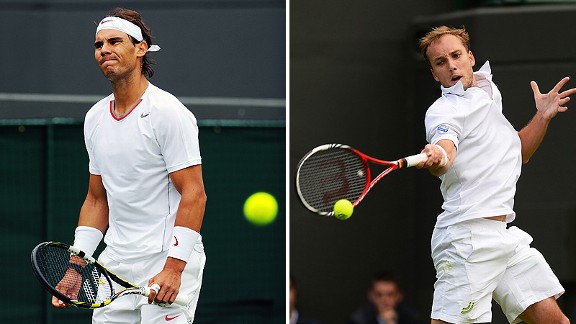 Getty Images, AP PhotoRafael Nadal (left) was upset by Steve Darcis in straight sets at Wimbledon on Monday.
Rafael Nadal
lost in straight sets to
Steve Darcis
in the first round of Wimbledon after winning the French Open a few weeks ago. Let's look at Nadal's loss by the numbers, with some next level analysis as well.
By the numbers
1
– Nadal lost in the first round of a Grand Slam for the first time in his career. He was undefeated in 34 career first-round matches at Grand Slams entering Monday. Steve Darcis entered Wimbledon with just one win in 13 career matches against top 10 opponents.
2
–The straight-set loss was only the second such defeat at Wimbledon of Nadal's career, and that came 10 years ago. Darcis entered the match with just two wins this season before Monday's upset. Darcis also has two career ATP titles, none since 2008.
135
– Speaking of Steve Darcis, his rank of 135 is the lowest of any player ever to beat Nadal at a Grand Slam. Also, for the second consecutive year, Nadal lost at Wimbledon to a player ranked 100 or worse.
Lukas Rosol
was ranked 100th before defeating Nadal in last year's Wimbledon.
and
12
– that's the amount of Grand Slam first-round losses Darcis had in his career entering Monday's contest. It's also the amount of majors Nadal has won, showing just how far apart these two players have been throughout their careers.
Next Level insights from IBM
IBM Insights looks at statistics that indicate what players can do to increase their likelihood of winning a set (and therefore the match). No surprise, even the Insights did not give Darcis much of a chance against Nadal. In fact, if Darcis won 27 percent of first serve return points, his chance of winning a set from Nadal was 53 percent. For the match, Darcis was able to win 28 of 80 first serve return points (35 percent).
As for Nadal, he was unable to pounce on Darcis' second serve. When Nadal wins 57 percent of second serve return points, he wins sets 90 percent of the time. But on Monday, Rafa won just 21 of 49 of those points (43 percent).
June, 24, 2012
6/24/12
7:01
AM ET
By
Kenton Wong, ESPN Stats & Information
| ESPN.com
Getty ImagesRafael Nadal, Novak Djokovic and Roger Feder are the favorites to win Wimbledon this year.
Novak Djokovic
and
Rafael Nadal
have built up quite the rivalry in the last year. They have met up in the final of the last four Grand Slams with each match going at least four sets.
The last player to reach a Grand Slam final other than Djokovic and Nadal was
Roger Federer
at the 2011 French Open. Federer is also the last one other than the duo to win a Grand Slam, doing so at the 2010 Australian Open. Since then, Djokovic and Nadal have combined to win the last nine majors.
After going 0-6 against Djokovic in 2011, Nadal has turned the tables this year. Since losing at the Australian Open, Nadal has beaten the Serbian star three times – although each of those wins came on clay.
Whenever Nadal wins his next Grand Slam, he will tie Roy Emerson for third-most major titles in men's tennis history with 12.
Federer meanwhile has been able to remain in contention, remarkably reaching the quarterfinals in an Open Era-record 32 straight Grand Slams. To put it in perspective, the last time Federer failed to reach the quarters at a slam (2004 French Open), Novak Djokovic was over half a year away from making his Grand Slam debut.
Of Federer's 16 slams, six have come at Wimbledon. So although he arrives at the All England club as an underdog, Federer certainly has history on his side.
A win here for the Swiss great would tie Pete Sampras for the most Wimbledon titles in the Open Era. Federer would also jump both Djokovic and Nadal in the rankings and rise to No. 1 for the first time in over two years.
LADIES TOP RANKING NO SURE THING
The No. 1 ranking is also up for grabs on the women's side.
Maria Sharapova
got back to the top spot for the first time since 2008 after her dominating win at the French Open. Her stay at the top could be short lived as she can only keep the top ranking with a win at Wimbledon.
Victoria Azarenka
and
Agnieszka Radwanska
can each grab the top spot in the rankings by winning Wimbledon. Radwanska would also need Sharapova and Azarenka to get ousted before the final.
Serena and
Venus Williams
have each battled injury and illness in the last couple of years. Neither sister lasted long at Roland Garros. Venus lost in the second round and Serena was ousted in the first round – the first time that has ever happened to her at a Grand Slam.
But when it comes to Wimbledon, you can't count out the Williams sisters. They have combined to win nine out of the last 12 Wimbledon titles.