On March 13th, Johnny Damon hit his first home run against the New York Yankees since joining the Detroit Tigers. With much being made over Damon's power numbers this past season and how they will translate with the Tigers, we set out to see exactly how much Yankee Stadium helped Damon.
Earlier today, Jay Jaffe of Baseball Prospectus broke down the possible effectiveness of Damon if he were to lead off for the Tigers this season.
Utilizing Greg Rybarczyk's "Hit Tracker" software, we concluded that Damon's home run totals were positively impacted by New Yankee Stadium. Of Damon's 17 Yankee Stadium HR, only 11 would have translated to Comerica Park. On the bright side for Damon, of the 6 home runs he would have lost, 4 would still have gone for extra-base hits.
Damon's 24 total home runs in 2009 tied a career-high, but adjusted to Comerica Park, 18 total longballs would still tie the 3rd-best output of his career.
Damon's 2009 Yankee Stadium HR Adjusted to Comerica Park
Apr. 17 vs CLE: Not a Home Run, Fly Out
Apr. 21 vs OAK: HR
May 4 vs BOS: HR
May 5 vs BOS: HR
May 7 vs TB: HR
May 17 vs MIN: HR
Jun. 4 vs TEX: HR
Jun. 8 vs TB: HR
Jun. 17 vs WAS: Not a Home Run, Extra-Base Hit
Jul. 1 vs SEA: HR
Jul. 4 vs TOR: Not a Home Run, Fly Out
Aug. 6 vs BOS: Not a Home Run, Extra-Base Hit
Aug. 9 vs BOS: Not a Home Run, Extra-Base Hit (399 feet)
Aug. 12 vs TOR: HR
Aug. 28 vs CHW: Not a Home Run, Extra-Base Hit
Aug. 30 vs CHW: HR
Check out this diagram.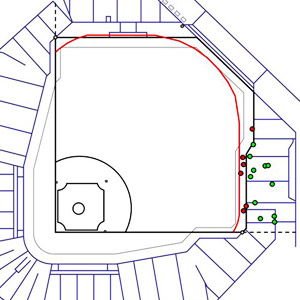 The red dots are balls that Damon hit last season that would not have not been HR in Detroit but were in New York. The red line is the fence at Yankee Stadium transposed over the park in Detroit. So all the dots both green and red would be homers in the new Yankee Stadium.
This type of analysis gives a general sense of how a new park can affect a hitter but is not gospel. Obviously in Detroit, Damon would not have had Derek Jeter hitting ahead of him and Mark Teixeira behind him so he might not have seen the same types of pitches. Also if he was playing for the Tigers he would have been facing different pitchers the day he hit those homers.
But in the end, it is an interesting analysis to make and something to watch for as the 2010 season goes on.