Stats & Info:

Yoenis Cespedes
October, 10, 2013
Oct 10
11:00
AM ET
Getty ImagesJustin Verlander (left) and Sonny Gray (right) struck out at least 9 and allowed zero runs in Game 2.
The
Detroit Tigers
visit the
Oakland Athletics
in Game 5 of the ALDS tonight (8:07 ET/ESPN Radio). Detroit is 2-0 in ALDS Game 5s (2011 and '12) and is looking to advance to the ALCS for the third straight season (would be first team to do that since the 1998-2001
New York Yankees
).
Oakland is 0-5 all-time in ALDS Game 5s and will be looking to advance to the ALCS for the first time since 2006. The A's were eliminated by the Tigers in their past two trips to the postseason (2006, 2012).
According to the Elias Sports Bureau, Oakland is 1-11 since 2000 in games in which they had a chance to eliminate an opponent from a postseason series.
Let's take a look at some other storylines for this game.
History Lesson
This will be the seventh time that two teams have met in a winner-take-all postseason game in consecutive years.
The last time it happened, the
Boston Red Sox
and Yankees met in consecutive Game 7s of the ALCS in 2003 and 2004.
The last team to win the first meeting and the rematch was the Yankees, who beat the Athletics in consecutive ALDS Game 5s in 2000 and 2001.
The team that won the first winner-take-all won the rematch three times and lost the rematch three times in the first six instances.
Justin Verlander stats to know
Verlander has thrown three straight scoreless starts dating back to the regular season, with 33 strikeouts in 19 innings, including 11 in the Game 2 duel in Oakland.
He has faced Oakland three times in the ALDS in the past two seasons, going 2-0 with a 0.39 ERA. In those 23 innings pitched, he's struck out 33 and walked six while allowing just 11 hits.
In his Game 2 start against Oakland, Verlander relied on his fastball and curveball to put hitters away. He threw 20 fastballs and 16 curveballs among his 42 two-strike pitches, his second-highest combined percentage (85.7) with those pitches this season. All 11 of his strikeouts came on those pitches.
Sonny Gray stats to know
Gray's eight scoreless innings in Game 2 against the Tigers marked the fourth time that a starter has thrown eight scoreless frames in the 67 postseason games the Tigers have played since 1968. The other three are Bob Gibson (1968 Cardinals), Blue Moon Odom (1972 Athletics) and
Chris Carpenter
(2006 Cardinals).
Like Verlander, Gray relied on his fastball and curveball in Game 2. All but two of his 111 pitches were fastballs (80) or curveballs (29). That was his second-highest combined percentage (98.2) with those pitches in 11 career starts.
Nineteen of the 24 outs Gray recorded were via strikeout (nine) or groundout (10). None of his 10 groundouts came on fastballs, and five of his nine strikeouts came on his curve.
In that game, Gray became the second rookie on postseason history with at least eight scoreless innings and nine strikeouts in his first career postseason start, joining the Orioles' Mike Boddicker in 1983. Boddicker had 27 career regular season starts under his belt while Gray had just 10.
The Big Bats: Cespedes and Cabrera
The big hitters for each team,
Yoenis Cespedes
and
Miguel Cabrera
, have had contrasting performances with regards to a specific pitch location.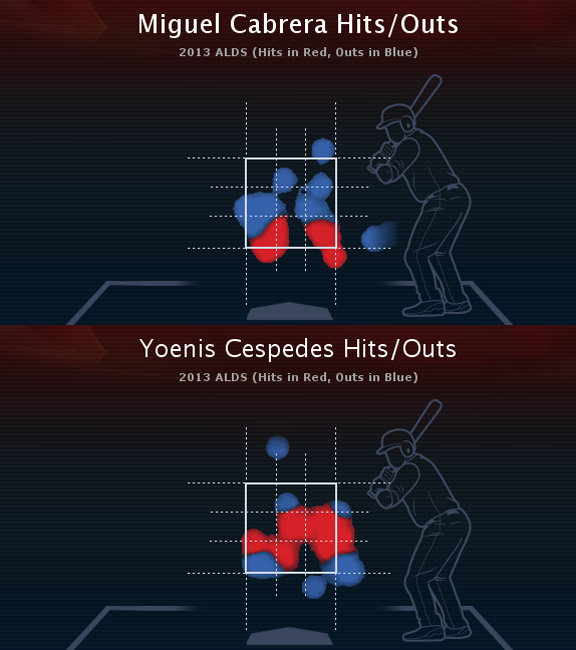 Cespedes is 7-for-18 in the series, with the bulk of that damage (five hits, including a homer) coming on pitches on the inner half of the plate.
Meanwhile Cabrera, who is 4-for-16 in the series and is battling injuries, has struggled to drive the inner-half pitches that he was crushing earlier this season.
Through the end of August, Cabrera had a .401 batting average and 27 home runs against pitches thrown to the inner half of the plate or off the inside corner.
But since the start of September, Cabrera has only 10 singles against such pitches, against which he is hitting .244. He has two hits versus such pitches in this series, both infield singles.
Justin Havens also contributed to this article.
July, 15, 2013
Jul 15
11:45
PM ET
By
ESPN Stats & Information
| ESPN.com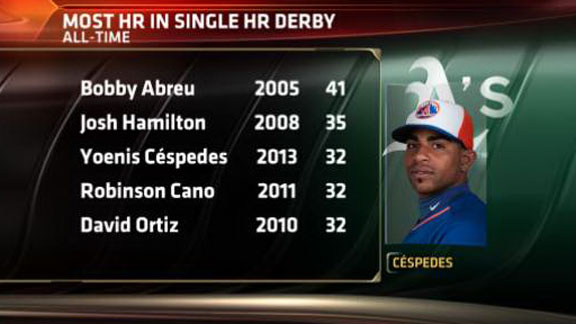 Yoenis Cespedes
was the best home run hitter from start to finish in this season's Home Run Derby.
Cespedes, the first non-All-Star to win the Derby, finished with 32 home runs and beat out
Bryce Harper
in the finals 9-8.
Here's a look at some of the statistical highlights from Monday's competition.
Hot at the right time
Cespedes' 32 homers tied for third-most in Derby history. His 17 homers in the first round were more than twice as many as any other Derby competitor this year and tied for third-most by anyone in a single round all time. He had more home runs in the first round than any other player did in the first two rounds combined.
Cespedes entered the All-Star break with no home runs in his past 19 games and only two home runs in his past 31 games (both came June 21 against the
Seattle Mariners
). He's homered in only three of the past 46 games he's played since May 22. Cespedes' current drought is 71 at-bats, which the Elias Sports Bureau notes is the second longest of his career and the longest current drought of any of the contestants this season.
Cespedes was the fourth straight AL player to win and ninth in the past 12 seasons. He's the first right-handed hitter to win the Derby since
Vladimir Guerrero
in 2007.
Harper consistent as runner-up
The 20-year-old Harper, the second-youngest entrant ever into the Derby (trailing only
Ken Griffey Jr
, by 42 days), was trying to become the competition's youngest winner. Elias tells us that mark is still held by
Juan Gonzalez
, who won in 1993 at age 23.
Harper hit eight home runs in each of the three rounds, hitting cutters thrown by his father, Ron. Harper is 12-for-29 in at-bats ending with cutters in regular-season games, with a pair of home runs.
No repeat title for Fielder
Prince Fielder was knocked out in the first round after hitting only five home runs, leaving Griffey Jr. as the only player to win the competition in back-to-back years (1998 and 1999). Fielder's 68 lifetime home runs in the Derby rank third-most all time, trailing Griffey's 74 and David Ortiz's 77.
Citi Field no deterrent
If there were concerns that Citi Field was going to keep the home run total down, they proved to be unfounded. The 103 home runs hit in the Derby were 21 more than were hit last year and the most in any Derby since 2008 (105).
July, 14, 2013
Jul 14
9:00
PM ET
By
ESPN Stats & Information
| ESPN.com
John Sleezer/Kansas City Star/MCT via Getty ImagesPrince Fielder will try to repeat as Home Run Derby champ.
The 2013 Chevrolet Home Run Derby kicks off at 8 p.m. ET Monday night on ESPN at Citi Field. History suggests that one of the five left-handed batters in the competition is going to win it.
Seven of the past eight and 14 of the past 17 Home Run Derby winners have been left-handed hitters, including each of the past five: Fielder,
Robinson Cano
(2011), David Ortiz (2010), Fielder (2009) and
Justin Morneau
(2008).
Since the first individual competition in 1995,
Frank Thomas
(1995), Sammy Sosa (2000),
Miguel Tejada
(2004) and
Vladimir Guerrero
(2007) are the only righties to win.
Let's take a quick look at each of this year's contestants.
Pedro Alvarez, Pittsburgh Pirates
Alvarez was a late addition to the Home Run Derby, replacing
Carlos Gonzalez
. He leads the NL with nine "no-doubt" home runs this season, meaning homers that our video-tracking crew deemed cleared the fence by at least 20 vertical feet and landed at least 50 feet past the fence.
He's trying to become the first player to win the Derby as a member of the Pirates.
Robinson Cano, New York Yankees
This will be the third straight Home Run Derby for Cano, who went homerless in the 2012 Derby as the competition's defending champ. Cano was the fifth player in the last 15 years to go homerless for a Derby.
Cano has two home runs in 57 at-bats at Citi Field. Each traveled an estimated 440 feet.
Yoenis Cespedes, Oakland Athletics
Cespedes will be making his Home Run Derby debut and the best argument for him winning would be in how the ball jumps off his bat upon contact. His average home-run distance and speed-off-the-bat are both best among Derby participants this season.
Cespedes is trying to be the first Athletics player to win the Derby since
Mark McGwire
in 1992.
Michael Cuddyer, Colorado Rockies
Cuddyer, a childhood friend of NL Derby captain
David Wright
, is making his first Home Run Derby appearance.
Only 10 of Cuddyer's 16 home runs this season would have been home runs at Citi Field, the fewest of any player.
Chris Davis, Baltimore Orioles
Davis will try to be the first Orioles player to win the Home Run Derby since Miguel Tejada in 2004.
Davis enters the All-Star Break with 37 home runs, tied for the second-most by anyone before the Break. The only player with more was
Barry Bonds
with 39 home runs in 2001.
Since the individual competition began in 1995, the major-league leader in homers at the break has never won the Derby.
Jose Bautista
came closest, as runner-up last year.
Prince Fielder, Detroit Tigers
Fielder is a two-time Derby winner and the defending Home Run Derby champ.
If Fielder was to win, he'd be the second repeat champ and the second three-time winner, joining Ken Griffey Jr. (1994, 1998, 1999) in both cases.
Fielder's 63 Derby homers rank fifth-most all-time. He's 14 behind the all-time leader, David Ortiz.
Fielder's average distance of 396.4 feet and average speed-off-the-bat (102.4 mph) are the lowest for any of the Derby entrants.
Bryce Harper, Washington Nationals
Harper will try to become the first Nationals/Expos player to win the Home Run Derby.
This is Harper's first major-league Derby, but he made a huge impact in a previous competition,
as a 16-year-old using a metal bat
at the 2009 High School Power Showcase.
Harper had one six-homer stretch in the competition in which his homers averaged 469 feet and 121 mph off the bat.
His longest homer in regular-season play was a 444-foot shot against the
Miami Marlins
last September.
David Wright, New York Mets
Wright will try to become the first Mets player to win the Home Run Derby (he was runner-up in 2006) and the first to win it in his home ballpark under the current Derby rules.
Wright enters with only three home runs in 159 at-bats at Citi Field this season. Since the ballpark opened in 2009, he's hit 37 homers at home and 50 on the road.
Here's a look at the home-run spray charts for Wright and the other entrants in this year's competition: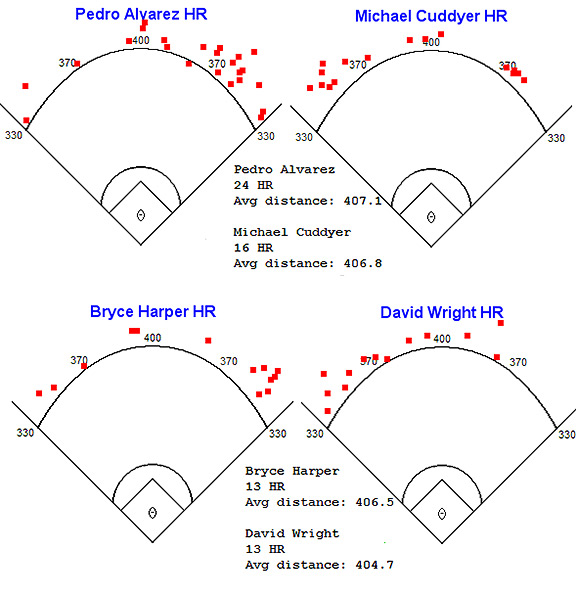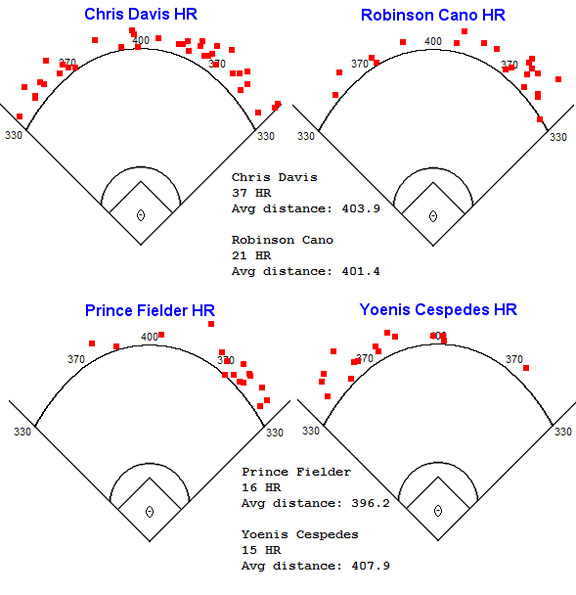 July, 10, 2013
Jul 10
1:57
PM ET
By
Jeremy Mills, ESPN Stats & Info
| ESPN.com
AP Photo/Jim CowsertYoenis Cespedes, who earned a spot in Monday's Home Run Derby, looks to end his 15-game homerless drought, the second-longest streak of his career.
The
Oakland Athletics
and
Pittsburgh Pirates
complete a three-game series at PNC Park at 7 p.m. ET on ESPN/WatchESPN. Here are five stats that will surely be talked about on tonight's telecast.
1.
The Athletics have already won the series (their fifth straight series win) and will look to maintain their undefeated record all time against the Pirates.
According to the Elias Sports Bureau, Oakland's 11-0 mark against Pittsburgh is the best record without a loss for any team against another in the modern era (since 1900).
2.
Oakland was 13 games behind the
Texas Rangers
on June 30 last year before winning 57 of its last 83 games to capture the division.
The Athletics have kept the hot streak going into this season. They have 111 wins since June 30, 2012, six more than any other team in baseball.
3.
Yoenis Cespedes
has a spot in the Home Run Derby on Monday, but he might not be the most deserving player in this contest. Cespedes has gone 15 straight games without a homer, the second-longest streak of his career.
In the other dugout,
Pedro Alvarez
leads the National League with 13 home runs since the beginning of June.
In fact, his 23 home runs not only lead the team, but are the most by a Pirates player before the All-Star break since Willie Stargell hit 30 in 1973.
4.
The Pirates might be starting their annual summer swoon. Pittsburgh is 2-6 so far in July and has fallen 1½ games behind the
St. Louis Cardinals
after holding a two-game division lead on June 30.
The Pirates are 134-104 through June the last three seasons and 70-105 from July 1 to the end of the season.
5.
You should expect another low-scoring game tonight. Oakland won the first two games of the series 2-1. The A's have eight wins this season when scoring two or fewer runs -- that leads the majors (tied with the Pirates).
The Athletics now have 18 one-run wins this season. Only the
Arizona Diamondbacks
have more (19).
Misc.
•
Josh Reddick
had 20 home runs at the All-Star break last season, but he has hit only 16 in 135 games since then.
• A's closer
Grant Balfour
is 24-for-24 in save situations this year and has converted 42 straight save opportunities (his last blown save came on April 29, 2012). The 42 straight saves are a franchise record (the old mark was 40 straight by Dennis Eckersley).
• The Pirates have four players on the All-Star roster –
Andrew McCutchen
, Alvarez,
Jason Grilli
and
Jeff Locke
. It's the first time since 1981 that Pittsburgh has sent this many players to the Midsummer Classic.
•
Starling Marte
has 27 stolen bases, the most for the Pirates since
Tony Womack
had 31 in 1998.
September, 30, 2012
9/30/12
10:48
PM ET
By
ESPN Stats & Information
| ESPN.com
AP Photo/Itsuo Inouye
The first home run Yoenis Cespedes hit foreshadowed his penchant for big late-game long balls.
Yoenis Cespedes
won't win the MVP or even the Rookie of the Year Award.
But consider that the
Oakland Athletics
, now on the verge of a postseason spot, are 79-46 when he starts and 12-22 when he doesn't, when you fully assess his value.
Add Sunday's game-winning homer to the Cespedes highlight reel for 2012. It was the third time this season that Cespedes hit a go-ahead home run in the seventh inning or later against the
Seattle Mariners
.
The third happens to be the charm that by the end of the night dropped the Athletics magic number for clinching a playoff spot to one.
The value of the Cespedes home run
Sunday's home run was Cespedes' fifth this season that either tied the game or put the Athletics ahead in the seventh inning or later. He and
Jonny Gomes
are tied for the team lead, two shy of major-league co-leaders,
Adam Jones
and
Billy Butler
.
The Athletics have been all about the clutch home run this season. Their 22 such home runs are one shy of the major-league lead. The White Sox have the most, with 23.
The progression of Cespedes
All three of Cespedes' hits on Sunday came on sliders, and that's noteworthy, as part of the improvement that he's made against offspeed pitches this season.
In the season's first two-and-a-half months, he missed on 44 percent of his swings against them, but he's reduced that to 34 percent since returning on June 20.
This is part of an overall improvement by Cespedes against pitches of all types. His rate of missed swings overall has dropped from 35 percent pre-injury to 25 percent since.
That would help explain the difference in Cespedes slashline splits, from .275/.338/.489 through June 6 to .298/.359/.517 since then.
Who else has benefited from Cespedes' return?
The Athletics have experienced a big power surge since Cespedes returned to the lineup.
Prior to June 20, they averaged less than a home run per game. But since then, they've hit 132 home runs in 91 games.
Among the biggest power beneficiaries of the Athletics regulars has been Cespedes' outfield mate,
Coco Crisp
.
Crisp did very little in the first two-and-a-half months of the season (he was dealing with an inner-ear infection), but has been a potent bat over the last several months.
Crisp started hitting well a few games prior to Cespedes' return. Since June 13, he's hitting .300 with 10 home runs, 28 stolen bases, and an .867 OPS. His 11 home runs this season are his most since hitting 16 in 2005.
The key to the switch-hitting Crisp's improvement is that he's taken big-time advantage of pitcher's mistakes.
Crisp homered on Friday on a pitch over the middle-third of the plate width-wise, then started an eighth-inning rally with a single on such a pitch on Saturday.
The switch-hitting Crisp is 26-for-his-last-50 when an at-bat from the left side ends with a fastball, sinker or cutter over the middle-third of the plate.
What's Next?
Cespedes should be eager to face the Rangers in these final three games of the season.
He's hitting .396 with three home runs and 10 RBI in 15 games against Rangers pitching. His .755 slugging percentage against the Rangers is his best against any AL opponent.
September, 26, 2012
9/26/12
11:26
AM ET
By
John Fisher
| ESPN.com

The
Oakland Athletics
and
Texas Rangers
take the field Wednesday (ESPN, 8 ET) for their third of seven meetings over the season's final 10 days with both teams chasing a playoff berth.
The Athletics have gotten almost half of their wins this season – 43 of 87 – from rookie pitchers. The last team to get at least half its wins from rookies was the A's in 2009 (44 of 75). The last to do so while posting a winning record was the 1986 Rangers (46 of 87).
The Athletics youth movement extends to their lineup, which is led by rookie
Yoenis Cespedes
and
Josh Reddick
, who is playing his first full season in the majors.
Cespedes and Reddick are the first pair of Oakland outfielders to hit 20 home runs in the same season since
Eric Byrnes
and
Jermaine Dye
in 2004.
Strong rookie campaign for Cespedes
If it weren't for
Los Angeles Angels
phenom
Mike Trout
, Cespedes could have been in line to win Rookie of the Year. He ranks in the top three among major league rookies in batting average, slugging percentage, home runs, runs batted in and on-base percentage.
Cespedes is one of the American League's best hitters on the first pitch of an at-bat. He's hitting .434 on such pitches, the sixth best average in the AL. The early swings limit his power, as only two of his 21 homers have come on the first pitch.
Reddick cools in second half
Reddick helped carry the team before the All-Star Break, but has slowed down in the second half. He is hitless in his last 27 at-bats and was not in the A's starting lineup on Tuesday.
Amazingly, his 0-for-27 streak isn't the worst stretch for an Oakland hitter this season.
Derek Norris
went 30 at-bats without a hit in July and
Cliff Pennington
had an 0-for-29 stretch from May to June.
Reddick's average since the break is 57 points lower than the first half of the season and his home run rate has been cut in half. As shown on the chart to the right, he is swinging more often but making contact less frequently.
Perez's changeup could foil A's
The A's will be facing rookie southpaw
Martin Perez
, whose first major-league start was against Oakland in June. In that game, he allowed two runs in 5⅓ innings to earn the win.
Perez had more success with his changeup than his fastball in that game. Oakland hitters were 4-for-12 with three extra-base hits against his fastball and 2-for-9 with four strikeouts against his changeup.
The success with his slower pitches has continued since that start. Hitters miss on 28 percent of their swings against Perez's offspeed pitches, and 21 percent of at-bats that end with an offspeed pitch against him result in a strikeout.
Several A's hitters have struggled against changeups this season. Cespedes,
Brandon Moss
and Pennington all hit below .200 while striking out at least 20 percent of the time against the pitch.
Oakland hitters have struck out 1,322 times this season, just two shy of the American League record. The
Tampa Bay Devil Rays
struck out 1,324 times in 2007.
September, 22, 2012
9/22/12
8:11
PM ET
By
ESPN Stats & Information
| ESPN.com
The
Baltimore Orioles
won -- again -- in extra innings on Saturday, beating the
Boston Red Sox
9-6 in 12 innings.

It was Baltimore's 16th straight extra-inning win. That's the second-longest single-season streak in major league history behind the 1949
Cleveland Indians
, who won 17 in a row.
The Orioles are a perfect 11-0 on the road in extra innings -- including 4-0 at Fenway Park. Their 16 extra-inning wins are the most for a team in a single season since 1999
Atlanta Braves
won 17.
Almost 19 percent of the Orioles' wins this season (16 of 87) have come after the ninth inning.
Ironically, the Orioles actually lost the first two extra-inning games of the season before their streak started.

The loss dropped the Red Sox to 0-7 at home this season in extra-inning games. Since 1901, only five teams have finished a season 0-7 or worse at home in extra-inning games.
As impressive as that streak is for the Orioles, the
New York Yankees
outdid the O's on Saturday when it came to playing extra baseball.
The Yankees beat the
Oakland Athletics
10-9 in 14 innings; the win was only the second of its kind in franchise history.
Oakland hit three home runs (
Jonny Gomes
,
Yoenis Cespedes
,
Chris Carter
) in the 13th inning to go up 9-5. Gomes became the first A's player to hit a go-ahead HR in 13th inning or later on the road since
Mark McGwire
on July 4, 1988, at Cleveland. For Cespedes, it was his 20th home run of the season, the first Oakland rookie with 20 home runs since current Yankee
Nick Swisher
hit 21 in 2005.
However, in the bottom of the 13th,
Raul Ibanez
hit a two-run home run that tied the game. Ibanez is first Yankee to hit a game-tying home run in the 13th inning or later since Roy Smalley did it in the 14th inning against the
Seattle Mariners
in 1984.
According to the Elias Sports Bureau, this was only the third time in the divisional era (since 1969) that teams combined to hit at least four home runs in a single extra inning. It was done in 2004 by the
Chicago White Sox
and
Detroit Tigers
-- each team hit two home runs in the 10th inning. In 1969, the Seattle Pilots and Red Sox also combined for four home runs in the 11th inning.

Also according to Elias, it's the first time in franchise history that the A's lost an extra-inning game in which they led by at least four runs.
Conversely, it's only the second time the Yankees won after trailing by at least four runs in extra innings. The first instance happened almost 32 years ago to the day (Sept 17, 1980 vs. Blue Jays). What's more, the Yankees had been 0-5 when they were down by four or more runs in the 13th inning or later.
Finally according to Elias, this is the first time in the Expansion era (1961) the Yankees had a walk-off win in the 14th inning or later that ended on an error.
August, 12, 2012
8/12/12
9:51
PM ET
Christian Petersen/Getty Images
Manny Machado has been on fire since his rookie debut belting three homers in four games.
Baltimore Orioles
rookie
Manny Machado
has made quite a splash since his debut last Thursday.
In four games Machado has gone 6-for-16 (.375 BA), with five extra-base hits, three home runs and seven RBI.
He is yet another rookie who has made a very quick impact after making their MLB debut this season.
Machado tripled in his first MLB game, then had two home runs in his second game. The Elias Sports Bureau notes he became the youngest player to hit two home runs in either his first or second MLB game.
Sunday, Machado hit his third home run in his 13th career at-bat. Surprisingly he's the fifth player to hit three homers in his first 13 at-bats over the last six seasons and the third to do so this year.
Here is a list of other notables:
Yoenis Cespedes, Athletics
Cespedes homered in his second, third and fourth MLB games, including one in the
Oakland Athletics
4-1 win over the
Seattle Mariners
in Japan.
Yu Darvish, Rangers
In just his fourth MLB start, Darvish pitched 8 ⅓ scoreless innings against the
New York Yankees
, striking out 10 in a 2-0
Texas Rangers
win. He's recorded 12 wins so far this season, tying the Rangers rookie record done also by
Chris Young
(2005),
Kevin Brown
(1989), and Edwin Correa (1986).
Will Middlebrooks, Red Sox
Middlebrooks opened his career with an extra-base hit in each of his first five MLB games, the longest streak since Hall of Famer Enos Slaughter had a five-game streak to start his career in 1938.
Bryce Harper, Nationals
Harper made an instant splash as he became the fourth teenager since 1969 with an extra-base hit in his MLB debut (
Jose Reyes
2003,
Adrian Beltre
1998 & Ken Griffey Jr. 1989). Then just eight games into his MLB career Harper was credited with a steal of home in a game against the
Philadelphia Phillies
, after being hit by a pitch from
Cole Hamels
.
Jose Quintana, White Sox
Quintana allowed one hit in 5 ⅔ IP of relief in his MLB debut. He then entered the
Chicago White Sox
rotation shortly thereafter, allowing two runs or fewer in each of his first six starts.
Derek Norris, Athletics
Elias says in his third MLB game, Norris became the third player in Athletics franchise history whose first career home run was a walk-off homer (the others were Dee Miles in 1939 and George Hendrick in 1972).
Yasmani Grandal, Padres
In his second MLB game, Grandal became the first player in history whose first two major-league hits were a pair of home runs, in the same game, from each side of the plate.
Matt Harvey, Mets
Harvey set a Mets record with 11 strikeouts in his debut against the
Arizona Diamondbacks
. Elias tells us he became the first pitcher since 1900 to have at least 10 strikeouts and record two hits in his MLB debut.
Starling Marte, Pirates
Batting leadoff, Marte homered on the first pitch he saw against the
Houston Astros
. He's the first
Pittsburgh Pirates
player to hit a home run in his first MLB at-bat since Don Leppert vs the Cardinals on June 18, 1961.
July, 27, 2012
7/27/12
12:21
PM ET
By
Lee Singer
and
Katie Sharp, ESPN Stats & Information
| ESPN.com
Getty ImagesYoenis Cespdes has been leading the offensive charge for the A's during their July surge.
The American League's two Cinderella wild card contenders face off this weekend as the red-hot
Oakland Athletics
continue their six-game road trip with a three-game series against the
Baltimore Orioles
.
Oakland had their seven-game win streak snapped on Thursday in a 10-4 loss at Toronto, but still own the league's best record in July at 16-3 (.842).
This series with the Orioles is the third of five straight series against AL East teams for Oakland. So far, they are 6-1 against the division on this trip and 15-9 overall against them this season, the only division they have a winning record against.
The A's July surge has been fueled by a pitching staff that owns the lowest ERA in the league during the month, and a power-hitting lineup that is averaging the most home runs per game in the majors during July.
Tonight's starter
Jarrod Parker
is coming off one of the best outings of his rookie campaign, when he held the
New York Yankees
to one run in eight innings. He pounded the bottom of the zone in that game, getting a career-high 13 groundouts.
Leading the offensive charge for the A's has been
Yoenis Cespedes
. Since the All-Star break, Cespedes is hitting .458, which ranks third in the majors. More notable than the hot streak itself is how Cespedes is getting his hits.
In his last 12 games, he has nearly as many hits versus offspeed stuff as he did in the entire first half. He's hitting .500 (16-32) in at-bats ending with an offspeed pitch since the break. He hit .194 (19-98) against offspeed pitches in the first half.
When Cespedes signed with Oakland, scouting reports – such as this
one by ESPN's Keith Law
– noted how Cespedes could be vulnerable to offspeed stuff, especially on the outer half with his pull-happy approach.
In the first half, that's exactly what happened. He hit .330 against fastballs but under .200 against offspeed stuff.
Teams began to catch on. Since the All-Star break, 55 percent of the pitches Cespedes has seen have been offspeed, the highest rate in baseball. Pitchers adjusted to Cespedes, but he adjusted back. He has an MLB-best 16 hits versus offspeed stuff since the break, including six for extra bases.
He has also started to use the whole field, relying less on his pull-heavy approach. He has five opposite-field hits on offspeed pitches since the All-Star break; he had one in the entire first half.
Cespedes' presence in the lineup has been key for the A's. He missed 22 games in May and nine more games in June with various injuries. The A's are 41-25 this season when he's in the lineup and 12-20 when he's not. If he can stay in the lineup, the upstart A's might just find themselves in the postseason.
July, 22, 2012
7/22/12
9:02
PM ET
By
Nate Jones
and
Kenton Wong
| ESPN.com
Kelley L Cox/US PresswireRookie Yoenis Cespedes (center) has been key for the A's, helping lead them to an MLB-best
14-2 record in July, including a four-game sweep over the New York Yankees.
The
Oakland Athletics
completed a four-game sweep over the
New York Yankees
on Sunday with a
dramatic, walk-off, 5-4 victory
. It was the team's fifth straight victory, all of them coming by a one-run margin, and improved the team to an MLB-best 14-2 in July.
According to the Elias Sports Bureau, Oakland is the first team to win five straight games, all by a margin of one run, since the 1999
Miami Marlins
. The A's will try to finish the season with a better result than those Marlins, who ended up 64-98 and last in the N.L. East.
Many of the A's wins this month have come in dramatic fashion. Coco Crisp's walk-off single was the A's sixth walk-off hit this month.
• July 3:
Brandon Moss
hits game-tying single in bottom of ninth against his former team, the
Boston Red Sox
.
Coco Crisp
ends it with a walk-off sac fly.
• July 6:
Chris Carter
hits a pinch-hit three-run walk-off homer in the 11th for a win over the
Seattle Mariners
.
• July 8:
Josh Reddick's
walk-off double gives the A's a 2-1, 13-inning win over the Mariners.
• July 18:
Brandon Hicks'
first career home run is a walk-off to beat the
Texas Rangers
.
• July 20: Moss again plays hero with a walk-off single to beat the Yankees.
• July 22: Crisp gives Oakland a four-game sweep with a walk-off, 12th-inning victory over the Yankees.
The A's sweeping the Yankees, previously owners of the base record in baseball, is also historically significant.
The last time the A's swept the Yankees in a series of at least four games was in 1972. According to the Elias Sports Bureau, those teams had played 19 series of at least four games without a sweep.
The last time the A's swept a home series of at least four games against the Yankees was in 1913, back when the A's played in Shibe Park in Philadelphia. According to Elias, the A's had hosted 57 straight series of at least four games against the Yankees between sweeps.
Pitching has been key for the Athletics, as they've gone a perfect 8-0 in one-run games in July. But even more central to the hot streak is the return of
Yoenis Cespedes
.
Despite going 0-5 in Sunday's win, Cespedes is batting .500 in nine games since the All-Star Break, with four home runs and nine RBI. This season, Oakland is 39-24 with Cespedes in the lineup, opposed to 12-20 without him.
The A's haven't finished over .500 since their 2006 squad, a team that included
Barry Zito
,
Dan Haren
and
Frank Thomas
. This team is slightly more unknown, with Tommy Millone,
Brandon McCarthy
and
Josh Reddick
leading the way, but could become much more well-known come playoff time.