Stats & Info:

Orlando Magic
February, 22, 2014
Feb 22
12:31
AM ET
By
ESPN Stats & Information
| ESPN.com
This was an odd NBA night in that some decent players (though not megastars) put up statistical combinations that could be paired with some of the game's all-time greats.
Here's three examples of what we're talking about.
Victor Oladipo
Oladipo
Oladipo had 30 points, a career-high 14 assists and nine rebounds in the
Orlando Magic
's double-overtime win over the
New York Knicks
.
He's only the second player ever to have that combo against them.
The other, via the Elias Sports Bureau, is the legendary Oscar Robertson, who did so five times.
Andre Drummond
Drummond
The
Detroit Pistons
center had 20 points and 11 rebounds in a win over the
Atlanta Hawks
.
Drummond did so despite going 0-for-8 from the free throw line. He's one of four players in the past 50 seasons to score 20 points and go 0-for-8 or worse from the line.
The other three are
Wilt Chamberlain
, Elvin Hayes and Shaquille O'Neal.
Thaddeus Young
Young
The
Philadelphia 76ers
got routed by the
Dallas Mavericks
, but Young posted 30 points, 13 rebounds, 6 assists and 7 steals in defeat.
The last player with a 30-13-6-7 game?
Hakeem Olajuwon
for the
Houston Rockets
against the Seattle SuperSonics, March 10, 1987.
Olajuwon did go one step better than Young that day: He blocked 12 SuperSonics shots in the game.
December, 4, 2013
12/04/13
1:03
AM ET
By
ESPN Stats & Information
| ESPN.com
What's to know about the kooky and amazing game between the
Philadelphia 76ers
and
Orlando Magic
on Tuesday night?
Plenty.
The triple-doubles
According to the Elias Sports Bureau,
Michael Carter-Williams
and
Victor Oladipo
are the first pair of rookies to each record a triple-double in the same game in NBA history.
It also marked the first time opposing players had a triple-double in the same game since Nov. 23, 2007, when
Baron Davis
of the
Golden State Warriors
and
Caron Butler
of the
Washington Wizards
each recorded one.
The 21-year-old Oladipo became the youngest Magic player to record a triple-double, edging out Shaquille O'Neal (who got his first at age 21 in 1993) by 46 days and Anfernee Hardaway (1994) by 58 days.
Oladipo finished with 26 points, 10 rebounds, 10 assists and three steals. He's the only Magic player in team history to hit all of those benchmarks in a game.
Carter-Williams' box score combo was 27 points, 12 rebounds, 10 assists and three steals. The last 76ers player to reach all of those numbers in one game was
Charles Barkley
against the Nets on March 19, 1990.
The 76ers have now gotten triple-doubles from a pair of players age 22 or younger (Carter-Williams and
Tony Wroten
) within the last month.
Afflalo scoring in large doses
Arron Afflalo
scored a career-best 43 points in defeat for the Magic.
Afflalo is averaging 25 points per game over his last 10 games, and as the shot chart below shows, he's found a nice comfort zone from the left side of the floor.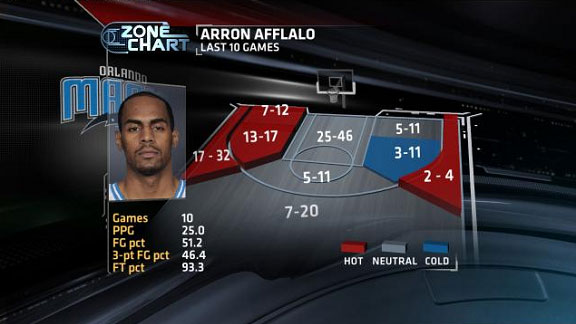 Afflalo was 5 for 8 from those two left-side hot spots from inside the arc on Tuesday, 2 for 6 in the one behind the 3-point line.
Key for 76ers: Rebounding Margin
The 76ers outrebounded the Magic, 56-34. It was their largest rebounding margin in a game in nearly four full years. Their last game with a bigger margin was December 14, 2009, when they outrebounded the Warriors by 33.
The 76ers also held a big edge in the paint. They had nearly as many makes in the paint (29) as the Magic took shots in the paint (30).
Stat of the Night
Lastly, for those who remember the NBA from way back when, Elias offers up one more triple-double nugget: The last time two players recorded their first triple-double in the same game was when Pistons Donnie Butcher and Ray Scott did it on March 14, 1964.
July, 18, 2012
7/18/12
2:27
PM ET
By
Micah Adams, ESPN Stats & Information
| ESPN.com
Nathaniel S. Butler/NBAE/Getty ImagesWith Jeremy Lin now officially a member of the Rockets, is Dwight Howard next?
It's official:
Jeremy Lin
is a Houston Rocket... but that doesn't mean Rockets GM Daryl Morey is done wheeling and dealing. With Lin in the fold, how might he fit in a potential partnership with Houston's other target,
Dwight Howard
?
THE PICK-AND-ROLL GAME
In addition to being a defensive force, Howard is the best pick-and-roll finisher in the NBA. He averaged 1.38 points per play as the roll man on pick-and-rolls last season, best in the league among players with at least 35 plays.

On the surface, it might not appear Lin would be the ideal pick-and-roll point guard to pair with Howard. On all of his passes out of the pick-and-roll, Lin ranked in just the 40th percentile in points per play.
However, when going exclusively to the roll man, Lin ranked in the 72nd percentile (fifth of 35 point guards with 100 plays). That compares favorably to both Howard's current and preferred point guards.
Orlando's
Jameer Nelson
ranked 15th among that group of 35 point guards while the Nets'
Deron Williams
came in at just 29th on points per play generated on passes to the roll man.
PLAYING OFF THE BALL
What about Lin playing off of Howard?

Howard
Despite missing 12 games, Howard still led the NBA with 181 passes to spot-up shooters last season and commanded a hard double-team 5.8 percent of the time he posted up.
Only
Andrew Bynum
and
LaMarcus Aldridge
were doubled more frequently so the ability to spot up, spread the floor and punish teams for doubling Howard is important when playing alongside the big fella. Unfortunately, this is not an area in which Lin excels.
Lin shot just 32.0 percent from the 3-point line and ranked in the 55th percentile in spot-up situations (0.94 points per play) last season. He ranked in the 43rd percentile in catch-and-shoot situations (0.86 points per play).
AS A BALL-DOMINANT GUARD
One of the keys to Lin's success with the Knicks last season was his freedom to make plays. Of the 148 guards with at least 500 minutes last season, Lin's usage rate of 27.4 ranked 10th. Some players he outranked?
Chris Paul
,
Brandon Jennings
and
John Wall
.
For comparison's sake, Nelson's usage rate has been under 23.0 in each of the past six seasons and Lin's usage rate last season (27.4) would be the second-highest ever among Howard's backcourt teammates.
The highest rate posted by any guard teammate of Howard's was 28.4 by
Steve Francis
during Howard's rookie campaign in 2004-05.
Despite all the success, plenty of mistakes came along with the freedom Lin enjoyed in New York. Lin averaged 4.7 turnovers per game as a starter, last among the 39 players who made at least 20 starts at the point last season.
May, 28, 2012
5/28/12
10:39
AM ET
By
ESPN Stats & Information
| ESPN.com

The NBA Draft Lottery Wednesday (ESPN, 8 ET) sees the
Charlotte Bobcats
with the best odds at acquiring the top selection (25.0 percent) after finishing 7-59 on the season. But the worst record hardly secures the top pick, as just last year the
Cleveland Cavaliers
won the Draft Lottery with only a 2.8 percent chance.
In addition, since the lottery moved to its present format in 1994, the team with (or tied for) the best odds has won just three of the 18 lotteries:
Philadelphia 76ers
in 1996 (
Allen Iverson
), Cavaliers in 2003 (
LeBron James
) and
Orlando Magic
in 2004 (
Dwight Howard
). By comparison, the teams with the third and fifth-best odds have won four times.
It is new territory for the Bobcats franchise. Since joining the NBA in 2004, Charlotte has never held the No. 1 overall pick, and the Bobcats highest selection was in 2004 when they picked
Emeka Okafor
No. 2 overall (Bobcats originally had the No. 4 pick, but traded with the
Los Angeles Clippers
).
Ten current franchises have never made the No. 1 overall pick in an NBA Draft since 1966 (start of common draft), and along with Charlotte, the
Phoenix Suns
(0.6 percent chance) are the only other team in the 2012 Lottery.
The
Houston Rockets
, meanwhile, have a 0.5 percent chance of winning the Lottery, the third straight year they have held the worst odds. In addition, this is the third straight and fifth time in the last 12 years the Rockets have missed the playoffs despite having a winning record.
Looking ahead, since the start of the Lottery in 1985, 13 of the 27 No. 1 overall picks have gone on to win the NBA Rookie of the Year Award, including 2011 No. 1 overall pick
Kyrie Irving
. In addition, since 1990, four overall No. 1 picks went on to win the Rookie of the Year award and make the postseason (
Derrick Rose
,
Tim Duncan
,
Chris Webber
and
David Robinson
).
May, 21, 2012
5/21/12
6:59
PM ET
By
ESPN Stats & Information
| ESPN.com
It will likely be argued that Stan Van Gundy is a product of his star players. After all, he has only coached teams that included either
Dwyane Wade
or
Dwight Howard
. And Howard especially anchored a defensive unit that, in the Van Gundy era, has certainly been one of the best in the league.

For four straight seasons, the Magic ranked in the top five in defensive efficiency -- including first in 2008-09 and second the following season.
Over the five season span that Van Gundy coached the team, the Magic ranked second-best in the league in defensive efficiency, second in defensive field goal percentage and first in points in the paint allowed.
All because of Dwight Howard, you say? Consider that in Howard's three seasons before Van Gundy became head coach, the team ranked 15th, 11th and seventh in those categories.

Howard
That could be a product of Howard simply coming into his own and developing into a dominant force as an NBA player. But though Howard reportedly wanted the coach out of town, Van Gundy leaves with several impressive items on his coaching resume.
He reached the playoffs in all five seasons with the Magic and racked up 31 playoff wins. That's more playoff wins than the franchise had in its previous 18 seasons of existence.
Since Van Gundy took over, he led the Magic to a better regular-season record than all but three teams. The only franchsies who were better are the
Los Angeles Lakers
,
Boston Celtics
and
San Antonio Spurs
.
He's not likely to get mentioned in the same breath as Phil Jackson when discussing the greatest NBA coaches, but there is something big that Stan Van Gundy and Jackson have in common: neither coached a losing season.
Jackson coached 20 seasons and never had a losing record, while Van Gundy's total was just eight seasons. Five with the Magic, three with the Heat. And yes, that includes the year with the Heat where Van Gundy was 11-10 before being replaced with Pat Riley.
But Elias tells us that Van Gundy is in rare company. Along with Jackson, the only others who coached at least eight seasons and never had a losing record are former Knicks coach Joe Lapchick and former 76ers coach Billy Cunningham. Both are in the Hall of Fame.
And Van Gundy's .641 career winning percentage puts him in another elevated group: coaches with a winning percentage that high who have coached at least 500 games. Counting Van Gundy, that group is only six members and includes Jackson, Gregg Popovich and Red Auerbach.
But since the 2009 NBA Finals appearance, Van Gundy's Magic teams just haven't had similar success. They had 13 playoff wins that year, beating
LeBron James
'
Cleveland Cavaliers
, the Celtics and the
Philadelphia 76ers
on their way to the Finals.
Since then, they've tallied just two series wins and been bounced by the
Atlanta Hawks
and
Indiana Pacers
in consecutive years.
May, 9, 2012
5/09/12
3:52
AM ET
Stats & Info insights into this morning's top sports stories.

Hamilton
1. HAMILTON MAKES HISTORY:
Josh Hamilton
became the 16th player in MLB history to hit four home runs in a single game on Tuesday night in Baltimore. He is the sixth player in American League history to do it, and the first since
Carlos Delgado
in 2003.
2. VERY RARE OCCASION:
This is the first time in major league history that a pitcher has thrown a perfect game and a hitter has hit four home runs in a game in the same season.
Philip Humber
of the
Chicago White Sox
threw a perfect game earlier this season.
3. ANOTHER RECORD FOR HAMILTON:
Hamilton's 18 total bases are an AL record, one shy of
Shawn Green
's MLB record of 19 in his four-homer game on May 23, 2002. The previous AL record was 16, done eight times.
4. COLLISON HELPS PACERS ADVANCE:
The
Indiana Pacers
advanced to the Eastern Conference Semifinals with a win over the
Orlando Magic
. It is Indiana's first series win since the First Round in 2005 versus the
Boston Celtics
. FROM ELIAS:
Darren Collison
(23 assists, one turnover in series) is the first player in 22 years to have at least 20 assists and one or fewer turnovers in a playoff series.
John Paxson
did it for the
Chicago Bulls
in 1990.
5. THREE NBA TEAMS STILL FIGHTING:
The Pacers were able to advance, but the
Los Angeles Lakers
, Celtics and
Philadelphia 76ers
were unable to close out their respective series, as each team lost its Game Five and must play on in the First Round. FROM ELIAS: This is the first time three teams avoided elimination on the same day since April 30, 2003. The
Detroit Pistons
,
New Orleans Hornets
and
Portland Trail Blazers
all won Game Fives on that date - only the Pistons used the momentum to come back to win the series (beat Magic in seven games).
6. DEVILS ADVANCE DESPITE ODD TREND:
FROM ELIAS: The
New Jersey Devils
lost the opener of their conference semifinal series against the
Philadelphia Flyers
, then won the next four games. Even though Philadelphia scored the first goal in each game, New Jersey is the fourth team in NHL history to win four games in which their opponent scored the first goal in one series. Also, the Devils are the first team to do that in four consecutive games in one series. The other clubs with four such wins one series were the 1956
Detroit Red Wings
(vs
Toronto Maple Leafs
), 1991
Edmonton Oilers
(vs
Calgary Flames
) and 1995 Red Wings (vs
Chicago Blackhawks
).
April, 19, 2012
4/19/12
6:09
AM ET
Stats & Info insights into this morning's top sports stories
1. MEMORABLE CAREER:
Legendary Tennessee women's basketball coach Pat Summitt is stepping down as head coach and will take the title of "head coach emeritus." Long-time assistant coach Holly Warlick will be promoted to head coach to take Summitt's position. Summitt won more games than any other coach – men's or women's – in Division I basketball history. She led Tennessee to eight national titles and she was a seven-time NCAA Coach of the Year.

2. A LOT OF SCORING:
By scoring 10 goals against the
Philadelphia Flyers
, the
Pittsburgh Penguins
tied a franchise record for goals in a playoff game and the two teams helped make NHL history. Pittsburgh and Philadelphia have combined for 45 goals, the most in the first four games of a series in Stanley Cup Playoff history. And they've done their scoring early – 20 of the 45 goals have come in the first period. That's also an NHL record.
3. RECORDS TIED: FROM ELIAS:
The Penguins tied two NHL playoff records in the process. Their 10 goals equaled the record for most goals in a Stanley Cup playoff game by a road team, a mark set by the Kings in a 10-8 win at Edmonton in 1982 and matched by the Oilers with a 10-2 victory at Calgary in 1983. Pittsburgh also equaled the record for goals by one team in a playoff game in which it faced elimination. That standard was established by the Canadiens with a 10-3 win on home ice in Game 5 of their series against the Maple Leafs in 1945.
4. LEADING THE WAY:
The
Boston Celtics
clinched their fifth straight Atlantic Division title by beating the
Orlando Magic
. They did it without
Rajon Rondo
, who sat with a sore lower back injury.
Paul Pierce
picked up the assists load by dishing out a career-high 14. The Celtics' five straight titles are their most consecutive division titles since they won five straight from the 1983-84 to 1987-88 seasons during the Larry Bird era.

Rodriguez
5. PUDGE TO RETIRE:
Reports indicate that Ivan Rodríguez will announce his retirement on Monday and will do so at Rangers Ballpark in Arlington. He will retire as a 14-time All-Star who caught the most games of any player all time. Known as the best defensive catcher ever, Rodríguez won 13 Gold Glove awards, most among catchers.
April, 17, 2012
4/17/12
9:14
AM ET
By
Trevor Ebaugh, Stats & Info
| ESPN.com
"Crunch Time" is defined as less than five minutes remaining in the fourth quarter or overtime with neither team ahead by more than five points. In these crucial situations, plus-minus is a very effective measure of team performance because scoring while keeping opponents off the board is the difference between a win and a loss. It's not surprising that the top six teams in Crunch Time +/- this season have already locked up playoff spots (
Los Angeles Lakers
,
Indiana Pacers
,
Atlanta Hawks
,
Orlando Magic
,
San Antonio Spurs
and
Chicago Bulls
).
This can also shed light on just how important key players are to their franchise. For example, the
Cleveland Cavaliers
led the league in Crunch Time +/- three years in a row (2007-08 to 2009-10), but once
LeBron James
left for Miami the Cavaliers' +/- plummeted. The Cavs averaged +113 with James during those three seasons, and +1 since.
- The Lakers have by far the best Crunch Time +/- this season (+79, the Pacers are second at +65).
Pau Gasol
(+78) has been their biggest star, followed closely by
Andrew Bynum
(+74).
Kobe Bryant
ranks third at +58.
- The
Dallas Mavericks
have had the biggest drop-off in Crunch Time performance, from a league-leading +117 last season to a paltry -16 this season.
- The
Houston Rockets
(+31) and
Memphis Grizzlies
(+28) are the best Crunch Time teams this season that have yet to lock up a playoff spot. The
Los Angeles Clippers
(-9) are the only playoff team with a negative +/-.
Statistical support for this story given by NBA.com.
April, 14, 2012
4/14/12
5:50
AM ET
Stats & Info insights into this morning's top sports stories
1. TWO HAT TRICKS:
The
Philadelphia Flyers
defeated the
Pittsburgh Penguins
, 8-5, to take a 2-0 lead in the Eastern Conference Quarterfinals. Claude Giroux had three goals and three assists to set a team record for most points in a playoff game. Rookie Sean Couturier also had three goals. The Flyers became the fourth team in the expansion era to have multiple hat tricks in the same playoff game.
2. TWO SHORTHANDED GOALS:
The
Los Angeles Kings
defeated the top-seeded
Vancouver Canucks
, 4-2, to take a 2-0 lead in the Western Conference Quarterfinals.
FROM ELIAS:
Dustin Brown became the 13th player in NHL history to score a pair of shorthanded goals in a playoff game, but he is the first of those players to account for his team's first two goals in that manner.

Harang
3. HARANG MAKES HISTORY:
The
Los Angeles Dodgers
defeated the
San Diego Padres
, 9-8, on Andre Ethier's bases-loaded walk in the ninth inning.
FROM ELIAS:
After allowing a leadoff single, Dodgers starting pitcher
Aaron Harang
struck out nine straight batters, falling one shy of the MLB record of 10 set by Tom Seaver against the Padres in 1970. Three other pitchers had nine consecutive strikeouts in a game: Mickey Welch in 1884,
Jake Peavy
in 2007 and
Ricky Nolasco
in 2009.
4. 30 THEN 30: FROM ELIAS:
Andrew Bynum
scored a game-high 30 points and led the Kobe-less
Los Angeles Lakers
to a 103-97 victory over the
Denver Nuggets
. Bynum, who had 30 rebounds in the Lakers' last game, at San Antonio on Wednesday, became the first NBA player with 30 rebounds in one game and 30 points in the next since
Moses Malone
had 32 rebounds (and also 38 points) on Feb. 11, 1982, and then scored 32 points in his next game, two days later.

Rodriguez
5. A-ROD TIES THE KID:
The
New York Yankees
defeated the
Los Angeles Angels
of Anaheim, 5-0, in their home opener.
Alex Rodriguez
went 3-for-4, hitting his 630th career home run. He tied former teammate Ken Griffey Jr. for fifth on the all-time list.
FROM ELIAS:
A-Rod and Junior played 587 games as teammates with the Mariners from 1994 to 1999; when Rodriguez left Seattle following the 2000 season to sign as a free agent with the Rangers, he trailed Griffey by exactly 250 career homers, 398 to 148.
6. MISSING SUPERMAN:
Orlando Magic
center
Dwight Howard
has been diagnosed with a herniated disk in his lower back. There is no timetable for his return. This will certainly impact the Orlando defense moving forward. The Magic have allowed opponents to score 7.0 points per game more when Howard is not on the court this season.
March, 31, 2012
3/31/12
3:06
AM ET
Statistically speaking, the
Miami Heat
put on a performance Friday night that was akin to what you might see in a game like NBA Jam.

The Heat's 14 dunks are the most they've had in any game in the past five seasons. All but one were by either
Dwyane Wade
,
LeBron James
, and
Chris Bosh
. That was the most dunks the Heat have had in any game this season by a wide margin. Their next-most was 10 against the
New York Knicks
on January 27.
Those dunks in turn led to a season-high 64 points in the paint, including their first 18 of the game. The Heat's Big Three was 23-for-32 from inside five feet.
Wade, James, and Bosh each made 11 field goals and shot over 60 percent from the field. Elias notes that the last trio to each shoot better than 60 percent AND make at least 11 shots from the field was
Al Jefferson
,
Paul Pierce
, and
Tony Allen
for the
Boston Celtics
in the 2006-07 season.
Elsewhere around the league the
Dallas Mavericks
entered its game against the
Orlando Magic
having won five straight road meetings. The longest current winning streak any team had against the Magic in Orlando.
Dwight Howard
did his part to stop the streak with 19 points and 15 rebounds, marking his 42nd double-double this season (second-most in the NBA).
The Mavericks trailed most of the game even by as many as seven points entering the fourth quarter. However their defense forced the Magic into poor shooting and turnovers in the final period, which ultimately spelled doom for Orlando. The Magic shot just 35 percent from the field while turning it over six times.
The Mavericks took advantage of those mistakes, scoring nine points off of turnovers in the fourth quarter.
The final blow to the Magic was
Dirk Nowitzki
hitting the game-winning jumper with 5.9 seconds left.
Elias says it was the 11th time in his NBA career that Nowitzki made a game-winning basket in the final 10 seconds of a game, and the second time this season. Seven of Nowitzki's 11 such hoops came on the road, including each of the last three.
The Mavericks are now 75-31 (.708) against Eastern Conference teams since Rick Carlisle took over as the team's head coach in 2008. That is the highest inter-conference winning percentage for any team in the league over that span.
Number of the Night
The Celtics took over first place in the Atlantic Division with a win over the
Minnesota Timberwolves
and loss by the
Philadelphia 76ers
to the
Washington Wizards
. The 76ers had a share of first place for 93 straight days.
They entered first place on December 28, and held at least a share every day until Friday night.
Statistical support for this story from NBA.com.
January, 30, 2012
1/30/12
9:28
AM ET
By
Stats & Info
| ESPN.com
On Sunday, the noise that the
Los Angeles Lakers
were reportedly considering signing
Gilbert Arenas
became louder. While last night's win over the
Minnesota Timberwolves
kept the Lakers within one game of the division-leading
Los Angeles Clippers
, the organization still sits tied for eighth in the Western Conference. Below are several angles related to Arenas' struggles over the last few seasons.

Arenas
Effective Field Goal Percentage
: Effective field-goal percentage adjusts for the value of three-point field goals relative to two-point field goals and shows Arenas' lack of efficiency over the last few seasons. Of the 252 players in the NBA who have attempted 1,000 field goals since the start of the 2008-09 season, only 10 have worse eFG percentages than Arenas (44.4 percent). By comparison, Kobe Bryant's effective field-goal percentage is almost five percentage points higher than Arenas' since the start of the 2008-09 season (49.2).
Usage Percentage
: Compounding his shooting problems, Arenas has used over 30 percent of his team's possessions while he has been on the floor, as shown by his usage percentage since the start of the 2008-09 season, which ranks 17th in the entire NBA. While many of the other leaders in usage percentage over that time period include some of the best players in the NBA, Arenas is dominating the ball while also not being efficient, a troublesome combination, as he ranks just 160th in Player Efficiency Rating among those with at least 3,000 minutes played over that time span. When one considers that
Kobe Bryant
ranks 1st in usage percentage, there might not be enough basketball to go around.
Isolation Plays/Inside 5 Feet
: In particular, Arenas has struggled on isolation plays. He was among the least efficient players in the league last season on those plays. On 75 isolation plays last season, he shot 30.5 percent and had 12 turnovers and 18 field goals.
Arenas also had problems last season getting to the rim and converting when he got there. Of the 242 players who attempted 100 shots from inside of five feet last season, he had the third-lowest field-goal percentage (48.6) and the third-lowest percentage of overall attempts. Less than 15 percent of all of Arenas' field-goal attempts last season came within five feet of the basket.
Overall Efficiency
: While the Lakers undoubtedly need additional scoring punch, it's unclear whether Arenas is that player. From 2004-05 to 2006-07, Arenas was a legitimate star, posting a cumulative PER of 23.0 and a field goal percentage of 43.2. From 2007-08 to 2009-10, Arenas battled injuries but was largely still a very effective player when he played, contributing a PER of 18.6 with a field goal percentage of 40.4. The wheels came off in 2010-11, as his PER was just 10.8 and a field goal percentage of 36.6, including an 8.6 PER in his 49 games with the
Orlando Magic
.
While Arenas brings name value, injuries and a decline in his skill set have eroded his true value over the years. If Arenas, as he stands now, is an inefficient player who dominates the basketball and struggles to score close to the basket or generate his offense through isolation - which the aforementioned statistics suggest - then it's fair to question what his signing would bring to the scuffling Lakers.