September, 20, 2014
Sep 20
5:26
PM ET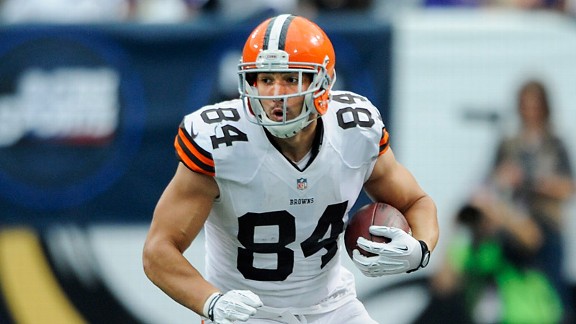 Hannah Foslien/Getty ImagesWill Jordan Cameron suit up on Sunday against the Baltimore Ravens?
Welcome to Week 3! Each week in the Saturday blog, we run down a list of key fantasy players, by position, who appear in the Friday injury report, along with the injured body part as listed on the report, player status and any relevant developments or insight. The primary fantasy positions are covered (quarterback, running back, wide receiver and tight end). At the end, key fantasy players listed Friday as "Out" for that week's games will appear as a group. Teams playing Monday night do not have to issue their designations until Saturday. The explanation for each designation is as follows.
Out
: This is the easy one; the guy's definitely not playing Sunday. As painful as it might be to see this designation next to a player on your fantasy roster, at least you know in advance of the game that he's sitting out, and you can plan accordingly.
Probable
(P):
This designation indicates that a player has a greater than 50 percent chance of playing. Most players listed here are expected to play, barring a setback between the final injury report and kickoff.
Questionable
(Q):
This is the fantasy owner's most dreaded player designation, yet it manages to be the one most frequently utilized by teams (often to keep everyone guessing). It means a player's status is on the fence; there is a 50/50 chance that he's on the field come game time, although as many fantasy owners have come to learn, many teams utilize the questionable designation for any player with a hint of injury. Whether a player ends up active or inactive often comes down to a game-time decision based on how he performs during warm-ups. It is important for fantasy owners to check status reports leading up to the game.
Doubtful
(D):
The doubtful designation means a player has theoretically less than a 25 percent chance of playing that week. Rarely does a player labeled as doubtful end up playing, unless he experiences a major turnaround before game time. Fantasy owners who need to make roster adjustments beforehand can feel fairly confident about sitting a player listed as doubtful.
Good luck in Week 3, everyone! May your players stay healthy and win for you.
Quarterbacks
Tony Romo, Dallas Cowboys, back, (P):
Romo had not taken a day off of practice since the regular season started ... until this week. He did not practice Wednesday with what was described as
"tightness" in his low back
but maintains it was a routine day of rest. Romo returned to full practice Thursday and repeated the effort Friday. He is expected to start in St. Louis.
Carson Palmer, Arizona Cardinals, right shoulder, (Q):
Last Saturday I expressed concern about the health of Palmer after coach Bruce Arians indicated he was
dealing with a "nerve thing."
That concern turned out to be justified as the "nerve thing," now defined as a bruised nerve, not only kept Palmer from playing last Sunday, but also continues to keep Palmer from being able to throw. Since throwing is a critical component of the role of a quarterback, the Cardinals have already determined that
Drew Stanton
will again start in place of Palmer. If Palmer's condition should progress to the point where he is able to play, he will serve as Stanton's backup. If the team determines he is not yet able to play -- which seems more likely --
Logan Thomas
will be the backup, and Palmer will look to continue his progress over the next week.
Shaun Hill, St. Louis Rams, thigh, (Q):
Hill missed Week 2 because of a quad strain and appears as if he could miss a second consecutive week. Hill was held to limited work in practice throughout the week, and it was
Austin Davis
who took most of the reps with the first team. Although coach Jeff Fisher indicated Hill would be a game-time decision, it appears Davis is in line for another start.
Colin Kaepernick, San Francisco 49ers, back, (P):
Kaepernick took some big hits Sunday night, in addition to the loss. He was listed on this week's injury report starting Thursday because of his back, but he remained a full participant throughout the week and was reportedly moving well. His bigger concern might be the potential absence of one of his top receiving targets, tight end
Vernon Davis
, as the 49ers square off against the division-rival Cardinals.
Joe Flacco, Baltimore Ravens, illness, (P):
After being sidelined for Wednesday's practice because of a head cold, Flacco returned to full work Thursday and Friday. He is expected to start Sunday against the Browns.
Running Backs
Jamaal Charles, Kansas City Chiefs, ankle, (Q):
Of all the question marks heading into Sunday's games, Charles might be the one who is being most closely watched. Charles left last Sunday's game with a left high ankle sprain, and it was widely presumed he would miss at least one game, despite coach Andy Reid's comments that the sprain did not appear to be severe. After all, high ankle sprains can present a challenging recovery,
depending on the degree of injury
and even the mild versions typically sideline players for at least one or two weeks. Charles did not practice Wednesday and no one blinked, already expecting backup
Knile Davis
to be in line for a Sunday start. On Thursday, Charles got everyone's attention, however, when he
showed up on the practice field
for some running back drills. According to ESPN.com's Adam Teicher, Charles even did some cone-cutting drills -- the relevance being his participation in an activity requiring more than just linear movement -- and didn't appear to be heavily favoring the ankle. Charles turned in another limited practice Friday and is now listed as questionable, leaving everyone to wonder whether he will suit up Week 3 in Miami and
how much he might play if he does
. Coach Reid indicated Charles "moved around and did a decent job," but after noting Charles still appeared a little sore, he added, "If he can't go, he can't go. The other guys have practiced."
This has the feel (emphasizing the word "feel") of positive progress for Charles (back on the practice field, running some soft routes, doing drills, getting some football work), but not quite game-ready status. It's a long season and no one, especially the Chiefs, wants to see Charles suffer a setback that could result in a more extended absence. But Charles is a tough player who does not have a history of missing much time. With the exception of the 2011 season when Charles suffered a torn ACL in Week 2 and missed the remainder of the year, Charles has only missed two games in five complete seasons, a remarkable track record for a running back. His efforts this week, if nothing else, demonstrate his commitment to returning to action as soon as possible. If the team does greenlight him to return to play, it's entirely possible he could see limited work, perhaps even as an offset to Davis.
The only certainty at this point is the time of kickoff, which, unfortunately for fantasy owners, is not until 4:25 pm ET.
Arian Foster, Houston Texans, hamstring, (Q):
What started out as logical rationale for Foster's limited practice early in the week, (Surely the Texans want to rest their veteran almost-every-down back to help ensure his availability for Sunday!) is turning into legitimate concern as his participation remained limited at the end of the week. Coach Bill O'Brien noted midweek that it was important to keep an eye on his veteran players' workload in practice to protect them for game day, including wide receiver
Andre Johnson
alongside Foster
in that discussion
. Still, the combination of Foster's number of carries thus far in a two-game period (55, a league high as noted by ESPN.com's Tania Ganguli), his history of hamstring issues in the past, his limited participation throughout training camp and his questionable designation do suggest there is at least the possibility of his status against the Giants being in jeopardy. Fantasy owners will want to confirm his status before kickoff.
Bernard Pierce, Baltimore Ravens, thigh, (Q):
Pierce showed up on Thursday's injury report as a limited participant with a thigh injury but did register as a full participant Friday. The questionable tag indicates there is still some uncertainty as to his availability for Sunday, and the team may want to see how he fares during pregame warm-ups.
Maurice Jones-Drew, Oakland Raiders, hand, (Q):
Jones-Drew made a return to the practice field Thursday after missing all of last week -- including Sunday's game -- with a swollen right hand following a "minor procedure." Jones-Drew had hinted that he might miss the Week 2 game, citing the need to be able to not only carry the ball effectively, but also to be able to block and catch in order to play. His return to practice is the best sign that he is truly progressing toward game action. Jones-Drew participated on a limited basis both Thursday and Friday, and it looks as if he could be available Sunday. The questionable tag is a reminder to verify his status Sunday before kickoff.
Shane Vereen, New England Patriots, shoulder, (Q):
One never knows who will get the bulk of the work in a game when all the Patriots running backs are healthy. It becomes even more of a challenge when trying to establish whether a back who appears on the injury report will indeed be well enough to even suit up Sunday. The good news is, there was no word of a major injury to Vereen, and he did practice on a limited basis each day. He also spoke with reporters after practice Friday, another positive in New England. ESPN.com's Mike Reiss
does not anticipate Vereen missing this one
. Until he is officially declared active Sunday however, fantasy owners should have insurance in place.
Andre Ellington, Arizona Cardinals, foot, (P):
Ellington is going to be a fixture on the injury report for the foreseeable future with the strained tendon in his left foot. He used Wednesday to rest his foot this week then returned to limited practices Thursday and Friday. The team obviously feels more comfortable that he will play since they list him as probable to face the 49ers.
Joique Bell, Detroit Lions, knee, (P):
Last week it was Bell's teammate
Reggie Bush
who appeared on the injury report. This week the two have swapped places, perhaps, in part, due to the workload Bell has been experiencing. It is Bell who has had the higher number of carries through the first two weeks of the season. No reason to worry about his status for Week 3, as he participated on a limited basis each day. Expect Bell on the field against the Packers on Sunday.
DeAngelo Williams, Carolina Panthers, thigh, (Q):
Williams' hamstring injury forced him to sit out in Week 2, and he is not a lock for Week 3, although there are encouraging signs. Williams attempted his first practice work Friday, and even though he was limited, he did work with the first team. According to ESPN.com's David Newton, Williams is expected to play,
barring a setback prior to Sunday night
. Knowing how hamstring injuries can behave, fantasy owners are advised to have an alternate plan in place should Williams be forced to sit this one out.
Toby Gerhart, Jacksonville Jaguars, foot, (P):
Gerhart played in Week 2, just seven days removed from an injury sustained in the season opener. Given that he has already played since the injury, there is little doubt he will suit up again, but he is not yet 100 percent. Gerhart got Wednesday off to rest, did limited work Thursday, then returned to a full practice Friday. Expect him to play Sunday when the Jaguars host the Colts.
Chris Johnson, New York Jets, ankle, (P):
The Jets play Monday night, which gives Johnson an additional day off between games. He did not miss any practice this week, rather, he was just kept to limited work, so it appears he will be available Monday when the Jets host the Bears.
Carlos Hyde, San Francisco 49ers, calf, (P):
Hyde appears on the 49ers' injury list this week, but his presence there doesn't raise much concern. Hyde participated fully in practice each day this week and should be available Sunday against the Cardinals, as the probable tag indicates.
Marshawn Lynch, back, and Christine Michael, hamstring, Seattle Seahawks, (P):
Lynch is listed on this week's injury report with a back issue, but the probable tag and his full practices Thursday and Friday tell us not to worry … yet. Longtime fantasy owners will recall that back problems have cropped up intermittently for Lynch in the past, but with the exception of one immediate pregame scratch, he has played through them. This does not appear to be an issue this week but is something to keep an eye on going forward. Lynch's teammate Michael has been sidelined with a hamstring injury since late in the preseason, but clearly his status is improving. Michael was limited in practice Wednesday and Thursday but was a full participant Friday. At probable, he is expected to be available Sunday, but it is unclear just how much the Seahawks might utilize him, especially if Lynch is healthy.
Wide receivers
Brandon Marshall, ankle, and Alshon Jeffery, hamstring, Chicago Bears, (Q):
For fantasy owners who thought the Bears' questionable status posed a challenge in Week 2 given they played on a Sunday night, this week is no better. Both Marshall and Jeffery remain listed as questionable this week, and the Bears play in the Monday night game.
But there are reasons to feel a bit more confident about the likelihood both will suit up.
First, both receivers did end up active Sunday night, although Marshall was far more active from a productivity perspective than Jeffery. It was clear that neither was at full health in terms of their ability to move downfield (although Marshall appeared healthier every time he was in the end zone scoring), but both managed to create a visible threat to the San Francisco defense by their mere presence. After that test proved successful, why wouldn't the Bears repeat it a week later, even if their stars aren't running at full capacity?
Secondly, the two have had an additional week to recover. Marshall didn't practice at all until Saturday, but the time spent resting his ankle seems justifiable. Jeffery participated on a limited basis daily, also understandable if the team wanted to evaluate how he responded to light-to-moderate work on back-to-back days.
It's worth noting the Bears do have some additional insurance this week, as wide receiver
Josh Morgan
likely returns from a groin injury that caused him to miss last Sunday night's game. Morgan practiced fully each day and is listed as probable. And the Bears have
Santonio Holmes
who hasn't factored into the receiving game much but at least provides another option. The Bears just happen to be playing the Jets, Holmes' former team, Monday night.
Ultimately, the hints that the Bears' top two receivers should be on the field this week are much stronger than they were last Sunday. ESPN.com's Michael C. Wright also reports both receivers are expected to play. The main question for fantasy owners will be how effective they can be despite their injuries. Marshall has already demonstrated the ankle will not prevent him from making spectacular catches. There are more questions about whether Jeffery will be able to run full-stride at top speed -- and do so without suffering a setback.
A.J. Green, Cincinnati Bengals, foot, (P):
Isn't it nice of the Bengals to list Green as probable in advance of this week's game so fantasy owners have less to agonize over Sunday morning? Now the questions aren't about whether Green will be out on the field, rather, they center on whether he can stay on the field. After last week's quick exit, the result of an aggravation of an injury he originally suffered in Week 1, the concern about whether Green and his injured right big toe will get through a full game is understandable. His progression through the week is encouraging, however, and should inspire a certain level of confidence that he is at least
entering the game feeling much better.
Fantasy owners should stay tuned to ESPN.com's Coley Harvey's pregame reports, however; he will be keeping a close eye on Green during warm-ups Sunday morning, as that is when the
foot began to bother him last week.
Sammy Watkins, ribs and Robert Woods, ankle, Buffalo Bills, (P):
Watkins remains on the report because of his still-healing ribs, but his involvement in game action and full practices are a sign of his improvement. His teammate Woods initially looked as if he might miss this game, especially when he did not practice Thursday following a limited workout Wednesday. Woods surprised everyone Friday, though, when he not only returned to limited practice but impressed the staff enough to be upgraded to probable. It appears Woods will be starting in tandem with Watkins as the Bills host the Chargers.
Andre Johnson, Houston Texans, ankle, (P):
Johnson may remain on the injury report because of his ankle, but he practiced in full each day this week. There is no real concern about his status for Sunday's game against the Giants.
Hakeem Nicks, illness, (Q) and T.Y. Hilton, groin, (P), Indianapolis Colts:
Fantasy owners will want to check on Nicks' status prior to Sunday kickoff. He missed practice both Thursday and Friday because of illness, and the team has listed him as questionable to play against the Jaguars. Hilton makes an appearance on the injury report with a groin injury that caused him to be limited in practice Wednesday. He returned to full practice Thursday and repeated the effort Friday. At probable, he is expected to play.
Cordarrelle Patterson, Minnesota Vikings, chest, (P):
No one likes to see a top receiver added to the Thursday injury report. The matter does not appear serious, however, since Patterson was back at full practice Friday, and the team has him listed as probable for Sunday.
Dez Bryant, Dallas Cowboys, shoulder, (Q):
For his part, Bryant insists he will be on the field Sunday. There's not really any reason to discount his declaration. After all, the Cowboys want him out there, and after a day off Wednesday, Bryant was back on the practice field, albeit in limited fashion, on Thursday and Friday. Perhaps more importantly, Bryant suffered the injury in the first quarter of last week's game, but after a brief exit to
get some additional protective cushion
, Bryant returned to finish out the game. Expect him to play.
Kelvin Benjamin, knee, (P); Jason Avant, thigh, and Jerricho Cotchery, thigh, (Q); Carolina Panthers:
The best news here is that Benjamin is expected to play. Given that the Panthers do not play until Sunday night, the more reassurances there are in advance, the better. Benjamin had Wednesday off but practiced fully both Thursday and Friday. As for Avant and Cotchery, they might be legitimate game-time decisions. Avant was not able to get through Wednesday practice but limited work Friday may have been enough. Cotchery's practice participation went in a negative direction as he was held out completely Friday. Both have a shot to play since they are listed as questionable, but it would be tough to rely on either receiver.
Keenan Allen, San Diego Chargers, groin, (Q):
Allen has been listed on past injury reports with a rib injury, but he now makes an appearance with a groin ailment. The injury popped up on the Thursday practice report, and Allen remained limited Friday. It's unclear whether this is the type of injury where Allen felt something mild in practice and they limited him proactively to ensure his Sunday availability or whether this is something bigger. Fantasy owners will definitely want to confirm his pregame status. Thankfully this is a rare 1 p.m. ET start for the Chargers as they travel to Buffalo to face the Bills.
Eric Decker, New York Jets, hamstring, (Q):
After suffering a setback with his previously injured hamstring in last week's game, Decker did not appear in practice until Saturday, and even that was limited. The Jets do not play until Monday night, making him a risky start, especially following a hamstring flare-up.
Rod Streater, Oakland Raiders, hip, (Q):
Streater appeared on the injury report this week with a hip ailment and did not practice at all Wednesday or Thursday. He did turn in a limited practice Friday, and the questionable tag hints at a game-time decision. The Raiders have an early kickoff (1 pm ET) this week as they travel to New England.
Julian Edelman, New England Patriots, back, (P):
Despite his presence on the injury report because of a back issue, Edelman's listing as probable to play indicates fantasy owners shouldn't be overly concerned. As long as there are no setbacks, he should play Sunday.
Martavis Bryant, shoulder, and Lance Moore, groin, Pittsburgh Steelers, (P):
The good news is that both receivers are listed as probable, indicating the Steelers expect to have them available Sunday night. Former New Orleans Saints receiver Moore has yet to make an appearance for the Steelers after being sidelined the first two games of the season with a groin injury. After posting full practices this week,
Moore stated he expects to play.
Cecil Shorts, hamstring, (P) and Allen Hurns, ankle, (P), Jacksonville Jaguars:
Finally! It appears Jaguars' wide receiver Shorts will make his season debut this Sunday when the Jaguars host the Colts. Shorts has been hampered by hamstrings, first one side, then the other, since training camp. This week he practiced three days in a row -- a big plus -- notching a full practice Friday after two consecutive limited workouts. The Jaguars are looking forward to Shorts starting Sunday, barring any setbacks beforehand. He will be accompanied by Hurns, who is returning from a sprained ankle suffered in Week 2. Hurns' status looked a little tenuous Thursday when he had not yet practiced, but he returned Friday and looked "pretty good," according to head coach Gus Bradley. With
Marqise Lee
sidelined by a hamstring, the third wide receiver behind Shorts and Hurns is expected to be
Allen Robinson
. Robinson had his own hamstring issues in August and early September, but he appears to be healthy now as he is off the injury report.
Tight Ends
Jordan Cameron, Cleveland Browns, shoulder, (Q):
There is no doubt as to Cameron's value as a member of the Browns' pass-catching corps, a trait which makes him equally valuable to fantasy owners. Consequently, everyone would like to see him back on the field in Week 3. Of course, no one, especially Cameron, wants to see him sustain another aggravation of an AC injury that originated in the preseason. One more week
without
Cameron might be beneficial in the big picture, considering the Browns head into a bye in Week 4 that would grant him additional rest. So, which is it going to be?
The answer remains elusive. Just look at the "50-50" questionable status. One could argue the benefits of Cameron playing AND the benefits of him resting an additional week. Two more weeks off the field doesn't guarantee against him suffering a setback in Week 5; the time between his initial injury and the first setback was just more than five weeks. Not playing, however, would guarantee against a second setback coming just two weeks after the first (potentially a more serious threat), and it would provide Cameron with additional healing time and the opportunity to work on any residual range of motion issues.
If Cameron does play, expect him to approach the game as he normally would. He has already said if he plays, he doesn't expect opponents not to hit him; perhaps that is why he also said he didn't want to return until he felt assured he wouldn't suffer a setback. Given that as of Thursday, Cameron's participation was being described as "extremely limited" by OC Kyle Shanahan, it may be too much to expect him to be ready for competition by Sunday. But the questionable tag reflects the fact the team has not yet made up its mind. According to ESPN.com's Pat McManamon, the Browns will wait until pregame warm-ups Sunday to
make the final decision
. Fantasy owners are advised to have a backup plan in place.
Vernon Davis, San Francisco 49ers, ankle/knee, (Q):
Sunday night's game against the
Chicago Bears
did not end well for the 49ers, and it wasn't just because of the loss. Tight end Vernon Davis left the game with what appeared to be an ankle injury, an injury serious enough to warrant crutches after the game. It was later reported that Davis sustained a "deep bruise" to the ankle (suggesting a bone bruise), and his status throughout the week has been murky at best. Davis was still using crutches as of Wednesday. Even when spotted without crutches Thursday, he was still observed to be
"limping badly" in the locker room
. No practice all week and a persistent limp hint at the 49ers going without Davis in their divisional matchup against the Arizona Cardinals. Of note, tight end
Vance McDonald
is dealing with a knee injury that could keep him out of the lineup, as well, in which case third-string tight end
Derek Carrier
would get the nod.
Rob Gronkowski, New England Patriots, knee, (P):
The probable tag indicates Gronkowski is expected to play, just as he has in Weeks 1 and 2. Gronkowski's time on the playing field has been controlled thus far, not surprising, given his recent ACL/MCL surgery. He remains a consistent threat any time he is on the field, however, a fact certainly not lost on the Raiders, the team the Patriots face this week.
Charles Clay, Miami Dolphins, knee, (Q):
Last week, Clay appeared on the injury report because of his knee, but the probable tag assured fantasy owners he would take the field. No such assurances this week. Clay's status is downgraded to questionable despite the fact his practice status is just as it was last week, limited daily. ESPN.com's James Walker does not include Clay on his
projected inactive list for the Dolphins
. Fantasy owners should verify his status in advance of Sunday's game nonetheless, but note this is a 4:25 pm ET start.
Kyle Rudolph, Minnesota Vikings, abdomen, (P):
An abdominal strain limited Rudolph in practice all week, but the Vikings are apparently not too concerned. Rudolph is expected to play Sunday.
Zach Ertz, Philadelphia Eagles, knee, (P):
Ertz is listed here because of his knee, but he practiced fully every day. The probable designation indicates he will play Sunday.
Greg Olsen, Carolina Panthers, calf, (P):
Olsen has a mild calf issue, but it does not present any threat to his Sunday night status. After a limited practice Wednesday, Olsen was a full participant Thursday and Friday. Listed as probable, he is expected to play when the Panthers host the Steelers. Considering all the injuries to the Panthers' wide receiver corps, Olsen's presence has to be reassuring to his quarterback.
Antonio Gates, San Diego Chargers, hamstring, (P):
Gates may be 34 years old, and he may have been on the injury report since Week 1 with a hamstring injury, but that hasn't stopped him from posting the second-most fantasy points by a tight end so far this season. For what it's worth, Gates trails Broncos tight end
Julius Thomas
by only two points and leads the Saints'
Jimmy Graham
by four. All of which is to make the point that Gates' continued presence on the injury report should not alarm anyone, especially given that he returned to full practice Friday and is listed as probable against Buffalo.
OUT:
This space is intended for a list of key players, not including those who have been moved to injured reserve status, who are officially listed as "Out" for the upcoming game.
Robert Griffin III, QB, Washington, ankle:
Griffin dislocated his left ankle in the first quarter of last Sunday's game, and it appeared his season was in jeopardy. After tests revealed no fracture the team announced Griffin would wear a cast for ten days after which he would be re-evaluated. The team is currently projecting a return timetable of 6-8 weeks but that remains fluid.
Ben Tate, RB, Cleveland Browns, knee:
Tate sat out Week 2, and after not yet participating in practice, he was not expected to return this week. The Browns have a bye in Week 4, and the expectation is that Tate will return to action the following Sunday.
Jordan Reed, TE, Washington, hamstring:
Reed is still in recovery mode after straining his left hamstring in Week 1. He has not yet returned to practice and will sit out again this week.
Ryan Mathews, RB, San Diego Chargers, knee:
Mathews sprained the MCL in his right knee in Week 2 and is projected to miss four to five games.
Mark Ingram, RB, New Orleans Saints, hand:
Ingram suffered a broken hand in Week 2 and had surgery to insert stabilizing hardware this week. According to ESPN.com's Mike Triplett, coach Sean Payton described Ingram's status as week-to-week, suggesting the door is open for him to return earlier than the original four-week projected absence.
Knowshon Moreno, RB, Miami Dolphins, elbow:
The Dolphins have yet to offer much detail regarding Moreno's dislocated elbow, an injury he suffered in Week 2. Moreno has been projected to miss at least a month.
Marqise Lee, WR, Jacksonville Jaguars, hamstring:
Lee's injury is an example of when "tightness" in a muscle turns into something a bit more significant. After attempting limited practice Wednesday, Lee did not practice Thursday or Friday and was ruled out for Week 3.
Odell Beckham, WR, New York Giants, hamstring:
Beckham remains out of practice and on the injury report.
Marvin Jones, WR, Cincinnati Bengals, foot:
Jones is still recovering from foot surgery and remains out this week.
Off the injury report:
Cam Newton, QB, Carolina Panthers, ribs:
The ribs may still be healing internally, but outwardly, Newton looked strong in his Week 2 debut. He no longer appears on the injury report.
Eddie Lacy, RB, Green Bay Packers, concussion:
Lacy showed no recurrence of any concussion-related symptoms either prior to or post-Week 2. He was not on the injury report this week.
Terrance Williams, WR, Dallas Cowboys, back:
Williams was on the injury report the first two weeks of the season because of his back, yet played each week without incident. He has progressed to being removed entirely from the injury report.
Kenny Stills, WR, New Orleans Saints, quadriceps:
Stills returned to action in Week 2 after missing the first week because of yet another setback with his strained quad. He appears to have emerged from that game unscathed, as he is no longer on the injury report, although it's too soon to say he's completely out of the woods as far as any potential aggravation. The more weeks that go by without a setback, the better it looks for Stills going forward.
Be sure to check out Fantasy Football Now, Sundays on ESPN2 at 11 a.m. ET for last-minute inactives, rankings, injury impact and more.