September, 13, 2014
Sep 13
2:04
PM ET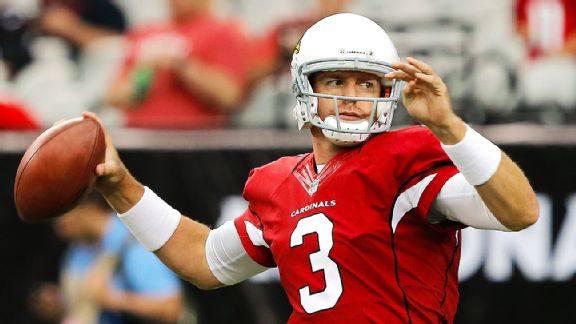 AP Photo/Rick ScuteriWill Carson Palmer suit up on Sunday against the New York Giants?
Welcome to Week 2! Each week in the Saturday blog, we run down a list of key fantasy players, by position, who appear in the Friday injury report along with the injured body part as listed on the report, player status and any relevant developments or insight. The primary fantasy positions are covered (quarterback, running back, wide receiver and tight end). At the end, key fantasy players listed Friday as "Out" for that week's games will appear as a group. Teams playing on Monday night do not have to issue their designations until Saturday. The explanation for each designation is as follows.
Out:
This is the easy one; the guy's definitely not playing Sunday. As painful as it might be to see this designation next to a player on your fantasy roster, at least you know in advance of the game that he's sitting out and you can plan accordingly.
Probable (P):
This designation indicates that a player has a greater than 50 percent chance of playing. Most players listed here are expected to play, barring a setback between the final injury report and kickoff.
Questionable (Q):
This is the fantasy owner's most dreaded player designation, yet it manages to be the one most frequently used by teams (often to keep everyone guessing). It means a player's status is on the fence; there is a 50-50 chance that he'll be on the field come game time, although, as many fantasy owners have come to learn, many teams use the "questionable" designation for any player with a hint of injury. Whether a player ends up active or inactive often comes down to a game-time decision based on how he performs in warm-ups. It is important for fantasy owners to check status reports leading up to the game.
Doubtful (D):
The "doubtful" designation theoretically means a player has less than a 25 percent chance of playing that week. Rarely does a player labeled as doubtful end up playing, unless he experiences a major turnaround before game time. Fantasy owners who need to make roster adjustments beforehand can feel fairly confident about sitting a player listed as doubtful.
Good luck in Week 2, everyone! May your players stay healthy and win for you.
Quarterbacks
Cam Newton, Carolina Panthers, ribs, (P):
When Newton sat out Week 1, it didn't represent a setback; it signified a look ahead. The collective decision-making branch of the medical and coaching staff (wisely) determined it would be better to wait an additional week and allow further healing time for Newton's cracked ribs rather than risk a setback from an inopportune hit that would further compromise his season. After all, it was clear from how Newton was practicing that he was feeling better … and that he would not alter his style of play. That reluctance to alter his play is, in fact, a good thing, for it is Newton's physical style that endears him to Panthers fans and fantasy owners. Thus, he sat out a game for the first time in his career. Newton appeared to be moving even better this week and practiced fully each day. The Panthers have stated since the start of the week that they expect to have him on the field Sunday, and, although his ribs are still healing internally, he is further along than a week ago and therefore less at risk of a setback.
Tony Romo, Dallas Cowboys, back, (P):
Romo was on the field in Week 1, just as the Cowboys expected. His performance, however, was not up to expectations. A little rust was to blame, perhaps, after limited participation throughout the course of the preseason, but Romo insisted there were no problems or setbacks with his back. He practiced in full all week and is set to start in Week 2.
Carson Palmer, Arizona Cardinals, right shoulder, (Q):
It's not entirely clear just what type of shoulder ailment is bothering Palmer. Normally, his limited participation during the week, especially considering his age (34) and his veteran status, would not be particularly concerning. But since coach Bruce Arians indicated Friday that Palmer is
dealing with a "nerve thing,"
it deserves a little more attention. Does this refer to a pinched nerve in Palmer's neck that might be affecting his shoulder?
Peyton Manning
dealt with such a condition a few years ago, the pinched nerve the result of a disc problem in his neck. Does it mean nerve irritation elsewhere in his throwing arm? That could be a transient condition, something that could resolve fairly quickly, or, it could be the beginning of a problem that could nag at him throughout the year. Neither would be a surprise given his age and, more specifically, his throwing age. And, let's not forget Palmer partially tore his ulnar collateral ligament several years ago. He never underwent surgery -- and he has certainly quarterbacked successfully without it -- but it still represents a notable element of the injury history of his upper extremity that could factor into his current condition.
It's possible this is just a minor setback resulting from the toll of the first full game of the season and the limited practices are intentional given the short week. But the team's designation of Palmer as questionable makes it seem as if it's not so certain of his Sunday availability. It's worth verifying his status before kickoff Sunday and, since the Cardinals traveled east to face the
New York Giants
, they play in the round of early games this week.
Shaun Hill, St. Louis Rams, thigh, (Q):
Hill's strained quad is absolutely a real injury,
said head coach Jeff Fisher
, and it was enough to keep Hill out of practice Wednesday and Thursday. Hill did do limited work Friday ("extremely limited," according to ESPN.com's Nick Wagoner), but it was backup
Austin Davis
who saw most of the first-team reps this week. Fisher hinted at the real possibility Davis could start in Tampa Bay. "Austin is much better suited to play this game this week because of the starter reps he took this week," Fisher said but noted that Hill was familiar enough with the offense to start if he is
healthy enough to take the field
. The concern would be exposing Hill to the possibility of further injury and an extended absence. Hill's status is officially a game-time decision, and the Rams play in a late-afternoon game at Raymond James Stadium.
Running backs
Eddie Lacy, Green Bay Packers, concussion, (P):
Lacy did not practice Wednesday, but he progressed sufficiently through the post-concussion protocol to
return to full practice Thursday
. It must have gone well because coach Mike McCarthy indicated the team expects to have Lacy on the field Sunday for the home opener against the Jets.
Andre Ellington, Arizona Cardinals, foot, (Q):
Ellington and his left foot managed to play (and play pretty well) in the team's Monday night opener despite concerns in advance of the game that he might be out for an extended period of time. Although he performed better than many expected given the injury news, Ellington is not out of the woods. In essence, this is likely to be a condition that will need to be managed for a number of weeks,
if not the entire season
. He did not practice Wednesday or Thursday, not surprising given the injury and the short week, but did participate on a limited basis Friday. He is expected to play Sunday against the Giants and, in the absence of an in-game setback, should be able to perform as he did Monday.
Doug Martin, Tampa Bay Buccaneers, knee, (Q):
After a day off Wednesday to rest his sore left knee, Martin returned to limited practices Thursday and Friday. Although coach Lovie Smith has not provided any details regarding the nature of Martin's injury, ESPN.com's Pat Yasinskas reported Friday that Smith "sounded optimistic" about his chances of playing Sunday against the Rams. This is a late-afternoon game, so fantasy owners should have a backup plan in place.
Maurice Jones-Drew, Oakland Raiders, hand, (Q):
Despite Jones-Drew's best intentions, it does not appear he will play in the team's home opener against the Texans on Sunday after undergoing what has been termed a "minor procedure" on his right hand this week. In fact, ESPN.com's Bill Williamson has said it would be "
a surprise
"
if he plays
, rendering
Darren McFadden
the likely starter with
Latavius Murray
to back him up. Jones-Drew denied reports of any fractures but was wearing a bandage near the ring finger of his swollen hand Thursday. Beyond having to potentially carry the ball on the opposite side, he reminded reporters that blocking and catching with his left hand might be more problematic. After not practicing at all this week, Jones-Drew is more likely to sit than start.
Arian Foster, Houston Texans, ribs, (P):
Not much to see here. Foster is listed on the injury report because of rib soreness but was a full participant in practice throughout the week. He is expected to play Sunday in Oakland.
Reggie Bush, Detroit Lions, knee, (P):
Bush has been on the injury report in the past because of his knee, so this doesn't come as a total surprise. The pattern is also familiar: light work on Wednesday followed by increased practice on Thursday and Friday. At "probable," Bush is expected to play against the Panthers.
Knowshon Moreno, Miami Dolphins, shoulder, (P):
The concerns around Moreno's health in the preseason had everything to do with his knee, the one on which he had arthroscopic surgery in June. The knee held up to the demands of the first full game of the season -- to the tune of 134 yards rushing and a touchdown -- but Moreno popped up on this week's injury report with a sore shoulder. It's important to bear in mind that Moreno missed a decent amount of preseason time as he rehabbed his knee and increased his conditioning. His experiencing soreness in any region of the body doesn't come as a huge surprise. Despite his being limited in practice throughout the week, the team has him listed as probable, indicating that the Dolphins expect him on the field when they travel to Buffalo.
Toby Gerhart
, Jacksonville Jaguars, ankle, (P):
Gerhart's status moved in a positive direction as the week went on from not practicing Wednesday to limited work Thursday to a full practice Friday. After he sprained his ankle Sunday, it was not clear how the postgame soreness would translate to his ability to return to work this week, especially, as ESPN.com's Michael DiRocco reports, given that Gerhart initially thought he had injured his knee
and
his ankle,
maybe enough to end his season
. Despite his fairly rapid improvement, several questions remain, including Gerhart's ability to run effectively for a full game this week and
his durability across the season
. This week, however, look for Gerhart to start because the team has him listed as probable to face Washington.
DeAngelo Williams, Carolina Panthers, thigh, (Q):
The news that Williams missed the Thursday and Friday practices is concerning heading into Sunday, as is the "questionable" designation. As ESPN.com's David Newton noted, Williams did do some running before Friday's practice but coach Ron Rivera is worried about his "burst." "He's a running back, and he's got to rely on that burst. …" Rivera said. "If he's the slightest bit hampered by it, [he'll sit]." Thankfully this is an early game Sunday, so Williams' status will be determined while other options are still available.
Wide receivers
Brandon Marshall, ankle, and Alshon Jeffery, hamstring, Chicago Bears, (Q):
The Bears travel to San Francisco to play in the Sunday night game, and the big question is: Who will line up as wide receivers? Marshall and Jeffery were injured in Week 1, and their status has been a discussion point throughout the week. If one is to believe the player (always risky except, in this case, he has a pretty good track record), Marshall will play, as he stated midweek. Marshall did return to finish out last week's game, but -- and this is significant -- he did not practice at all this week, other than to participate in the walkthrough
as ESPN.com's Michael C. Wright noted
.
Jeffery did not return to the game after injuring his hamstring, but he did manage to put in a limited practice this week. He said he felt "pretty good" but noted that a game and a practice are different. No doubt the team will be evaluating how Jeffery responds to the work he did Friday. It's likely that both players' status will remain undetermined until pregame warm-ups, and head coach Marc Trestman was not shy about making that known.
"We've got up to 90 minutes before the game to make those kinds of decisions, so we're gonna use every minute of it to make sure we're gonna make the right decision in the best interest of the team, and certainly the player," Trestman said. Hopefully those interests will align with those of fantasy owners, although with this being the Sunday night game in San Francisco, backup plans are a must.
A.J. Green, Cincinnati Bengals, foot, (P):
Green popped up on the injury report Wednesday after being a limited participant in practice with a foot ailment. On Thursday, the panic meter went up when Green sat out practice entirely. He turned in a full practice Friday, however, and, with the "probable" tag, is virtually certain to play.
Sammy Watkins, Buffalo Bills, ribs, (P):
The best news for Watkins is that he emerged from Sunday's game no worse for the wear. After putting in full practices each day this week, Watkins is expected to play in the team's home opener.
Andre Johnson, Houston Texans, ankle, (P):
Johnson was limited in practice Wednesday and Thursday but was back as a full participant Friday. There has been no suggestion that this is a serious concern for Johnson, and the "probable" tag reinforces that thought.
Roddy White, Atlanta Falcons, knee, (P):
White was limited Wednesday and Thursday but turned in a full practice on Friday. White's knee does not present a serious threat to his status this week, but the condition will be something to monitor across the season, particularly given that he had his left knee drained
in the offseason
.
Mike Wallace, Miami Dolphins, hamstring, (P):
Wallace had a hamstring ailment that limited him each day in practice, but the plan is for him to play against Buffalo. The natural concern is that he might experience a setback during the game, but it appears he will take the field.
Terrance Williams, Dallas Cowboys, back, (P):
Last week, Williams was listed as "Q" and managed to play. This week, he is upgraded to probable after putting in full practices daily. His back is improving, and he will play against Tennessee.
Justin Hunter, Tennessee Titans, knee, (P):
Hunter was held to limited work just one day this week, and it was early (Wednesday). Full back-to-back practices Thursday and Friday decrease the concern about his knee, as does the "probable" designation. He is expected to play against the Cowboys.
Keenan Allen, San Diego Chargers, ribs, (P):
Allen played Monday after being listed on last week's injury report because of the ribs. He again practiced fully each day and will play when the Chargers host Seattle on Sunday.
Kenny Stills, New Orleans Saints, quadriceps, (P):
The designation of probable comes as a bit of a surprise given that Stills remained limited in practice Wednesday and Thursday and only upgraded to full practice Friday. ESPN.com's Mike Triplett summed up the Stills scenario
this way Friday
: "It's always possible the Saints could stay cautious with Stills, as he suffered two setbacks with the quad injury when trying to come back too soon this summer. But Stills said the Saints already played it cautious by holding him out last week. He said he feels ready to go, and it's just up to the coaches to give the green light." After those setbacks, it's hard to have high confidence in Stills until he can get through a game without incident. It's possible this week could provide that test.
Dwayne Bowe, Kansas City Chiefs, quadriceps, (P):
Bowe was not on the field last week, but that was due to suspension, not injury. This Sunday should mark his regular-season debut, especially given that he practiced fully each day this week.
Cecil Shorts, hamstring, (D) and Marqise Lee, hamstring, (P), Jacksonville Jaguars:
After missing last week's game with a hamstring injury, Shorts could potentially be viewed as being upgraded this week … but not by much. There is little to inspire confidence that he is actually healthy, especially given that he tested the leg in limited practice Wednesday but was held out of practice Thursday
and
Friday. Apparently, coach Gus Bradley is going to give Shorts right up until game time to rule him in or out, but, as ESPN.com's DiRocco notes,
Shorts will play only limited reps if he is active
. Meanwhile, Shorts' teammate Lee was limited with a hamstring issue Wednesday, upgraded to full practice Thursday but limited again Friday. The limited work Friday might have been proactive (after all, with Shorts' ailment, they need Lee to be healthy) and the "probable" tag indicates the Jaguars expect to have Lee against Washington.
Tight ends
Jordan Cameron, Cleveland Browns, shoulder, (Q):
Cameron represents a very legitimate "questionable" entry this week. He has not practiced since aggravating his right shoulder (AC sprain) in Sunday's game, but the Browns will wait until inactives are due to
make that decision
. The risk for Cameron if he plays remains exactly what it was last week; an awkward landing could result in a setback and an early exit. Those concerns would suggest the Browns will play it cautious, but be sure to check pregame inactives as this could go either way.
Rob Gronkowski, New England Patriots, knee, (P):
After playing in Week 1, Gronkowski's status is upgraded from last week's questionable to this week's probable and he is expected to play. He remains limited in practice, which is not at all unusual coming off a first game after such a big surgery. Gronkowski could see more playing time this week, as well.
Brandon Pettigrew, Detroit Lions, foot, (P):
Pettigrew showed up on the injury report with a foot issue that kept him to limited practice Wednesday. He upgraded to full practice Thursday and Friday, though, and, at "probable," is expected to play.
Charles Clay, Miami Dolphins, knee, (P):
Clay was kept to limited practices throughout the week, but the "probable" tag indicates the team plans on him playing. Expect him to get the start in Buffalo.
Antonio Gates, San Diego Chargers, hamstring, (P):
Gates was a late addition to the injury report last week, not showing up with a hamstring ailment until Saturday. His status was very questionable heading into Monday night's game, and, to those observing him in pregame warm-ups, he appeared limited. He turned out to be an effective target for Philip Rivers, netting six receptions for 81 yards on 10 targets. In other words, he was not just a decoy on the field, even if his hamstring was less than 100 percent. On this short week, Gates was limited Wednesday, got the day off Thursday, then returned for full practice Friday. The "probable" designation indicates the team is more confident in his status this week. Expect him to play in the team's home opener against the Seahawks.
Out:
This space is intended for a list of key players, not including those who have been moved to injured reserve status, who are officially listed as "Out" for the upcoming game.
Ben Tate, RB, Cleveland Browns, knee:
Since midweek, it has been clear Tate would miss this Sunday's game; it now appears his absence could extend beyond Week 2. Look for updates next week as practice resumes.
Jordan Reed, TE, Washington, hamstring:
Reed injured his left hamstring after being tackled after his first -- and only -- catch of the game in Week 1. He is out this week,
potentially longer.
Austin Seferian-Jenkins, TE, Tampa Bay Buccaneers, ankle:
He did not practice at all this week and will sit out the Week 2 contest.
Odell Beckham, WR, New York Giants, hamstring:
Beckham has endured multiple setbacks with a hamstring injury that bothered him throughout training camp. He missed Week 1 and has yet to return to practice.
Marvin Jones, WR, Cincinnati Bengals, foot:
Jones fractured a bone in his foot in training camp and is expected to miss at least the first few weeks of the season.
Christine Michael, RB, Seattle Seahawks, hamstring:
Michael did not practice at all this week and was ruled out of this contest early.
Off the injury report
Michael Crabtree, San Francisco 49ers, calf:
Good news for the 49ers in their home opener: Crabtree is no longer on the injury report. A calf strain late last week is no doubt partially responsible for his limited exposure in Week 1.
Riley Cooper, Philadelphia Eagles, ankle:
Cooper's status was never really in doubt last week despite the ankle injury, but it's even more reassuring to not see him on the injury report at all.
Be sure to check out "Fantasy Football Now," Sundays at 11:00 a.m. ET on ESPN2 for last-minute inactives, rankings, injury impact and more!