December, 27, 2014
12/27/14
5:21
PM ET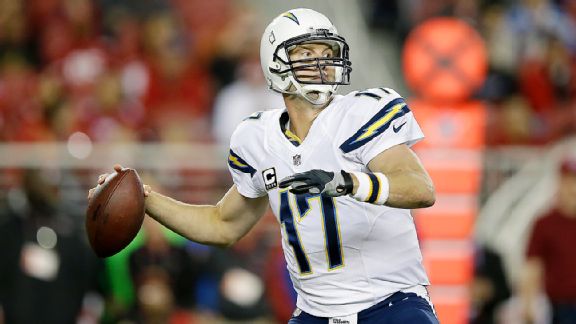 Ezra Shaw/Getty ImagesDespite a bulging disc in his back, Philip Rivers is listed as probable against the Chiefs.
Welcome to Week 17! It's the final week of the regular NFL season, and that means season-long fantasy football leagues with two-week championships are wrapping up! Injuries this late in the season have resulted in some players for non-playoff bound teams being placed on injured reserve. As always, there will be several game-time decisions, but the final injury reports offer some insight into what owners can expect and, as always, several players have already been ruled out.
As a reminder, each week in the Saturday blog, we run down a list of key fantasy players, by position, who appear in the Friday injury report, along with the injured body part as listed on the report, player status, and any relevant developments or insight. The primary fantasy positions are covered (quarterback, running back, wide receiver and tight end). At the end, key fantasy players listed Friday as "Out" for that week's games will appear as a group. Teams playing Monday night do not have to issue their designations until Saturday. The explanation for each designation is as follows.
Out:
This is the easy one; the guy's definitely not playing Sunday. As painful as it might be to see this designation next to a player on your fantasy roster, at least you know in advance of the game that he's sitting out, and you can plan accordingly.
Probable (P):
This designation indicates that a player has a greater than 50 percent chance of playing. Most players listed here are expected to play, barring a setback between the final injury report and kickoff.
Questionable (Q):
This is the fantasy owner's most dreaded player designation, yet it manages to be the one most frequently utilized by teams (often to keep everyone guessing). It means a player's status is on the fence; there is a 50-50 chance that he's on the field come game time, although as many fantasy owners have come to learn, many teams utilize the questionable designation for any player with a hint of injury. Whether a player ends up active or inactive often comes down to a game-time decision based on how he performs during warm-ups. It is important for fantasy owners to check status reports leading up to the game.
Doubtful (D):
The doubtful designation means a player has theoretically less than a 25 percent chance of playing that week. Rarely does a player labeled as doubtful end up playing, unless he experiences a major turnaround before game time. Fantasy owners who need to make roster adjustments beforehand can feel fairly confident about sitting a player listed as doubtful.
Good luck in Week 17, everyone! May your players stay healthy and win for you.
Quarterbacks
Aaron Rodgers, Green Bay Packers, calf (P):
Rodgers injured his calf in Week 16, and while he stayed on the field to finish the game, his mobility was significantly limited in the second half. Rodgers didn't take any downtime, however, going into the team facility for workouts Monday. He was a limited participant in practice Wednesday. He was also listed as limited both Thursday and Friday, but those are estimations since the team did not hold a formal practice. Rodgers made it clear at the start of the week he planned to play, but it would not be surprising if he is still somewhat limited in his mobility, particularly as the game progresses.
Peyton Manning, Denver Broncos, thigh (P):
Everyone knows Manning plans to play this week, but he remains on the injury report because of his thigh. Another week removed from the injury, he should be faring some better, and he was a full participant in practice throughout the week. The Broncos can earn a bye during the first round of playoffs with a win over the
Oakland Raiders
, so there should be plenty of playing time for Manning.
Philip Rivers, San Diego Chargers, chest, back (P):
Rivers started off last week's game a bit shaky but bounced back to deliver a stunning comeback performance. The news of the bulging disc in his back might have some folks worried, but not Rivers, who said he felt much better early this week than he did at the same time last week. He may not be feeling 100 percent, but he already proved what he can do despite his current condition. He will certainly play as the Chargers need a win to secure a playoff spot. Rivers will be without his top running back (
Ryan Mathews
) and most likely without his top receiver, as well (
Keenan Allen
, who is doubtful), but that was also the case last week, and we saw how that turned out. Rivers is quite capable of finding his other options, and
Antonio Gates
was one who stood out in Week 16.
Tom Brady, New England Patriots, ankle (P):
Brady is expected to make his start in Week 17 when the Patriots face the Bills, but ESPN.com's
Mike Reiss expects
his time on the field could be limited, especially if the Patriots get ahead early.
Tony Romo, Dallas Cowboys, back (P):
With the exception of the game after he broke two transverse processes in his back, Romo has answered the bell every single week. He is expected to do so again this Sunday. The concern for fantasy owners might be how long Romo will remain in this game. There is not much to be gained for the Cowboys by keeping him in the entire game, and there is definitely much to lose should he get hurt. Maintaining the rhythm of playing weekly will help ensure that he starts, but don't be surprised if he doesn't finish.
Running backs
DeMarco Murray, Dallas Cowboys, hand, illness (P):
Murray has already proven that he can play since the hand surgery. Now everyone wants to know whether he'll repeat the effort in a game that doesn't matter much for the Cowboys in terms of their playoff scenario. The probable tag indicates the Cowboys expect to have him, and it's worth noting Murray needs just 29 yards to pass Emmitt Smith's single-season rushing record. Of course, the Cowboys will give him the opportunity to reach that milestone, but whether he will see much additional time on the field beyond setting a record is questionable.
Steven Jackson, Atlanta Falcons, quadriceps (Q):
Jackson injured his quad in Week 16 and left the game before the end of the first half. His status has been in doubt all week, and he was absent from practice daily, further hinting at his being out this Sunday. Although the team has not formally ruled him out, ESPN.com's
Vaughn McClure cites multiple sources
indicating Jackson will miss. Jackson's absence would increase the opportunities for
Devonta Freeman
(who found the end zone last week) and
Jacquizz Rodgers
.
Jamaal Charles, Kansas City Chiefs, hamstring, ankle (Q):
Charles has been banged up one way or another for a good portion of this season, and it may be catching up to him. Last week the injuries certainly didn't help when the Chiefs matched up against the Steelers. This week would appear to be a more favorable scenario for Charles, but between his hamstring and his ankle, he was only a limited participant in practice each day. The questionable tag in the final injury report of the week doesn't inspire a lot of confidence. Still, Charles has been listed as questionable before and has taken the field. This is a must-win game for the Chiefs in order for them to even have a shot at the playoffs. The Chiefs will have
Chase Daniel
filling in at quarterback, and it would be ideal for them to have their full complement of running backs. Unfortunately for fantasy owners, the news of whether or not that will happen is likely to come down to pregame inactives.
Rashad Jennings, ankle, (P) and Andre Williams, shoulder, (Q), New York Giants: After suffering a setback on the first play in the Week 15 game, Jennings was out for Week 16, and it appeared he might miss the final week, as well. Things appear to have taken an upward turn. Jennings was in practice on a limited basis all week and comes into the weekend listed as probable. All indications are that he will take the field against the Eagles on Sunday, but how will he hold up? No way to know for sure, but after the early aggravation of the ankle injury two weeks ago, it seems unlikely the Giants would allow him to play if they suspected there might be a repeat occurrence. ESPN.com's Dan Graziano expects Jennings to play and acknowledges the running game gets a huge boost if he can last for four quarters, especially given the possibility of Williams having to sit out with a shoulder injury.
Marshawn Lynch, Seattle Seahawks, back (P):
Lynch was off Wednesday and estimated to be off Thursday (Seahawks did not conduct a practice that day) but returned Friday. Again, he is listed at probable. Again, we expect him to run hard Sunday with the division title up for grabs between the Seahawks and the Cardinals. The Seahawks face the Rams in a late afternoon game.
C.J. Anderson, ankle (P), Ronnie Hillman, foot (P), Denver Broncos:
The Broncos need a good game. They would like to move past the difficult prime-time loss to the Bengals, and they can earn a playoff bye with a win against the Chargers. How nice then that they will likely be getting the services of Hillman, who has been
out since Week 10
with a midfoot sprain. Anderson is expected to remain the starter, but the Broncos have more options with Hillman in the mix. Fantasy owners may not be thrilled about any division of workload, but it's hard to imagine Hillman taking too much away from Anderson in his first game back. This is more likely to be a build-up toward the playoffs for him.
DeAngelo Williams, Carolina Panthers, hand (P):
This is the first time Williams has been listed as probable since injuring his hand in Week 13, and it sounds like the Panthers expect to have him available. Teammate
Jonathan Stewart
is still expected to start and, more importantly, get the bulk of the work.
Matt Asiata, Minnesota Vikings, foot (P):
Asiata has already played through this injury and found the end zone twice last week, foot ailment and all. There is no real concern about his status for this week given that he practiced in full each day and is listed as probable.
LeGarrette Blount, shoulder, and Shane Vereen, ankle, New England Patriots (Q):
Last week Blount ended up sitting out the game because of the shoulder injury. Vereen played, but his contribution was limited as the work appeared to be split among the trio of active backs -- Gray, Vereen and
Brandon Bolden
. This week
Jonas Gray
has already been ruled out with an ankle injury, and it will again likely be a committee approach -- but it's hard to know which backs will end up being active. With the team's playoff status already secure, there's not any reason to take risks. Fantasy owners will want to be sure to check pregame inactives before submitting their lineups.
Joique Bell, Detroit Lions, Achilles, (P): Bell was added to the injury report with an Achilles strain this week but had two consecutive days of practice Thursday and Friday. It appears the Lions are confident he will play since he has been designated as probable. The only concern would be a possible in-game setback that would force an early exit.
Wide receivers
Julio Jones, hip (Q), Roddy White, ankle (P) and Harry Douglas, foot (P), Atlanta Falcons:
The status of these three was identical last week, and they were all active. The most questionable right up to the 90-minute pregame inactive announcement was Jones, and he answered questions about whether he would be able to perform. With an additional week under his belt, one day of practice participation Friday (Jones did not practice at all last week) and a must-win situation for the Falcons, his status is less dubious than last week. The expectation is that all three will suit up with the divisional title at stake against the Carolina Panthers.
T.Y. Hilton, Indianapolis Colts, hamstring (Q):
Hilton was another receiver whose status came down to the wire last week, although by game day it was looking likely he would sit. The rest has perhaps paid off as Hilton was able to participate on a limited basis each day this week and, above all, suffered no setbacks by returning too soon. Although he is again listed as questionable, there is more optimism about Hilton's availability this week. That said, he may not see an entire game's worth of action in an effort to ensure he doesn't suffer a setback this week. Playing at game speed is always a big test, and the Colts might be inclined to be cautious.
A.J. Green, Cincinnati Bengals, biceps (P):
Given how much pain Green was in when he took the shot to his arm in the Monday night game, there was no way of knowing whether six days would be enough to allow him to return to action. Green indicated to ESPN.com's Coley Harvey that he experienced numbness down the arm after the hit, indicating the nerve had been affected. Those symptoms cleared within the first 48 hours, though, and Green was even back in limited practice late in the week. The probable tag puts fantasy owners at ease despite the Sunday night kickoff; Green is expected to play.
DeAndre Hopkins, Houston Texans, wrist (P):
Hopkins played last week despite being listed as questionable with an ankle injury. This week it's his wrist that has him on the report, but the probable tag indicates he will play.
Emmanuel Sanders, Denver Broncos, hip (Q):
Last week Sanders overcame his flu-like symptoms to play Monday night, but this week he is dealing with a hip injury. Sanders was limited in practice throughout the week, and the questionable tag does raise some concern. According to ESPN.com's Jeff Legwold, Sanders is expected to play as of now, but fantasy owners are advised to have a backup plan. Teammate
Demaryius Thomas
is on the injury report again this week (ankle, hip), but at probable, there is no doubt he will take the field. This game kicks off at 4:25 p.m. ET.
Jordan Matthews, Philadelphia Eagles, knee (P):
Matthews is on the report again because of his knee, but he has been playing through it. Expect him to do so again when the Eagles visit the Giants.
Percy Harvin, New York Jets, ankle, ribs (Q):
Harvin now has bruised ribs to go along with his recently sprained ankle. Early in the week, coach Rex Ryan said Harvin was "very sore," and he did not practice except for a limited workout Friday. The return to practice is an encouraging sign, but this is still expected to be a game-time decision.
Calvin Johnson, Detroit Lions, ankle (P):
By now fantasy owners know that when Johnson is listed as probable, as he has been for the last few weeks, he is expected to play. Expect him on the field to face the Packers.
Larry Fitzgerald, Arizona Cardinals, knee (P):
Fitzgerald sprained his knee (Grade 2 MCL sprain) in Week 11 and has appeared on the injury report most weeks since. He returned to play in Week 14 and continues to be a full participant in practices. At probable, he is expected to take the field again Sunday against the 49ers.
Michael Crabtree, San Francisco 49ers, knee (P):
Crabtree has not been at full health for a fair portion of the season, cropping up on the injury report at various points with different ailments. Still, he has been active for every game this season. Expect him to be active again this Sunday against the Cardinals, but it's hard to count on a significant amount of production. Last week he appeared to aggravate his knee early in the game and only had one reception in the short amount of time he saw the field. At probable, he is expected to play, but he may not be at full health.
Julian Edelman, thigh, concussion, and Brandon LaFell, shoulder, New England Patriots (Q):
Edelman sat out last week's game after suffering a concussion the prior week. He has been in limited practices daily. LaFell played in Week 16, just as he has every other week since being listed on the injury report with a shoulder ailment, making it likely he sees the field again. With New England's playoff spot secure and a significant number of their stars nursing multiweek injuries, the question becomes whether either of these players will see extensive playing time. ESPN.com's Mike Reiss laid out the most likely scenario for the Patriots and their injured players, suggesting if the team secures an early lead against the Bills, their
playing time could be limited.
Tight ends
Julius Thomas, ankle, and Jacob Tamme, foot, Denver Broncos (P):
Thomas was making improvements in practice last week and appeared poised for a bigger performance in Week 16 than the one he had the prior week when he returned from injury. Simply put, that did not happen. Will it happen this week? The opportunities will be there. Thomas practiced fully all week, and after the Broncos' collective disappointing showing Monday night, everyone wants to shake that memory. Meanwhile Tamme, who had been dealing with sore ribs, now has a foot ailment, but at probable, he is also expected to play.
Kyle Rudolph, Minnesota Vikings, ankle (Q):
Rudolph was upgraded to questionable this week, and his knee is no longer listed as a problem on the injury report. Still, he had not been himself since returning from abdominal surgery and could be hard to trust in this spot.
Charles Clay, Miami Dolphins, hamstring, knee (P):
Clay practiced on a limited basis each day and is expected to play when the Dolphins host the Jets.
Out:
This space is intended for a list of key players, not including those who have been moved to injured reserve status, who are officially listed as "out" for the upcoming game.
Alex Smith, QB, Kansas City Chiefs, lacerated spleen:
Smith's symptoms were slow to evolve over the first few days following last week's game, but once the team discovered the nature of the injury, it was clear he would be ruled out. Chase Daniel will start for the Chiefs in this must-win matchup against the Chargers.
Jimmy Clausen, QB, Chicago Bears, concussion:
A concussion sustained late in last week's game will sideline Clausen this week.
Jay Cutler
resumes his starting role.
Jonas Gray, RB, New England Patriots, ankle:
Gray saw limited action in the second half of last week's game and showed up on the injury report this week with an ankle ailment. After limited practices Wednesday and Thursday, Gray was a nonparticipant Friday and was later ruled out for Sunday's game.
Drew Stanton, QB, Arizona Cardinals, knee:
Stanton looked to be on track to return soon from the knee sprain that caused him to miss last week's game, until he developed an infection. He underwent a scope this week and is out indefinitely.
Ryan Mathews
, RB, San Diego Chargers, ankle:
Mathews missed Weeks 15 and 16 with the ankle injury, and he will miss yet one more.
Branden Oliver
,
Donald Brown
and
Ronnie Brown
formed a running back committee last week with Oliver being the primary beneficiary.
Keenan Allen, WR, San Diego Chargers, ankle, shoulder:
The Chargers will be without their top running back in Mathews and also their top receiver in Allen. This could mean another fine week for tight end Antonio Gates.
Dwayne Allen, TE, Indianapolis Colts, knee:
Allen left last week's game with a knee injury, and while the team deemed it not serious, it's enough of a concern for them to hold him out this week.
Johnny Manziel, QB, Cleveland Browns, hamstring:
Manziel was forced out of the Week 16 game with a hamstring injury and was ruled out early in the week for this Sunday. With Brian Hoyer's shoulder ailing, it appears
Connor Shaw
will get the Sunday start.
Nick Foles, QB, Philadelphia Eagles, collarbone:
Foles remains out as his clavicle has still not fully healed.
Mark Sanchez
continues to be the starter.
Be sure to check out "Fantasy Football Now," Sundays on ESPN2 at 11 a.m. ET for last-minute inactives, rankings, injury impact and more!