October, 25, 2014
Oct 25
10:01
PM ET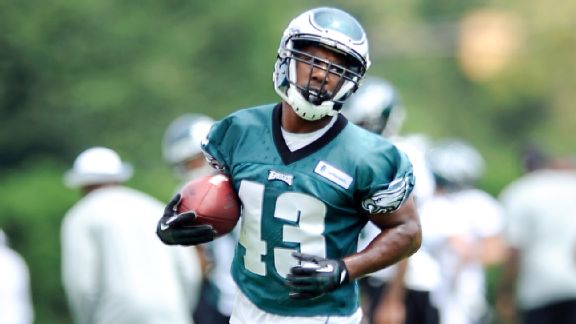 AP Photo/Michael PerezDarren Sproles will be a game-time decision this week for the Philadelphia Eagles.
Welcome to Week 8! This marks the fifth of the bye weeks and features a unique kickoff time for the game in London. Teams on bye this week are the
San Francisco 49ers
and the
New York Giants
. The Lions and the Falcons get underway at 9:30 a.m. ET. As usual, there are some gametime decisions -- including
Calvin Johnson
for the Lions in the early game -- but the final injury reports give some guidance as to who's in and who's out.
As a reminder, each week in the Saturday blog, we run down a list of key fantasy players, by position, who appear in the Friday injury report along with the injured body part, player status and any relevant developments or insight. The primary fantasy positions are covered (quarterback, running back, wide receiver and tight end). At the end, key fantasy players listed Friday as "Out" for that week's games will appear as a group. Teams playing Monday night do not have to issue their designations until Saturday. The explanations for each designation are as follows.
Out:
This is the easy one; the guy's definitely not playing Sunday. As painful as it might be to see this designation next to a player on your fantasy roster, at least you know in advance he's sitting out, and you can plan accordingly.
Probable (P):
This designation indicates a player has a more than 50 percent chance of playing. Most players listed here are expected to play, barring a setback between the final injury report and kickoff.
Questionable (Q):
This is the fantasy owner's most dreaded player designation, yet it remains the one most frequently utilized by teams (often to keep everyone guessing). It means a player's status is on the fence; there is a 50-50 chance he's on the field come game time, though as many fantasy owners have come to learn, many teams utilize the questionable designation for any player with a hint of injury. Whether a player ends up active or inactive often comes down to a game-time decision based on how he performs during warmups. It is important for fantasy owners to check status reports leading up to the game.
Doubtful (D):
The doubtful designation means a player theoretically has less than a 25 percent chance of playing that week. Rarely does a player labeled doubtful end up playing, unless he experiences a major turnaround before game time. Fantasy owners who need to make roster adjustments beforehand can feel fairly confident about sitting players listed as doubtful.
Good luck in Week 8, everyone! May your players stay healthy and win for you.
Quarterbacks
Tony Romo, Dallas Cowboys, back/ankle, (P):
Romo continues to appear on the injury report and continues to play.
Robert Griffin III, Washington, ankle, (Q):
Griffin has now progressed from being automatically ruled out early in the week, as he has rejoined his teammates on the practice field. Although his progress is encouraging, he has not proven he is ready to resume the rigors of playing in a full game, especially given the type of player (read: runner) he is. It appears the team will give him some additional time to return to form, a wise idea considering his global injury history and the value of having him fully healthy moving forward. By midweek, coach Jay Gruden indicated
Colt McCoy
would be the starter, and it seems that is likely to remain the case.
Running Backs
Theo Riddick, hamstring, (P) and Reggie Bush, ankle, (D), Detroit Lions:
After aggravating his hamstring in Week 6 and being forced to sit out the past Sunday, Riddick has once again made improvement. He was listed as limited Wednesday, but Riddick was upgraded to full participation Thursday and Friday. Bush missed Week 6 with an ankle injury, then returned the past Sunday, only to miss the bulk of the second half after aggravating the ankle. Although he traveled with the team to London, his only practice was a limited one Wednesday. Bush did not return to practice Thursday or Friday, and the doubtful tag tells you everything you need to know about the likelihood of him playing Sunday.
Darren Sproles, Philadelphia Eagles, knee, (Q):
After returning to practice on a limited basis, Sproles has a shot to play, but it could come down to gametime.
Chris Ogbonnaya, Carolina Panthers, groin, (Q):
Ogbonnaya was added to the injury report Friday with a groin ailment, which is never a good sign. With
DeAngelo Williams
and
Fozzy Whittaker
already ruled out, the late injury to Ogbonnaya virtually assures
Jonathan Stewart
the bulk of the workload Sunday.
Giovanni Bernard, ribs, Cincinnati Bengals, (P):
Bernard was limited in practice Wednesday and Thursday with sore ribs but was upgraded to full Friday. The probable tag indicates the Bengals expect Bernard to be on the field Sunday.
Shane Vereen, New England Patriots, illness, (Q):
Vereen had an illness that kept him from practicing Friday, but the team's hope is he will recover enough by Sunday to allow him to play. Be sure to check pregame inactives.
Wide Receivers
Calvin Johnson, Detroit Lions, ankle, (Q):
Johnson has missed two consecutive weeks with a high ankle sprain, and the question is whether he will miss a third. He was able to practice daily on a limited basis while the team worked out in London, and there were some encouraging signs. Back-to-back-to-back practices indicate his ankle responded positively to each day's workload. Johnson noted he was able to add some lateral movements to the straight line running he had initiated the week before, and he told reporters the ankle is feeling better overall. Still, it's unclear whether the Lions will allow him to return to full-blown competition just yet, especially with the bye on the horizon for Week 9. Johnson's status is expected to come down to a gametime decision, perhaps even more dreaded than usual for fantasy owners given the early start (kickoff in London is 9:30 a.m. ET).
Vincent Jackson, Buccaneers, rib, (Q): Jackson practiced on a limited basis each day this week. Despite the questionable tag, it would seem Jackson is likely to play, given that he did so a week ago. He's a tough receiver who can miss some reps during the week to allow him to be available Sunday. Still, fantasy owners are advised to check pregame inactives.
A.J. Green, Cincinnati Bengals toe, (D):
Despite hints from Green himself that he wanted to return after missing two weeks, the right toe is apparently not quite ready for prime time. Green was not an official participant in practice any day this week, but he did continue to do work on the side. Even if Green is making improvements, it doesn't appear to be enough to return to competition this week.
Julio Jones, ankle, (P) and Harry Douglas, foot, (Q), Atlanta Falcons:
Douglas returned to practice for the first time in weeks but only for two days on a limited basis. Jones is in line to play as usual.
Dez Bryant, Dallas Cowboys, shoulder, (P):
Bryant continues to display his athletic receiving skills each week and show no signs of injury limitation when on the field. No reason to worry about his availability this week.
Eric Decker, New York Jets, hamstring, (P):
Decker played in Week 7 and came out of that game with no reported setbacks. He's not entirely out of the woods, given that the team listed him as a limited participant each day this week. He is expected to play, however, as indicated by the probable tag.
Tight Ends
Jimmy Graham, New Orleans Saints, shoulder, (Q):
Graham played the past week and continued to practice on a limited basis this week, all of which suggest he will play again this Sunday. Fantasy owners of course would like to know whether they can expect more production this week after the past week resulted in a donut. If he is still being guarded, in terms of exposure to contact on the field, it seems his utilization wouldn't fluctuate wildly. Of course, fantasy owners can still likely recall the game last year in which he played limited snaps and was still highly productive. Which version will we see on Sunday? If only it were that easy to predict.
Martellus Bennett, Chicago Bears, hamstring, (P):
Bennett is the latest Bears offensive weapon to be listed on the injury report. A sore hamstring kept him out of practice Wednesday, but he returned to limited practice Thursday and was upgraded to full on Friday. Expect him to return Sunday.
Brandon Pettigrew, Detroit Lions, foot, (D):
The Lions are hurting at multiple positions but especially at tight end.
Joseph Fauria
and
Eric Ebron
have already been ruled out, and Pettigrew is on the cusp with the doubtful tag after not practicing once this week. Recently signed
Kellen Davis
is likely to get the starting nod.
Out:
This space is intended for a list of key players, not including those who have been moved to injured reserve status and are officially listed as "out" for the upcoming game.
Pierre Thomas, shoulder and Khiry Robinson, forearm, RBs, New Orleans Saints:
Thomas hurt his shoulder in Week 7, and Robinson suffered an injury to his forearm. Neither practiced this week, and both have been ruled out, as expected.
DeAngelo Williams, ankle, Fozzy Whitaker, thigh, RBs, Carolina Panthers: Neither player participated in practice this week, and the team has already ruled them out.
Owen Daniels, TE, Baltimore Ravens, knee:
Surprise! Daniels underwent arthroscopic surgery for the knee ailment that kept him out of practice earlier in the week. While the Ravens have only stated Daniels will miss one game, expect it to be longer.
Fred Jackson, RB, Buffalo Bills, groin:
Jackson injured his groin in Week 7, and according to him, he suffered what is typically a four-week injury, though he hopes to beat the timetable. It won't be next week, as the Bills have a bye in Week 9, but the following week will be of interest. Meanwhile, teammate
C.J. Spiller
was placed on IR/designated for return following surgery to repair a broken clavicle and is out for the bulk of the regular season.
Kyle Rudolph, TE, Minnesota Vikings, abdomen/groin:
Rudolph remains out as he recovers from core muscle surgery, but a timetable for his return is nearing.
Joseph Fauria, TE, ankle and Eric Ebron, Detroit Lions, TE, hamstring:
Fauria injured his ankle in Week 3 and is yet to practice. Fellow tight end Eric Ebron continues to recover from a hamstring strain. Both were held out of practice all week and will not be playing in London.
Be sure to check out Fantasy Football Now, at 11 a.m. ET Sundays on ESPN2, for last-minute inactives, rankings, injury impact and more!