December, 20, 2014
Dec 20
3:09
PM ET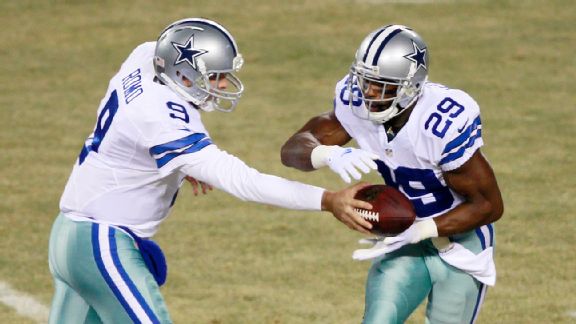 AP Photo/Kiichiro SatoWill DeMarco Murray suit up against the Indianapolis Colts on Sunday?
Welcome to Week 16! It's championship time! At least, that's what many are hoping for as they head into the week that will either determine it all or, for those who play through Week 17, will set up the final week of play. Unfortunately, injury concerns are always a variable and there are some players on the bubble this week who are likely responsible for guiding fantasy owners to the playoffs. As always, there will be game-time decisions, but the final injury reports offer some insight into what owners can expect and, as always, several players have already been ruled out.
As a reminder, each week in the Saturday blog, we run down a list of key fantasy players, by position, who appear in the Friday injury report along with the injured body part as listed on the report, player status and any relevant developments or insight. The primary fantasy positions are covered (quarterback, running back, wide receiver and tight end). At the end, key fantasy players listed Friday as "Out" for that week's games will appear as a group. Teams playing on Monday night do not have to issue their designations until Saturday. The explanation for each designation is as follows.
Out:
This is the easy one; the guy's definitely not playing Sunday. As painful as it might be to see this designation next to a player on your fantasy roster, at least you know in advance of the game that he's sitting out, and you can plan accordingly.
Probable (P):
This designation indicates that a player has a greater than 50 percent chance of playing. Most players listed here are expected to play, barring a setback between the final injury report and kickoff.
Questionable (Q):
This is the fantasy owner's most dreaded player designation yet it manages to be the one most frequently utilized by teams (often to keep everyone guessing). It means a player's status is on the fence; there is a 50-50 chance that he's on the field come game time, although as many fantasy owners have come to learn, many teams utilize the questionable designation for any player with a hint of injury. Whether a player ends up active or inactive often comes down to a game-time decision based on how he performs during warm-ups. It is important for fantasy owners to check status reports leading up to the game.
Doubtful (D):
The doubtful designation means a player has theoretically less than a 25 percent chance of playing that week. Rarely does a player labeled as doubtful end up playing, unless he experiences a major turnaround before game time. Fantasy owners who need to make roster adjustments beforehand can feel fairly confident about sitting a player listed as doubtful.
Good luck in Week 16, everyone! May your players stay healthy and win for you.
Quarterbacks
Cam Newton, Carolina Panthers, back (P):
What a difference a week makes. Newton is moving much better a week removed from his car accident where he sustained two transverse process fractures in his spine. An upbeat Newton rejoined his team in practice on a limited basis Wednesday and upgraded to full practices the remainder of the week. His teammates noted he looked like himself, including delivering balls with the usual zip on his passes. Coach Ron Rivera stressed early in the week that the critical factor would be Newton's ability to protect himself. Apparently he has convinced everyone (well, almost everyone, as he awaits final medical clearance) he is physically ready to return given that the team has him listed as probable for Sunday. In a must-win game against the
Cleveland Browns
, expect Newton to play.
Peyton Manning, Denver Broncos, thigh (Q):
Manning fought through the flu and a thigh injury just to get through the Week 15 game. He had an unusual-for-him rest day Wednesday but was back in practice on a limited basis Thursday and Friday. Just a reminder: Other than when he sat out the season following neck surgery, Manning hasn't missed a game. There seems to be no doubt he will play Monday night but everyone wants to know whether he will indeed be back to his usual self. Manning was not seen limping at the facility this week and he benefits from the extra day since this is a Monday night game. He did
throw more on Friday than Thursday
and Manning is such a competitor, it's easy to imagine him willing himself to a better performance this week, despite the injury. And he won't be dealing with the flu symptoms any longer.
Philip Rivers, San Diego Chargers, chest, back (P):
Rivers has made one thing clear: It doesn't matter how hurt he is, he plans to play. Remember, this is the quarterback who opted to play with an injured ACL several years ago, refusing to quit (and undergo reconstructive surgery) until his team was eliminated from the postseason. Oh, and Rivers has never missed a start in his career. The effects of these injuries may be showing up in his performance on the field, however. Rivers has not appeared to be his usual self for some time, struggling with a chest/rib injury initially and now reportedly also dealing with a back injury. ESPN's Adam Schefter reported the back injury was the more serious of the two, although the team has not revealed any specifics. After reluctantly sitting out Wednesday to rest, Rivers returned to full practice Thursday and coach Mike McCoy said he had "an outstanding day." Rivers repeated the effort Friday and will play Saturday evening when the Chargers host the 49ers.
Tom Brady, New England Patriots, ankle (P):
Brady continues to practice fully each day. Of 13 Patriots listed on the injury report this week, he is the only one whose status is not "questionable." He will play Sunday when the Patriots visit the Jets.
Tony Romo, Dallas Cowboys, back (P):
Romo has done well when he maintains his routine of resting Wednesday and practicing Thursday and Friday. He will play Sunday afternoon when the Cowboys host the Colts in a late-afternoon matchup.
Running backs
DeMarco Murray, Dallas Cowboys, hand (Q):
Will he or won't he? That has been the daily question about Murray's playing status since we learned Monday that he had undergone surgery to repair a fractured fourth metacarpal in his left hand. On Tuesday I posted an item explaining the injury and the rationale for why Murray
would be able to play
from a medical standpoint, as long as he is comfortable doing so and presuming he can be effective. Those final two items will be the ultimate deciding factors for Murray as he evaluates whether he can suit up for the Cowboys on Sunday night. Based on his progression since surgery and his appearances in limited practice sessions both Thursday and Friday, it appears Murray will opt to play. Fantasy owners should be advised this is a late-game matchup Sunday (4:25 p.m. ET) and a backup plan is a must.
Arian Foster, Houston Texans, hip (P):
Foster has been on the injury report on a regular basis because of his recent groin ailment. Now he's listed with a hip issue and it's unclear whether this is entirely different. The main takeaway is that Foster was able to practice on a limited basis Thursday followed by a full practice Friday. Listed as probable, he is expected to play Sunday when the Texans host the Ravens.
Eddie Lacy, Green Bay Packers, eye (P):
Lacy proved last week that his hip is not an issue but he ended up on the injury report nonetheless. Lacy is dealing with an eye issue that the team indicated was not game-related. According to ESPN.com's Rob Demovsky, Lacy has
irritation in his left eye
from a contact lens and it was enough to hold him to limited practices this week. Not to worry. The probable tag indicates the Packers intend for him to play. Although Lacy has said he will not wear goggles, it sounds as if he doesn't plan to let the contact lens situation hold him back, even if he can't see that well as a result. All he needs to see is the space between defenders and he'll do just fine for fantasy owners.
Jamaal Charles, Kansas City Chiefs, knee, ankle (P):
Charles came into Week 14 with a knee bruise and exited the game with soreness in the knee and a swollen ankle. He played in Week 15 but exited for a period of time to be evaluated for a head injury. Although he was cleared to return, the team chose to exercise caution based on an earlier concussion episode this season,
according to ESPN.com's Adam Teicher
.
Knile Davis
handled the late-game work, as many Charles fantasy owners are aware. Charles enters this week on the injury report because of the same knee and ankle issues preceding Week 15 but after full practices Thursday and Friday is expected to play.
Frank Gore, San Francisco 49ers, concussion (Q):
Gore's toughness, resilience and will to push himself to play through various ailments is well established. Unfortunately none of that matters when it comes to concussions. There is a very specific set of criteria Gore needs to meet to be able to take the field. When Gore returned to practice on a limited basis Thursday, coach Jim Harbaugh said Gore was moving through the protocol and "on pace" to play. Gore did return to another limited workout Friday but the team was not divulging whether he would be able to take the field in a game situation. Making it more challenging, the Niners are on a short week with a Saturday evening game against the Chargers. Fantasy owners are advised to stay tuned to pregame inactives (the game kicks off at 8:25 p.m. ET). If Gore can't go, with
Carlos Hyde
already ruled out, the next in line at the position would be
Alfonso Smith
and
Phillip Tanner
.
C.J. Spiller, Buffalo Bills, shoulder (P):
It appears Spiller could be making his return to the playing field for the first time since fracturing his collarbone in Week 7. Spiller underwent surgery to repair the fracture and was placed on the team's injured reserve/designated to return list. His first week to be game eligible is this week and with a probable tag, all indications are the team will indeed utilize him. But how much can we really expect in his first game back? This is probably more of a re-acquaintance with the speed of the game and contact from an opponent than a plan for heavy work. After all, even practicing in pads was an adjustment and Spiller has only participated in limited practices throughout the week. Even if he plays, teammate
Fred Jackson
is still
expected to get the majority of the work
at running back for the Bills this week when they visit the Raiders in a late kickoff Sunday.
Marshawn Lynch, Seattle Seahawks, back (P):
Lynch hasn't failed to deliver this season when it comes to durability. Despite the concerns and the weekly injury report appearances, Lynch shows up on Sundays. He practiced each day this week, including a full practice Friday, is listed as probable and is expected to play in a big divisional contest in Arizona on Sunday night.
C.J. Anderson, ankle (P), Juwan Thompson, hip, knee (Q) and Ronnie Hillman, foot (Q), Denver Broncos:
All the eligible running backs it seems are on the injury report (
Montee Ball
has been placed on injured reserve) but it appears all could be active Monday night. All three backs were present in practice Friday and Saturday. The only one to turn in full practices was Anderson, who is in line to be the starter again this week. The biggest question is how much of a workload Hillman could expect to see in a return from his foot sprain if he is indeed active Monday night. It's hard to imagine Hillman seeing significant action in what would be his first game in six weeks, particularly coming off a foot injury. Thompson's contributions could depend on Hillman's status. For fantasy owners it would seem that Anderson is the back most likely to be guaranteed multiple touches and it gets cloudy from there. The team does not travel until Sunday so the decision on which backs head to Cincinnati can be delayed.
DeAngelo Williams, Carolina Panthers, hand (Q):
Williams hasn't played since Week 13 due to a fracture in his hand. He did return to limited practices this week but may not be quite ready for prime time. As ESPN.com's David Newton noted, Williams has been fitted for a playing cast but
it doesn't mean he'll play
.
Jonathan Stewart
figures to continue being the primary ball carrier.
Chris Johnson, New York Jets, knee (P):
Johnson has been on the injury report for multiple weeks yet continues to suit up week in and week out. He is again expected to play when the Jets host the Patriots this week.
Matt Asiata, Minnesota Vikings, foot (P):
The foot issue that landed Asiata on the injury report this week can't be too serious as he was able to practice daily. Limited practices Wednesday and Thursday were followed by a full practice Friday. At probable, Asiata is expected to play Sunday in Miami.
Kerwynn Williams, Arizona Cardinals, knee (P):
Williams has had two very productive weeks in the Cardinals' ground game since
Andre Ellington
was lost for the season. It's no surprise that he might have some knee soreness which lands him on the injury report. He did practice daily however, limited Wednesday, Thursday and full on Friday. At probable, he is expected to play in a critical game against the top division rival Seahawks.
Roy Helu, Washington, toe (P):
Although Helu put in limited practices Thursday and Friday, he wasn't ready for game action in Week 15. This week his condition appears to have improved as Helu has been a full participant each day. Listed as probable, Helu is expected to be available for the team's 4:25 ET kickoff on Saturday against the Eagles.
LeGarrette Blount, shoulder, and Shane Vereen, ankle, New England Patriots (Q):
Vereen has been a regular on the injury report with the questionable designation over the past several weeks but continues to play. Blount is a new addition this week with a shoulder injury. Both players practiced on a limited basis each day and both appear likely to suit up in Sunday's contest against the Jets. As always, fantasy owners are advised to confirm their status when pregame inactives are issued.
Wide receivers
Julio Jones, hip (Q), Roddy White, ankle (P) and Harry Douglas, foot (P), Atlanta Falcons:
Given their probable designations it's clear that White and Douglas are expected to play. So let's get to the player everyone is really curious about when it comes to Sunday status. Jones sat out Week 15 with a hip injury suffered late in the Falcons' Week 14 Monday night game. Jones has not practiced all week, something which would ordinarily hint at him missing another week of action. But this is not an ordinary week. While the Falcons may have no interest in helping -- or hurting -- fantasy owners, they very much would like to secure a playoff spot and the presence of Jones makes a huge difference. Given that the team entertained the possibility of him playing last week (even if it was a half-hearted bit of entertainment), it would suggest the injury is not SO serious that he would automatically miss another week. And forget the notion of "saving" Jones for full health in Week 17. A loss this week would end the Falcons' postseason hopes. While no playoff scenario is worth jeopardizing the long-term health of a player, if that is truly what is at stake for Jones, it seems the Falcons would have ruled him out sooner. Instead there were reports of a Saturday morning "test" run (followed by an assessment of his recovery from said run) to see if Jones could suit up on game day. Coach Mike Smith has said he will announce Jones' status around 10:30 a.m. CT on Sunday. If Jones plays, there is clearly some risk that he could suffer an in-game setback. But it's also hard to imagine Jones functioning exclusively as a decoy given the stakes of the game and his own physical toughness. The only silver lining is that this is an early game Sunday so fantasy owners will have some options but no matter what his status is, there will be some difficult decisions to make.
T.Y. Hilton, Indianapolis Colts, hamstring (Q):
By Friday it appeared the chances of Hilton suiting up Sunday were trending downward. He did not practice all week with a left hamstring injury suffered in the second half of last Sunday's game, despite early reports that his MRI came back negative. ESPN.com's Mike Wells makes a good case for why the Colts
should rest Hilton this week
, especially considering they have locked up a playoff spot and might not want to risk Hilton aggravating an injury and missing more time at a critical juncture. Hilton says if he's feeling 100 percent healthy, he'll play but he also indicated there were plenty who could step up should he sit this one out. It appears there's a strong possibility Hilton rests this week, in which case the value of
Donte Moncrief
is sure to rise. This is a late kickoff (4:25 p.m. ET) Sunday so fantasy owners need to plan accordingly.
Andre Johnson, concussion (P), and DeAndre Hopkins, ankle (Q), Houston Texans:
Johnson suffered a concussion in Week 14 and sat out the following week. Later Johnson indicated he was cleared for Week 15 but wanted to make sure he took his time from the head injury
before returning
. Smart. This week Johnson participated in limited practice Wednesday but upgraded to full practice the following day. At probable, he is fully expected to play Sunday but his teammate is another story. Hopkins has an ankle injury that has kept him out of practice all week and his status is very much in question. Look for him to be a game-time decision.
Emmanuel Sanders, Denver Broncos, illness (Q):
Don't be overly alarmed about the late addition to the injury report. Sanders was given Saturday off from practice after he developed flu-like symptoms but, despite the questionable tag, the expectation is Sanders will be well enough to play Monday.
Jordan Matthews, Philadelphia Eagles, knee (P):
There was some mild alarm when Matthews turned up on the injury report with a knee issue. The concern has dissipated throughout the week as Matthews has been a full participant in practice each day. At probable, he is expected to play when the Eagles take the field in Washington on Saturday afternoon (4:30 p.m. ET kickoff).
Percy Harvin, New York Jets, ankle (P):
Considering Harvin played last week with the ankle injury after being considered a long shot and listed as questionable, there is far less doubt about his status this week. Harvin got a rest day on Wednesday but returned to limited practices Thursday and Friday. The probable designation indicates the team is more confident about his availability this week.
Calvin Johnson, Detroit Lions, ankle (P):
Johnson is following the same routine of limited practice Wednesday followed by a full practice Thursday and Friday. At probable, he is fully expected to play.
Demaryius Thomas, Denver Broncos, ankle (no designation yet):
Thomas has played through the ankle issue and after a difficult Week 14 had a strong performance last Sunday. Although he remains on the injury report, Thomas has been a full participant in practice. There is no real doubt as to what his Monday status will be.
Larry Fitzgerald, Arizona Cardinals, knee (P):
This is just a reminder that Fitzgerald suffered a Grade 2 MCL sprain earlier this season. He has already returned from the injury and is expected to play again this week after full practices Thursday and Friday.
Julian Edelman, thigh, concussion, and Brandon LaFell, shoulder, New England Patriots (Q):
Both players have played through questionable designations before so it would appear automatic they would again. Or would it? Maybe that will be the case for LaFell, who has been managing a shoulder issue for several weeks. In Edelman's case the thigh injury is not new and he did suit up the week after suffering an apparent setback. The difference this week is the word "concussion" after Edelman's name. This popped up on the injury report Wednesday when Edelman was limited and it is not clear when he suffered the injury. The good news is that he participated in practice daily but the unknown is whether he has cleared all phases of the concussion protocol. Fantasy owners will need to check Edelman's status once inactives are announced and not presume he is an automatic start this week.
Tight ends
Julius Thomas, ankle, and Jacob Tamme, ribs, Denver Broncos (no designation yet):
Thomas returned from his ankle injury last week but his production was minimal. This week he has been in practice as a full participant daily and is expected to play. Tamme was not active in Week 15 and it is unclear whether he will be available to offer depth at the position for the team. He did practice on a limited basis Thursday followed by a full practice Friday, an encouraging sign. Thomas figures to get the start and will hopefully see closer to a full workload Monday night in Cincinnati.
Kyle Rudolph, Minnesota Vikings, ankle, knee (D):
Rudolph has struggled since returning from his abdominal surgery and now has two lower extremity ailments in the mix. Although he returned from not practicing earlier in the week to a limited workout Friday, the doubtful designation indicates the team does not expect to have him available.
Charles Clay, Miami Dolphins, hamstring, knee (P):
Clay has been upgraded in status from his usual "questionable" to "probable" this week. Daily limited practices and the probable designation indicate Clay will take the field as his team hosts the Vikings.
Out:
This space is intended for a list of key players, not including those who have been moved to injured reserve status, who are officially listed as "Out" for the upcoming game.
Rashad Jennings, RB, New York Giants, ankle:
The normally upbeat Jennings tried to play through his recent ankle injury but just one play into Week 15 he suffered a setback. After not practicing this week it quickly became apparent he would not be able to play and he has been ruled out for Sunday.
Keenan Allen, WR, San Diego Chargers, collarbone, ankle:
This news comes as a surprise to no one after the team disclosed Monday that Allen had a clavicle fracture to go with his injured ankle. What was surprising was that it took so long to officially rule him out.
Malcom Floyd
and
Eddie Royal
could see additional targets.
Ryan Mathews, RB, San Diego Chargers, ankle:
Mathews missed Week 15 with the ankle injury and has not yet been able to practice.
Branden Oliver
and
Donald Brown
will see the bulk of the work in his absence (last week Oliver had more than twice as many carries as Brown; each caught four passes).
Carlos Hyde, RB, San Francisco 49ers, ankle:
It's somewhat amazing that the only injured part on Hyde's body was his ankle after he got twisted like a pretzel while being tackled last Sunday. He has not practiced all week and was always considered a long shot to suit up. The big question now is whether his teammate Frank Gore will be cleared to return from a concussion.
Nick Foles, QB, Philadelphia Eagles, collarbone:
Foles remains out as his clavicle has not fully healed.
Mark Sanchez
continues to be the starter.
Be sure to check out "Fantasy Football Now," Sundays on ESPN2 at 11:00 a.m. ET for last-minute inactives, rankings, injury impact and more!