October, 11, 2014
Oct 11
4:02
PM ET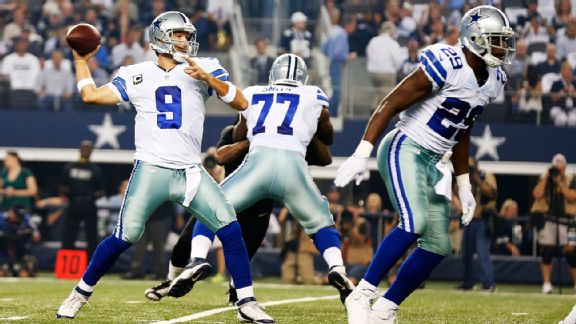 Matthew Emmons/USA TODAY SportsTony Romo will play in Seattle on Sunday.
Welcome to Week 6. This marks the third of the bye weeks. Once again, just two teams are getting a break: the
Kansas City Chiefs
and the
New Orleans Saints
. As usual, there are some game-time decisions, but the final injury reports give some guidance as to who's in and who's out.
As a reminder, each week in the Saturday blog, we run down a list of key fantasy players, by position, who appear in the Friday injury report along with the injured body part as listed on the report, player status and any relevant developments or insight. The primary fantasy positions are covered (quarterback, running back, wide receiver and tight end). At the end, key fantasy players listed Friday as "out" for that week's games will appear as a group. Teams playing Monday night do not have to issue their designations until Saturday. The explanation for each designation is as follows.
Out:
This is the easy one; the guy's definitely not playing Sunday. As painful as it might be to see this designation next to a player on your fantasy roster, at least you know in advance of the game that he's sitting out, and you can plan accordingly.
Probable (P):
This designation indicates that a player has a greater than 50 percent chance of playing. Most players listed here are expected to play, barring a setback between the final injury report and kickoff.
Questionable (Q):
This is the fantasy owner's most dreaded player designation, yet it manages to be the one used most frequently by teams (often to keep everyone guessing). It means a player's status is on the fence; there is a 50-50 chance that he's on the field come game time, although as many fantasy owners have come to learn, many teams use the questionable designation for any player with a hint of injury. Whether a player ends up active or inactive often comes down to a game-time decision based on how he performs during warm-ups. It is important for fantasy owners to check status reports leading up to the game.
Doubtful (D):
The doubtful designation means a player has theoretically less than a 25 percent chance of playing that week. Rarely does a player labeled as doubtful end up playing, unless he experiences a major turnaround before game time. Fantasy owners who need to make roster adjustments beforehand can feel fairly confident about sitting a player listed as doubtful.
Good luck in Week 6, everyone! May your players stay healthy and win for you.
Quarterbacks
Tony Romo, Dallas Cowboys, back, (P):
No practice Wednesday, full practice Thursday and Friday. This is Romo's current routine. He will play in Seattle on Sunday.
Teddy Bridgewater, Minnesota Vikings, ankle, (P):
Bridgewater missed the Week 5 game only because it came on a Thursday night and he was close to suiting up then. He has practiced fully all week and is expected to start Sunday.
Tom Brady, New England Patriots, ankle, (Q):
Uh-oh. Brady showed up on the injury report Friday as a limited participant due to an ankle injury, with a questionable designation. It's no secret that Brady has been absorbing some extra blows this season, but no word as to whether that has anything to do with this ailment. The good news is we already know Brady made the trip to Buffalo. Based on experience, it's hard to imagine Brady sitting and watching from the sideline.
Jake Locker, Tennessee Titans, right hand, (Q):
Locker bruised his thumb last week, adding an ailment to the same wrist and hand that was injured in Week 3, causing him to sit out the following Sunday. Locker did not practice all week, making it difficult to envision him starting Sunday.
Carson Palmer, right shoulder and Drew Stanton, concussion, Arizona Cardinals, (Q):
Coach Bruce Arians made it clear that the Cardinals' quarterback situation is truly up in the air. "Honest to God, the first time in 20 years I really don't know who's starting," Arians said. "We'll see how it goes. They're all ready." Not exactly clarity. According to ESPN.com's Josh Weinfuss, Palmer threw on a limited basis Friday, then flew to Colorado
to receive additional treatment
. Despite his reported improvement, it's hard to envision Palmer's arm suddenly able to endure a full four quarters of football. Stanton, meanwhile, was working his way through the post-concussion protocol and participated in Friday's workout on a limited basis. On Friday night, he was cleared to play, and reports are that he will start if Palmer cannot. Everyone is going to have to wait until game time to find out, though, and this one doesn't tip until 4:25 p.m. ET.
Derek Carr, Oakland Raiders, ankle/knee, (Q):
Carr was hobbling in Week 4 after a twisting injury to his lower leg which resulted in a high ankle sprain and an MCL sprain in his knee. The bye couldn't have come at a better time. Although Carr was limited in practice throughout the week, the prevailing thought is that he will start for the Raiders against the Chargers Sunday.
Josh McCown, Tampa Bay Buccaneers, right thumb, (D):
There's no question as to who is starting for the Bucs: It's
Mike Glennon
. McCown remains sidelined from practice with a sprained thumb.
Running Backs
Lamar Miller, foot and Knowshon Moreno, elbow, Miami Dolphins, (P):
Miller has been handling the bulk of the workload while Moreno has been out. Although he appears on the injury report, Miller is again expected to be active Sunday when the Dolphins host the Packers. He is likely to be joined by Moreno who, despite hinting at being out for another month as recently as a week ago, practiced daily and is expected to be active. Moreno told ESPN.com's James Walker that the brace he is wearing (to protect against hyperextension) on his left elbow is
uncomfortable
, but comfort is secondary to
protection
. Given his monthlong absence and not knowing how effective he will be early in his return, it's hard to expect Moreno to immediately be back in early season form. But, he should be back.
Ben Tate, Cleveland Browns, finger, (P):
In Week 5, Tate proved his knee had recovered nicely from the sprain he suffered in Week 1. He is listed on this week's report not because of the knee, but due to a finger injury. Tate was a full participant in practice each day, though, and is expected to play again this week.
Joique Bell, concussion, (P); Theo Riddick, hamstring, (P) and Reggie Bush, ankle, (Q), Detroit Lions:
Here's the good news. Bell is expected to return after missing Week 5 due to a concussion. Riddick, despite a hamstring ailment practiced fully each day alongside Bell and is also expected to be available. The not-so- good news relates to Bush who suffered an ankle injury last Sunday and did not practice all week. Bush seemed dismissive of the injury early on, suggesting it was not particularly serious and yet he never made his way to the practice field. Apparently he is taking notes on his teammate Calvin Johnson's situation and Bush told ESPN.com's Michael Rothstein he doesn't want to
risk re-injury
. Despite downplaying the injury early in the week, Bush has become more cautious as the week has progressed. It sounds like the Lions will lean on Bell and Riddick.
Fred Jackson, Buffalo Bills, ankle/illness, (Q):
Jackson was a limited practice participant both Wednesday and Thursday, and his absence from Friday's workout raised suspicion his condition had worsened. Jackson missed Friday however due to illness, not injury. According to ESPN.com's Mike Rodak, a source says Jackson "should be good to go" for Sunday's matchup against the Patriots. Fantasy owners should be sure to check the inactives before kickoff.
Zac Stacy, St. Louis Rams, calf, (no designation yet):
Stacy did not participate in practice Thursday, raising eyebrows as to his status, despite coach Jeff Fisher's assurances early in the week that he expected him to play. Stacy was back in full practice Friday however, a more reassuring sight. While there is no official designation at the time of this writing, Stacy is expected to play Monday night.
Matt Asiata, Minnesota Vikings, groin, (P):
Despite his appearance on the injury report, Asiata was a full participant in practice each day this week. At probable, he is expected to play.
Jonathan Stewart, knee, (Q) and Darrin Reaves, hip, (P), Carolina Panthers:
The injury carousel that is the Carolina backfield continues to turn, rotating names in the process.
Fozzy Whittaker
is now off the injury report and
DeAngelo Williams
has already been ruled out. Reaves did not practice Wednesday but full practices both Thursday and Friday, along with the probable tag, indicate the hip is not a serious concern. Perhaps the biggest change in a positive direction is the status of Stewart, who came into Week 5 as doubtful (and did not play) but moves up to questionable this week. When Stewart injured his knee in Week 3 it was originally reported as a "severe" sprain, hinting at an extended absence. By this week however, Stewart was able to turn in back-to-back limited practices on Thursday and Friday. While the news is encouraging, he is not completely healthy and his game status remains a question mark. In fact, Stewart will be a game-time decision but coach Ron Rivera indicated if he plays, he'll
lead the charge for the backfield.
Shonn Greene, Tennessee Titans, hamstring, (D):
Alert to
Bishop Sankey
fans and fantasy owners: He appears in line to start. Coach Ken Whisenhunt has been saying for a while now that Sankey would get more opportunities in time. With Greene likely sidelined due to a hamstring injury that prevented him from practicing Thursday and Friday, the time appears to be now.
Andre Ellington, Arizona Cardinals, foot, (P):
Ellington remains on the injury report as he continues with limited workout during the week. At probable, he is again expected to play.
Chris Johnson, New York Jets, ankle, (P):
Johnson continues to practice fully each day and is expected to start again Sunday when the Jets host the Broncos.
Storm Johnson, Jacksonville Jaguars, ankle, (P):
Johnson practiced fully each day and is expected to play. He could see increased opportunities this week with
Toby Gerhart
ruled out before Sunday.
Wide Receivers
Calvin Johnson, Detroit Lions, ankle, (D):
Most fantasy owners have already ruled Johnson out of their lineups even if the Lions haven't officially done so yet. The doubtful tag, rarely associated with Johnson, reflects the low expectations the team has of anything changing drastically prior to kickoff. At this point, everyone has seen how the high ankle sprain has limited Johnson's mobility, and it wasn't helped when he took a "whack" to his right leg last Sunday, as coach Jim Caldwell described it. Unable to practice all week and protected with a walking boot, Johnson's season outlook would be much improved if he were to rest and afford the ankle an opportunity to
heal to some degree
. Johnson is not likely to sit on the sideline until he is 100 percent, but 75 to 80 percent of Johnson is better than most. It's the less than 50 percent of Johnson that has taken the field the last two weeks that everyone would rather not see.
A.J. Green, Cincinnati Bengals toe, (Q):
Green's setback midweek with the big toe of his right foot has him looking far more doubtful than questionable for Sunday. In fact, ESPN's Bob Holzman reported Friday that, according to sources, Green is
expected to sit out Sunday's game
. The questionable designation from the Bengals suggests the team is leaving the door open for significant improvement between the time of the filing of the injury report and kickoff, but common sense hints at that being unlikely. After all, this is not the first setback for Green, and the severity of the problem seems amplified with reports of Green visiting with specialists to confer about next steps. Even if -- or rather when -- he does return to the field, there is no predicting how the toe will hold up to the task. Fantasy owners no doubt recall Week 2 when Green was forced out of the game after just five snaps (and zero catches) due to a flare-up of the toe. As recently as Week 5, he was more A.J. Green-like, racking up 81 yards and a score. But three days later, he left practice before things even got underway, doing something to aggravate his toe during the stretching portion of the session. On Friday, Green observed practice sporting a walking boot, and if early reports hold true, he will be observing similarly on Sunday.
Julio Jones, ankle, (P) and Devin Hester, hamstring, (Q); Atlanta Falcons:
The status of Jones is not in doubt given the probable tag, although he continues to see limited work early in the week. Jones was back in full practice Friday and is expected to start as usual on Sunday. Hester comes in at questionable because of a hamstring issue that kept him out of practice entirely on Wednesday and Thursday. He returned to limited practice Friday and according to ESPN.com's Vaughn McClure, Hester plan to play Sunday as the Falcons host the
matchup against his former team.
Percy Harvin, Seattle Seahawks, thigh, (P):
Fantasy owners have to be relieved to see Harvin listed as probable after he was added to Thursday's injury report as a non-participant in practice with a thigh injury. He was back to full practice status Friday and the probable tag indicates the team expects to have him on the field. If only his scores would just count this time…
Allen Hurns, WR, foot; Marqise Lee, WR, hamstring and Cecil Shorts, WR, hamstring, Jacksonville Jaguars:
Hey, three of the Jaguars' top four receivers might be listed on the injury report but they're all probable and they all practiced fully each day. That's a big improvement over virtually every other week this year. With the exception of running back Toby Gerhart, it appears the Jaguars will have their most complete complement of offensive players available since the start of the season.
Cordarelle Patterson, Minnesota Vikings, hip, (P):
Although his practice outings were controlled early in the week, Patterson returned to full practice Friday. At probable, he is expected to play as the Vikings host the Lions.
Eric Decker, New York Jets, hamstring, (Q):
Decker remains listed as questionable this week but seemingly has a better chance to play. He was a limited participant in practice each day (unlike last week where he missed two days, then sat out Sunday against the Chargers). Whether he takes the field or not is the first order of business, but even if he does, there is still no guarantee his hamstring holds up. He has endured several setbacks and was not able to do as much in practice late in the week
as coach Rex Ryan had hoped
. He remains a risky play, even if active.
Dez Bryant, Dallas Cowboys, shoulder, (P):
Bryant continues to practice fully each day and continues to play despite the shoulder ailment each week. Based on some of the spectacular catches he has made recently, the shoulder doesn't appear to be a limiting factor. The Seattle defense could prove to be more challenging this week.
Keenan Allen, quadriceps, (P) and Malcom Floyd, calf, (Q), San Diego Chargers:
Allen will play after moving up to a full practice Friday. Allen has been on the injury report with various soft tissue injuries for the bulk of the season but has played anyway. Floyd however appears here with a calf injury, which kept him to limited practice all week. The questionable tag indicates the team's hesitation to commit to whether he'll be ready to roll against the Raiders. This is a late game, so fantasy owners need to have a backup plan if Floyd doesn't go.
Mike Evans, groin and Vincent Jackson, rib, Tampa Bay Buccaneers, (Q):
Evans was originally expected to miss multiple weeks with a groin injury but his progress has been fairly swift. He was able to get in limited work in practice each day and heads into the weekend listed as questionable. Meanwhile Jackson, who did not let a hairline fracture in his wrist keep him off the field, has been slowed this week by a rib injury. After sitting out Wednesday and Thursday, Jackson was able to participate on a limited basis Friday, hinting at his availability for Sunday's contest against the Ravens.
Mike Wallace, Miami Dolphins, foot, (P):
Wallace was held to limited practice daily because of a foot issue but is listed as probable and is expected to play.
Tight Ends
Vernon Davis, San Francisco 49ers, back, (no designation yet):
Monday night games are maddening when it comes to players with uncertain status. Davis has at least been in practice each day this week, albeit on a limited basis and wearing a non-contact jersey. It appears he is on track to play Monday night, but fantasy owners are always advised to carry insurance in these situations.
Jordan Reed, Washington, hamstring, (Q):
At the midpoint of the week, Reed indicated if there were no setbacks in advance of Sunday, he expected to play. The questionable tag indicates there is still no guarantee that he does. Reed has been just a limited participant throughout the week but this is his first week of daily practice since injuring his hamstring in Week 1. According to ESPN.com's John Keim, coach Jay Gruden says Reed will work out in Arizona and is a
game-time decision
but there is optimism around the team, including from Reed, that he will indeed suit up. Until he gets through a game where he proves he can run full speed without a setback however, there will still be some apprehension as to whether he is truly past the injury.
Jordan Cameron, Cleveland Browns, ankle/shoulder, (P):
Cameron has added an ankle ailment to his ongoing shoulder issue, but neither is going to keep him off the field this week. He has been a full practice participant throughout the week and is expected to start against the Steelers.
Delanie Walker, Tennessee Titans, shoulder, (P):
Walker has already said the shoulder is likely to be an issue he will have to manage across the course of the season. The good news is that it is not interfering with his ability to be productive.
Out:
This space is intended for a list of key players, not including those who have been moved to injured reserve status, who are officially listed as "Out" for the upcoming game.
Montee Ball, RB, Denver Broncos, groin
: Ball had to be helped from the field after injuring his groin last Sunday. It appears the injury will sideline him for several weeks.
Rashad Jennings, RB, New York Giants, knee
: Jennings sprained his left MCL in Week 5 and is not yet able to practice. The Giants have a bye in Week 8, so it wouldn't come as a surprise if he were to be out until the break has passed.
Toby Gerhart, RB, Jacksonville Jaguars, ankle:
Last week we announced Gerhart was finally off the injury report. Within 24 hours he was back on it after aggravating an ankle in last Sunday's game. The setback was significant enough to declare him out early this week. Enter Storm Johnson (alongside
Denard Robinson
and
Jordan Todman
).
Marvin Jones, WR, Cincinnati Bengals, ankle:
Jones was originally listed as questionable Friday, but on Saturday his status was
downgraded to Out
. This surprises no one as Jones did not practice at all this week and never really appeared as if he had a chance to play.
Harry Douglas, WR, Atlanta Falcons, foot:
Douglas remains out with a foot injury. He has not been able to practice, suggesting the injury is more serious than originally thought.
DeAngelo Williams, RB, Carolina Panthers, ankle:
Williams remains out with an ankle injury suffered in Week 4. He has not yet practiced.
Ryan Mathews, knee and Donald Brown, concussion, RBs, San Diego Chargers:
Mathews has been out since Week 2 with an MCL sprain in his right knee. According to the San Diego Union-Tribune he has yet to resume running, suggesting his return is at least a couple weeks off. He is joined on the sideline this week by Brown, who suffered a concussion last Sunday. With
Danny Woodhead
also out (for the year), the running duties could be primarily fulfilled by
Branden Oliver
, who notched over 100 yards and a score in Week 5.
Robert Griffin, QB, Washington, ankle:
Griffin has not played since injuring his ankle in Week 2 but he appears to be making progress. Coach Jay Gruden indicated there is no set timetable for Griffin's return, and he has yet to increase his running workload.
Kyle Rudolph, TE, Minnesota Vikings, abdomen/groin:
Rudolph remains out with a core muscle injury suffered in Week 3. He is not expected to return for at least another month.
Joseph Fauria, TE, Detroit Lions, ankle:
Fauria injured his ankle in Week 3 and is still not able to practice.
Off the Injury Report!
Rob Gronkowski, New England Patriots, knee, (P):
Gronkowski has quietly moved off the injury report this week after easing into the season. A full complement of snaps, perhaps? It looks as if that will be the case going forward, barring, of course, any new injury.
Sammy Watkins, WR, Buffalo Bills, ribs:
The rib injury that has been keeping Watkins on the injury report since the preseason now appears to be a thing of the past. He hadn't appeared limited of late but this validates his recovery.
Frank Gore, RB, San Francisco 49ers, back:
Gore's regular appearance on the injury report never kept him off the field on game day, but it's still nice to see him moved off the list. One less question for a Monday night game.
Brandon Marshall, WR, Chicago Bears, ankle:
Marshall's status has improved each of the last two weeks along with the health of his ankle. This week he graduates from the injury report, and hopefully for fantasy owners will not be revisiting it anytime soon.
Odell Beckham, WR, New York Giants, hamstring:
That didn't take long! Well, actually, it took six weeks from the start of the season but as soon as Beckham appeared in his first NFL game, he was promptly removed from the subsequent injury report. Apparently the Giants are confident his hamstring is healthy. After netting 44 yards and a touchdown in his debut, Beckham could be in line for even more work going forward.
Be sure to check out Fantasy Football Now, Sundays on ESPN2 at 11:00 a.m. ET for last-minute inactives, rankings, injury impact and more!