November, 22, 2014
Nov 22
5:07
PM ET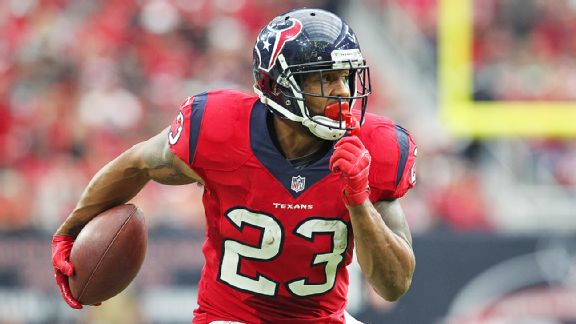 Thomas B. Shea/Getty ImagesAlthough RB Arian Foster didn't practice on Thursday, coach Bill O'Brien said there was no setback.
Welcome to Week 12! This marks the final bye week, and only two teams are off, the
Pittsburgh Steelers
and
Carolina Panthers
. As always, there will be game-time decisions, but the final injury reports give some guidance as to who's in and who's out, and a number of key players have already been ruled out. Additionally, because of the massive snowstorm in Buffalo, the
Buffalo Bills
-
New York Jets
game has been postponed and relocated. Originally scheduled for a 1 p.m. ET Sunday kickoff, the divisional matchup will instead take place Monday at 7 p.m. ET at Ford Field in Detroit.
As a reminder, each week in the Saturday blog, we run down a list of key fantasy players, by position, who appear in the Friday injury report along with the injured body part as listed on the report, player status and any relevant developments or insight. The primary fantasy positions are covered (quarterback, running back, wide receiver and tight end). At the end, key fantasy players listed Friday as "Out" for that week's games will appear as a group. Teams playing on Monday night do not have to issue their designations until Saturday. The explanation for each designation is as follows.
Out:
This is the easy one; the guy is definitely not playing Sunday. As painful as it might be to see this designation next to a player on your fantasy roster, at least you know in advance of the game that he's sitting out, and you can plan accordingly.
Probable (P):
This designation indicates that a player has a greater than 50 percent chance of playing. Most players listed here are expected to play, barring a setback between the final injury report and kickoff.
Questionable (Q):
This is the fantasy owner's most dreaded player designation, yet it manages to be the one most frequently used by teams (often to keep everyone guessing). It means a player's status is on the fence; there is a 50-50 chance that he'll be on the field come game time, although as many fantasy owners have come to learn, many teams use the questionable designation for any player with a hint of injury. Whether a player ends up active or inactive often is a game-time decision based on how he performs during warm-ups. It is important for fantasy owners to check status reports leading up to the game.
Doubtful (D):
The doubtful designation means a player has theoretically less than a 25 percent chance of playing that week. Rarely does a player labeled as doubtful end up playing, unless he experiences a major turnaround before game time. Fantasy owners who need to make roster adjustments beforehand can feel fairly confident about sitting a player listed as doubtful.
Good luck in Week 11, everyone! May your players stay healthy and win for you.
Quarterbacks
Ryan Mallett, Houston Texans, chest (P):
Mallett appears on the injury report, but it's not a threat to his status. After full practices every day this week, he is on track to start at home against the Bengals.
Tom Brady, New England Patriots, ankle (P):
Brady likely will remain on the injury report throughout the season. He'll also continue to show up and do what he does on Sundays. He'll start against the Lions at Gillette Stadium.
Tony Romo, Dallas Cowboys, back (P):
It seems like ages ago when Romo sustained two transverse process fractures in his spine, but it's actually been less than four weeks since the injury. Fractures take more than a month to heal and there's undoubtedly still some discomfort, so it's no surprise he's still on the injury report, taking Wednesdays off as a matter of routine. Of course he'll still play, too.
Ryan Tannehill, Miami Dolphins, left shoulder (P):
Tannehill has been a bit beat-up of late, but this injury to his nonthrowing shoulder won't sideline him. His limited practices daily are a means of preserving his health for Sunday, and this will be a big one against the
Denver Broncos
at Mile High Stadium.
Philip Rivers, San Diego Chargers, chest (P):
After his teammate
Antonio Gates
referenced a severe rib injury for his quarterback, the team was forced to address it. While coach Mike McCoy denied that Rivers had an injury, Rivers' name does now appear on the injury report. For his part, Rivers indicated he was no worse off physically than any of his teammates
at this point in the season
. He's not missing any practice sessions or, as of now, any games.
Blake Bortles, Jacksonville Jaguars, left wrist (P):
The injury to Bortles' nonthrowing wrist hasn't presented any issue that would keep him off the field. Expect him to get another start Sunday, this time against the Colts.
Running backs
Arian Foster, RB, Houston Texans, groin (Q):
If there was ever a player who brought equal parts joy and frustration to fantasy owners, Foster is it. When he's healthy, he is as much of a sure thing as there is in the NFL, an uncontested feature back who can single-handedly carry an NFL run game and the fantasy points that go with it. When he's injured -- a loosely defined term that might be phrased better as "not fully healthy" -- the uncertainty of whether he will suit up on any given Sunday is the opposite of a sure thing. The latter appears to be what fantasy owners are dealing with this week. Foster was close enough to playing late last week for coach Bill O'Brien to refer to him as a game-time decision. The plan was to work him out pregame, then determine his ultimate playing status. Except Foster didn't make the trip to Cleveland. Apparently Foster indicated he wasn't quite ready to play, so there was no need to take the decision all the way out of state and to pregame warm-ups. Certainly another week would allow him to be ready for game action, though, right?
Wrong. Foster returned to a limited-practice status Wednesday, and it appeared things were in order for a Sunday return, until Foster did not practice Thursday. A setback, perhaps? Not according to O'Brien. Maybe it was just a day of rest for the back who has rushed for over 100 yards in six of the eight games he has played this season. After all, this was the first practice for Foster in a while, and O'Brien did say he was day-to-day.
But when Foster failed to practice Friday, the signs started pointing in the negative direction for his Sunday availability. Yet again O'Brien is referring to him as a game-time decision, and he is again listed as questionable, although he is anything BUT a sure thing for Week 12. Fantasy owners won't get the decision a day early this week because the Texans host the Bengals at home, but they should consider themselves sufficiently warned that they should have a backup -- just like the Texans have
Alfred Blue
-- at the ready.
Giovani Bernard, Cincinnati Bengals, hip (P):
After being away from practice since he injured his hip in Week 8, Bernard returned this week, much to the delight of his coaches, teammates and fantasy owners. He worked his way up to full activity gradually, doing more each day and allowing everyone to breathe a sigh of relief that he was able to participate on three consecutive days.
It's worth noting that Bernard is not yet 100 percent healthy. His hip has been problematic, and he has been dealing with a shoulder/clavicle injury at the same time. Bernard was not shy about telling ESPN.com's Coley Harvey why the injuries kept him sidelined. "The reason I was sitting out is because I felt like crap," Bernard said of the hip and clavicle issues that sidelined him, both the result of hard hits. "
I'm just recovering from some of those hits.
" Although Bernard is clearly in line to play after being listed as probable and is expected to be named the starter, there will be plenty of work for
Jeremy Hill
, who has proved his abilities during Bernard's absence. Given that the team has been cautious with Bernard's return to practice, it only makes sense that the team will be equally cautious with his return to the field, watching to see how his body responds not only to the speed of the game but also to big hits similar to the ones that sidelined him in the first place.
The Bengals could soon have a problem they would welcome, also known as a fantasy nightmare, where they have to sort out the workload between two capable, versatile backs. For now, they will just be happy to get both through a game healthy.
Reggie Bush, ankle (Q) and Joique Bell, ankle (P), Detroit Lions:
Bush sat out last week's game thanks to lingering issues with his sprained ankle but confidently told reporters earlier this week that he planned to play Sunday against the Patriots. The questionable tag next to his name inspires anything but confidence, however. Bush was on the practice field every day, participating on a limited basis, but it appears that wasn't enough to assure the likelihood of him playing at greater than 50 percent. If Bush does play, he'll likely play behind teammate Bell, who, despite being listed on the injury report because of an ankle ailment, practiced Thursday (limited) and Friday (full). At probable, there is every expectation Bell will lead the running back pack this weekend.
Marshawn Lynch, Seattle Seahawks, back (P):
Lynch keeps on plugging away regardless of where his injuries are and how much they may be bothering him. A calf ailment had him on the injury report the past two weeks (he even entered last week's contest listed as "questionable"), yet he rushed for 140 and 124 yards, respectively. After he missed practice Wednesday and Thursday this week, there was some concern about Lynch's health. But he returned Friday to a full practice, and coach Pete Carroll declared him ready to play. He's back to his standard listing as probable, and there is no reason to doubt his availability.
Lamar Miller, Miami Dolphins, shoulder/knee (Q):
Miller has played the past two games since suffering an AC sprain in his left shoulder in Week 9, so the expectation would be that he should take the field again Sunday. But Miller had a new injury next to his name this week (knee) and was listed as a limited participant late in the week. The second injury and the questionable tag are enough to make fantasy owners nervous about his status, especially given that this is a late game against the Broncos. Miller is an important factor in the Dolphins' offense, and based on his history of playing even at less than 100 percent, it appears he will play. The Miami Herald also cites a source
confirming Miller will play
. Fantasy owners are advised to have a backup plan, but it does appear that Miller will be active.
Trent Richardson, Indianapolis Colts, illness (P):
With
Ahmad Bradshaw
now on injured reserve with a fractured fibula, the Colts need Richardson and teammate Dan Herron to step up. Richardson missed practice Wednesday because of illness but returned to full participation Thursday and Friday. At probable, he is expected to play.
Andre Ellington, Arizona Cardinals, hip/foot (P):
Ellington remains on the injury report because of both his hip and his foot, but he also remains probable, as in, he will play. He faces a tough matchup against the division-rival Seahawks, but after a full practice Friday, Ellington is indeed expected to be on the field.
Jerick McKinnon, Minnesota Vikings, back (P):
Offensive coordinator Norv Turner made it clear this week when the Vikings signed
Ben Tate
that McKinnon
remained No. 1 back
. With Asiata sidelined with a concussion, the door is open for McKinnon ... but his health could be a factor. The probable tag indicates the Vikings fully expect McKinnon to play, just as he did last week after his back strain surfaced, but his production last week was limited. It appears McKinnon will be first in line on Sunday, but Tate could see some opportunities alongside him.
Steven Jackson, Atlanta Falcons, illness (P):
The illness that forced a few Falcons from practice this week kept Jackson away on Thursday. He returned to a full practice Friday and is expected to play Sunday against the Browns.
Doug Martin, ankle and Charles Sims, ankle, Tampa Bay Buccaneers (Q):
Martin returned to limited practice last week after missing time since injuring his ankle in Week 8. This week he continued his limited practices daily, and it appears he has a chance to be active. One factor may be the status of Sims, who cropped up on the injury report Thursday because of his ankle. After Sims was limited for two days and is now listed as questionable, his status is of concern, especially considering he only emerged from the IR/designated-for-return list in Week 10. The IR designation followed ankle surgery in August, so this development raises eyebrows. It could also simply represent some scaling back of practice time in an effort to ensure Sims doesn't overdo it on the ankle too soon. With
Bobby Rainey
still in the mix, the division of the workload if all three backs are healthy is still unclear, although it appears Sims is the favorite to touch the ball most frequently.
Juwan Thompson, Denver Broncos, knee (P):
Thompson has been on the injury report, but there are far bigger injury concerns in the backfield, notably those of
Ronnie Hillman
and
Montee Ball
.
C.J. Anderson
remains the starter, and Thompson, at probable, is expected to be available as well.
Fred Jackson, Buffalo Bills, groin (Q):
Jackson is improving from his groin injury but missed Week 11, largely because the game was played on a Thursday night just four days after his return from injury. With a short recovery time so soon after he played in his first game in three weeks, the wise decision was to rest him. After a snowstorm in Buffalo prevented the team from practicing until Friday, Jackson got some extra rest and said he "felt good" after Friday's workout in Detroit. With an extra day until kickoff, Jackson gets the benefit of 15 days between games played. Expect him to take the field, at Ford Field, as the Bills face the Jets in Detroit on Monday night.
Chris Ivory, shoulder and Chris Johnson, knee, Jets (P):
Both backs practiced fully each day this week coming off a bye in Week 11. Although the game with the Bills will be delayed until Monday night, there is little doubt that both Ivory and Johnson will be available Monday night.
Mark Ingram, shoulder, Pierre Thomas, rib/shoulder, Travaris Cadet, hamstring, New Orleans Saints (P):
It appears the Saints will have three of their four running backs available Monday night to face the Ravens.
Khiry Robinson
is the only injured back who has already been ruled out. Ingram has been carrying the load and has been a full participant in practice throughout the week despite the shoulder ailment. He is likely to retain that role based on his performance thus far, although depending what happens with Robinson down the road, things could shift. For now it would appear that Ingram's rushing responsibilities will not change much. Cadet had a hamstring injury, which resulted in a day off Thursday, but he was upgraded to limited practice Friday and Saturday. Thomas, out since Week 7 with a shoulder injury, was back in limited practices this week. The probable tag suggests the Saints are confident enough in what Cadet and Thomas have shown to plan on their availability this week. Thomas presumably regains some of the screen-passing looks Cadet absorbed while he was injured, thus devaluing Cadet's role somewhat, as long as Thomas can stay on the field.
Wide receivers
Larry Fitzgerald, Arizona Cardinals, knee, (Q):
Fitzgerald suffered a sprained medial collateral ligament (MCL) of his left knee, reportedly of moderate severity (Grade 2). It's difficult to imagine a wide receiver being able to take the field just one week later, but this is not just any wide receiver. Fitzgerald has not missed a game in six consecutive seasons, including 2012 when he played through an MCL sprain of his right knee
despite struggling to be effective initially
. In fact, he returned to play this past Sunday after sustaining the injury, even making a key catch late in the game to help seal the Cardinals' ninth victory. The aftereffects, however, likely have him stiff and sore this week, and he has not practiced. That alone would not be enough to sideline him, particularly in a key matchup against a tough divisional opponent. But Fitzgerald and the team have to be confident enough in his ability to function -- even if to simply draw coverage -- without risking further injury that could compromise his health deeper into the season (and postseason), to allow him to play. That decision is not likely to come until just before game time, which has a late start (4:25 p.m. ET) in Seattle. If Fitzgerald does play, he cannot be expected to be at full strength.
Calvin Johnson, ankle and Golden Tate, hip, Detroit Lions, (P):
Johnson has had two weeks with no reported setbacks of his ankle, which is good news for fans and fantasy owners. He continues to get a midweek day of rest and limited work Thursday and Friday but is fully expected to play Sunday against the Patriots. His fellow wide receiver Tate appeared on the injury report Friday with a hip ailment, worth noting because of how late in the week it surfaced. Tate was limited in Friday's practice, but the probable tag suggests there is no reason to doubt his status for Sunday.
Brandon Marshall, ankle and Alshon Jeffery, hamstring, Chicago Bears, (P):
Marshall got the day off Wednesday, then returned to limited practice Thursday and Friday. Jeffery appeared on the injury report Wednesday, when he did not practice, but was upgraded to limited Thursday and a full practice Friday. The Bears are clearly confident -- as indicated by labeling both their receivers probable -- in their availability for Sunday.
Emmanuel Sanders, Denver Broncos, concussion, (P):
Perhaps one of the bigger surprises headed into Sunday is the outlook for Sanders' availability. He suffered a concussion after absorbing a big hit in the second half of Sunday's game and immediately entered into the team protocol. Sanders returned to some light conditioning Thursday, then a full practice Friday. His case is a reminder that some of the bigger hits don't necessarily result in the most profound or the most protracted signs and symptoms. As ESPN.com's Jeff Legwold reported, Sanders said he felt good
"five minutes after the hit was over."
Of course there is more to recovery than feeling good, hence the protocol, which involves neurocognitive testing and a graded return to activity. Still, the overriding positive is that Sanders passed all the required tests, signaling his recovery. Sanders says he expects to face the Dolphins on Sunday.
Julio Jones, illness, and Harry Douglas, foot, Atlanta Falcons, (P):
The Falcons need all hands on deck as they attempt to improve their subpar record. Douglas has been dealing with a foot injury for the greater part of the season, but he has played the past two weeks without incident. Jones was ill early in the week but was able to return to a full practice Friday. Both receivers are expected to be available.
Julian Edelman, New England Patriots, thigh, (P):
Edelman's body absorbed some punishment in Week 11, but he played through the bruising, although he was on the field for fewer total snaps than usual. Nonetheless he was held to limited practices throughout the week to aid in his recovery before facing the Lions. The probable tag suggests the Patriots plan on having him on the field Sunday, although it remains to be seen whether the thigh issue will hamper his usage in any way.
Mike Wallace, Miami Dolphins, calf, (P):
Wallace appeared on the injury report with a calf issue but participated in practice each day, albeit on a limited basis. The Dolphins expect to have him available Sunday in Denver.
Jordan Matthews, Philadelphia Eagles, knee, (P):
Although he appears on the injury report, Matthews did not miss a practice. In fact, he wasn't even limited in any way. He will be an available target for
Mark Sanchez
on Sunday against the Titans.
Justin Hunter, Tennessee Titans, knee, (Q):
Hunter doesn't appear to be in great danger of missing this one despite the questionable tag. He was limited Wednesday but completed full practices both Thursday and Friday, suggesting he should be able to play. Still, given the designation, fantasy owners should check pregame inactives, and fortunately, this is an early game.
Greg Jennings, Minnesota Vikings, rib, (Q):
Jennings has a rib injury that forced a brief exit from Sunday's game. He was held out of practice both Wednesday and Thursday but was able to return to full work on Friday. Barring a setback after his Friday practice, Jennings appears likely to suit up.
Sammy Watkins, Buffalo Bills, groin, (P):
Watkins is another Bills player who may have benefited from no practice early in the week because of the snowstorm. He was a full participant Friday in Detroit, where the team will play the Jets on Monday night. He is fully expected to play.
Tight ends
Julius Thomas, Denver Broncos, ankle, (Q):
Thomas injured his ankle in this past Sunday's game, and while it does not appear to be as serious as initially thought, his status for Sunday remains very much in question. Although he dressed for practice for the first time on Friday, Thomas did very little other than light stretching -- so little, in fact, that he continued to be listed as a nonparticipant. Coach John Fox explained his status to reporters afterward. "We could have said limited, but it was probably closer to did not participate," Fox said. "But he still is questionable." In other words, the Broncos are retaining some hope that Thomas will be able to go when the game tips off at 4:25 p.m. ET. Fantasy owners should not count on his availability given the murky status and the late game situation.
Kyle Rudolph, Minnesota Vikings, abdomen, groin, (P):
Rudolph returned to the field last week but was clearly held to a controlled amount of activity. Perhaps the team was just being cautious after Rudolph's return from abdominal surgery. This week he has been a full participant in practice each day and would appear on track to see some additional work.
Charles Clay, Miami Dolphins, knee, (D):
Clay's appearance on the injury report has been so routine that this downturn could easily be overlooked, but it shouldn't be. After a limited practice Wednesday, Clay did not return for the remainder of the week, and the outlook for him has not been positive. The team is indicating as much by labeling him doubtful for the game against the Broncos, and he appears likely to sit this one out.
Jared Cook, St. Louis Rams, back, (Q):
Cook appeared on the injury report with a back issue this week and did not practice at all on Wednesday. He managed limited practices Thursday and Friday, but the questionable tag reflects uncertainty. Fantasy owners should also be aware that this is a late game against the Chargers.
Delanie Walker, Tennessee Titans, concussion, (P):
Walker was very close to returning last week, but the Titans opted to hold him out. According to ESPN.com's Paul Kuharsky, it was a team decision as opposed to a late setback and one that
took Walker's concussion history into account
. The good news is that Walker has now cleared all tests and, listed as probable, is expected to play.
Out
This space is intended for a list of key players, not including those who have been moved to injured reserve status, who are officially listed as "Out" for the upcoming game.
Nick Foles, QB, Philadelphia Eagles, collarbone:
Foles is out for multiple weeks with a clavicle fracture.
Mark Sanchez
continues to be the starter.
Ronnie Hillman, foot, and Montee Ball, groin, RBs, Denver Broncos:
As of now, the only certainty with regard to Hillman and Ball is that neither will play this week. C.J. Anderson and Juwan Thompson will carry the load.
Matt Asiata, RB, Minnesota Vikings, concussion:
After he didn't practice all week, it hardly came as a surprise that Asiata would sit. The Vikings added insurance in the form of Ben Tate this week (after Tate was released from the
Cleveland Browns
), but they have made it clear
Jerick McKinnon
is their starter.
Jordan Cameron, TE, Cleveland Browns, concussion:
Cameron returned to practice for the first time since suffering a concussion in Week 8. It was just a limited workout, but it is the most encouraging sign of his progress to date. As is the case with these types of injuries, there remains no specific timetable for his return.
Dwayne Allen, TE, Indianapolis Colts, ankle
: Allen injured his ankle last week, and after he was absent from practice each day, the decision to hold him out was not unexpected.
Jordan Reed, TE, Washington, hamstring:
Reed injured the opposite hamstring earlier this season and missed multiple weeks. Washington hopes it will not be nearly as long this time, but he won't be on the field this week.
Khiry Robinson, RB, New Orleans Saints, forearm:
Robinson has missed multiple weeks, so this really comes as no surprise.
Be sure to check out "Fantasy Football Now," Sundays on ESPN2 at 11 a.m. ET, for last-minute inactives, rankings, injury impact and more!