January, 13, 2015
Jan 13
11:36
AM ET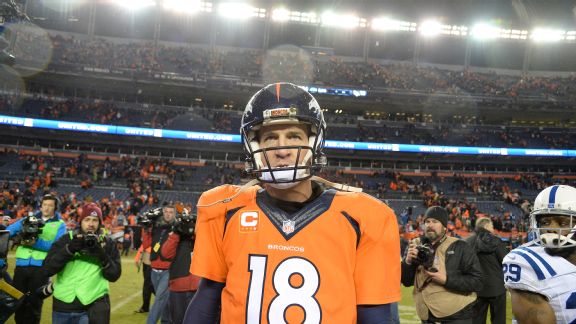 Aaron Ontiveroz/Denver Post/Getty ImagesPeyton Manning limped to the finish line, recording just four TD passes in his final five games.
We knew Peyton Manning was hurting during the Denver Broncos' Week 14 game against the San Diego Chargers. We just didn't know how badly.
After all, the most obvious element of Manning's physical struggles in that game was the flu-type illness he was battling throughout the contest. Visibly uncomfortable to the point of vomiting intermittently, it was remarkable that he not only finished the game but also managed to pull out a win. It appeared he might not return after halftime, but restoration of fluids during the break, along with a dose of that vintage Manning elixir that allows him to persevere -- part stoicism, part stubbornness and a heavy quantity of work ethic -- kept Manning out on the field.
It turned out the illness was not his only physical adversary that day, however. Manning also injured his right quad in the second quarter on a rollout play to Emmanuel Sanders. While he didn't discuss it much in the postgame media session, Manning did blame his thigh injury on dehydration, noting he needed four IVs between the evening prior to and the morning of the game to replace the fluids he had lost from being sick.
The team referred to Manning's injury as a thigh strain in subsequent injury reports, but his official questionable designation heading into Week 16 reflected the seriousness of the problem. Outside of the year he spent recovering from neck surgery (anterior discectomy and fusion) and the nerve impairment that accompanied it, Manning had never missed a game in his 17-year career, a remarkable statistic for any NFL player, regardless of position. The fact that the team was listing him as only 50-50 to take the field because of the thigh injury indicated the level of concern. Despite being less than 100 percent healthy, Manning did play in Week 16, to the surprise of, well, no one. There isn't a soul who expected him to sit out a game with a thigh strain, even if it compromised his mobility, as long as he was functional enough to perform his quarterbacking duties and to protect himself from more serious injury. In other words, in the absence of a complete quadriceps tear that would leave him unable to walk normally, much less run in any capacity, Manning was going to play.
So why should we be surprised to learn the day after the Broncos' playoff loss to the Indianapolis Colts that Manning was battling a significant injury for the past few weeks?
We shouldn't be, although recent details provide further context. According to ESPN's Adam Schefter, Manning's injury was a torn right rectus femoris. The rectus femoris is one of the four muscles that comprise the quadriceps, the large muscle group on the front of the thigh. Specifically, it runs from an attachment at the pelvis toward the knee where it blends with the other quad components, forming a broad tendon that passes over the kneecap and attaches on the front of the tibia (shin bone). The rectus can both flex the hip and extend the knee. A significant injury to the muscle would lead to the bleeding and bruising that has now been reported and, just as was evidenced by Manning's limited practice sessions, would limit his mobility and strength through the lower extremity.
From the beginning, the injury was reported to the degree required by the league. Manning was listed on the Broncos' injury report daily since sustaining the injury in Week 14 with the appropriate body part (thigh) listed by his name and his level of practice participation was properly documented. Manning has never been one to speak in much detail when it comes to his injuries. And as is the case with all NFL players, once Manning was deemed healthy enough to meet the medical criteria for taking the field, he was active. The level at which he would be able to perform -- and sustain that performance for four quarters of an NFL game without an in-game setback -- was unknown. (See: Rodgers, Aaron. He also entered a divisional playoff game with question marks after nursing a muscle injury for several weeks.) Game conditions, particularly in a game that has the opponents coming from all directions at top-flight speed, simply cannot be accurately replicated in the rehab or practice setting. Players do their best to recover between outings to the point of being highly functional, but that does not necessarily translate to full recovery.
With an eye on getting as close to full health as possible, Manning did not participate in the team's two practices during the Broncos' playoff bye week. In fact, he didn't even appear on the practice field, a highly unusual occurrence for Manning, instead spending time in treatment. While many of his teammates took advantage of a four-day weekend during the bye, Manning reportedly stayed in town to continue his treatment. He returned to practice the following week and participated daily. ESPN.com Broncos reporter Jeff Legwold said Manning appeared "more comfortable" moving on the practice field last week than he did prior to the team's regular-season finale against the Raiders, although he still didn't look to be quite himself. Still, those reports didn't foretell the performance that would unfold on Sunday.
Perhaps they should have. Manning's neck surgery provided him with added spinal stability, at the (necessary) expense of some mobility. This, combined with the extensive time needed to regain upper-body strength, likely required Manning to increasingly rely on the strength and torque through his lower body and core to help deliver the football. Consequently, teams have approached defending Manning a bit differently of late, according to Legwold, in a way that could make an injury like the one to his thigh far more limiting.

"Opposing defenses are strategizing, trying to crowd the pocket and create traffic around his feet, giving Manning less room to stride and effectively making it harder for him to throw," Legwold said. Manning has never been a running quarterback, and taking away his comfort zone will challenge his ability to be effective. Add into the mix an injured quad on Manning's plant leg, and it is easy to see how his throwing, especially on the intermediate to deep routes, could be further compromised.
And so it was with Manning on Sunday. He appeared to struggle throughout the game, increasingly so as the clock wore on. Injuries have not been a big part of his narrative -- certainly not before his neck surgery -- but that may be changing. While most of the attention has been paid to his neck and arm in the time since surgery, it is the lower extremity ailments that have challenged him in the final weeks of the past two seasons, a high/low ankle sprain combination last year and a quadriceps injury this year. In the aftermath of Sunday's loss, a 38-year-old Manning seemed uncertain about his future, saying he is still "processing it." There is no reason to think he can't fully heal from this latest injury; the bigger question may be whether another season-long physical endurance test is in the cards.