October, 18, 2014
Oct 18
4:33
PM ET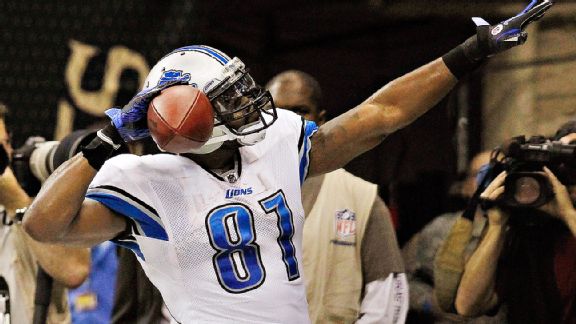 AP Photo/Bill HaberAll signs point to wide receiver Calvin Johnson resting for another week.
Welcome to Week 7! This marks the fourth of the bye weeks. There are two teams on bye: the
Tampa Bay Buccaneers
and the
Philadelphia Eagles
. As usual, there are some game-time decisions, but the final injury reports give some guidance as to who's in and who's out.
As a reminder, each week in the Saturday blog, we run down a list of key fantasy players, by position, who appear in the Friday injury report, along with the injured body part as listed on the report, player status, and any relevant developments or insight. The primary fantasy positions are covered (quarterback, running back, wide receiver and tight end). At the end, key fantasy players listed Friday as "Out" for that week's games will appear as a group. Teams playing Monday night do not have to issue their designations until Saturday. The explanation for each designation is as follows.
Out:
This is the easy one; the guy's definitely not playing Sunday. As painful as it might be to see this designation next to a player on your fantasy roster, at least you know in advance of the game that he's sitting out, and you can plan accordingly.
Probable (P):
This designation indicates that a player has a greater than 50 percent chance of playing. Most players listed here are expected to play, barring a setback between the final injury report and kickoff.
Questionable (Q):
This is the fantasy owner's most dreaded player designation, yet it manages to be the one most frequently utilized by teams (often to keep everyone guessing). It means a player's status is on the fence; there is a 50-50 chance that he's on the field come game time, although as many fantasy owners have come to learn, many teams utilize the questionable designation for any player with a hint of injury. Whether a player ends up active or inactive often comes down to a game-time decision based on how he performs during warm-ups. It is important for fantasy owners to check status reports leading up to the game.
Doubtful (D):
The doubtful designation means a player has theoretically less than a 25 percent chance of playing that week. Rarely does a player labeled as doubtful end up playing, unless he experiences a major turnaround before game time. Fantasy owners who need to make roster adjustments beforehand can feel fairly confident about sitting a player listed as doubtful.
Good luck in Week 7, everyone! May your players stay healthy and win for you.
Quarterbacks
Tony Romo, Dallas Cowboys, back/ankle, (P):
Romo has proven his health at this point, and it is showing up in his performance. Why change the routine? No practice Wednesday, full practice Thursday and Friday. Romo starts in a big-time divisional matchup when the Giants visit the Cowboys on Sunday.
Jake Locker, Tennessee Titans, right hand, (Q):
Locker's bruised thumb and hand appear to be faring better this week after more time for the swelling to resolve and the mobility and grip to return. Locker was a limited participant throughout the week and still has a chance to suit up Sunday. Coach Ken Whisenhunt indicated the team would see how Locker was doing this weekend but also acknowledged Charlie Whitehurst's improvement over time. The situation remains cloudy with the Titans unlikely to clear things up before pregame warmups Sunday.
Carson Palmer, Arizona Cardinals, right shoulder, (P):
Palmer threw the ball more in Week 6 than anyone anticipated … and apparently was just fine. It was one thing to get through the entire game, the bigger concern was whether he would experience problems the following day. Palmer said his arm felt great, despite some fatigue, adding it was just a matter of working his way back into throwing shape following the nerve contusion.
He is not completely out of the woods, however; the team is still exercising caution with his workload during the week. Palmer was held to limited work Wednesday and Thursday but was upgraded to full participant status Friday. The probable tag reflects the team's confidence that he will be ready to roll once again this Sunday when the Cardinals visit Palmer's former team, the
Oakland Raiders
.
Ryan Tannehill, Miami Dolphins, ankle, (P):
Tannehill appears on the injury report because of his ankle. He was limited Wednesday but was listed as a full participant Thursday and Friday. At probable, he is expected to make his normal start Sunday in Chicago.
Derek Carr, Oakland Raiders, ankle/knee, (P):
Carr played in Week 6 after being listed as questionable; this week, listed as probable, he is certainly expected to start. Carr suffered a high ankle sprain and an MCL sprain in Week 4, but the injuries were mild enough to allow him to recover during the team's subsequent bye week. He emerged from last week's game with no setback, and after limited practice Wednesday, he returned to full practice Thursday and Friday.
Running Backs
DeMarco Murray, Dallas Cowboys, illness, (P):
Murray was sidelined with an undisclosed illness Wednesday but was listed as a full participant both Thursday and Friday. He continues to be the workhorse 'back of not only the Cowboys, but the entire league, and he has now posted six consecutive 100-yard rushing games. He'll try to make it seven Sunday against the Giants.
Arian Foster, Houston Texans, groin, (no designation yet):
Foster has seemingly overcome his hamstring issue to resume his productivity on the field. He makes an appearance on the injury report this week for a different reason -- a groin injury. Although Foster was limited Thursday (the first day of the Texans' injury report, given the Monday night game), he was bumped up to full participation Friday. Barring a setback over the weekend, the expectation is that Foster will be on the field in Pittsburgh on Monday night to face the Steelers.
Ben Tate, Cleveland Browns, finger, (P):
Tate was listed on the report last week because of a finger injury and played through it. After full participation in practice each day this week, he is expected to do so again. Plan on Tate starting against the Jaguars on Sunday.
Theo Riddick, hamstring, (D) and Reggie Bush, ankle, (P), Detroit Lions:
Bush sat out last week with an ankle injury, but Riddick played. Expect their roles to be reversed this week as Riddick, who aggravated his hamstring in Week 6, is likely to be sidelined as the doubtful tag indicates. Bush, on the other hand, returned to limited practice Wednesday and Thursday, increasing to full practice Friday. His probable designation indicates the Lions plan on him being available when they host the Saints this weekend.
Lamar Miller, Miami Dolphins, knee, (P):
Miller was a limited participant in practice each day to not overload his knee. After all, the Dolphins just lost
Knowshon Moreno
for the remainder of the season to a torn ACL. They need Miller on the field Sunday, and they will have him.
Zac Stacy, St. Louis Rams, ankle, (P):
Stacy may be on the injury report, but he is fully expected to take the field Sunday. After a day off Wednesday to rest his ankle, Stacy practiced fully both Thursday and Friday. The Rams are spreading the rushing workload around their backfield, but Stacy will be one of those available to contribute.
Mark Ingram, hand, and Pierre Thomas, illness, New Orleans Saints, (P):
Ingram has missed the past four weeks following surgery to repair a fracture in his hand (below the base of his thumb), but he is now ready to return. Ingram practiced fully each day this week and made it clear to reporters he was able to do everything without limitation. "I've been doing everything, catching, running, blocking," Ingram said. "So whatever's asked of me, I'm ready to do it." Thomas was added to the injury report Thursday when he missed practice because of an undisclosed illness. He was back Friday as a limited participant, and the probable tag tells us the Saints are feeling good about his availability for Sunday's game in Detroit.
Jonathan Stewart, knee, (P) and Darrin Reaves, calf, (Q), Carolina Panthers:
Injuries continue to challenge the Panthers' backfield, and each week it isn't so much "next man up" as it is "last man standing." This week, Stewart is in line to return after missing time with a knee sprain. Reaves is listed as questionable, but he was able to practice on a limited basis two out of three days.
Chris Ogbonnaya
is available and healthy, but
DeAngelo Williams
and
Fozzy Whittaker
have already been ruled out.
Andre Ellington, Arizona Cardinals, foot, (P):
This injury report is unlikely to change across the season. Ellington continues to practice on a limited basis daily. At probable, he is again expected to play.
Wide Receivers
Calvin Johnson, Detroit Lions, ankle, (Q):
Despite all signs pointing to the likelihood of the Lions' top receiver being sidelined again this week with a high ankle sprain, coach Jim Caldwell has left the door open for his return, citing an "unbelievable tolerance for pain" in
guys like Johnson
. Caldwell told reporters athletes like Johnson who take great care of their bodies tend to not only push through pain better but also recover more quickly. This appears to be the rationale for the questionable designation for Johnson, opening the possibility for a game-time decision Sunday.
The midweek clues would certainly suggest Johnson rests another week, including Johnson's own comment implying he would not return until he could perform at his usual elite level.
"There's no point in being on the field if I can't go out there and do what I got to do," he said. "Do what I got to do and do it to a high level that I'm used to doing it at."
Even Caldwell had revisited the possibility of a multiweek absence, hinting that the Lions could hold him out through the team's Week 9 bye, if necessary. Obviously, Johnson is a game-changer, and the team will re-evaluate his health on a weekly basis before committing to a decision. But is he really healthy enough to return to the "high-level" form that he referenced?
Johnson did not practice at all this week, and there has been no outward sign to suggest he is ready to play in a game. He is, however, Calvin Johnson, and that means the team will afford him the extended time -- perhaps right up until pregame warm-ups -- to determine his readiness. Fantasy owners have to hope the team's decision helps make their own easier by sitting him an additional week; otherwise no one can really be sure what to expect.
A.J. Green, Cincinnati Bengals toe, (D):
Reasons to expect Green to sit in Week 7: Green did not practice all week. Green is listed as doubtful, indicating the team is preparing for him to be absent. And, most importantly perhaps, Green told ESPN's Bob Holtzman last week that he expected to sit out this contest.
Green's flare-up of his right big toe injury in the middle of last week led to further consultation with specialists, a walking boot and the expectation he would have to rest the toe for a period of time in order to potentially return and play effectively for the remainder of the season. Just how long that rest period will be is unclear and will likely depend on a number of factors including, most notably, what the level of discomfort is in Green's toe as time progresses. For now, the important thing for fantasy owners is that he is expected to miss this week's game, and with teammate
Marvin Jones
(ankle) now on injured reserve,
Mohamed Sanu
is likely to continue his increased role.
Kelvin Benjamin, Carolina Panthers, concussion, (Q):
When Benjamin showed up to the team facility Monday and informed the Panthers of his headache, the team immediately placed him on the concussion protocol. Naturally there was a question as to whether Benjamin would progress enough by the weekend to be able to play. So far, the signs are extremely encouraging. He returned to the field Thursday, which, despite being listed as a nonparticipant in practice, is a sign of progress, as it moved him from indoors to the busier, brighter environment outside, even if he was just an observer. Benjamin participated in practice on a limited basis Friday and did everything alongside his teammates. The questionable tag allows for the possibility of any recurrent symptoms, but with clearance to return, Benjamin should play, barring a late setback.
Julio Jones, ankle, (P) and Devin Hester, hamstring, (P); Atlanta Falcons:
Both Jones and Hester are expected to play just as the probable tag indicates. Coach Mike Smith made it clear early in the season he would protect players via limiting practice reps during the week in order to preserve their health for Sunday. To that end, both receivers were limited in practice Wednesday and Thursday but returned to full work Friday. They will both be on the field Sunday against the Ravens.
Cordarelle Patterson, Minnesota Vikings, hip, (P):
Patterson played last week despite appearing on the injury report, and this week he increased his practice participation. He is expected to play.
Michael Floyd, Arizona Cardinals, groin, (P):
After a limited day Wednesday, Floyd participated in full both Thursday and Friday. He is expected to be on the field with Carson Palmer when the Cardinals face the Raiders.
Dez Bryant, Dallas Cowboys, shoulder, (P):
Bryant is almost as much of a regular on this report as his quarterback. Like his quarterback, he plays every week. On Sundays, there is no hint that the shoulder is an issue, and Bryant practices fully every day. Count on him to be on the field Sunday against their divisional foe, the
New York Giants
.
Andre Johnson, ankle, and DeAndre Hopkins, hand, Houston Texans, (no designation yet):
Both receivers are expected to be available after participating in some measure of practice this week.
Steve Johnson, San Francisco 49ers, hip, (P):
Johnson landed hard on his hip in Week 6 and was a little slow to get up. No doubt he has been getting some treatment during the short week, but he was still able to practice each day, including a full session Friday. It appears he will be on the field for the 49ers on Sunday.
Eddie Royal, San Diego Chargers, elbow, (P):
Royal's status is not in question, as he has practiced in full each day this week.
Tight Ends
Jimmy Graham, New Orleans Saints, shoulder, (Q):
It literally is a question mark when it comes to Graham's status for Sunday, even for him. Graham returned to practice on a limited basis late in the week, but as ESPN.com reporter Mike Triplett noted, it will be a game-time decision. Graham told reporters he's hopeful but won't know until Sunday. "They've done a great job here [the training and medical staff], but you know we'll see on Sunday," Graham said. "I actually don't know. … Hopefully maybe in two days I'll feel better." Hopefully.
Vernon Davis, San Francisco 49ers, back, (P):
Davis is still on the injury report because of his back, but this week it is not a threat to his status. Despite the short week, Davis has been a full participant in practice each day. He is expected to start Sunday night against the Broncos.
Greg Olsen, Carolina Panthers, ankle, (P):
He was able to practice fully Thursday and Friday after having the day off Wednesday. Olsen is one of Newton's top targets, and he will be available for him again Sunday.
Eric Ebron, Detroit Lions, hamstring, (D):
As ESPN.com's Michael Rothstein points out, with Ebron expected to be sidelined and
Joseph Fauria
already ruled out, not to mention the very questionable status of Calvin Johnson, tight end
Brandon Pettigrew
could play a
larger role in the passing game
.
Out:
This space is intended for a list of key players, not including those who have been moved to injured reserve status, who are officially listed as "Out" for the upcoming game.
Montee Ball, RB, Denver Broncos, groin:
Ball is out again this week after suffering a groin injury in Week 5.
Rashad Jennings, RB, New York Giants, knee:
Jennings is out again this week with a sprained MCL. The Giants have a bye in Week 8, and he could return, if all progresses well, in Week 9.
Toby Gerhart, RB, Jacksonville Jaguars, ankle:
Gerhart continues to be plagued by the bad ankle and will miss another week.
Harry Douglas, WR, Atlanta Falcons, foot:
Douglas is out once again because of his foot injury. He remains unable to practice.
Fozzy Whittaker, thigh, and DeAngelo Williams, ankle, RBs, Carolina Panthers: Williams has already missed time due to the ankle injury and will sit out again this week. Whittaker was originally listed as doubtful with a thigh injury and was downgraded to out Saturday.
Ryan Mathews, knee, and Donald Brown, concussion, RBs, San Diego Chargers:
More
Branden Oliver
.
Shonn Greene, RB, Tennessee Titans, hamstring:
Greene was again listed as doubtful due to his hamstring injury, and he hasn't yet returned to practice. After being downgraded to out Saturday, Sankey is again expected to take the lead.
Robert Griffin III, QB, Washington, ankle:
Griffin continues to gradually increase his activity in practice but remains without a formal timetable to return.
Kyle Rudolph, TE, Minesota Vikings, abdomen/groin:
Rudolph is not new to the list but is not yet back in practice. He is out again in Week 7.
Joseph Fauria, TE, Detroit Lions, ankle:
Fauria injured his ankle in Week 3 and is still not able to practice. He will likely be joined on the sideline this week by fellow tight end Eric Ebron, who is nursing a hamstring strain.
Off the Injury Report:
Jordan Reed, TE, Washington, hamstring:
It has taken five weeks, but Jordan is currently off the injury report, apparently recovered from the hamstring injury that cost him Weeks 2 through 5. He appeared to come out of last Sunday's game with no setbacks and does not return to the injury report.
Be sure to check out Fantasy Football Now, Sundays on ESPN2 at 11 a.m. ET for last-minute inactives, rankings, injury impact and more!