December, 13, 2014
Dec 13
4:56
PM ET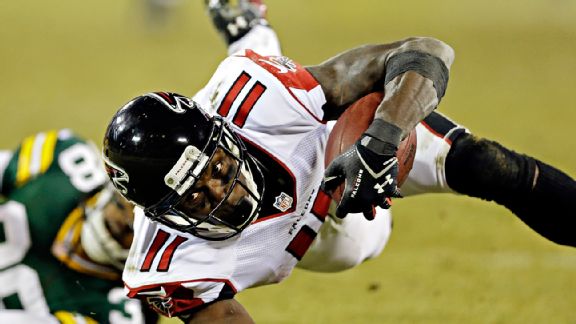 AP Photo/Tom LynnFantasy owners will be keeping a close eye on Julio Jones' status.
Welcome to Week 15! This is a huge week for those who have made it into their league playoffs. There are no more fantasy bye weeks as the final four (in most cases) square off. And let's not forget the consolation brackets; there are still many bragging rights at stake. Unfortunately, there are injury concerns for fantasy owners to contend with as they make critical lineup decisions. As always, there will be game-time decisions, but the final injury reports give some guidance as to who's in and who's out -- and several players have already been ruled out.
As a reminder, each week in the Saturday blog, we run down a list of key fantasy players, by position, who appear in the Friday injury report, along with the injured body part as listed on the report, player status, and any relevant developments or insight. The primary fantasy positions are covered (quarterback, running back, wide receiver and tight end). At the end, key fantasy players listed Friday as "Out" for that week's games will appear as a group. Teams playing Monday night do not have to issue their designations until Saturday. The explanation for each designation is as follows.
Out:
This is the easy one; the guy's definitely not playing Sunday. As painful as it might be to see this designation next to a player on your fantasy roster, at least you know in advance of the game that he's sitting out, and you can plan accordingly.
Probable (P):
This designation indicates that a player has a greater than 50 percent chance of playing. Most players listed here are expected to play, barring a setback between the final injury report and kickoff.
Questionable (Q):
This is a fantasy owner's most dreaded player designation, yet it manages to be the one most frequently utilized by teams (often to keep everyone guessing). It means a player's status is on the fence; there is a 50-50 chance that he's on the field come game time, although as many fantasy owners have come to learn, many teams utilize the questionable designation for any player with a hint of injury. Whether a player ends up active or inactive often comes down to a game-time decision based on how he performs during warm-ups. It is important for fantasy owners to check status reports leading up to the game.
Doubtful (D):
The doubtful designation means a player has theoretically less than a 25 percent chance of playing that week. Rarely does a player labeled as doubtful end up playing, unless he experiences a major turnaround before game time. Fantasy owners who need to make roster adjustments beforehand can feel fairly confident about sitting a player listed as doubtful.
Good luck in Week 15, everyone! May your players stay healthy and win for you.
Quarterbacks
Tom Brady, New England Patriots, ankle, (P):
Brady is in no danger of missing this divisional matchup against the
Miami Dolphins
on Sunday.
Colt McCoy, Washington, neck, (Q):
McCoy suffered what coach Jay Gruden originally referred to as a neck sprain in last Sunday's contest, but Gruden made it clear McCoy would be the starter this week, if he gained medical clearance. After limited practices Wednesday and Thursday, McCoy turned in a full practice Friday. The final step came when McCoy, who was actually dealing with a nerve flare-up related to his neck, received clearance to return as ESPN.com's John Keim
reported Friday night
.
Eli Manning, New York Giants, back, (P):
What's this? Eli Manning on the injury report is a rare sight. Apparently his back was causing him enough discomfort to warrant a limited practice Thursday and an appearance on this list. Manning was a full participant Friday and coach Tom Coughlin was not concerned. The probable tag confirms the confidence that Manning will indeed play Sunday when the Giants host Washington.
Tony Romo, Dallas Cowboys, back, (P):
Romo remains on the injury report with his routine of resting Wednesday and practicing Thursday and Friday. He will, of course, play in the team's huge Sunday night matchup in Philadelphia.
Blake Bortles, Jacksonville Jaguars, right shoulder/ankle, (P):
Bortles continues to appear on the injury report, but he has played through his ailments and will do so again this week against the Ravens.
Running backs
Arian Foster, Houston Texans, groin, (P):
Foster remains on the injury report because of his recent groin ailment and sits out Wednesday practices. He participated on a limited basis Thursday and fully on Friday. At probable, he is expected to play in Indianapolis.
Ryan Mathews, San Diego Chargers, ankle, (Q):
Mathews was a nonparticipant in practice throughout the week after spraining his right ankle in last Sunday's game, not an encouraging sign for his likelihood of playing against the Broncos on Sunday. Michael Gehlken of the San Diego Union-Tribune pointed out that the only time in his career that Mathews played in a week where he didn't practice was against the Broncos in a playoff situation. He only had five carries before exiting that game. ESPN.com's Eric Williams reports coach Mike McCoy maintains Mathews
could play without practicing
, but complicating the picture for fantasy owners is the late kickoff (4:05 p.m. ET). If Mathews were to miss the game, it would be
Donald Brown
and
Branden Oliver
filling in, although it's unclear how the workload would be divided.
Eddie Lacy, Green Bay Packers, hip, (P):
When Lacy emerged from Monday night's game with a hip injury, there was concern about his potential availability for Sunday. He returned to limited practice Wednesday, but it was by all accounts
very
limited. By Friday there was more confidence about Lacy's health, enough for the team to designate him as probable heading into Sunday's matchup against Buffalo. As ESPN.com's
Rob Demovsky reported
, coach Mike McCarthy is not willing to share just how much work Lacy might get compared with his teammate
James Starks
, but both backs saw plenty of work Monday night. The question is not about Lacy's status, it's about how much work he will see, and the Packers are not providing any clues in advance.
Reggie Bush, Detroit Lions, ankle, (P):
After a three-week absence, Bush returned to the lineup in Week 14 ... and totaled just 34 yards. Now he's back to questionable status with the nagging ankle injury, practicing on a limited basis Thursday and Friday after resting on Wednesday. Even if he is active, it's hard to gauge just how productive he can be, particularly with teammate
Joique Bell
getting the majority of the touches of late.
Jamaal Charles, Kansas City Chiefs, knee, ankle (P):
Charles came into Week 14 with a knee bruise and exited the game with soreness in the knee and a swollen ankle. In fact, Charles left the game briefly to get his ankle examined but returned (and scored!) afterward. By the end of the week, he was practicing fully, and coach Andy Reid made it clear he expected Charles to not only play, but also to carry his usual workload.
Isaiah Crowell, Cleveland Browns, hip, (P):
Crowell was a full participant in practice this week, and given the probable designation, he is virtually assured of playing. Last week he was listed as questionable, and while Crowell ended up playing, his work was an almost even split with fellow back
Terrance West
. The timeshare is likely to continue, but the advantage goes to Crowell who, despite identical yardage to West last week, found the end zone for the score.
Marshawn Lynch, Seattle Seahawks, back, (P):
It's difficult to find new ways to describe how Lynch continues to perform week in and week out, despite being bothered by his back to various degrees in any given week. It certainly didn't slow him down against the 49ers two weeks ago when he rushed for more than 100 yards, and now he gets to face them at home.
C.J. Anderson, ankle, and Juwan Thompson, knee, (P); Ronnie Hillman, foot, (Q), Denver Broncos, knee:
Anderson and Thompson have been listed here for a couple of weeks and, listed at probable, are expected to play. The surprise this week is the change in status for Hillman, who has missed the last four games with a midfoot sprain. Hillman returned to limited practices each day this week, and the questionable tag indicates he could be available. Even if Hillman does play, it's hard to imagine him making a substantial dent in Anderson's workload, given Anderson's performance in Hillman's absence.
DeAngelo Williams, hand, (D) and Jonathan Stewart, hip, (P), Carolina Panthers:
It appears Williams will sit out again this week with a finger fracture, although he did return to limited practice Thursday and Friday, making next week a possibility. Stewart is on the report because of his hip but was a full participant in practice Thursday and Friday, and at probable, he should see the bulk of the work at running back against Tampa Bay.
Chris Johnson, New York Jets, knee, (P):
There is nothing new here, as Johnson has been on the injury report for multiple weeks. He continues to play despite his knee ailment and should do so again against Tennessee.
Shane Vereen, New England Patriots, ankle, (Q):
The questionable tag might refer more to Vereen's workload than his actual game status. He has played through the ankle injury already but hasn't netted much production in the last couple of weeks.
Wide receivers
Julio Jones, hip, (Q), Roddy White, ankle, (P) and Harry Douglas, foot, (P), Atlanta Falcons:
The status of the first in this trio of receivers might present the most agonizing decision for fantasy owners this weekend (and it's not solely because he is on two of my fantasy playoff teams). Many a fantasy team has been successful, at least some weeks, because of the contributions of Julio Jones. On Monday night, Jones posted 31 fantasy points in standard leagues, his single-game career best, while also setting a Falcons franchise record in receiving yards (259), but it all came at a price. Jones exited the game in the fourth quarter with a hip injury. The team has been vague on the specifics, but Jones appeared to hyperextend his hip as he went to the ground late in the game and came up with his hand holding the front of his left hip. He limped off the field and remained on the sideline through the end of the game.
Although coach Mike Smith expressed optimism throughout the week regarding Jones' potential availability Sunday (he is formally being dubbed a game-time decision), the fact he has not practiced at all raises some concern. Jones has been working with the athletic performance staff on an individual basis doing some running and conditioning according to ESPN.com's Vaughn McClure, but it is unclear how intense his running efforts have been and how well he is able to move. Many of his spectacular catches are the result not only of sprinting down the field but also leaping into the air and outworking a defender to make the grab, all of which could be severely compromised by an ailing hip.
The question then becomes whether the Falcons choose to play a less-than-fully-healthy Jones who, even if he were well enough to move effectively, could be at risk for aggravating an injury sustained less than a week ago, or, rest him to avoid the risk of a setback and allow another week of healing. The Falcons face the Steelers in a nondivisional matchup but have two more games to make their run at the NFC South title -- next week in New Orleans and the following week at home against the Panthers.
The other top Falcons receivers, White and Douglas, are both listed as probable and are expected to play. Douglas has been battling a foot injury for most of the season but has been playing well of late. Just two weeks ago he amassed more than 100 yards receiving and was targeted a dozen times, something the Falcons could try to repeat if Jones sits. Meanwhile, White has been fighting through an ankle issue of his own and was forced to sit out in Week 13, the week Douglas starred alongside Jones. White wasn't heavily targeted in Monday night's game but did manage to score a touchdown on one of his three receptions. After practicing all week, including a full practice Friday, White is expected to play.
It appears then that White and Douglas will both be available with Jones' status remaining in question until just before game time. If he warms up on the field, reports about how he looks in those warmups will be telling for fantasy owners trying to evaluate the risk versus reward of starting Jones. Perhaps the Falcons are agonizing just as much as the rest of us over the decision of whether to allow the tough and physical Jones to play this week, but I doubt it. The one silver lining for fantasy owners here is that this is a 1 p.m. ET kickoff.
DeSean Jackson, Washington, shin, (Q):
Jackson sat out Week 14 after a contusion in his shin area (near the fibula, the long skinny bone on the outer lower leg) kept him from being able to run effectively. He was a limited participant in practice throughout the week -- an improvement over no practice last week -- but the questionable tag indicates the team may not yet be comfortable enough with his progress to allow him to take the field. As of Friday, it appeared Jackson's chances of taking the field were on the low side as he had only participated in individual drills until then, but after Friday's practice, coach Jay Gruden labelled them as 50-50. The decision will be made at game time, and fantasy owners need to be prepared that this could go either way.
Torrey Smith, Baltimore Ravens, knee, (P):
The probable tag is a bit puzzling as the reports of Smith's mobility, or lack thereof, certainly made it sound as if he would sit this one out. Smith came into last week's game saying the only way he wouldn't play was if he was on crutches. Then, in pregame warmups, his knee flared up, causing him to appear uncomfortable and stiff. He struggled on a limited snap count and wasn't targeted once. After the game, Smith was listed as day-to-day with a right knee sprain. He didn't practice at all until Friday, and even then he still appeared hampered.
According to the Baltimore Sun, Smith looked "extremely gimpy and uncomfortable" while attempting to run routes, and coach Jim Harbaugh later called him a game-time decision for Sunday. So, why the probable tag? It's a fair question. Perhaps it's the fact that Smith put in a full practice Friday, even if he may have struggled through it, or, as ESPN.com's Jamison Hensley noted, Smith has never missed a game in his four-year professional career. Fantasy owners saw proof last week that being on the field and performing at full strength are not necessarily a mutual occurrence. Last week's pregame reports were very helpful, so fantasy owners considering Smith should check those out before making a decision. This is an early game against the Jaguars.
Andre Johnson, Houston Texans, concussion, (Q):
Johnson suffered a concussion in Week 14 and has been going through the phases of the NFL concussion protocol ever since. Unsurprisingly, he did not participate in practice Wednesday or Thursday, but, in a sign of progress, he was a limited participant Friday. He was also in good spirits in the locker room, according to
ESPN.com's Tania Ganguli
. Coach Bill O'Brien said Friday that Johnson had not cleared the concussion protocol but did not elaborate on the remaining components. It is possible he could achieve final clearance before Sunday, but the Texans have not indicated when the final decision will be made.
Percy Harvin, New York Jets, ankle, (Q):
Things have certainly changed in a matter of a few days. After Harvin suffered an ankle injury in Week 14, it appeared the remainder of his season was in jeopardy. While Harvin expressed optimism that he might be well enough to take the field Sunday, his coach Rex Ryan called it "a stretch." Maybe the reach is getting a bit less heading into the weekend after Harvin was able to return to limited practice Friday. The injury is to the opposite ankle of the one that ended Harvin's final season in Minnesota prematurely and is a low, or lateral, ankle sprain. Simply because this is not a high ankle sprain doesn't mean it's an easy recovery. One of the biggest concerns is having enough stability to perform without excessively increasing the risk of further injury. As ESPN.com's
Rich Cimini reported
, Ryan is still not convinced that Harvin is ready to return to action, although he is impressed with his efforts.
Harvin's optimism remained high as of Friday, however, when he provided all the reasons he believed prove his readiness to play. "I did all my cuts that I have to do in a game," Harvin said. "I told all the coaches I felt good, and they said I looked good. I fully expect to play, without any limitations." If Harvin makes the trip with the team to Tennessee, then he will have an additional day to lobby on his own behalf, but it could still come down to a game-time announcement. Fantasy owners should be forewarned that this game has a 4:05 p.m. ET kickoff.
Calvin Johnson, Detroit Lions, ankle, (P):
Johnson is following the same routine of limited practice Wednesday followed by a full practice Thursday and Friday. At probable, he is fully expected to play.
Demaryius Thomas, Denver Broncos, ankle, (P):
Thomas played last week after first appearing on the injury report because of his ankle, but he turned in an uncharacteristic appearance (two receptions for 11 yards). One week further removed from injury is a plus for Thomas, who practiced fully Friday after limited practice Thursday and a day of complete rest Wednesday. Listed as probable, Thomas is expected to start against the Chargers on Sunday.
Julian Edelman, thigh, and Brandon LaFell, shoulder, New England Patriots, (Q):
Last week was a bigger concern for Edelman after he appeared to aggravate his thigh injury in Week 13. Yet he played ... to the tune of 141 receiving yards and a touchdown. Naturally, he's going to be limited in practice the following week. LaFell has been much quieter, although he is consistently good for a handful of targets from Brady. He continues to receive treatment on his shoulder, but there is nothing to suggest he is in danger of missing this week's game against the Dolphins. Given how the Patriots list many of their players on the injury report as questionable, it's always a good idea to verify their status after pregame inactives are released.
Kendall Wright, Tennessee Titans, hand, (Q):
Wright sat out last week's game with a small fracture in his right hand but returned to limited practices Wednesday and Thursday this week. He then sat out Friday's practice, which would appear to cast doubt on his availability for Sunday's game against the Jets. This is a late game kickoff, so fantasy owners may want to make alternate arrangements.
Tight ends
Julius Thomas, ankle, (P) and Jacob Tamme, ribs, (Q), Denver Broncos:
Thomas has made significantly better progress in practice this week
according to coach John Fox
and is expected to start Sunday. According to ESPN.com's Jeff Legwold, he should also see close to his normal workload. This comes as a welcome relief to fantasy owners after last week when Thomas was declared active just before kickoff but didn't see a single snap. His teammate Tamme is still recovering from bruised ribs and may be in line for a week of recovery with Thomas scheduled to play.
Jace Amaro, New York Jets, concussion, (P):
The Jets are happy to have Amaro back in the mix after he missed the last two games because of a concussion. He was able to practice fully both Thursday and Friday and is expected to play Sunday.
Charles Clay, Miami Dolphins, hamstring, knee, (Q):
Clay did take the field last Sunday after being listed as questionable and having missed the two prior games. There were no reported setbacks, but his presence on the injury report and being held to limited practices indicates he is still not at full health. Given his play last week, it does appear he will take the field against the Patriots, but fantasy owners are advised to check pregame inactives.
Greg Olsen, Carolina Panthers, knee, (P):
Olsen has already played through the knee issue that placed him on the injury report. At probable, he is expected to do so again this week.
OUT:
This space is intended for a list of key players, not including those who have been moved to injured reserve status, who are officially listed as "Out" for the upcoming game.
Zach Mettenberger, QB, Tennessee Titans, right shoulder:
Mettenberger aggravated a prior AC sprain in Week 14 and could miss the remainder of the season.
Jake Locker
returns as the starter.
Cam Newton, QB, Carolina Panthers, back:
Newton was fortunate to suffer only minor injuries (including two transverse process fractures in his low back) after a rollover motor vehicle accident earlier in the week. He has no timetable for his return, although he did return to do some light pool workouts at the team facility late in the week.
Derek Anderson
starts this week to face the
Tampa Bay Buccaneers
, just as he did in Week 1.
Denard Robinson, RB, Jacksonville Jaguars, foot:
Robinson had emerged as the starting back in Jacksonville since the midpoint of the season, but his season has now ended. Robinson suffered a right midfoot sprain in Week 14, and the team will now likely divide the running workload between
Toby Gerhart
,
Jordan Todman
and Storm Robinson.
Roy Helu, RB, Washington, toe:
Although Helu put in limited practices Thursday and Friday, he wasn't ready for game action.
Nick Foles, QB, Philadelphia Eagles, collarbone:
Foles remains out as his broken clavicle heals.
Mark Sanchez
continues to be the starter.
Montee Ball, RB, Denver Broncos, groin:
Ball aggravated his groin injury in Week 11 and had not yet returned to practice. On Saturday,
the Broncos placed Ball on IR
, ending his season.