Sabathia on DL; Pettitte fractures ankle
June, 27, 2012
6/27/12
3:23
PM ET
CC Sabathia
is headed to the disabled list with a Grade 1 left adductor (groin) strain.
New York Yankees
manager Joe Girardi shared the news with reporters Wednesday but remained optimistic that Sabathia would miss only two starts. As
ESPN New York's Andrew Marchand reported
, Sabathia first felt discomfort in the leg during his Sunday outing, but it wasn't until the soreness persisted through a bullpen session Tuesday that he decided to inform the team.
[+] Enlarge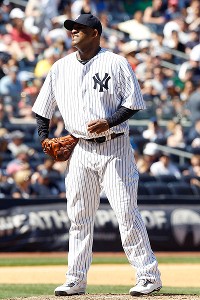 William Perlman/The Star-Ledger/US PresswireCC Sabathia will miss at least two starts, but he will have extra time with the All-Star break to heal.
A subsequent MRI confirmed a Grade 1, or mild, strain, but the team made the decision to proactively rest Sabathia in an effort to prevent a lingering injury. Despite Sabathia's apparent reluctance to go on the DL, the Yankees made a good decision for several reasons.
There is no doubt that regardless of the strength a pitcher has in his throwing arm, the real genesis of his power comes through the legs and the trunk. Any weakness in either region will render a pitcher susceptible to an injury in his throwing arm as he tries to compensate to avoid discomfort, enhance his delivery or both. The adductor muscle group (there are several) must be simultaneously strong and flexible -- strong enough to function as a core stabilizer of the pelvis and help transfer energy from the legs upward during both early and late phases of throwing and flexible enough to stretch during the drive toward ball release. As a southpaw, Sabathia's injury is on his stance leg, which demands power and control while balancing on a single limb. The adductor and hip flexor muscles must then be able to properly stretch or lengthen as he transfers weight toward the right leg when releasing the ball. At 6-foot-7 and 290 pounds, the demands on the stabilizing muscles are not insignificant.
Given those demands, it is imperative that Sabathia's injury heal properly so this does not turn into a chronic issue. As the evolution of understanding these injuries comes about, it is becoming more apparent that chronic tears or defects in the core musculature, particularly groin or abdominal injuries located near their attachment on the pelvis, may ultimately require surgical intervention. Injuries, such as the one recently surgically addressed by
Troy Tulowitzki
, were actually coined "
Baseball Pitcher and Hockey Goalie Syndrome
" early on because of the athletes the injury was typically observed in. No one in the Yankees organization wants to see Sabathia headed in that direction.
The good news is that this is reported to be the mildest variant of a muscle strain. Rest and proper rehabilitation can help prevent this from becoming something more severe.
A look around the league reminds us that a number of stars have been lost for significant portions or even all of the season. The team that emerges victorious in the postseason may well be the team with the most players left standing. So the Yankees will sit Sabathia now in hopes that he will be standing on the mound for them this fall.
[+] Enlarge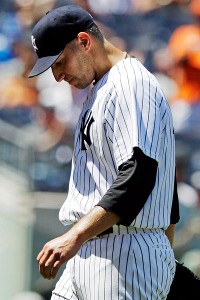 AP Photo/Frank Franklin IIAndy Pettite entered Wednesday's game with a 3.29 ERA before getting hurt.
• The
New York Yankees
wasted no time adding a second member of their starting rotation to the DL. Barely had the Sabathia announcement come out when
Andy Pettitte
was hit in the left leg by a line drive from the
Cleveland Indians
'
Casey Kotchman
, suffering a fractured ankle. Despite initially trying to stay in the game, Pettitte was forced out by pain immediately upon throwing the first pitch to the next batter,
Lou Marson
. Perhaps that was for the best given that there is, as it turns out, a break in Pettitte's fibula, the long, skinny bone that forms the outer aspect of the ankle joint.
The Yankees have indicated Pettitte
will miss at least six weeks
. The good news is the fracture does not require surgery, suggesting it is non-displaced (bony ends remain in alignment). Typical bone healing takes approximately six weeks, although depending on the precise dimensions of the break, Pettitte may be cleared to resume baseball activities sooner. Initially, it will be a matter of resting and unloading (taking weight off) the ankle via crutches and a protective boot, followed by gradual resumption of range of motion and progressive strengthening of the leg. Throughout the recovery period, Pettitte will continue upper-body and core strength and cardiovascular conditioning, but weight-bearing conditioning will be on hold for a while. Once he is cleared to resume activity, it will be a matter of building up his throwing endurance again, just as he had to when emerging from retirement earlier this year, until he and the Yankees are satisfied he can return to the mound.
It's worth noting that
Tampa Bay Rays
' starter
Jeff Niemann
fractured his right fibula in a similar fashion on May 14. He was initially projected to miss at least four to six weeks but shortly thereafter was transferred to the 60-day DL.