Stephania Bell:

Adam Dunn
June, 14, 2012
6/14/12
1:58
PM ET
April, 12, 2011
4/12/11
4:26
PM ET
• If you took the under on
Josh Hamilton
making it through the first 12 days of the season without injury, unfortunately for the
Texas Rangers
, you can count yourself a winner. According to the Rangers' website, Hamilton exited Tuesday's game after just one at-bat with what the team is calling a strained shoulder. In the course of running the bases, Hamilton slid headfirst twice, first on his RBI triple, then again as he attempted to score. Hamilton was called out at home and did not return in the second inning. Whether this is just a one- or two-day affair or something more significant remains to be seen. Stay tuned.
[+] Enlarge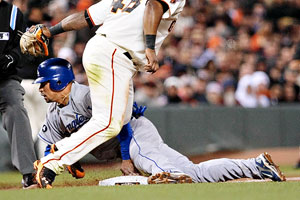 Kelley L Cox/Icon SMIRafael Furcal, who was already dealing with wrist issues, broke his thumb on this slide on Monday.
• Speaking of the danger of headfirst slides (something we discussed last year in the wake of all the thumb injuries, such as
Chase Utley
and
Jason Heyward
),
Los Angeles Dodgers
shortstop
Rafael Furcal
was brutally reminded of it when he broke his thumb Monday night sliding into third. Furcal is likely to be out at least six weeks, never mind regaining his form at the plate. It almost seems unfair. After the significant back and hamstring injuries Furcal has overcome in his career, to suffer yet another major injury this early in the new season seems cruel. The Los Angeles Times reports that Furcal was considering retirement after this latest blow. More than likely, that was the frustration speaking. After Furcal visits with a hand specialist, we will no doubt get a clearer picture of his plans. No matter what Furcal ultimately decides, the Dodgers will miss him immediately and fantasy owners will need to replace him for at least a month, perhaps two.
• We're seeing injuries from top to bottom, and while upper extremity injuries will kill power at the plate, bad wheels will definitely kill speed. Just ask
Toronto Blue Jays
outfielder
Rajai Davis
, who is a new member of the April DL fraternity. Davis rolled his right ankle in the Blue Jays' home opener, the typical mechanism for an ankle sprain. On Sunday, Davis aggravated the still ginger ankle, and thus it became clear he would need more down time. Now he officially has at least two weeks for rest and rehab, and hopefully the injury will not linger beyond that time.
• Ankle issues certainly have been problematic for a couple of players this spring.
Magglio Ordonez
, who underwent season-ending surgery for a broken right ankle in July, has dealt with intermittent soreness (not uncommon after surgery) this spring. On Monday, however, Ordonez left the game early with what was called tightness in his Achilles tendon. The Detroit Free Press reported Tuesday, however, that an MRI revealed "fluid buildup in the bursa behind his right ankle." As Tigers athletic trainer Kevin Rand told the Free Press, "It's just the stresses that he's going through as he's putting greater stress playing here in the regular season." Rand called Ordonez's situation day-to-day, and the team is not setting a specific timeline for his return. While the uncertainty might be frustrating for fantasy owners, it is neither unusual nor is it unrealistic. Following surgery, ankles are often prone to increased swelling, particularly with initial increases in activity. As the body acclimates, those responses tend to subside. At 37 years old, Ordonez might need a little extra time.
• Meanwhile,
Los Angeles Angels
first baseman
Kendrys Morales
has not progressed as swiftly as hoped from left ankle surgery last summer. Morales has struggled with running, and when he tried to press this spring, he developed new pain in the ball of his foot. After successful running efforts on the treadmill, Morales is again scheduled to test the ankle by running on the field, according to the Los Angeles Times. Ground running leads to base running, and once Morales can handle that, the Angels can start thinking about his return. The progression might yet take a couple of weeks and would necessitate some rehab games to test Morales in all dimensions. He is not likely to be ready for competition until sometime in May.
• Oh boy. The news is not good for
Oakland Athletics
pitcher
Rich Harden
. The San Francisco Chronicle reports Harden has been shut down from throwing, pre-empting what was expected to be a soon-to-come rehab assignment. Although Harden is no stranger to injury, in 2008 and 2009 he showed himself to be fairly durable. In 2010, injuries again became an issue while Harden was with the Texas Rangers, and now 2011 has not started well for him. In fact, it hasn't started at all. Don't hold your breath; this could be a lengthy wait. Meanwhile,
Andrew Bailey
-- the guy the Athletics ideally would have in the closing role -- threw 20 pitches off a mound Monday, according to the A's website. Bailey, who has been out since the start of the season with a forearm strain, is slated to throw another bullpen this week on his way to a rehab assignment. If all goes well, he could return at the end of the month.
•
Mat Latos
got his first start of the year Monday night. The most important postgame note came from Latos, who told the San Diego Union-Tribune, "Everything felt fine. My arm felt fine." Hooray. Now let's hope it holds up across a long season.
•
Zack Greinke
is scheduled to throw live batting practice Tuesday. If that goes well, he'll throw another. According to MLB.com, then would come a rehab assignment. It's still looking like the first week of May is the most likely return date, perhaps a touch sooner if Greinke shows he's ready.
•
Ubaldo Jimenez
's cracked cuticle has healed. He is expected to make an appearance in an extended spring training game Wednesday. Jimenez is eligible to return to the
Colorado Rockies
on April 17.
• The fractured fibula
Minnesota Twins
second baseman
Tsuyoshi Nishioka
suffered Thursday in a takeout slide will not require surgery. There is still a lengthy recovery period; there will be several weeks of bone healing followed by reconditioning to return to the sport. While he won't need a cast, his weight bearing will be limited early. The rate at which he can progress will depend on his comfort level and the healing of the fracture. Expect Nishioka to miss at least a month and probably closer to six weeks before he can return to game play.
•
Adam Dunn
almost made the timetable he projected for himself after his appendectomy. Dunn, who had surgery Wednesday, is back in the lineup Tuesday, making it exactly one week since he last played. As a designated hitter, Dunn does not have to resume the rigorous duties of tracking down balls in the outfield and can catch some rest when the
Chicago White Sox
are in the field, but he still has to swing the bat, sprint and potentially slide without incident.
St. Louis Cardinals
outfielder
Matt Holliday
was back to full duty in nine days, so Dunn's return within a week isn't a complete shock. Nonetheless, it's a testament to relative health and good shape, along with the advances of modern medicine, that these two have been able to return so quickly. Fantasy owners everywhere are grateful.
April, 11, 2011
4/11/11
3:41
PM ET
Look who's back.
St. Louis Cardinals
outfielder
Matt Holliday
rejoined the lineup for Sunday's win over the
San Francisco Giants
. And Holliday wasn't just a placeholder. He scored the go-ahead run (after being walked by
Barry Zito
) and added a single in the seventh to drive in another run. Perhaps most importantly, Holliday's return to hitting the ball and playing the field -- just nine days after surgery to remove his appendix -- came and went without incident, relieving Cardinals fans and fantasy owners alike.
[+] Enlarge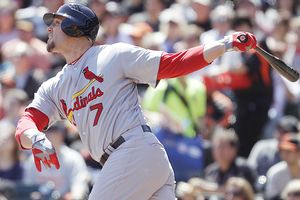 AP Photo/Eric RisbergMatt Holliday missed just slightly over a week of action after undergoing an appendectomy.
This has to be an encouraging sight for
Chicago White Sox
slugger
Adam Dunn
, who underwent an appendectomy of his own in the wee hours of Wednesday morning and has been pressing to return. Luckily, there are others who make the ultimate decision as to when he can come back, but Dunn has shown definite progress, taking batting practice over the weekend. While it's not clear yet exactly when Dunn will rejoin the lineup, it is expected to be sometime this week. It remains a daily evaluation process, however, and the team will not rush Dunn back, no matter how eager he is to return. The takeaway here is uncomplicated laparoscopic appendectomies are no longer an automatic DL assignment; recovery from these procedures is improving.
• In the "ailment" category,
Baltimore Orioles
second baseman
Brian Roberts
looked as if he could be the next in line for a procedure when he made a hospital visit for stomach pain Friday. Luckily, he was cleared, was released and was back in the lineup Saturday. No appendectomy there. ...
New York Yankees
third baseman
Alex Rodriguez
wasn't in the hospital, but he was ill enough to be scratched from the lineup Sunday night. With the Yankees getting Monday off, manager Joe Girardi is hopeful Rodriguez will be back Tuesday, according to the New York Post. ... Illness also kept
Colorado Rockies
outfielder
Carlos Gonzalez
out of the lineup Sunday, but he was able to pinch hit, so it appears he is in good shape to start the week.
• There were some more typical baseball-related injuries this weekend.
Florida Marlins
shortstop
Hanley Ramirez
sustained a left shin contusion in a scary takeout slide by
Bill Hall
. Not only did it look serious at the time (Ramirez needed assistance off the field), but the memory of
Minnesota Twins
second baseman Tsuyoshi Nishioka's broken leg, sustained in an eerily similar fashion, was barely 24 hours old. Fortunately for Ramirez, there were no fractures, just a deep bruise on his lower left leg just above the ankle, according to the Palm Beach Post.
[+] Enlarge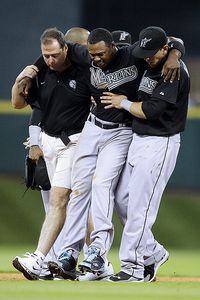 Bob Levey/Getty ImagesHanley Ramirez could return later this week after suffering a scary leg injury on a takeout slide by Bill Hall.
Even in the absence of a broken bone, the injury could have been worse. Formation of a hematoma or collection of blood in the lower leg can occasionally result in acute compartment syndrome. While the condition usually is preceded by significant trauma (like a crush injury), if there is enough swelling and pressure in an area like the shin, it can develop. Pressure can quickly compromise blood flow to muscles in the area and can inhibit nerve function, making it an urgent situation. Football fans might recall New York Giants wide receiver Hakeem Nicks undergoing a surgical procedure (fasciotomy) this past fall after he developed an acute compartment syndrome.
The location of the injury to Ramirez had the potential to affect muscles to the foot and ankle along with a major nerve. In fact, as the Post reports, the nerve in Ramirez's lower leg was impacted temporarily by the blow. Ramirez described the sensation after the impact: "It kind of fell asleep right away so I didn't feel anything. Then there was a lot of pain." That falling asleep or pins and needles sensation typifies the feeling associated with direct blow to a nerve (ever bang your "funny bone" -- really your ulnar nerve -- on the corner of the desk and your fingers go tingly?). By the next day, Ramirez was describing it more as "stiff and tight," typical symptoms associated with a contusion. The main issue is controlling the swelling and pain in the area, then seeing how well Ramirez can function (run, push off, change direction). He hopes to return Tuesday, and manager Edwin Rodriguez is "very optimistic" that he will be able to do so. Fantasy owners with daily lineups should check ahead of time to be sure, but at least it appears Ramirez dodged what could have been a serious situation.
• A player who will not be dodging a trip to the DL is Orioles shortstop
J.J. Hardy
. The suspicion of an oblique injury was confirmed by MRI on Monday, and he will be out for at least a couple of weeks, probably longer. There have been hints of anywhere from two to six weeks absence, and there is really no way to predict exactly how long Hardy's recovery will take. Hardy was a late scratch from Thursday's game with what was termed a sore left rib cage. Two days later, Hardy was removed after just one at-bat because of soreness in the same area, which led to the follow-up tests.
Oblique injuries seem to be running rampant throughout the league for both hitters and pitchers. While the timetable to return is variable depending on the severity of the injury, among other things, one hitter has already exceeded a month-long absence.
Milwaukee Brewers
outfielder
Corey Hart
injured himself in late February and has yet to make his 2011 debut. Hart has turned a corner with his oblique injury, no longer experiencing soreness in his left side. According to MLB.com, Hart is close to a rehab assignment, which could signal a return in the near future. If Hart returns next week, it would be just short of two months since the initial injury, a reminder that these oblique strains cannot be taken lightly.
[+] Enlarge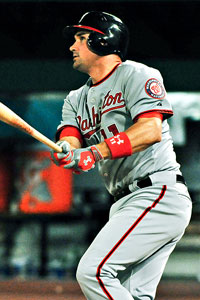 Ronald C. Modra/Getty ImagesRyan Zimmerman joins Evan Longoria as top-flight third basemen landing on the DL in the first month of the season.
• Other players with abdominal muscle strains include
Los Angeles Angels
shortstop
Erick Aybar
, who has finally landed on the DL with what the Los Angeles Times called a strained left rib-cage muscle. It seemed as if Aybar, who has not played in a week but whose MRI revealed only a "slight strain," might avoid the DL, but the Times reports the Angels made the move to help bolster their bullpen by recalling reliever
Francisco Rodriguez
from the minors. Aybar already has been doing some drills and can be activated as soon as April 18, if ready. ...
Washington Nationals
third baseman
Ryan Zimmerman
aggravated an abdominal injury he originally sustained during spring training, and the team is going to place him on the DL on Tuesday, according to MLB.com's William Ladson. The Washington Post reports Zimmerman is not sure how severe the injury is but he did acknowledge, "It's worse than it was," adding, "It's not terrible. I just hope it doesn't get worse."
• Meanwhile,
Arizona Diamondbacks
shortstop
Stephen Drew
somewhat surprisingly rejoined his team's lineup over the weekend. Drew, who has been working to recover from an abdominal strain since mid-March, had an impressive outing Sunday, going 4-for-4. Drew is not out of the woods yet, however. He openly acknowledges he is not 100 percent past the injury. As Drew told the Arizona Republic, "It's [discomfort] still there a little bit, but it's manageable." He went on to say that he considers himself "day-by-day" and wants to ensure that he doesn't go backwards. In other words, fantasy owners need to keep a close eye on him and hope he can heal the rest of the way while playing.
• The San Francisco Giants have lost outfielder
Andres Torres
for a period of time, although how long remains uncertain. Torres sustained a left Achilles strain Saturday and was forced to leave the game early. He was seen sporting a walking boot later, although according to the San Jose Mercury News, the MRI for Torres revealed only a "mild" strain. The concern with these injuries is the risk of something far more serious (worst case clearly being a season-ending Achilles rupture) if one returns too soon. While manager Bruce Bochy told the Mercury News he will likely not know how long he expects Torre to be out until Wednesday, it would not be surprising if he ends up on the DL. Meanwhile fellow Giants outfielder
Cody Ross
is still recovering from a calf strain and is likely another couple of weeks (at least) from returning.
• It's Monday, so all the more reason to end on a positive note. How about the return of
Mat Latos
(bursitis) who is going to make his season debut Monday night at Petco Park when the
San Diego Padres
host the
Cincinnati Reds
? Latos insists his shoulder feels better than it has all spring. The key might not be in how he looks Monday night, or even five days from now, but how his shoulder holds up as the season progresses.
April, 8, 2011
4/08/11
3:07
PM ET
I posed a question right here in this blog Wednesday, a challenge if you will, to see if we could get through a day of baseball without any additions to the disabled list. It seems like the answer was no, thanks in part to a dramatic injury in the Bronx.
[+] Enlarge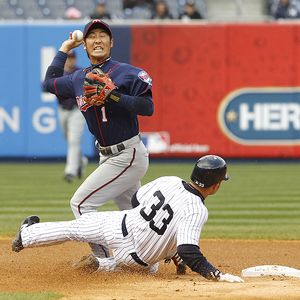 William Perlman/THE STAR-LEDGER/US PresswireTsuyoshi Nishioka is likely to miss a month after taking the brunt of this Nick Swisher takeout slide.
On Thursday,
Minnesota Twins
new second baseman
Tsuyoshi Nishioka
was literally taken out on a takeout slide by
New York Yankees
outfielder
Nick Swisher
. Nishioka, new to the more physical version of baserunning played in the states, absorbed the impact of Swisher's slide with his left leg, resulting in a fractured fibula (the skinny bone on the outer aspect of the lower leg which runs from just below the knee to the ankle).
Nishioka has been placed on the DL and is expected to miss at least a month, but more should be known after his visit with Dr. John Steubs, team physician for the Twins. There are several variables that can influence the plan of care and the recovery time from this type of injury, including the location of the fracture (high on the fibula near the knee or low near the ankle), whether the fracture is displaced or not (whether the bony ends have moved apart or remain in alignment) and whether surgery is required (more likely with a significantly displaced fracture).
The Minneapolis Star-Tribune reports Nishioka's fracture to be high on the fibula, just below the knee, an important distinction in that he may not require ankle immobilization. One of the compounding issues for a low fibula fracture is the ankle joint; when immobilized for a period of time to allow the bone to heal, the ankle then becomes stiff. Regaining ankle range of motion can be a lengthy process, making returning to running and agility maneuvers more difficult. The best-case scenario for Nishioka would be a non-displaced proximal (high) fibula fracture that could heal with rest. He would be able to resume ankle range of motion and weight-bearing activities sooner. In the meantime he could participate in cardiovascular conditioning and upper-body workouts. His timetable should become clearer after his medical evaluation Friday.
• The other big injury news Thursday was the official diagnosis of a concussion for
Toronto Blue Jays
shortstop
Yunel Escobar
. Why so big? Because Escobar is the first player to suffer a concussion since the implementation of Major League Baseball's
new concussion policy
.
[+] Enlarge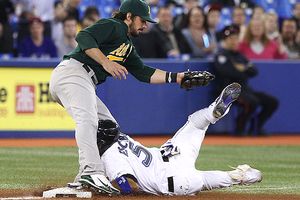 Tom Szczerbowski/US PresswireYunel Escobar suffered a concussion on this slide into third base on Wednesday.
The injury occurred when Escobar's head met the knee of
Oakland Athletics
third baseman
Andy LaRoche
as Escobar slid into third on a triple Wednesday. The mechanism of injury was eerily similar to the one that sidelined Twins first baseman
Justin Morneau
for months with post-concussion symptoms. According to the National Post, Escobar was examined on the field by Jays' athletic trainer Hap Hudson and was cleared to remain in the game. But in the next inning, Escobar developed dizziness (it is not uncommon for symptoms to emerge over time following a concussion) and the decision was made to remove him from the game.
Escobar underwent subsequent tests, including hospital-administered CT scans of the head and neck and neurological evaluation. The imaging tests were negative (they usually are with isolated concussion) and the early news on Escobar is encouraging. According to general manager Alex Anthopoulos, Escobar felt "great" Thursday morning, adding, "If you asked him he'd tell you that he could play today." Of course, Escobar did not play Thursday but he did show enough improvement for the Blue Jays to elect not to make use of the new optional seven-day disabled list stint for concussed players. As per the new protocols, however, Escobar will require clearance not only from the Blue Jays but also from Major Leagues Baseball's medical director, Dr. Gary Green, before he can return. The Blue Jays hope to have Escobar back next week, but as is the case following any concussion Escobar will be evaluated daily.
• The Blue Jays have some more encouraging news regarding
Octavio Dotel
. The veteran relief pitcher, who started his season on the DL with a hamstring strain that cropped up in early March, is now ready to return. Dotel is probably most likely to be used in a setup role for
Jon Rauch
. Closer
Frank Francisco
, on the DL with a right pectoral muscle strain, was cleared to begin a rehab assignment Monday. According to the Blue Jays' website, Francisco likely will need a minimum of three rehab outings before he can rejoin the team. As with any muscle strain, the key will be to see how Francisco responds to a progressively increasing workload. Finally, starter
Brandon Morrow
(forearm strain) made his rehab debut Thursday, allowing five runs in three innings. His performance may have been less than ideal, but the more important element will be how his forearm held up. If all continues well, Morrow is expected to make another rehab start and could rejoin the team within the next two weeks.
• The
Chicago White Sox
have to be feeling encouraged when it comes to
Jake Peavy
's progress following his latissimus dorsi tendon repair. Peavy, who had a very minor speed bump in his rehab road when he developed some rotator cuff tendinitis in March, is now on track to start throwing in minor league games. The Chicago Sun-Times reports Peavy is expected to throw 75 pitches Friday for Class AA Birmingham. Assuming there are no issues, he will be on a structured progression to increase his pitch count and arm strength over the next few weeks. While no one wants to commit to a formal timetable, there is reason to believe Peavy could rejoin the White Sox by the end of April.
• The White Sox could see
Adam Dunn
this weekend if Dunn has his way. Dunn is still having pain, though, and he will most certainly not be permitted to suit up if there are any concerns about his healing. Given that Dunn is an athlete and not a physician, his goals, while admirable, will not drive the decision. It would not be surprising if Dunn was out until next week, but fantasy owners with daily lineups may want to check before games.
• Meanwhile, Dunn's counterpart in abdominal surgery,
St. Louis Cardinals
outfielder
Matt Holliday
, could make an appearance this weekend in a pinch-hitting role, although according to Fox Sports Midwest on Twitter, manager Tony La Russa says the chances of that are "slim." Stay tuned. MLB.com says Holliday is expected to undergo a full workout and batting practice Friday, after which a decision on the next step will be made.
That's the buzz for Friday. Here's to a happy and healthy weekend, everyone! Something tells me, though, we'll still have plenty to discuss as next week rolls around.
April, 7, 2011
4/07/11
2:24
PM ET
April, 6, 2011
4/06/11
2:43
PM ET
Apparently, appendectomies are trending in the Midwest.
St. Louis Cardinals
outfielder
Matt Holliday
is progressing nicely from his, and now
Chicago White Sox
designated hitter
Adam Dunn
is following suit. Dunn underwent a laparoscopic procedure to remove his appendix Tuesday night and, according to ESPN Chicago's Doug Padilla, he is expected to miss "at least five days."
[+] Enlarge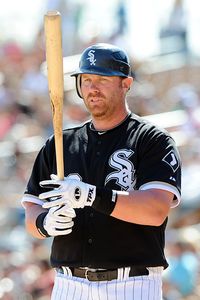 Christopher Hanewinckel/US PresswireAdam Dunn has a homer and five RBIs in his first four games for the White Sox.
When Holliday had surgery last Friday, I outlined why
athletes can rebound more quickly under certain conditions
and Holliday indeed seems to be bearing that out. According to the St. Louis Post-Dispatch, manager Tony La Russa has confirmed that Holliday will not go on the disabled list. "He's making enough progress now that he'll be back before 15 days," La Russa said. If Holliday has his way, he'll be playing again within the week. He has already played catch, run some sprints and expects to take batting practice Wednesday. Holliday plans to travel with the team this Friday. It's certainly possible that he could be active -- even in a pinch-hitting role -- by this weekend.
The modern version of this surgery truly is minimally invasive. No muscles are cut and the incisions in the adjacent soft tissue are small. If the internal inflammation is minimal and isolated to just the appendix, the recovery time in an otherwise healthy individual is fairly rapid. Just as Holliday is proving. And while there are rumblings of days, not weeks, for Dunn, it's important to remember that his progress will be evaluated daily. If all goes well, he too will return in less time than a DL stint would dictate.
• On the other side of town, the
Chicago Cubs
are dealing with some losses of their own. Just one week ago the Chicago Sun-Times reported the Cubs would be monitoring the workload of young up-and-comer
Andrew Cashner
. Six innings into Cashner's first regular-season outing, his right shoulder decided it had had enough work. Cashner was forced to exit the game with tightness in his throwing shoulder and is now being placed on the DL. General manager Jim Hendry says Cashner has a mild rotator cuff strain and expects the club to take no chances with his young arm. They will want to be sure there are no lingering issues before he returns.
Teammate
Randy Wells
is also headed to the DL with a strained right forearm. Wells, who earned a win in his first start of the season, will be shut down along with Cashner for a period of time to allow any inflammation to settle, followed by a return to a throwing program. Translation: Expect both pitchers to be out for another week or two beyond the DL time frame. Neither of these injuries is catastrophic, although Cashner's is a bit more concerning given that it's his throwing shoulder, and he underwent a jump in work last year.
• The Cubs also had first baseman
Carlos Pena
out Tuesday with a jammed right thumb. Pena's thumb was bent awkwardly Monday on a defensive play. Although he says he could play through the discomfort it appears he will be given a few days' rest. Not that
Tyler Colvin
owners are complaining, as the youngster played first in Pena's place.
•
Florida Marlins
outfielder
Mike Stanton
will continue to nurse his left hamstring and will not play in the field for at least the next few days. After initially referring to the issue as "tightness," the team revealed Tuesday that Stanton underwent an MRI, which confirmed a mild strain. It should be noted that a mild strain might present primarily as tightness or pulling as opposed to sharp pain, but that tightness is a warning sign not to overdo. According to MLB.com, Stanton said "I feel better than I thought," after taking batting practice and doing some light running. Manager Edwin Rodriguez rated Stanton at "65-70 percent right now." Nonetheless, hamstrings can be finicky and the team wants to minimize the chances this turns into something worse.
We move westward for some better news, but also another big name heading to the DL.
• Fear no more: The Beard is making a return. So is the Beard's caretaker,
San Francisco Giants
closer
Brian Wilson
, who was activated Wednesday after opening the season on the DL while recovering from a left oblique strain. Maybe the excitement of a potential Wilson sighting will be enough to rouse the Giants in San Diego.
• Speaking of San Diego, the Padres have their own reason to be excited (besides beating the Giants in their series opener).
Mat Latos
says his shoulder is feeling better now than it has all spring. The San Diego Union-Tribune reports Latos is scheduled to throw two more bullpen sessions this week and will then rejoin the rotation next week in Cincinnati. Given that his shoulder pain did not crop up until late March, Latos' recovery has been fairly swift. The hope here is that once Latos gets off and running he will not get tripped up by another episode. Three words: Time will tell.
• Staying in the division, the
Colorado Rockies
have decided to place
Ubaldo Jimenez
and his injured cuticle on the DL (more information on the injury
here
). He will be eligible to return April 17. Teammate Jorge de la Rosa has improved enough from his blister incident to take Jimenez's spot in the rotation this week. He will start Friday.
OK gang. Let's try to get through a day without any DL additions. Think it's possible? We'll find out tomorrow.