Stephania Bell:

Adam Wainwright
February, 19, 2014
Feb 19
3:49
PM ET
Stephania Bell discusses how
Adam Wainwright
is progressing two years removed from Tommy John surgery.
March, 4, 2013
3/04/13
8:56
PM ET
JUPITER, Fla. -
St. Louis Cardinals
shortstop
Rafael Furcal
came into the spring as an injury question mark after his 2012 season ended early due to a sprained ulnar collateral ligament in his right (throwing) elbow. Furcal undertook a rehab course this offseason, but his first true test came when he had to make aggressive throws in spring training. His elbow failed that test.
Last week, Furcal began to have pain in his elbow every time he threw and, as a result, is no longer throwing. The Cardinals have shut him down while he undergoes further medical evaluation. He had another MRI Friday and was examined by team physician Dr. George Paletta on Monday. Even before any official word came as to the result of Monday's consultation with Paletta, the long faces around the facility while I was there seemed to say it all. The Cardinals have indicated Furcal will obtain a second opinion from Dr. James Andrews on Wednesday. The next step, it seems, will be dependent on whether or not surgery is recommended for Furcal. The natural follow-up question then is: At 35 years old, on the second year of a two-year deal and with a storied injury history (which includes back surgery, hamstring strains and thumb surgery), would Furcal really be prepared to undergo another lengthy post-surgical recovery to return to play? That answer should come soon.
What a difference a year makes
[+] Enlarge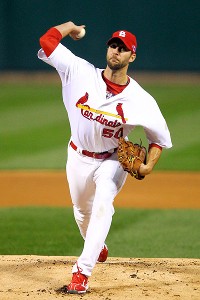 Dilip Vishwanat/USA TODAY SportsAdam Wainwright posted a 4.56 ERA before the All-Star break in 2012 and a 3.28 ERA after it.
Pitcher
Adam Wainwright
says his elbow definitely feels better one year further removed from Tommy John surgery. "No question," Wainwright said. "It feels more normal." In the medical world, the consensus is that the "new" ligament, which is truly a converted tendon, has further strengthened as a result of adapting to the stresses placed on it from the first year of post-surgical pitching. But the expectation is that pitchers will return to (or near to) their prior level of performance once they take the mound competitively following surgery.
Wainwright provided some insight as to how it really feels to get back on the mound for the first few months after a long layoff and a surgical reconstruction. He said his elbow experienced "a freak-out session" when he first began throwing again. "After taking a tendon from my hamstring and putting it up in my forearm, my body was wondering what was going on."
And there was pain. "I felt pain in my elbow during the early part of the season," Wainwright said. He knew his elbow had been repaired, and he wasn't worried about injury. He just knew he wasn't quite himself yet. The results bore that out. It wasn't until the second half of the season that Wainwright really showed signs of returning to form.
That doesn't mean he has let up on his rehab work heading into this season. "A lot of guys come back from Tommy John surgery and then have problems in their shoulder," Wainwright noted. He has kept up with an exercise regimen designed to help protect his throwing shoulder. He gives all the credit to the Cardinals' rehab staff for keeping him on task. "The [athletic] training staff has gotten more and more savvy in helping rehab these injuries, so the 'prehab' has become important."
The Cardinals are counting on the sum total of Wainwright's rehab and "prehab" to lead him to a strong season in 2013. With
Chris Carpenter
not a part of the pitching equation for the foreseeable future and no
Kyle Lohse
, the team is likely to lean on Wainwright. Fortunately for the Cardinals, it sounds as though this year he's ready for the challenge from the get-go.
The skipper is ailing, too
It's a rough injury day for the team when it starts with the manager getting an epidural injection. But that's exactly what Cardinals manager
Mike Matheny
was doing early this morning in an effort to get some relief from his relentless back and leg pain. Matheny has a herniated disk in his back and associated nerve compression, which is affecting his leg. The ailment did not prevent him from showing up to work on time, though. As anyone who has had an epidural injection knows, this is impressive and further reflects his stoicism. When I spoke with him, he preferred standing to help keep the pain at bay. He did indicate he felt the shot had given him some relief and seemed encouraged that there was some progress.
While Matheny may be willing to put up with pain, he is not willing to stay silent on the topic of collisions at home plate. In recent days, Matheny has spoken publicly of his desire to see MLB ban collisions at the plate entirely, not only because of the risk to the catcher but also to the baserunner. Matheny, who sustained multiple concussions during his career (which he associates primarily with such collisions), was forced into retirement because of the effects of post-concussion syndrome. After going through his own extensive recovery, learning more about concussions and watching how other sports are more formally addressing the problem, he decided there was at least one thing baseball could do to eliminate a source of such injuries: Take out the intentional impact.
"In football and hockey, they don't really have an option to go away from contact. We're in a different position."
Matheny sees the problems with concussions in youth sports and believes baseball has a responsibility to set an example. "A concussion is not just a concussion. It's a trauma to the brain."
As far as the responses he's hearing from around the league with regard to his proposal, Matheny seemed to search for the appropriate-for-prime-time word. "I'm getting a lot of ... [pause] ... feedback," Matheny said. He adds that he understands the traditionalists, but his own experiences and observations, along with a better understanding of the long-term effects of concussions, have led him to take this stand. Matheny hopes his personal experience will help prevent other young players from suffering similar consequences.
February, 24, 2011
2/24/11
12:56
PM ET
Last spring it was the
Minnesota Twins'
Joe Nathan
whose season ended before it even got started. This year it's
St. Louis Cardinals
ace
Adam Wainwright
.
Wainwright, like Nathan before him, has a torn ulnar collateral ligament in his throwing elbow and is
expected to undergo reconstructive surgery
, commonly referred to as Tommy John surgery, followed by a lengthy rehabilitation.
[+] Enlarge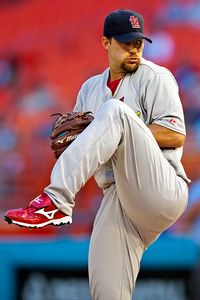 Steve Mitchell/US PresswireAdam Wainwright finished eighth overall in the 2010 Player Rater.
While the Cardinals -- and Wainwright -- are no doubt devastated by this news, no one can say they were entirely surprised. Wainwright's stellar 2010 season ended in unceremonious fashion when he was shut down in September because of inflammation in his right elbow. He had a history of injuries to the elbow dating to 1998, including a partial tear of the same ligament in 2004, which caused him to miss significant time in the Cardinals' minor league system that year. Nonetheless, preseason examinations had Wainwright confident that his elbow was a non-issue coming into spring training.
To be fair, from an athlete's perspective, that is precisely how Wainwright should have approached this season. The truth is it's not uncommon for pitchers with a history of elbow or shoulder injuries, even with known tissue damage, to still be able to pitch and pitch successfully for years afterward. In Wainwright's case, there were no overt signs of instability; he even told the St. Louis Post-Dispatch that his ligament was "healthy and strong." No athlete can or should enter a season afraid of what could happen, especially since these injuries can strike anytime -- young or old, injury history or not. Just ask 22-year-old
Stephen Strasburg
, who tore his UCL last year as a rookie.
Still, we're reminded just how strenuous the act of pitching is on the human body when a dramatic breakdown, such as a UCL tear, occurs. The expectation in baseball now has become not
whether
a pitcher will ultimately succumb to a major injury to his throwing arm, but
when
it will happen. And once there is an injury "event" in a thrower's history, the concern going forward only increases. Cardinals general manager John Mozeliak might have said it best Wednesday when he reflected on how well -- and how long -- Wainwright has pitched since first injuring his elbow in 2004, telling the St. Louis Post-Dispatch, "I guess at some point, it's just a matter of time."
There are, however, a few silver linings in this dark cloud.
First of all, this will be the first time in years that Wainwright will have an extended break from throwing. Most pitchers have thrown extensively since their youth, and this forced rest allows the athlete's entire body to "regroup" and retrain during the recovery period. The opportunity to rehab the throwing shoulder while working on leg strength and core muscle strength, and the chance to make any necessary mechanical adjustments, might ultimately extend a starting pitchers' career.
Second, the timing of Wainwright's injury is such that he could be pitching next season. The average recovery time for pitchers following Tommy John surgery is approximately 12-15 months, although many throwers will say it takes an additional six months to really "feel" like they're back. Wainwright should be encouraged by the prospect of returning to the mound next season.
Finally, Wainwright can take comfort in the knowledge that the success rate for returning to play following this type of injury is fairly high. At an annual baseball medicine conference this year, Dr. Lyle Cain (a partner with Dr. James Andrews at the American Sports Medicine Institute in Birmingham, Ala.) presented recent data showing a return rate of 73 percent of professional baseball pitchers to their prior level of performance following this procedure. As the procedure has become more commonplace, the knowledge as to how to best rehab an athlete has improved as well.
Wainwright need look no further for inspiration than teammate
Chris Carpenter
, who has traveled the same long and lonely comeback road following UCL reconstruction. After all, Carpenter is proof of not only returning to pitch following Tommy John surgery, but returning to pitch successfully. Wainwright will now look to do the same.