Stephania Bell:

Albert Pujols
February, 27, 2014
2/27/14
5:04
PM ET
July, 29, 2013
7/29/13
6:41
PM ET
Every Monday, in this space, we'll provide updates on a variety of players to help you make your weekly lineup decisions. We'll specifically try to hit the players who are day-to-day, have just gone on the DL or are ready to return, so that you can better decide whether you can count on them or not.
All projected return timelines should be considered fluid.
Hitters:
Albert Pujols, 1B, Angels (placed on DL 7/28):
Pujols has been placed on the DL with a partially torn plantar fascia in his left foot. This can't be a big surprise to anyone, including Pujols, who has been dealing with some form of the injury off and on for almost seven years. In the spring of 2006, an issue with the foot surfaced, but Pujols did not miss any time. In 2007 and 2008, he dealt with a left calf strain, spending time on the DL as a result. (Calf strains and plantar fascia injuries often go hand in hand.) In the spring of this year, Pujols was bothered by the foot off and on throughout April. The pain was so severe at one point that it led Pujols to say, "I'm dying." At the time, the plan was to try and manage his symptoms by resting him intermittently, but the possibility always existed that the condition could worsen. The partial tear means the intact fibers are left absorbing the load and are threatened with further damage every time the foot hits the ground. The pain is typically stabbing and severe, and the dense tissue is not prone to rapid healing. That translates to rest being a big part of the equation in recovery with the hope that scar tissue will form and the pain will eventually decrease. Biomechanical issues of the foot typically contribute to the condition, and various stretching and strengthening exercises along with supportive footwear are all components of treatment. Sometimes surgery to "release" the plantar fascia is an option, but even if he were to undergo such a procedure, it would not be a quick fix. Nothing about this condition in its chronic, aggravated stage is quick. It may very well be the end of the season for Pujols, but if he does manage to return for the final weeks of the year, no one should presume that that indicates a full recovery.
Carlos Gonzalez, Rockies (day-to-day): In early July, Gonzalez took an awkward swing and sprained the middle finger on his right hand. What started as a seemingly minor problem is lingering a little more than anyone would like, a reminder that a player's grip on the bat is controlled by intricate and delicate structures in the hand. Gonzalez had actually seen improvement and believed the finger was no longer a concern. Perhaps it appeared that way until last Thursday when he aggravated it during an at-bat in the first inning. He has not played since. The Denver Post reported Gonzalez was sporting thick layers of black tape around his finger and that he and the team were still evaluating options. While it sounds as if the team does not believe a DL stint will completely resolve the problem, it also sounds as if this is not likely to go away no matter what path they choose. The risk of aggravation exists with every swing of the bat. It's unclear how much time he will miss in the near future as the Rockies are calling him day-to-day. The likelihood is that, regardless of whether he goes on the DL, he will again string together series of games where he performs well, but a setback could be lurking around the corner.
Curtis Granderson, OF, Yankees (placed on DL 5/25, could return this week): It's almost hard to believe Granderson has played in only eight major league games this season, but he could be getting close to upping that number. Out since May with his second fracture of the year, this one in his hand, Granderson's main challenge right now is to get comfortable at the plate. Not necessarily because he's apprehensive about getting beaned again and suffering yet another fracture (which is how the first two happened), but because he simply hasn't been at the plate much this year. This second fracture required surgical stabilization, and Granderson struggled to get his range of motion back initially, making it difficult to grip the bat. He has cleared that hurdle, but his time away from the game has no doubt left him rusty. According to WFAN, manager Joe Girardi says Granderson could return this weekend, but fantasy owners should not expect too much out of the gate. The risk of re-injury is low, but it may take him some time to perform consistently at the plate.
Pitchers:
Brandon Beachy, SP, Braves (started season on DL, activated 7/29):
He's back. The wait has been long and was slowed by a brief setback, but Beachy will make his return from Tommy John surgery tonight. The Atlanta Journal-Constitution reports that Beachy will be capped at around 100 pitches per Braves manager Fredi Gonzalez, a number in line with his progression of increasing pitches across his rehab assignment. Expectations need to be tempered just as they would be for anyone returning from this kind of surgery, as velocity often returns more quickly and more consistently than command. It may take Beachy a bit to get comfortable again at the major league level, and he will likely be in a very good place by the second half of next season. For now, he is still a work in progress as his first few outings should really be considered the final phase of his rehab.
April, 22, 2013
4/22/13
3:40
PM ET
Every Monday, in this space, we'll provide updates on a variety of players to help you make your weekly lineup decisions. We'll specifically try to hit the players who are day-to-day, have just gone on the DL or are ready to return, so that you can better decide whether you can count on them or not.
All projected return timelines should be considered fluid.
Hitters
[+] Enlarge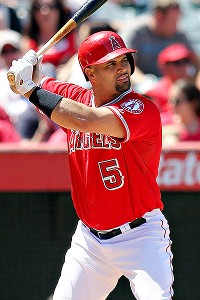 Victor Decolongon/Getty ImagesFantasy owners will have to keep a close eye on Albert Pujols' foot in the upcoming days.
Albert Pujols, 1B, Los Angeles Angels (DTD):
"I'm dying." Those were the words of Pujols himself Sunday when describing trying to play through plantar fasciitis in his left foot. Not particularly encouraging. Every athlete who contends with plantar fasciitis will describe extraordinary pain (like "stepping on a nail" or "walking on broken glass") and knows it is virtually impossible to get relief, unless he stops activity altogether. As for now, the plan is for Pujols to try to manage the condition, meaning he will receive treatment directed at pain relief, stretching, supportive footwear and anything else that might help all while continuing to play, albeit limited to DH duty. Unfortunately, every time the foot hits the ground stretching the inflamed fibrous tissue of the arch, Pujols is reminded of the pain. At some point it simply may be too much for him to bear and his foot could force him to take some extended down time.
Ryan Zimmerman, 3B, Washington Nationals (placed on DL April 20):
Zimmerman had been experiencing cramping in his left hamstring for several days before being forced out of last Wednesday's game early. He did not play Friday or Saturday, instead undergoing an MRI, which led to placement on the DL. While it sounds as if the strain is not serious, it was hampering him not only with his running but also while hitting. Manager Davey Johnson noted Zimmerman was not comfortable landing on his left leg when hitting. One has to wonder if some of his recent throwing inconsistencies can also be attributed, at least in part, to discomfort in his left leg. According to Amanda Comak of the Washington Times, the Nationals are hopeful that Zimmerman will only miss the minimum time, but hamstrings can be finicky. The key for the Nationals is preventing this from turning into a bigger injury, undoubtedly part of the rationale for a DL placement.
Dan Uggla, 2B, Atlanta Braves (DTD):
Sometimes being a veteran means understanding when to take yourself out of a game proactively. It appears Uggla did just that on Saturday when he felt something in his left calf while trying to run out a ground ball. According to the Atlanta Journal-Constitution, Uggla let manager Fredi Gonzalez know he was having discomfort in the calf and was concerned it could get worse if he stayed in the game. Uggla then sat out Sunday's game also but was hopeful he could return Monday. Calf strains tend to be increasingly prevalent as athletes move into their thirties (
Lance Berkman
,
Derek Jeter
, Albert Pujols) and early rest may be the best medicine in trying to minimize downtime.
Asdrubal Cabrera, SS, Cleveland Indians (DTD):
Slipping on the dugout steps is not how an athlete wants to incur an injury. Unfortunately that's precisely how Cabrera ended up with a contusion of his left wrist, and it's lucky it wasn't worse. X-rays taken of his wrist were negative, but as the Cleveland Plain-Dealer reported, it started to bother Cabrera during Saturday's game, so he came out early. Falls on an outstretched hand can often result in a fracture of the forearm or wrist bones but it appears Cabrera escaped both. He sat out Sunday's game and could sit longer if the wrist is still painful so fantasy owners should monitor his status daily.
Kevin Youkilis, 3B, New York Yankees (DTD):
When Youkilis left Saturday's game early because of tightness in his lower back, those familiar with his history may have been a little nervous. That concern would be justified because Youkilis has a fairly extensive history of low back problems including an episode, which required a trip to the DL in 2011. This flare-up appears to be of the minor variety with manager Joe Girardi telling reporters he thinks Youkilis will be available Monday night.
Shane Victorino, OF, Boston Red Sox (DTD):
Victorino also left Saturday's game early due to tightness in his lower back. He sat out Sunday's doubleheader but is expected to return to the lineup Monday. Early Sunday, manager John Farrell had considered using Victorino in the second game, suggesting he was making rapid improvements. Ultimately he was given all of Sunday off but it appears he will be back to face the
Oakland Athletics
.
Freddie Freeman, 1B, Atlanta Braves (placed on DL April 7, activated April 22):
It looks as if the decision to rest Freeman early -- despite his displeasure -- has paid off. ESPN's Jim Bowden reported Monday that manager Frank Wren indicated Freeman has been activated and is ready to play against the
Colorado Rockies
on Monday night. Freeman had been sidelined with a right oblique strain, but it was always considered minor; the Braves were trying to ensure that it remained that way. After a couple of uneventful rehab games, Freeman has been deemed ready to return.
Michael Saunders, OF, Seattle Mariners (placed on DL April 11, could return late in week):
A crash into the outfield wall resulted in a sprained right shoulder for Saunders. Although the team did not issue a timetable initially, it looked as if it could sideline him for an extended time. There are some encouraging signs that Saunders is progressing nicely however, most notably that he took batting practice last Friday. According to Geoff Baker of the Seattle Times, Saunders hopes to return when eligible (April 26) but will need to test throwing with his injured shoulder first. One of the most difficult things to do after an injury such as this is raise the arm completely overhead. Throwing with power will perhaps present more of a challenge than hitting so fantasy owners should monitor his activity closely throughout the week.
Pitchers
Jhoulys Chacin, SP, Colorado Rockies (placed on DL retroactive to April 20):
Chacin was off to a solid start but has been sidelined with a lower back strain that forced him out of Friday's game early. According to the Rockies' official website, Chacin is scheduled to undergo an MRI on Monday. As for now there is no timetable for his return in place. The Rockies have recalled right-hander
Rob Scahill
from Triple-A Colorado Springs to take his place.
[+] Enlarge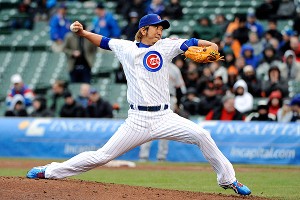 David Banks/USA TODAY SportsKyuji Fujikawa could be back this week to boost the Cubs' bullpen.
Kyuji Fujikawa, RP, Chicago Cubs (placed on DL April 13, could return when eligible, April 28):
Fujikawa suffered a right forearm strain, sending him to the DL, but according to Jesse Rogers of ESPN Chicago, Fujikawa has already begun testing the forearm throwing. If all continues well, Rogers reports Fujikawa will get a couple of rehab outings under his belt this week and could return this weekend.
Brett Myers, SP, Cleveland Indians (placed on DL April 21):
Myers has been fighting some tendinitis in his throwing elbow, but the picture has recently become more complex. The Indians announced via Twitter that Myers was placed on the DL Sunday with tendinitis and a mild UCL sprain. The report also indicated Myers would be shut down for two weeks and would not throw until symptom free. While the suggestion that the UCL sprain is minor is encouraging, it ultimately comes down to function. The fact that Myers experienced a drop in velocity is worrisome, but he also indicated he was not having any pain while pitching. At the very least, fantasy owners should expect him to miss four to six weeks (shutdown time followed by throwing progression), although the timeline ultimately will be dictated by how his elbow responds.
Ted Lilly, SP, Los Angeles Dodgers (opened season on DL, expected return April 24):
Lilly underwent a labral repair of his left (throwing) shoulder last September and was slowed in the spring by the flu. He felt he was ready to pitch in the majors when
Zack Greinke
went down with a clavicle fracture, but the Dodgers preferred to keep him on a rehab assignment, moving
Chris Capuano
to the starting rotation instead. As it turns out, Capuano was moved to the DL with a calf strain last week and Lilly was able to get some extra innings under his belt. According to Dylan Hernandez of the Los Angeles Times, Lilly has confirmed he will start Wednesday against the
New York Mets
. Given the Dodgers' starter woes, a healthy -- and effective -- Lilly is badly needed.
Chad Billingsley, SP, Los Angeles Dodgers (placed on DL retroactive to April 16, could be out for the season):
Did we mention the Dodgers are having some woes with their starting rotation? It looked initially as if Billingsley had survived the scare with his throwing elbow that cropped up last season. He underwent PRP injections in the fall, rested his right elbow, then resumed a progressive throwing program. The Dodgers waited during the offseason, expecting perhaps a bump in the road to recovery as often happens with partial UCL tears, but nothing went wrong with the elbow ... until now.
Billingsley managed well all through the spring but had a delayed start to the 2013 season due to a bruised index finger sustained while he was attempting a bunt. He eventually joined the rotation April 10 but it wouldn't last long. After two starts, Billingsley experienced some renewed elbow pain and now finds himself back on the DL. The bigger concern is that this may signal the beginning of the end of his season. If in fact the UCL tear has progressed to the point where Billingsley cannot function well enough to throw, he will be headed for Tommy John surgery. Given the recovery time from reconstructive elbow surgery, Billingsley stands a chance of losing time into next season if he does not address it quickly. No one wants to send an athlete to surgery when it isn't warranted and there will undoubtedly be careful evaluation of all sides of the equation, but the writing seems to be on the wall. Don't count on seeing Billingsley back in the lineup anytime soon, if at all.
Shaun Marcum, SP, New York Mets (placed on DL April 1, could return late this week):
Marcum has been sidelined since the start of the month with what the team called "nerve inflammation" in his neck. After receiving injections early to help with pain and inflammation, Marcum has been on a slow and steady rehab course. There have been no reports of any setbacks thus far, an encouraging sign. According to ESPN New York's Kieran Darcy, Marcum will throw 70-75 pitches in a rehab outing Monday and, if all goes well, could return to face the
Philadelphia Phillies
on Saturday. This is all positive news for Marcum and the Mets, but it is worth noting that these types of ailments lend themselves to recurrence.
Brett Anderson, SP, Oakland Athletics (DTD):
Anderson has been contending with a sprained right ankle, which resulted in a shortened appearance Friday and a complete day of rest Saturday. Susan Slusser of the San Francisco Chronicle reports that Anderson threw a bullpen Sunday, which went well, and he appears "likely" to make his Wednesday start. The biggest concern with an ankle sprain on the landing leg of a pitcher is that it not throw off his mechanics and risk injury to his throwing arm. The A's must like what they see if they're considering a prompt return.
July, 6, 2011
7/06/11
5:06
PM ET
It's that time of the week when your mailbag and Twitter questions drive the blog. Thanks once again for your thoughts and insights. Many of you have questions about
St. Louis Cardinals
first baseman
Albert Pujols
and his quick-to-heal forearm fracture. This is a great reminder that not all injuries are created equal, that time frames for return to play should always be looked at as guidelines and that everyone heals at different rates.
[+] Enlarge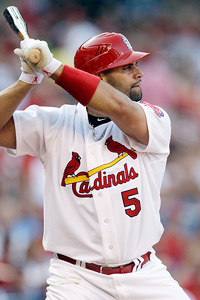 AP Photo/Jeff RobersonAlbert Pujols needed just the minimum 15 days on the disabled list.
Pujols suffered a fracture of his left distal radius (the tip of the forearm bone on the thumb side, just above the small carpal bones of the wrist). While it involved the wrist area, it was not an injury specifically within the joint, making it a much less complex problem. It was reported as a hairline crack, small and difficult to see initially on imaging. The bone was not completely broken in two (or more) pieces and it was nondisplaced, meaning everything remained in good alignment. These elements contributed to the potential for the bone to efficiently repair itself.
There were many reports that Pujols had a significant decrease in pain and demonstrated excellent grip strength the day after the injury. While his forearm and wrist were splinted to allow the bone to heal, he quickly resumed a weight lifting workout program and really never lost much in terms of overall strength and fitness. Signals of early healing in the bone and his lack of discomfort allowed the team to progress him fairly quickly to swinging a bat. When that did not reproduce any symptoms, he then began to swing against increasing contact. The fact he was able to move fairly quickly through a progression while the bone was healing meant that he lost very little when it came to the mechanics of baseball; the feel of gripping the bat, the timing of his swings, even the return to fielding ground balls. Hence the team felt no need to send him on a rehab assignment but instead chose to return him to the games as soon as healing had progressed to the satisfaction of the team physician.
A different fracture -- of slightly different dimensions or in a slightly different location -- on a different person might well have required at least four weeks in a splint before returning to activity. The time frame initially issued was reasonable; Pujols, in addition to being a great athlete who is in excellent shape, happened to have everything proceed exceptionally well. Remember, this is the same athlete who had an injury to his ulnar collateral ligament, which many believed would require Tommy John surgery. Although he has undergone two lesser elbow procedures -- to address spurs and to transpose (move) the ulnar nerve -- Pujols has continued to play effectively without reconstructing his elbow.
Short of falling with his full weight on to his outstretched glove hand (or reproducing the exact injury of a runner colliding with his glove), the risk of reinjury is low, just as the risk of having the injury happen in the first place was low. Pujols was sporting a supportive wrap Tuesday and will continue to do so for some time. The medical staff will be looking for feedback from Pujols as to how he feels after his first start Wednesday, whether he is sore the next day and whether any adjustments will need to be made. Whether he can hit with full power remains to be seen, but so far in the practice swings he has taken, there is nothing to suggest he will be compromised. The downtime, which normally compounds the degree to which players struggle at the plate when returning from hand, wrist and forearm injuries, was so brief that it is not likely to be a factor for Pujols. As I noted when the injury happened -- and perhaps even more evident now -- for Pujols and the Cardinals, this injury could have been far worse.
Thanks to Twitter users @ieeewok, @MOanimalcracker, @todd13, @breeleighjo, @loqiel, @JoshX1993 for all the Pujols questions.
Moving on to other players of interest. If you don't see your question answered here, it could appear on the 06010 Fantasy Focus podcast, so stay tuned.
From the mailbag
Wayne Jensen. Lincoln, Neb.:
How soon will Ryan Braun play? How bad is his injury?
Braun is dealing with a reported mild left calf strain, but after being out of the lineup four consecutive days, the
Milwaukee Brewers
decided to send him for further workup. Braun was scheduled to undergo an MRI on Wednesday as part of the evaluation. We know calf injuries can take longer to resolve than the athlete expects (Exhibit A:
Derek Jeter
), but trying to put a timetable on them can be difficult. Right now, there is no good answer to your questions and Braun's status has been a day-to-day evaluation so far. He's been selected for the All-Star Game, but if he's not back playing for his team this weekend, playing Tuesday could be in jeopardy as well. So far, there's been no overt discussion of a DL stint, but the outcome of Wednesday's visits could influence that.
From Twitter
@vtbasser:
Left lat strain for Jon Lester. Help a Red Sox fan out, what does it mean?!
@swk473:
Lester, how long are we talking?
[+] Enlarge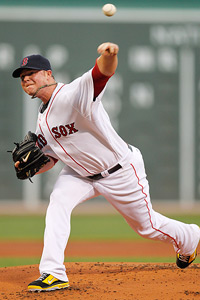 AP Photo/Steven SenneJon Lester could miss a few as two starts thanks in part to the All-Star break.
Lester underwent further evaluation Wednesday, including an MRI, for the latissimus dorsi strain that forced him to leave a no-hitter after four innings, and the
Boston Red Sox
have placed him on the 15-day DL. Although manager Terry Francona has not commented on the specifics of the test results, any time there is an injury to a muscle that contributes significantly to a pitcher's throwing action there is reason to be concerned. But as with any injury, the impact really rests in appreciating the severity. Consequently there isn't a ton to offer in terms of specifics just yet when it comes to how long we should anticipate Lester's absence to be. A mild strain might allow him to return within a couple of weeks. More severe "lat" strains can cost pitchers a month or more. Gordon Edes, who covers the Red Sox for ESPN Boston, nicely laid out the
range of DL days
for several pitchers who have recently sustained this injury and why it is problematic. The fact that Lester came out of a game in which he was pitching so well hints at him recognizing this was not something to push. Glass-half-full reaction: He recognized it early before it had a chance to become something that will linger. Glass-half-empty reaction: If a guy comes out of a no-hit bid, he probably is feeling more than just a little soreness. We will see how Lester progresses over the next two weeks, but fantasy owners should be prepared in the event that this extends beyond two missed starts.
@LA_Frankie:
Scott Baker, tender elbow. Please discuss how bad it might be, or if they were just playing it safe.
Baker was another pitcher who left his Tuesday start early because of discomfort, but his was in his throwing (right) elbow, more concerning given that this elbow gave him trouble last year. According to 1500 ESPN Twin Cities, Baker was scheduled to undergo an MRI on Wednesday but the team was referring to the injury as a mild elbow strain. Baker said after the game that he contemplated saying nothing to the medical staff and attempting to pitch through it, but then acknowledged, "... it just was a little more discomfort then I would have liked to continue to pitch with." He described the discomfort as feeling "more muscular than anything" and emphasized that he was trying to be proactive. "At this point in the season I'm just trying to be smart about it," Baker said. Given the collective injuries the
Minnesota Twins
have suffered, and Baker's own history of tendinitis near his elbow, it goes without saying that he made the correct decision.
The Twins may be playing it safe, but who could blame them? Most elbow injuries are a result of collective overuse. While some wear and tear is expected as a natural consequence of pitching, one thing we know from biomechanical studies done at the American Sports Medicine Institute in Birmingham, Ala., is that when pitchers alter their mechanics (which can result from fatigue or injury), the forces across the shoulder and elbow can change dramatically, resulting in far greater consequences. People are learning that it is often better for pitchers to back off and rest -- even when an issue appears minor -- than to try to force through it and risk something catastrophic.
July, 5, 2011
7/05/11
3:28
PM ET
Looks like some of the big names who have occupied so much space on our pages lately are making their way back onto the field.
New York Yankees
shortstop
Derek Jeter
rejoined the lineup for Independence Day. His performance at the plate didn't bring him any closer to 3,000 hits but he did come out of the game feeling good, perhaps the most important result for him on the night.
[+] Enlarge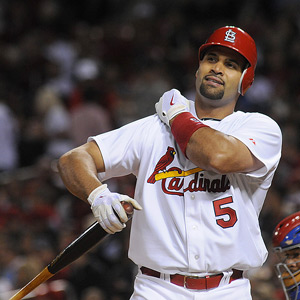 Tim Vizer/Icon SMIInstead of missing more than a month of action, Albert Pujols is back the first day he was eligible to come off the disabled list.
Meanwhile, the
St. Louis Cardinals
'
Albert Pujols
was activated from the disabled list on Tuesday (the first day he was eligible to come off), although he's not in the starting lineup. He will be available to come off the bench. Given that his original timetable was projected to be four to six weeks, and Tuesday marks just past two weeks, it's safe to say he's ahead of schedule.
The hairline crack in his left distal radius appears to be healing well and Pujols has maintained that his wrist felt fine as soon as the day after the injury. While the bone will still be in the process of healing for some time, a decision to return him to play would not be made if the team was not convinced that his re-injury risk was low. The fact Pujols has been taking swings without discomfort is a positive sign. According to the St. Louis Post-Dispatch, Pujols has hit off a machine. While it may not be identical to facing a live pitcher, it does present a good test. Whether he will immediately produce remains to be seen but a shortened downtime only helps him in that regard, one reason a rehab assignment is not part of the equation. Naturally it would be best for his wrist if Pujols could avoid falling directly on it with his full weight, which seems unlikely to occur, especially for a first baseman. Barring some unusual event, his chances of remaining healthy should be very good.
Quick hits
•
New York Mets
speedy sensation
Jose Reyes
hurt one of his wheels this weekend, leaving in the third inning of Saturday's game after experiencing discomfort in his left thigh. The good news is that the injury was reported to be only a Grade 1 strain, but anyone who has followed Reyes in the past knows that the hamstring has been his nemesis. In May 2009, Reyes suffered a significant hamstring injury that ultimately sidelined him for the remainder of the season. While this injury appears far less severe, Reyes is very clear that he
will not return too soon
this time around. While there has been no move to place him on the DL, if he does not show improvement within a few days, it could still happen.
• Another New York baseball superstar is also being talked about in the injury news. Yankees closer
Mariano Rivera
had pain in his right triceps area, just above the elbow, which was the reason given for him being unavailable Monday. Although Rivera acknowledged he had never before experienced this particular pain, ESPN New York reports Rivera also said, "I'm not concerned about it, I can tell you that. I'm not concerned at all." Admired for his consistency and his durability, Rivera does not often make this column. But he is 41 years old with more than a thousand innings under his belt. In other words, we're keeping a close eye on this.
• The
Colorado Rockies
had two key players suffer injuries over the holiday weekend. Outfielder
Carlos Gonzalez
hit the outfield wall Sunday at high speed and suffered a contusion to his right wrist and forearm. The team is calling him day-to-day for now, but just how long it takes for him to come back will depend on when he can swing a bat effectively. The Denver Post reports Gonzalez will not return until Thursday at the earliest.
• For at least Tuesday's game, Gonzalez will be joined on the sideline by shortstop
Troy Tulowitzki
, who strained his right quadriceps Monday night while running down the first-base line. He has a history of significant quadriceps injury, suffering one just a few years ago, and while it appears this instance is not severe, he told the Post, "There was no sense in staying in to further injure myself." Expect the Rockies to play it cautiously if Tulowitzki has any lingering soreness, as they could keep him out for a few days.
June, 23, 2011
6/23/11
12:36
PM ET
June, 20, 2011
6/20/11
5:28
PM ET
Is no one immune? The one they call "The Machine," the man who has appeared in more than 1,600 games since 2001, yes, he too is susceptible to "breaking" down. Literally.
Albert Pujols
, diagnosed Monday with a
small fracture in his left forearm
, will now join seven other teammates currently on the DL (including
Adam Wainwright
, who was lost before the season started to Tommy John surgery).
Here's what we've learned about his injury. The
St. Louis Cardinals
announced that Pujols is expected to be out four to six weeks with a small, non-displaced fracture in his left radius, the forearm bone which runs from the elbow to the wrist along the lateral or thumb side. The radius, along with the ulna (the other forearm bone, located on the medial or pinkie side), forms articulations with the small bones of the wrist (carpals). Pujols reportedly fractured the radius near the wrist (as opposed to higher up the forearm) and he is now in a splint to protect the bone as it heals. The Cardinals also indicated that tests of Pujols' sore left shoulder revealed no structural damage "at this time." The fact Pujols did not suffer a displaced fracture or a carpal dislocation requiring surgical intervention is a big relief.
[+] Enlarge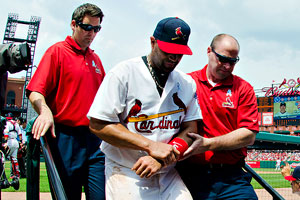 Scott Rovak/US PresswireAlbert Pujols is hitting .279 with 17 homers and 45 RBIs this season.
Anyone who saw the video replay of the injury could tell it was significant when Pujols fell to the ground in pain. Not only is it exceptionally rare to see Pujols in that state, but the way his vulnerable outstretched left arm awkwardly absorbed the body blow from runner
Wilson Betemit
seemed to threaten his entire upper extremity. In fact, while Pujols' main concern was his wrist, which he was holding supportively with his right hand as he walked off the field (often a natural reaction in the case of a more severe injury), we later learned he also had pain in his left shoulder. Although it appears he escaped serious injury to his shoulder, as Pujols nears his return, this will be something to watch.
Naturally the question on everyone's mind however is: Will Pujols
really
be back in four to six weeks? As in back to smacking the ball out of the park, back to presenting a deep threat every time he steps up to the plate? No one can really answer that question, at least not without special powers to read into the future. But in terms of the actual injury, it's certainly reasonable to expect a small, non-displaced (bony ends remain in good alignment) crack to heal within a few weeks. It typically takes six weeks for a fracture to fully heal and the bone continues to remodel or reshape itself for even longer, but if there is evidence of good healing within a few weeks, an athlete will be allowed to progress his activities (think
Josh Hamilton
, who earlier this year was allowed to take swings sooner than expected as his non-displaced arm fracture healed nicely). That said, there is significant torsion through the wrists when swinging the bat, especially the mighty Albert Pujols swing, meaning the bone needs to be healing convincingly to return to that motion.
The biggest secondary consequences from an injury such as this result from immobilization. Immobilizing the wrist and forearm (why Pujols is in a splint) is necessary to allow the bone to heal. Motion introduced before adequate healing has taken place threatens to create a bigger crack or, in some cases, displace what starts out as a non-displaced injury. The downside of immobilization is that the soft tissue in the area (ligaments, muscles, tendon and connective tissue) gets stiff and atrophies. Anyone who has been in a cast for any period of time knows how unrecognizable the body part is once the cast is removed, after the muscle has withered away to a shadow of its former self. Regaining the range of motion in the joint and the strength in all the muscles that support the joint is often the more difficult part of the recovery. This aspect is more difficult, yet most critical in terms of an athlete regaining his form. Nowadays the goal is to introduce movement as quickly as possible while still respecting the healing time for the bone, in an effort to minimize those soft tissue changes. If Pujols' forearm shows good early healing, he will be moved along accordingly. This has to be what the Cardinals are hoping for more than anything: no delayed healing.
It would not be a huge surprise if the timetable for Pujols should become slightly extended or if he should show some rust when he first returns. But at the end of the day -- and it's been a long one in St. Louis -- the Cardinals have to be somewhat thankful because this injury and its consequences could have been far worse.
May, 16, 2011
5/16/11
4:39
PM ET
What would a weekend be without more names to add to the walking wounded in baseball? There were a couple of hit-by-pitches and a couple of strains and tweaks here and there. But it wasn't until Monday afternoon when we got the biggest news of the weekend, an injury that took everyone, even the player himself, by surprise.
[+] Enlarge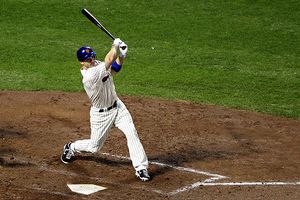 Jim McIsaac/Getty ImagesDavid Wright is hitting just .226 with six homers and 18 RBIs this year.
David Wright, 3B, New York Mets:
ESPNNewYork.com's Adam Rubin reports that New York Mets general manager Sandy Alderson announced that
Wright has a stress fracture in his low back
. The fracture was discovered when Wright was evaluated at Hospital for Special Surgery in New York on Monday. Alderson indicated that Wright would be seeking a second opinion but that the planned course of treatment was, quite simply, rest. Alderson said of Wright's reaction upon learning of his injury, "David himself was surprised by it."
At this point, there is not much further detail and we are awaiting the outcome of Wright's second opinion. But generally speaking, these injuries are typically treated with rest and once the pain associated with the fracture resolves, the athlete can resume activity based on comfort. While it sounds dramatic, this is potentially far less threatening than a serious soft tissue injury such as an ACL or rotator cuff tear. Bone, once healed, is exceptionally strong. The key is allowing the bone to fully heal, which is why proper rest, to avoid excessive movement in the injured area, is critical. Expect Wright to be sidelined for several weeks, but naturally we will update his condition as more information becomes available.
Albert Pujols, 1B, St. Louis Cardinals:
He's
a machine
, after all, so we should not expect Pujols to break just because he was hit by a
Francisco Cordero
fastball on his lead forearm. It looked painful Sunday as Pujols grasped his wrist and went to his knees in pain, but Pujols was able to carry on. As Pujols told the St. Louis Post-Dispatch, "It's going to take more than this to pull me down." The injury is being called a bruised left wrist and the plan was for him to seek X-rays only if he developed more swelling and soreness overnight.
Chipper Jones, 3B, Atlanta Braves:
It would be hard not to root for Jones after he took what could have been an entree into retirement and turned it into motivation to return for another season. Not only was he physically ready to go at the start of the spring following a second ACL reconstruction on his left knee, he has been fairly consistent. So naturally it's disappointing to learn that Jones' other knee is now giving him trouble.
Jones reportedly has a small meniscus tear in his right knee, which has been causing him discomfort, as those things are wont to do. In an effort to avoid midseason surgery, Jones received a cortisone injection and is resting the knee for a few days to see how it responds. If he is unable to play through it, he will yield to an arthroscopic procedure that could cause him to miss a few weeks. This really comes down to how well he can function in the presence of the injury. Tears of the meniscus do not heal themselves, but depending on the size and location, they may not prevent an athlete from continuing to play. Of course, that can change at any time, particularly if the tear increases in dimension or creates mechanical limitations that continue to irritate the joint. In other words, even if Jones is able to play through the injury for the time being, fantasy owners should be prepared that it could be problematic down the road.
Grady Sizemore, OF, Cleveland Indians:
It seemed inevitable that Sizemore would
revisit the disabled list
after he jammed his right knee on a hard slide into second base last week. He underwent an MRI and the team confirmed afterward that Sizemore had a right knee contusion (deep bruise) and he has been out of the lineup ever since. According to AP reports, Sizemore indicated the bruise was to his kneecap. Bone bruises, even mild ones, can be painful and a bit slow to resolve. It should come as no big surprise then that the Indians decided to place him on the DL on Monday, retroactive to May 11, to extend his recovery window. Although he had been resuming some baseball activities over the past few days, including hitting in the batting cage and some light drills, the soreness in his knee persisted.
There is no reason to rush Sizemore back. It is well known that Sizemore is coming off a microfracture procedure in his left knee, which required many months of rehabilitation and an easing into the 2011 season. Beyond the obvious risk of pushing his right knee when it is not feeling 100 percent healthy, there is the increased risk of Sizemore compromising his left knee if he alters his gait in any way to compensate. With a history of significant cartilage damage in his left knee, the hope is that Sizemore's right one does not suffer a similar fate.
[+] Enlarge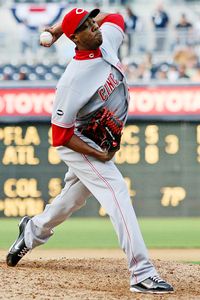 Jake Roth/US PresswireSince April 30, Aroldis Chapman has faced 19 hitters, allowing two hits, 12 walks and 10 runs.
Aroldis Chapman, P, Cincinnati Reds:
Chapman has been
placed on the DL
due to shoulder inflammation, according to the Reds' official website. There were signs in mid-April that this could happen, and at that time, he was held out for a few days because of inflammation in his shoulder. While his velocity returned, he continued to struggle with his command and the shoulder issue may have played a big part. In early May, there was talk from manager Dusty Baker about the lengthy time Chapman required to get loose before entering a game. There was discussion about Chapman's mechanics. In hindsight, perhaps these were reflections of an underlying issue. It's hard to be surprised about a shoulder or elbow issue in a flamethrower like Chapman. The hope is that this is truly just a minor setback that will respond to some extended rest.
Shane Victorino, OF, Philadelphia Phillies:
Last week, when talking about Utley's near return, I mentioned that Victorino (along with Rollins and Polanco) had not yet had a day off. Now that's been forced to change. Victorino strained his right hamstring Saturday and was out of the lineup Sunday. According to the Philadelphia Inquirer, Victorino will be out until at least Wednesday when the Phillies begin a homestand against the
Colorado Rockies
. While the team does not think this injury will warrant a trip to the DL, it's no secret that hamstring strains, even the very mild variety, can be tricky. Those that seem minor can quickly act up when an athlete pushes full speed and Victorino is not going to be jogging in the outfield. Fantasy owners should not be surprised if this return timeline gets extended.
Adam Lind, 1B, Toronto Blue Jays:
He's still not in the lineup, but he's not on the disabled list, either. Consider this a sign that Lind could make an appearance soon, especially since he reported feeling much improved after Sunday's drills. Lind has been dealing with back spasms for more than a week. Initially it appeared he had improved enough to play in this past weekend's series against the
Minnesota Twins
, but he was scratched Friday after developing some pregame tightness. Manager John Farrell pointed out that Lind was not sitting around during the game. "He went through a full two hours of treatment, exercises and rehab," said Farrell, adding that the team had hoped to have him back in the lineup Monday. According to the Toronto Sun, Lind was surprised to not be playing Monday after an uneventful Sunday workout. "I'm a little disappointed," Lind said. "I went hard today."
Perhaps after Friday's setback, the team wants to see how Lind feels a full 24 hours after his workout before committing him to the lineup. If all continues well, it appears the Blue Jays will consider getting him back in the groove shortly as he has avoided the DL thus far.
Don't look now, but there might be a couple of players sneaking back into the lineup this week. Can they be counted on for immediate production?
Rafael Furcal, SS, Los Angeles Dodgers:
Furcal is now on a rehab assignment as he inches closer to returning to the Dodgers' lineup after missing time with a broken left thumb. His final hurdle is batting right-handed without any discomfort. Furcal, who can hit from both sides of the plate, has been hitting well in rehab games but initially hit only from the left side. Right-handed swinging was originally causing mild discomfort, but after two right-handed at-bats Sunday night, the hope is that this is resolving. Furcal will face a left-handed starter Monday night and have another opportunity to test his thumb. Manager Don Mattingly is not interested in returning Furcal to a situation in which he is less than 100 percent healthy. Equally important is Furcal's confidence that he is past the injury. His productivity at the plate will be compromised if he is at all tentative in his swing. Mattingly indicated he would like Furcal to get 25 to 30 at-bats before rejoining the team. If he continues to progress well, it could signal his return late this week.
Jason Heyward, OF, Atlanta Braves:
Last week, Heyward
sat out several games
after experiencing numbness in his right hand and forearm and soreness in his right (non-throwing) shoulder. Since that time, Heyward has undergone an MRI, which showed inflammation in his shoulder, and he received a cortisone injection. According to the Atlanta Journal-Constitution, Heyward took his first swings Sunday since being sidelined with the injury, hitting off a tee and saying he hoped to take full-scale batting practice Monday. Heyward reported the shoulder felt improved and hinted at a Tuesday return to the lineup. The good news is that this is the first time Heyward has reported feeling better since he made an early exit in last Tuesday's game. The unknown is whether this issue will be truly behind him or whether it will crop up again later. After all, Heyward indicated the shoulder has been problematic intermittently since spring training, resulting in an inconsistent swing. Until he returns to hitting on a regular basis, it will be hard to assess just how much progress he has made.
April, 25, 2011
4/25/11
4:00
PM ET
• Just as
St. Louis Cardinals
slugger
Albert Pujols
was starting to look like the hitter fantasy owners know and love, he pulled up while running in the seventh inning of Sunday night's game against the
Cincinnati Reds
, striking fear into the hearts of thousands. The Cardinals said he left the game with "mild tightness" in his left hamstring and Pujols is doing his part to diffuse speculation of any serious injury. Speaking about how his hamstring felt after the game, Pujols told reporters, "The test was pretty good. I don't think it's too bad." Nonetheless, it would not be surprising if Pujols is kept out for at least the first game of the Houston series (which begins Tuesday; the team has Monday off) to ensure he is not risking further injury.
[+] Enlarge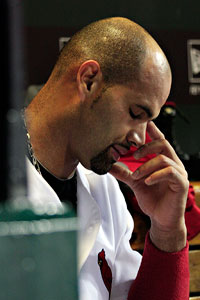 AP Photo/Tom GannamAlbert Pujols left Sunday's game early with a hamstring injury but says it's not serious.
According to MLB.com, Pujols first felt the discomfort in the back of his thigh when he was about halfway down the first base line Sunday night and opted to play it safe. "I just felt a little tight, and I just pulled off," Pujols said. "I think I prefer it tight than a blown-out hamstring, you know?" Yes, Albert, fantasy owners prefer that as well.
• During that weekend series against the Cardinals, the Cincinnati Reds were without their third baseman -- and former Cardinal --
Scott Rolen
as he landed on the disabled list. Rolen is officially listed as out with a sore left shoulder, but he received cortisone injections in both his shoulder and his neck on Thursday, according to Associated Press reports. Rolen has a long history of issues with his left shoulder, including a separated shoulder in 2002 and labral surgery in 2005. Rolen also had a subsequent surgery to address scar tissue in the shoulder in 2007. Given his history, it's no surprise the Reds opted to give their 36-year old corner infielder some additional down time. A report on Cincinnati.com indicated that Rolen agreed with the move. "I think that's the best course," he said. "Let everything calm itself down. Let the medicine get in there and work."
Neck, upper back and shoulder issues are often interrelated and the chronicity of Rolen's shoulder problems can certainly complicate the recovery, especially if he tries to press. While the team hopes he will only miss the minimal DL time (meaning he could return May 6), the plan will become clearer after Rolen has a few days of rest.
On Friday, we hinted that
Toronto Blue Jays
second baseman
Aaron Hill
could be
headed for the DL
with his strained hamstring, particularly given his problematic hamstring injury last year. Turns out, the hunch was a good one. The Blue Jays have indeed placed Hill on the DL retroactive to Wednesday. The hope has to be that this can keep the hamstring from being problematic throughout the season.
• The
Philadelphia Phillies
' closer carousel continues to go round. With
Brad Lidge
starting the season on the DL with a rotator cuff strain,
Jose Contreras
held down the fort. Until this past weekend, that is, when Contreras was sent to the DL with an injury to his throwing arm. Contreras has a right flexor-pronator strain (muscle mass on the inner elbow responsible for rotation of the forearm and grip on the ball) and is returning to Philadelphia for further evaluation, according to the Philadelphia Inquirer. Contreras had not pitched in three days after developing soreness in his forearm. If indeed it is solely a flare-up from overuse, then Contreras should be able to gradually resume throwing after a period of rest and recovery. If, however, there is a more sinister underlying problem then all timetables go out the window. In the meantime, the Phillies plan to use
Ryan Madson
in the closer role.
[+] Enlarge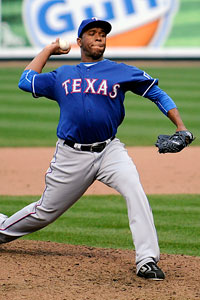 Joy R. Absalon/US PresswireThe Rangers were quick to put Neftali Feliz on the DL to avoid more serious issues down the line.
• The
Texas Rangers
are also forced to make a change at closer, now that
Neftali Feliz
is on the DL with inflammation in his throwing shoulder. The Fort Worth Star-Telegram reports that Feliz experienced tightness in his shoulder Friday while warming up. After he struggled a bit on the mound Wednesday, the team decided not to take any chances and imposed the shutdown with the hope that he will only require the minimum stay. While any issue with a thrower's shoulder raises some red flags, the fact that the Rangers appear to have jumped on this early is encouraging.
• In the good news department, the
Milwaukee Brewers
have to be excited about the imminent return of outfielder
Corey Hart
to the lineup. Hart, who has been on the DL since the start of the season with a left oblique injury could rejoin the team Tuesday after one final rehab outing in Nashville on Monday. The Brewers website notes that the team could opt to delay his return until Wednesday. The timing of the move will depend on how Hart feels the timing of his bat is shaping up. Most importantly, there appear to be no residual effects of the injury; it's just a matter of getting Hart up to big league speed.
• Meanwhile Hart's teammate
Zack Greinke
had another rehab outing Sunday, the success of which depends on what you're measuring. Greinke is pain-free and his velocity was good. He appeared to fatigue and with that, lost some of his command. As Greinke told the Tennessean, "Through almost the whole first two innings I felt real good. But they had a couple long at-bats and I hadn't really had any real long innings yet." The main issue for Greinke in recent weeks is no longer the rib (which has healed) but building up his arm strength after zero spring training outings. Given that the team is interested in having him available for the remainder of the season, a return in the first week of May -- not late April as some had hoped -- appears to be the most likely scenario.
•
Florida Marlins
outfielder
Logan Morrison
has
tweeted that he is out of a cast and into a walking boot
. This is a good sign that he is being allowed to progress with weightbearing through his recently sprained foot, although he still has quite a ways to go before baseball activity.
June, 11, 2008
6/11/08
5:35
PM ET
The Braves deserve a free pass. They have just had their unfair share of injuries. Add the Padres to that group as well. And while you're at it, throw in the Angels. The Mariners had been pretty lucky, until today when
J.J. Putz
left in the ninth inning with soreness in his right elbow after throwing just 10 pitches. This does not sound encouraging. More on his situation should be known later this week, but for the other folks suffering setbacks, please, continue on.
[+] Enlarge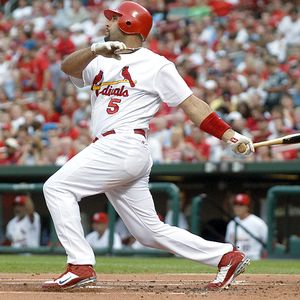 Jeff Curry/US PresswirePujols will miss at least three weeks with a calf injury.
Albert Pujols, 1B, St. Louis Cardinals:
Surprise, surprise! It's not his elbow that's sending Pujols to the DL. It's his calf. Pujols first strained the left calf muscle on June 3, then sat out Wednesday's game and most of Thursday's doubleheader, coming in only to pinch hit. The calf never really seemed to be 100 percent, though as Pujols was still sore heading into Friday night's contest. Then, in the bottom of the seventh Tuesday night, Pujols only made it a few steps out of the batter's box when he fell to the ground, clearly in pain, as the calf made it clear that it was not going to cooperate. Pujols appeared to have difficulty bearing any weight on the leg as his teammates helped escort him from the field. There doesn't seem to be much doubt about where he's headed since manager Tony LaRussa told the St. Louis Post-Dispatch, "I don't think there's a way he's going to avoid the disabled list." Pujols will be examined by the Cardinals' team physician Wednesday and the team will no doubt make it official after that. Given that this is an exacerbation of a milder strain from a week ago, and Pujols strained the same calf fairly seriously in September of 2007, it would be wise for him to shut it down completely to allow the muscle more recovery time. Though we haven't heard much about Pujols' elbow bothering him (and we know he has at least a partially torn ulnar collateral ligament), and he certainly hasn't suffered at the plate so far as a result, the forced rest can only help prolong the life of his elbow too. The Cardinals had indicated prior to the start of the season that they planned to rest Pujols more to help maintain his overall health and not abuse his body, but that really hasn't been the case. Pujols has sat out only two games this season, so the Cardinals may have been lucky that he hasn't broken down sooner. This trip may be just what the doctor ordered.
Tom Glavine, P, Atlanta Braves:
It was just about two months ago when we were remarking how Glavine was being forced to the DL by a hamstring injury for the first time in his career. Now he's making a repeat visit, but for another, perhaps more worrisome, injury. Glavine left Tuesday's game against the Cubs in the fourth inning with what is being called a strained left elbow. The Atlanta Journal-Constitution is reporting that Glavine will undergo an MRI on his elbow later this week. Apparently Glavine has been dealing with soreness in his elbow since May, unbeknownst to anyone outside of the organization. Glavine said that originally the stiffness would occur just between starts, and then gradually the elbow began to stiffen as the games would wear on. Glavine added "the last two games it's been pretty much every pitch I've thrown. It's not getting any better." This is not exactly what the Braves want to hear. They have lost
John Smoltz
from their starting rotation as well as Hampton (though you could argue that he was never really there). Soriano is day-to-day and remains a concern because of lingering elbow symptoms. Now add Glavine who will, at the very least, miss two weeks, but likely more as he will have to gradually resume a throwing program if and when his symptoms settle down. More will be known as to whether there is an obvious structural issue in Glavine's elbow after Thursday, but until then, the Braves will simply be keeping their fingers crossed that they are not about to lose their third starting pitcher this year.
[+] Enlarge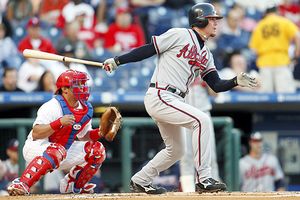 Howard Smith/US PresswireThe oft-injured Chipper has another nagging ailment.
Chipper Jones, 3B, Atlanta Braves:
The injury was not new, but keeping Jones out of the lineup for more than a day was. Jones, who reportedly has a small tear in his right quadriceps muscle, sat out Sunday and Tuesday, with the exception of a single pinch-hit appearance Tuesday. Jones acknowledged that the quad is still sore, but was able to take some swings during batting practice and field some grounders, according to the Braves' official Web site. Originally slated to be out until Thursday or Friday, Jones says he hopes to return to the lineup Wednesday but admits he couldn't run the bases. It still seems like a risky play to have Jones in the lineup when he is so clearly not at full strength. Of course, when a batter is hitting .420, there is a delicate balance to maintain so he doesn't lose the zone that someone like Jones is in. But consider that Jones originally injured his quad April 9 on a cool night in Colorado. Then, on April 20, Jones was forced to leave the game in Atlanta after aggravating the injury. Now it's June, and that same quadriceps muscle acted up just steps out of the batter's box Saturday night. According to the Braves' official Web site, their medical staff considered using a needle to extract blood from around the muscle. But Jones opted for a less invasive pressure wrap instead -- and who could blame him? Nonetheless, the presence of blood indicates that the injury was more than just microtrauma. The risk is that this injury gets still worse instead of better, potentially sidelining Jones for a extended period of time. The Braves could opt to utilize Jones as a DH initially in upcoming interleague play, which would spare Jones the sudden movements associated with playing defense. It does not, however, prevent him from having to run from home to first, which is exactly how he aggravated the injury this past week.
Ryan Church, OF, New York Mets:
Church had a nasty collision with
Yunel Escobar
on May 20 and has not felt like his former self since. Church, who managed to return for four starts since sustaining the concussion injury, is still having symptoms. Intermittent dizziness, fatigue and a sensitivity to light are continuing to bother Church who has now had two concussions this year, the first of which occurred March 1 during a spring exhibition game. According to the Mets' official Web site, Church most recently experienced a pulsating feeling which he described as "a heartbeat in my head." These are not the type of symptoms an athlete should continue to play through and Church is wisely being held out for a fixed period of time via the disabled list. The challenge with concussions is that there is no specific time frame for all the symptoms to resolve, and in fact, concussion severity can only be determined after the fact. Church told Newsday that he will not change his style of play when he does return, other than with the next ground ball, he "might be sliding halfway."
Jake Westbrook, P, Cleveland Indians:
We knew it wasn't sounding good, but the worst fears have been confirmed. Westbrook will undergo reconstructive surgery on his elbow and is done for 2008 and certainly a portion of 2009. Keep him in mind for a midseason pickup next year.
Rafael Furcal, Los Angeles Dodgers:
The Los Angeles Daily News is reporting that we will not be seeing Rafael Furcal for at least three more weeks. A follow-up visit with doctors resulted in the announcement that it will be at least two weeks before he could play in a game. Then there comes the rehab assignment. Then, well, we're almost to the All-Star Break, so you get the idea. What looked initially like a simple trip to the DL has grown ever longer, yet the pattern is not inconsistent with how back pain behaves for all of us. Keep in mind that this schedule is by no means definite.
And in the good news department...
Jake Peavy, P, San Diego Padres:
Peavy is scheduled to return to the mound Thursday after missing roughly three weeks with elbow inflammation. With
Chris Young
's time off being extended, this is good news for the Padres and Peavy has not reported any pain since the last week of May. Now let's hope it lasts...