Stephania Bell:

Alex Gonzalez
May, 7, 2012
5/07/12
6:11
PM ET
Just as the
Washington Nationals
prepare to welcome third baseman
Ryan Zimmerman
off the DL (he is expected to return Tuesday after an episode of inflammation in his AC joint), they lose yet another starter to injury ... for months. Outfielder
Jayson Werth
was attempting to make a sliding catch Sunday night when his glove caught in the grass, forcing his left wrist backward into hyperextension. The added load as his body weight came down through his forearm contributed to the
immediate fracture of Werth's left radius
, the forearm bone on the thumb side that forms part of the wrist joint.
[+] Enlarge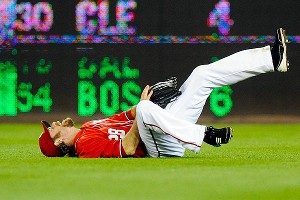 Greg Fiume/Getty ImagesJayson Werth may not be back until well into August.
Not only is a fall on an outstretched hand the most common mechanism for a radius fracture, the instinctive response of Werth to cradle his left arm against his body as his right hand supported his forearm bones at the wrist is a classic reaction to a break. Still, given Werth's left wrist injury history and the many possible outcomes after such an impact, the specifics of his injury could not be presumed by watching the video. The only takeaway was that this was unquestionably a serious injury that dealt Werth a painful blow.
MLB.com reported Monday that Werth underwent surgery to stabilize the fractured radius and the timetable has initially been presented as at least 12 weeks. Standard repair of distal (meaning near the wrist, as opposed to proximal or near the elbow) radial fractures involves implantation of hardware such as a plate and screws to help position the bone for optimal healing. Consider six weeks for the bone to heal, if all goes well, followed by a gradual return to activity as range of motion and strength permit. Ultimately a rehab assignment will be in order prior to Werth rejoining his team. One of the biggest challenges following this type of injury is regaining normal range of motion following the requisite period of immobilization. The initial timetable of three months is reasonable but certainly could be modified along the way depending upon how Werth is progressing. A sooner return is highly unlikely. A lengthier absence is entirely possible.
Werth's prior wrist history, which began when he was hit by a pitch while with the
Los Angeles Dodgers
in 2005 and eventually resulted in a 2006 surgical procedure by Dr. Richard Berger at the Mayo Clinic (the same surgeon who performed Monday's surgery, according to the Nationals) to repair a split tear of Werth's ulnotriquetral ligament, is not without importance here. While this latest injury is on the opposite (thumb) side of Werth's wrist, the wrist complex (which includes the two forearm bones-- the radius and the ulna -- their articulations with the eight small carpal bones that form the wrist and the articulations of the carpals with the metacarpals -- long bones of the hand) is precisely that, complex. Superimposing a major injury on an area that has already suffered an injury can be problematic. Although Werth clearly returned to an elite functional level from that initial injury, any alterations in his wrist motion or mechanics, however minor, can present additional challenges with a second injury in the region. Certainly Werth has to feel more comfortable with Berger performing this latest surgery, given his specific familiarity with Werth's wrist. And this is not to say Werth can't make a complete recovery; the expectation, based on the limited available information, is that he can and will. But it won't be fun.
Gonzalez tears ACL
Shortstop
Alex Gonzalez
has now become part of an unusual club among
Milwaukee Brewers
, a club whose members are relatively few but one to which no one seeks membership. That would be the torn-ACL club, and Gonzalez will join recently inducted first baseman
Mat Gamel
as this year's dubious honorees. Pitcher
Yovani Gallardo
tore his ACL back in 2008, an injury made even rarer by the fact he is a pitcher. Torn ACLs aren't as common in baseball as they appear to be in some other sports, although the potential for occurrence in any athletic endeavor always exists. Apparently this is something the Brewers know all too well.
The two infielders tore their right knee ligaments within the same week but under completely different circumstances. Gamel tore his ACL when he crashed into a wall Tuesday in Petco Park while attempting to make a play on a foul ball. Gonzalez was stealing second in Saturday's game against the
San Francisco Giants
when an awkward slide did the damage. Gonzalez is in the standard pre-surgery waiting period, but as the Milwaukee Journal-Sentinel reports, general manager Gordon Ash confirmed the end of his season, saying, "Alex is going to have surgery. It's just a matter of who is going to perform it." The rehabilitation program following ACL reconstruction is well established and both players should be physically capable of returning to their sport. The disadvantage for the 35-year-old Gonzalez, however, is that he was playing on a one-year deal with the Brewers. His options may be determined, in part, by how he progresses through this rehab.
Quick Hits
• And stop me if you've heard this one before. Pitcher
Huston Street
, no stranger to the DL, has made his first visit of 2012, this time for a strained latissimus dorsi (commonly referred to as "lat") muscle, injured during a Friday night appearance. While manager Bud Black told reporters he didn't think it was anything that would require surgery, that's not necessarily revealing since most lat injuries don't. The lat is critical to shoulder function, however, and time out can range from weeks to months, depending on severity. As of now, there is no timetable for Street.
[+] Enlarge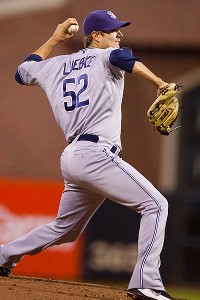 John Hefti/Icon SMICory Luebke, a popular sleeper pick entering the season, has a 3-1 record with a 2.61 ERA.
• Street's teammate
Cory Luebke
is out indefinitely with an elbow issue. An MRI reportedly showed damage to his ulnar collateral ligament (UCL) and his flexor tendon along with fluid in the area. Luebke says he is waiting for the inflammation to settle before making a decision. When it comes to deciding about what would be Tommy John surgery for Luebke, it's critical that the player come to that decision fully invested and without question. The rehab is incredibly long and demanding, and surgeons will often say they want the athlete to essentially come to his own decision that surgery is the only option. This is one reason athletes will sometimes take a few weeks of rest, then try to throw again to see how the elbow responds. If it fails to perform, the choice becomes clearer. And so we wait.
• There is some good news, though.
Detroit Tigers
pitcher
Doug Fister
will start Monday night in his return from a costochondral strain. After an impressive rehab outing last week, he should be good to go. As noted above, Nationals third baseman Ryan Zimmerman is expected to be back in the starting lineup Tuesday. Zimmerman has been hitting the past few days without pain -- something he could not do initially -- and barring a setback should be ready after a team day off Monday. And
Philadelphia Phillies
ace
Cliff Lee
is expected to rejoin the rotation Wednesday, as he returns from an oblique strain. While Lee was not able to come back at 15 days as he originally hoped, he certainly beat the average number of days absent for pitchers with oblique injuries. Perhaps the fact it was a low-grade injury coupled with Lee's experience in dealing with some variant of abdominal issue over the past few seasons has helped him move through the process more quickly. Two pain-free bullpens have Lee convinced he's ready. Believe him.
June, 24, 2009
6/24/09
2:18
PM ET
The feel-good tidbit of the week took place Tuesday when
Joey Votto
was activated from the DL just in time to play in his hometown of Toronto. Votto's Reds and the Blue Jays met Tuesday night and although Cincinnati took the loss, it was a big victory for Votto just to be out on the field.
Out since May 30 with what the team referred to as stress-related issues, which seemed to emerge following a difficult-to-diagnose inner ear infection, Votto had been working his way back through a rehab assignment in recent days. The Cincinnati Enquirer reported that Votto acknowledged he was battling depression since his father's death last fall. The depression really took a toll on him during the offseason, but Votto thought that once spring ball started he could manage. Those feelings were then exacerbated again after his recent illness, however, and Votto claimed that he felt overwhelmed at times while on the field. Although the first four innings were a little rough Tuesday, Votto told the Enquirer that after that he felt "like my old self again." Welcome back, Joey.
As nice as it is to see players rejoining the lineup, there are fewer returns than exits. The number of players being added to the DL keeps me busy each week as I detail the drama, and keeps fantasy owners busy making constant roster adjustments. Mets general manager Omar Minaya may have his hands full shuffling his roster around, but he's got nothing on some of you who have shared your team injury tragedies with me in our weekly chats.
Whom exactly do we have our eye on in the world of baseball injuries this week? Given their recent misfortunes, it only makes sense to start with the Mets.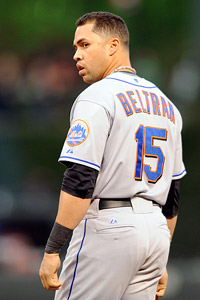 Mark Goldman/Icon SMIIt's very possible Carlos Beltran will miss the All-Star Game because of his knee issues.
Carlos Beltran, OF, Mets:
Beltran joins teammates
Carlos Delgado
and
Jose Reyes
on the dreaded DL. And that's not the worst of it. Beltran may, like his teammates, exceed the 15-day minimum stay on the DL depending how long it takes to get his leg healthy. In fact, given the worsening of Beltran's condition over time, fantasy owners should expect that his stay indeed will be extended, but by how much is anyone's guess at this stage.
Beltran's knee has been giving him trouble since May. Diagnosed at the time with a bone bruise on MRI, Beltran received a cortisone injection and responded favorably, or so it seemed. As the benefits of the cortisone disappeared, however, Beltran began to have increased pain in his knee at times, although the pattern of when it would act up seemed inconsistent. By last weekend, there was no denying that Beltran could not perform at his normal level and a subsequent MRI revealed that not only had the bruise not improved, but it had actually doubled in size.
What's the big deal with a bruise you ask? After all, it's just a
bruise
. To be truthful, not all bruises are created equal, and when it comes to bone, a bruise can have far more serious consequences.
A bruise, by definition, is bleeding. We all get bruises from time to time and don't think much of them, often wondering how exactly we acquired the colorful black, blue or purple blemish. These are soft-tissue bruises, typically superficial bleeding of tissue below the skin, although bruises can also occur in deeper tissue, like muscle. Such bruises can be caused by something as simple as the random encounter of one's thigh with the corner of a desk or, something more spectacular, like making the diving outfield catch that saves the game in your recreational softball league. In most cases, they are unsightly and uncomfortable, but not disabling. And they tend to go away on their own eventually without much intervention or alteration of one's daily routine.
A
bone
bruise however is a slightly different animal. An abnormal MRI finding usually results in the diagnosis, but there can be some variation in terms of what specifically is involved and how serious the problem is. The abnormality shows up in the subchondral bone (layer below the cartilage that lines the joint) or in the marrow and is generally thought to reflect fluid and swelling in the area, perhaps associated with micro-injury of the bone. The biggest concern would be that a progression of this injury could result in further bone damage, even a fracture, which is why it becomes critical that a bone bruise heal properly.
Bone bruises often occur in conjunction with traumatic knee injuries, such as ACL tears. The thought is that the forces that result in ligamentous or other soft-tissue injury may also result in abnormal bony contact, creating the bruise. In the absence of other soft tissue damage, it is not always easy to identify why or how a bone bruise occurs. In Beltran's case, at the time of the original injury in late May, Beltran could not recall a specific incident that led to the bruise.
The key for Beltran is adequate rest and allowing the bone sufficient time to heal. Given that this injury has already been protracted and that the bruise has grown in size, do not expect Beltran to return in 15 days. It would not be surprising if Beltran's DL stay extends beyond the All-Star break. Stay tuned.
Coco Crisp, OF, Royals:
No wonder prior episodes of rest didn't seem to help Crisp's shoulder. The Kansas City Star is reporting that Crisp has a labral tear and will undergo surgery Wednesday with Dr. James Andrews to repair it. Crisp, who has been out since May, might have been able to rehab the shoulder extensively and attempt to return before the end of the season, but his lack of progress thus far may have been an indicator that surgery was the best course of action. Also, the timetable following labral repair for a fielder is typically anywhere from four to six months before returning to play. Had Crisp elected to wait much longer, he could have risked encroaching on next season's return. For Crisp and the Royals, this appears to be the best option. Fantasy owners in keeper leagues should not have any particular concerns about Crisp going forward.
Grady Sizemore, OF, Indians:
Sizemore rejoined the team Tuesday night and managed a triple and two RBIs. Perhaps more importantly, he seemed to feel fine both during and after the game. So is he past the elbow problem that has troubled him throughout the season?
It's too soon to say for sure. Keep in mind that the Indians and Sizemore are very aware that every step in return to play is yet another test on the elbow. One only needs to look at how manager Eric Wedge plans to play Sizemore to see that the team is not confident that he is out of the woods. Wedge told the Akron Beacon Journal, "This week I think we need to be careful. Grady won't play every day the first week." Wedge even hinted that when the team wraps up interleague play, he may use Sizemore as a DH only for a while. Sizemore had an inflammatory condition in his elbow, and although it has clearly improved, the concern is that frequent use could reinitiate the inflammation. Surgery remains a possibility. Consequently, fantasy owners should check daily lineups and should keep some insurance handy for the next three to four weeks at least.
Alex Gonzalez, SS. Reds:
Gonzalez underwent surgery Monday to remove four bone chips in his right elbow. He initially went on the DL after a batting practice swing resulted in his elbow locking up on him. Subsequent tests revealed the presence of the chips. Reports on his timetable have varied from three to five weeks. All will depend on how long it takes Gonzalez to regain his full range of motion in his elbow, along with his strength. The surgery was to Gonzalez's throwing elbow, so it would not come as a surprise if this rehab process veers toward the longer side of the projection.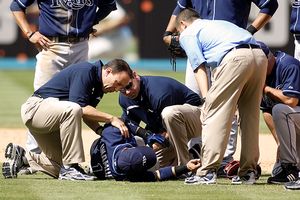 Joel Auerbach/US PresswireFeared to be lost for the season after injuring his knee last month, Akinori Iwamura may still have a shot at playing this year.
Akinori Iwamura, 2B, Rays:
Here's a surprise. An injury that initially appeared season-ending (and apparently felt that way too to Iwamura who called it "the most painful moment" in his career) has perhaps turned into something slightly less severe. It was originally feared that Iwamura had completely blown out his anterior cruciate ligament (ACL) while trying to turn a double play in late May, which would have required complete reconstruction and an absence of six months minimum. As it happens, Iwamura only partially tore the ACL, along with the medial meniscus, and a recent arthroscopic procedure to address the meniscal tear may be all that's required. Iwamura naturally will undergo physical therapy to regain range of motion and strength and the hope is that there will be adequate healing to allow him to return to baseball within approximately two months.
Clearly this is good news for Iwamura and the Rays in that the damage was not as extensive as originally suspected. That being said, it will be important to keep an eye on how Iwamura is progressing through his rehab before getting too excited about an early return. Even mild instability can result in a major change in an athlete's function. Iwamura's strength will be key in his ability to recover here.
Ervin Santana, P, Angels:
Santana was placed on the DL ... again. The good news from the Angels is that there is no evidence of injury on a recent MRI. The bad news is that he is still having discomfort in his throwing arm. The team is calling it inflammation in his triceps.
Since the Angels were able to make this DL stint retroactive to June 12, Santana will be eligible to be activated this weekend. So will he be ready? Santana said he felt good after his bullpen Sunday according to the Orange County Register but later acknowledged having some discomfort. Call me suspicious, but I need to see him perform more consistently before I am comfortable with his status. Still a risky prospect.
On the Mend ...
•
Scott Kazmir
has looked good in his rehab starts so far. In fact, he looked great Monday night in terms of both his velocity and command. His newfound confidence should accompany his healthier physique back into the majors. Expect him to rejoin the rotation either late this week or early next week. According to the St. Petersburg Times, that decision will be made after Kazmir throws a bullpen session Wednesday.
• Last week we knew
Asdrubal Cabrera
's left separated shoulder was feeling better. Now we have a better idea of his timetable to return. The Akron Beacon Journal reported that Cabrera began a rehab assignment Tuesday (in Akron). If all goes well, he could rejoin the team as early as Thursday night.
• Blue Jays ace
Roy Halladay
will come off the DL just one day after he's eligible to do so. Halladay, who had been out with a minor groin strain, threw from a mound Tuesday without incident. Throwing downhill was the only thing still causing him discomfort last week, which was why the Blue Jays opted for a DL stint in the first place. The extra days of rest apparently helped. According to the Blue Jays' official Web site, Halladay is expected to throw a side session later this week, and is in line to pitch Monday night.
• Cubs third baseman
Aramis Ramirez
continues to make progress following his shoulder dislocation in early May. The team's official site reports Ramirez, who has tolerated soft toss and light swings well, will begin to take live batting practice Friday. The live batting practice presents an increased challenge for the shoulder given the speed of the swings he will take. Equally important to how he contacts the ball will be how his shoulder tolerates a hard swing and a miss. The main concern for Ramirez, given his history of shoulder problems, will be whether he has any issues with lingering instability in the shoulder. If batting practice goes well, Ramirez could head out on a rehab assignment shortly afterward. He's still a few weeks away from a return, but it's worth paying close attention to how he tolerates the increased activity this week.
• The Mets have to be relieved to see that they have a couple of players who, despite being injured, are going in the positive direction toward healing. First baseman Carlos Delgado, out since May with a hip labral procedure, is progressing as expected. General manager Omar Minaya was quoted in the New York Post following his appearance on New York's WFAN radio as saying that Delgado is "coming along very well." Minaya reiterated that the team's timetable for Delgado's return remained "at least" 10 weeks from date of surgery (which would have him returning in early August), but at least Delgado seems to be continuing toward that target.
Meanwhile pitcher
John Maine
, out with fatigue in his throwing shoulder, pitched four innings Monday in a rehab start and had no residual symptoms. He is expected to throw a bullpen session Wednesday and then pitch in a game Saturday. That Saturday game may very well be at home against the Yankees, so fantasy owners should check the daily lineups.
• Phillies outfielder
Raul Ibanez
took some batting practice and did some running drills before Tuesday's game according to Philly.com. This is a good sign of early progress for an athlete who is out with a groin injury. Ibanez indicated that he was feeling better and that he hopes he will be able to return near July 3, when he's eligible. The big test will be when he has to run full speed and make quick lateral jumps on the ball, so it is too soon to make guarantees, but so far so good.