Stephania Bell:

Alfred Morris
October, 10, 2013
10/10/13
7:57
PM ET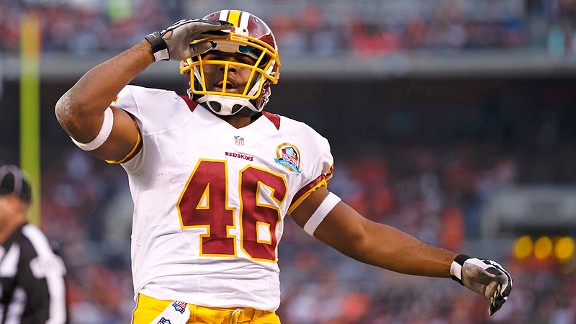 AP Photo/Rick OsentoskiThe future looks better for Alfred Morris and his injured ribs.
Here's a look at some of the key injuries that figure to impact fantasy owners as Week 6 approaches.
Alfred Morris, RB, Washington Redskins (ribs):
Our last glimpse of Morris on a game day saw him being escorted slowly off the field after a rib injury in Week 4. Fortunately for Morris and his team, the Week 5 bye allowed him more extensive down time to recover. X-rays were reportedly negative for any fracture and the healing involved was mostly to the soft tissue around the rib and chest area. Although Morris indicated from the outset that he did not believe the injury to be serious, the rib cage area is so sensitive to bruising that turning, twisting, raising one's arms overhead, even simply breathing can become painful. Morris must have used his off time wisely because he returned this week to full practice. Although he's moving well, it's an entirely different matter to absorb contact from an opponent, which explains why players returning from rib injuries often sport extra padding. Morris will likely do the same but the important thing is that he appears to be in line to play against the
Dallas Cowboys
. With this game taking place Sunday night, the fewer question marks for fantasy owners, the better.
Ryan Mathews, RB, San Diego Chargers (concussion):
So far this season Mathews has avoided the standard musculoskeletal injuries, other than a minor hamstring tweak, which showed up late in the week in practice (but didn't stop Mathews from playing). This time it's a concussion that has Mathews sidelined and if there is any injury a player is not going to push through -- nor should he -- it's a head injury. Mathews suffered the injury last Sunday night and his activity is undoubtedly being guided by the team's concussion protocol. He is not practicing as of yet and there is no indication as to whether he will be available by Monday night. Fantasy owners should make alternate plans.
Greg Olsen, TE, Carolina Panthers (foot):
Olsen put a little fear into fantasy owners when he was absent from practice with a foot injury and was spotted wearing a protective boot. Everyone can exhale now as Olsen returned to practice Thursday for a full session. Sometimes the placement of a boot is simply a means of offloading the foot and is not an indication of a severe injury. Obviously something was troubling his foot enough to get a day off from practice and be out of a normal shoe, but the fact he could do so much work Thursday is a good sign. If he's able to follow it up on Friday that will be even better.
Andre Johnson, WR, Houston Texans (shin):
Johnson has been dealing with a shin contusion since the Week 3 contest against the
Baltimore Ravens
. Each week his practice activity has been limited and each week he has managed to play, although his status has been uncertain until at least Friday afternoons. This week appears to be no different. As ESPN.com's Tania Ganguli reports, Johnson said that
plan has worked well
. He did not practice Wednesday or Thursday this week, leading to coach Gary Kubiak again calling him a gametime decision. If Johnson gets through at least some level of practice Friday, it would hint at him suiting up again on Sunday.
Cecil Shorts, WR, Jacksonville Jaguars (groin):
Shorts has been managing through a groin issue intermittently dating back to the preseason but he has played in every game. Will that change in Week 6? This week Shorts was downgraded from a limited practice Wednesday to not practicing at all Thursday. Coach Gus Bradley made it clear though that it was a collective decision between him and the medical staff to rest Shorts,
according to ESPN.com's Michael DiRocco
. "He's tough and he doesn't say much, but I know with that groin's tightness it was one of those things where I think it's lingering and I just felt like the best thing for him after talking with Mike [Ryan, trainer] and Mylo [strength and conditioning coordinator
Tom Myslinski
] was to completely hold him out of practice," Bradley said. "Let's let it settle down."
When players are dealing with chronic soft tissue injuries during the season, it's not so much a goal of trying to get them fully healthy; when games are separated by a handful of days, there's not enough time for that to happen. But the problem can improve and the objective is to enable the athlete to be functional enough to perform while minimizing the risk of the injury worsening. The Jaguars must know there will be a lot of passes thrown in this week's matchup against Denver and they will need all receivers on deck. This is a late game Sunday but it appears the Jaguars plan on having Shorts available.
October, 1, 2013
10/01/13
3:43
PM ET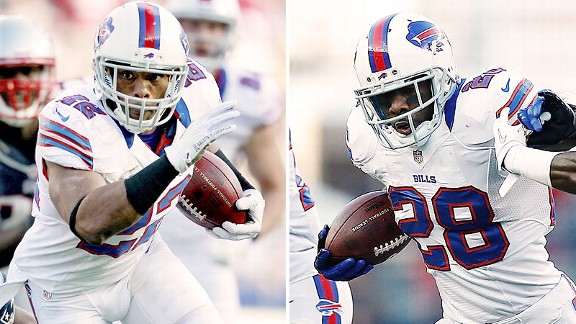 AP Photo, Getty ImagesBoth Fred Jackson and C.J. Spiller are dealing with injuries heading in the Bills' Thursday night game.
Here's a look at some key injuries in the fantasy football world that we'll be following ahead of Week 5 of the NFL season.
C.J. Spiller (ankle) and Fred Jackson (knee), RBs, Buffalo Bills:
Spiller came into the Week 4 contest fresh off a quad injury but practiced daily leading up to the game, hinting at a swift recovery. By the second half of Sunday's game, however, Spiller had another ailment. With the Bills' next contest slated for Thursday, just four days later, Spiller is now dealing with an ankle injury and sat out practice Monday.
Spiller has indicated that he hopes to play in Week 5, not an unreasonable possibility given that he returned to Sunday's game after the injury. However, the short turnaround doesn't allow much recovery time, and even Spiller said he'd like to get to 80-85 percent to be well enough to play. It begs the question as to just how much fantasy owners can expect from what will certainly be a less-than-fully-healthy Spiller, if he takes the field. "The last two games I haven't even completed a half," Spiller noted, according to the Bills' official website.
As for Jackson, he sustained a sprain of the medial collateral ligament (MCL) in his right knee. This is not a first for Jackson, who suffered a Grade 2 MCL sprain in the same knee last December and ended up missing the Bills' final three games. "I sprained my MCL again, but it's not as significant [as in the past]," Jackson said. He did practice on a limited basis Monday and expects to be ready to go by Thursday night. Both running backs will enter Thursday's game at less than 100 percent and on short rest, not an ideal scenario.
Darren McFadden (hamstring) and Marcel Reece (knee), RBs, Oakland Raiders:
Another team, another tandem of running backs impacted by injury. McFadden injured his hamstring in the first half of Sunday's game and the sight of him in street clothes in the second half made it clear he would not return. Reece injured his knee in the same game, but a subsequent MRI indicated his is a non-surgical situation. Coach Dennis Allen has not given any hints as to whether he expects either or both backs to be available this week, saying it's "too early to speculate." That won't stop fantasy owners from speculating about the possible scenarios they'll have to contend with if both RBs sit out, which includes the prospect of
Rashad Jennings
taking the lead.
Alfred Morris, RB, Washington Redskins (ribs):
Morris gingerly exited the field Sunday and looked to be in a fair amount of discomfort on the sideline. The injury was reported as a rib contusion and Morris did not return. X-rays were reportedly negative but even the absence of a fracture does not necessarily diminish the pain associated with a bruising shot to the ribs. Morris admitted to being "
a little tender
," and perhaps the greatest point in his favor is that the Redskins have a bye in Week 5. Given his level of discomfort, he very well could have been forced to sit this week out. Expect little in the way of updates on Morris over the next seven days, as the primary focus for him is likely to be rest. Look for news once pregame practices and injury reports resume for the Redskins in advance of Week 6.
Santonio Holmes, WR, New York Jets (hamstring):
Holmes has been a little slow to get started this season in his return from Lisfranc surgery, and it's going to get even slower. Holmes injured his hamstring in Sunday's game and it looks as if it's going to sideline him for an extended period. ESPN.com's Rich Cimini reports the Jets will sign veteran wide receiver
David Nelson
in anticipation of Holmes
missing extended time
.