Stephania Bell:

Alshon Jeffery
October, 10, 2013
10/10/13
12:11
PM ET
The
New York Giants
travel to the Windy City to play the
Chicago Bears
in this week's Thursday night matchup. Here's a look at some of the injuries to key fantasy players heading into the game.
New York Giants
The winless Giants hope to turn things around Thursday. However, it will be a tough task for the Giants given the injuries on their roster. A few players already ruled out for the game include center
David Baas
(keeping them thin on the offensive line), cornerback
Corey Webster
(missing his fourth consecutive game, one of many injuries in the secondary) and starting running back
David Wilson
, who could miss more than Thursday night's game.
David Wilson, RB, neck (out):
Wilson is reportedly dealing with a disk-related problem in his neck, a source tells the New York Daily News. That's not surprising since
we said in this space Tuesday
that the "tingling" Wilson was experiencing reflected nerve involvement, which could be secondary to a disk injury.
ESPN's Adam Schefter reports that Wilson is expected to consult with renowned spine surgeon Dr. Robert Watkins on Monday to determine the next steps. The most obvious decision is whether Wilson will require surgery. Multiple factors go into making that choice, including the location and severity of current symptoms and whether there is significant risk involved with returning to play. Surgery would be season-ending, but if a conservative treatment course is the option, it could still be several weeks before Wilson is able to play.
This has a familiar ring to it. Last year around this time, former Giants (now Colts) running back
Ahmad Bradshaw
experienced tingling in his upper extremities after injuring his neck. He was found to have a bulging disk. He missed one week then returned to play. This year, Bradshaw experienced a recurrence of symptoms after Week 3 and is planning to undergo season-ending surgery. That is not to say this should be the expected course for Wilson, as there is extensive variability with these types of conditions. It is more a reflection of the overall bad luck the Giants have in terms of the health of their running backs.
It's worth pointing out that following Thursday's tilt, the Giants' next game is 11 days away (hosting the
Minnesota Vikings
for "Monday Night Football" in Week 7) followed by a Week 8 contest against the
Philadelphia Eagles
and a bye in Week 9. In Week 10,
Andre Brown
, on IR/designated for return with a fractured left fibula, could make his first appearance since the injury. Brown has begun running this week, a positive sign that the bone healing is satisfactory. Now it's just a matter of progressing his activity toward a return to football.
As for the immediate concern regarding who will be carrying the ball for the Giants on Thursday night, as ESPN.com's Dan Graziano
notes
, the Giants re-signed
Da'Rel Scott
to play alongside
Brandon Jacobs
, but they could also use rookie
Michael Cox
.
Brandon Myers, TE, ankle (questionable):
Myers has been physically banged up this season but has not missed any playing time. Still, he comes into Thursday night's game with a new ailment on the injury report (ankle), and his questionable status suggests he could be a game-time call. He was listed as a nonparticipant Monday when the Giants conducted a walkthrough, but he did progress to limited practice Tuesday and Wednesday.
Chicago Bears
The Bears are on a two-game losing streak, and perhaps in light of trying to ensure it is rested on a short week, the team did not practice Monday and conducted only walkthroughs in advance of the Thursday game. Since teams are still required to file injury reports, the listing of Bears players on this week's report represents
an estimation
of how much they would have done in a regular practice.
Alshon Jeffery, WR, ankle (probable):
Jeffery had a huge performance in Week 5 to the tune of more than 200 yards receiving and a score. No wonder his ankle needed a little rest. Given that the Bears kept it light for everyone on this short week -- and Jeffery was listed daily as a limited participant -- the probable tag tells us he's virtually certain to play.
Martellus Bennett, TE, knee (questionable):
Bennett has been on injury reports this season primarily because of the shoulder he injured in Week 2, but he has yet to miss a game. This week, it's a different ailment, his knee, although his shoulder is probably benefiting from the light walkthroughs on a short week as well. On Wednesday, coach Marc Trestman indicated that Bennett's status would be decided a few hours before game time, although he said he was
optimistic
regarding his availability. Fantasy owners will want to check before kickoff, but it's looking as if Bennett will take the field against his former team.
October, 9, 2012
10/09/12
4:17
PM ET
Week 5 is in the books! Welcome back,
Rashard Mendenhall
, who played his first game since undergoing reconstructive ACL surgery in January. Add him to the list of running backs who are redefining expectations following this type of injury.
Minnesota Vikings
running back
Adrian Peterson
and
Kansas City Chiefs
running back
Jamaal Charles
have already impressed with their performances so far. Now Mendenhall has done the same with 81 yards on the ground, another 20 in receiving and a score in his first outing. Most importantly, Mendenhall's knee felt fine after the game according to
Pittsburgh Steelers
coach Mike Tomlin and the expectation is he will be back at it again Thursday.
[+] Enlarge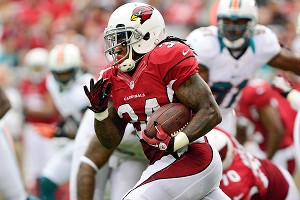 Jennifer Stewart/US PresswireRyan Williams is now the second starting Cardinals running back to suffer a major injury this year.
Three running backs who suffered injuries in Week 5 have already been ruled out this week, and at least one is done for the season.
Arizona Cardinals
running back
Ryan Williams
suffered a shoulder injury Thursday, which he initially tried to dismiss as nothing serious, but by Monday, he was ruled out for the season. According to the Cardinals' official website, Williams is undergoing surgery on his left shoulder Tuesday to repair a fractured coracoid process. The coracoid is a bony projection on the front of the scapula (shoulder blade) and is the attachment point for several ligaments along with portions of both the biceps and the pectoral muscles as well as the coracobrachialis (a muscle that elevates the arm and contributes to shoulder stability). The injury is very uncommon; even the Cardinals' team doctors told Williams they had not treated one in 10 years.
It's impossible not to feel for Williams, who suffered a torn patellar tendon last year during the preseason and rehabbed intensively to be ready for 2012. Williams seems to be taking the positive approach, telling the website, "[The injury] could be a good thing for my knee and my whole body, just so it could recover like it should be. ... I really believe in my heart truly that it is beneficial and it'll let my whole body do what it needs to do and then I'll be the Ryan Williams everybody has been expecting to see." We will look forward to hopefully seeing that Ryan Williams when the 2013 season starts.
In Green Bay, Packers running back
Cedric Benson
injured his left foot when it got twisted in a pile. Benson, who is in a protective boot, suffered a Lisfranc injury, according to ESPN's Adam Schefter. He is expected to miss at least eight weeks, perhaps the entire season if it turns out surgery is required. Benson is currently undergoing further evaluation to determine the next steps. Meanwhile,
James Starks
, who has yet to play in a game this season after being sidelined with turf toe, could get the start this week.
Moving south to Tennessee, Titans running back
Javon Ringer
went down with a gruesome-appearing knee injury, which had most assuming his season was over. According to the Tennessean, Ringer has been diagnosed with a torn MCL and is currently projected to miss four to six weeks. The timeline may change, but this is better news than a torn ACL. Ringer missed the first three weeks with an elbow infection and now has to contend with this.
There are many other teams contending with difficult injuries less than halfway through the season. Here's who we're keeping an eye on heading into Week 6.
Quarterbacks
[+] Enlarge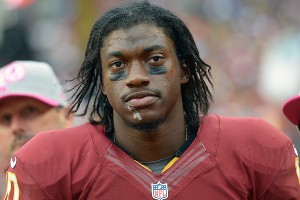 John McDonnell/The Washington Post /Getty ImagesRobert Griffin III is still a question mark heading into this week's action.
Robert Griffin III, Washington Redskins (concussion):
Although it took a while to get a definitive diagnosis, the Redskins did confirm Sunday that Griffin suffered a concussion. According to the Washington Post, Griffin could not recall what quarter it was or what the game score was shortly after the hit that forced him out of the game. Griffin was examined by a neurologist at the stadium, then returned home. On Monday, Griffin reported feeling better and those around him, including teammate and backup quarterback
Kirk Cousins
, thought Griffin "appeared to be doing well." As we all know now, however, looks can be deceiving when it comes to head injuries.
Griffin is expected to undergo further testing as the week progresses to determine whether he will be eligible to return to practice and, ultimately, return to play. In addition to neurocognitive testing, which examines how the brain is processing information, players who are symptom-free at rest must undergo graded exercise testing to see if it provokes any recurrence of symptoms. To that end, Griffin was expected to undergo testing on a treadmill Tuesday, according to the Post.
Alex Smith, San Francisco 49ers (finger):
Smith sprained the middle finger of his throwing hand late Sunday in the Niners' game against the
Buffalo Bills
. Coach Jim Harbaugh called Smith's finger a "concern," an uncharacteristic acknowledgment of the severity of an injury to one of his players. One wonders if that nugget was for the benefit of the upcoming opponent. There seems to be little doubt that Smith will play this week against the
New York Giants
in a rematch of last season's NFC Championship Game.
Running backs
Adrian Peterson, Minnesota Vikings (ankle):
Peterson suffered a mild ankle sprain, which in and of itself did not appear serious. However, it was on the same side as his reconstructed knee, which does warrant a little closer attention. Nonetheless, the early impression out of Minnesota is that this will not cause Peterson to miss time.
Andre Brown, New York Giants (concussion):
In what seems to be a rotation of running back and receiver injuries among the Giants, Brown suffered a concussion in Week 5. His status for this Sunday is in question.
Wide receivers
Alshon Jeffery, Chicago Bears (hand):
Jeffery broke a bone in his hand and is expected to miss at least a month. On the positive side, bone healing tends to follow a fairly straightforward timetable, so the early projections of four to six weeks for Jeffery appear reasonable, further bolstered by the news that Jeffery will not need surgery.
And we're keeping an eye on:
Darrius Heyward-Bey, WR, Oakland Raiders (concussion/neck):
Heyward-Bey was recently cleared for contact and was "very active in practice Monday," according to Steve Corkran of the Contra Costa Times. It looks as if Heyward-Bey could potentially return to action this week if his progress continues.
Ramses Barden (concussion) and Hakeem Nicks (foot/knee), WR, New York Giants:
ESPN New York's Ohm Youngmisuk reports Barden was cleared to return to practice this week after suffering a concussion in Week 4 against the Eagles. Meanwhile, Nicks' status remains a bit of a mystery as there has been no indication from the team of the results of his knee MRI. Swelling in Nicks' knee and lingering soreness in his surgically repaired foot have kept Nicks out of the past three games. Thus far, Nicks has only practiced on Thursdays so there may not be much of an update before then this week. The Giants maintain he is day-to-day.
Jimmy Graham, TE, New Orleans Saints (ankle):
Graham injured his ankle early in the Week 5 contest but did manage to eventually return to the game. He wore a walking boot as he left the stadium, and interim head coach Aaron Kromer confirmed to reporters Monday that Graham suffered an ankle sprain. Fortunately, the Saints have a bye this week, so Graham gets some extra recovery time.
Jermichael Finley, TE, Green Bay Packers (shoulder):
Finley left Sunday's game early with what was called a shoulder injury, but the team has not offered any further detail. Coach Mike McCarthy told reporters Monday that Finley has "a chance" to play in Week 6.
Jahvid Best, RB, Detroit Lions (concussion):
Best is expected to undergo additional testing this week to determine his readiness to be activated off the PUP list, according to ESPN's Adam Schefter. Although he is reported to be in excellent physical shape, Best will need to pass concussion-related tests to increase his activity level. Best has not played since October of last year.