Stephania Bell:

Andruw Jones
May, 27, 2008
5/27/08
11:15
AM ET
The Angels may be in the outfield in Los Angeles, but they are still missing in the infield (
Howie Kendrick
,
Chone Figgins
). Their National League counterparts have lost an outfielder (
Andruw Jones
) and are holding a place for an infielder --
Rafael Furcal
-- but his anticipated return this week turned out to be just a tease. Meanwhile, the
Colorado Rockies
have had to replace two-thirds of their outfield (
Matt Holliday
,
Brad Hawpe
) while losing their second shortstop (
Clint Barmes
) in a month. The whirlwind that is the injury carousel changes daily so please, read on.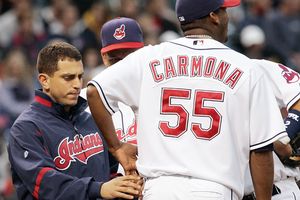 AP Photo/Tony DejakFausto Carmona is the latest Indians starter to make a trip to the disabled list.
Fausto Carmona, SP, Indians:
In what seems to have become a dangerous play for pitchers (see: Gallardo, Yovani; torn ACL), Carmona was injured Friday night while trying to run to cover first base. ESPN reports that an MRI showed a "moderate strain of an exterior muscle" in his left hip (this is not routine medical terminology so it is difficult to decipher the exact nature of the injury other than that it is a muscle strain) and Carmona is expected to miss about four weeks. As a right-handed pitcher, Carmona relies on the left hip musculature to control the rotation of his body weight and his balance from delivery to follow-through. The Indians hope that he will be able to start playing catch within a week and gradually work his way back during the subsequent 2-3 weeks. At just 24 years old without a major injury history, there is no reason at this point to expect anything less than full recovery. The good news for the Indians is that Carmona's spot will be filled by
Jake Westbrook
, who is returning from a DL stint resulting from a strained intercostal muscle (small muscles between the ribs). Westbrook has been on a successful rehab assignment and, according to the Cleveland Plain Dealer, Westbrook will get the start Wednesday against the White Sox.
Matt Holliday and Brad Hawpe, OF, Rockies:
It appears that the hamstring injury bug traveled across leagues in the western division as the ailment that has so plagued the
Los Angeles Angels
this season has now attacked the Colorado Rockies. The Rockies lost not one, but two outfielders to the DL within the span of a day because of hamstring strains. Hawpe, who experienced cramping in his right hamstring Tuesday, was removed from that game for precautionary reasons, but it was clearly not enough. Hawpe never managed to make it back into a game, despite being available as a pinch hitter, and was ultimately placed on the DL on Saturday. According to the Denver Post, Hawpe believed he could play, but the team was concerned about his ability to make sudden moves in the outfield, always a risk for aggravating hamstring injuries. Besides, there were two other starting outfielders left. For one day that is. Teammate Holliday, in the spirit of adding injury to insult, felt his hamstring tighten up on him as he tried, but failed, to run out a grounder in the ninth inning of Saturday's loss. According to The Denver Post, Holliday had never experienced a hamstring strain before and consequently could not initially gauge the seriousness of the injury. Obviously, the team felt it was serious enough for him to join his outfield mate on the DL. The Rocky Mountain News is reporting that Holliday will not travel with the team this week so that he can remain at the Coors Field facility to receive more focused treatment. At least they can rehab together.
Clint Barmes, SS, Rockies:
First
Troy Tulowitzki
went down with a ruptured quadriceps tendon. Not good. Then Clint Barmes came along to fill Tulowitzki's position and performed like a rock star. Good! Now Barmes is out with a sprained medial collateral ligament (MCL) in his right knee, the result of being on the receiving end of a
Jose Reyes
slide Friday night. Definitely not good. The MCL provides stability on the inner aspect of the knee joint, and for a shortstop whose defensive ability relies on quick lateral movements, this injury will hamper that particular skill. For his part, Barmes, who was hitting as well as he had since going on the DL in 2005 with a fractured clavicle (collarbone), says via the Rockies' official Web site that he has learned to "not push it too hard" from the experience of his previous injury. In other words, don't expect him back until he is fully able to perform. Barmes admittedly has never had a knee injury, but suggested a timetable of two to four weeks for his return. The timetable is reasonable for a minor sprain, but the true test before he rejoins the lineup will be whether Barmes can resume lateral cutting, which he needs for defense, and rotational movements, which he needs to swing the bat effectively. At this point, it still appears that Barmes will be back at the shortstop position before Tulowitzki, who, although he is progressing well in his rehab, likely will not return before the All-Star break.
Eric Gagne, RP, Brewers:
In the category of not-really-a-surprise news, Gagne was placed on the 15-day DL to rest his inflamed rotator cuff. Gagne developed soreness in the shoulder while putting in some extra work a week ago to address problems with his delivery. Despite a cortisone shot and a brief period of rest, which realistically did not afford him enough time to fully recover, the decision was made to move him to the DL. Gagne no doubt needed the additional break, perhaps as much mentally as physically given his struggles to close consistently this season. This does not sound like an extreme case and it was addressed fairly quickly, so Gagne's chances of returning at the end of the time frame appear reasonable. Be that as it may, returning to throwing programs can be fraught with setbacks, so we will keep an eye on how Gagne is faring in his rehab program.
Reggie Willits, OF, Angels:
Oh no, the outfield can't be starting to fall apart in Anaheim. Willits, who took a spike to the finger from the White Sox's
Orlando Cabrera
on Saturday, was fortunate to come away without a fracture. When asked to describe the pain, Willits told the Los Angeles Times that if felt like a smashed fingernail except that Cabrera's spike "went all the way through the nail." Ouch. After taking a day to allow the swelling to subside, Willits, despite some soreness, is faring better and appears to have avoided a trip to the DL. The Angels have him listed as day-to-day and he is available to pinch run and hit. The fact that the injury is affecting one of his throwing fingers means he likely will take a few more days before he returns to his regular position.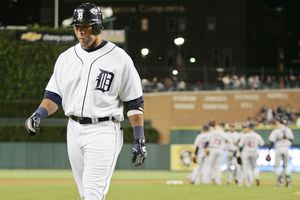 AP Photo/Duane BurlesonAs if losing hasn't been tough enough, Gary Sheffield simply can't stay healthy.
Gary Sheffield, DH, Tigers:
Sheffield left Monday's game with what is being called an oblique spasm in his left side. The Detroit Free Press reported that Sheffield pulled up and grabbed his left side while heading to first on a groundout. He left the game and did not return. It has been a tough year for Sheffield, whose shoulder has not been everything he hoped it would be following offseason surgery to repair a torn labrum. He also suffered a tendon avulsion in his ring finger in April and still sports a small brace for support. Oblique strains are notorious for lingering, but it remains to be seen whether this was just a muscular spasm that resolves quickly or something more serious. Stay tuned.
Not so fast ...
This week, a handful of players who looked as though they might be making a go of it took a turn for the worse. Bad news if you're a fan in Los Angeles.
Rafael Furcal, SS, Dodgers:
It sure sounded as if Furcal was going to be rejoining his ailing team this week, but then the Dodgers got cold feet, and understandably so. Furcal awoke with stiffness in his back Thursday, prompting the Dodgers to re-evaluate the value of sending Furcal on a road trip that would have him flying across the country with a still touchy back. According to the Los Angeles Times, it appears that Furcal will not make the trip, which also affords him another week of rest and rehabilitation. Look for him to return in another week.
Andruw Jones, OF, Dodgers:
Although Jones had hoped to postpone surgery on his ailing right knee until the offseason, it was not to be. Jones attempted to play Friday night, but the swelling in his knee associated with a meniscal injury and Baker's cyst was limiting his performance. Although Jones refused to blame his struggles at the plate on his knee, as general manager Ned Colletti told the Los Angeles Times, "When you think about the right knee, it's the back knee, it's the one that's continually in motion." Jones' back (right) knee has to undergo a good deal of torsion when he swings the bat, and a flap of cartilage, as well as joint swelling, will limit how well the knee accommodates the swing. The surgery will no doubt help him in this regard and is scheduled for Tuesday. Recovery is normally anywhere from four to six weeks, assuming no setbacks. Knowing that this problem has actually been bothering Jones for nearly two months, it would not be surprising if he is able to turn his productivity around when he returns. Fantasy owners may want to pick him up as he approaches the end of his rehab timetable.
Chone Figgins and Howie Kendrick, 2B, Angels:
They're back. Well, no, not quite yet. That seems to be the mantra down in Los Angeles for the Angels' infielders who have been besieged by hamstring strains. Kendrick's injury, thought to be the more serious of the two, happened first and he has suffered a string of setbacks ever since. Kendrick underwent a repeat MRI at one point, and the conclusion afterward was that Kendrick had torn some scar tissue which resulted in some pain, but did not worsen his original injury. Nonetheless, he has been unable to get back to a rehab assignment as attempts at running full speed have been limited because of discomfort. This weekend, however, Kendrick was able to run the bases and the plan is for him to resume a rehab assignment this week. Only time will tell if he is able to handle the progression this time around. Meanwhile, teammate Figgins was activated Wednesday, but was then forced to sit out after just one game in Toronto because of soreness in the hamstring. What looked like one day of rest turned into two, then four, and now the Angels are hinting that another stint on the DL remains a possibility. Much to the chagrin of the Angels, these two athletes exemplify how challenging recovering from a hamstring strain can be, especially when your game depends on speed and explosiveness. The unpredictability of how these muscles respond to the stop/start nature of power running in baseball has been demonstrated here with the players' repeated setbacks. Fantasy owners, unless you have space to spare on your bench, if you haven't moved on yet, there's no time like the present.
May, 23, 2008
5/23/08
1:36
PM ET
I started off the most recent blog talking about the bad luck the San Diego Padres' pitching staff has had recently. Apparently that streak had not fully run its course just yet, and it has now extended beyond their pitching staff as catcher
Josh Bard
is among the wounded. Closers continue to struggle with their delivery and their health, and
Eric Gagne
is the latest to be put on mandatory rest. But how long will he be out? Hmm. The latest injuries remind us that there is often some overlap between injury and poor performance, and the trick is figuring out the ratio in order to make the fix.
[+] Enlarge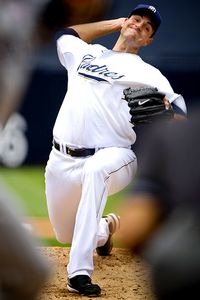 Andy Hayt/Getty ImagesThis is one instance in which Young didn't want to use his head.
Chris Young, P, and Josh Bard, C, San Diego Padres:
Albert Pujols
is single-handedly taking down the Padres, not only with his bat, but with his body as well. Wednesday night during the third inning of the St. Louis Cardinals' visit to Petco Park, Pujols lined a shot off the face of Padres pitcher Chris Young. The hit netted Pujols a single, but Young ended up with a broken nose, a facial laceration and a trip to the hospital according to the North County Times. Two batters later, Pujols headed home to score but arrived at the same time as the ball in Josh Bard's mitt. On the slide, Pujols' front (right) leg collided with Bard's extended left leg and Bard clearly lost that battle. Bard was assisted from the field, in a great deal of pain with his leg visibly impaired and, per the North County Times, the injury was called a high left ankle sprain. Bard has been placed on the DL, and we know from past experience that high ankle sprains often mean at least a month of missed time, generally more. Considering that catchers spend a good portion of time in the crouch, which places extra stress on the ankle, and then have to push through the ankles to jump into position, Bard's recovery may be on the slower side.
The good news here is that the bloody and battered Young, who was treated at the hospital and released, did not suffer any worse damage. The nose provides a barrier for the face that slows the impact of an object, such as a baseball traveling at warp speed, and hopefully that slowing prevents brain injury. A hard-hit line drive that hits a pitcher in the face runs the risk of shoving the nose back toward the brain and causing further damage. The ball could also hit another portion of the face or skull, resulting in a facial or skull fracture, which can result in surgery and significantly worse potential complications. The Padres have not yet indicated whether Young will be placed on the DL, but it would not be surprising for him to at least miss his next scheduled start. All this happened, of course, in the wake of the Padres' announcement Tuesday that their young ace
Jake Peavy
would be placed on the DL for inflammation in his throwing elbow. An MRI reportedly showed no structural damage to the ulnar collateral (Tommy John) ligament, but Peavy himself told the San Diego Union-Tribune that this ailment is much closer to the ligament than the injury that took him to the DL in 2004 (a flexor muscle strain that kept him out for six weeks). There is no set timetable for his return at this point, but given the nagging behavior of his condition, expect him to miss more than the automatic 15 days.
Eric Gagne, P, Milwaukee Brewers:
Gagne has been instructed to rest by team physician Dr. William Raasch after receiving a cortisone shot to address rotator cuff tendinitis. Gagne will not be permitted to throw for at least three days, at which point he will be re-evaluated. He will rejoin his team Friday and at this point does not appear to be headed to the DL, although the team has indicated that that could change. Gagne has struggled this season to close consistently, and was removed from the position briefly to get a mental break. According to ESPN reports, Gagne said that he originally developed some soreness in his shoulder a week ago when he threw daily in an effort to address problems in his delivery. Then Tuesday, while facing the Pirates, Gagne developed stiffness in his shoulder and was removed from the game. Gagne has a history of elbow problems in his throwing arm, including recurrent nerve-related pain which was causing him to have numbness in his fingers and ultimately resulted in surgery. Gagne did experience a bout of shoulder tendinitis last fall which caused him to miss a couple of weeks, but after he rested during the offseason there were no reported lingering issues. Three days is a short recovery time if indeed there is significant inflammation. Even if his symptoms have resolved with a few days' rest, the likelihood is that the team brings him back via a throwing progression that will unfold over at least a week. Don't be surprised if Gagne is out of the mix for at least a week, or even if he ultimately goes the route of the DL in an effort to address all that's been ailing him this season.
Austin Kearns, OF, Washington Nationals:
Kearns has been dealing with a sore right elbow and is going to have it addressed, surgically. Kearns is expected to undergo arthroscopic surgery Friday to remove some bone chips in the elbow. Initially it did not appear that Kearns would be going under the knife but with the swelling and soreness persisting, and after collecting several opinions, the decision was made to treat the elbow surgically. At this point Kearns is expected to miss three to four weeks, assuming that there are no additional findings during surgery, and assuming recovery goes as planned. He will need to regain his range of motion, his arm strength and, given his role as an outfielder, will have to progress his throwing program to long range. If Kearns' elbow is otherwise healthy, he should be able to recover from this episode and return to his role successfully.
[+] Enlarge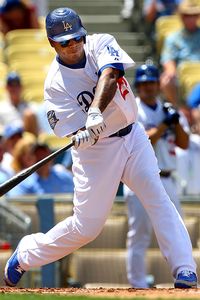 Paul Spinelli/MLB Photos/Getty ImagesAt least Jones has a reason now for his poor numbers.
Andruw Jones, OF, Los Angeles Dodgers:
Jones definitely has something going on with his knee; the question is whether he will have surgery to address it or whether he will be able to play through it. According to a report in the Los Angeles Times, one of the main factors in the decision is whether the swelling persists in the knee. Jones, who had been feeling increasing discomfort in the knee over a couple of games, underwent an MRI early in the week which revealed a small cartilage tear. The Dodgers' official Web site also describes the presence of a Baker's cyst in Jones' knee. Such cysts, which are really fluid-filled pouches, are problematic because the swelling occupies a great deal of space in the back side of the knee and, in addition to being painful, can severely limit the range of motion. Interestingly, these "cysts" often develop in association with meniscal or cartilage injury, and when those injuries are addressed, the cysts can spontaneously resolve. The Los Angeles Times reported that Jones felt better after a few days' rest and was hopeful that he might be able to play Friday if the swelling remained minimal. Jones, who has never made a trip to the DL, would like to do all in his power to continue to avoid it. There is a possibility that Jones is in the lineup Friday, but if he suffers any setbacks, the next step is sure to be surgical intervention that would likely keep him away from the game for at least four to six weeks.
Roy Oswalt, P, Houston Astros:
Oswalt made his scheduled start Thursday at Minute Maid Park to face the
Philadelphia Phillies
despite dealing with hip pain over the last week. Oswalt, who left Saturday's game with what the team referred to as a groin strain, skipped his bullpen sessions this week to allow the hip to rest. Oswalt, who has faced groin injuries in the past, had indicated that this pain felt deeper in the hip itself and did not feel muscular, always a flag raiser in a pitcher where labral tears and degenerative arthritis can become serious matters (for example,
Jason Isringhausen
had surgery on his hip prior to the 2007 season). For the time being it appears that Oswalt escaped something more serious as he managed to throw for six innings Thursday, but it was a rough outing nonetheless (five runs, 11 hits). We will keep an eye on Oswalt to see if this is something that crops up again.
And in the good news department
Rafael Furcal, SS, Dodgers:
Furcal has been testing his back in every possible way (fielding drills, running, batting practice) and has survived them all without incident. This has prompted optimism that he could return to the lineup for the Dodgers' series against the Cardinals this weekend. According to the Los Angeles Times, Furcal said he would resume his position straightaway if healthy enough, with no minor league stint as an interim measure. The suggestion has been all along that Furcal would return this week if everything went as planned, so expect to see him at some point during this series.
Doug Davis, P, Arizona Diamondbacks:
Welcome back Doug!! Now that Davis has tackled his thyroid cancer head-on and beaten that, he will face the Braves Friday as he returns to the Diamondbacks' rotation. After several rehab starts, Davis is looking and feeling well, and will no doubt provide inspiration to everyone around him.
Be sure to check back throughout the Memorial Day weekend as we update these and other injuries. In the meantime, enjoy good weather and good health, and may all your fantasy players stay active on your roster and avoid the DL!