Stephania Bell:

Andy LaRoche
April, 15, 2008
4/15/08
1:58
PM ET
By
Stephania Bell, ESPN.com
| ESPN.com
Is it just me or did anyone else notice that
David Ortiz
suddenly got a hit once his jersey was extricated from the bowels of the new Yankee Stadium? I have been keeping a close eye on him, not only because I have him on two of my fantasy teams, but also because some have been wondering whether his offseason knee surgery is to blame for his slow start. All along, I have maintained that based on Ortiz's comments and his performance in the spring, his knee is not to blame. Now that Ortiz has a hit, just hours after his buried jersey was removed, and one day after he
sat out
the final game of the series between the Yankees and the Red Sox, it appears that Ortiz has taken steps to right his ship. Coincidence? Hmmm. I'm not so sure.
On that note, we move on to the actual injuries of the week.
[+] Enlarge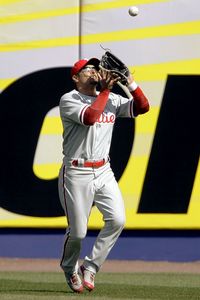 Rich Kane/US PresswireShane Victorino is one guy you definitely want to have good and healthy wheels.
Shane Victorino, CF, Philadelphia Phillies:
Victorino was removed from Saturday's game with a strained right calf muscle, injured during the fifth inning when he ran home from third to score on a wild pitch. Victorino was immediately placed on the disabled list, raising the level of concern over his injury. The Phillies did not waste any time because Victorino actually missed about one month after the All-Star break with a similar strain last year. The team reported Monday, according to the Philadelphia Inquirer, that an MRI revealed the strain to be in a different area of Victorino's calf than last year, giving them some hope that he could make an earlier return. Despite the fact that the injury is in a different location, it is troublesome that he has had another strain in the same muscle, especially so early in the season. The calf muscle is necessary for explosive push-off, especially during acceleration, something an outfielder has to do constantly to get a jump on a fly ball. It is also necessary for baserunning, particularly in steal (sprint) situations, as evidenced by the way Victorino most recently injured his calf. On the positive side, addressing this latest setback seriously by resting Victorino may be just the thing that keeps it from being a lingering problem this season. Look for him to return to action as soon as the disabled list stint is up, but keep in mind that this could crop up again in the future.
Tom Glavine, SP, Atlanta Braves:
At 42 years young, with no prior experience on the disabled list, Glavine is a marvel. On Sunday, however, Glavine had the shortest outing of his 22-year career when he felt his hamstring on his landing leg "grab," according to the Atlanta Journal-Constitution. Glavine later said that he knew right away it didn't feel right. All pitchers rely on the hamstring in their landing leg to help stabilize their trunk during deceleration and follow-through, so Glavine will need to be pain-free before he returns to the mound. For his part, Glavine expects to play catch today and maybe throw a bullpen session Wednesday. If all goes well, he may make his next start (scheduled Friday), or delay it by only a day. Glavine made it clear to the Atlanta Journal-Constitution however that he will not push to start simply to maintain his streak of avoiding the disabled list. He may be stubborn, but you don't succeed in this league as long as he has without being smart. He will do what is best for the long-term interest of both him and the team. Of note, the Braves'
Mike Hampton
, currently on the disabled list with a pectoral strain that kept him from making his first major start since 2005, may throw a bullpen session this week. The Braves would love to get him back into the rotation soon.
[+] Enlarge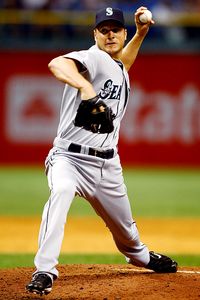 J. Meric/Getty ImagesMore hip problems have sidelined Bedard.
Erik Bedard, SP, Seattle Mariners:
Bedard continues to be bothered by what the Mariners are calling "inflammation" in his left hip, according to the Seattle Times. Bedard was scratched from a scheduled start two Sundays ago, then managed to pitch two days later, but had a somewhat shaky outing and threw 107 pitches. Bedard was again scratched this past Sunday as a result of his hip acting up. As a left-handed pitcher, not only must Bedard put full weight through his left hip during the windup, he must also rotate his body on his hip as he moves through his delivery. Any soreness or irritation in the joint will prevent him from throwing with his normal mechanics and would likely render him far less effective. The concern here has to be defining what the source of this hip inflammation truly is. There have been conflicting reports out of Seattle. According to the Seattle Post-Intelligencer, the team says that Bedard initially aggravated the hip during some pregame workouts, but according to the
Seattle Mariners
' official Web site, Bedard said that he woke up with pain in his hip Saturday. Clearly it stuck around until Sunday, preventing his start. Additionally, Bedard reported having some similar pain in 2001, but indicated that the pain then was far worse than it is this time around.
Bedard is not scheduled to head to the disabled list, at least not yet, but he did not play catch Monday as originally planned. There is a chance that he will do so Tuesday, but any return to light throwing will determine the subsequent timetable. We will keep an eye on this situation.
In brief
Jose Reyes, SS, New York Mets:
Reyes sat out several games at the end of the week with a strained left hamstring. These hamstring strains seem to be making their way around the league, but they are of particular concern when they affect the players who make their living based on speed. Reyes has said he expects to play Tuesday so this does not appear to be a serious strain. Let's hope there are no setbacks.
Dontrelle Willis, SP, Detroit Tigers:
Willis hyperextended his right (landing) knee Friday when he slipped on a wet mound. Frankly, he was lucky to walk off the mound. The way Willis' weight came down hard over a hyperextended knee could have resulted in a major ligament injury, but luckily, that was not the case. Hyperextension stresses the posterior structures of the knee in that it places an unnatural stretch on them and there can be some pain and inflammation as a result, even in the absence of major structural damage. Willis was placed on the 15-day disabled list to allow the knee some rest, but the rest may be beneficial for Willis in more ways than one. Clearly he has been struggling with his delivery, as he was Friday night before the injury, and the downtime may help him to reset and come back stronger.
Jorge Posada, C, New York Yankees:
Posada is still recovering from a strained shoulder, something Posada referred to himself as "dead arm," and although he has been available as a designated hitter, he is still not able to make the throws necessary to resume his position. If you watched the game Sunday night, Posada had to move behind the plate when backup catcher
Jose Molina
strained his hamstring. He was instructed not to try to throw out runners for fear of aggravating his recovering arm, and the Red Sox caught on. There is still no official date for his return so plan on another week of him in the DH role.
Adrian Beltre, 3B; Mike Morse, RF; J.J. Putz, RP, Seattle Mariners:
Beltre developed a sore hamstring after baserunning Saturday. He was able to return Monday, indicating that this is not a serious injury, but nonetheless, it is worth being aware of as this is the type of thing that can easily recur. Morse injured his left shoulder while diving for a ball in the outfield (actually, when landing from the dive) and is now on the disabled list. It is being called a shoulder dislocation but Morse's quote in the Tacoma News-Tribune ("It popped out and popped back in.") makes it sound more like a subluxation, where the shoulder slips slightly out of joint, but does not remain out. The important distinction is that a subluxation episode often results in less trauma to the soft tissues around the joint, making a return after a 15-day disabled list stint more reasonable. Putz is still on the disabled list with costochondritis, but he did throw for six minutes before Sunday's game. It looks as if he is on track to return in late April.
Matt Garza, SP, Tampa Bay Rays:
Garza, currently out with radial nerve inflammation which affects the muscles in his forearm and in turn affects his grip, has been able to play catch for a couple of days now. The next step could be a side session, followed by a rehab start. The St. Petersburg Times reports that the Rays are now optimistic that Garza could return on the early end of his projected timetable, meaning in approximately two weeks. With ace
Scott Kazmir
looking at a late-April or early-May return from elbow inflammation that cropped up during spring training, the Rays have to be feeling sunny about the outlook for their starting rotation.
Placido Polanco, 2B; Carlos Guillen, 1B, Detroit Tigers:
Polanco sat out Sunday's game because of back stiffness. This was the second time this season that he has missed a game because of his back. It sounds as if it is a minor issue -- minor that is, unless he misses much more time. Polanco owners should keep an eye on this. Guillen strained his right hamstring in the ninth inning of Friday's game and did not play Saturday as a result, saying that the hamstring felt "tight and sore." Guillen was able to return Monday night, however, and drove in some runs. So far this looks to be a minor incident, but keep doing your stretching, Carlos.
Nomar Garciaparra and Andy LaRoche, 3B, Los Angeles Dodgers:
Garciaparra, who was hit by a pitch during spring training that resulted in a small fracture, has been out of commission since mid-March as a result. Garciaparra has been playing some Triple-A ball, and according to manager Joe Torre on the Dodgers' official Web site, he could return as early as the end of this week. The most important thing for the Dodgers is that he return healthy since they do not exactly have backups in place if he reinjures himself. LaRoche, injured in the same game as Garciaparra with a torn ulnar collateral ligament in his thumb, underwent surgery and has been gradually rehabbing the hand ever since. LaRoche actually made some throws across the infield this week and the Dodgers' official Web site reports that LaRoche felt "better than expected." It is normal for him to still be experiencing some soreness in the thumb, but LaRoche is hopeful that he will be able to begin some minor league play this weekend. His original timetable had him missing approximately eight weeks, which would mean a return date near the end of the first week in May. So far, his progress is consistent with that timeline, assuming he does not have any setbacks as he increases the use of his thumb.
That's it for today's update. There are plenty of players we're keeping our eye on for a targeted return in the not too distant future. For more on those players, and of course, for any new developments, check back throughout the week as we will update them right here. And be sure to stop by my chat on Friday mornings at 11 a.m. ET as we talk about all things injury. Never a shortage of topics there! Good luck with your fantasy week, and may all your players stay healthy.
April, 4, 2008
4/04/08
3:49
PM ET
By
Stephania Bell, ESPN.com
| ESPN.com
Starting on the DL
Every season there are a number of players who start out on the disabled list. Some are still recovering from early offseason procedures while others incurred some type of injury during spring training. But it seems as if the number of key players starting off this season on the disabled list has mushroomed, with the starting pitching rotations being particularly affected. Today we take a look at National League players who were noticeably absent from their team rosters on Opening Day and evaluate the likelihood of them making an appearance in the near future and what we should expect when they do show up.
[+] Enlarge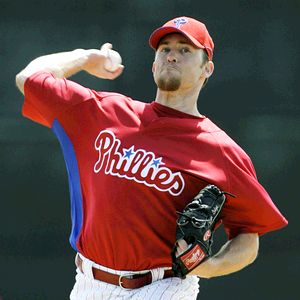 AP Photo/Paul SancyaLidge is hoping to resurrect his career in Philly.
Brad Lidge, Philadelphia Phillies:
Lidge underwent offseason surgery to address a cartilage injury in his right knee and was originally on track for an Opening Day appearance as the Phillies' new closer. Then in late February while throwing batting practice, Lidge caught a spike in the mound, resulting in a torn medial meniscus (fibrocartilage disc on the inner aspect of the knee joint). The good news from the Phillies' medical staff was that the tear was small, most of the meniscus was preserved (good for long-term knee health) and the previously operated-on portion of the knee (where the original cartilage injury was located) looked fine. Lidge has made a nice recovery from this second procedure, and has been gradually increasing his throwing program with the emphasis on restoring his velocity and increasing his endurance. He has been pitching in Clearwater, Fla., and it is uncertain exactly when he will rejoin the team according to a report in the Philadelphia Inquirer. His most recent outing in Clearwater was less than stellar, so it would not be a surprise to see him extend his minor league appearances through the weekend and then meet up with his teammates.
Scott Eyre, Chicago Cubs:
Eyre began the season on the disabled list because of inflammation in his left (throwing) elbow. According to the Chicago Cubs' official Web site, Eyre has a bone spur in his elbow that has been there for several years. Recently it has become more inflamed and painful, so Eyre took a cortisone shot to try to settle the symptoms down. The plan called for him to rest the elbow, then gradually resume a throwing program, with the goal being to rejoin the team's bullpen within a week or two. This still appears to be the plan, so expect Eyre to resurface soon. There is always the possibility that the symptoms recur, with the worst-case scenario being that the pain becomes disabling enough that the spur itself needs to be addressed, but there is no immediate cause for concern.
Randy Johnson, Arizona Diamondbacks:
Johnson is making yet another return from yet another back surgery, his third to be precise. Working in his favor this time around is the extra recovery time before the start of the season, the experience of having been through it all before and the patience he and the Diamondbacks are showing in bringing him back slowly. Johnson started the season on the DL, but has now been assigned a scheduled start date of April 14 in San Francisco, according to the Diamondbacks' official Web site. Johnson still has "the arm of a 25-year-old" according to GM Bob Melvin and he can still deliver strikeouts. This spring the Diamondbacks were particularly happy to see the return of Johnson's slider, a pitch he can use to decrease the reliance on his fastball. Although he has already shown that he can put the speed back on the ball, the ability to mix up his pitches so that he doesn't have to throw as hard as often may go a long way in preserving Johnson's health across the season.
[+] Enlarge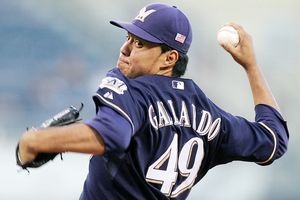 AP Photo/Keith SrakocicYovani Gallardo looks to excite Brewer fans and fantasy owners alike.
Yovani Gallardo, Milwaukee Brewers:
The Brewers' young ace injured the left lateral meniscus (fibrocartilage disc in the lateral or outermost compartment of the knee joint) in February, resulting in surgery for him and much anxiety for the Brewers organization and fantasy owners. All in all, the surgery was relatively minor and Gallardo, only 22 years old, has given every indication that he is on the road to full recovery. In fact, Gallardo has been impressive thus far in his return and in the past week has pitched five scoreless innings. The Brewers placed Gallardo on the 15-day DL to start the season to afford him more rehab starts as well as time to increase his pitch count. A few missed days here translates to less risk down the road, a worthwhile tradeoff for the Brewers.
Mark Prior, San Diego Padres:
Mark Prior has not pitched in the majors since 2006. He is expected to make his return, barring any setbacks, as soon as June of this year. Prior underwent surgery in April 2007 to address damage in his rotator cuff and labrum. Prior has been throwing bullpen sessions and, more recently, began facing live batters. His next stop will be the minor leagues, perhaps by the end of the month. The team placed him on the 60-day disabled list as a routine measure given his rehabilitation timeline. On the plus side, Prior is still relatively young (27), he has been through extensive, detailed rehab and is back in his hometown (which happens to be home to a pitcher-friendly park as well). He does, however, have a tendency to place his elbow high above his shoulder at lead foot contact (when his front foot hits the ground), placing the shoulder joint under additional stress, but if he modifies this, it could significantly enhance his overall durability. This may be Prior's best chance for a solid season in three years.
Nomar Garciaparra, Andy LaRoche and Tony Abreu, 3B, Los Angeles Dodgers:
It's no secret that third base for the Dodgers has a hex on it. At least not now. The Dodgers cannot seem to find someone to stay healthy enough to hang around at this position (except maybe Blake Dewitt, who got the Opening Day start after playing no higher than Double-A ball in his career thus far). Garciaparra was hit by a pitch, which ultimately resulted in a small fracture, on the same day LaRoche tore the ulnar collateral ligament in his thumb. LaRoche's injury required surgery and will cause him to miss two months at least. Garciaparra has to allow the swelling to go down and the pain to subside before he can effectively swing the bat and grip the ball. Keep in mind, Garciaparra has had prior problems with this wrist, which could tack some extra healing time onto this episode. Meanwhile, Abreu is coming off of sports hernia surgery in the offseason. Normally this is a fairly straightforward recovery process, but Abreu has been plagued by various muscle strains (gluteus and, most recently, groin) since the operation. These muscles are all tied into the region that was addressed surgically, so it appears that Abreu still has some healing and strengthening to do. He too began the season on the disabled list, but given his ups and downs across the spring, his return timetable is unclear. Stay tuned.
New injury worries
New York Mets
ace
Pedro Martinez
is on the disabled list with what the team is calling a "mild hamstring strain." His projected timetable is four to six weeks, although the combination of this latest setback with his age and injury history suggests that it will, in fact, be longer. For more details on Pedro's injury, click
here
.
Seattle Mariners closer
J.J. Putz
gave the team a scare Monday night when he complained of pain in his rib cage area after delivering a pitch in the ninth inning. Putz later underwent an MRI and was given a diagnosis of mild costochondritis, inflammation of the junction where the rib and the cartilage that anchors it to the sternum (breastbone) meet. Putz has been placed on the 15-day disabled list and barring any setbacks, this time frame appears reasonable for him to return. For more details on the injury to Putz, click
here
.
The
Detroit Tigers
have their hands full with injury woes and it's not yet one full week into the season.
Curtis Granderson
started the season on the disabled list with a broken third metacarpal bone and now two more of his teammates threaten to join him.
Third baseman
Miguel Cabrera
was scratched from Thursday's contest because of a pulled left quadriceps muscle (the large muscle on the front of the thigh). According to an ESPN report, manager Jim Leyland said Cabrera "could hit but he can't run," so he did not want to use him. Leyland went on to add that Cabrera had some trouble with the quad during the winter months and that it was still sore during the spring. Not only is Cabrera's absence from the lineup not good news for the Tigers, it is also troublesome that his quadriceps muscle issue is perhaps not entirely acute. Winter and spring are not nearly as taxing as the regular season, and if Cabrera could not fully improve during the more restful offseason, this could be a sign that the quadriceps will give him trouble intermittently throughout the rest of the year. As for Friday, Cabrera is back in the lineup as a designated hitter, but there is no immediate timetable as to when he might return to the field.
Designated hitter
Gary Sheffield
tore a tendon in his ring finger as he tried in vain to turn a single into a double on a slide in the eighth inning of Thursday's game against Kansas City. According to an ESPN report, Sheffield said he was unable to straighten the finger after the injury and also reported losing feeling in the finger for a period of time. Although Sheffield initially indicated that he would try to play through the pain, he is out for Friday's game, but it appears that he may not miss much more time. In fact, according to a report on mlive.com, Sheffield will not go on the disabled list and could return as soon as this weekend. As expected, he will have the finger splinted, but given that the injury is at the tip of the finger, he should be able to hit. It remains to be seen whether there will be an adjustment period for him as he returns to hitting, given that he will be likely outfitted with some protective padding, but I suspect that won't last long and he will be effective in short order.
Check back later in the week as we look at who are the key American League players that started out on the disabled list and anticipate their return. Let's hope for a healthy weekend of baseball and best of luck in all your fantasy leagues!!