Stephania Bell:

Andy Pettitte
April, 15, 2013
4/15/13
3:25
PM ET
Every Monday in this space, we'll provide updates on a variety of players to help you make your lineup decisions. We'll specifically try to hit the players who are day-to-day, have just gone on the DL or are ready to return, so that you can better decide whether you can count on them or not.
All projected return timelines should be considered fluid.
Hitters
David Ortiz, DH, Red Sox
(opened season on DL, due back April): It's no secret that Ortiz has been battling inflammation in his heels this spring and chronic Achilles soreness since last year. Slowly and steadily, however, he has been increasing his activity and appears to be not far from rejoining his team. Ortiz began a rehab assignment Thursday with the Pawtucket Red Sox and managed to incorporate some baserunning -- including a slide -- over the weekend. He told ESPN Boston that he had "no hesitation" when running the bases -- a good sign, since that is what had triggered his Achilles issues last season. Red Sox manager John Farrell has indicated he will leave it to Ortiz to say when he's ready to return but estimated it would take approximately 25 to 30 at-bats. Ortiz did not play Sunday because of an illness, but presuming it is short-lived, he could get enough work to rejoin the team late this week. No guarantee this is behind him for the rest of the season but it sounds like Ortiz is reaching a point where he is able to play comfortably.
[+] Enlarge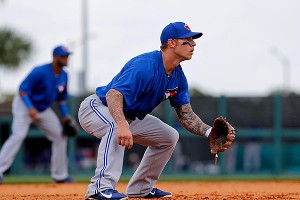 Derick E. Hingle/USA TODAY SportsBrett Lawrie will be playing second base for Dunedin as part of his rehab.
Brett Lawrie, 3B, Blue Jays
(injured March 6, opened season on DL, due back April): Lawrie has been steadily working his way back from a left-sided intercostal strain over the past few weeks. He began a rehab assignment with the Dunedin Blue Jays over the weekend suggesting he is nearing a return, perhaps late this week. With the loss of shortstop
Jose Reyes
for several months to a severe ankle sprain, the Blue Jays are experimenting with Lawrie at second base during his rehab assignment. It is not clear yet whether that experiment will carry over to his major league return. The priority for Lawrie, beyond regaining the rhythm of playing in games, is proving that he can play on back-to-back days without discomfort and can swing the bat without hesitation. Lawrie and his all-out style of play may always present some injury risk but the Jays at least want him to be fully recovered from the spring ailment before activating him.
Chase Headley, 3B, Padres
(injured March 17, opened season on DL, due back April): Headley looks as if he could return this week, although which day that would be is unclear. Headley fractured the tip of his left thumb in March and was originally projected to be out until late April. When X-rays taken last week indicated the fracture was healing well, however, Headley was given the green light to do as much as he was comfortable doing, according to the San Diego Union-Tribune. That activity has progressed from drills -- including taking batting practice from both sides of the plate -- to a rehab assignment which began Friday. So far Headley seems to be comfortable with everything he's tested. Once he demonstrates he can perform offensively and defensively consistently without limitation, Headley could be back in the mix and that could happen any day.
Erick Aybar, SS, Angels
(placed on DL April 13): Aybar bruised his left heel Tuesday when it hit the bag at first base hard as he ran out an infield single and it forced him to leave the game. Now it will force him to miss more extensive time. Although imaging tests appeared to have ruled out a significant injury, the pain associated with heel contusions makes it virtually impossible to put full weight through the foot for some time. According to Alden Gonzalez of MLB.com, Aybar, despite feeling improvement overall, was still having trouble hitting from the right side during batting practice Friday. The rest he will be able to give the heel during a DL stint should allow him to get past this. If all goes well, his absence should not exceed the two weeks.
Yoenis Cespedes, OF, A's
(placed on DL April 13): Cespedes injured his left hand during a slide into second base Friday and was placed on the DL the next day. Imaging tests showed no fracture and the team is calling this a muscle strain, but given that this the injury is to his bottom batting hand, the A's perhaps wanted to take no chances on having him try to press and end up compensating elsewhere. At this point it appears he could return after the minimum 15-day stay.
Coco Crisp, OF, A's
(DTD): Cespedes wasn't the only A's outfielder to injure himself Friday; Crisp exited the same game early after suffering a left groin strain. According to Susan Slusser of the San Francisco Chronicle, Crisp was removed from the game as a precautionary measure after the injury to Cespedes. At this point, Crisp's injury is considered minor and the team considers him day-to-day. Although he didn't play Sunday, he did take batting practice and did some running. It sounds as if he could return as soon as Monday, although the A's have not tipped their hand just yet.
Gordon Beckham, 2B, White Sox
(placed on DL April 10, due back late May/early June): Beckham fractured the hamate bone in his left wrist and will undergo surgery at the Cleveland Clinic on Tuesday. This is the same surgery Giants third baseman
Pablo Sandoval
has undergone on both hands and is not uncommon among hitters. While lingering soreness from scar tissue can make swinging the bat uncomfortable initially, most hitters recover their power within the first few weeks back.
Michael Saunders, OF, Mariners
(placed on DL April 11): Saunders suffered what the team is calling a sprain of his right shoulder when he crashed into the outfield wall last Wednesday. He managed to hang onto the fly ball that sent him to the wall, delivering an out for his team, but the wall took him out for an indefinite period of time. The team has not issued a timetable but fantasy owners should plan on at least a few weeks.
Mike Morse, OF, Mariners
(DTD): On Friday I explained why
Morse's broken finger isn't as serious an injury as it could have been
. In fact, the team expressed hope he could return within three to seven days. Although a Sunday return seemed a little optimistic (and did not end up happening), the Seattle Times reports that manager Eric Wedge hopes to have him available Tuesday (following a team off day on Monday). The key is having him comfortable enough to swing the bat normally, but given the location of the injury, it shouldn't take long.
Franklin Gutierrez, OF, Mariners
(DTD): Seriously, it appears to be hazardous to your health to be a Mariners outfielder. Add Gutierrez to the list of walking wounded with tightness in his groin, which caused him to sit out the weekend games. The Seattle Times reports manager Eric Wedge hopes to have Gutierrez back on Tuesday along with Morse. The concern in the case of Gutierrez is not exacerbating a minor ailment and turning it into a DL-worthy injury. Don't be surprised if Gutierrez sits a bit longer, especially if he is still experiencing discomfort Tuesday.
Jason Kubel, OF, Diamondbacks
(placed on DL April 13): Lingering soreness in his left quadriceps led Kubel to be placed on the DL on Saturday. He hasn't appeared to truly be at full health since the spring, and after undergoing an MRI Saturday for his latest ailment, the decision was made to move him to the DL. It is not clear just yet whether the team expects him to miss more than the minimum time.
Michael Bourn, OF, Indians
(DTD): Expect Bourn to miss several days after requiring five stitches in his right index finger. Bourn was stepped on by White Sox pitcher
Matt Thornton
while sliding headfirst Sunday. The main thing for Bourn is that the cut heals well so that this does not turn into something bigger which would force more time off.
Brian Roberts, 2B, Orioles
(placed on DL April 4): After battling to return following lengthy injury absences the last two seasons, Roberts again finds himself sidelined after getting hurt. Roberts reportedly tore a hamstring tendon when he felt something "pop" in the back of his knee while stealing a base. While the prospects for returning from this injury are good, it most certainly will extend beyond the minimum DL time. He has yet to begin any baseball activities. It would be a surprise if he were to return before early May.
Wilson Ramos, C, Nationals
(placed on DL April 14): The good news is that this injury is not to the same leg which recently underwent ACL reconstruction. The bad news is that the hamstring strain Ramos suffered was enough to send him to the DL. After such a difficult year in 2012, the hope was that Ramos could have a nicer start to the 2013 season. Unfortunately, getting into the groove of the season will be delayed by this setback, which will likely cost him more than the minimum two weeks.
Jason Kipnis, 2B, Indians
(DTD): Kipnis has been battling a sore left elbow for several days, and he was out of the lineup both Saturday and Sunday. This spring, Kipnis reportedly dealt with soreness in his right elbow, which he attributed to the increased throwing that accompanies that time of year. So far, there's been no explanation as to what may be the source of this episode making it hard to evaluate just how worrisome his latest elbow issue is. As of now the Indians are calling Kipnis day-to-day and sound hopeful that he will return after Monday's off day but the vagueness surrounding the injury raises a bit of a concern.
Pitchers
[+] Enlarge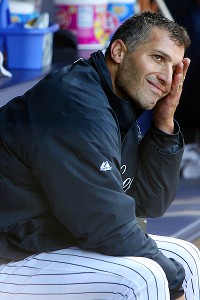 AP Photo/Seth WenigAndy Pettitte will turn 41 on June 15th of this season.
Andy Pettitte, SP, Yankees
(missed last start, expected to start Friday): Back spasms. They happen when you're 40 years old. There's no reason to panic about Pettitte, as he has already indicated that he's feeling better than he did last week. The Yankees still thought it wise to give him a little extra time. According to ESPN New York, Pettitte will throw a bullpen session Tuesday, then start against the Blue Jays on Friday.
Johnny Cueto, SP, Reds
(Placed on DL April 15): Cueto left his Saturday start in the fifth inning with what was initially described as a triceps injury. On Sunday, Ken Rosenthal of Fox Sports reported Cueto is going to be placed on the DL with a lat strain. "Lat" of course refers to the latissimus dorsi muscle, the same muscle Phillies ace
Roy Halladay
strained last year which sent him to the DL for over a month, and the same ailment which has prevented Cubs pitcher
Matt Garza
from pitching yet this year. As with any muscle strain there are varying degrees of injury and the team has not offered much more in the way of specifics. But the lat is integral to a pitcher's throwing motion, and it is likely Cueto will not be permitted to throw for a period of time while allowing the tissue to recover. The time it takes for the soreness to resolve (which will impact the length of time until Cueto is permitted to resume throwing) will determine how long the total recovery will be. It would not be surprising, even if the strain is minor, for Cueto's absence to exceed two weeks.
Matt Harrison, SP, Rangers
(placed on DL April 6): Harrison essentially left his Opening Day start with lower back soreness and has been out ever since. According to the Rangers' official website, Harrison experienced weakness in his left leg, a serious enough sign (suggesting nerve involvement) to send him to the DL. He has undergone epidural injections in his back to help with pain and inflammation but is still in recovery mode. He has yet to throw. Although Harrison is scheduled to be evaluated again this week, it does not appear he will be ready to come off the DL at the end of 15 days. Until he resumes throwing, there is really no timetable to project.
Wandy Rodriguez, SP, Pirates
(DTD): Rodriguez left in the third inning of his April 8 start with a strained left hamstring. He told reporters Saturday that the only thing he can't do is "push off of it" when he tries to pitch, and he is hopeful he will miss only one start. The fact he has not been moved to the DL thus far is a good sign as are his own reports of his progress. As a left-handed thrower, Rodriguez needs power from that left leg, and he is in the best position to know by feel whether it is fully cooperating or not. If all goes well, he could make a start later this week.
June, 27, 2012
6/27/12
3:23
PM ET
CC Sabathia
is headed to the disabled list with a Grade 1 left adductor (groin) strain.
New York Yankees
manager Joe Girardi shared the news with reporters Wednesday but remained optimistic that Sabathia would miss only two starts. As
ESPN New York's Andrew Marchand reported
, Sabathia first felt discomfort in the leg during his Sunday outing, but it wasn't until the soreness persisted through a bullpen session Tuesday that he decided to inform the team.
[+] Enlarge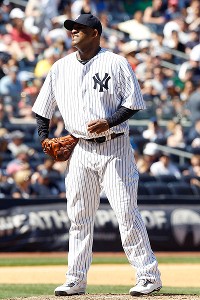 William Perlman/The Star-Ledger/US PresswireCC Sabathia will miss at least two starts, but he will have extra time with the All-Star break to heal.
A subsequent MRI confirmed a Grade 1, or mild, strain, but the team made the decision to proactively rest Sabathia in an effort to prevent a lingering injury. Despite Sabathia's apparent reluctance to go on the DL, the Yankees made a good decision for several reasons.
There is no doubt that regardless of the strength a pitcher has in his throwing arm, the real genesis of his power comes through the legs and the trunk. Any weakness in either region will render a pitcher susceptible to an injury in his throwing arm as he tries to compensate to avoid discomfort, enhance his delivery or both. The adductor muscle group (there are several) must be simultaneously strong and flexible -- strong enough to function as a core stabilizer of the pelvis and help transfer energy from the legs upward during both early and late phases of throwing and flexible enough to stretch during the drive toward ball release. As a southpaw, Sabathia's injury is on his stance leg, which demands power and control while balancing on a single limb. The adductor and hip flexor muscles must then be able to properly stretch or lengthen as he transfers weight toward the right leg when releasing the ball. At 6-foot-7 and 290 pounds, the demands on the stabilizing muscles are not insignificant.
Given those demands, it is imperative that Sabathia's injury heal properly so this does not turn into a chronic issue. As the evolution of understanding these injuries comes about, it is becoming more apparent that chronic tears or defects in the core musculature, particularly groin or abdominal injuries located near their attachment on the pelvis, may ultimately require surgical intervention. Injuries, such as the one recently surgically addressed by
Troy Tulowitzki
, were actually coined "
Baseball Pitcher and Hockey Goalie Syndrome
" early on because of the athletes the injury was typically observed in. No one in the Yankees organization wants to see Sabathia headed in that direction.
The good news is that this is reported to be the mildest variant of a muscle strain. Rest and proper rehabilitation can help prevent this from becoming something more severe.
A look around the league reminds us that a number of stars have been lost for significant portions or even all of the season. The team that emerges victorious in the postseason may well be the team with the most players left standing. So the Yankees will sit Sabathia now in hopes that he will be standing on the mound for them this fall.
[+] Enlarge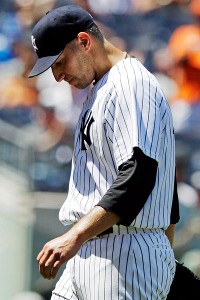 AP Photo/Frank Franklin IIAndy Pettite entered Wednesday's game with a 3.29 ERA before getting hurt.
• The
New York Yankees
wasted no time adding a second member of their starting rotation to the DL. Barely had the Sabathia announcement come out when
Andy Pettitte
was hit in the left leg by a line drive from the
Cleveland Indians
'
Casey Kotchman
, suffering a fractured ankle. Despite initially trying to stay in the game, Pettitte was forced out by pain immediately upon throwing the first pitch to the next batter,
Lou Marson
. Perhaps that was for the best given that there is, as it turns out, a break in Pettitte's fibula, the long, skinny bone that forms the outer aspect of the ankle joint.
The Yankees have indicated Pettitte
will miss at least six weeks
. The good news is the fracture does not require surgery, suggesting it is non-displaced (bony ends remain in alignment). Typical bone healing takes approximately six weeks, although depending on the precise dimensions of the break, Pettitte may be cleared to resume baseball activities sooner. Initially, it will be a matter of resting and unloading (taking weight off) the ankle via crutches and a protective boot, followed by gradual resumption of range of motion and progressive strengthening of the leg. Throughout the recovery period, Pettitte will continue upper-body and core strength and cardiovascular conditioning, but weight-bearing conditioning will be on hold for a while. Once he is cleared to resume activity, it will be a matter of building up his throwing endurance again, just as he had to when emerging from retirement earlier this year, until he and the Yankees are satisfied he can return to the mound.
It's worth noting that
Tampa Bay Rays
' starter
Jeff Niemann
fractured his right fibula in a similar fashion on May 14. He was initially projected to miss at least four to six weeks but shortly thereafter was transferred to the 60-day DL.
July, 27, 2010
7/27/10
11:45
AM ET
Some say it's the year of the pitcher. I say it's the year of the thumb.
We seem to have a trending injury every year. While a review of recent injury patterns does not support the notion that there are any statistically significant differences from one year to the next, it always
feels
like there is some "hot" injury in any given season. This season is no different and the hot spot is the thumb.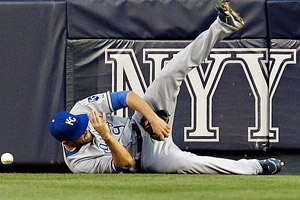 AP Photo/Kathy WillensDavid DeJesus injured his left thumb crashing into the Yankee Stadium wall trying to track down an eventual Derek Jeter inside-the-park homer.
Sure, there have been the usual array of injuries involving the ulnar collateral ligament (
Minnesota Twins
closer
Joe Nathan
), the abdominal oblique (
Milwaukee Brewers
ace
Yovani Gallardo
) and the hit-by-a-pitch broken hand (Colorado Rockies power hitter Tory Tulowitzki). There have also been a couple of injuries that are so unusual, you might not see them again in five, 10 or 15 years (
Joel Zumaya
's fractured olecranon and
Jake Peavy
's detached lat tendon).
But there has also been an odd cluster of thumb injuries. Not only are there a number of high-profile players who have dealt with some sort of thumb injury (
Jason Heyward
,
Aramis Ramirez
,
Chase Utley
,
Victor Martinez
,
Shin-Soo Choo
, to name a handful) but the frequency seems to be on the rise. Whether it's the result of a headfirst slide (Utley, Heyward), an awkward bend to the glove hand (Choo) or a foul tip (Martinez), the injury is typically serious and results in missed time. The amount of time varies depending on the severity of the injury and whether surgery is required, but in many cases it translates to a DL stint.
So while we celebrate the fifth no-hitter of the year (congratulations,
Matt Garza
), I still say the thumb outranks the pitcher in 2010, especially when it comes to this blog. Just ask the
Kansas City Royals
'
David DeJesus
, who will watch the rest of the season from the sideline thanks to the outfield wall that sabotaged his thumb.
Let's not let the thumbs steal all the injury thunder though. There are plenty of alternate ailing body parts to go around this week and we start with those in the lower half.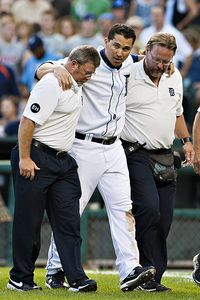 Tony Ding/Icon SMIMagglio Ordonez's fantasy usefulness screeched to a halt as he limped off the field Saturday.
Magglio Ordonez, OF, Detroit Tigers:
The headfirst slide has been a topic of much discussion because of the injured thumbs that have resulted this year. But there's no guarantee that the foot-first slide is injury-proof. Ordonez found that out Saturday when a traditional slide led to a broken right ankle. He is expected to miss up to eight weeks (and potentially the remainder of the season) while the injury heals. But was the slide itself to blame?
Ordonez, who was already dealing with a sore ankle and was limited to DH duties, was thrown out at the plate while attempting the slide. According to Mark Snyder of the Detroit Free Press, Ordonez's ankle appeared to give way as he was sliding. It's possible that the pre-existing weakness made Ordonez less able to control his ankle on what would normally be an automatic maneuver. Now, it seems, he will be spending the next month and then some working on his ankle strength and stability once the bone heals. Ultimately, he should recover fully from this, but fantasy owners should plan on doing without Ordonez for the remainder of their season.
Carlos Guillen, 2B, Detroit Tigers:
When it rains, it pours. Just ask Jim Leyland. After losing Ordonez to the aforementioned ankle fracture last Saturday, the Tigers saw Guillen exit later that day with a right calf strain.
The good news is that Guillen's injury does not appear to be serious and he is expected to return at the end of his 15-day DL stint. In fact, Guillen is likely to resume baseball activities within a week, according to the Detroit Free Press, and assuming no setback, should be ready to return when eligible. Guillen has experienced some issues with his calf since mid-June resulting in intermittent days off to rest it. Given that this was not his first episode and knowing how disabling a significant calf strain can be (
Philadelphia Phillies
shortstop
Jimmy Rollins
has endured two DL stints this year because of it), the Tigers are fortunate -- for once -- in that this should not cost Guillen excessive time.
Ben Sheets, SP, Oakland Athletics:
Remember when everyone was buzzing about Sheets' January throwing sessions for scouts when he was looking for a team after his flexor tendon repair? And remember when the A's picked him up at the exorbitant price tag of $10 million for one year?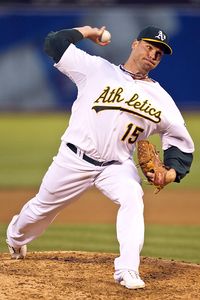 Jason O. Watson/US PresswireBen Sheets had stayed relatively healthy until recently, although he's just 4-9 with a 4.53 ERA this season.
Here's an excerpt from our fantasy draft kit where we talked about thoughts on Sheets from an injury perspective heading into 2010:
The concern is not so much in the recovery of this particular injury. Overuse of the flexor-pronator (the muscle group on the front side of the forearm that controls downward wrist motion and some forearm rotation) is not uncommon in pitchers and failure (or partial failure) of the tendon (which anchors that muscle group to the bone at the inner aspect of the elbow) is not unusual. ... The issue is whether the flexor tendon tear is an isolated injury or whether there is other structural damage present which, even if insignificant now, could manifest itself in the future. Where is a crystal ball when you need one?Sheets had plenty of time to recover from this particular surgery in advance of the 2010 season. Unfortunately, there is no true way of knowing how long his health will hold up.
It seems as if some of those preseason concerns are indeed manifesting themselves. Sheets, on the DL and out indefinitely, has had recurrent problems with swelling in his throwing elbow, which suggests that there are bigger issues lurking beneath the surface. The San Francisco Chronicle reports that Sheets is scheduled to visit his orthopedic surgeon, Dr. Keith Meister, on Tuesday and the team will wait until that visit is complete to discuss his condition. Given that Sheets already indicated that the problem could be season-ending, there is not a lot of reason to be optimistic.
More definitive details regarding Sheets' diagnosis should be forthcoming shortly but it's safe to say that recurrent swelling and discomfort in a pitcher's throwing elbow is never good. Fantasy owners should begin making alternate plans if they haven't already.
And dare we say it ...
Colorado Rockies
shortstop
Troy Tulowitzki
is expected back in the lineup Tuesday. Last week we said
all signs were positive
as Tulowitzki headed to a rehab assignment. Indeed they were. Tulowitzki has shown manager Jim Tracy enough to warrant rejoining the team. Fantasy owners should bear in mind that he is just shy of six weeks since the injury, pretty much close to his original timetable. There may be a delay between Tulowtizki returning to the lineup and Tulowitzki returning to hitting over .300.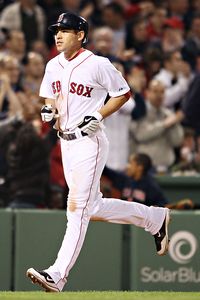 Elsa/Getty ImagesJacoby Ellsbury has not played since May 24.
Boston Red Sox
outfielder
Jacoby Ellsbury
started a rehab assignment, a significant step in his comeback efforts from multiple rib fractures. Ellsbury played DH on Monday with the Red Sox's rookie league team, going 1-for-3. Clearly he still has a way to go before returning to the majors, but getting back to facing opposing pitchers was an important target. The Boston Globe reports that Ellsbury could be moved to Triple-A Pawtucket this week if all continues to go well, perhaps as early as Wednesday. While the Red Sox, for obvious reasons, are reluctant to offer a specific timetable for Ellsbury, his rehab calendar suggests that he will rejoin the team within the next 2-3 weeks. Given his much more gradual progression back this time, fantasy owners can have more confidence in his return.
New York Yankees
lefty
Andy Pettitte
is feeling good in his recovery from a left groin strain. Pettitte told the New York Daily News that he is "not having any problems at all." Of course he is quick to add that he hasn't done much other than play catch in the outfield. There are still a number of hurdles to cross before Pettitte can consider rejoining the rotation and the team will be cautious for reasons outlined
in a previous blog
, meaning the original timetable of 4-5 weeks may yet hold. Nonetheless, the fact that Pettitte is not having any pain is a positive sign.
Dan Haren
, the new addition to the
Los Angeles Angels
' pitching staff, suffered a bruised right forearm when he absorbed the brunt of a comeback line drive Monday. Haren will be evaluated Tuesday to ensure that this is indeed just a soft tissue injury to his throwing arm. Obviously any sort of bone injury would translate to significantly more missed time. Not what the Angels want to see happen the day after they make a trade.
From my mailbag:
Adam (Los Angeles):
Maybe a paragraph on Andruw McCutchen would be nice.
Stephania Bell:
Thanks, Adam, for writing. Hopefully you were able to sneak McCutchen into your fantasy lineup for this week! But for those who may still be wondering about the nature of his injury ...
McCutchen suffered an injury to his AC (acromioclavicular) joint when he made a diving catch in the outfield. The AC joint is where the acromion (tip of the shoulder) meets the clavicle (collarbone) and is easily sprained (meaning the ligaments that support the joint are injured) by a fall onto the point of the shoulder. An injury here makes overhead movement difficult, but general soreness around the shoulder could potentially limit most baseball activities, including batting. Because McCutchen made his return to the
Pittsburgh Pirates
' lineup Sunday, it confirms the original projection of a mild injury and unless he happens to dive and land on it exactly the same way, he should be fine going forward.
July, 19, 2010
7/19/10
2:59
PM ET
The All-Star break has not been kind to the
New York Yankees
. First, they lost their iconic owner on the very day of the All-Star Game. As the team mourned George Steinbrenner when play resumed, there was at least comfort in knowing they were atop the American League East with a solid slate of starting pitchers.
Or at least it appeared solid, until last weekend. It was bad enough that the Yankees lost
A.J. Burnett
early in Saturday's game as the result of a self-imposed injury borne out of frustration. (Burnett has said, however, that he will make his next scheduled start.)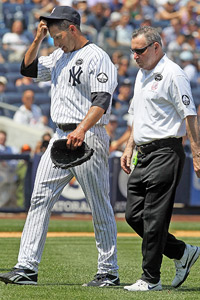 Jim McIsaac/Getty ImagesAndy Pettitte is expected to miss at least a month of action, which is in line with similar groin injuries.
The bigger loss came the following day when lefty
Andy Pettitte
, off to perhaps one of his best starts to a season ever (11-2, 2.88 ERA),
made an early exit
with what was later revealed to be a Grade I groin strain. Pettitte left in the third inning after feeling what he described as a "burning sensation" in his left groin, according to the Newark Star-Ledger. The team has indicated that they expect Pettitte to miss approximately four to five weeks and the question for all fantasy owners naturally is, "Is that realistic?"
The answer, quite simply, is yes.
In fact, for this type of injury to the push leg of a pitcher, it would not be surprising for the range to extend in some cases up to six weeks. While the time frame itself is fairly straightforward, the rationale for it is more complex.
Here are some of the factors that need to be considered when evaluating the impact of this injury on Pettitte:
1.
The injury has been reported to be a Grade I (mild) strain. Of the three grades of muscle strains (I, II, III), I is the least severe. While it is certainly better to have a Grade I strain (where pain is present but typically there is minimal loss of range of motion and strength) than either a Grade II (which would indicate more extensive tissue damage) or a Grade III (which would represent a complete tear and would be season-ending), there can still be significant variability among mild strains. The size and extent of injury, while minor overall, can still differ within this classification, with bigger ones being more problematic. Some strains will have more inflammation associated with them than others, which may project to more healing time. These variables influence the projected return to play time for an athlete.
2.
The "groin" is not an isolated muscle. In fact, the term "groin strain" is used to represent injuries to any one of the six adductor (inner thigh) muscles. It may also be utilized in reference to a deep lower abdominal strain. The attachments of some of the adductor muscles and lower abdominals are very close to each other and an injury to any of them can result in pain in the groin area. Depending on which muscle is involved and how it contributes to the athlete's function at his position, the timetable for return to play following injury can vary substantially. One of the benefits of the athlete undergoing imaging testing such as MRI is to help localize which muscle or group of muscles is involved and to what extent. Pettitte underwent an MRI before the team issued its timetable, suggesting that what they saw contributed to their overall assessment.
3.
The groin muscles have a very complex function in a pitcher, especially on the push leg. While a groin injury on either side would be problematic for a pitcher, it is perhaps more so when it is on his push leg, or the leg that is on the same side as his throwing arm. The adductor muscles are generally thought of as muscles that "adduct" the thigh, or bring it inward across the body. When the leg is in the air, that's true. For instance, a soccer player who kicks the ball across his body -- from left to right -- with his left leg, is using his left adductors in this way.
When the foot is on the ground, however, particularly in one-legged stance, the adductors take on a whole new but critical role: stabilizing the entire leg and pelvis. The lower abdominal muscles also contribute to stability of the pelvis and trunk.
Picture Pettitte going through his pitching motion. As he moves from his start position through his windup phase, he transfers all his weight to his back (left) leg, on which he must balance as he raises his right leg in front of him. He is also rotating during this motion, meaning the groin muscles are dynamically contributing to his stability and balance as he moves on a narrow (single leg) base of support.
As he moves through his stride phase, the groin muscles have to continue to control his stability as he begins to transfer energy from the leg up through the trunk to the throwing arm, all while his body weight is shifting toward his lead (right) leg. As the legs separate during the stride phase, the groin muscles have to continue to contract to control stability, while simultaneously lengthening to allow the stride. This dual demand on the muscles makes this a vulnerable point for injury.
The burden of muscular work for the lower half of the body transfers to the lead leg as the pitcher has to bring his body weight up and over during ball release and follow through. Any weakness or limitation in the push leg, however, can render the lead leg more vulnerable if mechanics are impacted in this phase.
The bottom line here is that there is far more involved in returning a pitcher to throwing effectively following a groin strain than simply waiting for the initial pain to improve. Consequently the timetable has to allow for a progression of activity from simple exercise to playing catch to throwing with intensity to allow the muscles to gradually adapt.
4.
Incomplete healing of muscle strains at the time of return to play can lead to setbacks. Second-injury setbacks are often more serious in nature and can result in extended down time. As a result, more and more teams are erring on the conservative side when it comes to these types of injuries as a means of ensuring that they do not lose a key player for an even longer period or at a critical (read: playoff) time.
With all these factors taken into consideration, it appears that the timetable issued for Pettitte is indeed reasonable. It's also worth considering that Pettitte is 38 years old, which means the healing probably comes a bit slower. It is possible that he could beat the time frame, but even if he does, it's likely to be by a matter of days, not weeks. The risk of an extended absence due to a second injury would be far greater than the reward of one extra start. Besides, the Yankees want Pettitte to come back when he's ready to resume the form he's already shown in 2010.
Fantasy owners should be patient. After all, isn't that what we all want, too?
April, 8, 2008
4/08/08
6:58
PM ET
By
Stephania Bell, ESPN.com
| ESPN.com
Last week we talked about National League players who opened the 2008 season on the disabled list. Today we take a look at key American League players who were noticeably absent from their teams' rosters on Opening Day and evaluate the likelihood of them making an appearance in the near future.
American League
[+] Enlarge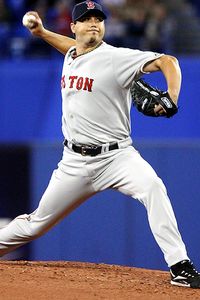 Dave Sandford/Getty ImagesBeckett is back and hoping that he can stay healthy.
Josh Beckett, Boston Red Sox:
Beckett, who had some soreness in his back throughout the prior week, began experiencing back spasms Saturday, March 8, after he lost his footing on the mound during warm-ups. An MRI of Beckett's back was negative and a disk injury was ruled out. The spasms themselves suggested a protective guarding or splinting by the muscles but the challenge in that situation is figuring out why they are in spasm and addressing the source. There are so many pain-generating structures within the spine that it is often difficult to localize a problem. Joints, ligaments, disks and even the muscles themselves can suffer direct insult that can trigger pain. This pain often results in protective muscle spasms which are the body's way of preventing unnecessary movement to avoid further injury to the area. In the end, rest and avoiding further aggravation is often the key to a speedy recovery. The Red Sox's decision to keep Beckett stateside while the team traveled to Japan was a wise one, as anyone who has experienced back pain can attest to the fact that a lengthy plane flight is more likely to hurt rather than help. Beckett was able to progress without incident through his rehabilitation program and rejoined the rotation Sunday. His outing was not his best, but from an injury perspective, he did not experience any pain. Now that Beckett is back in the mix, expect him to settle into his role in short order.
Andy Pettitte, New York Yankees:
See Josh Beckett above. Pettitte's situation was not very different from that of his Red Sox counterpart. Some have speculated that Pettitte's offseason distractions put him at more of a risk for injury. Perhaps, but that is hard to quantify and remains speculation at best. Pettitte did have some elbow discomfort early in the spring, which is not uncommon for pitchers as they work on increasing their endurance in the preseason, but that subsided within a few weeks. Then, Pettitte's back locked up on him while he was driving home from practice in March. After missing a single scheduled start and allowing his back to rest, Pettitte eased back into his throwing program, throwing bullpens and minor league games before returning to the rotation Saturday. Although Pettitte did not get the win, he didn't appear to have any setbacks, and as is the case with Beckett, there is no reason to expect at this point that there will be any long-term problems as a result.
Scott Kazmir, SP, Tampa Bay Rays:
Pain in his throwing elbow in early spring training led to a shutdown for Kazmir. While minor strains are not uncommon for pitchers in springtime as they rebuild their endurance, it is only when they return to action following a period of imposed rest that we get a feel for whether the episode was a minor occurrence or a sign of bigger things to come. Kazmir has been throwing and feeling no pain since mid-March, including a recent bullpen session incorporating changeups and sliders, according to the Tampa Tribune. Those things would seem to point to this incident as a minor spring training occurrence and fantasy owners can breathe a bit easier. Kazmir started the season on the disabled list to give him ample recovery time, as well as time to increase his overall strength and endurance, but it now appears that he could return to the lineup at the end of April.
Curtis Granderson, OF, Detroit Tigers:
Granderson began the season on the disabled list with a fractured third metacarpal in his right hand after being hit by a pitch. Granderson rested the hand for two weeks and then had X-rays to determine the healing progress of the bone. Team doctors felt it had healed enough for him to begin light baseball activities, so Tuesday Granderson began hitting a ball from a tee and some light throwing, according to the Detroit News. Bear in mind that it takes up to six weeks for a fracture to fully heal so this is by no means finished. In fact, Granderson admitted to still having some pain in the hand, a reminder that he is not completely out of the woods. The good news is that he has the mobility to actually grip the bat and that he is getting his body used to the skills he will need to get back onto the field. The unknown is exactly how long it will take him to be comfortable enough and confident enough to actually return to the lineup. At this point it would be a surprise if Granderson is back before another 10 days since, by his own acknowledgment to the Detroit Free Press, he will need to face live pitching before returning.
Joel Zumaya, SP, Detroit Tigers:
During the offseason, Zumaya was assisting his family in evacuating during the Southern California wildfires. While he was moving things out of the home, a box reportedly fell on Zumaya's right (throwing) shoulder, and the next thing we heard was that he had undergone acromioclavicular (AC) joint reconstruction to repair the damage. This procedure, although certainly not impossible to return from, is no walk in the park. Zumaya has to adjust to the altered mechanics, even if subtle, that result from such a procedure. His expected return date was originally targeted for sometime in July, presuming no delays or setbacks, but lately the Tigers have been less willing to set a concrete timeline. As of the start of the season, Zumaya was throwing from 120 feet and feeling good. He is said to be progressing well but since this is not a common injury for pitchers, it is difficult to draw comparisons. Yes, he should be able to eventually return and pitch effectively. Will he be able to deliver the 100 mph fastball? Perhaps, but it wouldn't surprise if he loses some steam off his delivery, at least initially. The first hurdle is him getting healthy enough to rejoin the rotation without a setback, or without some new injury cropping up. Then the Tigers can worry about triple-digit speed.
Fernando Rodney, RP, Detroit Tigers:
Rodney, who experienced shoulder pain that forced him to miss time in 2007, began having similar symptoms very early in spring training of this year. After ups and downs in his attempts to return via a throwing program, the Tigers have indicated this week that he will resume playing catch. According to a report on mlive.com, the Tigers would like to have Rodney get to the mound at least one more time before considering something much more dramatic, such as surgery. An MRI this spring revealed no specific structural damage, which is not unusual, and the shoulder pain will continue to be treated symptomatically, until the point at which it becomes evident that Rodney simply cannot return. That point, unfortunately, does not look too far off. If Rodney fails to make it back after this round of conservative treatment, don't be surprised if he heads to the surgeon's table, which would essentially spell the end of the season for him.
[+] Enlarge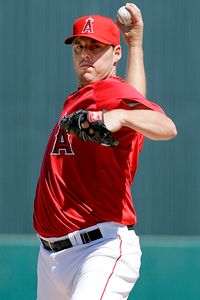 AP Photo/Jeff ChiuLackey has yet to take the mound in Anaheim in this season.
John Lackey, SP, Anaheim Angels:
Lackey was slowed early in spring training by a sore elbow and was ultimately diagnosed with a strained triceps (the large muscle on the back of the arm that attaches at the elbow). As of mid-March the Angels projected him to miss three to four weeks before he could resume baseball-related activities, but that timetable was shortened by a week given Lackey's progress in rehab. The Los Angeles Times is reporting that Lackey could begin throwing off a mound within the next week. Lackey still needs to get game ready, meaning potentially several minor league starts to increase his endurance. Keep in mind that he had only one spring training start before hitting the disabled list. His timetable still appears to be targeted toward a return in May, perhaps around the middle of the month. On a positive note, Lackey has avoided major injury for five seasons prior to this and the hopes are that this setback is more a side effect of spring training, and not an omen for the future.
Kelvim Escobar, SP, Anaheim Angels:
Shoulder inflammation reared its ugly head again this winter for Escobar, who suffered through a similar bout near the end of the 2007 season. Escobar, who returned to the Angels' spring complex in January to undergo rehab and strengthening for his shoulder, was shut down from throwing for two months in the hopes that he could return during spring training. But after only three throwing sessions in mid-March, Escobar's pain returned and he was shut down once again. The Angels have disclosed that Escobar has a torn right labrum (ring of cartilage in the shoulder that helps increase the congruity of the joint), never a good diagnosis for a pitcher in particular, and they have decided to put him back on the conservative treatment track once again. Escobar told the Los Angeles Times that he was concerned about his pitching future as a result of this injury, complicated by the fact that he was born without a supraspinatus (one of the four rotator cuff muscles), something he apparently learned during his first physical after he was drafted. In any event, if Escobar does not respond to this next round of conservative treatment, he is expected to pay a visit to Mets team physician Dr. David Altchek for consultation regarding surgical options. This is not a great scenario for Escobar, no matter which way you look at it, because painful labral problems rarely respond to conservative management, and when addressed via surgery, there is a significant recovery period, not to mention one with no guarantees about final outcome. For fantasy owners, this is a situation to observe from afar.
Scott Rolen, 3B, Toronto Blue Jays:
Rolen, so hopeful for a fresh injury-free start with his new team, succumbed to the disabled list bug after taking a bad shot to his right third finger from a hard-hit line drive. The ball hit his finger with such force that it resulted in a fracture at the very tip, and even worse, damage to the fingernail and soft tissue around the break. Rolen had to have a pin surgically implanted and, according to his own statements on the Blue Jays' official Web site, his surgeon gave him a four to six week estimate on returning to play. Although a broken bone is not something to take lightly, the more critical piece for Rolen in terms of healing is the flesh of the finger itself. He will likely be able to hit before he can throw, simply because managing the grip on the ball is so difficult when the soft tissue is injured. Fantasy owners know that Rolen is valued in reality largely because of his defensive skills, so the throwing limitations he faces are something to keep in mind when estimating his return time. As of this point in time, the Jays are hoping to have his services in early May. Assuming the tissue heals well, once Rolen regains his mobility and grip strength, he should not have ongoing issues with the finger.
New injury worries
It doesn't take long, does it? Another week of baseball and already there are enough sprains, scrapes and spasms to fill another column. Here are a few of the key injuries we are looking at this week with more details to come.
Derek Jeter, New York Yankees:
Jeter has a strained left quadriceps muscle (large muscle on the front of the thigh) and is expected to miss at least three games, although he will not go on the disabled list, according to a report from The Associated Press. Jeter apparently strained the muscle while running before Monday's game, but he says the problem is not serious and an MRI appears to have confirmed that. Nonetheless, he is going to have some imposed rest to allow the muscle to quiet down, and as manager
Joe Girardi
points out, the upcoming weather is cold and the team does not want to risk further injury. At this point, this does not appear to be a major strain, and barring Jeter returning too early and aggravating the condition, this should not bother him on an ongoing basis once the acute episode has resolved.
Rich Harden, Oakland Athletics:
Was it too good to be true? It seems that way for the moment, but it's not time to panic ... yet. Harden, who has started the season with a bang after injury issues plagued him for the past two seasons, is faced with another injury. The question at this point is whether this is a minor blip on the radar, or whether it echoes past problems that have resulted in lengthy absences. The San Francisco Chronicle is reporting that Harden has been scratched from Tuesday night's game due to back, specifically "lat," soreness. The "lat" refers to the latissimus dorsi muscle, the large muscle that, when well developed, makes the nice "V" shape on the back. Pitchers use their lats, which attach to the arm bone, to help provide stability and control rotation and extension of the arm. Optimistically the team has slated Harden for a Sunday start, suggesting that the soreness is minor and nothing that a few extra days of rest can't cure. Additionally, the A's are being more cautious than they would be otherwise because, after his spectacular return, the A's do not want to push Harden into a major injury by ignoring lesser symptoms. It is worth noting that Harden had oblique and lat strains that resulted in a two-month absence back in 2005. Harden has no doubt focused on strengthening his core muscles as part of his shoulder rehabilitation however, which would help him recover from this type of injury more quickly. If he is able to get back by Sunday, this injury goes in the "not a big deal" category and Harden can pick up where he left off. If however, it looks to turn into something more chronic, those shades of the term "injury prone" may return.
Michael Barrett, San Diego Padres:
Another player who heard a "pop" this week associated with injury is Barrett. Last week it was
Pedro Martinez
and his hamstring. This week it's Barrett and his forearm. The team is reporting that Barrett has a fair amount of pain in the region of his ulnar nerve, which lies on the inner side of the elbow. By now, everyone knows what else is near there. Yes, the ulnar collateral (Tommy John) ligament. According to a report on the Padres' official Web site, Barrett could not throw the ball back to pitcher
Greg Maddux
without a bounce. A pop (believed to have occurred on an earlier throw), weakness and some nerve-like symptoms all are ominous signs for Barrett as a potential ligament injury. He is scheduled for an MRI Tuesday after which his course of treatment will be determined. If Barrett is on your fantasy team, don't wait for the results. Go out and get someone else, even if you end up needing him only short term. We'll keep you posted.
There are many other new injuries to report on so check back throughout the week as we update those, as well as the status of your fantasy draftees who may have started on the disabled list and are looking to make a return. Is anyone a safe pickup? Perhaps, and even better, perhaps there's a great bargain to be found. Stay tuned.