Stephania Bell:

Aramis Ramirez
July, 15, 2013
7/15/13
5:03
PM ET
In honor of the 2013 MLB All-Star Game and accompanying festivities at Citi Field in New York City this week, it's time once again to compile a roster of All-Injured All-Stars. Members of this roster are selected from:
a. Players who were chosen for this year's All-Star game but could not participate due to injury
OR
b. Past All-Stars who might have had the potential to earn another trip in 2013 were it not for the injuries that beset them this year.
Just as was the case in 2012, this year's list offered multiple options at nearly every position in both the American and National Leagues. In other words, there is no denying the impact of injuries on the game. Not everyone who could possibly qualify is listed. Some are making a repeat appearance after making this list last season (a dubious distinction denoted with an asterisk). The selections here, just as with the actual All-Star roster, are debatable. But as the manager of the injury roster, the selections are at my discretion.
And now, I hereby present the 2013 All-Injured All-Stars.
National League
1B: *Ryan Howard, Philadelphia Phillies: Howard made the 2012 All-Injury roster as he was recovering from an Achilles tendon repair, a recovery slowed by setbacks in the spring. This year, the three-time All Star started the season on time but was placed on the DL on July 6 with a meniscus tear. Howard underwent surgery and is projected to be out for six to eight weeks (the Phillies hope to have him back and playing with the club in that time frame), a reasonable projection if all goes well with the rehab process. Still, the Achilles rupture and the meniscus injury have both been on Howard's left side, which raises the level of concern about how that leg will treat the 33-year-old going forward.
2B: Aaron Hill, Arizona Diamondbacks: Although Hill has technically returned from the DL, there is little doubt that his injury derailed the All-Star second baseman's season after a solid start. That too, the injury is not completely out of the picture. Hill sustained a nonunion fracture in his hand after being hit by a pitch. Ultimately, he was given clearance to try to play through it if the pain didn't limit him. He has been able to do so, although the team is taking precautions to have him avoid overusing it. The risk remains that it could be aggravated during the course of the season and force him out of the lineup again.
SS: Rafael Furcal, St. Louis Cardinals: Last year at this time, Furcal was making an appearance in the All-Star game; this year he has not made an appearance in a major league game. After spraining his ulnar collateral ligament, Furcal tried to go the conservative route, but during spring training this year, his elbow failed him. After undergoing Tommy John surgery and spending the rest of this year rehabbing the elbow, Furcal hopes to return next season.
3B: Aramis Ramirez, Milwaukee Brewers: Ramirez has been plagued by a problematic left knee since the spring. The Brewers have attempted to manage the problem by giving him intermittent days off. The challenge with the knee sprain, sustained back in March, is that if there is any residual instability (which there appears to be, based on how his knee has behaved), it can easily become aggravated by an awkward movement that causes the knee to give way, such as a diving defensive play, a quick directional change or a slide while running the bases. Despite his attempt to play regularly through the injury, the All-Star third baseman has been limited at times by the knee and recently aggravated it to the point of requiring a second DL stint. In fact, teammate Ryan Braun was brought off the DL a few days sooner than expected when it became clear Ramirez would be heading back. The symptoms from this latest episode will likely settle fairly soon, and Ramirez should be able to then increase his activity and return to the lineup. But what the two trips to the DL along with the controlled management of his playing time tell us is that we can expect the uncertainty around Ramirez and his knee to continue throughout the season.
C: Yadier Molina, St. Louis Cardinals: We're cheating a little bit by placing Molina here since it appears he will play in the All-Star game, despite the threat of injury. Molina's knee began to bother him about a month ago, suddenly worsening last week and making it difficult for him to run. An MRI revealed no structural damage and after a few days rest, Molina returned to the lineup this weekend, seemingly without issue. It's hard to imagine that an injury that has plagued him for the better part of a month would suddenly have disappeared, especially for a catcher whose job demands take a toll on the knees. It's terrific that the National League's leading vote-getter will be there for the fans. Let's hope it doesn't mean he won't be there for them later this season.
OF: *Carl Crawford and *Matt Kemp, Los Angeles Dodgers; Justin Upton, Atlanta Braves: Crawford seemed to bounce back this season after spending most of 2012 on the DL, first for lingering wrist pain and weakness following offseason surgery, then for a torn ulnar collateral ligament that ultimately required season-ending Tommy John surgery. The injury bug appeared to be in the rearview mirror in 2013. Unfortunately, that changed in June when Crawford suffered a hamstring injury that sidelined him for several weeks. Just a week removed from the DL stint for his hamstring, Crawford was out of the lineup with back stiffness. Although an MRI turned up "nothing really significant," according to manager Don Mattingly, Crawford has yet to return. At 31, it's more difficult for Crawford to bounce back from these nagging types of injuries, making it more of a worry that the hamstring or the back -- or both -- could be problematic for Crawford for the remainder of the season.
Kemp's performance in 2013 wouldn't have earned him a spot on the All-Star team this year, even if he were healthy, but his talent has made him a regular in years past. Last year, a hamstring injury that flared up as soon as he returned from his initial DL stint caused him to miss more time than he ever had in his major league career. Now he is set to challenge that statistic this season with consecutive DL appearances for different injuries (a hamstring strain on the opposite side of last year's injury followed by AC joint inflammation in his post-operative shoulder). The injuries only compounded the rough start Kemp was experiencing following his offseason labral repair. It always seemed likely that Kemp would improve in the second half of this year as he rediscovered his power swing. Now the hope is that he can simply be healthy enough to have the opportunity to do so. As of now, the end of the month appears to be the target for Kemp's return, and the Dodgers are hoping to see the pre-2013 version of their star outfielder.
The entire Braves outfield is hurting right now, but it is Upton who has the most All-Star appearances of the three, hence his name at this position. Upton strained his calf muscle, but by all accounts, it sounds minor and he could return within the week.
SP: *Roy Halladay, Philadelphia Phillies; *Chris Carpenter, St. Louis Cardinals: Is it a coincidence that these two are repeat honorees? Probably not, especially given that their situations last year portended greater concern for their health heading into this season.
In 2012, Halladay was sidelined with a strained lat, an injury he was able to return from in just under two months. This year, when his performance suffered in an eerily similar manner to last year, Halladay was quicker to acknowledge there was perhaps an underlying physical problem. Indeed, Halladay was dealing with damage to his rotator cuff which required surgery to repair. After undergoing surgery, Halladay has embarked on an intensive rehab program. He has made it clear that he hopes to return this year, although it is not likely to be before September.
Carpenter underwent thoracic outlet surgery in 2012 to alleviate nerve compression that was causing weakness and pain in his throwing shoulder and arm. Surprisingly, he recovered well enough to rejoin his team for the postseason, but he did not pitch like his usual self. After taking some time to re-evaluate whether he even wanted to return to baseball, Carpenter dedicated himself to a focused rehab process … again. Despite several setbacks along the way, he is nearing the point where he could contribute to the Cardinals' stable, as a starter. Carpenter is set to begin a rehab assignment Monday, according to the St. Louis Post-Dispatch, which could pave the way for a late-season return.
RP: J.J. Putz, Arizona Diamondbacks: Technically, Putz has returned to his major league team after missing extensive time due to injury. An exception was made to include him in the list because he isn't truly back yet, as evidenced by some of his lingering struggles. A sprain of his ulnar collateral ligament in his throwing arm had the former All-Star sidelined for virtually all of May and June. Shortly after returning, Putz blew a save, leaving us to wonder whether he had really fully recovered or whether he was just rusty. For now, he is operating in a support relief role, but the big question is whether he can pitch on a regular basis without any recurring elbow pain.
Honorable Mention: Freddie Freeman, 1B, Atlanta Braves (thumb); Ryan Braun, OF, Milwaukee Brewers (thumb); Jason Heyward, OF, Atlanta Braves (hamstring)
American League:
1B: *Kevin Youkilis, New York Yankees: Youkilis wasn't going to make this year's All-Star team, but he's certainly made enough of them in the past to warrant making this All-Star roster. Hip and back problems have limited Youkilis intermittently for years, and this time, his back would not let him get comfortable. He ultimately had to go the route of back surgery in June and is expected to be out for approximately three months. It's worth noting that the recovery timetable following this procedure is very fluid, so any setback could throw off that schedule. Despite his age (34), Youkilis is taking a chapter out of teammate Derek Jeter's book and expects to come back, although it remains to be seen whether he's able to do so this year.
2B: Omar Infante, Detroit Tigers: After getting taken out by a hard slide in a game in early July, Infante's injury was initially called a contusion. It was later announced that he had sprained his ankle, and Infante was placed on the DL but was expected back immediately following the All-Star break. Now it appears the ankle is recovering a little more slowly than expected, and manager Jim Leyland cautions that Infante may require a little more time. While this doesn't have the sounds of a particularly serious injury, Infante still needs to move well enough to make defensive plays in addition to running the bases. A few extra days now will translate to a smaller likelihood of lingering problems in the second half.
SS: Derek Jeter, New York Yankees: No matter how hard he tried to return to the lineup to start the season, it just wasn't meant to be for Jeter. After undergoing surgery to stabilize his fractured ankle last fall, Jeter appeared on track with his progression until pain during spring training interrupted his running program. Imaging studies revealed a second small crack, and Jeter's program was put on hold to allow the bone to heal. As the bone healed to the point where he could resume running, Jeter progressed rapidly through his rehab progression. In fact, he progressed so well that the team opted to have him return prior to the All-Star break. He lasted less than one complete game.
During his first game back, Jeter's 39-year-old quadriceps muscle tightened up on him, and he was forced out for the day. The Yankees are hopeful that this represents only a minor setback for the veteran given that it is a Grade 1 (mild) strain. After some rest and a few days to recover, it's possible he could be ready to go after the break, although the Yankees may ease him back with alternating days off and DH usage.
3B: Alex Rodriguez, New York Yankees: It's not surprising that the multiple-time All-Star is on the DL at this point. When he underwent January surgery to repair the labrum in his hip, Rodriguez was expected to be out until after the All-Star break. Still, it was uncertain whether his rehab would proceed smoothly and allow him to be on track for a July return. Minus the distractions associated with both the Biogenesis scandal and his recent rehab status updates on Twitter, Rodriguez has experienced a fairly smooth recovery. The last physical hurdle he needs to cross before rejoining the Yankees is a complete rehab assignment, and he is well on his way. On Monday, he graduated to Double-A Trenton as part of his progression towards major league competition. According to the New York Post, Rodriguez says his legs "feel good" and the plan, as he understands it, is to rejoin the team July 22. Although he hasn't shown much at the plate thus far -- after being out of baseball for the bulk of the last nine months -- the rust is not surprising. While his physical condition is improving, there may be other hurdles -- other than of his hip -- which prevent him from contributing for the remainder of this season.
C: Francisco Cervelli, New York Yankees: Admittedly, Cervelli is a reach here as he has never been an All-Star. But with no one else really competing for a slot, he gets the nod as the starting catcher. Cervelli has been on the DL since late April after suffering a fracture in his right hand, which required surgery. (Incidentally, the Yankees seem to be leading the league in hit-by-pitches resulting in fractures among starters.) After finally recovering enough to take batting practice, Cervelli was just shut down again due to a stress reaction in his right elbow. It now looks like he will be sidelined until August, and it's hard to imagine him being effective immediately after being limited from baseball activity for so long.
OF: Melky Cabrera, Toronto Blue Jays; Curtis Granderson, New York Yankees; Shane Victorino, Boston Red Sox Oh, what a difference a year makes. At this time in 2012, Cabrera was the All-Star Game MVP, and his performance helped secure home-field advantage for his team at the time, the San Francisco Giants, in their World Series appearance. It was a World Series that Cabrera would end up not participating in, due to the fallout from his suspension for testing positive for PEDs. Cabrera then switched leagues in the offseason when he signed with the Blue Jays. This year, he finds himself on the DL with what is being called left knee tendinitis. The good news is that he has begun a rehab assignment and should be able to rejoin his team shortly after the All-Star break, barring a setback. After going from the highest high to the lowest low last year, then following it with injury this year (which, so far, appears to be minor), Cabrera has to be ready to turn the page in the second half.
Granderson can't catch a break this year. Or, maybe he can actually do it a little too well. After starting the season on the DL with a wrist fracture sustained when he was hit by a pitch during spring training, Granderson made his season debut in May. It was short-lived, however, as Granderson lasted just days before sustaining another fracture, also the result of being hit by a pitch. This time, he sustained a break to a bone in his hand that required surgical stabilization. For a while, Granderson struggled to grip the bat, and his progress back to baseball activities was slow as a result. As of now, he has begun taking swings but still needs to return to batting practice before a rehab assignment is even in the picture. Granderson still appears to be a few weeks from rejoining the team, and even then, some apprehension about exactly what he can deliver at the plate -- at least initially -- is justified.
Victorino has been in and out of the Red Sox lineup for much of the season with some variant of low back, hip or hamstring pain, which all seem interrelated, per manager John Farrell. The problem with this complex injury is that, as it moves around, it becomes more difficult to treat and slower to resolve. It's just as well Victorino isn't part of the All-Star festivities as his body can certainly use the rest. Given that Victorino has already missed a month's worth of games this season combined with the fact that this problem has not gone away, there is definitely reason to be worried about how his body will hold up for the second half.
SP: Yu Darvish, Texas Rangers; Clay Buchholz, Boston Red Sox: Darvish would have been a fan favorite in this year's All-Star Game, and matchups between him and some of the NL's heavy hitters would have been eagerly anticipated. Unfortunately, those matchups won't be happening because of Darvish's recent placement on the DL with an upper back strain. He has struggled with giving up runs in recent outings, and the team is describing his ailment as fatigue in his upper trapezius. It's not your typical diagnosis, and it suggests he is experiencing associated neck or upper back stiffness. The question is how long the injury has been bothering Darvish and whether his performance of late can be attributed, at least in part, to his health. While the Rangers sound confident that he will return when eligible on July 22, consider that Red Sox ace Clay Buchholz is reportedly dealing with a similar problem and has been out for over a month. It may not be quite as benign as the team is making it out to be. We won't really know much until Darvish tries to resume throwing.
Speaking of Buchholz, he started off the season in spectacular fashion, but that came to a crashing halt after an odd injury sidelined him in late May. Buchholz claimed an awkward sleeping position resulted in soreness in his AC joint. Within a week, the problem evolved into a neck issue that was not initially considered serious, but Buchholz has yet to return. In fact, he has yet to make a rehab start; that has been delayed until after the All-Star break. The expectation is that Buchholz will be ready to return by late July, but his recovery process has not been smooth. Until he is able to return to competition and string together consecutive starts, there remains some concern.
RP: Jesse Crain, Chicago White Sox: Oh, the injustice. Crain was named to his first All-Star game only to be sidelined with an injury to his throwing shoulder. Crain was placed on the DL in early July after experiencing tightness in his right shoulder while warming up. The soreness continues to linger when Crain attempts to throw, but it's unclear just how serious the team thinks this particular episode is. Crain does have a history with his shoulder, having undergone surgery several years ago to address rotator cuff and labral damage. It's never encouraging to hear about problems resurfacing in a thrower's shoulder, but it's too soon to establish whether this is a minor incident that will resolve itself with rest or the beginning of a decline.
Honorable Mention: Justin Verlander, SP, Detroit Tigers (quad); Mark Teixeira, 1B, New York Yankees (wrist); Jake Peavy, SP, Chicago White Sox (rib)
July, 8, 2013
7/08/13
6:24
PM ET
Every Monday, in this space, we'll provide updates on a variety of players to help you make your weekly lineup decisions. We'll specifically try to hit the players who are day-to-day, have just gone on the DL or are ready to return, so that you can better decide whether you can count on them or not.
All projected return timelines should be considered fluid.
Hitters
[+] Enlarge

Brad Penner/USA TODAY Sports Ryan Howard lands on the DL while hitting .266 with 11 homers and 43 RBIs.
Ryan Howard, 1B, Philadelphia Phillies (placed on DL July 6): Howard's move to the DL couldn't have come as a complete surprise. He had been in and out of the starting lineup recently with soreness in the knee, but now he will be out for an extended period. Speaking to reporters Monday, Phillies general manager Ruben Amaro Jr. stated Howard has a meniscus tear and will undergo surgery to address the issue. The Phillies are hopeful they can have Howard back in the lineup within six to eight weeks, not an unreasonable expectation if the operation and subsequent rehab process go smoothly. Although Howard had been dealing with soreness since May, he told the Philadelphia Inquirer the pain and stiffness had recently increased to the point where he could not play through it. This procedure should allow Howard to move forward from the injury and return to play this season. But it is yet another injury to the left leg, which has been responsible for most of Howard's DL time during his professional career, including his Achilles rupture in 2011.
Aramis Ramirez, 3B, Milwaukee Brewers (placed on DL July 8): Day-to-day could really describe the entire season for Ramirez, given that his left knee has not been 100 percent healthy since he initially injured it this spring. On Saturday, Ramirez made a diving catch after which he came up limping, exiting the game shortly thereafter. On Monday, he was placed on the disabled list as Ryan Braun was activated.
The bigger question is whether Ramirez can really be expected to be at full health at any point this season. Based on how the knee has responded so far and with the potential for aggravation any time he slides or dives, the answer would appear to be no. In the absence of being healthy though, can he be effective? The Brewers have to hope the answer to that question is yes, but it may be on only an intermittent basis.
Ryan Braun, OF, Milwaukee Brewers (activated from DL July 8): Braun's thumb injury has been discussed multiple times in this space and the uncertainty of how it will behave across the rest of the season remains. However, he made enough progress in terms of gripping and swinging the bat that he was activated Monday in time for the evening matchup against the Cincinnati Reds. He swaps roster spots with teammate Aramis Ramirez. While he's back in action, Braun would still benefit from a few days off during the All-Star break. This might offer fantasy owners a good glimpse of whether the layoff has helped Braun's symptoms to the point where he can be productive at the plate.
Carlos Gonzalez, Colorado Rockies (day-to-day): If it's not one thing, it's another. Literally. Gonzalez left the game early after straining his upper back Thursday; now it's a finger which caused him to exit early on Sunday. Gonzalez reportedly took an awkward swing and injured the middle finger on his right hand. According to Troy Renck of the Denver Post, X-rays were negative and Gonzalez remains day-to-day with a sprain. It will all come down to whether he can effectively grip and control the bat. Literally.
Yadier Molina, C, St. Louis Cardinals (day-to-day): Molina and the Cardinals were relieved to learn that his right knee does not have any structural damage, according to the MRI he underwent this weekend. Molina's knee had been sore for a month but he told reporters he was sent for further tests after it hurt him to run Friday. "Everything came back negative and that's a relief," Molina said Sunday. He hopes to be back Tuesday after the Cardinals' off day Monday. It's hard to imagine a couple days will make this disappear, particularly if it has been bothering him for a month. After all, it's not as if his position isn't stressful on his knees without adding in the demands of running the bases. With former catcher Mike Matheny at the helm, it's a safe bet the Cardinals will be mindful of Molina's workload this week if his knee continues to nag at him.
Matt Kemp, OF, Los Angeles Dodgers (day-to-day): The good news is the Dodgers expect Kemp back in the lineup soon, possibly as early as Monday. The bad news is that he's making an appearance in this blog. Again. And his left shoulder is the culprit. Again. The good news is that this time the injury is not in the glenohumeral joint, the location of his offseason labral surgery and where the arm bone or humerus interfaces with the socket. This pain was located in the AC (acromioclavicular) joint, where the collarbone and the shoulder blade meet at the point of the shoulder. Kemp received an injection to help alleviate the pain, but the key to his return will be whether he has any (as in even a hint of) discomfort in that shoulder when he attempts to swing. After all of his struggles to regain his form and along with it his power following surgery, he is going to be closely monitored to ensure he's not compensating and altering his swing. Again. In any case, it looks as if he escaped a serious issue and should return in short order; now the Dodgers have to hope this is a one-time incident and not another problem that will resurface as the season progresses.
(After this was initially posted, the Dodgers placed Kemp on the disabled list again.)
Neil Walker, 2B, Pittsburgh Pirates (day-to-day): Walker left Saturday's game with soreness in his right side and is expected to undergo an MRI this week (although he did not have one on Monday). There are hints of an oblique ailment, but the imaging test should help confirm the location and the severity of the injury. While Walker did not seem to think his injury was serious initially, it's often not until the athlete tests the area later with activity that the limitations become apparent. He is not in Monday's lineup and will likely be out several days at the very least.
Shane Victorino, OF, Boston Red Sox (day-to-day): Victorino's back has been giving him fits throughout the season, but he left Saturday's game early because of tightness in his left hamstring. It's unclear whether the two are related, but manager John Farrell seemed to think so. Victorino did not play Sunday and it is not immediately clear how much time the Red Sox anticipate he will miss. Given his history not only with his back and his hip this year, but with a prior DL stint in May specifically attributed to his left hamstring, caution is warranted.
Lance Berkman, DH, Texas Rangers (placed on DL July 7): The Rangers placed Berkman on the DL not because of his ever-troublesome knees, but because of a low back or hip ailment. The knees are still likely to blame, though. According to ESPNDallas.com, Berkman tweaked his right knee on an awkward step a week ago, missed a few games, then developed this issue while running to first. Rangers manager Ron Washington seems a bit surprised that the knees are an issue. "When we signed him, we thought everything was going to be fine with the knees," Washington said. Really? This is a 37-year-old player with chronic knee issues which, while he's managed to undergo various procedures and return to play, are not the same joints as when he was in his 20s. These potential flares have to be expected. And then there's always the possibility that the pain travels up the chain toward the hip and back, as appears to have been the case this time. Berkman will return and may even do quite well, but the risk is not going away.
Yasmani Grandal, C, San Diego Padres (placed on 60-day DL July 7): Catchers and plays at the plate are always risky and the Padres are the latest to experience the effects. After he injured both his ACL and MCL in a collision at home plate Saturday, the prospects of Grandal returning this year seem grim. The Padres' immediate placement of Grandal on the 60-day DL further outlines the severity of the injury. After the game, Grandal was on crutches and Padres manager Bud Black indicated the outlook was not good. An MRI is scheduled for Monday after which more information should be forthcoming. If he has a complete ACL tear, which requires reconstructive surgery, then Grandal's season will indeed be over.
Jedd Gyorko, 2B, San Diego Padres (placed on DL June 10): Last week in this space we discussed Gyorko's setback during a rehab game, which delayed his return to the team. Although he indicated the setback was minor, it seemed only logical the team would require another rehab outing before allowing him to play in major league games. That appears to be the plan, although a definitive timetable has not been offered. Manager Bud Black told reporters Gyorko could renew a rehab assignment toward the middle of this week. Given the way things have unfolded, no matter how strong Gyorko feels, it would not come as a surprise if he is held out of a return to the majors until after the All-Star break.
[+] Enlarge

Chris Humphreys/USA TODAY Sports Troy Tulowitzki's injury likely will also keep him out of next week's All-Star Game.
Troy Tulowitzki, SS, Colorado Rockies (placed on DL June 13): Last week we said Tulowitzki could get clearance to advance his activities and he has done precisely that. On Thursday he took batting practice for the first time since fracturing his rib. It obviously did not set him back since he returned for more on Friday. The swings are a good test of how aggressive he can be while still healing from the injury as long as he is giving it full effort, something that's often hard to simulate in practice. As Tulowitzki told the Denver Post, "I have to have my game swing. I can't baby it." Even though his injury was to the rib itself, the muscles which attach to the ribs (such as intercostals and obliques) contract violently with rotation. If the bone were still sensitive, he would no doubt feel the discomfort and be limited in terms of how vigorously he could swing. Only he knows whether he is truly testing it full bore.
According to the Post, Tulowitzki is expected to wear protective padding over the injured rib area on his right side when he returns, something that could help protect him in the event of direct contact. Contact was how Tulowitzki originally sustained the injury when he met the ground hard while making a diving defensive play. Even if bone is showing evidence of good healing, it continues to remodel itself for some time beyond the projected four to six weeks following a break. Another direct insult to the area could result in a setback in the form of reinjury, hence the layer of padding for extra insurance. Padding would not minimize the force of the muscular contraction which happens underneath it, however, meaning Tulowitzki needs to be able to throw (especially hard, cross-body throws) and swing without hesitation or discomfort -- including checking a full-throttle swing -- in order to prove he is ready to return.
He's not quite there and he knows it. Tulowitzki told the Post on Sunday he is not completely symptom-free with his hard swings and knows he needs to be tested in a variety of game situations before returning to the lineup. A rehab assignment is slated to begin Monday and the next step will be completely dependent upon how the assignment goes. It's important to remember he has not yet reached the four-week mark since suffering the injury; a return after the All-Star break would put him at five weeks out, a seemingly safer target. Tulowitzki has made it clear he will not play in the All-Star Game (to which he has been selected as a starter) if he does not play for his team first. It may come down to the weekend before we have the answer.
Pitchers
Dan Haren, SP, Washington Nationals (returning to action July 8): Haren is returning from the shoulder ailment that sent him to the DL in late June. It was only ever described as shoulder stiffness and Haren never seemed too concerned. If anything, he and the Nationals were more focused on his overall struggles and the hope is that the break may have helped him in this department. Haren threw bullpens and navigated a simulated game without incident but never went on -- nor did he or the team feel the need for -- a rehab assignment. He gets the start Monday night at Citizens Bank Park against the Phillies.
Wei-Yin Chen, SP, Baltimore Orioles (placed on DL May 13 , expected to return this week): Oblique injuries are becoming relatively commonplace amongst pitchers and while they can still vary in terms of severity, the standard return of just over a month remains fairly consistent. And, just as important, when pitchers recover fully from an oblique injury prior to returning to the mound, there seems to be a low rate of injury recurrence. That bodes well for Chen and the Orioles as he is set to return this week after being out since mid-May.
Alex Cobb, SP, Tampa Bay Rays (placed on DL June 15): It was terrifying when it happened, a line drive to the head which resulted in a concussion and sent Cobb to the hospital. Fortunately, he has made impressive strides since that time, including a return to a throwing progression. Initially following the injury there was no discussion about baseball but that quickly changed as Cobb progressed. As of early July he was playing catch and increasing his cardiovascular workouts. Last Friday he threw his first bullpen since the injury and he repeated the effort Monday, increasing the number of pitches. According to the Tampa Tribune, Cobb hopes to return to the Rays' rotation late July or early August. No matter where your team allegiances lie, everyone has to feel good about Cobb's recovery.
April, 8, 2013
4/08/13
1:13
PM ET
Every Monday, in this space, we'll provide updates on a variety of players to help you make your weekly lineup decisions. We'll specifically try to hit the players who are day-to-day, have just gone on the DL or are ready to return, so that you can better decide whether you can count on them or not.
All projected return dates should be considered fluid.
Hitters
David Freese, 3B, Cardinals
(due back Monday): Freese started the season on the DL after experiencing persistent back pain this spring. Derrick Goold of the St. Louis Post-Dispatch reported Sunday that Freese would be activated Monday, joining his teammates in St. Louis for their home opener. Based on his performance over the weekend at Triple-A Memphis, Freese looks as if he's feeling just fine.
Freddie Freeman, 1B, Braves
(placed on DL April 7): Freeman was placed on the DL with a strained right oblique and seemed none too pleased about it, saying he had no input into the decision. Braves general manager Frank Wren explained the team was "... not going to take a chance to turn what would be two to three weeks into six or eight weeks by tearing that oblique area." True, many oblique injuries venture into the six-week arena, but the Braves are hoping the early rest will be a pre-emptive strike.
Ryan Braun, OF, Brewers
(DTD): Braun has missed three games because of spasms on the right side of his neck, which are preventing him from being able to hit. Unfortunately, that's a reasonably significant part of his job. So far it appears the Brewers remain hopeful he can avoid a trip to the DL, but his status remains murky. Braun said he felt a little better Sunday than he did Saturday, but clearly he was still not well enough to play. Braun has been pretty good in the past at avoiding the DL by taking a few days off here and there when ailments crop up. It remains to be seen whether he can do so again as this ailment involves more than just pushing through soreness; this is a question of being able to function at the plate.
Aramis Ramirez, 3B, Brewers
(placed on DL April 6): Ramirez sprained his left knee sliding into base on Friday evening, an eerily similar move to the first time he injured the knee earlier this spring. The team has not indicated the severity (or specifics) of the injury, but given that this is the second time in a month he's hurt the same knee, it would stand to reason that this absence will be more protracted.
Josh Reddick, OF, Athletics
(DTD): Reddick left Sunday's game in the bottom of the fifth inning after crashing into the wall while chasing a foul ball. He left the game cradling his right arm and the official diagnosis was a (vague) sprained right wrist. Fortunately, early X-rays were negative but the force with which he hit the wall was enough to concern Reddick and his teammates. He is not expected to play Tuesday and don't be surprised if his absence extends deep into the week. If pain and swelling compromise his ability to grip the bat (bottom hand means more torsion) and throw the ball, it could force him to sit longer.
Nolan Reimold, DH, Orioles
(DTD) Reimold left Sunday's game with tightness in his right hamstring and there was initially concern about just how serious it might be. He is not in Monday's lineup but at this time does not appear headed to the DL. Eduardo A. Encina of the Baltimore Sun reports Reimold says he expects to be ready to return after Tuesday's off day. Of course, the true test for a hamstring is seeing how it holds up when a player returns to action. For now, at least, it appears to be minor.
Pitchers
Hiroki Kuroda, SP, Yankees:
The Yankees got another injury scare when Kuroda left last Wednesday's game after taking a line drive to the third finger of his pitching hand. Although nothing was broken and the injury was labeled a contusion, Kuroda's next start was in question. Kuroda is indeed expected to start Monday against the Indians, but according to the New York Post he is still experiencing pain in the finger and says he won't be able to see how it feels until he is on the mound. He attempted to remain in last week's game after taking the comebacker to the finger but his command was gone. He has thrown a bullpen since then so he has tested it to a degree but it's still unclear what to expect from his first outing since the incident.
Phil Hughes, SP, Yankees:
After starting the season on the DL, Hughes made his return to the starting rotation Saturday, but if fantasy owners left him out of their lineup, they didn't miss out. While his outing wasn't stellar, the more important feature is that Hughes seemed to survive it without any setback. While he is hardly out of the woods given his extensive injury history, it's a good first step. Hughes is expected to make his next start on April 11 against Cleveland.
Shaun Marcum, Mets
(placed on DL April 1): Marcum had his neck evaluated by team doctors and the report of "nerve inflammation" was issued according to Adam Rubin of ESPN New York. Marcum received injections to help with pain and inflammation but he remains without a timetable. There is the primary issue of resolving the inflammation in the neck and the secondary issue of restoring strength to his throwing arm, the two of which are interdependent. Manager Terry Collins hints at a best case scenario return in late April but these types of ailments rarely respond quickly. Likely best to presume Marcum will be unavailable until May.
Yu Darvish, SP, Rangers (DTD):
There were only two small blemishes in Darvish's near-perfect first outing of the season: one pesky ground ball, and one annoying blister on his right ring (fourth) finger. The blister didn't keep him from his Sunday night start, but it did force him to leave the game after five innings, raising our concern level a bit. According to the Fort Worth Star-Telegram, the Rangers still intend for Darvish to start Friday. It's worth keeping a close eye on his Friday performance to see if the blister remains a factor, as that could cause him to change course.
Jered Weaver, SP, Angels (DTD):
Weaver landed awkwardly on his non-throwing (left) forearm as he fell on the mound in response to a comebacker. The team later reported his injury as a "left elbow strain." It appeared his weight came down on his flexed left wrist, which could certainly strain the wrist extensor tendons that attach just above the elbow. X-rays were negative, but it's not yet clear whether Weaver will make his next start. Despite the injury being to his non-throwing arm, he still needs to be able to field defensively on the mound. And even pitching right-handed requires the left arm to go through a prescribed range of motion from stance to followthrough. A painful or limited left elbow could potentially compromise delivery. Be prepared for the possibility that Weaver could miss a start.
July, 8, 2009
7/08/09
1:32
PM ET
A couple of players returned this week, one just in time for the All-Star Game.
Aramis Ramirez
rejoined the Cubs' lineup Monday but struggled at the plate in his first outing. Ramirez, who returned from a dislocated left shoulder suffered in May, still experiences some discomfort in that shoulder when he swings the bat. Although not surprising, it still raises a bit of a red flag.
This was not the first injury to Ramirez's shoulder, and it would not be shocking if he ultimately requires surgery to stabilize it. Given that possibility, Ramirez and the Cubs have to hope that he can hold off long enough to be able to deliver for the remainder of the season. The concern from a production standpoint is that the anticipation of pain, especially on a swing and miss, could cause Ramirez to become apprehensive or guarded at the plate. Persistent shoulder discomfort is what hitters like
Hanley Ramirez
and
B.J. Upton
experienced, ultimately leading them to undergo surgery.
Speaking of surgery, the Rangers'
Josh Hamilton
recently rejoined the lineup after a monthlong absence. Hamilton, who underwent surgery to repair a torn abdominal muscle, has looked solid in his return and seems certain that all his symptoms are behind him. The Rangers have every reason to be encouraged, as the prognosis after this type of surgery has been generally excellent. As a bonus, Hamilton returned to the lineup sooner than expected, and he likely will record his second straight All-Star appearance.
Naturally, a few players have gone on the disabled list, but this week, everyone benefits from the timing of the All-Star break, including fantasy owners. Assuming the latest additions to the injury ward can recover quickly, they should miss fewer total games. That decreased absence time is especially helpful when it comes to pitchers. So that's where we start. ...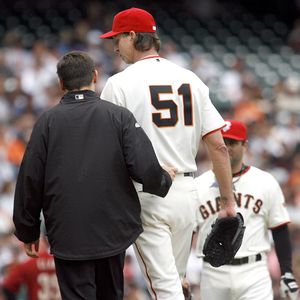 AP Photo/Dino VournasIt's not often you can say that it's a relief that Randy Johnson left the game with only a shoulder injury, like he did Sunday.
Randy Johnson, P, Giants:
At least it's not his back. Usually when a pitcher has a shoulder strain, it signals cause for concern. In this case, there's reason to be relieved that Johnson's shoulder, not his twice-operated-on spine, is sending him to the DL. The troubles Johnson has had with his back in the past were potentially career-threatening, but he worked diligently through intensive rehabilitation and found his way back to the mound. In 2009, he made a new home with the
San Francisco Giants
and earned his 300th win.
Given that back problems often recur (Johnson experienced just that with disc problems in back-to-back seasons) and given Johnson's treelike height of 6-foot-10, a third spine issue just might be enough to do him in. His back seemingly has held up very well through this season, however, and he has not appeared to suffer any shoulder issues while throwing.
In fact, it was the swing of a bat that initially strained Johnson's shoulder. In the third inning of Sunday's contest, Johnson grabbed his left (throwing) shoulder after swinging and missing on a third strike, according to the Giants' official Web site. Although Johnson returned to start the fourth inning, he promptly gave up two home runs, and catcher
Bengie Molina
noticed that Johnson's velocity had dropped sharply. In the face of the evidence that all was not right, Johnson summoned Giants athletic trainer Dave Groeschner to the mound and was promptly escorted off the field.
A subsequent MRI on Johnson's shoulder revealed a strain, suggesting a muscular or tendinous issue, but the team has released no details beyond that. If the strain is indeed minor, Johnson may be in good shape. The timing of the All-Star break helps to some degree, but Johnson is 45 years old, so it may be necessary to allow some additional healing time. Complete healing of the shoulder is critical to ensure that Johnson does not end up compensating and placing undue stress on his spine. At this point, there is no reason to believe that this injury will spell Johnson's demise, but the team will be sure not to rush him back unnecessarily. Translation for fantasy owners: Plan on a few weeks' worth of insurance.
Mark DeRosa, 2B, Cardinals:
A strained left wrist was the initial diagnosis for DeRosa, who injured himself, like the aforementioned Johnson, while swinging the bat and missing. How about a little bit more irony? Johnson was on the mound on June 30 and delivered the pitch that resulted in DeRosa's injury. (Johnson hurt his shoulder on a swing-and-miss in his subsequent outing.)
The Cardinals decided to place DeRosa on the DL on Tuesday when it became apparent that he would need some additional recovery time for the wrist. As it turns out, DeRosa has a partially torn tendon sheath (connective tissue surrounding the tendon), according to the St. Louis Post-Dispatch, so the injury takes on a more serious note than first suspected.
According to the Post-Dispatch, DeRosa was "kind of panicking a little bit" the night of his injury, no doubt feeling the pressure of wanting to perform for his new team but finding himself incapacitated. A cortisone shot to decrease inflammation had him feeling better quickly, but not well enough to swing the bat. Subsequent tests obviously bore out DeRosa's concern.
In the big picture, this is the type of injury that can heal on its own, although it doesn't eliminate surgery as an option if that fails. Wrist injuries, however, even minor ones, are often underestimated as far as their ability to sap the power from a hitter. Any lingering discomfort will result in an inability to grip the bat at full strength, automatically changing a hitter's stroke.
The Cardinals are wise to use the All-Star break to their advantage. DeRosa's DL stint is retroactive to July 1, so he will be eligible to return for the first game after the break if his wrist permits. That timeline is unlikely, however, and DeRosa will need to prove that he repeatedly can swing pain-free before rejoining the lineup. After all, the Cardinals made the deal with the Indians to acquire DeRosa so that they would benefit from his bat throughout the second half of the season; better to wait now and give his wrist the best opportunity to heal than to jeopardize his power going forward.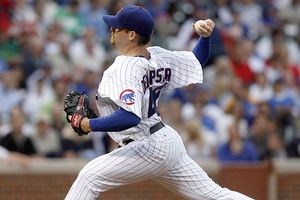 AP Photo/John SmierciakA so-so year for Ryan Dempster has gotten worse thanks to a broken toe suffered while celebrating a Cubs win.
Ryan Dempster, P, Cubs:
Dempster was placed on the DL on Tuesday with a broken right toe. For any of you out there who have experienced a toe injury, it is easy to appreciate just how disabling an injury to such a tiny body part can be. For a right-handed pitcher, a painful toe on the push leg makes it virtually impossible to bring one's body weight over the top during delivery.
To add insult to injury, Dempster didn't hurt himself in the heat of the game making a spectacular play. His injury came, innocently enough, as he hopped the dugout fence Sunday in celebration following the Cubs' victory over the Brewers. According to the Chicago Tribune, manager Lou Piniella said Cubs trainer Mark O'Neal indicated Dempster would miss "at least three weeks and probably four," which translates to six or seven starts. Dempster will be in a walking boot to minimize motion at the toe and allow the bone to heal, but he will be able to exercise his throwing arm. The good news for Dempster is that the fracture was nondisplaced, meaning the bony ends are in alignment and should heal well. The key will be how quickly he can regain his range of motion in the toe once he is cleared to remove the boot.
Brandon Webb, P, Diamondbacks:
For the time being at least, it appears that Webb will not undergo surgery on his throwing shoulder. That decision came after Webb sought input from multiple specialists. Webb has not been able to pitch since his abbreviated Opening Day start and has struggled in his rehabilitative efforts thus far. His original diagnosis of a teres major muscle strain (a muscle located on the back side of the shoulder, not part of the rotator cuff muscle group) is certainly a nonsurgical injury. According to the Diamondbacks' official Web site, Webb was told that the muscular weakness had led to compensations, which in turn created an impingement (pinching) of some of the structures within the shoulder joint.
Webb clearly seemed relieved that several top orthopedic surgeons had all come to a similar conclusion about his shoulder; he doesn't need surgery and should be able to return with continued rehabilitation. "I've had some of the best doctors in the world for this stuff look at me, and they all say pretty much the same thing," Webb said. "Hopefully I can get this shoulder stronger, then start throwing a little and be back to make a few starts in September. The doctors said that's a realistic goal."
Obviously for fantasy owners, a few starts by Webb in September are not likely to be all that helpful, if they even come to pass. But for those who have Webb in a keeper league, the fact that he won't have his shoulder opened up surgically is a huge plus for his future value.
Chipper Jones, 3B, Braves:
Consider this just another Chipper Jones minor injury alert. Jones apparently has a groin strain that caused him to miss Tuesday's game and may keep him down for a few more. Jones' fans and fantasy owners are by now familiar with his intermittent injuries. Jones told the Atlanta Journal-Constitution that his absence should not extend beyond a few days. He's usually pretty accurate when assessing his aches and pains, so no need to panic here.
On the mend
• Padres ace
Jake Peavy
had his injured posterior tibialis tendon on the inside of his right ankle re-examined this past week. The recommendation was, well, more of the same. Peavy, who has been sporting a walking boot for more than two weeks to protect his injured tendon, has been relegated to approximately two more weeks in the boot.
It's not just the healing of the tendon. Restoring normal ankle motion is a project after this much time in a boot. Although Peavy is able to participate in some rehabilitative activities to ensure that his ankle does not stiffen up completely, it is a different matter to be able to carry that range of motion over to weight-bearing and pushing-off activities (i.e., walking, jogging and, yes, pitching) once he is allowed to do so.
Late August or early September still looks like the earliest possible return date for Peavy, with emphasis on possible.
• Phillies outfielder
Raul Ibanez
had his return delayed ... again. Last week, we noted that although Ibanez's strained groin showed improvement, that improvement was not consistent. Consequently, his rehab assignment was pushed back from Wednesday to this past weekend. Then that date was delayed yet again. Ibanez finally started a rehab assignment Monday, and the encouraging news is that he told The Philadelphia Inquirer that for the first time since the injury, he "didn't feel anything." He acknowledged being a bit rusty and knows that he has a ways to go but said, "I'm one step closer to getting back on the field." It would not be surprising if the Phillies hold him out until after the All-Star break.
• Here's something that will not surprise regular readers: Mets shortstop
Jose Reyes
does not appear close to a return. The New York Daily News is reporting that he received another cortisone injection, although the exact location of the shot is unclear. First it was his calf, then his hamstring, and now his overall healing has been delayed. Very tough for a speed guy. Very painful for fantasy owners. But don't say you haven't been warned. Don't look for anything before August, and even that is wishful thinking.
• What about the status of Reyes' teammate, outfielder
Carlos Beltran
? It's simple. Just like Reyes, Beltran does not appear close to a return. He is still limited in the amount of weight he can put on his leg as the result of his bone bruise. His only activity is stationary bike riding and waiting out the healing process. That means the Mets hope the bruise will heal on its own. For those of you who were hoping for a July return, hope no more. August is likely a best-case scenario.
• Finally, although White Sox outfielder
Carlos Quentin
is participating in a rehab assignment, don't expect him back until after the All-Star break (which I've been saying all along, but now it's actually coming from the White Sox). Quentin is still having trouble with making cuts, not a surprise given that the problem is in the arch in his foot. He can swing the bat, but the foot problems definitely would hamper his outfield play and could hinder his baserunning. Manager Ozzie Guillen told the Chicago Tribune exactly why he doesn't want to rush Quentin's return to the team. "I'm worried about the artificial grass in Minnesota, and I worry about calling him up too quickly," Guillen said. Late July looks like a possibility.
May, 12, 2009
5/12/09
6:54
PM ET
By
Stephania Bell, ESPN.com
| ESPN.com
It's about time we started with some good news for a change. We have some key players close to returning.
Josh Hamilton
is expected to return to the Rangers' lineup Tuesday night, completing a stint on the disabled list caused by a strained rib-cage muscle. Hamilton played in two rehab games for Triple-A Oklahoma City and sounds confident that he's completely healed, telling the Fort Worth Star-Telegram that he tested his ribs in a multitude of ways: "I swung the bat. I had to run from first to third. In the outfield, I had to throw. Getting out of breath and breathing heavy, that was good. So we're all good." Also, the Star-Telegram pointed out that Hamilton slipped in the outfield Sunday, landing directly on his ribs, but was able to continue without hesitation. Fantasy owners should feel confident that this injury episode is behind him.
Meanwhile, the Angels have to be excited that both
John Lackey
and
Ervin Santana
could rejoin the rotation within the next week. Both aces began the season on the DL because of arm injuries -- Lackey had a forearm strain and Santana had a sprained elbow -- and both have had quiet, uneventful rehab progressions. When we don't hear much about players while they're undergoing rehab, it's usually a good sign. That means they're moving quietly from one rehab phase to the next without calling much attention to themselves. Both Lackey and Santana have made rehab starts, working on increasing their pitch counts.
The Los Angeles Times reports that the Angels will study tapes from Lackey's and Santana's most recent rehab starts to assess their readiness to return, but all evidence points to those return dates' coming sooner rather than later. And their uneventful rehab progressions make a good case for their ability to be successful upon their returns. The bigger question is whether Lackey and Santana will be able to last the remainder of the season. So far, there is good reason for their owners to be cautiously optimistic.
On that note, here are a handful of players I'm tracking this week in the world of baseball injuries: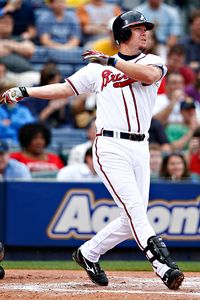 Joe Robbins/Getty ImagesSeems like we have heard this one before: Chipper Jones is injured.
Chipper Jones, 3B, Braves:
Jones sat out Monday night's game as a result of a hyperextended elbow, but he expects to return to the lineup Tuesday. Jones told the Atlanta Journal Constitution that he has been dealing with a "pretty serious case of tendinitis" in the elbow all year, and after hyperextending it during a strikeout swing Sunday, his elbow was "jacked up." Although the latter is not exactly a medical diagnosis, it pretty well conveys how Jones was feeling. Jones' injury history shows that he will press and play on through injuries whenever possible until he feels he can't perform as he should. In this case, Jones couldn't make the throw from third base to first because of the elbow, and therefore removed himself from the game. His assessment was that a little rest and anti-inflammatory medication should get him back fairly quickly, which is not an unreasonable prediction.
Jones' owners most likely knew (or should have known) when they drafted him that he is a physical player who is going to be dinged off and on throughout the season. Translation: He will miss games from time to time, but he has been fairly adept at avoiding the DL for the majority of his injuries. This incident appears to fall in the category of the one-to-three-game absences, but it's worth noting that the tendinitis has been bothering him all year. If he continues to aggravate it, this could crop up again. And next time, it could last longer.
Aramis Ramirez, 3B, Cubs:
The Cubs have definitely been DL-challenged this year, with a new name seemingly added every week. Just when it looked as if Ramirez was recovering from a stiff back that had bothered him in spring training and, more recently, a calf strain that caused him to sit out a couple of games, he dislocated his left shoulder Friday night while diving to try to make a play at third. Ramirez summed it up perfectly to the Chicago Tribune: "Seems like I can't be out there right now this year. I've been hurt all the time."
Well, he's certainly right about not being able to be out there right now. A dislocated shoulder means at least a month of rehabilitation, and seeing as this was not a stable shoulder to begin with (Ramirez hyperextended the same shoulder during his rookie season in 1998 and aggravated it again in 2000), it likely will take even longer to restore enough strength around the shoulder to allow him to play with confidence. Fantasy owners need to plan on utilizing a replacement at least through the All-Star break.
Derrek Lee, 1B, Cubs:
The good news is that despite his neck issues, Lee likely won't require a trip to the DL. At least not right now.
An MRI this week confirmed what was already known about Lee's neck: He has a bulging disc, which is likely responsible for the pain and spasms he has been experiencing of late. But the Cubs' decision not to place Lee on the DL can be interpreted as an encouraging sign, and the Chicago Tribune reported that Lee would return to the lineup either Tuesday night or Wednesday. The Chicago Sun-Tines reported that an anti-inflammatory injection was not deemed necessary and that the most recent MRI results "revealed no additional damage and nothing to suggest long-term injury."
While it's some relief to know that there appears to be no progression of Lee's neck problem on MRI, it is arguable that this injury is indeed long-term. Consider that Lee originally injured his neck two years ago and has dealt with this type of pain intermittently ever since. A disc problem is not the type of thing that typically goes away completely; it is more likely to be the type of condition that flares up from time to time. The treatment goal is to do as much as possible in terms of strengthening and stabilization to prevent the recurrence of symptoms, and when those symptoms do crop up, to manage them as efficiently as possible. Working in Lee's favor is the fact that the symptoms have remained localized to the neck area. In the case of a severe disc bulge, there can be accompanying nerve involvement that can manifest itself as numbness, tingling and/or weakness in the arm. The further down the symptoms progress, the more problematic and the more disabling they can be.
The fact that Lee is likely to return soon is definitely a good sign, and it is possible that this will be his only episode of neck pain this season. It is also possible, however, that these symptoms will return, if not this year then in the future, as has already been the pattern for him over the past two years. Fantasy owners need not panic, but it is worth being aware that this issue can linger beneath the surface.
Dustin Pedroia, 2B, Red Sox:
Pedroia was forced to leave Sunday night's game early after straining the right side of his groin while swinging. According to the Boston Herald, Pedroia originally injured the groin earlier in the month, perhaps during cold and wet conditions at Yankee Stadium, and had been playing through it. But clearly Pedroia aggravated the injury Sunday night when, according to Pedroia's account in the Herald, his cleat "kind of got caught, and it was an inside fastball, so I tried to turn on it, and obviously it hurt." Manager Terry Francona planned to hold him out Tuesday but maintained that his return to the lineup Wednesday would be "very realistic."
Pedroia already has had one muscle strain this season, an abdominal injury that forced him to exit early from the WBC. Nonetheless, he was back in full swing within a few days and has shown himself to be not only tough, but also a quick healer. He spent much of the offseason doing intensive physical conditioning and that too might play a role in why his injuries are not as debilitating as they otherwise could be. Although there is always the concern of exacerbating a strain once it exists, Pedroia appears to have avoided serious injury thus far.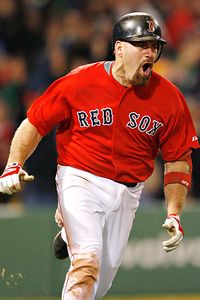 Jim Rogash/Getty Images"Yuuuuuuke" (Kevin Youkilis) should return to the lineup soon.
Kevin Youkilis, 1B, Red Sox:
Will he or won't he? That is the question Youkilis fantasy owners have been asking over the last week in reference to whether Youk would be headed for the DL because of his "sore side." Here's the answer: Yes. This was a bit of a surprise. The Boston Herald reported Monday that Youkilis could potentially be available to play Tuesday evening. By Tuesday evening, the Boston Globe was reporting that Youkilis had just been placed on the DL. Apparently he aggravated his condition during batting practice, and the team decided he needed some extra time off. The move is retroactive to May 5 since Youkilis has been out of commission for a week already, leaving the door open for him to return in another week if he is truly healthy.
The exact nature of Youkilis' condition has been a little puzzling, but manager Terry Francona described it as a deep bruise that turned into spasms after Youkilis was hit twice in the back by pitches. Youkilis however told the Boston Globe that being hit by pitches was not the cause, and that the injury had actually occurred a couple of weeks prior, although he did not specify when. He also pointed out that the tightness he was experiencing was more in his side as opposed to his lower back. It now appears that the team is classifying it as an oblique injury.
Jose Molina, C, Yankees:
Last week, Yankees catcher
Jorge Posada
was addressed in this column after being placed on the DL because of a Grade 2 hamstring strain. This week it was Molina who was placed on the DL because of a thigh muscle strain; in this case, it was a quadriceps injury. The quadriceps muscle, or quad as it is often called, is the large muscle group that constitutes the bulk of the front of the thigh. It is made up of four separate muscles that come together in a common tendon to attach at the shin. The quad provides the bulk of the power necessary for running, but in the case of a catcher, the quad is critical for maintaining the crouch position and being able to explode out of it when necessary.
The good news is that the team does not expect Molina to miss much beyond the 15 days. Muscle strains can be hard to predict, though, so we will check on Molina's rehab status again next week.
Joakim Soria, RP, Royals:
The closer was placed on the DL because of a rotator cuff strain to his right (throwing) arm. Soria has been dealing with stiffness and soreness in his throwing arm for a few weeks, and attempts to give him a few days' rest here and there were not enough. At this point, the team has not indicated exactly how long it thinks Soria will be out, but fantasy owners should plan on some insurance at the closer position for the next month or so.
The good news is that an MRI has not indicated any specific damage. The not-so-good news is that the pain is in the back of his shoulder where the rotator cuff musculature is located. Soria last pitched Thursday, and although his shoulder reportedly did not bother him during the inning, the Royals' official Web site reported that he did feel it the next day. In the scheme of things, next-day soreness is less worrisome than soreness during activity and far less worrisome than constant soreness, even at rest. The Royals are taking a proactive approach in trying to provide Soria enough downtime to hopefully resolve the issue. Although Soria believes he can be back in 15 days, the team might opt to bring him back a little slower and place him on a graduated (read: rehab) assignment. Either way, the hope is to have him for the long haul, and that looks to be a realistic goal.
On the mend
Cardinals ace
Chris Carpenter
is inching closer to a return. He is scheduled to throw from a mound Tuesday, and if that goes well he will throw simulated innings, according to the St. Louis Post-Dispatch. Given that he has maintained his conditioning, the team does not anticipate a rehab assignment, and he could return as early as sometime next week.
Yankees pitcher
Chien-Ming Wang
is scheduled to make a rehab start Tuesday. Wang, who clearly struggled at the start of the season, was found to have lingering weakness in his hip muscles following foot surgery, but it appears this latest rehab period has really helped him. Depending on the results of his outing, Wang might be able to rejoin the Yankees' rotation within the next week.
Daisuke Matsuzaka
has had two rehab starts already and is expected to have another this week. Expect him to be back in the mix when the Red Sox return from the West Coast for a homestand next week.
Angels outfielder
Vladimir Guerrero
can hit off a tee now. This is good progress, but he still is not throwing. The Angels have made it official that when he returns he will serve as the DH initially. That could happen within the next few weeks. Stay tuned.
And finally ...
Diamondbacks shortstop
Stephen Drew
could return either Tuesday or Wednesday from a hamstring strain. He played in rehab games the past two days and came out feeling OK. The slow progression appears to have worked, at least so far, and fantasy owners should plan on his being available very soon.