Stephania Bell:

Arnaz Battle
November, 22, 2008
11/22/08
4:31
PM ET
By
Stephania Bell, ESPN.com
| ESPN.com
Just when fantasy owners are coming up on their playoffs, it's the time of the season when NFL teams start thinking about their playoffs. And then they start resting their players to save them for the postseason -- shame on them. Fortunately, there are still some tight playoff races around the league, so we won't see too much of that happening just yet. So who will play this weekend? Here's what we know as we head into the Week 12 contests.
[+] Enlarge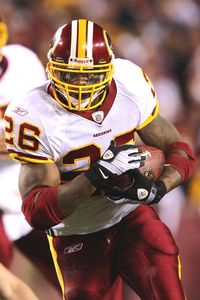 Jim McIsaac/Getty ImagesClinton Portis owners' are getting used to his game-time status lately.
Clinton Portis, RB, Redskins:
Portis is listed as questionable, and his status remains a game-time decision for Sunday. Wait, isn't this what we were saying a week ago? Actually, it's exactly what we were saying when the Redskins were preparing to face the Cowboys. And, much to our collective surprise, Portis played. He didn't emerge any worse from that contest, or so he says, so why the questions about his status a week later?
Well, even though Portis played in Week 11 despite reporting a Grade 2 medial collateral ligament (MCL) injury, he was not Portis-like. In fact, he sat out the majority of the second half. Portis himself said he lacked burst and explosiveness and had difficulty shedding tackles. Portis said he would focus on those things this week and, according to the Washington Post, said, "No ifs, ands, buts about it, I'll be playing."
But then there's the matter of practicing what you preach. Portis didn't practice all week, doing only limited work Friday. Coach Jim Zorn didn't appear quite ready to hand Portis the reins, saying only that Portis would need to work out before the game Sunday and prove that he was ready to play. In fact, Zorn seemed to retreat a bit from Portis' assurance that he would play, telling the Post that Portis was still not at full speed and that as much as he would love for Portis to play, Zorn would need to see Portis go at game time.
Given that Portis did play last week, it's hard to imagine him a week later at least somewhat healthier and still sitting on the sideline. Unfortunately for fantasy owners, he is playing in a late game, so the information about his status will come late in the afternoon.
Ladell Betts
is listed as probable and is expected to play, despite the fact that he himself practiced on a limited basis this week because of his knee, which was aggravated during Sunday night's matchup. It will likely be a mixture of Betts and Portis on the field, but it remains to be seen how their time will be distributed. When Portis plays, the Redskins' tendency has been to feature him, even when they say (as they did before last week's contest) that they plan to limit his use. If you can afford to wait until game time to set your lineup, that may be the best plan.
Reggie Bush, RB, Saints:
Bush is listed as questionable for the Saints' Monday night game and we likely won't have confirmation of his status until just before kickoff. It seems as if the team is hopeful that Bush will be able to play on Monday, which would mark a five week return after surgery to address a torn meniscus.
Bush tore the meniscus in his left knee in Week 7 and did not make the trip to London with his teammates so that he could stay behind for surgery. This knee is the same one in which he suffered a partial tear of his posterior cruciate ligament last year, an injury that forced an early end to his 2007 season. Given his injury history, the initial projected timetable for Bush of two to four weeks seemed a bit ambitious. Most meniscal procedures require closer to four weeks of recovery, and there is the issue of Bush already having had some trauma to that knee. Even a small amount of instability in his knee requires that Bush compensate for that deficit with improved quad and hamstring strength as well as excellent directional control, especially given his style of frequent lateral running and cutting. Therefore, it came as no surprise last week that the Saints opted to hold Bush out a little longer to have him continue to focus on the high-level skills that would prepare him to return to play.
Bush himself said earlier this week that with the extra day going into this game, he felt confident that he had enough time to do "all the things necessary" to help him be 100 percent for Monday. According to Mike Triplett of the New Orleans Times-Picayune, Bush even looked better this week as compared to last, running more fluid routes in practice. But the fact remains that Bush saw only limited action in practice throughout the week. Bush did not practice Friday but this was apparently a planned rest day since the Saints have an extra day before their game. He did some work Saturday, but again was limited.
The questionable tag is appearing more questionable than it did just 24 hours ago. The fact that Bush has not yet seen a full practice is of some concern. Nonetheless, I still think there is a chance that Bush is active, barring some episode of swelling or other such last-minute setbacks. Even if he does suit up, expect the Saints to control his playing time, perhaps choosing not to have him return kicks straight out of the gate, and limiting his overall number of touches. It appears a risky play from a fantasy perspective because there is no way of knowing in advance of Monday night whether Bush will play, and how much time he sees.
Other noteworthy items
[+] Enlarge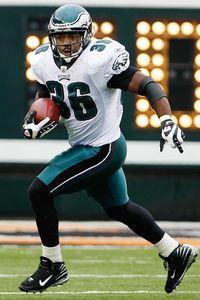 Scott Boehm/Getty ImagesWestbrook is facing a tough defense and is far less than 100 percent.
• All is not well with
Brian Westbrook
. He is officially listed as questionable because of his knee and his ankle, and -- you guessed it -- he is a game-time decision. This is not the same scenario of a Westbrook who rests during the week, then shows up Sunday and changes the entire Philly offense. This is an ailing Westbrook: His yards per carry has decreased in recent weeks, and he is dealing with not only a swollen knee (which he has managed for years), but also the lingering effects of an ankle sprain back in Week 3 (which looked as close to a high ankle sprain as it gets). Westbrook told the Philadelphia Inquirer that his ankle feels healthy enough to play each week but then gets "reinjured" during the game. He acknowledges that it limits him by affecting his ability to cut and avoid tackles. For his part, coach Andy Reid limits Westbrook's practice time when the team practices inside on the turf to try to minimize the stress on his joints. Despite the fact that the Eagles face a tough Baltimore run defense, according to the Philadelphia Daily News, Reid says that if Westbrook can go, he will play. In other words, this is not going to be a planned rest day for him. Reid also said, however, that he will call on
Correll Buckhalter
to do more Sunday. So here's your dilemma, fantasy owners: Westbrook may be active and yet may play very little. The game is early, so the best bet is to wait until game time to see whether Westbrook is even playing. But something tells me that this is the time to rest him, and that even if he sees the field, he will see a lot less of it this week than usual.
•
Brandon Jacobs
seems to have recovered nicely from the minor injury to his knee that forced him to leave last week's game early. After an MRI early in the week came back negative, Jacobs minimized the injury and said that he was feeling good. By the end of the week he had practiced fully and insisted that he had no pain and was ready to play. But will he play? Jacobs is listed as probable and therefore is almost certain to start. But you have to wonder how long the Giants will leave him in the game when they certainly don't want to risk any major setback and can be secure in their backfield depth in Derrick Ward and Ahmad Bradshaw. After all, Jacobs suffered an MCL sprain that kept him out for three weeks last year. When he said initially that this injury was similar to last year's (although he said he knew right away it was not as serious), the Giants had to be holding their collective breath until the test results came back negative. Fantasy owners can take a chance here. Jacobs is indeed expected to start. But I don't see him playing much, if at all, in the second half, especially if the Giants are faring well. Then again, he can rack up some nice first-half numbers. Let's put it this way: His knee will not be limiting him heading into Sunday.
• Fellow Giant
Plaxico Burress
was a midweek addition to the injury report with a hamstring strain. He did not practice Thursday or Friday, is listed as questionable, and really is one of those 50-50 designations to play. The Giants will have him warm up before the game and see how his leg feels running routes. Burress seemed very cautious when discussing his leg injury throughout the week, so even if he is active, it doesn't appear he will be 100 percent.
•
Tony Romo
(pinkie) and
Jason Witten
(ribs) are both listed as probable, and you know they're playing. You should also know that both are feeling better, and Witten in particular should have better numbers this week.
•
Matt Jones
went through a full practice Friday, is listed as probable and is expected to play. Jones sat out last week with a bruised thigh and was limited in the early part of this week. The Jaguars want him back in their offensive lineup, though, because he has been their top receiver so far this year.
•
Kellen Winslow
is listed as questionable for the Browns this weekend after suffering what the team called a shoulder sprain Monday night. If anyone can tough it out through an injury in this league, it's Winslow, and this week should be no different. The fact that he returned to practice Friday improves his chances of playing.
•
Derrick Mason
played pretty well for having only one good wing last week. Nonetheless, the challenges of his injured left shoulder became apparent when he could not bring both arms overhead to catch what would have been a touchdown pass. Mason did not practice Wednesday because of soreness in the shoulder and was limited Thursday and Friday. He is listed as questionable, and his status will not come down until just before the game, but given that he managed to tough it out last week, you can probably expect the same Sunday.
[+] Enlarge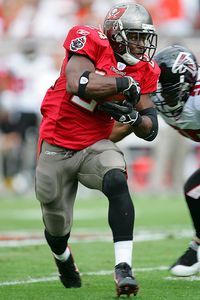 Paul Jasienski/Getty ImagesWill the engine get started this week for Cadillac?
• The potential return of
Carnell Williams
has created much anticipation. Williams is expected to see his first game action this week. Well, he
was
expected to, based on the hints coach Jon Gruden was tossing out all week, but surprisingly, he was an addition to the Friday injury report because of a hamstring problem. Williams has been out for 14 months recovering from a torn patellar tendon. He has made great strides -- so great, in fact, that the Buccaneers activated him from the physically unable to perform list and made room for him on the active roster. It seemed perfect timing to have him available Sunday with the loss of
Earnest Graham
to a season-ending ankle injury last week. Williams is listed as questionable, and it may come down to a game-time decision, but you can bet that if anything could compromise his recent tendon repair, the team will play it safe and sit him.
Warrick Dunn
is expected to remain the starter in Tampa.
Out:
This is a list of key fantasy players, not including those who have been moved to injured reserve status, who are officially listed as additions to the "Out" listing for Week 12.
Steven Jackson, RB, Rams:
The Rams decided to make it easy on fantasy owners, and Jackson himself, by making this announcement early in the week. There's still no telling when Jackson is expected to return from his lingering quadriceps strain.
Antonio Pittman
gets the start again for the Rams.
Matt Schaub, QB, Texans:
Early in the week, Texans coach Gary Kubiak hinted that Schaub could miss up to another month with his slow-healing MCL sprain. For fantasy purposes, it is probably worth dropping him to secure a playoff replacement.
Felix Jones, RB, Cowboys:
This week the Cowboys announced that although Jones' hamstring had recovered, during his rehab workouts he sustained a torn ligament at the base of his big toe that will require surgery, officially ending his season. It's a bummer for the rookie who had such a bright start to his year. Something about switching from the field at Arkansas to the pros has an effect on big toes; the Raiders'
Darren McFadden
and Jones will both have missed playing time as a result of their respective toe injuries.
Marty Booker, WR, Bears:
Booker has a knee ailment that will sideline him this week.
Brandon Lloyd
, who has not been much of a factor since spraining his posterior cruciate ligament early in the season, is listed as probable (now with a calf strain) and should play. With Booker out, Lloyd should see some more targets this week.
Arnaz Battle, WR, and Josh Morgan, WR, 49ers:
Not only is Battle still battling his foot injury, but now we also are hearing that Morgan is not expected back anytime soon because his groin injury is fairly severe. In fact, the Sacramento Bee reports that offensive coordinator Mike Martz said of Morgan's injury: "That was a pretty significant injury. I'm not sure we're going to get him back in the near future." Look for
Bryant Johnson
, who is now healthy (and who was a factor in the 49ers' receiving corps early in the season), to see some extra balls thrown his way.
Good luck in Week 12! Be sure to check out our site Sunday for pregame chats and Fantasy Football Now at noon ET.
November, 15, 2008
11/15/08
2:39
PM ET
Uh-oh, it's fantasy crunch time. Playoff scenarios are starting to shape up, and victories in the next couple weeks are critical if you're on the bubble. Every player in your lineup has a crucial contribution to make to help you jockey for position in those divisional playoffs. You certainly don't want to accidentally leave in somebody who is going to be a gameday scratch, but there are a lot of question marks on the Friday NFL injury report.
So who will play this weekend? Here's what we know as we head into the Week 11 contests.
Kyle Orton, QB, Bears:
What a difference a week makes. Orton has all of a sudden risen to a "probable" designation and by all accounts appears ready to take the field as the starter for the Bears on Sunday. Orton's injured right ankle has been faring better, and although it is still wrapped for support and he is not yet 100 percent recovered, he is doing just about everything in practice to convince his teammates and coaches that he is ready to play.
Initially, Orton's injury was reported as a high ankle sprain, and it certainly appeared at first that he would miss more time. But all sprains are not created equal, and Orton is certainly proving that with his speedy recovery. Coach Lovie Smith told the Chicago Sun-Times that Orton has "gotten better each day [and] there's no reason to think that won't continue [through] Sunday." His biggest challenges will be rolling right on the still-tender right ankle, and the unavoidable tangles that he is destined to be a part of during a game. If he can handle those obstacles, there's no reason to think that he cannot be essentially healthy going forward.
[+] Enlarge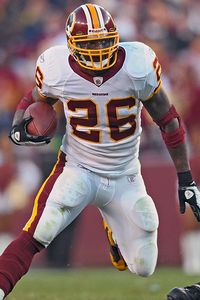 Drew Hallowell/Getty ImagesFantasy owners need to look for someone other than Portis to help them this week.
Clinton Portis, RB, Redskins:
Portis is listed as questionable, and his status remains a game-time decision for Sunday night. It's really not looking good for Portis, especially when you consider the nature and severity of the injury (grade 2 MCL sprain), his limitations this week (he could not fully bend or extend his knee at the start of the week), and his inability to practice through Friday. That being said, Portis was earnestly doing everything he could from a treatment perspective, and coach Jim Zorn wanted to see how he would fare in the Saturday walkthrough.
From a fantasy perspective, despite how outstanding Portis has been this year, look elsewhere for your running back this week. Even if he does play, which would come as a surprise, Zorn has already indicated that he would only use Portis in a limited capacity.
Ladell Betts
(probable) is hopeful to return after missing several weeks himself with a knee sprain, and beyond Betts,
Shaun Alexander
and
Rock Cartwright
are available for the Redskins to sprinkle into their running back mix. Assume that Portis will take a while longer to get his knee fully healthy before he can perform up to the high standard he has set this year.
Other noteworthy items
•
Tony Romo
(probable) is expected to start for the Cowboys. Romo is returning after a four-week absence due to a broken pinkie in his throwing hand. His only discomfort remains with taking snaps under center, but according to coach Wade Phillips, Romo has been throwing well in practice. The Cowboys have to be excited about their deep-ball option returning to the game plan this week. And Romo has to be excited that he will be able to throw to his buddy
Jason Witten
, who is expected to return to the field this week despite a still-healing broken rib. Witten may not feel quite 100 percent, but he has been able to practice on a limited basis, and with some extra rib padding for insurance, along with his rep as the toughest guy on the field, he provides a boost for his team.
• Wide receiver
Matt Jones
has a potential suspension looming over him, but that won't be what keeps him off the field this week. If Jones can't suit up for the Jaguars on Sunday, it will be because of a thigh injury that has kept him out of practice most of this week. If Jones is on your team, it's probably best to secure a backup given that the Jags have a late game, and even if Jones plays, he is not expected to be at full strength.
• "Fast"
Willie Parker
is off the injury report and will be on the field for the Steelers on Sunday. Sure, he may be in a harness to protect his shoulder, but that should not interfere with his function as a running back. He is bound to experience some soreness if he takes hits to the shoulder, from a defender or the ground, but more important for Parker is that his knee appears healthy and he's running well. Quarterback
Ben Roethlisberger
is also off the injury report, so expect him at least to start for the Steelers. If he experiences another late game decline however, don't expect Tomlin to hesitate to pull the switch and insert
Byron Leftwich
.
• Ravens receiver
Derrick Mason
injured his shoulder during last Sunday's game. On Monday we talked about how soreness and swelling is often worse in the first few days post-injury and how Mason's practice activity would go a long way to indicate what his chances of playing this week really are. Well, Mason did not practice Wednesday or Thursday and did only a limited amount Friday. He is wearing a harness to protect his left shoulder but coach John Harbaugh was noncommittal regarding Mason's availability, telling the Carroll County Times, "We'll see how he is on Sunday." Hmmm. A less than fully healthy Mason who is a game-time decision versus a tough opponent? You may want to consider another fantasy option.
• Raiders' quarterback
JaMarcus Russell
was able to move around much better in practice this week. Russell has been contending with a bone bruise in his knee along with tendinitis. Although listed as questionable, he is expected to play. Meanwhile, running back
Darren McFadden
had quite an improvement in his status this week. His tag remains "questionable," but if you take into account that McFadden was able to practice all week -- albeit on a limited basis -- and that he is feeling more comfortable and confident in his new shoes, his chances of playing Sunday look much better. According to the Contra Costa Times, McFadden has been running and cutting without pain and has tossed his protective boot. McFadden even went so far as to say that he had "a different pep" in practice. It's unclear how much playing time he'll see, but expect him to be out there.
• The Seahawks will enjoy the return of their signal-caller,
Matt Hasselbeck
, who has been disabled by weakness in his leg as a result of sciatic nerve compression linked to a bulging disc. Pain was never the issue for Hasselbeck, weakness was, but gradually the nerve function, and thus his muscle strength, has improved. Hasselbeck was able to practice all week, is listed as probable, and is expected to start. Joining him on the field will be
Deion Branch
, who after making an impressive return from ACL reconstruction was almost immediately sidelined again, this time with a bruised heel on his opposite leg. Branch has finally been able to get back on the practice field. He, too, is listed as probable but is expected to play. Expect both to be a little rusty, but nonetheless welcome additions to an otherwise anemic offense.
• In Tampa, there is much excitement about the return of
Carnell Williams
to the roster after missing nearly a year with a torn patellar tendon, but don't expect him to see much, if any, playing time just yet. The Bucs will be cautious with Williams after such a severe injury; his first contact drills took place just this week. But
Earnest Graham
is still ailing with a sprained knee suffered before the bye week, and
Warrick Dunn
, although able to practice all week, is just returning from a pinched nerve in his upper back. Graham is listed as questionable and may play, but in a limited capacity. Dun is listed as questionable but based on his ability to practice, looks to be the more sure bet to go. The idea that Williams can contribute soon has to make coach Jon Gruden happy. For fantasy purposes though, don't count on Williams or Graham this week, but do expect Dunn to get the start and get the bulk of the work.
• Ten players listed as questionable this week? The Colts made liberal use of the designation in Friday's injury report but have strongly hinted that two of the key fantasy players on that list,
Anthony Gonzalez
and
Reggie Wayne
, are likely to suit up Sunday. Gonzalez had a hamstring strain that kept him limited in practice this week, but it is reportedly minor. Wayne had an ankle ailment that was bothering him, and after recently tweaking his knee, the Colts were no doubt trying to preserve his overall health by limiting his practice reps early on. Both Gonzalez and Wayne went through full practice Friday, so it does appear that they will be available for Sunday's matchup against the Texans.
Out:
This is a list of key fantasy players, not including those who have been moved to injured reserve status, who are officially listed as additions to the "Out" listing for Week 11.
Steven Jackson, RB, Rams:
Jackson's thigh is not healing as fast as anyone would like, including Jackson himself, who stayed behind while his teammates traveled to San Francisco so that he can confer with a specialist. Jackson ran fairly well in practice Wednesday but was then unable to do anything the remainder of the week because of persistent stiffness and soreness in his thigh.
Antonio Pittman
gets the start again for the Rams.
Matt Schaub, QB, Texans:
Schaub will miss another week, at least, with his sprained knee (MCL), and Rosenfels will again start in his place.
Felix Jones, RB, Cowboys:
The Cowboys were hoping to get Jones back from a hamstring injury after the bye week along with teammates Romo and Witten. The nature of Jones' particular injury, though (distal hamstring, near the knee), makes it a tough one to heal, and a little extra recovery time is not unexpected.
Heath Miller, TE, Steelers:
Miller is still sidelined with a high ankle sprain.
Matt Spaeth
continues to start in his place.
Reggie Bush, RB, Saints:
Despite doing some limited work in practice Wednesday, Bush did not practice later in the week, and coach Sean Payton decided to hold him back. No reason to hurry back from meniscal surgery, especially given that this is the same knee in which Bush suffered a sprained posterior cruciate ligament just last year. His return will likely take place when the Saints host Monday Night Football in Week 12.
Arnaz Battle, WR, and Josh Morgan, WR, 49ers:
Battle remains out with a foot sprain and is joined this week by Morgan, who has a groin injury.
Jason Hill
, who showed that he could connect with
Shaun Hill
, is an interesting receiver option.
Javon Walker, WR, Raiders:
Yet another injury ends Walker's season early. This time it's his ankle, and he's already undergone surgery to implant some hardware in his injured leg. What will his future hold? That has yet to be determined, but this latest setback doesn't help.
Good luck in Week 11! Be sure to check out our site Sunday for pregame chats and Fantasy Football Now at noon ET.
November, 8, 2008
11/08/08
1:42
PM ET
Do you need a running back replacement for your fantasy roster? Maybe now you know what it feels like to be the Broncos or Rams, who have had no choice but to bring in some new talent to replenish their depleted backfields. In the bigger picture, does this trend of injuries to starting running backs threaten the notion of a feature back? What team won't want to have a two-back system to minimize the pounding one running back has to absorb? If one succumbs to injury, another can simply increase his workload any given Sunday. With those considerations, teams may seek to expand the number of running backs on their active rosters. Either that or they will have to hope there is a surplus of available unsigned backs who have kept themselves in game-ready condition and are bright enough to absorb a new offensive playbook within a week (see:
Samkon Gado
, who signed with the
St. Louis Rams
this week).
Of course, teams like the Chiefs might argue that the entire roster size needs to be expanded to allow for complete decimation of your running back
and
quarterback pools.
So who will play this weekend? Here's what we know as we head into the Week 10 contests.
Steven Jackson, RB, Rams:
Although Jackson is officially listed as doubtful on the injury report, coach Jim Haslett has made it clear in advance of this week's contest that Jackson will not play. Jackson is still recovering from a strain of his right quadriceps muscle and is a classic example of why these muscle strains are so challenging.
A muscle strain requires rest during the week to allow the tissue to heal, but that often means testing that muscle in the game. The demand for speed and power, especially for a running back, translates to increased force of muscle contraction, which for a healing muscle can pose a risk of further injury. In Jackson's case, he felt he was ready to go last week (as he pronounced on his Web site the night before the game), but then was forced out of the game early when he found that the muscle would not cooperate as expected. According to the Belleville News-Democrat, Jackson reported that a repeat MRI of his thigh muscle showed that the inflammation was actually worse than the previous image showed. Consequently, Jackson was unable to practice all week, and although he says the quad feels better, he has acknowledged that when he tries to do certain things to test it on the field, "it's not responding." Haslett has been clear that Jackson will need to demonstrate that he can go full speed in practice before he is eligible to play Sunday.
The question at this point is not about this week, but whether Jackson will be able to go by next week or even the following week. Unfortunately, this is a day-to-day evaluation. In the meantime, expect recently signed
Ken Darby
to start, with even more recently signed
Samkon Gado
expected to be in the rotation. The third running back is expected to be
Antonio Pittman
, who is also still recovering from a hamstring strain but was able to do some limited practice Friday. Pittman is listed as questionable but could see some action, albeit likely in a limited capacity.
Travis Minor
, who has been out following a concussion, is also listed as questionable but is not expected to play.
Willie Parker, RB, Steelers:
Parker is officially listed as doubtful on the NFL injury report, but the Pittsburgh Post-Gazette has reported that Parker will not play. The good news here is that it is not Parker's knee that is keeping him out of this week's contest. Parker played Monday night after missing four games with a medial collateral ligament sprain. He ran well Monday but apparently injured his right shoulder during the third quarter. The injury wasn't severe enough to force him out of the game, and it is not likely to cause him to miss extended time. So hang in there, Parker fantasy owners -- it looks like he will be back in your lineup next week. In the meantime, hopefully you have kept
Mewelde Moore
available on your roster.
Jonathan Stewart, RB, Panthers:
Stewart is listed as questionable because of a heel injury and will be a game-time decision. The not-so-good news is that Stewart is having lingering pain in his heel that has kept him in a protective boot, despite coming off of a bye week. Stewart's heel pain apparently began two weeks ago and it is causing him pain when he puts pressure on it, something that's impossible to avoid as a running back. The good news is that Stewart did make the trip to Oakland and was able to practice Friday, which means the team thinks there is at least a chance he could play. Either way, expect
DeAngelo Williams
to see the majority of the action for Carolina this weekend.
[+] Enlarge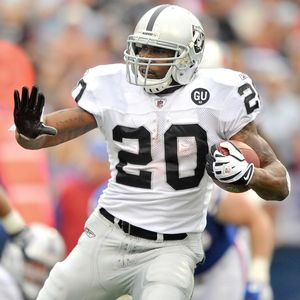 Kirby Lee/US PresswireMcFadden's turf toe is taking a long time to recover, as most turf toes do.
Darren McFadden, RB, Raiders:
McFadden is listed as questionable for Sunday, but his chances of playing don't look good. McFadden's turf toe problems continue to hang around, as turf toe problems often do. The left toe seems to be the worse of the two at this point, and McFadden is still in a boot when not practicing. McFadden was limited in practice earlier in the week and then did not practice Friday, another sign that he is unlikely to suit up Sunday. McFadden is being fitted with some new, rigid footwear to help support his toes, but his mobility is compromised because of the lack of push-off with the big toe. He has said that he needs to get the "confidence" back in his foot, and it requires an adjustment when he makes a change as seemingly simple as his shoes. There is no reason to rush McFadden back to the lineup. The Raiders may be better off allowing their draft-day investment to recover fully before having him see game action again. Once again, it appears that
Justin Fargas
is likely to start for the Raiders this week.
Other noteworthy items
• The Bears'
Brandon Lloyd
looks like he'll make his return after missing a month with a sprained knee. Lloyd is listed as probable, has practiced fully all week and is expected to play.
• Ravens running backs
Willis McGahee
and
Ray Rice
are both listed as probable, and are expected to play. Although they were limited in practice earlier in the week, they practiced fully Friday, indicating they are ready to go. But who becomes the feature back? As Jamison Hensley stated in the Baltimore Sun earlier this week: "In [coach John] Harbaugh's mind, it's not about McGahee or Rice. He said he thinks of the running game as McGahee and Rice." Good luck, fantasy owners.
• Raiders quarterback
JaMarcus Russell
was a surprise addition to the Thursday injury report when he was unable to complete practice because of tendinitis in his knee. Tendinitis is an inflammatory condition, meaning that rest is the best medicine. Russell was resting Friday, but he could be resting through the weekend. His designation is questionable, and the Contra Costa Times is reporting that his status will not be known until just before the game.
• It appears that Patriots running backs
Sammy Morris
and
LaMont Jordan
will be sidelined again this week. Morris continues with the doubtful tag, so his unlikely playing status is clearer. Jordan is listed as questionable, but given that he did not practice Thursday or Friday, he will likely be watching the game rather than playing.
• Chargers receiver
Chris Chambers
is listed as probable with his ankle injury, suggesting that he will play Sunday. Nonetheless, his ankle is still not 100 percent, so
Vincent Jackson
may still be in for a fair number of catches against the Chiefs.
• Saints tight end
Jeremy Shockey
is listed as probable and is expected to play. Shockey, who has been recovering from sports hernia surgery, has no doubt benefited from the time off during the bye week, and according to the New Orleans Times-Picayune, is probably as healthy as he's been all year.
Out:
This is a list of key fantasy players, not including those who have been moved to injured reserve status, who are additions to the "Out" listing for Week 10.
Matt Schaub, QB, Texans:
Schaub sprained his knee (MCL) Sunday and will be sidelined this week. The Houston Chronicle has reported that Schaub could miss two to four weeks, which is consistent with the return time for quarterbacks after sustaining this injury. In the meantime,
Sage Rosenfels
will lead the Texans.
Matt Hasselbeck, QB, Seahawks:
The good news is that Hasselbeck's strength appears to be improving. Nonetheless, he has a ways to go before he is cleared to return to play. Expect this to take at least a couple of weeks.
Dan Orlovsky, QB, Lions:
Orlovsky has a significant thumb injury that could ultimately require surgery. The Detroit Free Press reports that Orlovsky has two fractures and a torn ligament, all of which apparently occurred during the first play of the game against Chicago. He is seeking several opinions about his thumb, after which more should be known.
Daunte Culpepper
has seen the majority of first-team snaps in practice this week, and although coach Rod Marinelli has not officially named a starter, ESPN's Chris Mortensen has reported that Culpepper will start against Jacksonville.
Josh Reed, WR, Bills:
Reed remains out with an Achilles injury.
Chris McAlister, CB, Ravens:
The big news here is that McAlister is out not only for this week, but also for the remainder of the season. McAlister has decided to have surgery on his knee to address a torn posterior cruciate ligament and cartilage damage, according to the Baltimore Sun. It remains to be seen whether McAlister has played his final game in a Ravens uniform.
Heath Miller, TE, Steelers:
Miller injured his ankle in the Steelers' Monday night contest and will not suit up against the Colts. In fact, the Post-Gazette reports that Miller has a high ankle sprain and could miss a couple of games. Make sure you have a replacement on your roster.
Reggie Bush, RB, Saints:
Bush is still recovering from meniscal surgery but is making good progress. His rehab is right on schedule, and he transitioned from pool running to outdoor running this week. According to the Times-Picayune, Bush thinks he will "definitely" be ready to play next week against Kansas City. It's possible, but he will have to prove he can run full speed, cut and pivot before he returns. Don't be shocked if his return comes in Week 12, when the Saints have a big Monday night game. In the meantime, teammate
Deuce McAllister
could have a big week against the Falcons.
Arnaz Battle, WR, 49ers:
Battle is out with a foot sprain and will miss Monday night's game against division rival Arizona. It appears that this injury could keep him out even longer.
Good luck in Week 10! Be sure to check out our site Sunday for pregame chats and Fantasy Football Now at noon ET.