Stephania Bell:

Asdrubal Cabrera
April, 22, 2013
4/22/13
3:40
PM ET
Every Monday, in this space, we'll provide updates on a variety of players to help you make your weekly lineup decisions. We'll specifically try to hit the players who are day-to-day, have just gone on the DL or are ready to return, so that you can better decide whether you can count on them or not.
All projected return timelines should be considered fluid.
Hitters
[+] Enlarge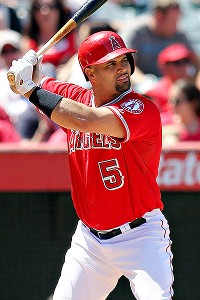 Victor Decolongon/Getty ImagesFantasy owners will have to keep a close eye on Albert Pujols' foot in the upcoming days.
Albert Pujols, 1B, Los Angeles Angels (DTD):
"I'm dying." Those were the words of Pujols himself Sunday when describing trying to play through plantar fasciitis in his left foot. Not particularly encouraging. Every athlete who contends with plantar fasciitis will describe extraordinary pain (like "stepping on a nail" or "walking on broken glass") and knows it is virtually impossible to get relief, unless he stops activity altogether. As for now, the plan is for Pujols to try to manage the condition, meaning he will receive treatment directed at pain relief, stretching, supportive footwear and anything else that might help all while continuing to play, albeit limited to DH duty. Unfortunately, every time the foot hits the ground stretching the inflamed fibrous tissue of the arch, Pujols is reminded of the pain. At some point it simply may be too much for him to bear and his foot could force him to take some extended down time.
Ryan Zimmerman, 3B, Washington Nationals (placed on DL April 20):
Zimmerman had been experiencing cramping in his left hamstring for several days before being forced out of last Wednesday's game early. He did not play Friday or Saturday, instead undergoing an MRI, which led to placement on the DL. While it sounds as if the strain is not serious, it was hampering him not only with his running but also while hitting. Manager Davey Johnson noted Zimmerman was not comfortable landing on his left leg when hitting. One has to wonder if some of his recent throwing inconsistencies can also be attributed, at least in part, to discomfort in his left leg. According to Amanda Comak of the Washington Times, the Nationals are hopeful that Zimmerman will only miss the minimum time, but hamstrings can be finicky. The key for the Nationals is preventing this from turning into a bigger injury, undoubtedly part of the rationale for a DL placement.
Dan Uggla, 2B, Atlanta Braves (DTD):
Sometimes being a veteran means understanding when to take yourself out of a game proactively. It appears Uggla did just that on Saturday when he felt something in his left calf while trying to run out a ground ball. According to the Atlanta Journal-Constitution, Uggla let manager Fredi Gonzalez know he was having discomfort in the calf and was concerned it could get worse if he stayed in the game. Uggla then sat out Sunday's game also but was hopeful he could return Monday. Calf strains tend to be increasingly prevalent as athletes move into their thirties (
Lance Berkman
,
Derek Jeter
, Albert Pujols) and early rest may be the best medicine in trying to minimize downtime.
Asdrubal Cabrera, SS, Cleveland Indians (DTD):
Slipping on the dugout steps is not how an athlete wants to incur an injury. Unfortunately that's precisely how Cabrera ended up with a contusion of his left wrist, and it's lucky it wasn't worse. X-rays taken of his wrist were negative, but as the Cleveland Plain-Dealer reported, it started to bother Cabrera during Saturday's game, so he came out early. Falls on an outstretched hand can often result in a fracture of the forearm or wrist bones but it appears Cabrera escaped both. He sat out Sunday's game and could sit longer if the wrist is still painful so fantasy owners should monitor his status daily.
Kevin Youkilis, 3B, New York Yankees (DTD):
When Youkilis left Saturday's game early because of tightness in his lower back, those familiar with his history may have been a little nervous. That concern would be justified because Youkilis has a fairly extensive history of low back problems including an episode, which required a trip to the DL in 2011. This flare-up appears to be of the minor variety with manager Joe Girardi telling reporters he thinks Youkilis will be available Monday night.
Shane Victorino, OF, Boston Red Sox (DTD):
Victorino also left Saturday's game early due to tightness in his lower back. He sat out Sunday's doubleheader but is expected to return to the lineup Monday. Early Sunday, manager John Farrell had considered using Victorino in the second game, suggesting he was making rapid improvements. Ultimately he was given all of Sunday off but it appears he will be back to face the
Oakland Athletics
.
Freddie Freeman, 1B, Atlanta Braves (placed on DL April 7, activated April 22):
It looks as if the decision to rest Freeman early -- despite his displeasure -- has paid off. ESPN's Jim Bowden reported Monday that manager Frank Wren indicated Freeman has been activated and is ready to play against the
Colorado Rockies
on Monday night. Freeman had been sidelined with a right oblique strain, but it was always considered minor; the Braves were trying to ensure that it remained that way. After a couple of uneventful rehab games, Freeman has been deemed ready to return.
Michael Saunders, OF, Seattle Mariners (placed on DL April 11, could return late in week):
A crash into the outfield wall resulted in a sprained right shoulder for Saunders. Although the team did not issue a timetable initially, it looked as if it could sideline him for an extended time. There are some encouraging signs that Saunders is progressing nicely however, most notably that he took batting practice last Friday. According to Geoff Baker of the Seattle Times, Saunders hopes to return when eligible (April 26) but will need to test throwing with his injured shoulder first. One of the most difficult things to do after an injury such as this is raise the arm completely overhead. Throwing with power will perhaps present more of a challenge than hitting so fantasy owners should monitor his activity closely throughout the week.
Pitchers
Jhoulys Chacin, SP, Colorado Rockies (placed on DL retroactive to April 20):
Chacin was off to a solid start but has been sidelined with a lower back strain that forced him out of Friday's game early. According to the Rockies' official website, Chacin is scheduled to undergo an MRI on Monday. As for now there is no timetable for his return in place. The Rockies have recalled right-hander
Rob Scahill
from Triple-A Colorado Springs to take his place.
[+] Enlarge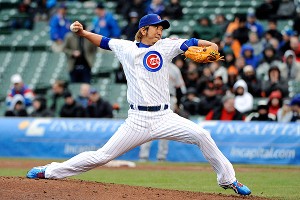 David Banks/USA TODAY SportsKyuji Fujikawa could be back this week to boost the Cubs' bullpen.
Kyuji Fujikawa, RP, Chicago Cubs (placed on DL April 13, could return when eligible, April 28):
Fujikawa suffered a right forearm strain, sending him to the DL, but according to Jesse Rogers of ESPN Chicago, Fujikawa has already begun testing the forearm throwing. If all continues well, Rogers reports Fujikawa will get a couple of rehab outings under his belt this week and could return this weekend.
Brett Myers, SP, Cleveland Indians (placed on DL April 21):
Myers has been fighting some tendinitis in his throwing elbow, but the picture has recently become more complex. The Indians announced via Twitter that Myers was placed on the DL Sunday with tendinitis and a mild UCL sprain. The report also indicated Myers would be shut down for two weeks and would not throw until symptom free. While the suggestion that the UCL sprain is minor is encouraging, it ultimately comes down to function. The fact that Myers experienced a drop in velocity is worrisome, but he also indicated he was not having any pain while pitching. At the very least, fantasy owners should expect him to miss four to six weeks (shutdown time followed by throwing progression), although the timeline ultimately will be dictated by how his elbow responds.
Ted Lilly, SP, Los Angeles Dodgers (opened season on DL, expected return April 24):
Lilly underwent a labral repair of his left (throwing) shoulder last September and was slowed in the spring by the flu. He felt he was ready to pitch in the majors when
Zack Greinke
went down with a clavicle fracture, but the Dodgers preferred to keep him on a rehab assignment, moving
Chris Capuano
to the starting rotation instead. As it turns out, Capuano was moved to the DL with a calf strain last week and Lilly was able to get some extra innings under his belt. According to Dylan Hernandez of the Los Angeles Times, Lilly has confirmed he will start Wednesday against the
New York Mets
. Given the Dodgers' starter woes, a healthy -- and effective -- Lilly is badly needed.
Chad Billingsley, SP, Los Angeles Dodgers (placed on DL retroactive to April 16, could be out for the season):
Did we mention the Dodgers are having some woes with their starting rotation? It looked initially as if Billingsley had survived the scare with his throwing elbow that cropped up last season. He underwent PRP injections in the fall, rested his right elbow, then resumed a progressive throwing program. The Dodgers waited during the offseason, expecting perhaps a bump in the road to recovery as often happens with partial UCL tears, but nothing went wrong with the elbow ... until now.
Billingsley managed well all through the spring but had a delayed start to the 2013 season due to a bruised index finger sustained while he was attempting a bunt. He eventually joined the rotation April 10 but it wouldn't last long. After two starts, Billingsley experienced some renewed elbow pain and now finds himself back on the DL. The bigger concern is that this may signal the beginning of the end of his season. If in fact the UCL tear has progressed to the point where Billingsley cannot function well enough to throw, he will be headed for Tommy John surgery. Given the recovery time from reconstructive elbow surgery, Billingsley stands a chance of losing time into next season if he does not address it quickly. No one wants to send an athlete to surgery when it isn't warranted and there will undoubtedly be careful evaluation of all sides of the equation, but the writing seems to be on the wall. Don't count on seeing Billingsley back in the lineup anytime soon, if at all.
Shaun Marcum, SP, New York Mets (placed on DL April 1, could return late this week):
Marcum has been sidelined since the start of the month with what the team called "nerve inflammation" in his neck. After receiving injections early to help with pain and inflammation, Marcum has been on a slow and steady rehab course. There have been no reports of any setbacks thus far, an encouraging sign. According to ESPN New York's Kieran Darcy, Marcum will throw 70-75 pitches in a rehab outing Monday and, if all goes well, could return to face the
Philadelphia Phillies
on Saturday. This is all positive news for Marcum and the Mets, but it is worth noting that these types of ailments lend themselves to recurrence.
Brett Anderson, SP, Oakland Athletics (DTD):
Anderson has been contending with a sprained right ankle, which resulted in a shortened appearance Friday and a complete day of rest Saturday. Susan Slusser of the San Francisco Chronicle reports that Anderson threw a bullpen Sunday, which went well, and he appears "likely" to make his Wednesday start. The biggest concern with an ankle sprain on the landing leg of a pitcher is that it not throw off his mechanics and risk injury to his throwing arm. The A's must like what they see if they're considering a prompt return.
June, 17, 2009
6/17/09
11:50
AM ET
Any regular visitor to my blog knows I love to start with some good news. Given that new or recurring injuries are a weekly staple, it's a great feeling when I can counter with news that a guy is getting healthy and coming off the DL. Maybe it's because I feel like the Grim Reaper most of the time, bringing news of the injured to distraught fantasy owners week in and week out. And if we've learned anything this year, it's that no one is safe from the injury bug. Occasionally, though, the sun does manage to shine and athletes exceed expectations in their recovery from injury.
This week is particularly special because I've been looking forward to this announcement since
John Smoltz
signed with his new team. After enduring a lengthy but steady rehab following offseason shoulder surgery, the veteran righty has finally been assigned a date to debut as a member of the Red Sox. Circle June 25 on your calendar, boys and girls. Smoltz is set to rejoin the rotation when the Red Sox face the Nationals. It will be exciting just to see him back on the mound. While it's worth tempering expectations early on (after all, he is 42), I believe that the acquisition of Smoltz will prove to be a brilliant move by the Red Sox and that he will indeed be the comeback story of 2009. OK. I put it out there. Now we just have to watch and see what happens.
Oh yes, I know, there are new injuries to discuss. Here are the guys we're paying attention to in the injury world this week ...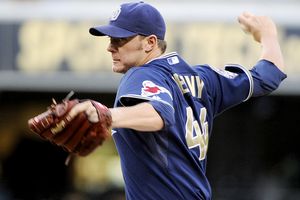 Scott Wachter/Icon SMIDon't expect Jake Peavy back by late August or early September at best.
Jake Peavy, P, Padres:
By now the bad news on Peavy's right ankle has spread far and wide. Peavy could miss 8-12 weeks with a partial tear in his posterior tibialis tendon, according to team athletic trainer Todd Hutcheson, quoted in the San Diego Union-Tribune. My colleague A.J. Mass and I
discussed Peavy at length
right after the announcement was made, both in terms of what the injury actually is and what it means for Peavy's trade prospects.
Here's the bottom line for fantasy owners: Move on for three months. In the very best-case scenario, Peavy returns after the All-Star break, although an August or even September return is more likely. Any delays or setbacks between now and then could lessen the chance of a return. In the worst-case scenario, if the tendon does not show signs of healing when Peavy is re-evaluated in a few weeks, the prospect exists that surgery could be warranted. That is clearly a less desirable, last-resort type of option, but until we hear that Peavy is making progress, it remains a possibility.
Given that Peavy's ankle has already been slow to heal, despite the fact that he reported feeling better since the initial injury, you can bet that the medical staff will proceed conservatively with his long-term health in mind. In other words, don't bank on Peavy beating the recovery timetable issued by Hutcheson, no matter how optimistic the team wants to be. The good news here is that if the tendon heals properly, whatever the time it takes to do so, Peavy should be able to return to form.
Grady Sizemore, OF, Indians:
After resting his elbow for the better part of a week, Sizemore had a repeat MRI on Monday to help assess his progress. Apparently the Indians liked what they saw, since Sizemore was allowed to resume baseball activities this week. Sizemore did some light throwing and took some light swings in his first such activity since going on the disabled list May 31.
Now you know I like good news, but there are reasons not to get over-excited just yet. According to the Cleveland Plain Dealer, Indians head athletic trainer Lonnie Soloff indicated that Sizemore was suffering from synovitis, which is inflammation of the synovium, the smooth tissue layer that lines the joint. This condition can certainly be the type of thing that can flare up repeatedly. According to the Akron Beacon Journal, Sizemore himself said, 'There's a chance it could get worse. It could linger all year."
General manager Eric Wedge summed up the situation best when he said, "As we continue to ramp up with him, we'll know more." In other words, there is not much surprise that Sizemore feels better after completely resting the arm. The bigger question is whether the inflammation will recur as he starts to use the arm or whether he can keep it at bay through the remainder of the season.
The next big test comes this weekend. According to MLB.com, Sizemore will take batting practice and throw from his position this weekend. If he passes the test (read: no pain), then he can begin working his way back toward being ready to play. If Sizemore does experience pain, an arthroscopic surgical procedure likely awaits him. Fantasy owners need to keep their insurance options available for a while as it is simply too early to gauge this one.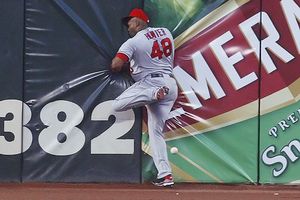 Cary Edmondson/US PresswireTorii Hunter suffered bruised ribs during this crash into the wall on Monday but could be back in action by the end of the week.
Torii Hunter, OF, Angels:
The outfield walls seem to be fighting back against the players who hit them hard this year.
Josh Hamilton
has been to the DL not once, but twice (including surgery!), after running into walls.
Rick Ankiel
's neck and shoulder were on the losing end of a battle with a wall. Hunter is the latest to be punished by a wall while attempting to make a play, suffering bruised ribs Monday night. Fortunately for Hunter, X-rays taken of his right rib cage (where he contacted the wall) were negative, indicating no fracture.
Not that that lessens Hunter's pain. Any rib injury is painful. Just ask Hamilton, who ended up on the DL despite early resistance to the idea. Hamilton, who also suffered a soft-tissue rib injury, pointed out that in addition to baseball activities, breathing hurt. Until the pain and inflammation settled, Hamilton was incapacitated. According to AP reports Hunter was in a rib brace Tuesday, which is designed to help limit his overall rib movement. Minimizing movement allows the soft tissue to heal by preventing muscle fibers from getting overstretched. It's virtually impossible to eliminate all rib motion, however, since sneezing, turning, even breathing all result in movement at the rib cage.
Hunter's targeted return of Friday suggests the injury is not serious, but it may very well require additional time in order for him to move as necessary to play his position.
Coco Crisp, OF, Royals:
Crisp was finally placed on the DL with what the team is calling a rotator cuff strain in his right (throwing) shoulder. Crisp has been bothered by a sore shoulder since late May, but several days of rest intermittently have failed to alleviate the problem, so the team decided to give him an extended break. According to the Royals' official Web site, manager Trey Hillman was hoping that a recent six-game break -- four absences because of the shoulder, plus an additional two to attend his great-grandmother's funeral -- would be enough to allow Crisp to return at full strength, but that has not been the case. Crisp has reportedly struggled most with batting from the left side of the plate and with throwing.
From the sound of things, Crisp may require some extended time away from baseball activities, focusing on rehab alone to clear his symptoms. Given that six days of rest was not sufficient, expect Crisp to rest longer before resuming hitting and throwing, meaning he may not be ready to return at the 15-day mark.
Ervin Santana, P, Angels:
Uh-oh. Santana, who missed time at the start of the season with a sprained ulnar collateral ligament in his throwing elbow, was scratched from his Tuesday start with tightness in the same elbow. After lasting just 4 2/3 innings in his last start, should fantasy owners be concerned?
There's definitely reason to be concerned, but this may not quite signal the demise of Santana's season. Santana told the Los Angeles Times that the pain he's experiencing, which actually has been described as forearm tightness, is not in the same area as his original symptoms. "That was on the inside of the elbow. This is on the outside. I know I'm going to be OK." It's good to know he's confident.
Apparently manager Mike Scioscia has confidence as well. "If I hadn't seen him throw as well as he did in Detroit and hadn't seen his stuff pick up like it has, I wouldn't be as comfortable with where he is," Scioscia said. Nonetheless, Santana is under the very watchful eye of the medical staff as they evaluate next steps. Even if the symptoms are different, the fact that he is feeling discomfort in his throwing elbow/forearm so soon after his return is somewhat worrisome. The Angels hope Santana will be able to start June 23, but if he is unable to go at that point, he could be facing a return to the DL.
On the mend
• Last week we said A's pitcher
Justin Duchscherer
's back had calmed, allowing him to resume his rehab activities. So much for that. Turns out Duchscherer's spine is behaving like many spines do and is flaring up again. Rehab has again been put on hold until the symptoms settle.
• The St. Petersburg Times reports that Rays lefty ace
Scott Kazmir
is expected to make a minor league start Wednesday. Kazmir has been feeling good and thinks his mechanics are under better control. In fact, he sought out advice from friend and former Mets pitching coach Rick Peterson as to which drills would help him maintain his improved mechanics. Several rehab starts should give him a chance to test out his improved quadriceps muscle and delivery. Although there has been no specific date given, if the rehab outings go well, Kazmir could rejoin the team by the end of next week.
•
Asdrubal Cabrera
's left separated shoulder is feeling better. He is now taking practice swings and doing some fielding activities. According to MLB.com, the Indians should have a better idea of when he'll be able to return by the end of this week.
• Royals third baseman
Alex Gordon
continues to make steady progress toward his return to the lineup after right hip labral surgery. He has taken some swings this week against live pitching, according to the Kansas City Star, and has returned to light jogging. Gordon is also fielding ground balls, which ultimately may be one of the more challenging activities for him to resume full force. The team still appears to be targeting a return near the All-Star break. I suspect it won't come until after that, but the good news is that Gordon's rehab is going according to plan.
• Finally ... Angels pitcher
Kelvim Escobar
has been placed on the DL ... again. Somehow this seems like a good move strategically. Escobar did experience some challenges when he rejoined the rotation in early June, and the Angels had indicated he was headed to the bullpen. With Escobar experiencing some fatigue in his surgically repaired shoulder and the Angels needing to add another starter in place of Santana this week, the DL move appears to be a good option. As the Los Angeles Times reports, manager Mike Scioscia said he would be "very surprised" if Escobar was not in the bullpen next Monday, the first day he is eligible to be activated.
June, 10, 2009
6/10/09
12:22
PM ET
By
Stephania Bell, ESPN.com
| ESPN.com
We lead Tuesday with a few players who went under the knife this week yet hope to return at some point this season.
Rangers outfielder
Josh Hamilton
underwent surgery to address a partially torn abdominal muscle and hopes to return in four to six weeks. Recovery from this type of surgery (a sports hernia-type repair) can vary, though. Even when an athlete is cleared for full activity, it often takes him longer to return to full speed. Fantasy owners should keep that in mind as they plan around Hamilton's absence. His rate of activity progression during the next few weeks of his rehabilitation will provide important clues as to whether he can meet the projected timeline.
Mets relief pitcher
J.J. Putz
also underwent surgery this week, but his recovery time will be closer to about three months. Putz had bone spurs removed from his elbow. The good news is that the spurs, which were causing him pain and decreasing his velocity, are now out of the way. The not-so-good news is that the presence of spurs suggests increased shear forces in the joint, often associated with instability (as in looseness in the ligament). We have seen pitchers undergo bone spur removal, only to end up requiring Tommy John surgery down the line (
Chris Carpenter
in 2007, for instance). This is not to say such surgery is definitely in Putz's future, but it's an observation worth noting.
And here are other players I'm tracking closely this week: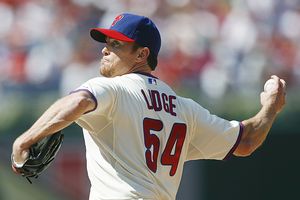 Howard Smith/US PresswireBrad Lidge owners have to hope his most recent knee injury won't bother him all season.
Brad Lidge, RP, Phillies:
Lidge was placed on the DL on Tuesday because of a sprained right knee. Typically, a sprain reflects an acute injury to a ligament, but in Lidge's case, this is something that has been coming down the pike for a while as a result of chronic irritation within the joint. It certainly is no secret that Lidge has struggled and that his right knee, which already has undergone a couple of surgeries (including one at the beginning of the 2008 season after he tore the meniscus), has been part of the equation. An MRI earlier this year revealed nothing new. Nonetheless, The Philadelphia Inquirer reports that Lidge will undergo additional tests during this downtime in an effort to get to the root of the problem.
I
discussed Lidge's knee in early May
, and given his history, this course of events is not unexpected. The big concern now is that if Lidge continues to try to pitch through discomfort, he might end up compensating in ways that impact his mechanics and threaten greater injury, not only to his knee but also to his throwing arm. Given the uncertainty around his situation, it might be more than two weeks before we see Lidge back in the closer role.
Grady Sizemore, OF, Indians:
Sizemore is on the DL, but how long will he be there? Will he return when eligible, or will he end up facing an arthroscopic procedure on his elbow? Those are the big questions.
We already know the answer to the first part of that second question. This recovery process will take longer than two weeks, even if he doesn't have surgery. The Cleveland Plain Dealer is reporting that the plan for Sizemore is to limit him to rest and treatment for two weeks, and after that cooling-off period, Sizemore will test the elbow by throwing a ball and swinging a bat. If the symptoms linger, surgery will be the next option.
Pay close attention this week. The answer will make itself apparent in the next few days as Sizemore hits the two-week mark, and there are reasons to be concerned that this might end up a surgical situation. First, Sizemore's elbow has bothered him all season. Chronic inflammation, which usually implies changes in the soft tissue, rarely resolves within two weeks. Sure, Sizemore will feel better while resting, but the true test will come when he tries to restart baseball activity. Second, his symptoms are reportedly most aggravated with elbow extension. If he wants to play, that's something he absolutely cannot avoid, and in fact needs to perform forcefully.
Despite the "no structural damage" MRI report, Sizemore's symptoms, as noted above, are suggestive of changes in the soft tissue as a result of repetitive activity. Surgery would mean an additional six weeks of absence. Sizemore's fantasy owners should take preparations and seek insurance.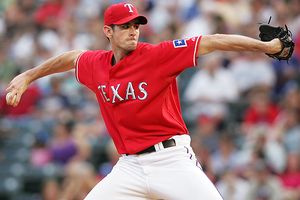 Tim Heitman/US PresswireBrandon McCarthy has quite an extensive injury history for a 25-year-old.
Brandon McCarthy, SP, Rangers:
The Dallas Morning News is reporting that McCarthy is out indefinitely after an MRI revealed a stress fracture in his right shoulder blade. He will not even pick up a ball for several weeks while the bone heals. The odd feature here is that McCarthy suffered a similar injury in 2007. He missed about one month initially, came back for a handful of outings, then was shut down the season's final week because of subsequent forearm problems.
After an elbow injury and a sprained finger in 2008 limited him to just five starts, McCarthy had to hope that his injury woes were finally behind him. He even began this season with extra bulk on his tall frame in an effort to remain healthy. Not the case. Even during spring training, McCarthy's shoulder was causing him some discomfort, although he seemed to be past the problems as the season got under way.
At just 25 years old, his injury pattern must be a concern for both McCarthy and his team. In the meantime, fantasy owners should seek other options.
Asdrubal Cabrera, 2B, Indians:
Early reports last week suggested that Cabrera had dislocated his shoulder. As it turns out, Cabrera separated his shoulder, also known as an acromioclavicular sprain, which likely means he'll miss less time. Cabrera injured himself while breaking up a double play, and the force of the impact of his shoulder's hitting Minnesota infielder
Brendan Harris
' leg resulted in an injury to the ligaments that link the collarbone to the shoulder blade. Cabrera has been projected to miss anywhere from two to four weeks.
The good news here is that the sprain could not have been too severe because X-rays were initially reported as negative. Even though X-rays show only bony injuries, if there were a significant degree of separation as a result of severe ligament damage, the bony ends would appear out of alignment on film. The sprain itself was revealed in a subsequent MRI, and the timetable also reflects a relatively minor injury. Judging from how painful the injury appeared at the time, Cabrera and the Indians are fortunate that it was not worse. The focus now that the pain has subsided will be on restoring Cabrera's range of motion and strength, with a gradual progression toward baseball activities.
On the mend
• A's pitcher
Justin Duchscherer
is preparing to throw again. Perhaps he has been off your radar screen following March elbow surgery, but it's time to start thinking about him again. Duchscherer had his rehab throwing program interrupted for more than a week because of a sore back, according to the San Francisco Chronicle, but that minor setback seems to have abated, and he will now pick up where he left off. The Chronicle also reports that the A's might bring him back in a relief role. That's significant for fantasy owners not only because of how he can be used but also because it might allow him to rejoin the team sooner. He's still weeks away, but he should at least be on your radar now.
• Teammate
Travis Buck
, who has been on the DL because of an oblique strain, should return when eligible Sunday. According to the A's Web site, he has made it through batting practice just fine and is scheduled to make some minor league appearances this week. Perhaps you've noticed that oblique injuries in hitters are much more variable in terms of severity, with many players able to return when eligible following a 15-day DL stint. In the case of pitchers, the injury seems to be much more specific (in terms of location) and often more severe, usually requiring a four-to-six-week absence. It's something worth noting the next time one of your hitters suffers a strained side muscle. Don't be too quick to drop him, because it might be only a minor inconvenience.
• The St. Petersburg Times reports that Rays manager Joe Maddon already has confirmed that shortstop
Jason Bartlett
will not return this week when eligible. That is not to imply Bartlett is not progressing; he is, in fact, doing some infield work. But the Rays are wise not to bring Bartlett back too quickly from even a minor ankle sprain because the demands of his position, particularly the quick lateral movements, will stress the still-healing ligaments. No sense in turning a minor injury into a major one. Keep a close eye on Bartlett, though, as his activity suggests his absence will not be extended much longer. Bartlett suggested to The Tampa Tribune that his return could come Tuesday at Colorado.
• Another Rays player nearing a return is pitcher
Scott Kazmir
, who has been out because of a strained quadriceps. Look for Kazmir to make a couple of rehab starts to ensure that his strength and mechanics remain on track. But so far, his rehab performance has been encouraging, as in, far better than what we were seeing before he went on the DL.
• Diamondbacks outfielder
Conor Jackson
's recovery from valley fever is ever so slow. The illness, which sapped Jackson's energy and caused him extreme fatigue and weight loss, has taken its toll on his physical conditioning, and it will take him quite some time for him to work his way back. The Diamondbacks' official Web site reports that Jackson was very fatigued following a batting practice session Saturday, proving that he still has a long road to hoe before returning. No timetable has been set for him to rejoin the team. If you've been holding out hope and keeping him on your fantasy bench, you might want to seek other resources. This could prove to linger for the remainder of the season.
• Cubs starter
Rich Harden
, no stranger to the DL, should rejoin the rotation very shortly. Harden has been out because of a middle-back strain and was originally scheduled to return Friday, but a case of the flu set back his timetable. It looks as if the setback was minor, however, as MLB.com reports that Harden is expected to take the mound Saturday against the Twins. Harden looked strong in his last rehab outing on Monday, and fantasy owners should expect more of the same when he returns to the majors. Yes, there's always some level of concern with Harden's health, but this latest setback does not suggest anything serious. Definitely worth the gamble.
• And finally ... not such good news for Reds third baseman
Edwin Encarnacion
. It sounded as if he was headed for a minor league rehab assignment, but a recent MRI on his wrist was less than positive. Reds manager Dusty Baker told the Dayton Daily News that although Encarnacion would be on the road with the team, he would only be receiving treatment. "No baseball work right now," Baker said. Encarnacion originally sustained a chip fracture in his left wrist in late April and reportedly had been progressing well until this week. No word on what the MRI showed exactly, but wrist injuries always have the potential to drag on a little longer than expected. The fact that the setback is occurring before Encarnacion returns to a game situation is definitely cause for concern.
June, 3, 2009
6/03/09
2:26
PM ET
I just like to start with some good news. Any good news. Trust me, some weeks -- like this one -- it's slim pickings. Nonetheless, I feel responsible to fantasy owners to keep the glass half-full, and so I scoured amidst all the downers of guys headed to the DL (including a record number of repeat customers!) and I managed to find a bit of encouraging news this week.
Jose Reyes
could
make his return from the DL on Friday. I always recommend the cautiously optimistic approach when it comes to returning from a muscle strain or an "-itis" (as in something inflammatory). In fact, Reyes hasn't had the opportunity to test the leg in a game situation because Tuesday's planned extended spring training game was rained out. So much for the glass being half-full. There is another game scheduled for Wednesday when the Mets hopefully will be able to put Reyes to the test. Until he proves he can run without difficulty, Friday's target remains in the category of wishful thinking.
But let's face it, we want to get to the information about who's hurt. Here's who we're talking about this week in the world of baseball injuries. ...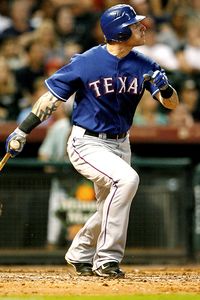 Aaron M. Sprecher/Icon SMIJosh Hamilton is making his second trip to the disabled list this year, and this could be a lot longer.
Josh Hamilton, OF, Rangers:
Hamilton underwent an MRI on Monday in an attempt to clarify the cause of his persistent groin pain, which has been with him since his most recent collision with an outfield wall at Rangers Ballpark. On Tuesday, he met with Dr. John Preskitt, who performed a sports hernia repair on
Ian Kinsler
last season. According to the Fort Worth Star-Telegram, Rangers general manager Jon Daniels indicated that Hamilton's visit with Preskitt was to help rule out a hernia.
If this all sounds confusing, it is. Arriving at a diagnosis of a sports hernia is really a process of ruling out other diagnoses. Here's what we know so far.
1. First and foremost for fantasy owners, Hamilton is on the DL for the second time this season. That means you have to make alternate plans for at least another two weeks. I would recommend that you make plans for another couple of months. Continue reading.
2. Hamilton's injury started out as a groin strain and was later called an abdominal strain, according to the team's official Web site. This is the case with many of the injuries that are eventually diagnosed as sports hernias. Pain begins near the groin, then moves closer to the lower abdominal wall. With all of these muscles converging to attach at the pelvis, the pain patterns can be similar.
3. It is not a hernia. A true (abdominal) hernia represents a protrusion (herniation) of abdominal contents through a weak spot in the soft tissue around it. The hernia can often be palpable (the examining physician can feel it) and can generally be seen on imaging (via ultrasound or MRI). Since many of the symptoms can be similar, it is important to rule out a true hernia. Many sports hernias do not show any visible findings on MRI. If Hamilton had a hernia, he would be having surgery while I'm writing this column.
4. Hamilton has indicated that he faces the most difficulty when trying to run. The hallmark of a sports hernia is an athlete's inability to run. It can be a frustrating diagnosis in this regard because, depending on the degree of injury, the athlete can actually feel quite good ... until he tries to run. Because of the muscles involved and their attachment near the pelvis, the power required to run places a demand on the area that cannot be met. The athlete typically complains of pain and weakness when attempting to run. According to the Dallas Morning News, Hamilton said "I'm hurt and sore and can't run," estimating his running since the groin injury at 50 percent of normal.
The evidence here would suggest that Hamilton is, indeed, dealing with a sports hernia, which is, in essence, what the team is saying. According to the Ranger's official Web site, assistant general manager Thad Levine "likened the injury to a sports hernia" and hopes Hamilton can avoid surgery after a period of rest and anti-inflammatory medication. Hamilton will be re-evaluated at that point and, if he has not improved, likely will face sports hernia surgery that would require six to eight weeks of recovery. Although Hamilton's mechanism of injury is somewhat atypical (these injuries often seem to come on out of nowhere, with no particular incident as the cause), his symptom pattern has many features that fit the bill.
For those wondering why surgery isn't done right away, this rest period is a step in ultimately arriving at the conclusion that surgery is necessary. Since sports hernia diagnosis is often one of exclusion -- figuring out everything that the injury "isn't" -- the decision to proceed with surgery is easier if conservative measures have failed. Fantasy owners can hope for the best, but should prepare for the worst, in the event that Hamilton is headed under the knife.
Evan Longoria, 3B, Rays:
Longoria was serving as the DH for the past couple days as a result of elbow soreness; now there's something of potentially bigger concern. Longoria left Tuesday's game with a left hamstring strain after running out a ground ball, and we know how these injuries can go (read: linger).
He is expected to undergo an MRI on Wednesday to determine the extent of damage, but there are a few notes of encouragement. Longoria's description of what he did NOT experience suggests that the strain is on the minor end. Longoria told the team's official Web site Tuesday after the game, "I didn't feel a pop, I didn't feel a pull, I was able to walk and ride the bike and everything." Longoria added that he considers himself day-to-day. Rays manager Joe Maddon indicated that he will act with caution, so don't be surprised if Longoria is given a couple days to rest, even if the MRI turns up nothing significant.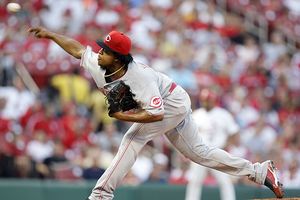 AP Photo/Jeff RobersonEdinson Volquez lasted just one inning in Monday's start before returning to the disabled list.
Edinson Volquez, P, Reds:
Volquez may hold the record for shortest return from a DL stint before exiting a game only to be returned to the DL. Not a record he or his fantasy owners really want. And it's not as though he wasn't recovered from the first problem (back spasms) and aggravated the injury. Sadly, this is something altogether different.
Volquez lasted all of a single inning in his return Monday night before being forced out with what he described as "tingling from my elbow down to my fingers," according to the Dayton Daily News. Volquez went on to say that he had "never had this happen ... never had pain in my arm." Specifically, Volquez experienced the sensation in his ring and pinky (fourth and fifth) fingers in his right (throwing) hand. The location tells us that his ulnar nerve was talking to him, and clearly it was not happy.
According to the Cincinnati Enquirer, Volquez has been placed on the DL with tendinitis in his elbow. In that scenario, inflammation in the soft tissue around his pitching elbow could result in increased pressure on the ulnar nerve (which passes just behind the bony part of the inside of the elbow, coming very near to the surface, making it an easy target for injury). The pressure would then result in irritation of the nerve, which shows up as numbness and tingling in the fourth and fifth fingers in the hand. The ulnar nerve is often problematic for pitchers because of its location and its vulnerability when there are problems at the elbow. If the joint is hypermobile, if spurs are present, if there is any ligamentous injury (yes, ulnar collateral or Tommy John ligament) or even in the presence of swelling alone, the ulnar nerve can be affected.
The hope for Volquez is that this truly is a minor condition and not the beginnings of a major problem with his throwing elbow. The plan is for him to rest for at least a week (no throwing at all) and then be re-evaluated. Stay tuned.
Joey Votto, 1B, Reds:
A week ago it appeared promising that the team had been able to identify the source of Votto's frustrating intermittent dizziness. He was reportedly dealing with an ear infection and had been placed on anti-inflammatory medication. The problem, however, was that every time Votto got on a plane, the symptoms were exacerbated the next day.
On Saturday, Votto was placed on the DL with what the team is calling "stress-related issues." It's fairly safe to assume that the stress Votto is experiencing is from the on-again, off-again nature of this dizziness. I can tell you that patients who experience chronic dizziness describe it as an extremely debilitating and frustrating condition. We've all experienced feeling dizzy or light-headed at some point, and I have yet to find anyone who thinks it pleasant. Now imagine trying to do your job and performing at the same level to which you and your co-workers are accustomed, with the world spinning around you. It's just not possible.
This trip to the DL is a good move for Votto until he can truly get his symptoms under control. Let's hope that the 15-day period is all he needs.
Asdrubal Cabrera, 2B, Indians:
Cabrera left Tuesday's game against the Twins in the first inning with a shoulder injury. He was clearly in pain when he left the field after taking the brunt of Twins shortstop Brendan Harris' weight on his left shoulder as he slid into second base.
The Cleveland Plain-Dealer is reporting that Cabrera suffered a dislocated left shoulder that was "put back into place." X-rays taken at Hennepin County Medical Center were reportedly inconclusive and Cabrera is scheduled to undergo an MRI Wednesday. The description makes it sound as if Cabrera actually subluxed his shoulder (in which it slips slightly off the joint but quickly pops back in) because a true dislocation is often difficult to reduce (put back), unless the athlete has a very unstable shoulder with a history of repeat dislocations. As far as I can tell, this is not the case with Cabrera.
Cabrera also told the Plain-Dealer that he did not think he would need to go on the DL, another sign that he may not have suffered that severe of an injury. It's worth noting though that players often feel far worse the next day once there is post-injury pain and inflammation. There's still a chance, either with or without a complete dislocation, that Cabrera could have suffered enough soft tissue damage to require a minimum two-week absence. Let's see how Cabrera feels over the next few days. That will probably go a lot further in determining just how long it will be before he's back in the lineup.
On the Mend
•
Alex Gordon
has to be pleased with the results of his latest visit with his surgeon. According to the Royals' official Web site, Gordon, who is recovering from surgery to address a torn labrum, got "glowing reports" on his trip to Colorado. His latest activity includes limited tee swings and very light, easy ground balls, so he is still a ways from truly testing his hip (hard swings, fielding bunts, throwing across his body and, ultimately, sliding). Although Gordon was originally given a timetable of 10 weeks (which would mean a return in late June), I have suspected all along that a return after the All-Star break would make the most sense. It seems that Gordon's progress has him on track for that so far.
• Rays ace
Scott Kazmir
is recovering from his quad strain while simultaneously addressing mechanical faults he attributes to last year's elbow injury. There is no official timetable for his return, but according to the St. Petersburg Times, Kazmir is throwing in the bullpen and hoping to avoid a minor league assignment. It's possible he could be back within another two weeks. Between the quadriceps recovery and the adjustments Kazmir is making, the hope is that his performance will improve when he rejoins the rotation.
•
Brandon Webb
continues to work his way back gradually from the shoulder problem that has kept him out since Opening Day. According to the Arizona Republic, he's throwing on flat ground (with another session planned for Wednesday) and will hopefully progress to a bullpen session Saturday. Don't get too excited; the Diamondbacks haven't brought him along this slowly only to speed him up now. Due to all the missed time, Webb likely will be brought along through every step in the standard return to throwing progression, including several minor league starts to build up endurance. The most encouraging words are from Webb himself, "It took a while to get there, but I feel like we're moving forward." I would not expect much before the All-Star break, but assuming he continues well, it would be a good time to think about picking him up.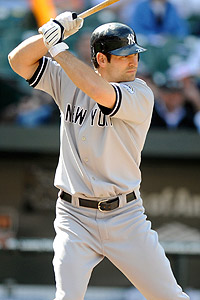 G Fiume/Getty ImagesXavier Nady likely isn't done for the year, but he isn't coming back in the near future, either.
• In the not so smooth recovery department, Yankees players have endured a couple of setbacks. Outfielder
Xavier Nady
, who suffered an injury to his previously reconstructed ulnar collateral ligament in April, threw for the first time on Monday and it apparently did not go so well. According to the Newark Star-Ledger, Nady experienced discomfort in his elbow when attempting throws from 50 to 60 feet. Although manager
Joe Girardi
indicated he would play Nady even if he wasn't at full strength, it's a recipe for disaster if the player and the manager are uncertain whether every throw will result in pain. Nady did throw Tuesday and, according to Newsday.com, only felt minor discomfort this time. When he's throwing consistently without any discomfort, then we can really be encouraged. Until then, everyone should temper expectations.
• Meanwhile, Nady's teammate
Jose Molina
is having a repeat MRI on his injured left quadriceps after being pulled from an extended spring training game Monday. Those results are expected to guide the next steps. Even without the results, just the fact that he had to be pulled because the muscle became painful tells you what you need to know. He will not be ready to return anytime soon.
• On the other coast, Angels pitcher
Kelvim Escobar
faced challenges of his own as he recovers from surgery last year to repair a torn labrum. After being ahead of schedule throughout his rehab, he had a setback near the start of the season that has delayed his return. Escobar's shoulder is recovering and he is throwing without pain, but his latest rehab start Monday revealed that he does not have full control of his delivery. The Los Angeles Times reports that, as a result, Escobar has stopped throwing the slider for now. From a rehab perspective, how his shoulder feels is the most important thing. The fact that he is not experiencing pain is critical. A slider is one of the more physically demanding pitches, so it makes sense that it would take longer to get it back. Look for Escobar to rejoin the rotation within the week, perhaps Saturday, but without his slider.
• And finally ... expect
John Smoltz
back in mid-June. No one will commit to it, but he looks good. Get ready, he's going to be great.