Stephania Bell:

Ben Sheets
July, 27, 2010
7/27/10
11:45
AM ET
Some say it's the year of the pitcher. I say it's the year of the thumb.
We seem to have a trending injury every year. While a review of recent injury patterns does not support the notion that there are any statistically significant differences from one year to the next, it always
feels
like there is some "hot" injury in any given season. This season is no different and the hot spot is the thumb.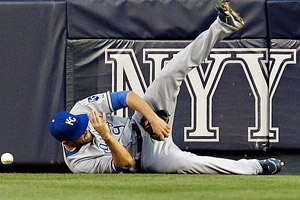 AP Photo/Kathy WillensDavid DeJesus injured his left thumb crashing into the Yankee Stadium wall trying to track down an eventual Derek Jeter inside-the-park homer.
Sure, there have been the usual array of injuries involving the ulnar collateral ligament (
Minnesota Twins
closer
Joe Nathan
), the abdominal oblique (
Milwaukee Brewers
ace
Yovani Gallardo
) and the hit-by-a-pitch broken hand (Colorado Rockies power hitter Tory Tulowitzki). There have also been a couple of injuries that are so unusual, you might not see them again in five, 10 or 15 years (
Joel Zumaya
's fractured olecranon and
Jake Peavy
's detached lat tendon).
But there has also been an odd cluster of thumb injuries. Not only are there a number of high-profile players who have dealt with some sort of thumb injury (
Jason Heyward
,
Aramis Ramirez
,
Chase Utley
,
Victor Martinez
,
Shin-Soo Choo
, to name a handful) but the frequency seems to be on the rise. Whether it's the result of a headfirst slide (Utley, Heyward), an awkward bend to the glove hand (Choo) or a foul tip (Martinez), the injury is typically serious and results in missed time. The amount of time varies depending on the severity of the injury and whether surgery is required, but in many cases it translates to a DL stint.
So while we celebrate the fifth no-hitter of the year (congratulations,
Matt Garza
), I still say the thumb outranks the pitcher in 2010, especially when it comes to this blog. Just ask the
Kansas City Royals
'
David DeJesus
, who will watch the rest of the season from the sideline thanks to the outfield wall that sabotaged his thumb.
Let's not let the thumbs steal all the injury thunder though. There are plenty of alternate ailing body parts to go around this week and we start with those in the lower half.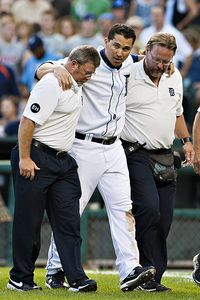 Tony Ding/Icon SMIMagglio Ordonez's fantasy usefulness screeched to a halt as he limped off the field Saturday.
Magglio Ordonez, OF, Detroit Tigers:
The headfirst slide has been a topic of much discussion because of the injured thumbs that have resulted this year. But there's no guarantee that the foot-first slide is injury-proof. Ordonez found that out Saturday when a traditional slide led to a broken right ankle. He is expected to miss up to eight weeks (and potentially the remainder of the season) while the injury heals. But was the slide itself to blame?
Ordonez, who was already dealing with a sore ankle and was limited to DH duties, was thrown out at the plate while attempting the slide. According to Mark Snyder of the Detroit Free Press, Ordonez's ankle appeared to give way as he was sliding. It's possible that the pre-existing weakness made Ordonez less able to control his ankle on what would normally be an automatic maneuver. Now, it seems, he will be spending the next month and then some working on his ankle strength and stability once the bone heals. Ultimately, he should recover fully from this, but fantasy owners should plan on doing without Ordonez for the remainder of their season.
Carlos Guillen, 2B, Detroit Tigers:
When it rains, it pours. Just ask Jim Leyland. After losing Ordonez to the aforementioned ankle fracture last Saturday, the Tigers saw Guillen exit later that day with a right calf strain.
The good news is that Guillen's injury does not appear to be serious and he is expected to return at the end of his 15-day DL stint. In fact, Guillen is likely to resume baseball activities within a week, according to the Detroit Free Press, and assuming no setback, should be ready to return when eligible. Guillen has experienced some issues with his calf since mid-June resulting in intermittent days off to rest it. Given that this was not his first episode and knowing how disabling a significant calf strain can be (
Philadelphia Phillies
shortstop
Jimmy Rollins
has endured two DL stints this year because of it), the Tigers are fortunate -- for once -- in that this should not cost Guillen excessive time.
Ben Sheets, SP, Oakland Athletics:
Remember when everyone was buzzing about Sheets' January throwing sessions for scouts when he was looking for a team after his flexor tendon repair? And remember when the A's picked him up at the exorbitant price tag of $10 million for one year?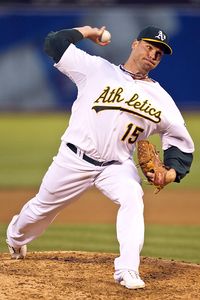 Jason O. Watson/US PresswireBen Sheets had stayed relatively healthy until recently, although he's just 4-9 with a 4.53 ERA this season.
Here's an excerpt from our fantasy draft kit where we talked about thoughts on Sheets from an injury perspective heading into 2010:
The concern is not so much in the recovery of this particular injury. Overuse of the flexor-pronator (the muscle group on the front side of the forearm that controls downward wrist motion and some forearm rotation) is not uncommon in pitchers and failure (or partial failure) of the tendon (which anchors that muscle group to the bone at the inner aspect of the elbow) is not unusual. ... The issue is whether the flexor tendon tear is an isolated injury or whether there is other structural damage present which, even if insignificant now, could manifest itself in the future. Where is a crystal ball when you need one?Sheets had plenty of time to recover from this particular surgery in advance of the 2010 season. Unfortunately, there is no true way of knowing how long his health will hold up.
It seems as if some of those preseason concerns are indeed manifesting themselves. Sheets, on the DL and out indefinitely, has had recurrent problems with swelling in his throwing elbow, which suggests that there are bigger issues lurking beneath the surface. The San Francisco Chronicle reports that Sheets is scheduled to visit his orthopedic surgeon, Dr. Keith Meister, on Tuesday and the team will wait until that visit is complete to discuss his condition. Given that Sheets already indicated that the problem could be season-ending, there is not a lot of reason to be optimistic.
More definitive details regarding Sheets' diagnosis should be forthcoming shortly but it's safe to say that recurrent swelling and discomfort in a pitcher's throwing elbow is never good. Fantasy owners should begin making alternate plans if they haven't already.
And dare we say it ...
Colorado Rockies
shortstop
Troy Tulowitzki
is expected back in the lineup Tuesday. Last week we said
all signs were positive
as Tulowitzki headed to a rehab assignment. Indeed they were. Tulowitzki has shown manager Jim Tracy enough to warrant rejoining the team. Fantasy owners should bear in mind that he is just shy of six weeks since the injury, pretty much close to his original timetable. There may be a delay between Tulowtizki returning to the lineup and Tulowitzki returning to hitting over .300.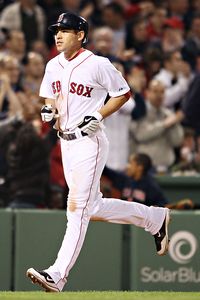 Elsa/Getty ImagesJacoby Ellsbury has not played since May 24.
Boston Red Sox
outfielder
Jacoby Ellsbury
started a rehab assignment, a significant step in his comeback efforts from multiple rib fractures. Ellsbury played DH on Monday with the Red Sox's rookie league team, going 1-for-3. Clearly he still has a way to go before returning to the majors, but getting back to facing opposing pitchers was an important target. The Boston Globe reports that Ellsbury could be moved to Triple-A Pawtucket this week if all continues to go well, perhaps as early as Wednesday. While the Red Sox, for obvious reasons, are reluctant to offer a specific timetable for Ellsbury, his rehab calendar suggests that he will rejoin the team within the next 2-3 weeks. Given his much more gradual progression back this time, fantasy owners can have more confidence in his return.
New York Yankees
lefty
Andy Pettitte
is feeling good in his recovery from a left groin strain. Pettitte told the New York Daily News that he is "not having any problems at all." Of course he is quick to add that he hasn't done much other than play catch in the outfield. There are still a number of hurdles to cross before Pettitte can consider rejoining the rotation and the team will be cautious for reasons outlined
in a previous blog
, meaning the original timetable of 4-5 weeks may yet hold. Nonetheless, the fact that Pettitte is not having any pain is a positive sign.
Dan Haren
, the new addition to the
Los Angeles Angels
' pitching staff, suffered a bruised right forearm when he absorbed the brunt of a comeback line drive Monday. Haren will be evaluated Tuesday to ensure that this is indeed just a soft tissue injury to his throwing arm. Obviously any sort of bone injury would translate to significantly more missed time. Not what the Angels want to see happen the day after they make a trade.
From my mailbag:
Adam (Los Angeles):
Maybe a paragraph on Andruw McCutchen would be nice.
Stephania Bell:
Thanks, Adam, for writing. Hopefully you were able to sneak McCutchen into your fantasy lineup for this week! But for those who may still be wondering about the nature of his injury ...
McCutchen suffered an injury to his AC (acromioclavicular) joint when he made a diving catch in the outfield. The AC joint is where the acromion (tip of the shoulder) meets the clavicle (collarbone) and is easily sprained (meaning the ligaments that support the joint are injured) by a fall onto the point of the shoulder. An injury here makes overhead movement difficult, but general soreness around the shoulder could potentially limit most baseball activities, including batting. Because McCutchen made his return to the
Pittsburgh Pirates
' lineup Sunday, it confirms the original projection of a mild injury and unless he happens to dive and land on it exactly the same way, he should be fine going forward.
April, 19, 2008
4/19/08
1:56
PM ET
By
Stephania Bell, ESPN.com
| ESPN.com
First-timers and familiar faces head to the disabled list this week as the injuries continue to rack up in baseball, especially in the pitching department. Not that everything is gloom and doom, though; there are a few folks who are recovering from their injury stint who have return dates on the horizon. What's new in the world of injuries? Let's take a look.
[+] Enlarge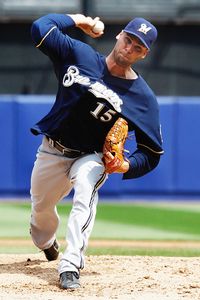 Nick Laham/Getty ImagesSheets and injury go together, unfortunately, like peanut butter and jelly.
Ben Sheets, SP, Milwaukee Brewers:
The all too familiar combination of the name "Sheets" and the word "injury" is back in print. Sheets, who is off to a fabulous start for the Brewers this season with three victories, left Friday night's game in the sixth inning with what is being called "tightness" in his pitching arm. ESPN reports that Sheets felt tightness in his right triceps and even after the game, while all wrapped up in ice, Sheets acknowledged that he was "really sore." He referred to his discomfort as a "kind of crampiness in there." In fact, Sheets began feeling soreness in the triceps Monday, the day after his victory over the Mets. The soreness never really dissipated over the week and the Brewers, comfortably ahead in the sixth inning on Friday, decided to pull Sheets and avoid risking further injury. Sheets' concern over this latest setback may be explained by the fact that his current symptoms are located near where his pain was when he tore his latissimus dorsi muscle in 2005, according to a report in the Milwaukee Journal-Sentinel. That problem lingered into the following season, so naturally Sheets is gun-shy about anything that feels remotely similar. In addition to the latissimus injury, over the past two years Sheets has dealt with a groin strain and a significant finger injury, all of which have amounted to a good stretch of missed time. It is unclear at this point how much time, if any, Sheets will miss with this latest ailment, but the team will continue to evaluate him over the next few days. Fantasy owners who drafted Sheets had to know there was an associated injury risk, and although it is not yet panic time, be sure to secure a backup.
Peter Moylan, RP, Atlanta Braves:
The Braves have to be wondering where the black rain cloud came from that seems to be hovering over their pitching staff. After
Rafael Soriano
went on the disabled list with tendinitis in his throwing arm, the team turned to Moylan for relief. That turned out to be short-lived, because pain in Moylan's elbow after pitching April 11 led to testing which revealed damage to his ulnar collateral ligament (the Tommy John elbow ligament) associated with a bone spur. Moylan paid a visit to Dr. James Andrews, who confirmed the team's findings and suggested Moylan attempt a two-week rehabilitation period to see if he could calm the symptoms and pitch again this season. Although Moylan has said the arm has felt a bit better over the past week, the team is not overly optimistic, and it's likely Moylan is ultimately facing reconstructive surgery on his throwing elbow. For his part, Soriano has thrown from flat ground without any ill effects this past week, and should begin throwing from a mound this week as part of his rehab progression. He is eligible to come off the DL on April 22, and he is confident he will be ready to go, but keep in mind, every step in the progression is more stress on the throwing arm. Until we see the evidence that Soriano can handle the increased workload, it appears
Manny Acosta
will most likely serve as the primary closer.
Carlos Pena, 1B, Tampa Bay Rays:
Pena complained of right hamstring tightness Thursday when the Rays faced the Twins, and was removed after the fourth inning as a result. The good news is that Pena did not feel any pain at the end of the game, according to a report in the Tampa Tribune. There was no audible "pop," or anything else that would suggest a serious injury here. As Pena said, he may just have exceeded his "speed limit" and his leg gave him a warning. The Rays have to be somewhat relieved since Pena has jumped out to such a strong home run start. He was held out of Friday's game, largely as a precautionary measure, but he may return to DH this weekend, according to an Associated Press report. The team is wise to give him a few extra days of avoiding hard running so this does not evolve from a minor episode of tightness to a major muscle injury. In the big scheme of things, fantasy owners should not be too concerned about this, because it appears to be just a minor setback.
In brief
Tom Glavine, SP, Atlanta Braves:
All good things must come to an end. And so it is with Glavine's amazing 22-year run of avoiding the disabled list. The Braves placed Glavine on the DL Friday, retroactive to Monday, with a strained right hamstring. Although Glavine, who injured his leg Sunday, was expected to be able to pitch against the Dodgers Saturday, ESPN reports that the Braves' team physician apparently felt Glavine's body was not quite ready for competition. In the interest of keeping this from becoming a more serious injury, Glavine will rest and continue to rehabilitate the leg until at least May 1, when he is eligible to be activated. The Braves have certainly had their share of pitching woes early in the season, but as Glavine says, maybe "we're getting it all out of our system."
Jose Reyes, SS, New York Mets:
Reyes was back in the lineup Tuesday after missing several games with a strained hamstring but showed no ill effects, going 4-for-5 against the Nationals. Unfortunately he may have something new to contend with as he hit his head against Phillies' second baseman
Chase Utley
's knee during a headfirst slide Friday night. Although Reyes was tended to for several minutes after the slide, he remained in the game and finished it out. While that would suggest that the injury was not serious, it is worth watching to see if the Mets hold Reyes out at all through the remainder of the series.
[+] Enlarge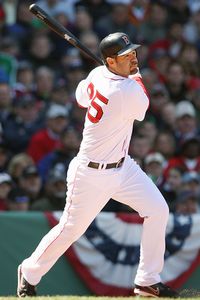 Elsa/Getty ImagesIf he continues his progress, Lowell could be hitchiking in no time.
Mike Lowell, 3B, Boston Red Sox:
The Boston Globe is reporting that the swelling in Lowell's sprained thumb has decreased significantly to the point where he may be able to start swinging a bat soon. There are still a number of rehab steps for Lowell to take, of course. He will begin by hitting from a tee, then progress in batting, then begin fielding exercises, with the ultimate progression to situational exercises, such as diving for balls. Manager Terry Francona told the Globe he did not expect Lowell to be ready to return when he is eligible to come off the DL (Friday), but that is not a big surprise given Lowell's initial timetable was a range from two to four weeks. Nonetheless, the improvement in the swelling is significant because that can be the biggest barrier to progressing activity after this type of injury.
Your questions
Since I have had so many outstanding questions in my Friday chats, and we never have enough time to answer them all, I decided to incorporate some of your questions into my blog each week. Many people are wondering about the long-term ramifications of
Pedro Martinez
's hamstring injury, including this writer:
JimBob (Wash DC):
Hi Stephania, My question relates to Pedro Martinez. ... How serious is his injury, is it a universal injury or is it related to his age, is it going to be a reoccurring injury and/or indicative of other injuries to come, and how do you value him (upon his return) with reference to other pitchers (e.g., is he at the level of Peavy, Billingsly, or
Randy Johnson
)? Thanks!
Stephania:
You are asking a great question, because it reflects all of the different variables you have to consider when evaluating Pedro's situation. Yes, hamstring injuries are universal in the sense that they affect everyone. We have seen pitchers, who rely on the hamstring for trunk and body control during ball delivery and follow through, suffer a strain here. We also have seen hitters suffer hamstring strains, generally during baserunning, because they use the muscle for speed and power. The degree of injury can vary widely, ranging from tightness (which suggests a minor strain or microtearing) to an audible pop, which suggests a more significant injury. The location of the injury can vary as well, from the tendinous region (where the muscle anchors to the bone) which can be near the top, near the pelvis, or near the bottom portion, near the knee to the muscular portion, which is usually felt in the middle of the thigh. Age is relevant in the sense that it can take longer for these injuries to heal in an older athlete, although that is not exclusively the case. The degree of injury and the athlete's level of fitness and flexibility all play a role. In Pedro's situation, perhaps the most concerning thing is the fact that he is dealing with a shoulder that has come off of an extensive rotator cuff repair. He simply cannot throw as hard as he used to, and he relies on his core strength and his legs to help him deliver the ball effectively and offload the arm. If his leg is not at full strength, it potentially compromises his arm. In my estimation, this is why he will not return until the team is convinced his leg is at full strength, and why we heard earlier this week that his return could be delayed until June. I think his value drops as a result of these factors, and even prior to this injury, we did not really expect him to go deep into games, which may mean less "wins" for your fantasy team. I think he is highly motivated to return, which is a positive for him, and he already came back from a shoulder surgery from which few recover. But the physical limitations are what they are, and as a result you need to temper your expectations for his performance, whenever he makes it back.
Thanks for all the great questions and I will keep posting them here on a weekly basis. Best of luck this week and may all your fantasy players stay healthy!!!