Stephania Bell:

Bernard Berrian
October, 29, 2009
10/29/09
5:16
PM ET
We're just about halfway through the season and it's a key time for fantasy football teams to rally. Almost every team, no matter how poor the performance has been so far, has a shot to make the playoffs. So for those of you struggling out there, don't give up! Go make some trades, hit the waiver wire, dodge the injured players (and right now this may be the biggest challenge) and get your team back in it!
Once again there are six teams on bye this week --
Cincinnati Bengals
,
Kansas City Chiefs
,
New England Patriots
,
Pittsburgh Steelers
,
Tampa Bay Buccaneers
and
Washington Redskins
-- so fantasy owners continue to scramble to find worthy replacements.
Here are some status updates to help you shape your roster as we look ahead to Week 8.
Quarterbacks
Matthew Stafford, QB, Detroit Lions:
Last time we were discussing Stafford, there was some question as to whether he was getting a second opinion on his ailing right knee. No matter what happened in the background, Stafford has continued with a conservative treatment approach and returned to practice on a limited basis with his team this week. The good news here is that he has been able to practice three days in a row. When Stafford tested his knee in light practice two weeks ago, his knee did not respond favorably and he could not practice the following day. If Stafford continues to practice daily and is able to increase his activity through the remainder of the week, there is a good chance that he will return as the starter when the Lions host the
St. Louis Rams
this weekend.
The biggest challenge following a patellar subluxation (Stafford's reported injury) is regaining adequate quadriceps strength to allow normal mobility while minimizing swelling. The two go hand in hand as swelling around the kneecap will effectively shut down the function of the quadriceps muscle. Stafford, even if he plays, may not yet be at full strength, which may be reflected in his overall mobility. As long as he is mobile
enough
to protect himself and make plays and as long as he is not regressing in response to activity, it seems likely that he will be back under center.
Trent Edwards, Buffalo Bills:
Edwards is still on the mend from his concussion, although he did make a return to some limited practice Wednesday. The Bills are planning to have
Ryan Fitzpatrick
start and have indicated that Edwards will not even dress as the emergency quarterback. The Bills have a bye in Week 9, so this will extend Edwards' opportunity to recover. Whether he returns as the starter after that point remains uncertain.
Aaron Rodgers, Green Bay Packers:
Rodgers again appears on the injury practice report this week because of a sprained foot that continues to cause him some discomfort with certain movements. Obviously the foot did not limit him in last week's contest and the expectation is that he will start against the
Minnesota Vikings
this week. The team is no doubt limiting his practice time to ensure that the condition does not worsen in advance of the game. Fantasy owners can count on him playing on Sunday, as if there were really ever any doubt.
Eli Manning, New York Giants:
Manning is worth including here simply for the fact he has been removed from the Giants' injury report and he has returned to full practice with the team. Manning, despite some offensive struggles, has maintained that his foot has been improving over the past few weeks, which is a credit to how the team's medical staff has helped him manage his plantar fasciitis. While it is perhaps too optimistic to say the condition is entirely behind him (there is always the possibility that it can flare up again at some point), this is certainly encouraging news. It also removes any questions about his status as a starter for this week.
Running backs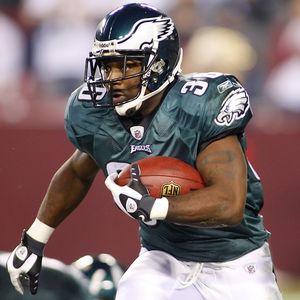 Geoff Burke/US PresswireThe Eagles will take great caution with Brian Westbrook's concussion.
Brian Westbrook, Philadelphia Eagles:
Westbrook has not practiced this week since suffering a concussion Monday night and is looking doubtful to rejoin the team for Sunday's big divisional matchup against the New York Giants. While Westbrook's status is being evaluated daily and the team has not yet ruled him out, they are certainly going to use every precaution when determining his availability. According to the Philadelphia Daily News, Westbrook still reported headache symptoms Wednesday, and as is protocol, will not be cleared to exercise until all of his symptoms resolve. Once he resumes aerobic exercise, he will continue to be monitored for any return of symptoms. If all goes well, his activity will be progressed accordingly.
Philadelphia head athletic trainer Rick Burkholder serves on the NFL concussion committee and provided some excellent insight as to how players are managed following a concussion. Burkholder told the Daily News that once Westbrook's symptoms clear, his response to exercise will be monitored and his cognitive testing scores will need to return to baseline levels. Perhaps most importantly, Burkholder reiterated a couple of very important points. First, the loss of consciousness that Westbrook suffered is not the determinant of whether or not he will play this week, but, as Burkholder points out, his status is "really based on the symptoms." Concussions can occur without loss of consciousness and that factor alone does not provide an estimate as to how significant the injury actually is. It is truly in retrospect, based on how the athlete recovers from such an incident, that a level of seriousness can be established.
This serves as an important reminder that all concussions are brain injuries and, as such, warrant serious treatment. There is no "toughness" meter on an athlete when it comes to return to play following such an injury; it is a medical decision based on a collective measure of the aforementioned factors. While Westbrook has shown time and again that he can perform well despite the presence of various joint ailments, this injury simply does not fall into the same category. At this point fantasy owners should prepare for
LeSean McCoy
to see the majority of the action against the Giants.
Ahmad Bradshaw, New York Giants:
By now fantasy owners have noticed a pattern with Bradshaw, limited practice early in the week followed by showing up and playing well on Sunday. In this column, we have talked about Bradshaw's ongoing management of an ankle injury that he has dealt with since his college days, but that ankle injury has been compounded by a foot injury he sustained earlier this year.
This week that foot injury resulted in a visit to North Carolina to consult with Dr. Robert Anderson, one of the country's leading foot and ankle specialists and a team physician for the
Carolina Panthers
. The Newark Star-Ledger reports that Bradshaw announced that he has a crack in the fifth metatarsal (the long bone of the forefoot that connects to the base of the pinkie toe) of his right foot. The crack was not a new discovery (Bradshaw indicates that X-rays about a month ago revealed the crack, which he reportedly injured in March); the important result of the consultation was support of Bradshaw's current treatment plan. Bradshaw has been in a walking boot during much of the week, then sheds the boot for Friday practice and game time.
There is always the risk that the crack becomes a complete fracture (where the bone breaks all the way through), but that risk is no greater now than it has been since the injury occurred. That no doubt was a consideration in determining that Bradshaw could continue to play. If it takes a turn for the worse, then Bradshaw will require immediate surgery. If it continues as is, then Bradshaw can continue with the current routine and will likely face the prospect of surgery at the end of the season. Fifth metatarsal fractures are not uncommon in athletes, given all the stress placed on the outside of the foot with running, pivoting and cutting. Many athletes have surgery and go on to a complete and uneventful recovery, so ultimately this should not be a huge issue for Bradshaw. Based on how he has managed so far, fantasy owners should continue to expect the same production out of Bradshaw and hope that he is able to proceed without a setback.
Donald Brown, Indianapolis Colts:
At this point, Brown's shoulder appears as if it will keep him sidelined this weekend when the Colts host the
San Francisco 49ers
. Team president Bill Polian has already said that he does not expect Brown to play this week. Brown suffered what the team called a very painful left shoulder contusion and has since been referred to as a sprain. Brown told the Indianapolis Star earlier in the week that he had dealt with this injury previously in college. Despite Brown's optimism that he would return to practice Wednesday, that clearly did not happen and it does not seem that he will be ready to take the field. Early in the week, Polian hinted at this when he spoke on his radio show about running back
Mike Hart
"playing a big role" if Brown were to be out. As of now, fantasy owners should expect the Colts' running back one-two punch to be
Joseph Addai
and Hart.
Wide receivers
Calvin Johnson, Detroit Lions:
Johnson's right knee has benefited from an additional week of rest and the early murmurings are that he will return this weekend. Johnson did not practice early in the week, which suggests that he is not fully healed from his injury (the specifics of which have not been disclosed by the team). He did, however, do some side work on those days and was then able to return to at least some level of practice Thursday. Tom Kowalski of Mlive.com reported that Johnson was participating in some drills during the portion of practice open to the media Thursday and did not appear "hobbled" by his knee while running routes and catching passes. As always, the next step is assessing his response to activity. If Johnson is back in practice Friday, it is a good sign that the Lions plan to have him on the field Sunday against the struggling St. Louis Rams' pass defense.
Reggie Wayne and Anthony Gonzalez, Indianapolis Colts:
Despite suffering a strained groin in Week 7, Wayne hopes to be able to play this week against the San Francisco 49ers. He did not practice Wednesday, but that was expected. If he does practice this week, it may be on a limited basis so as not to risk exacerbating the strain, in the hopes that he can run full speed when Sunday comes. There is a good chance that his availability will not be determined until Saturday.
As far as Gonzalez goes, he has yet to return to team practice and is not expected to play this weekend. It is worth watching to see if Gonzalez can get some light practice in before the week is through and if he responds well, it may signal that a return is possible in Week 9. It is too early to count on that by any means, so fantasy owners should continue to plan accordingly.
Andre Johnson, Houston Texans:
Johnson is not lacking confidence in his ability to return this week, telling the Houston Chronicle, "I feel like I'll be out there unless they cut my leg off." Johnson was held out of practice Wednesday but was able to do some running, telling reporters that his breathing felt normal. Johnson then returned to practice Thursday, and coach Gary Kubiak told the Texans' official Web site that he took "probably pretty close to almost all the reps he normally takes and didn't seem to have any problems." Johnson will have some follow-up tests to ensure that his bruised lung is healing and potentially he may have to wear some extra padding if he does suit up Sunday. Johnson summed up the primary concern when he told the Chronicle, "I think they're scared of me taking another hit in that spot." The fact Johnson is not having pain and is already practicing at a high level is certainly encouraging and if all continues well, it looks as if he could be available Sunday.
DeSean Jackson, Philadelphia Eagles:
After an outstanding first-half performance Monday night, Jackson was limited in the second half with a foot sprain. He did not practice Wednesday but did return to some level of practice Thursday. The fact Jackson was able to continue to play Monday night after the injury, even on a limited basis, was a good sign. Returning to practice Thursday is an even better one. Fantasy owners should expect that he will be in the lineup to face the New York Giants this weekend.
Jerricho Cotchery, Brad Smith and David Clowney, New York Jets:
Wow. Three of four primary receivers for the Jets are on the practice injury report this week. So who will be out there Sunday when the Jets host the
Miami Dolphins
? For starters, Cotchery's strained hamstring that caused him to miss Weeks 6 and 7 looks as if it will not keep him out in Week 8. Cotchery returned to practice Wednesday on a limited basis and looked "sharp" in the portion of practice open to the media, according to the Newark Star-Ledger. We know from past experience that return to full speed is a gradual progression following a significant muscle strain, but there are good early signs that Cotchery will be available this weekend.
Teammate Brad Smith, who has been nursing a strained quad, was also back in practice on a limited basis this week. The team has not given many hints as to Smith's status, but we should have a better idea after Friday's practice. Meanwhile Clowney, who has had the opportunity to start opposite
Braylon Edwards
while Cotchery and Smith have been hurt, came out of Week 7 with his own ankle injury. Clowney did not practice Wednesday but did return Thursday, making it appear as if he will be available Sunday.
Bernard Berrian and Percy Harvin, Minnesota Vikings:
Berrian strained his left hamstring in Week 7 and did not practice Wednesday. Berrian missed some preseason time with a right hamstring injury and it seemed to hamper his development as a target for
Brett Favre
.
Sidney Rice
was the beneficiary and has been clearly the more productive deep receiver for the Vikings. Even if Berrian proves well enough to play this weekend, it's hard to imagine those roles changing much.
Harvin has been challenged by a shoulder injury but it hasn't seemed to affect his ability to have an impact on the field. The good news for the Vikings is that Harvin is off the injury report this week meaning there is no doubt he will be on the field when the Vikings visit the Green Bay Packers.
Anquan Boldin, Arizona Cardinals:
Boldin was limping by the second half of last week's game as his right ankle sprain clearly became problematic. Boldin was limited in practice Wednesday but if he played last week there's no reason to think he'll be out this week, unless his ankle takes a turn for the worse.
Be sure to check back on Saturday for post-Friday NFL injury report updates on all your fantasy players heading into the weekend.
See you at the injury chats (Tuesday 11:00 a.m.-noon, Friday 11 a.m.-noon and Sunday pre-game (10:00-10:30 a.m.). And check out Fantasy Football Now on Sundays at ESPN.com from 11:30 a.m. ET to kickoff for last minute inactives, rankings and more!
October, 27, 2009
10/27/09
2:50
PM ET
There may have been as many big injuries on Monday night as there were in the rest of the Week 7 contests. Without further ado, we take a look at some of the bumps, bruises and breaks that will be impacting fantasy owners in Week 8.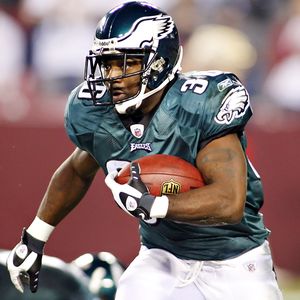 Geoff Burke/US PresswireOnce again, Brian Westbrook is a question mark for a game, except this time it's for a concussion.
Brian Westbrook, RB, Philadelphia Eagles:
It wasn't his ankle and it wasn't his knee. Actually, it was far scarier. Westbrook took a
London Fletcher
knee to the head Monday night and lay motionless on the field for a few moments. Eventually he was able to walk off the field, which led everyone to breathe a sigh of relief, including his brother Byron, a player for the
Washington Redskins
, who was standing close by while the medical staff tended to Brian. The early word on Brian Westbrook, according to the Philadelphia Daily News, is that he could very well miss Week 8. Although there is no official status listing for the team, fantasy owners should prepare for
LeSean McCoy
to start.
DeSean Jackson, WR, Philadelphia Eagles:
Jackson suffered a foot injury in the first half of Monday night's game and underwent X-rays at halftime. The good news is that Jackson was obviously cleared to play in the second half and did return, although he was limited. It remains to be seen whether the injury will limit him in practice this week. Coach Andy Reid indicated after the game that Jackson suffered a foot sprain. Keep an eye on Jackson's status, but for now the early news is good.
Andre Johnson, WR, Houston Texans:
Johnson suffered a lung contusion, according to coach Gary Kubiak, who referred to Johnson's status as day-to-day. It's no secret that Johnson is a tough player who does everything he can to stay on the field. On Sunday, he remained in the game after taking a knee to the back that made it difficult for him to catch his breath, according to the Houston Chronicle. In fact, it wasn't until Johnson was spitting up blood when it became obvious there was something more serious going on. The medical staff removed him ... but still had to hide his helmet to keep him from trying to get back on the playing field. Now Johnson will be forced to rest to allow the lung to heal itself. Kubiak has said that Johnson does not need to practice this week in order to play Sunday. He does, however, need to be fully healed so as not to risk more serious injury. There will no doubt be ongoing tests throughout the week, including blood tests to ensure that Johnson is not continuing to bleed internally. Stay tuned for late-week updates. This may come down to the wire.
Reggie Wayne, WR, Indianapolis Colts:
Wayne injured his groin last week and the question, naturally, is how severe is the strain and will Wayne be able to play Sunday? At this point it's unclear how serious the injury is, and the Colts are calling Wayne day-to-day. According to the Indianapolis Star, the team plans to see how Wayne responds to treatment this week and will gauge his status accordingly. Muscle strains are always tricky when trying to predict how long the healing time will be, and by now everyone knows the risks of trying to return too soon. With
Anthony Gonzalez
just (maybe) returning to practice this week, the Colts' receiving corps could be featuring more of
Pierre Garcon
and
Austin Collie
.
Bernard Berrian, WR, Minnesota Vikings:
Berrian has struggled to be a significant member of the receiving corps for the Vikings this season. Early in the season he was dealing with a hamstring strain, which prevented him from practicing and developing a rapport with new quarterback
Brett Favre
. Just when it appeared that Berrian was regaining his speed, he suffered another hamstring strain, this time to his opposite (left) leg. With
Sidney Rice
seemingly the favorite target for Favre, this has to be a disappointment for fantasy owners. Berrian says that he expects to play this week, but fantasy owners may want to go ahead and plan for a replacement anyway.
Chris Cooley, TE, Washington Redskins:
Cooley suffered a break in his ankle Monday night, which may well signal the end of his season. Coach Jim Zorn indicated that the fracture is on the inner side of the tibia (the large shinbone whose endpoint forms the inside of the ankle joint). Although Zorn would only say that Cooley would be out for a while, the Washington Post's Jason Reid reports that a source indicated Cooley's season is done. Meanwhile, ESPN's Adam Schefter is reporting that Cooley will undergo surgery later this week. With that fracture and surgery, followed by a period of immobilization for healing and rehab to regain range of motion and strength of the ankle, the timeframe for recovery is lengthier than the season allows. Time for fantasy owners to start searching the wires.
Other quick hits:
• Indianapolis Colts running back
Donald Brown
suffered what the team is calling a painful shoulder contusion. His status for Sunday could be in jeopardy.
•
Buffalo Bills
quarterback
Trent Edwards
has already been ruled out for Week 8 as he continues to recover from his concussion. It's not clear that his job is secure even when he does recover well enough to return, so fantasy owners should move to clear him from their bench.
•
New York Giants
tight end
Kevin Boss
says he has soreness in his neck and shoulder but maintains that he did not suffer a concussion following a big hit on Sunday. According to the New York Times, Boss said that "anytime you get hit that hard, definitely the lights turn off for a second ... but I came to pretty quick." Interesting. His remarks make his injury sound suspiciously concussion-like. The good news? His ankle (which caused him to miss a week earlier in the season) is fine.
•
New York Jets
running back
Leon Washington
has been placed on injured reserve after undergoing surgery to repair his compound leg fracture (Washington fractured both lower leg bones -- the tibia and fibula -- and compound means the bone pierced the skin). This is a tough injury with a lengthy rehab to follow. According to the Newark Star-Ledger, the Jets are encouraged that Washington is in good spirits post-surgery and they hope to have him back for mini-camps.
See you at the injury chats (Tuesday 11 a.m.-noon, Friday 11 a.m.-noon and Sunday pregame 10-10:30 a.m.) and we'll have the latest injury updates affecting Week 5 in the Saturday morning blog!
December, 27, 2008
12/27/08
1:32
PM ET
By
Stephania Bell, ESPN.com
| ESPN.com
If you're still in the hunt, there's no doubt that this is THE week for you. Make or break. Do or die. Sink or swim. Fortunately for those of you still playing, most NFL teams have more at stake than the
Indianapolis Colts
, so at least some starters are worth starting. But not everyone will see a full four quarters of action. Teams are still exercising caution when it comes to injured players, and so should you. Here's how things are shaping up for the week to end all fantasy weeks, Week 17.
Marion Barber, RB, Cowboys:
If Barber is one of your fantasy players, you know the drill by now. Yes, this is a must-win game for the Cowboys. But no, Barber did not do anything exceptional in practice this week to give any more confidence that he is approaching full strength. Barber was still a limited participant throughout the week and is listed as questionable. The Dallas Morning News reports that Barber actually split some reps with
Tashard Choice
when practicing with the first team. This is a sign of progress. Don't let that fool you, though. Coach Wade Phillips has been hinting throughout the week that Barber is clearly not at full speed and has been wondering aloud whether resting him earlier would have had him healthier sooner. The effect of Barber's still-ailing foot is undeniable; he simply has not been able to push off and cut in his normal fashion. He will be a game-time decision again this week, and will likely be in uniform, just as he has been the past couple of weeks. Choice, however, will continue to carry the bulk of the running game, whereas Barber, if he plays, likely will provide only a limited contribution.
Brandon Jacobs, RB, Giants:
Sure, coach Tom Coughlin wants his starters to stay in the rhythm of the game. He certainly does not favor rhythm over long-term availability, though, and in the interest of ensuring that Jacobs does not take a step backward with his knee, he will protect him. Jacobs is listed as questionable, but he did not participate in Friday's practice and looks as if he will see extremely limited time, if any, on Sunday.
Derrick Ward
will probably see the majority of the action in the run game for the Giants this weekend.
Kevin Boss, TE, Giants:
Boss has shaped up to be a decent fantasy tight end option, but don't count on him this week. He is nursing not one but two injuries -- an ankle sprain and a concussion -- and he is listed as doubtful after missing practice all week. Expect the Giants to allow him to sit this one out, as you should on your fantasy team.
Frank Gore, RB, 49ers:
Gore has missed the past two weeks of your fantasy playoffs with his sprained ankle. This week he is listed as probable, which, as everyone knows by now, means "virtually certain to play." So you're excited if you're a Gore fantasy owner, right? Well, not so fast. Despite the encouraging status upgrade, Gore has been able to practice only on a limited basis, and according to Matt Maiocco of the Santa Rosa Press Democrat, Gore's status remains a game-time decision. Maiocco reports that 49ers coach Mike Singletary says he does not want Gore to play if he is not fully healthy, because he does not want Gore to risk reinjury. In fact, Singletary suggests that the fact Gore is near the 1,000-yard mark for the season will not be a factor. Singletary has already proved himself to be a great motivator, and while I do believe he doesn't want a gimpy Gore on the field Sunday, he also knows how much playing in this season finale means to Gore. Singletary no doubt wants to see more evidence before Sunday that Gore is ready to be on the field. I think he will see that in the pregame warm-ups, and there are already some encouraging signs. Maiocco reported that Gore looked good (not great) running Friday but was able to do some cuts in practice (cuts are one of the more challenging skills for an unstable ankle). I expect Gore will earn his opportunity to play Sunday, but there has to be some concern about how much playing time he will see. Singletary has set the stage for some time-sharing with
DeShaun Foster
, and assuming Gore does play, it will probably be a limited role.
Anquan Boldin, WR, Cardinals:
For all the positive projections coach Ken Whisenhunt made earlier in the week about Boldin's Week 17 status, the latter part of the week has taken a different turn. Boldin is again listed as questionable with a sore shoulder, and of most concern, has not participated in practice all week. The Arizona Republic reports that Whisenhunt has said he would like Boldin to see some playing time and that he could play despite not practicing. After last week, the Cardinals need to see some positive play out of their starters heading into the playoffs. But they also need their starters to be available when the playoffs begin. The Cardinals have not issued a specific diagnosis related to Boldin's shoulder, but they have to be concerned enough about his health that he is not taking any reps in practice. Risking Boldin does not make a lot of sense, so even if he does suit up (and he is a game-time decision), he will likely be restricted to limited playing time.
Marshawn Lynch, RB, Bills:
Lynch is listed as questionable again this week with his sore shoulder and practiced only on a very limited basis. Sure, the Bills are out of playoff contention, but wouldn't it be fun for them to spoil the Patriots' chances? All things considered, it seems as if Lynch, another dreaded game-time decision, will suit up in the team's final effort of the year. Teammate
Fred Jackson
is likely to get significant opportunities, though, especially after his performance last week. In fact, Jackson may get the heavier workload of the two.
Pierre Thomas, RB, Saints:
Thomas has been an amazing find for fantasy owners this year. But the year may end a bit prematurely, as Thomas' status for this week is very much in question. Thomas, officially questionable and a game-time decision, was not able to practice all week. With the Saints out of playoff contention and Thomas nursing two injuries (back and wrist), why would the Saints place at risk the player they may view as their new feature back? According to the New Orleans Times-Picayune, the Saints will give Thomas a chance Sunday morning to see whether he is able to go, but at this point, the odds are not in his favor. Expect
Deuce McAllister
and
Mike Bell
to get the touches if Thomas is out.
Bernard Berrian, WR, Vikings:
Berrian sprained his ankle in last week's contest against the Falcons, and it has limited his practice all week. He is listed as questionable to face the Giants in a game the Vikings need to win. So what should fantasy owners expect? Well, going back to last week, Berrian was able to continue to play despite the injury, which suggests it is not terribly serious. If past performance is any indicator, remember that while Berrian was recovering from a knee sprain earlier this year, he managed to put up some of his best numbers on the year. It is not surprising that the Vikings gave him some rest during the week, and it will not be surprising if he shows up ready to go Sunday.
Derrick Mason, WR, Ravens:
Few performances have been gutsier than the ones Mason has put up in recent weeks. Playing with an unstable left shoulder that gets jostled every time he makes contact with another player or hits the ground, Mason has managed to make more big-time one-handed grabs than other big-name receivers with two healthy arms. The Baltimore Sun reported this week that in addition to the instability in the joint itself, Mason has been dealing with intense muscle spasms around the shoulder. This is not an uncommon side effect; the body does anything it can to try to protect an injured joint, usually in the form of muscle spasm or protective guarding. The spasm, or guarding, serves to compensate for the increased laxity or instability of the joint itself by securing the position of the arm. The problem is that not only are spasms painful, but they also don't allow for normal motion, so use of the injured limb (in this case Mason's arm) is awkward and restricted. This problem is not going to resolve itself before the Ravens' season is over. But it does not appear that it will be a problem that keeps Mason off the field, either. Mason, listed as questionable, has indicated that he expects to play against the Jaguars, and based on what he has done so far this season, he seems to be a man of his word. There is another variable to consider, though. If the Patriots lose to Buffalo in their 1 p.m. game, the Ravens, who play at 4:15, will have secured a playoff spot. Although Mason could still suit up for the game, the Ravens might be inclined to limit his playing time in order to protect him from further injury. Just a thought for fantasy owners out there who may want the insurance of a late-game alternative.
OUT: The following players have already been ruled out for Week 17.Dominic Rhodes, RB, Colts:
It's a matter of making sure he's healthy when it counts. This game doesn't count, so he'll watch from the sidelines. Expect
Joseph Addai
to play, but not for long.
Chad Simpson
and
Najeh Davenport
will likely divvy up the remaining running back duties.
Jeremy Shockey, TE, Saints:
Yet another ankle problem sidelines Shockey. His season is over, and
Billy Miller
will see more playing time as a result.
Good luck in Week 17! Be sure to check out our site Sunday for the pregame chats and Fantasy Football Now at noon ET.
October, 18, 2008
10/18/08
2:04
PM ET
There has been a lot of quarterback drama this week. We know that
Carson Palmer
is sitting this one out for the Bengals. We also know that
Seneca Wallace
will start in place of
Matt Hasselbeck
for the Seahawks. And finally we are getting the strong impression out of Dallas that
Brad Johnson
will indeed start, although
Tony Romo
and his broken pinkie finger are listed as questionable and he could serve as a backup.
There are a few other injuries to report that will certainly impact fantasy owners everywhere. Here's what we know as we head into the Week 7 contests.
Willie Parker, RB, Steelers:
What happened? We were so sure we would see "Fast" Willie Parker back on the field after the bye. He wanted to come back in Week 5 because he felt so good, remember? Well, that was then, this is now. Parker is now listed as doubtful and the Pittsburgh Post-Gazette has reported that Parker did not practice Friday and will not play. Teammate
Mewelde Moore
continues to start in Parker's place.
Parker had been recovering from a sprained knee; specifically he had a sprain of his left medial collateral ligament (MCL) which supports the inner aspect of the knee joint and provides critical stability for lateral motion and cutting. Parker had resumed all activities and reportedly felt good with his cutting maneuvers, one of the final "tests" for readiness to return to play following this type of injury. But then he suffered a setback earlier in the week after reportedly stepping in a hole at the Steelers' practice facility, aggravating the still-healing ligament. The big question becomes whether Parker will be ready to go by next week. It is far from a sure thing at this point.
Clinton Portis, RB, Redskins:
Portis has a strained hip flexor which kept him out of practice Wednesday and Thursday. The good news for the Redskins is that Portis was able to practice on Friday and although listed as questionable, is expected to play Sunday.
The hip flexor muscles are very strong in runners and are responsible, just as the name implies, for flexing the hip. The hip flexor generates a good deal of power in helping drive the runner forward, so with Portis likely at less than 100 percent, his explosiveness may be diminished this week. Portis has had an amazingly solid start to his season, so this has to be a great disappointment. Coach Jim Zorn said all week that he expected Portis to be available Sunday but after practice Friday, Zorn acknowledged there were deficits. "Nothing for him was absolute burst full-speed, but I saw him make some cuts both left and right."
Newly signed running back
Shaun Alexander
will be waiting in the wings to help out if needed. With Portis less than fully healthy and
Ladell Betts
out with a knee injury, Alexander could very well see some time on the field.
Other noteworthy items
&#8226
Cleveland Browns
tight end
Kellen Winslow
returned to team practice Friday after missing last week with an undisclosed illness and says he is hopeful to play. Although Winslow kept quiet as to the exact nature of the illness, the Cleveland Plain-Dealer reports that he answered "no" when asked if he could confirm that it was an infection, and added that he did not lose any weight. Both of those answers would support the idea that he is strong enough to play, but he remains listed as questionable and looks to be a game-time decision.
&#8226 After sitting out practice Wednesday following a concussion last week,
Detroit Lions
wide receiver
Calvin Johnson
returned to full practice Thursday and is off the injury report now. Teammate
Kevin Smith
still has a sore shoulder but is listed as probable and is expected to play.
&#8226 Hard as it is to believe, the Patriots' injury report actually adds more clarity to their running back situation this week. Both
Laurence Maroney
and
LaMont Jordan
are listed as doubtful and neither is expected to play Monday night. Neither Jordan (calf) nor Maroney (shoulder) practiced all week so there is really nothing encouraging about their chances of making an appearance.
Sammy Morris
and
Kevin Faulk
will continue to handle the bulk of the work.
&#8226
San Diego Chargers
receiver
Chris Chambers
remains doubtful and is not expected to play. Earlier reports out of San Diego were optimistic about Chambers' prospects this week, but ankle sprains can be tricky, and Chambers himself has been vocal about making sure he does not return too soon and risk further injury. Running backs
Darren Sproles
(ankle) and
LaDainian Tomlinson
(toe) are both probable and will play.
&#8226
Denver Broncos
receiver
Eddie Royal
is the lone bright spot on a very full Denver injury report. He is listed as probable and after fully practicing all week, his ankle appears to be much improved and he is expected to play. Meanwhile, tight end
Tony Scheffler
and running back
Selvin Young
, both of whom sat out last week, are still limited in terms of what they can do since suffering left-sided groin injuries. They are both listed as questionable, and with the extra day afforded them given that the team plays Monday night, there is some hope that they will be able to go. If they do play however, they will not be at 100 percent. Then there is wide receiver
Brandon Stokley
who sustained yet another concussion last Sunday. He too is questionable -- very questionable -- since he did not practice at all this week. It would not be surprising if he sits this one out. That means
Brandon Marshall
will remain a hot target for Cutler along with Royal. Don't worry about Marshall's surprise presence on the injury report. He had a mild groin strain but was able to fully practice Friday, is listed as probable and is expected to play Monday night.
&#8226 New Orleans finally gets some good news in the injury department. Wide receiver
David Patten
is no longer on the injury report and therefore should be expected in the Sunday lineup. Wide receiver
Marques Colston
and tight end
Jeremy Shockey
, whose joint progress from surgery we have been tracking for some time, are both listed as probable and expected to take the field Sunday. Colston and Shockey both saw limited reps in practice throughout the week. It appears Colston will get the green light while Shockey may very well be limited in his first action back Sunday as he is still on a relatively early timeframe following his sports hernia repair. The surprise name added to the Saints' list this week was
Reggie Bush
, who had soreness and swelling in his left knee according to the New Orleans Times-Picayune. This is the same knee in which Bush partially tore the posterior cruciate ligament (PCL) last year, and it is not unusual to have some intermittent swelling in a knee with an injury history. The Saints allowed him to rest the knee during the week with the idea that he would be ready to go Sunday, and coach Sean Payton told the Times-Picayune that he expects Bush, listed as probable, to "play his normal role." Bush said earlier in the week that he has been dealing with intermittent swelling since training camp. Clearly he has managed to perform just fine so far this year, so at this point there does not appear to be any major cause for concern.
&#8226 The Buccaneers are hoping that wide receiver
Joey Galloway
will be able to take the field this Sunday after missing several weeks with a foot sprain. This is the first week that Galloway has really been able to practice with the team and he appears eager to return. He is officially listed as questionable and it will come down to a game-time decision for him, based on how his foot feels during warmups.
&#8226 The
Seattle Seahawks
will likely be without the services of wide receiver Deion Brnach who continues to be unable to practice because of a bruised heel (to go along with his recently reconstructed ACL in the opposite leg). He is listed as questionable, but is really not expected to play.
&#8226 In Indianapolis, running back
Joseph Addai
will probably be watching from the sidelines this week. He is listed as doubtful, and in fact was initially rumored to have a hamstring injury that could sideline him for a couple weeks, but the team still did not officially rule him out. It appears that the team is approaching his progress day-to-day, but given that Addai could not run all week, don't expect any miracles before Sunday.
&#8226 Good news in Tennessee as wide receiver
Justin Gage
appeared to be able to run more this week. He remains listed as questionable though as he has not practiced with the team and his status will come down to pregame warmups.
&#8226 In Minnesota the news on wide receivers
Bernard Berrian
and
Sidney Rice
is better this week. Berrian has been managing to play and play well the past two weeks despite a mild knee injury so it would be no surprise if he shows up in uniform ready to go. But Rice, who has struggled with a sprained posterior cruciate ligament, told the Minneapolis Star-Tribune that he is better now and "definitely" plans to play. Both players are listed as questionable, but it appears that both will be active. Keep in mind that if Rice does play, he may be limited in his first action in nearly a month.
&#8226 We saved a spot for a kicker mention. Bengals kicker
Shayne Graham
has a groin strain, very disabling for a kicker since the position requires both extreme flexibility and power from the groin area. Graham is questionable but will likely be on the sidelines with tight end
Ben Utecht
, who is doubtful with a chest injury. Wide receiver
T.J. Houshmandzadeh
was also listed as questionable after being restricted in practice this week because of his ankle, but he did fully practice Friday and should play.
Out:
This is a list of key fantasy players, not including those who have been moved to Injured Reserve status, who are officially listed as additions to the "Out" listing for Week 7.
Carson Palmer, QB, Bengals:
We have been talking about the inflammation in his throwing elbow for a while now and after he sought a second opinion, it came as no surprise that he was encouraged to rest. Now we are hearing that he may be resting for at least another week. At least.
Matt Hasselbeck, QB, Seahawks:
The problem in his back turned out to be responsible for much of what Hasselbeck was feeling in his leg. He is undergoing aggressive rehab and the team hopes to have him back for Week 8. That may be optimistic.
Ladell Betts, RB, Redskins:
Betts has a knee injury that will sideline him this week. With teammate Clinton Portis banged up, will we see the 2008 debut of new team member Shaun Alexander?
Felix Jones, RB, Cowboys:
His status was never in question like that of his quarterback teammate. Jones has a hamstring injury, reportedly located close to where the tendon attaches at the knee, that is projected to keep him out anywhere from two to four weeks.
Brandon Lloyd, WR, Bears:
This should not be a surprise. We've been warning you for a while now that this injury looked as if it would cost Lloyd a few weeks of playing time. So far that's the case.
B.J. Askew, RB, Buccaneers:
Askew hurt his hamstring last week and
Earnest Graham
shifted to the fullback position to help out his team and watched
Warrick Dunn
get all the glory. Great for his team, bad for his fantasy owners. Well, Askew sits out this one as well, but not to worry fantasy owners, Graham resumes his normal role this week.
Samari Rolle, CB, Ravens:
Rolle is recovering nicely from his neck surgery and is reportedly out of his protective cervical collar, moving freely. He's still too soon out from surgery to be back on the field though. Plan on at least a couple more weeks.
Be sure to check out our site Sunday for pregame chats and Fantasy Football Now at 12 p.m. EST. Good luck in Week 7!
October, 4, 2008
10/04/08
3:06
PM ET
Here's what we know as we head into the Week 5 contests.
Brian Westbrook, RB, Philadelphia Eagles:
Westbrook is listed as questionable again this week, but there is more optimism he will indeed play. Westbrook practiced with the team on a limited basis throughout the week but was a full participant in Friday's practice, lending credence to the idea that he will be ready to go Sunday.
Westbrook injured his ankle in Week 3 as he tried to hurdle teammate
Tra Thomas
and ended up catching his right foot awkwardly in the turf. Although reportedly imaging tests came back negative, Westbrook described his injury as closer to a high ankle sprain than anything else. It is fortunate for Westbrook and the Eagles that it was a mild version, as high ankle sprains can be particularly difficult to recover from, especially for running backs.
Last week, Westbrook tested the ankle in pregame warm-ups but, after discussion with the medical staff, determined he was not ready to go. During his weekly radio show Monday evening, Westbrook explained that even though straight-ahead running felt OK, he could not cut or weave Sunday. Show me a running back who can be effective without cutting or weaving, and I'll show you one who isn't a top draft pick on fantasy football teams worldwide. The decision to rest Westbrook was a wise one, as it improved his chances of performing well in this outing and, more importantly, helped decrease the risk of re-injury. Bear in mind that Westbrook's ankle is not 100 percent and there always is the possibility he will tweak it during the game. It's not enough of a concern to worry fantasy owners; after all, anyone can get injured on any given Sunday. Check pregame inactive lists to be sure, but as of now, expect Westbrook to start.
[+] Enlarge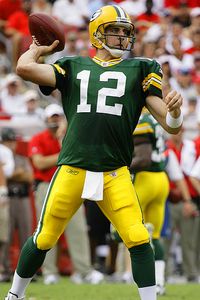 Ronald C. Modra/Sports Imagery/Getty ImagesRodgers will need to have full arm strength if he wants to be effective Sunday.
Aaron Rodgers, QB, Green Bay Packers:
Rodgers sprained his shoulder last Sunday. This much we know to be true. And that's about where it ends. Rodgers, who was held to very limited practice Wednesday and Friday (and no practice Thursday), will be a game-time decision for the Packers. His questionable status implies there is a 50-50 chance he will play. And that estimate seems to reflect exactly what Packers coach Mike McCarthy is saying.
McCarthy said in his Friday news conference that he is "preparing to go either way," meaning he will insert either Rodgers or rookie
Matt Flynn
into the lineup as quarterback once he sees how Rodgers looks during warm-ups. It really does come down to how Rodgers "looks," because Rodgers himself said the pain is "potentially tolerable." The big issue is arm strength, which, as of Friday, he still did not have. Rodgers, who is known for having a very strong arm, was able to throw only lightly Friday. McCarthy wants to give Rodgers every opportunity to start Sunday, hence the decision to allow his shoulder an additional 48 hours of rest and recovery. If Rodgers can go on the field and prove to himself and his coaching staff he can make the necessary throws, he will start.
The Packers have not been more specific in discussing Rodgers' ailment, calling it only a "shoulder sprain." Since there is more than one joint at the shoulder -- the glenohumeral joint (the ball and the socket of the shoulder) and the acromioclavicular (AC) joint (the point of the shoulder that, when injured, often is referred to as a separated shoulder) -- it is unclear where the problem lies. Either way, there is little chance playing could make Rodgers' injury worse. That is why it really comes down to function. Can he bring his arm over the top and put enough on the ball to deliver it as needed, not only with adequate distance, but also with accuracy?
Although Rodgers suggests pain will not keep him out of the game, pain does have a potential role in his ability to perform. Pain inhibits muscular contraction; it is part of the body's way of protecting you from yourself. When there is an injured part, forceful muscular contraction could result in increased damage to that injured part. Through complex neurological mechanisms, the body comes to a simple solution: Don't allow the muscles to contract at 100 percent strength, therefore prevent something worse from happening. As the tissue heals itself, the pain and the inflammation diminish, and this mechanism becomes less and less of a factor. For that reason, allowing Rodgers a couple of extra days of recovery and treatment might make the difference in allowing him to function well enough to play.
That said, even if Rodgers is well enough to play, he will not be at 100 percent. This could show up as fatigue in the arm as the game goes on or as ineffectiveness if he absorbs a lot of contact and finds himself hitting the ground with that sore shoulder. His offensive line will have to make an extra effort to protect him in order to keep him in the game, and his best chance of lasting will come if the Packers can balance their running and passing games.
Fantasy owners and Packers fans will just have to wait and see whether 48 hours are enough.
Carson Palmer, QB, Cincinnati Bengals:
Palmer is listed as questionable, but all signs after Friday's practice point to him starting in Dallas. Palmer is recovering from an inflamed right (throwing) elbow and was held to very limited activity and lots of treatment early in the week. Friday, however, was a different matter, as Palmer was a full participant in practice, making short, intermediate and long throws, according to the Bengals' Web site.
Coach Marvin Lewis said that if Palmer had no setbacks Saturday, "all systems are go." No news appears to be good news, and Palmer looks as if he will start Sunday. Even if he does start, Palmer's elbow likely is not 100 percent recovered. If he takes a lot of hits, as has been the case so far this year, or if he is forced to throw hard and throw often, he could start to feel the elbow acting up. If the pain returns or if his throwing becomes ineffective, Palmer will be forced to make an early exit. Palmer wants to play, but all along, the concern he's expressed after discussions with the medical staff is ensuring that this does not turn into a more serious, lingering problem. Palmer might start, but he might not finish.
Willis McGahee, RB, Baltimore Ravens:
McGahee is listed as questionable and will be a game-time decision Sunday. The consolation for fantasy owners is that the Ravens play a 1 p.m. ET game. The downside is that a running-back-by-committee situation might be only enhanced by McGahee's latest setback. He wants to play, but given that he still is recovering from a shot to the ribs on a short week, the bulk of the carries might shift to the
Le'Ron McClain
-
Ray Rice
tandem.
McGahee has demonstrated his toughness, suiting up for Monday night's game despite suffering a lacerated eyelid and a poke in the eye in Week 3. His eye was not completely healed, as was evident if you saw him standing on the sidelines late in the game, helmet off, blood still visible in his eye. He was on the sidelines because he was forced out early after taking a bruising hit to the chest. In the absence of a fracture, the primary limitation from bruised ribs is pain, hence the team's choice to wait to make a decision until Sunday, allowing for maximum recovery. For his part, McGahee told The Baltimore Sun he just wants to finish a game, something he has not been able to do yet this year with all the physical abuse he has endured. Let's see. The Ravens play the tough
Tennessee Titans
defense Sunday. Sorry, Willis, this might not be the week.
Ben Roethlisberger, QB, Pittsburgh Steelers:
Despite his questionable tag, various reports suggest Roethlisberger is likely to start Sunday night's game against the Jaguars. The Pittsburgh Tribune-Review is reporting that coach Mike Tomlin said Thursday, "I think he's going to be fine." Roethlisberger still is dealing with soreness in his throwing shoulder since spraining his AC joint in Week 1. The Pittsburgh Post-Gazette reports that Roethlisberger received an injection in his shoulder Thursday, which probably is what allowed him to practice for the first time all week on Friday.
Of course Big Ben is still sore! He keeps getting hit, knocked down and otherwise buried by opposing defenses. The more he lands on a joint in which the ligaments are trying to heal, the harder it is for them to do so. I know, I know, it does not take a medical degree to figure this out. But it's worth highlighting why it is so difficult for Roethlisberger to truly improve from week to week; he's lucky to just maintain. Something tells me it won't get much easier against the Jags, despite some of their own defensive injury woes. If Roethlisberger is struggling, don't be surprised if Tomlin trots out
Byron Leftwich
to face his former team. Tomlin has been expressing confidence in Leftwich and his ability to step up if needed all week. Makes you wonder whether he has a plan.
Other noteworthy items
&#8226 Philadelphia Eagles tight end
L.J. Smith
is listed as questionable but is expected to play. Smith sat out this past Sunday with a back injury but was able to fully participate in practice throughout the week. Teammate
Donovan McNabb
still is sore from the chest bruise he sustained in Week 3, which is why the team limited him in practice early in the week. McNabb practiced fully Thursday and Friday and is listed as probable, indicating the Eagles expect to see him on the field.
&#8226 Tennessee Titans running back
LenDale White
is listed as probable with a sore shoulder. This shoulder ailment is the one that caused him to exit practice early Sept. 25, but he proved this past Sunday that he could play through it. The team held him out of practice Wednesday and Thursday, no doubt raising some concerned eyebrows among fantasy owners, but White practiced fully Friday, confirming his readiness to play. Meanwhile, the news is not so good for one of his teammates, wide receiver
Justin Gage
. Gage missed a game earlier in the season due to a groin injury and apparently now will be sidelined with a right knee injury. He is listed as doubtful and did not practice all week, never a good combination heading into the weekend. The Nashville City paper reported that Gage was wearing a brace early in the week, suggesting a sprain of some sort. Although there have been no specifics as to the nature of Gage's injury, the Titans' bye in Week 6 will come at a good time, hopefully allowing him to return by Week 7.
&#8226 Cincinnati Bengals running back
Chris Perry
made some fantasy owners nervous when he showed up on the injury report with a hamstring ailment this week. The probable designation should put minds at ease, though, as Perry practiced fully Thursday and Friday with no reported setbacks. It appears the decision to rest him somewhat Wednesday was largely precautionary, especially with backup
Kenny Watson
recovering from a more significant hamstring strain of his own. Watson is listed as questionable, and his availability is far less certain.
&#8226 Good news for Seattle's receiving corps! Welcome back
Bobby Engram
and
Deion Branch
. Both receivers are listed as probable, and both are expected to play. Branch is about eight months post-ACL reconstruction and has been working on the confidence aspect of recovery. He has strength and stamina, but the biggest hurdle for many players following this type of injury is having confidence that the knee will hold up when they return to the playing field. As Branch told The Seattle Times earlier in the week, "My leg was healed a long time ago. It's the mental part I had to break through." Expect him to start Sunday but perhaps see less playing time, as the Seahawks might ease him back into the position. Engram returns from a shoulder fracture sustained during the preseason. He practiced fully all week and is expected to play. It is unclear how much time he will see on the field, but the fact that he did so well in practice, despite it being the first week he had practiced with the team since the injury, bodes well for him.
[+] Enlarge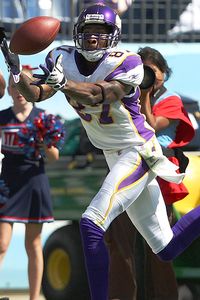 Joe Robbins/Getty ImagesGus Frerrote is really hoping Berrian can play given the state of Viking receivers.
&#8226 The
Minnesota Vikings
had a surprise addition to the injury report that will affect fantasy owners. Wide receiver
Bernard Berrian
, who has been hampered by a toe injury for much of the season, now has a knee injury that has downgraded him to questionable for Monday night. According to the Minneapolis Star Tribune, Berrian was "clearly hobbled" during the limited portion of practice available to the media Friday. The late addition to the injury report implies the injury is recent, and in the absence of any further details about the injury itself, it is unclear whether this is a short-term or long-term problem. Either way, Berrian does get an extra day to rest his knee, but it might not be enough to allow him to go Monday night. Meanwhile, teammate
Sidney Rice
still is struggling with his posterior cruciate ligament (PCL) sprain. Although he was active this past Sunday, he played only a limited amount and was held to one catch for 6 yards. After he was limited in practice every day this week, it does not appear he has made great strides. He is listed as questionable for Monday night. The knee instability associated with this injury makes it tough for a receiver to jump, land and pivot normally. Remember that last season, it took
Houston Texans
wide receiver
Andre Johnson
several weeks to return to the field after a similar injury.
&#8226 While the Vikings' receivers might be in trouble, at least their star running back feels like he is back to his old, er, young self.
Adrian Peterson
told the Minneapolis Star Tribune that he feels his hamstring now is 100 percent healthy. "I really feel like me being out there 90 percent, 95 percent, I can go out there and run full speed. As far as opening it up and really shifting to another gear, I haven't been there. But I've been able to go out and get away from guys still, so it hasn't affected my game. But me just being 100 percent, no tweaks, just feeling good, feeling fresh, like I felt when we started the season, it's a good feeling inside." Good news for Vikings fan and Peterson fantasy owners alike.
And a couple of IDP tidbitsCharles Woodson, CB, Green Bay Packers:
Despite his toe injury, he is performing and will continue to do so. He is listed as probable and is expected to play.
Derrick Brooks, LB, Tampa Bay Buccaneers:
Brooks is listed as questionable with the hamstring injury that bothered him throughout Week 4. Well, it bothered him in practice, but it certainly didn't affect his monster productivity. He again is expected to play Sunday, according to the St. Petersburg Times. Brooks practiced on a limited basis throughout the week, and his presence as a team leader on defense is incredibly valuable.
Out:
This is a list of key fantasy players, not including those who have been moved to injured reserve status, who are officially listed as additions to the "out" list for Week 5.
Anquan Boldin, WR, Arizona Cardinals:
Did anyone who saw the hit that leveled Boldin this past Sunday really think he would be back in uniform this week? Probably not, but the team did not officially rule him out until Friday. Boldin underwent a corrective procedure to address a fractured sinus and will continue to recuperate from that and his split lip. I would not be surprised to see Boldin out Week 6 as well, especially given the fact that the Cardinals have a bye in Week 7. Fantasy owners should make alternate plans.
Brandon Lloyd, WR, Chicago Bears:
Lloyd had a hip problem earlier in the year, and now he has added a knee injury to the list. Although the team has called it only a knee sprain, Lloyd was wearing a brace and did not practice all week. This appears to be more than a one-week injury.
Joey Galloway, WR, Tampa Bay Buccaneers:
Same story as the past two weeks. While no details have been given as to the nature of his foot injury, we know such injuries tend to take a while to improve. Galloway's continued absence from practice and presence on the "out" list only serve to confirm that.
Jeremy Shockey, TE, New Orleans Saints:
Shockey is doing some more activity but still is only two weeks removed from surgery. He's not yet ready to return to the field. The Saints have hinted his return could come soon. We'll know more next week.
Willie Parker, RB, Pittsburgh Steelers:
Parker apparently wanted to play Sunday, but the coaches are holding him out as a precaution, the Pittsburgh Tribune-Review reports. Parker's sprained left knee is nearing 100 percent, but with a bye next week, the team chose to give him the extra rest. Fantasy owners, mark your calendars for Oct. 19, when Parker should be back in the lineup.
Samari Rolle, CB, Baltimore Ravens:
Rolle is expected to be out at least a month following surgery to address a bulging disc in his neck. The Baltimore Sun reports that the injury, initially thought to be a shoulder problem, occurred Sept. 21 when Rolle intercepted a
Derek Anderson
pass, but further testing revealed the problem actually was coming from his neck (a common occurrence). Poor Rolle has had his share of challenging ailments during his NFL career. Last season, he was diagnosed with epilepsy and missed six games as a result. He later missed four others due to a shoulder injury that required surgery. Now this. He hopes to be back on the field this season, but some intensive rehab awaits him between now and then. We will keep an eye on his progress.
Sedrick Ellis, DT, New Orleans Saints:
Ellis will miss two to four weeks after undergoing surgery to address a meniscus tear in his right knee. The good news is that the injury is less serious than it could have been. The Saints have gotten great production out of their first-round pick and hope to again when he returns.
Be sure to check out our site Sunday for pregame chats and Fantasy Football Now at noon ET. Good luck in Week 5!
November, 24, 2007
11/24/07
2:29
PM ET
This has been an unusual week because of the Thursday games and the Thanksgiving holiday. I posted plenty of updates in my
late Friday blog
, so today I'll keep the conversation brief, looking only at those players who did
not
appear in Friday's report.
OUT
The following players have been added to the list as officially out for Week 12.
<a href="javascript:
newWin('http://insider.espn.go.com/nfl/players/fantasy?statsId=5048')">Shaun Alexander, RB, Seahawks: We already knew he wouldn't play; now it's official.
<a href="javascript:
newWin('http://insider.espn.go.com/nfl/players/fantasy?statsId=3569')">Zach Thomas, LB, Dolphins: The lingering migraines continue.
<a href="javascript:
newWin('http://insider.espn.go.com/nfl/players/fantasy?statsId=7774')">Santonio Holmes, WR, Steelers: It wasn't looking good anyway. Now you know that <a href="javascript:newWin('http://insider.espn.go.com/nfl/players/fantasy?statsId=7492')">Nate Washington is starting in his place. In fact, you might want to go and get him.
<a href="javascript:
newWin('http://insider.espn.go.com/nfl/players/fantasy?statsId=6352')">Troy Polamalu, S, Steelers: The Steelers' defense takes a hit because of Polamalu's knee injury.
<a href="javascript:
newWin('http://insider.espn.go.com/nfl/players/fantasy?statsId=4065')">James Thrash, WR, Redskins: He'll miss because of an ankle injury. Moss and Randle El will handle the load.
Whether the following players suit up for Week 12 is still unknown.
Running Backs
<a href="javascript:
newWin('http://insider.espn.go.com/nfl/players/fantasy?statsId=4259')">Fred Taylor, Jaguars: Taylor is listed as probable, meaning he is virtually certain to play. He is on the injury report because of a thigh injury that kept him limited in practice early in the week, but he was able to practice fully on Friday.
<a href="javascript:
newWin('http://insider.espn.go.com/nfl/players/fantasy?statsId=6994')">Derrick Ward, Giants: I
discussed his injuries Friday
, but that was when he appeared to be a game-time decision. Since then, Ward has been downgraded to doubtful, meaning he has less than a 25 percent chance of playing. Go Reuben, go.
<a href="javascript:
newWin('http://insider.espn.go.com/nfl/players/fantasy?statsId=5920')">DeShaun Foster, Panthers: Not a big source of worry here. Foster has been bothered by a toe injury for several weeks. He did not practice Wednesday to give the toe a rest but was back in practice Thursday and Friday to finish the week strong. He is listed as probable and is expected to start.
<a href="javascript:
newWin('http://insider.espn.go.com/nfl/players/fantasy?statsId=7241')">Frank Gore, 49ers: The biggest worry when it comes to Gore right now is the offense he plays in, not any injury. Sure, Gore's ankle has not been 100 percent since he sprained it several weeks ago, but that is not the main reason for his lack of production. Nonetheless, the ankle is the reason he appears in this report. He was limited in practice early in the week to avoid aggravating the ankle, but he did practice fully Friday and is listed as probable. He will start again for the 49ers on Sunday.
Quarterbacks
<a href="javascript:
newWin('http://insider.espn.go.com/nfl/players/fantasy?statsId=7247')">Alex Smith, 49ers: He is listed as questionable, but we shouldn't expect him to do much. Smith is still resting his shoulder and forearm and will be re-evaluated in the coming week.
<a href="javascript:
newWin('http://insider.espn.go.com/nfl/players/fantasy?statsId=4416')">Matt Hasselbeck, Seahawks: Hasselbeck has bruised ribs, reportedly from the Week 11 game. He was held out of practice Wednesday and Thursday but was able to participate fully on Friday, taking most of the first-team snaps. According to the Tacoma News Tribune, Hasselbeck said he feels "as close to 100 percent as [he has] felt in a long time." Although he is listed as questionable, he is expected to start against the Rams, and it does not appear that he will be limited.
Wide Receivers/Tight Ends
D.J. Hackett, Seahawks:
Hackett, who missed several weeks because of a high ankle sprain but managed to return looking fantastic, now has a new injury issue: He is listed as questionable because of swelling in his knee. After resting the knee Wednesday and Thursday, Hackett was able to participate fully on Friday and reportedly looked sharp while running, although he
was
wearing a wrap, according to the Tacoma News Tribune. All signs point to his playing against the Rams, but be sure to check the inactive reports Sunday.
<a href="javascript:
newWin('http://insider.espn.go.com/nfl/players/fantasy?statsId=6837')">Bernard Berrian, Bears: Berrian has a toe that is bothering him, but it does not appear that it will keep him from playing Sunday. Berrian is listed as probable after being able to practice fully on Friday, and he should start Sunday.
<a href="javascript:
newWin('http://insider.espn.go.com/nfl/players/fantasy?statsId=5037')">Plaxico Burress, Giants: Burress' ankle has bothered him more of late, and it is possible that it is affecting his overall productivity. The Giants continue to do their best to manage his condition by keeping him out of practice all week to save him for Sunday. His designation is questionable, so it is always important to check his status before game time. But he is expected to start. Although the past few weeks have been unremarkable for Burress, he remains one of Eli Manning's top receiving targets and always has the potential to have a big day. He also has the potential to aggravate the ankle and leave early. Risk, meet reward.
<a href="javascript:
newWin('http://insider.espn.go.com/nfl/players/fantasy?statsId=5463')">Santana Moss and <a href="javascript:newWin('http://insider.espn.go.com/nfl/players/fantasy?statsId=5948')">Antwaan Randle El, Redskins: Moss (probable) still has a bruised heel, but the modified shoe with a heel cup insert seemed to help Moss in Week 11. He was allowed to rest the foot early in the week but was a full participant in practice Friday and will be ready to go Sunday. Randle El (also probable) is on this week's report because of a chest injury (no specifics given), but he practiced fully on Thursday and Friday and is expected to play.
Defensive players
<a href="javascript:
newWin('http://insider.espn.go.com/nfl/players/fantasy?statsId=6773')">Tommie Harris, DT, and <a href="javascript:newWin('http://insider.espn.go.com/nfl/players/fantasy?statsId=6869')">Nathan Vasher, CB, Bears: Harris did not practice Wednesday or Friday (he did only limited work Thursday) because he continues to battle a sore knee, but according to the Bears' official Web site, coach Lovie Smith said Harris "should be able to go." The news is not so good for Vasher, who has been hampered by a groin injury for weeks now. Vasher, officially listed as doubtful, is likely to miss his eighth straight game. We saw with <a href="javascript:newWin('http://insider.espn.go.com/nfl/players/fantasy?statsId=6783')">Steven Jackson how nagging these groin injuries can be, and when your position requires significant speed and directional running, a groin injury can be particularly challenging. Vasher admits that the injury is frustrating and hopes he can return relatively soon.
<a href="javascript:
newWin('http://insider.espn.go.com/nfl/players/fantasy?statsId=4658')">Chris McAlister, and <a href="javascript:newWin('http://insider.espn.go.com/nfl/players/fantasy?statsId=4305')">Samari Rolle, CBs, Ravens: Rolle has been on the Ravens' injury report for weeks now with a previously undisclosed illness, but Rolle announced this week that he has epilepsy. Rolle decided to speak publicly about it now that he has the condition under control, according to a report in the Baltimore Sun. Rolle has had three significant seizures since the start of the season, and the medications he was prescribed took their toll in side effects. Now Rolle seems to have struck a balance with the proper medication and has been gradually resuming his practice activity. His teammates, meanwhile, are reportedly thrilled to have him healthy and back on the field with them. Rolle is listed as probable and could see action Sunday. His teammate, McAlister, is not faring as well for Week 12, though. After returning to action in Week 11, McAlister's knee has been sore, and he has not practiced all week. He is listed as questionable and could play, but it will come down to a game-time decision.
<a href="javascript:
newWin('http://insider.espn.go.com/nfl/players/fantasy?statsId=5897')">Dwight Freeney, Colts: I put Freeney last on the list so that those of you who are not interested in reading about a player who has already been placed on injured reserve can stop reading now. However, for those of you who are curious about these "Lisfranc" injuries, read on.
Freeney underwent surgery on his foot after suffering a Lisfranc injury during Week 10. The term has become familiar enough that many now call it the "dreaded" Lisfranc injury, as it can be quite serious, even career-ending, if not managed well.
So what is this thing they call a Lisfranc injury? There is a region in the middle of the foot where the long bones of the forefoot (metatarsals) articulate with the small tarsal bones in the middle of the foot. This joint, for obvious reasons, is thus called the tarsometatarsal joint. It is also referred to as the Lisfranc joint. Why? Frenchman Jacques Lisfranc, a field surgeon in Napoleon's army, described an amputation technique through this region to address forefoot gangrene following frostbite. There is also the story that soldiers wounded in battle would fall from their horses, but a foot would often remain caught in the stirrup, right at that tarsometatarsal joint. Such an injury often resulted in amputation of part of the foot, from the injured joint forward. In fact, amputation to that region still bears the same name (although NFL players don't need part of their foot amputated when they suffer Lisfranc injuries).
Since NFL players aren't riding horses, how does this injury happen to them? There are several mechanisms for this type of injury, but in sports, especially football, the primary scenario is that the player is running forward, with his weight on the ball of his foot, and he gets hit or stepped on from behind against his heel. The resultant force through the portion of the foot in between the ball and the heel (midfoot) causes it to buckle, and the midfoot is injured.
Are all Lisfranc injuries the same? No. In fact, the name Lisfranc refers to the region of the foot, not necessarily the severity of the injury. By virtue of its important location (the midfoot essentially forms the arch), any injury to this region needs to be taken seriously. That said, not all Lisfranc injuries are created equal. When the midfoot buckles, the ligaments that connect the various bones can become damaged. Ligament injury without any bony impact would be the mildest version of a Lisfranc injury. The problem is that damage to the ligaments can affect the relative position of the bones in the area, and they can shift or dislocate, which is often accompanied by a fracture. Now it's getting more serious. In the worst-case scenario, an artery passing over that area can also be damaged, affecting blood supply to the foot. A shift of the bony alignment typically requires surgery to realign the joint and provide stability. Failure to do so can result in chronic instability and pain, eventually leading to major arthritis in the area. Even with surgery, it appears that people who have suffered a significant Lisfranc injury are more at risk for arthritis down the road, simply because of the trauma to the joint. The bottom line is that players who suffer these injuries must have their treatment managed carefully, not only with surgery, but in the postsurgical rehabilitation process as well. We have seen evidence of this with Lions running back <a href="javascript:newWin('http://insider.espn.go.com/nfl/players/fantasy?statsId=6789')">Kevin Jones, whose activity has been carefully monitored across the season, based on how his foot is feeling.
Good luck to everyone this week! Be sure to check our inactive reports leading up to game time here at ESPN.com.